House of the Dragon continues to entertain viewers, placing itself at the forefront of fantasy on television. HBO has claimed the first episode is their best-performing debut TV series to date. So, has the shine worn off in House of the Dragon – Episode 4?
House of the Dragon – Episode 4: King of the Narrow Sea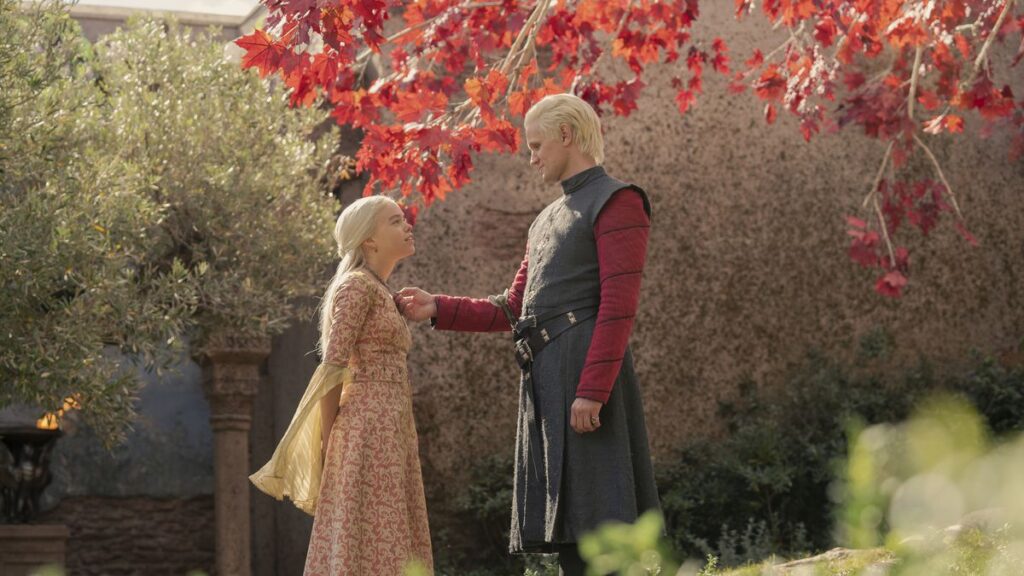 Acting
The cast is on top form in this episode. The Targaryens (Visery, Daemon, and Rhaenyra) are all taking power into their own hands, and their respective actors do a fantastic job of conveying that.
Viserys has come a long way since episode 1 and confesses, despite what the viewer might have thought until now, that it's not so easy to pull the wool over his eyes. This leads to a possibly disastrous dismissal at the end of the episode.
Daemon, meanwhile, is devising ways to get what he ultimately desires: the Iron Throne. If you weren't convinced already, episode 4 will convince you he's willing to do whatever is necessary to get what he wants.
And Rhaenyra? Well, she's no Daenery's Targaryen, that's for sure. A man dies in front of her and she scarcely blinks, let alone shows any inclination to stop it or display sympathy. Rhaenyra is a cold princess with other things to worry about. Mainly, she's fed up with following the whims of others. Of course, desperation can leave you open to manipulation…
Horror
Like A Game of Thrones before it, House of the Dragon is a dark medieval fantasy dealing with grey heroes and the corruption of power. It is a spectacle we cannot turn away from no matter how uncomfortable it might make us. The horrors include childbirth, maiming and torture, prophecy, and being eaten by crabs or dragons, to name but a few. This week the horror visits a more sacred place: the marital bed.
And it's perhaps more disturbing than all the aforementioned listed because it's benign when compared with a dragon burning someone to ashes, but that only makes it more real. Some found the less than romantic scene with Viserys disturbing, as it presents a grim reality for some dressed in fantasy clothing, when watching Alicent stare glassy-eyed at the ceiling.
On the other hand, I was more taken aback by a sex scene between two of my favourite characters. The scene genuinely made me feel icky and not knowing who to root for in the future. My view of them has, perhaps, been irreversibly marred. Now I only have the noble Sir Cristin Cole to rely on. May he serve me honourably.
Conclusion
House of the Dragon – Episode 4 is well-acted, dramatic and keeps the story rolling in the right direction. However, the topics covered won't make it a fan-favourite or highly rewatchable. That said, it was gripping from start to finish.

(3 / 5)
You can read my review of episode 3 here.