Happy Mother's Day, everyone! Sorry I'm late to the game, but I had five mother-things to call today and you know how much they like to talk.
But thank you to all the womb providers out there that gave humanity a gooey sac to bump around in until we triumphantly punch, kicked and bit our way out. Like in Twilight – that's how it ends, right? No spoilers, people.
So, when my internet pooped out on me, I went to my lovely collection of my dvds (I'm a dvd prepper for these situations; you can't trust Uncle Sam to give you high speed internet at all times) and lo and behold, found a Mother's Day movie in my "cheap schlock" pile.
Hence, I present: Mother's Day Massacre.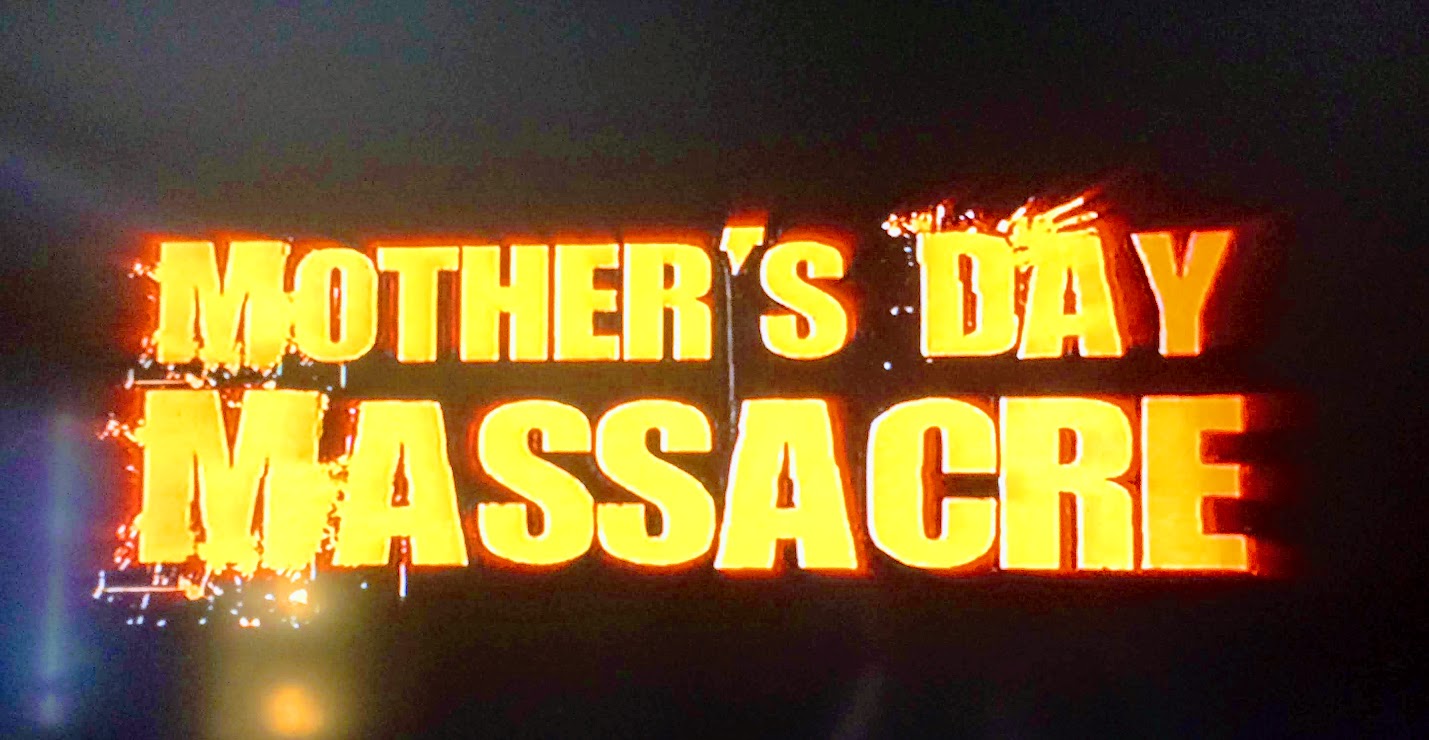 The Plot:
Your guess is as good as mine.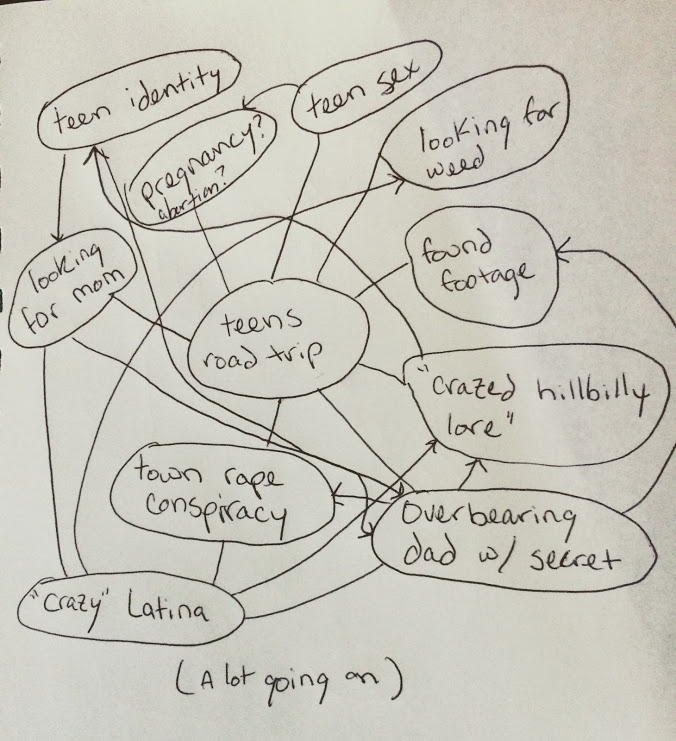 Jim is on the cusp of manhood, but is constantly emotionally abused by his over-bearing, hyper-macho Texan stereotype of a father. Never knowing his real mother, he does some research and finds clues to where she may be at.
Together with his friends, they find a ghost town and decide to get up to teenage shenanigans, only to find they aren't alone. Thus begins the rampage and unraveling of so many secrets that were better off buried…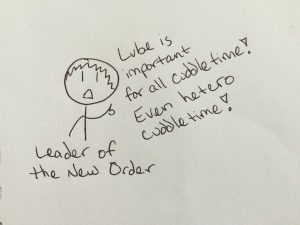 Thoughts:
Yes, I know. Yep. Uh-huh. Looks bad. Real bad.
And I'm not saying that it isn't…but…I'm saying that they knew the tone walking into it and kept it consistent. They knew it was a short (almost 80 minutes), low-budget redneck-y slaughter-fest and kept it on the same level throughout (although Jim was blankly devoid of any Texan culture or flavor), down to the rockabilly jams and gopher-killing guns.
So, what I'm saying is, don't judge it too quickly or harshly.
The Good:
The casting was actually really well done. The "kids" had genuine chemistry together that made it feel like they actually liked each other instead of being actors saying lines. Most of the actors have had a lot of acting under their belts and it shows. They knew to chew that scenery because that's the type of movie this is. This is aragoto style of horror – loud, exaggerated, and rough around the edges. It's in your face and they (especially Mel Gorham, Joe Coots and Greg Travis) executed this to a 'T'. There was a good amount of energy to the whole movie and I think a lot of that came from the actors themselves.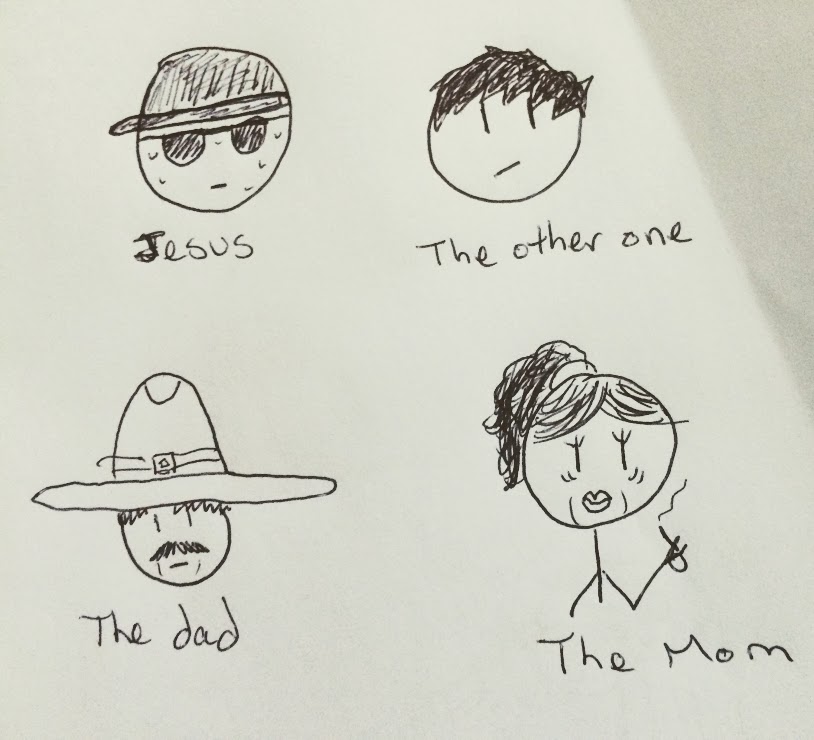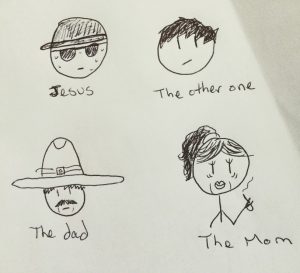 Also, that flippin' kid – Trevor Heins. That kid playing the typically old grizzled gas station attendant who spouts exposition was a cute and funny twist to the trope. As cheesy as it was, I enjoyed it incredibly.
There was also a great scene that came after the initial incident that is rarely seen in movies – the aftermath of surviving something horrific. We see how the remaining characters interact with each other after watching their friends die and how that changes them. Say what you will about the crassness of some of the scenes, but I thought this was a seldom explored little gem of a moment in storytelling and acting. Often at the end of every movie I watch, I rate how flipped they are for the rest of their lives if they survive, and this one actually answers that. It was a clever moment of writing and expression.
Good practical effects. They were scarce and probably cheap, but it was refreshing to see them…The CGI at the end…not so much.
And it had an ending I didn't expect. It wasn't a great ending, but it was a weird and wild one. Definitely a different turn (but was set up in a previous scene).
The Bad:
It would have been nice to see Jim as also a Texan, but a nice one? I mean, he lives with his dad in Texas, too, right? He can still be a quiet, calm, and sensitive heterosexual Texan male – I mean, there's always Austin. But that bugged me a bit…Maybe that was something I didn't hear or get.
The story was a bit jumbled as stated in the plot category. I think with some more story-boarding, it could have been smoother, but they may have been working with limited time or shoots that prevented more time being put into it. I know, it's schlock, but that doesn't mean it can't be better schlock.
The biggest issue I guess I have is that the story had nothing to do with motherhood, really. It was all about dude-junk power, machismo, and pissing contests. Literally. There was peeing on people and things to establish a form of dominance more than once.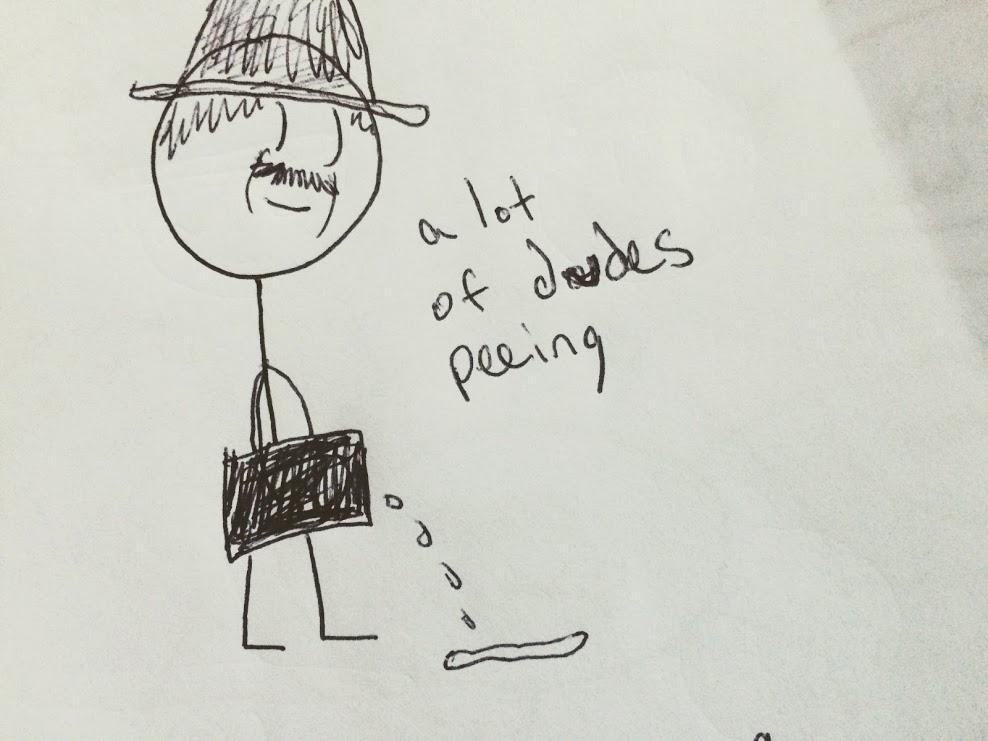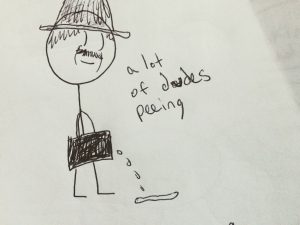 The main villains were males, including the killers (I consider them sub-villains), that sexually abused women. The whole movie is extremely dude-junk-centered. In fact, there is a scene in which one of the killers enters the home of his (male) victims with a raging and enormous…and the other….well, here's a representation:
And that's fine, but I think it would have been better as Father's Day Massacre, especially as Jim's father plays a huge role in this life and the consequences of this movie. So, if you're looking for a womanhood-type thing, I would pass this up and watch Aliens, Silent Hill, or, if you want schlock, Jaws 3.
The ending with the police is super-fast, confusing, and weird. I didn't hate it, but I thought that it could have been edited better (and please get better line reads from that cop, even if it takes all night of slapping him in the face with fish oil).
CGI gun shots…bad.
Brain Roll Juice:
For some reason, our killers are "hillbillies". I forgot the actual wording of grizzled exposition kid, but that's the gist. And we all know shorthand for hillbillies in horror movies…
Developmentally and intellectually disabled people.
As great as the actors are, it's still at the expense of the DD population. It's a trope, yeah, sure. But it's one that gets under my skin. This movie is rife with sexual assaults, which is part of the story and movie, but putting someone with DD in the mix when people with DD are seven times higher to be assaulted just…makes it a little less fun.
As Nancy Thaler, a deputy secretary of Pennsylvania's Department of Human Services, has stated,
"They are people who often cannot speak or their speech is not well-developed. They are generally taught from childhood up to be compliant, to obey, to go along with people. Because of the intellectual disability, people tend not to believe them, to think that they are not credible or that what they saying, they are making up or imagining."
People with intellectual and developmental disabilities have been one of the most marginalized groups throughout history, experiencing forced sterilizations via legal action; denial of medical treatment; involuntary medical experimentation; mercy killings; physical and sexual abuses; neglect and homicides. In fact, one study showed that when it came to being murdered, the majority died as a result of neglect. This category included death by medical neglect and starvation. Can you imagine being cared about so little that you die from it?
Screw axes and chainsaws; slowly dying after a life of abuse, while not being able to speak or be believed, because society doesn't care about you – that's the real horror movie.
…Also, Latinas are not typically crazy, over-sexed, pot-growing, abusive brujas. Just throwing that out there (again, though, fun and campy performance by Mel Gorham).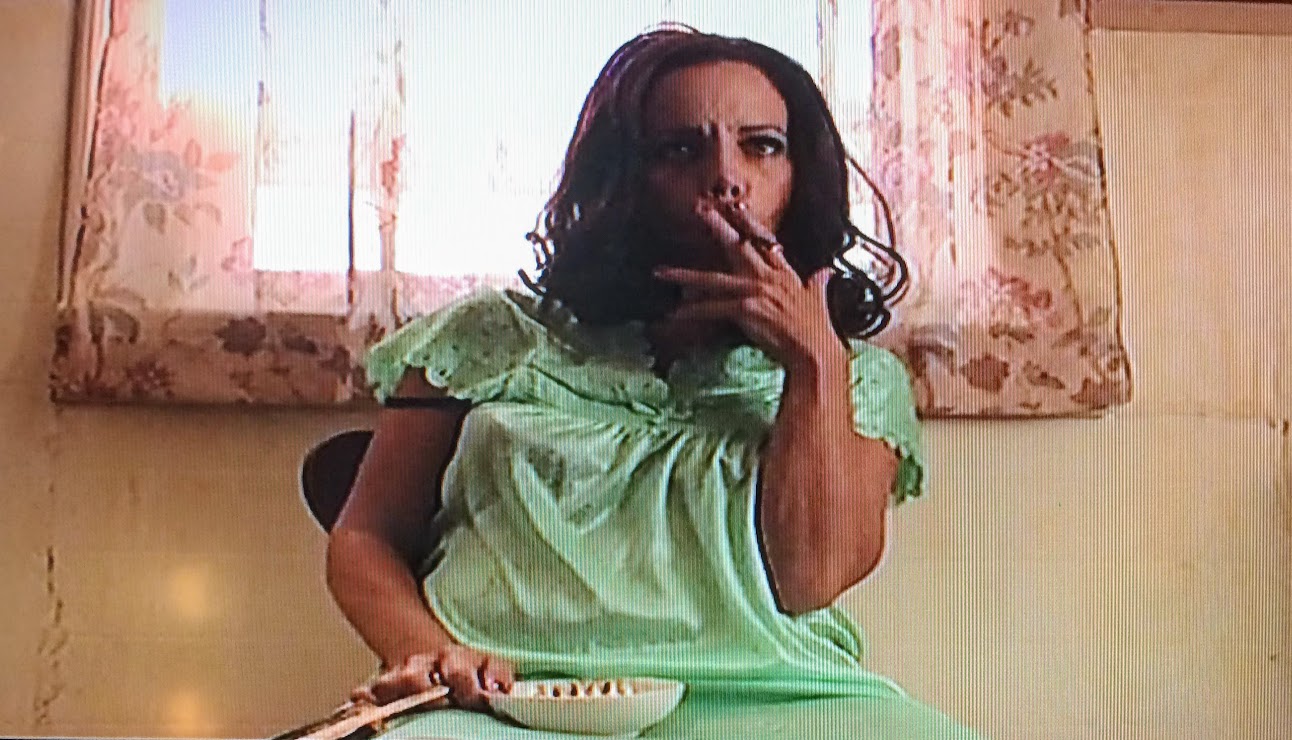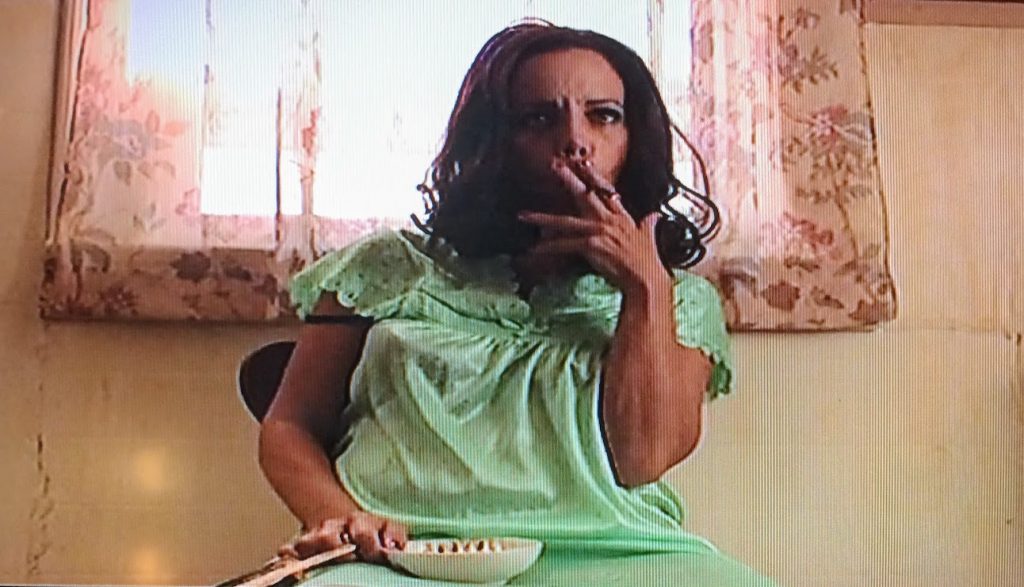 Bottom-line:
Rockabilly b-slasher with a Texan drawl. Goofy and gory enough for a movie night or two, but nothing to really knock off them socks or rocks.

(2.7 / 5)
2023's 'Summoning Sylvia' is a Faboolous New Film
I wasn't sure what I was getting into when I was asked if I wanted to cover the new "LGBTQ horror" film, SUMMONING SYLVIA from director/writer duo, Wesley Taylor and Alex Wyse.
New LGBTQ horror can feel either very outrageous and full-on camp like Death Drop Gorgeous, Ticked Off Tr*****s With Knives, or You're Killing Me.
Or they can be very cerebral and dramatic like Raw, Lyle, and Bit.
So, which route would SUMMONING SYLVIA take?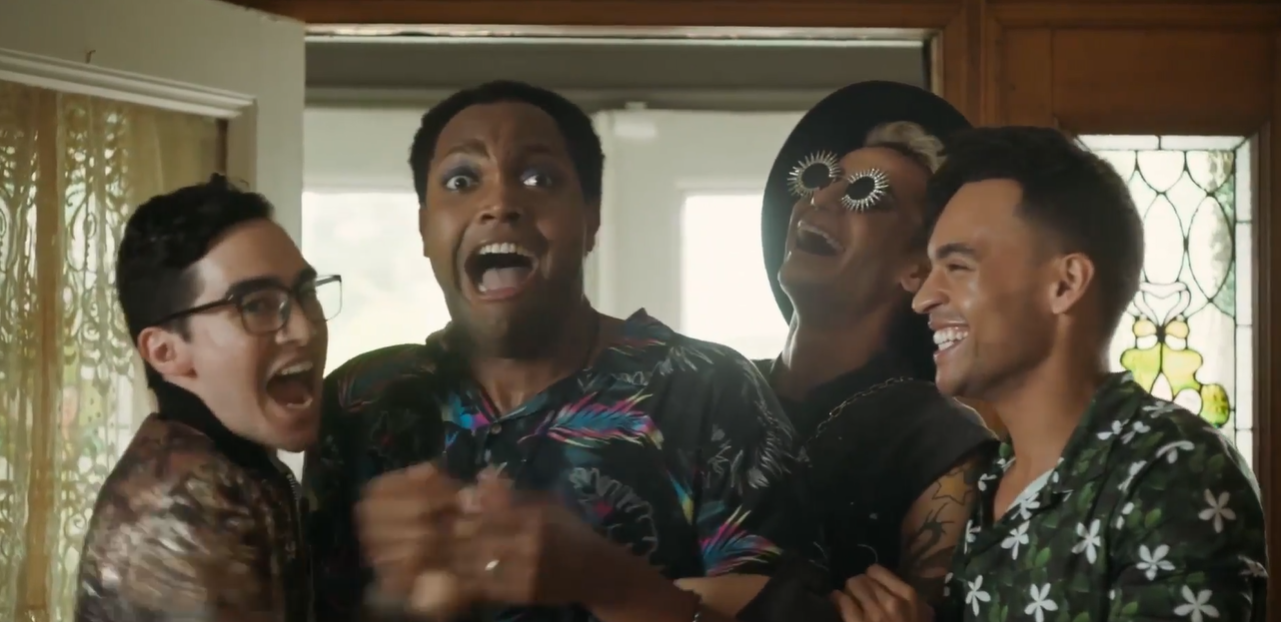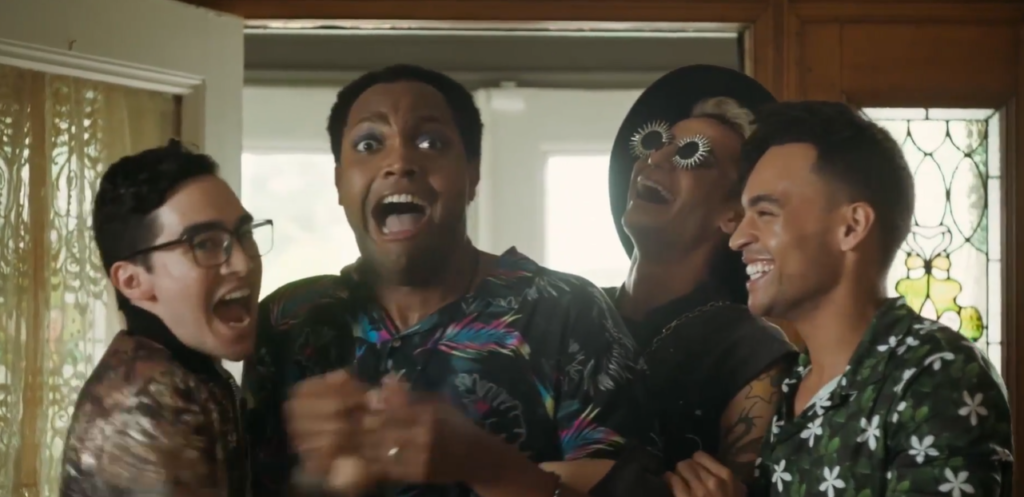 Summoning Sylvia's Plot:
It's the bachelor weekend for Larry (Travis Coles) and his three best friends (Frankie Grande, Troy Iwata, and Noah J. Ricketts) have booked an entire weekend to spend together in a historic house. They're set on getting glam, party games, drinking appletinis, eating fancy snacks, and the pièce de résistance — a séance to summon Sylvia (Veanne Cox), the murdering mother and resident ghost.
However, what they didn't plan on was Larry's new brother-in-law (Nicholas Logan) to crash the party and open up new doors to dark pasts…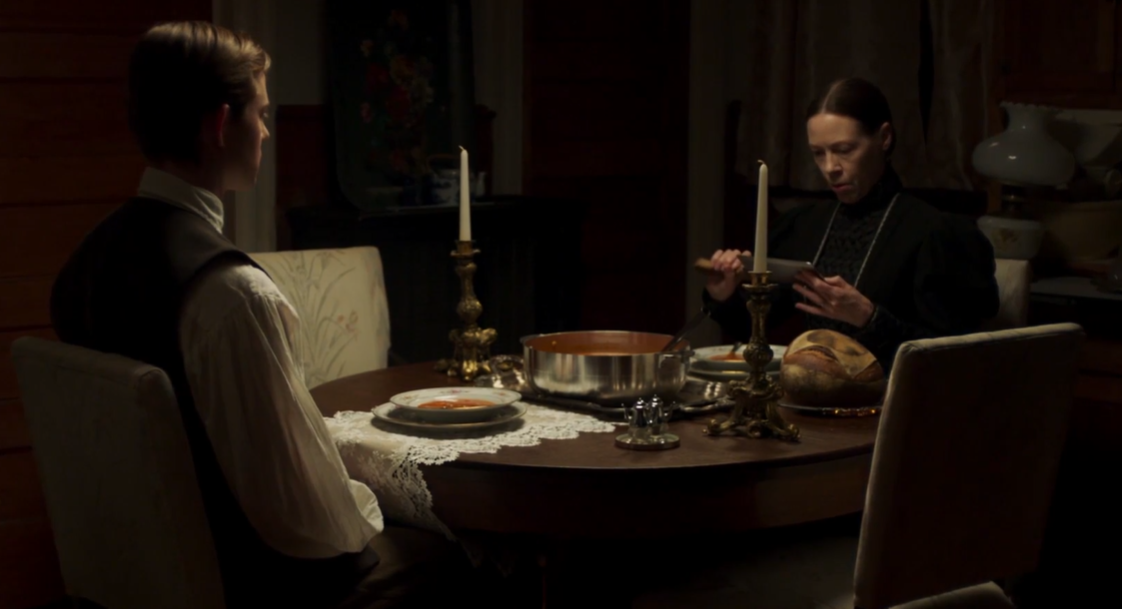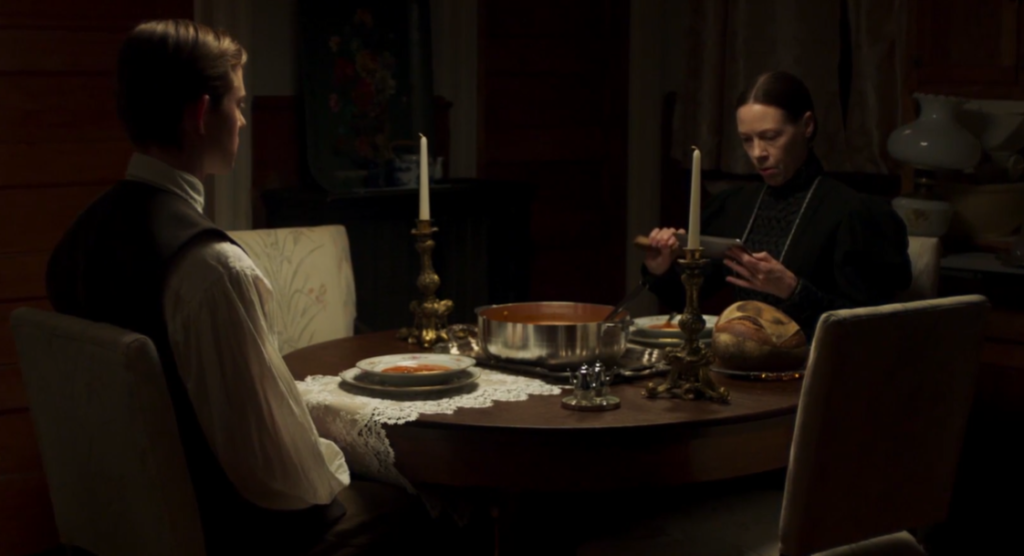 Thoughts:
I was expecting to enjoy this movie enough. Nothing too much, nothing too little.
With a lot of LGBTQ horror comedies, they typically have the same jokes and punchlines. And as much as I love big dick jokes and bottoming jokes as much as anyone, but it gets to be…a lot. It gets stale. It gets boring.
And worse, inauthentic to the characters and plot.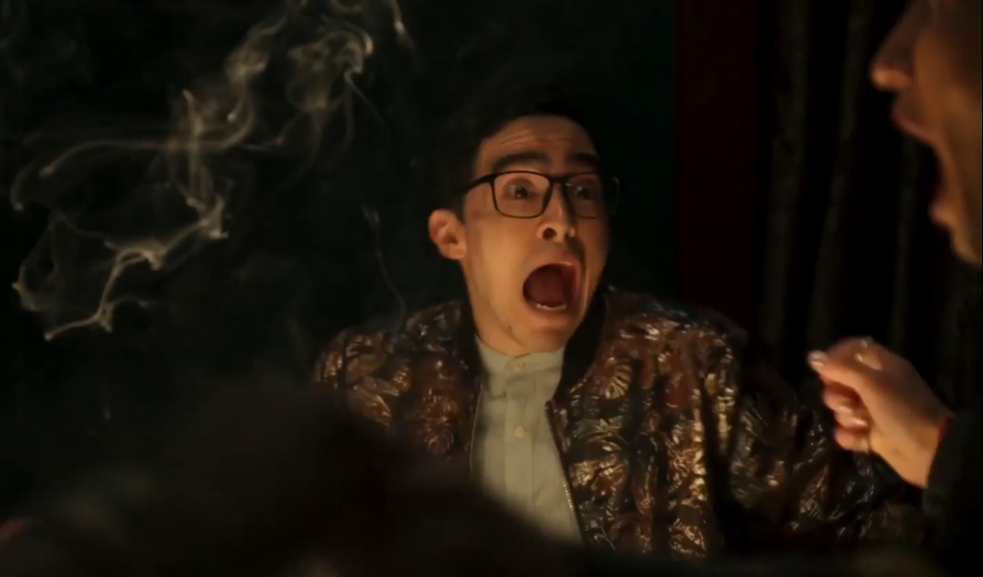 However, I was pleasantly surprised. Yes, this caters to a very specific type of gay subculture, but it was authentic in its celebration. When Larry wipes off his eye makeup, knowing that his very straight and close-minded new brother-in-law is coming, it's heartbreaking. It's watching him wash a piece of his happiness away in a very quiet and sad moment. We understand his character completely in this small and subtle gesture.
The cinematographer (Matthew Roveto) did a fantastic job at focusing in on Larry throughout the film, reminding us that Larry is the focal point, regardless of the story. This was HIS story, even with other shenanigans happening.
And I'm really shocked to find out that Travis Coles hasn't done that much in front of the camera yet, spending most of his experience as a crew member. His range and rawness are there throughout the film. As Larry, he was playful, nurturing, and self-conscious. For a silly-billy movie about ghosts and gays, he effortless portrayed a lot of depth.
And in fact, the whole cast has real magnetism and cohesiveness that I often find lacking in many horror movies. It's the common trope of "friends find a haunted house", with an emphasis on "haunted house" but very little thought on the "friends" part.
The warmth that the characters had, even the catty diva Nico (Frankie Grande), was convincing and magnetic. The cast gelled well together and were believable as friends who sass each other and maybe (like many queer circles) have little crushes. The relationships in Summoning Sylvia were genuine and charming.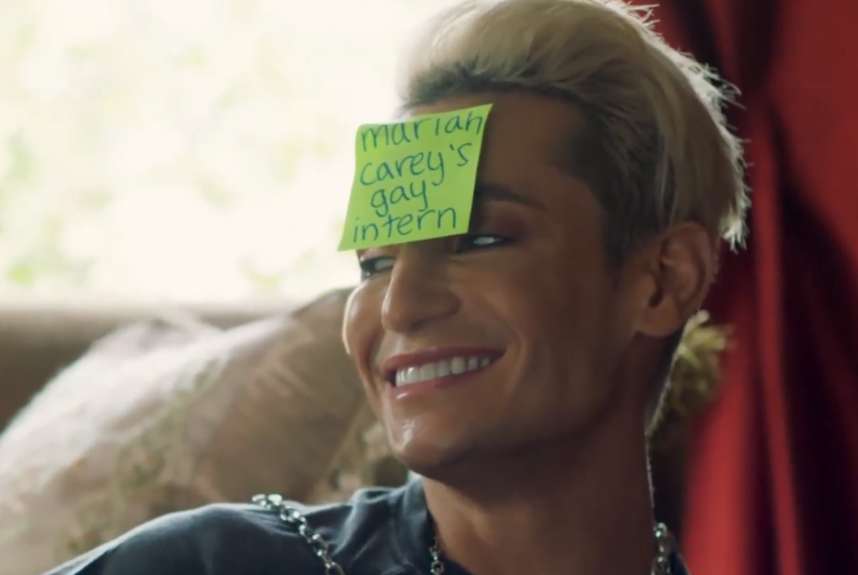 Also, the editing (Sara Corrigan) with the ghosts in the past and the characters in the present was incredible and stylized. The editing was so effective and precise, it delighted me every time I saw it.
The costuming and sets were so much fun and showed the juxtaposition between the ghosts and the guys. From dark and drab to light and…well…gay. Each character had his own design and brand, which was easy to pick up. All of them were dressed beautifully and Sylvia was foreboding and gothic. Pure perfection.
The only thing that I had a bit of a hard time with was…
Brainroll Juice : The Ending of Summoning Sylvia
The ending was a bit messy. Everything was kind of happening all at once, like a sloppy Joe sandwich coming out at all ends.
And we haven't really talked about Harrison.
Oh, Harrison.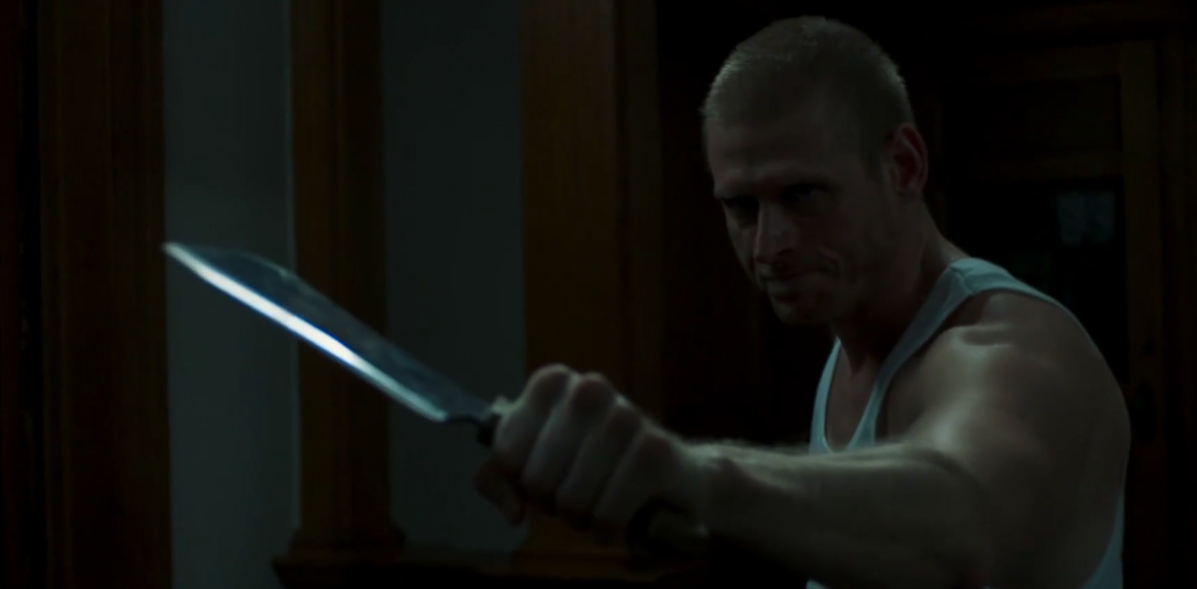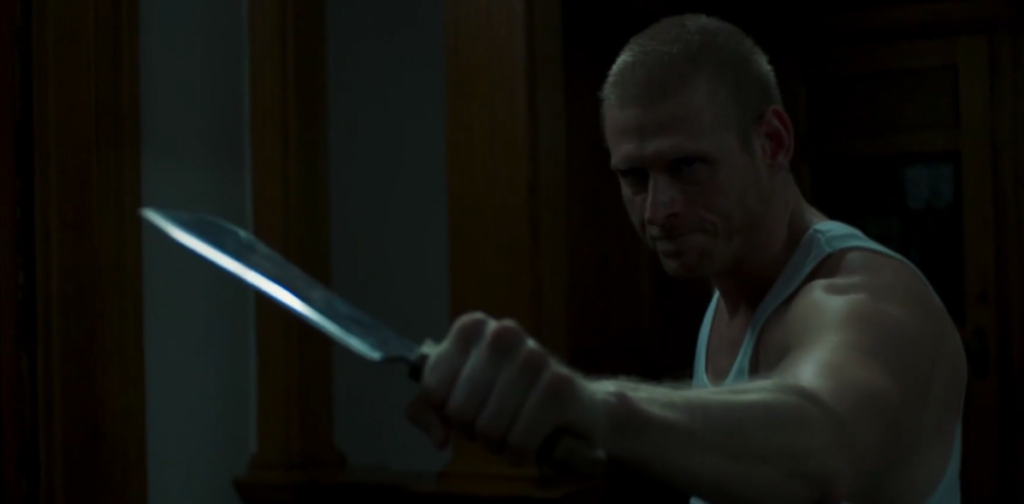 So, I know. I get it. People are awful. They get weirded out by things they don't understand even to this day. And there's a suspicion that some of what Harrison says and does in this movie are because he's under the possession of Sylvia.
And regardless of that or not, I was really hoping that there would be another twist. Because Nicholas Logan's acting isn't bad. It's good as a stereotypical cis-het white male as the villain. And the ending is the same as many other endings with the same, er, beats (I'm trying hard not to give this away). And while I applaud Larry for standing up to him, I wish there had just been a different twist.
It's a safe ending. It's a trope ending.
And that's not necessarily bad, but I just wanted it to veer into new and fresh territory. I wanted more from the ending.
Now, this was a short movie, and perhaps there was a longer ending, who knows. I would have loved a little more time to clean up the sloppy Joe mess and tie things up more gracefully, but obviously that wasn't in the cards.
At the end of the day, it doesn't ruin the movie, it just doesn't hit as strong as the rest of it.
Bottomline:
Are you looking for a fun gaycation with a spooky house and an awkward new addition to the family? Look no further. SUMMONING SYLVIA is funny, charming, and will lift your spirits.
(4 / 5)
Release Information:
The Horror Collective is excited to announce the North American theatrical and TVOD release of their LGBTQ horror comedy Summoning Sylvia. Written and directed by Wesley Taylor (Smash, The Spongebob Musical) and Alex Wyse (Marvel's Iron Fist, soon to join Broadway's Good Night, Oscar), the hair-raising romp tells the story of a gay bachelor party that takes a spooky turn when sinister spirits are suddenly summoned. 
The Horror Collective will release Summoning Sylvia in theaters nationwide March 31, 2023 and on Cable VOD and Digital HD April 7, 2023.
Scary Fairy Godmother YouTube Channel
Youtube is a great place for those of us who like a spooky story. There we can find a mixture of true tales and cutting-edge fiction. These range everywhere from amateur footage to professionally crafted videos. 
Today, we're talking about a hidden YouTube gem, Scary Fairy Godmother. 
The channel launched in December 2014. Since its birth, there has been just one topic of discussion. The fey is not to be trusted, and in fact, is something to be feared.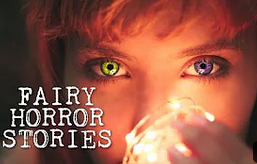 Some of the stories on this channel are fiction. But some are claimed as first-hand accounts of dangerous interactions with fairies.
Now, whether or not we believe in fairies isn't the point of this review. I am only here to talk about the level of entertainment to be found on this YouTube channel.
A recent video titled Melsh Dick (don't laugh) was a common fairy tale. A girl is lured away from her friends by a boy who claims to be her cousin. He doesn't give her a name, they never do. Fortunately, the girl escapes. Others haven't been so lucky.
A favorite video of mine, being a city dweller, was Urban Fairies. This video consisted of eight encounters with fairies in an urban setting. Many of these encounters are nice. There's a beautiful swirl of lights seen out of an apartment window. A person is lured into a city park by a lovely young woman who might or might not have been human. And another person receives some personal and sage advice from what looks to be a homeless man while she's out walking her dog. All of these stories were delightful, reminding us that magic can be found in any setting.
For creepier encounters, we turn to the video House Fairy Horrors. Warning, you might not be as thrilled about the Elf on a Shelf after this one.
In this video we hear the tale of a goblin that took over one room of a person's house, chasing out anyone who tried to go in. A young child sings to scare sprites out of their home, only to have them hold a grudge and return years later. There's even a shadow man who seems to encourage a vegan lifestyle.
Some of the videos have themes, like frost fairies or encounters with fairy royalty. Some are eerie tales plucked from Reddit, real life or imagined.
Of course, the creepiest tales are those where people are lured into the forest by the fey. You'll find several of these stories on Scary Fairy Godmother. It always seems to be in good fun, until one finds themselves lost.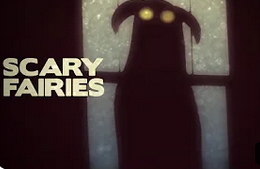 These stories might not seem very scary to us. The tellers of these tales come away without a scratch after all. But consider this. The only time we'd hear about a fairy abduction is if it fails. We do not know what happens to the others, only that they're not around to tell us.
How many people went missing in your town last year?
From what we can gather from these videos, we are never safe from the fey. They can reside in our homes, our cities, and our parks. They can even reach us in our dreams. What they want with us may vary. Perhaps it's just to give us a scare. Maybe they enjoy playing tricks on us. Or maybe they're vengeful, angry at the disrespect mankind has shown to the environment, and eager to punish us for our abuses. Whatever the reasons, it's probably best if we steer clear.
The Scary Fairy Godmother YouTube channel is one with staying power. The fan base is small, but it's growing. It's a great one to throw on while your hands are busy, or if you just want a soothing voice to tell you a scary story. So if you're a fan of the creepier side of life, do yourself a favor and check it out. 
(3.5 / 5)
The Last of Us: Episodes 8 and 9: The End
Sometimes life gets in the way. Maybe you watched the episodes the nights they came out, but then you got your stomach tattooed so you didn't have the energy to type on your computer, and then you had to work nonstop for six days straight and housesit 20 miles out of town, and then you got into a hit-and-run car accident with your boyfriend (luckily you're both okay but really very angry at the asshole that just drove away), etc. etc.. March has been a lot, but I finally rolled up my sleeves, made time for my computer and stopped procrastinating the job of writing my final review on HBO's The Last of Us.
Here we will cover the final events of Joel and Ellie's saga. Both episodes were directed by Ali Abassi and written by Craig Mazin and, in episode 9, Neil Druckmann. The adaptation continued to cover the story elements of the game, leaving out and/or changing most of the fighting and action scenes. This change is especially noticeable in episode 9, "Look for the Light," but we'll get to that in a minute. Let's first do a recap of episode 8, "When We Are in Need."
"When We Are in Need"
Ellie is on the hunt for food and comes across a deer, which she shoots down almost effortlessly. It is in this moment that she meets a preacher named David (Scott Shepherd) and his partner, James (Troy Baker, (Joel's voice actor in the video games)). After a moment of hostility towards the stranger, Ellie agrees to give the deer to David in exchange for penicillin. Shortly after giving Joel the medication, Ellie has to leave again to deter David's religious crew from hunting her and Joel. It turns out Joel killed a few of David's men, and the preacher is out for revenge.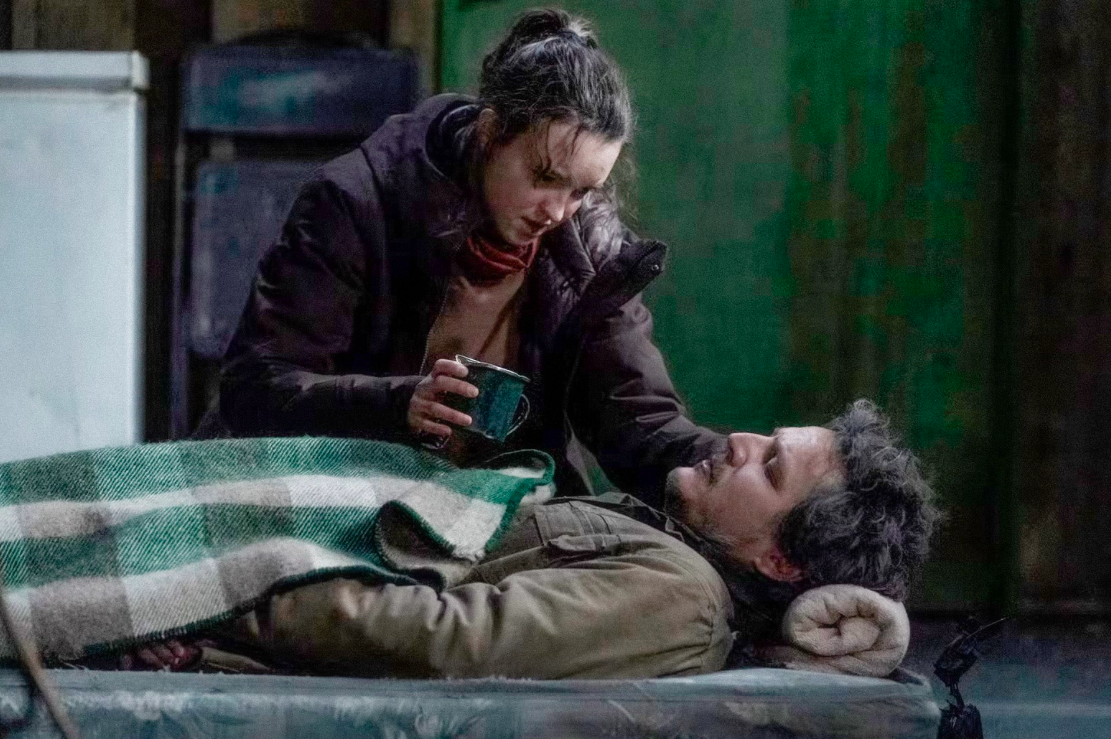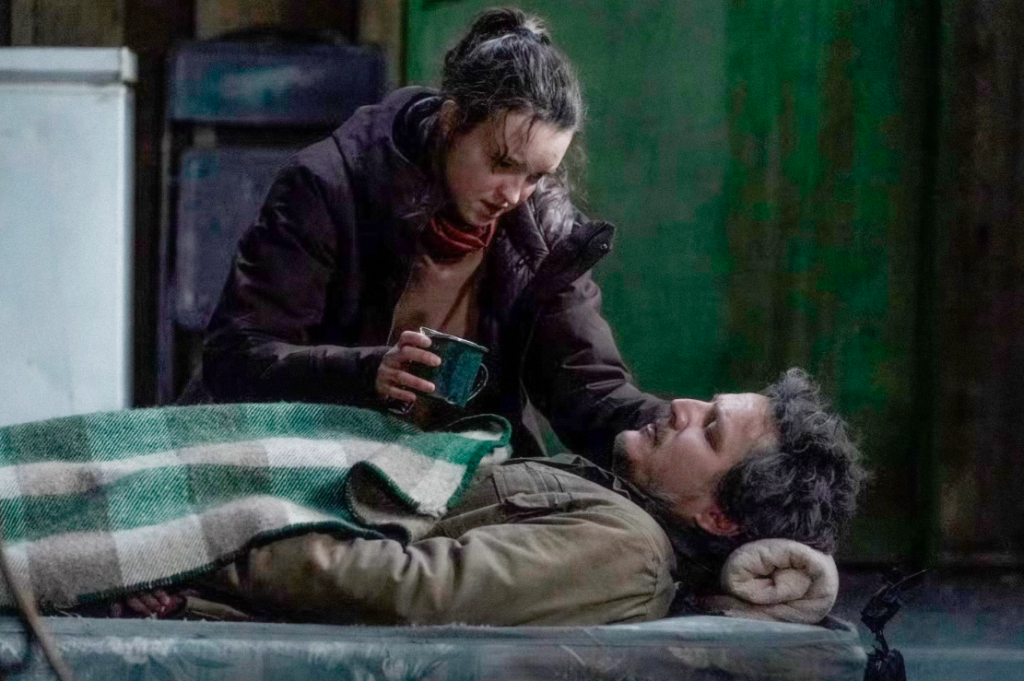 The religious group captures Ellie and puts her in a cell, where she discovers David has been feed them human remains. Meanwhile, Joel finally awakes and is stable enough to escape the house and search for Ellie. He tortures two men into disclosing her location, but he is almost too late. David places Ellie on a butcher block and is just about to chop her up when she narrowly escapes. The two fight until she finally has the advantage and takes him down, bludgeoning him to death with an insurmountable fury of vengeance.
"Look for the Light"
Episode 9 begins with a flashback of Ellie's pregnant mother, Anna (Ashley Johnson, (Ellie's voice actor in the video games). An infected bit Anna just moments before she gave birth to Ellie. Moments pass, and Marlene finds the two in a pool of blood. She is forced to take the baby and kill her friend. Fast forward 14 years, and Joel and Ellie are almost done with their journey. They finally made it to Utah. Ellie, still processing everything that happened with David, is sad and somber. Joel tries his best to cheer her up, but nothing seems to work.
Suddenly, the youth sees something and runs off to get a better look. Joel chases her until he stops and stares in awe. The camera pans from him to Ellie inches away from a giraffe. She is her old self again, cracking jokes and asking a myriad of questions. Later on, when Joel reveals that he tried to kill himself after Sarah's death, Ellie provides him as much comfort as she can. But the fact that Joel can trust her enough to reveal such a secret means is a comfort on its own. He asks Ellie to read some puns to lighten the mood, but his moment is interrupted when a group of Fireflies knock them out.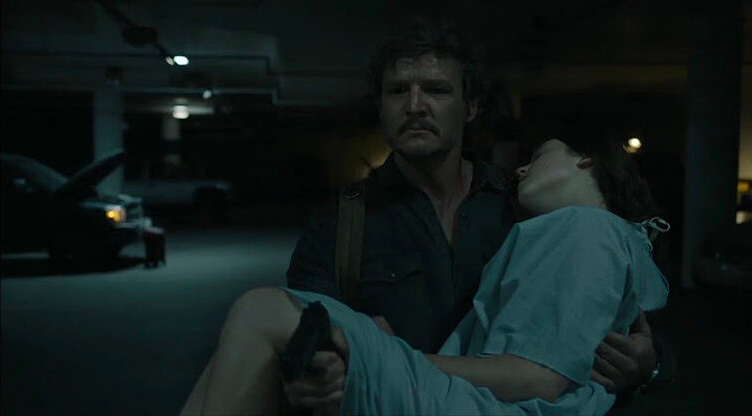 Joel wakes up in a hospital to see Marleen, who informs him that the doctors are preparing Ellie for surgery to remove the part of her brain that makes her immune. This procedure, however, will result in Ellie's death. No matter how hard Joel fights, Marlene won't budge. She instead has two Firefly soldiers escort Joel out of the hospital, but he kills them and everyone else until he finds the surgery room, where he murders the doctor in cold blood. He escapes with an unconscious Ellie and makes it as far as the parking garage until Marlene stops them. The camera cuts to Joel driving a car with Ellie in the backseat.
The End
Ellie wakes up and asks Joel what happens. While he lies to her that there is no cure, the camera flickers back to the parking garage scene with Marlene. He shoots her once. After listening to her begs and pleas, he kills her with a final shot.
The duo have to walk the last few miles to Tommy's town. At the top of a waterfall, they get a spectacular view of their new home, their new futures. Before making the final trek, Ellie tells Joel about her past and how she saw her best friend die. This lead to watching Tess, Sam and Henry die because of the disease. The fact that they all had to go through such gruesome deaths, only for there not to be a cure, is too much for Ellie to handle. She makes Joel swear that he is telling the truth, and in a beat, he does.
Series Verdict
HBO's The Last of Us is a remarkable video game adaptation that deserves all the high praise it has received the past few months. From the set design and effects to the filming, screenwriting and acting, the show is a peak example of how to do an adaptation well. It is heart-throbbing and terrifying.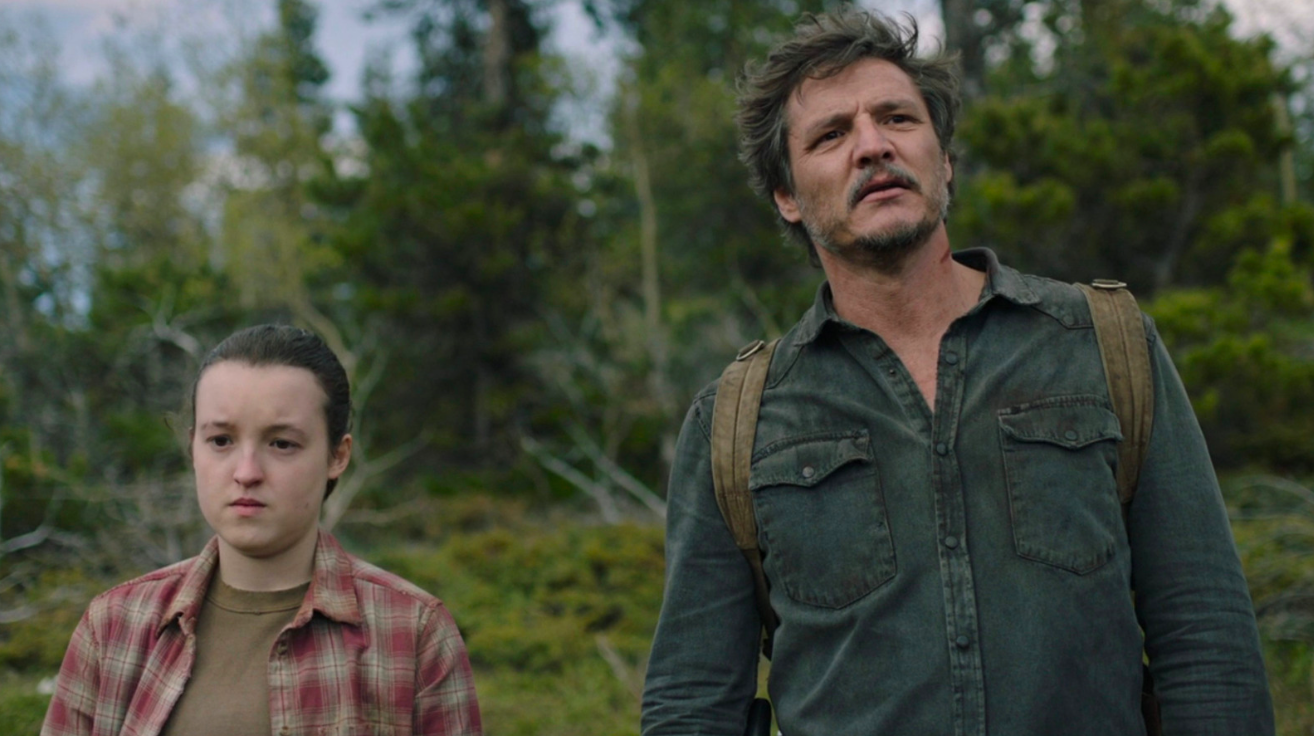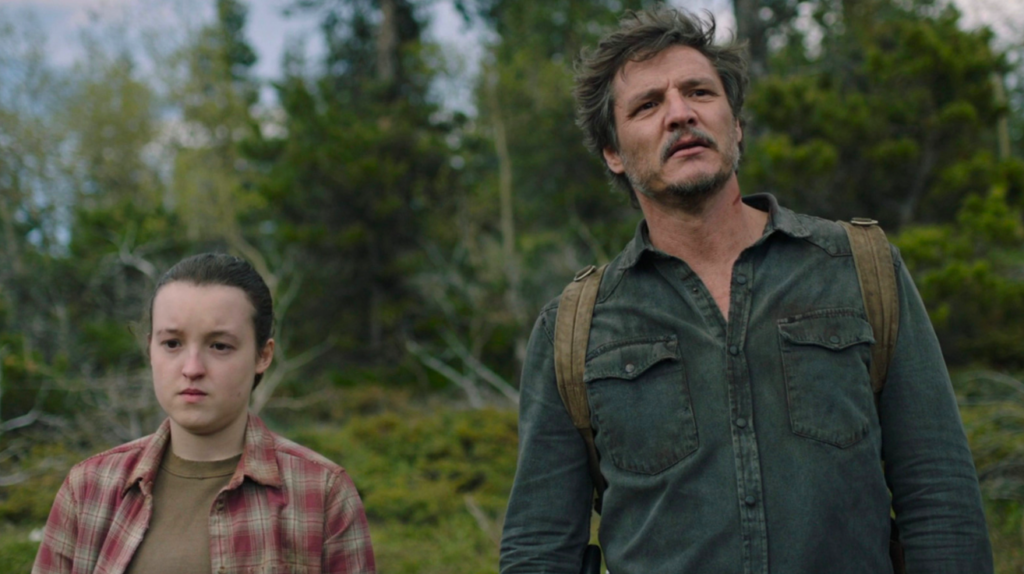 A few issues with HBO's adaptation is how much they excluded the game play scenes. Despite the world being filled with infected, they were rarely on screen. This is disappointing, especially because it increases the stakes and so much of Joel and Ellie's relationship builds in these fight scenes. The biggest disappointment was in episode 9, in which the show completely cut out the game's highway scene. Furthermore, there are numerous creative weapons the show could have included to illustrate Joel and Ellie's means of survival, from molotov cocktails and nail bombs to the beloved shotgun and its shorty companion.
Despite these small quibbles, the show is arguably one of the best American video game adaptations out there. Pedro Pascal and Bella Ramsey were the perfect casting choices for Joel and Ellie, as was the casting for all the other characters.
It will be exciting to see where Neil Druckmann and Craig Mazin take The Last of Us 2. I hope they will include more gameplay (aka a little more violence), more screen time for infected, and some creative liberties with the original story while also sticking to the heart of it. We will just have to wait and see what they come up with. Until we meet again, don't forgot to read about the other shows and games we're loving here at HauntedMTL.
(4 / 5)