Happy Mother's Day, everyone! Sorry I'm late to the game, but I had five mother-things to call today and you know how much they like to talk.
But thank you to all the womb providers out there that gave humanity a gooey sac to bump around in until we triumphantly punch, kicked and bit our way out. Like in Twilight – that's how it ends, right? No spoilers, people.
So, when my internet pooped out on me, I went to my lovely collection of my dvds (I'm a dvd prepper for these situations; you can't trust Uncle Sam to give you high speed internet at all times) and lo and behold, found a Mother's Day movie in my "cheap schlock" pile.
Hence, I present: Mother's Day Massacre.
The Plot:
Your guess is as good as mine.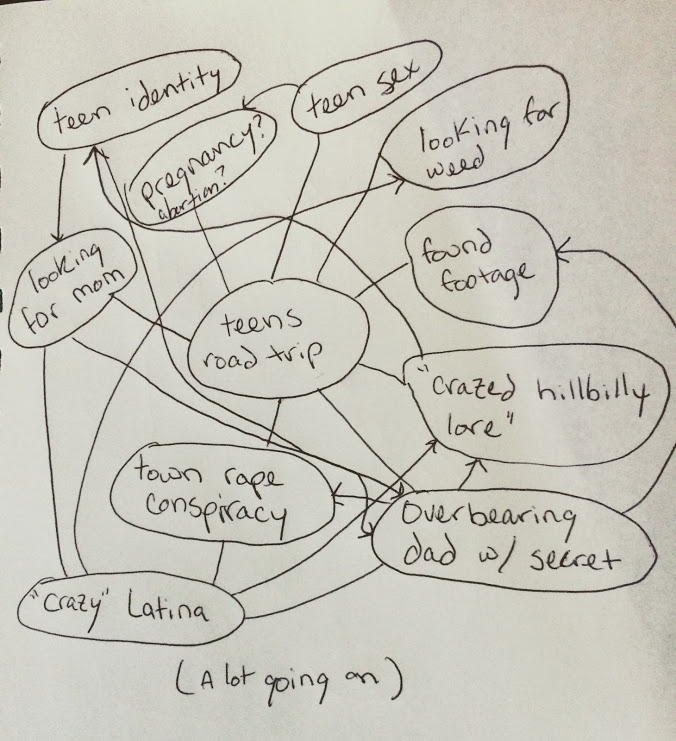 Jim is on the cusp of manhood, but is constantly emotionally abused by his over-bearing, hyper-macho Texan stereotype of a father. Never knowing his real mother, he does some research and finds clues to where she may be at.
Together with his friends, they find a ghost town and decide to get up to teenage shenanigans, only to find they aren't alone. Thus begins the rampage and unraveling of so many secrets that were better off buried…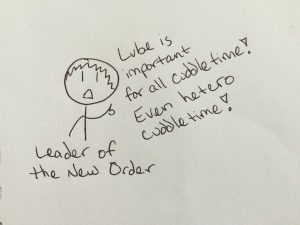 Thoughts:
Yes, I know. Yep. Uh-huh. Looks bad. Real bad.
And I'm not saying that it isn't…but…I'm saying that they knew the tone walking into it and kept it consistent. They knew it was a short (almost 80 minutes), low-budget redneck-y slaughter-fest and kept it on the same level throughout (although Jim was blankly devoid of any Texan culture or flavor), down to the rockabilly jams and gopher-killing guns.
So, what I'm saying is, don't judge it too quickly or harshly.
The Good:
The casting was actually really well done. The "kids" had genuine chemistry together that made it feel like they actually liked each other instead of being actors saying lines. Most of the actors have had a lot of acting under their belts and it shows. They knew to chew that scenery because that's the type of movie this is. This is aragoto style of horror – loud, exaggerated, and rough around the edges. It's in your face and they (especially Mel Gorham, Joe Coots and Greg Travis) executed this to a 'T'. There was a good amount of energy to the whole movie and I think a lot of that came from the actors themselves.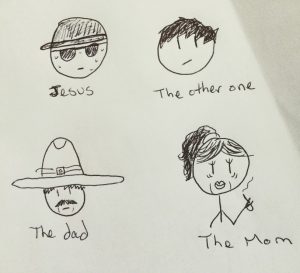 Also, that flippin' kid – Trevor Heins. That kid playing the typically old grizzled gas station attendant who spouts exposition was a cute and funny twist to the trope. As cheesy as it was, I enjoyed it incredibly.
There was also a great scene that came after the initial incident that is rarely seen in movies – the aftermath of surviving something horrific. We see how the remaining characters interact with each other after watching their friends die and how that changes them. Say what you will about the crassness of some of the scenes, but I thought this was a seldom explored little gem of a moment in storytelling and acting. Often at the end of every movie I watch, I rate how flipped they are for the rest of their lives if they survive, and this one actually answers that. It was a clever moment of writing and expression.
Good practical effects. They were scarce and probably cheap, but it was refreshing to see them…The CGI at the end…not so much.
And it had an ending I didn't expect. It wasn't a great ending, but it was a weird and wild one. Definitely a different turn (but was set up in a previous scene).
The Bad:
It would have been nice to see Jim as also a Texan, but a nice one? I mean, he lives with his dad in Texas, too, right? He can still be a quiet, calm, and sensitive heterosexual Texan male – I mean, there's always Austin. But that bugged me a bit…Maybe that was something I didn't hear or get.
The story was a bit jumbled as stated in the plot category. I think with some more story-boarding, it could have been smoother, but they may have been working with limited time or shoots that prevented more time being put into it. I know, it's schlock, but that doesn't mean it can't be better schlock.
The biggest issue I guess I have is that the story had nothing to do with motherhood, really. It was all about dude-junk power, machismo, and pissing contests. Literally. There was peeing on people and things to establish a form of dominance more than once.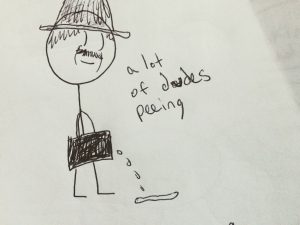 The main villains were males, including the killers (I consider them sub-villains), that sexually abused women. The whole movie is extremely dude-junk-centered. In fact, there is a scene in which one of the killers enters the home of his (male) victims with a raging and enormous…and the other….well, here's a representation:
And that's fine, but I think it would have been better as Father's Day Massacre, especially as Jim's father plays a huge role in this life and the consequences of this movie. So, if you're looking for a womanhood-type thing, I would pass this up and watch Aliens, Silent Hill, or, if you want schlock, Jaws 3.
The ending with the police is super-fast, confusing, and weird. I didn't hate it, but I thought that it could have been edited better (and please get better line reads from that cop, even if it takes all night of slapping him in the face with fish oil).
CGI gun shots…bad.
Brain Roll Juice:
For some reason, our killers are "hillbillies". I forgot the actual wording of grizzled exposition kid, but that's the gist. And we all know shorthand for hillbillies in horror movies…
Developmentally and intellectually disabled people.
As great as the actors are, it's still at the expense of the DD population. It's a trope, yeah, sure. But it's one that gets under my skin. This movie is rife with sexual assaults, which is part of the story and movie, but putting someone with DD in the mix when people with DD are seven times higher to be assaulted just…makes it a little less fun.
As Nancy Thaler, a deputy secretary of Pennsylvania's Department of Human Services, has stated,
"They are people who often cannot speak or their speech is not well-developed. They are generally taught from childhood up to be compliant, to obey, to go along with people. Because of the intellectual disability, people tend not to believe them, to think that they are not credible or that what they saying, they are making up or imagining."
People with intellectual and developmental disabilities have been one of the most marginalized groups throughout history, experiencing forced sterilizations via legal action; denial of medical treatment; involuntary medical experimentation; mercy killings; physical and sexual abuses; neglect and homicides. In fact, one study showed that when it came to being murdered, the majority died as a result of neglect. This category included death by medical neglect and starvation. Can you imagine being cared about so little that you die from it?
Screw axes and chainsaws; slowly dying after a life of abuse, while not being able to speak or be believed, because society doesn't care about you – that's the real horror movie.
…Also, Latinas are not typically crazy, over-sexed, pot-growing, abusive brujas. Just throwing that out there (again, though, fun and campy performance by Mel Gorham).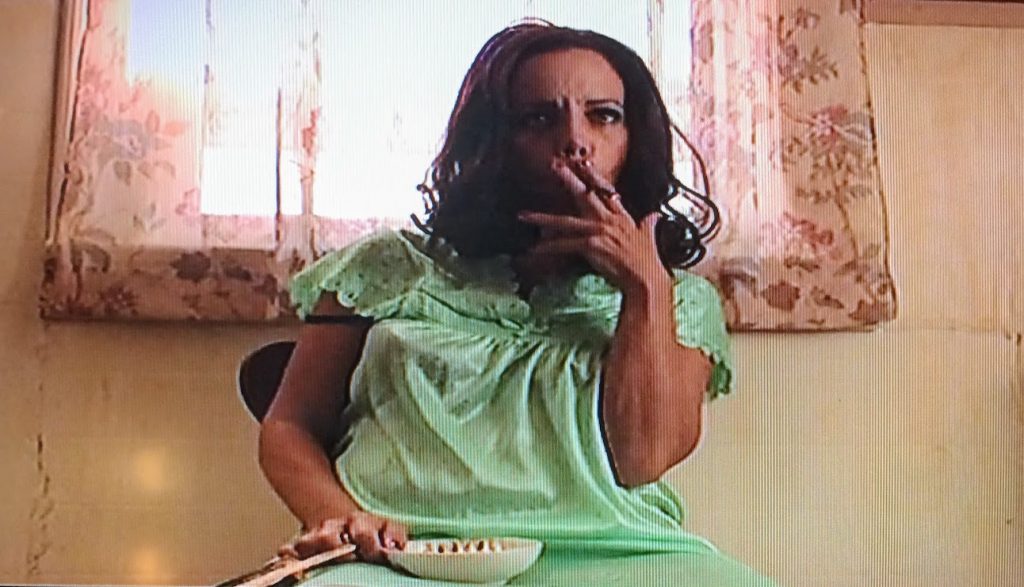 Bottom-line:
Rockabilly b-slasher with a Texan drawl. Goofy and gory enough for a movie night or two, but nothing to really knock off them socks or rocks.

(2.7 / 5)