Hello uglies, let's talk about Dragula S4 E1, shall we? Welcome to "Well Red," Haunted MTL's weekly review and recap of Shudder's horror drag competition, The Boulet Brothers' Dragula. We're going to catch you up on who slayed, who stayed, and who passed away. We'll also give the overall episode a critique.
Dragula – S4 E1: What Went Down
"I'm Merrie Cherry and I'm scared as fuck."

Merrie Cherry, The Boulet Brothers' Dragula – S4 E1
The episode began with a pretty long opening that set up not only an ancient ritual but a modern possessed mask story. It was a bit long, but the production values were great. The problem is that it takes away time to get to know the contestants. While I applaud the effort I mostly felt left in the cold with the opening.
Thankfully, we get a really fun introduction to this season's competitors. They are shepherded into a haunted house and we get to know our competitors a bit. We also get some initial tension which will likely simmer throughout the season. Specifically, we get a pair of potential troublemakers in La Zavaleta and Merrie Cherry. La Zavaleta is particularly boisterous and that certainly carries through the episode. Merrie Cherry felt a little needy, taking offense at not getting a certain level of attention. Grim signs for what is ahead.
We also get introduced to HoSo Terra Tom and Astrud Aurelia who seem to have some mutual respect – and maybe a little more. We'll need to see. We also have a lady duo alliance with Sigourney Beaver and Bitter Bettie. We'll see how long that lasts.
Fright Challenge
The fright challenge this week was an extreme haunted house that subjected our contestants to a number of fun scare gags including a backward blind drop, a gag with a speeding car, a tumbling room, and plenty of masked meanies. It was a lot of fun to see the two groups make their way through, but the most significant moment involved Astrud Aurelia.
In the workroom, La Zavaleta snarked at Astrud Aurelia about collapsing in the haunt. Astrud revealed she had a traumatic encounter with a car once, and that the car gag in the haunt took her surprise. We also get some other shade, a great deal thrown at Formelda Hyde for being a masked queen. Masked queens have notoriously low life expectancies on Dragula.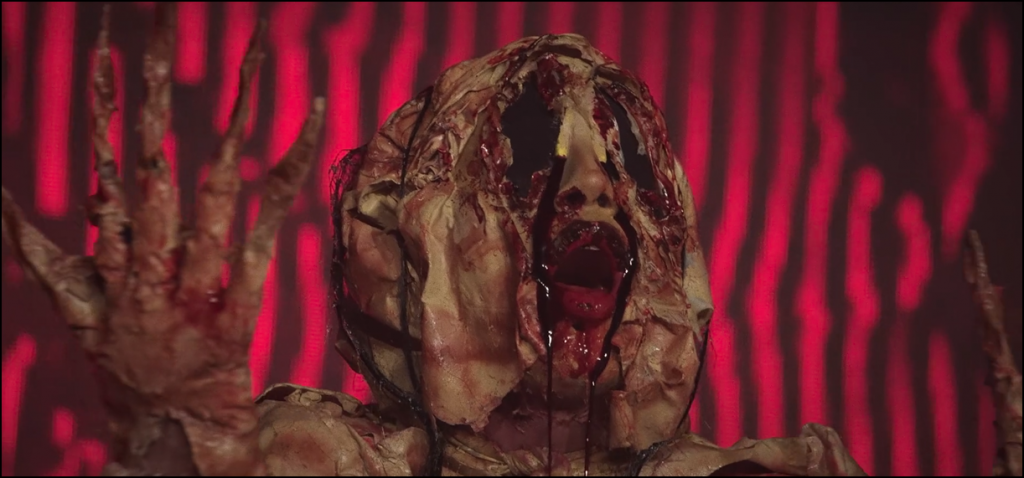 Main Challenge
The main challenge was to remake the look of a classic horror character, and we certainly get quite the spread.
Astrud Aurelia – Xenomorph from Alien
Koco Caine – Morticia Addams from The Addams Family
Sigourney Beaver – The Bride of Frankenstein from… The Bride of Frankenstein
HoSo Terra Tom – Other Mother from Coraline
Merrie Cherry – Stay Puft Marshmallow Man – Ghostbusters
Saint – Leatherface from The Texas Chainsaw Massacre
Jade Jolie – Sarah Sanderson from Hocus Pocus
La Zavaleta – The Blind-Man from Pan's Labyrinth
Bitter Bettie – Elvira
Formedla Hyde – Billy from SAW
There was some shade being thrown around the workroom, but not as much as earlier. Still, some personalities, alliances, and conflicts are forming. Things will certainly get more intense as the season progresses. One sign that our contestants may be in trouble – most were still applying makeup while the final looks warning sounded. Yikes.
The floor show was every bit as stylish as expected and the assemblage of looks, on the whole, was great, with some very, very noticeable misfires. In particular, La Zavaleta and Formelda Hyde made for the bottom two, and while Formelda Hyde could have pushed her look and shape further, La Zavaleta's look was completely off, in my opinion. Rather than drooping skin associated with her character, La Zavalta's "Blind-Man" came off as lumpy, flakey, and her motions didn't really put emphasis on the hands which had the eyes – kind of the point of "the Blind-Man."
The winning look was Astrud Aurelia's punk-looking "Xenomorph" and it definitely deserved the win. The gesture was just right, the materials had the gothic-tech look of H. R. Giger's art, and the tail on the costume was fantastic, creating a striking profile. A close second for me was HoSo Terra Tom's "Other Mother" hitting all the points of the character and building on the look. I think HoSo is my early choice for the performer to take the grand prize this season. While she didn't win this go, she was one of the top looks.
Also of note was Astrud's rather loud pop upon winning and Sigourney's very clear side-eye that followed.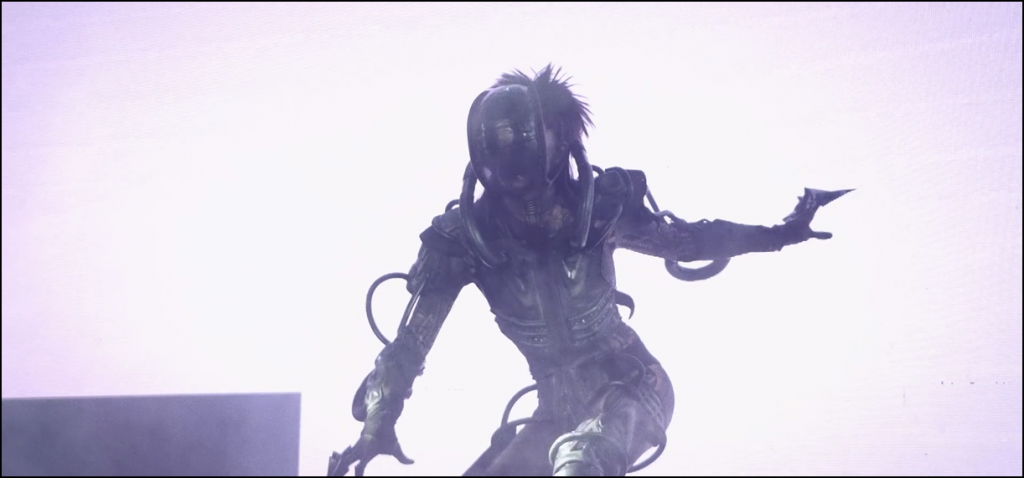 Elimination Challenge
The elimination challenge is an old one, but always fun. Israel got to seal La Zavaleta and Formelda into coffins, cover them in dirt, and pipe in some mealworms, crickets, and a little water. It's not the most horrific elimination challenge we've seen, but it's always a fun one. Between the two, La Zavaleta handled the whole thing a little better than Formelda which is probably why Formedelda was killed by our venerable hosts, Dracmorda and Swanthula. Unless maybe the club-kid boots are that big of a sin?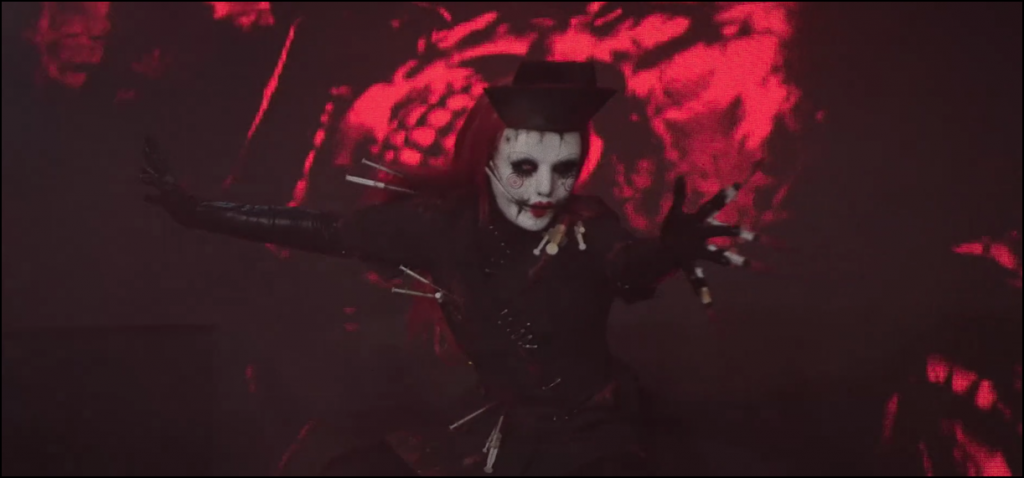 The Results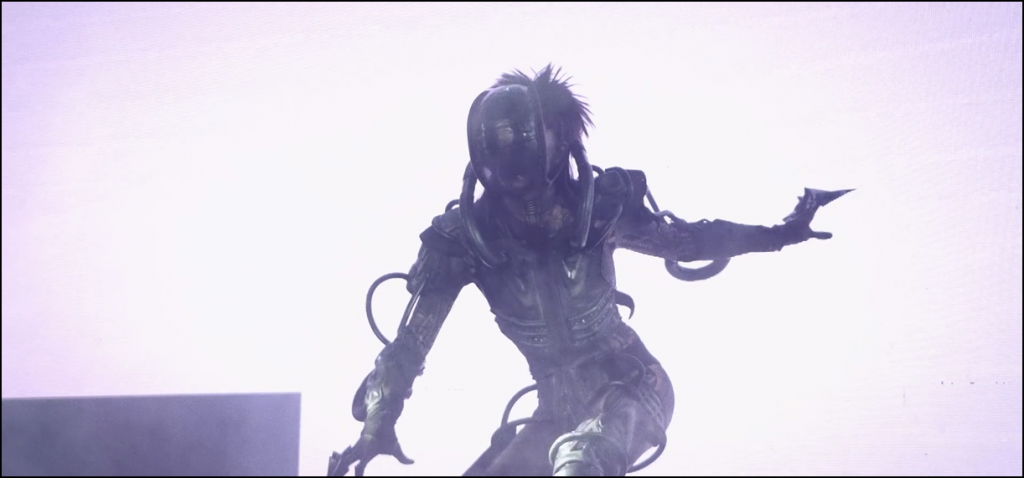 Winner: Astrud Aurelia (shown)
Top Looks: Astrud Aurelia, Koco Caine, Sigourney Beaver, and HoSo Terra Tom
Safe Squad: Merrie Cherry, Saint, Jade Jolie
Bottom Looks: La Zavaleta, Bitter Bettie, Formelda Hyde
Episode Score
The contestants this season have some serious chops and the production this season looks like it will be very impressive. Dragula should be a fun ride this season. However, the episode ran a little too long with an overstuffed opening. I found myself getting a little annoyed with the window dressing and wishing we spent more time with the ghouls.
Also, as much as I love drama, eliminating Formelda Hyde was the wrong move – La Zavaleta's blind-man was the weaker of their bottom two looks and Formelda's only real flaw was their scale wasn't large enough. Now, instead, La Zavaleta is going to stick around and cause drama, which is fun, but feels a bit forced given that her look just didn't serve.
(3.5 / 5)
We hope you enjoyed our coverage of The Boulet Brothers' Dragula – S4 E1. Let us know what you thought of the competition and who you think will take the prize. We'd also love to hear your assessment of the looks. Which gagged and which were groaners?