October has been a very good month for Shudder fans. Off the heels of the "Haunted Hoedown," Shudder has announced a new Drive-In special to celebrate the upcoming end of AMC's zombie-hit The Walking Dead.
The Last Drive-In: The Walking Dead
The Shudder Original special The Last Drive-in: The Walking Dead will premiere Friday, October 29 on Shudder and AMC+. Join iconic horror host and foremost drive-in movie critic Joe Bob Briggs and special guest, The Walking Dead Executive Producer and Special Effects Make-up Supervisor/Designer, Greg Nicotero, as they watch the first two episodes of The Walking Dead, Season 1 and talk about the introduction and evolution of walkers, as well as iconic walkers from the series. 

Fans are invited to join a live watch premiere night at 9pm ET via the Shudder TV feed and on demand on AMC+, using the hashtags #TheLastDriveIn and #TheWalkingDead.
We also have a trailer for you to check out.
The first two episodes of the show streaming on Shudder? Might this mean that Shudder is about to be the streaming hub for The Walking Dead? We'll need to see. This is something fans have been wondering about for quite a while. It will be fun to see Greg Nicotero join Joe Bob Briggs to talk all things zombie apocalypse. We'll be covering the new special as well as live-tweeting the fun on the Haunted MTL Twitter account.
Horror Noire Trailer and Key Art Arrives
Shudder's upcoming anthology film, Horror Noire, has a new trailer and key art to check out. The key art gives horror fans a glimpse of some of the terror ahead. Comprised of six stories, the film premieres on Shudder on October 28th.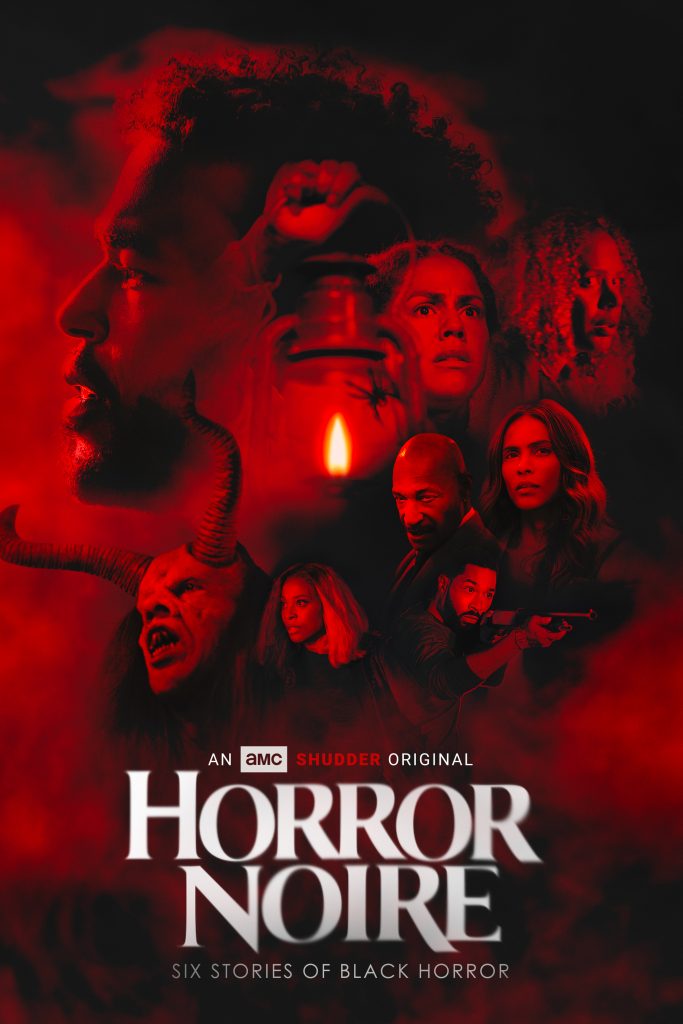 Shudder released today the trailer and key art for the new anthology film Horror Noire, a follow-up to the critically acclaimed 2019 documentary Horror Noire: A History of Black Horror, premiering Thursday, October 28 on Shudder as well as via the Shudder offering within the AMC+ bundle. Horror Noire will air on AMC at a later date.

Showcasing stories of Black horror from Black directors and screenwriters, Horror Noire features six stories presented together as a two-hour film starring Lesley-Ann Brandt (Lucifer, Spartacus), Luke James (The Chi, Thoughts of a Colored Man), Erica Ash (Survivor's Remorse, A Black Lady Sketch Show), Brandon Mychal Smith (Four Weddings and a Funeral, You're the Worst), Sean Patrick Thomas (Macbeth, The Curse of La Llorona), Peter Stormare (American Gods, Fargo), Malcolm Barrett (Genius: Aretha Franklin, Timeless), Tony Todd (Candyman, Night of the Living Dead), and Rachel True (The Craft, Half & Half), among others.

The new and adapted stories are written by husband-and-wife writing duo Tananarive Due (My Soul to Keep, Horror Noire: A History of Black Horror) and Steven Barnes (Lion's Blood), Ezra Claytan Daniels (BTTM FDRS), Victor LaValle (The Ballad of Black Tom, The Changeling,) Shernold Edwards (All Rise, Anne with an E); and, Al Letson (Reveals).

The six stories featured in the anthology are: "Daddy," "Bride Before You," "Brand of Evil," "The Lake," "Sundown" and "Fugue State."

Horror Noire is produced by Swirl Films, and Executive Producers include ID8 Multimedia's Shelby Stone and Derek Dudley, in addition to Eric Tomosunas, founder of Swirl Films and Ron Robinson. Dr. Robin R. Means Coleman, author of the groundbreaking book Horror Noire: Blacks in American Horror Films from the 1890s to Present, is consulting on the anthology, as well as Horror Noire: A History of Black Horror documentary producers Ashlee Blackwell, Phil Nobile Jr. and Kelly Ryan.
Check out the trailer and be sure to share your thoughts with us here at Haunted MTL. Tune in to Shudder on October 28th to catch the new anthology film.
V/H/S/94 is a Massive Hit for Shudder
In an echo of the wild success of Host during the pandemic, Shudder has another massive premiere in the books with the recent release of V/H/S/94.
V/H/S/94 A BLOCKBUSTER HIT FOR SHUDDER — SERVICE'S BIGGEST MOVIE PREMIERE EVER
New Installment in Found Footage Franchise Sets Record for Most Watched Premiere in Streamer's History

"A grisly, gory gem… each of its four unique, 1990s-set segments is a winner." *Critic's Pick* – Calum Marsh, THE NEW YORK TIMES

"I can't believe I'm saying this, but bring on [V/H/S/]'95.'" –Brian Tallerico, ROGER EBERT

"A confident course correction for a franchise many had assumed was past its prime." – Isaac Feldberg, INVERSE

"Hail Raatma." – Dolores Quintana, NIGHTMARISH CONJURINGS

October 13, 2021 — New York, NY — V/H/S/94 is the biggest movie premiere in Shudder history, with more members watching its debut in its opening weekend than any prior movie premiere on the service. Shudder's commissioned original reboot of the acclaimed found footage franchise is just as big a hit with critics as with Shudder members: currently 96% Certified Fresh on Rotten Tomatoes®, making it one of the best reviewed horror releases of the year. 

"V/H/S had been one of the most fun and influential horror franchises of the 2010s, providing a showcase for a new generation of filmmakers like David Bruckner (The Night House), Radio Silence (Ready Or Not) and Ti West (The House of the Devil). When producers Josh Goldblum and Brad Miska told us what they had in mind for V/H/S/94, we knew we had to commission it as a Shudder Original production, and their amazing lineup of directors delivered something truly special. Our members have embraced the film with record-setting viewership numbers, and critics are calling it one of the best horror movies of the year," said Craig Engler, general manager of Shudder. 

In V/H/S/94, after the discovery of a mysterious VHS tape, a brutish police SWAT team launch a high intensity raid on a remote warehouse, only to discover a sinister cult compound whose collection of pre-recorded material uncovers a nightmarish conspiracy. V/H/S/94 is the fourth installment in the horror anthology franchise, the first since 2014's V/H/S Viral.  The return of the infamous found footage anthology features segments from franchise alumni Simon Barrett (Séance) and Timo Tjahjanto (May the Devil Take You Too) along with acclaimed directors Jennifer Reeder (Knives & Skin), Ryan Prows (Lowlife) and Chloe Okuno (Slut). 

David Bruckner and Radio Silence served as executive producers. Josh Goldbloom produced the project for Cinepocalypse Productions alongside franchise co-creator Brad Miska of Bloody Disgusting, and Kurtis Harder (Spiral). Michael Schreiber for Studio71, Zak Zeman, & Tom Owen also served as executive producers, along with Michael Paszt, James Fler and Andrew T. Hunt of Raven Banner Entertainment. AMC Studios Content Distribution is managing worldwide sales.
If you haven't caught the latest in the V/H/S/ series make sure you do. You'll be able to catch out review soon enough as well.
---
A lot of news from Shudder to cover. Let us know what you think in the comments!