The Flash Point Fire Rescue game can be pretty intense. Like, melt your face off, it just won't let up, raging inferno out-of-control intense. Question is: can you take the heat?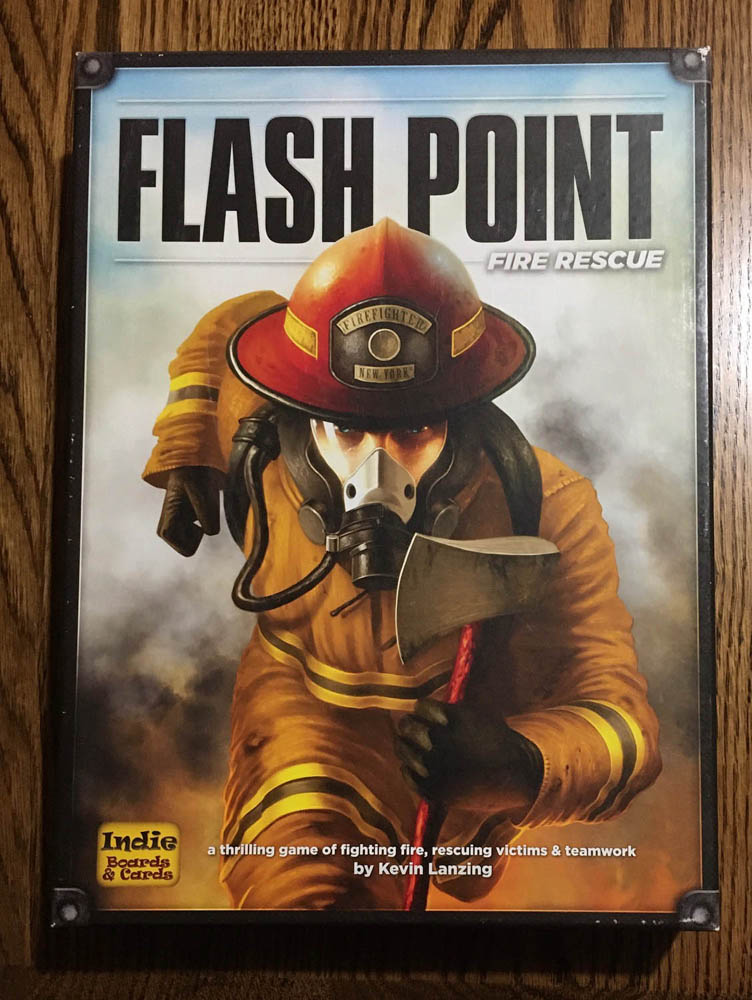 Flash Point is designed by Kevin Lanzing and published through Indie Boards & Cards. It is a cooperative game in which you work together to fight fires and rescue victims from the blazing inferno that is destroying their home. I love collaborative games so this is one of my favorites. The pieces are really well made and the setup is pretty easy to get the hang of. Sadly, there are not enough compartments in the box, nor did they give you baggies to separate everything, but it's pretty easy to sort through the pieces if you are careful about how you arrange them when you put them away and you don't make a habit of shaking all your boxes regularly like it's Christmas or something.
There are two modes; I am intentionally reviewing the easier starter mode because it is more kid-friendly. We've even played this version with a five-year old who had a blast, but you may want to consider your child's maturity level and whether or not they can handle not getting the kitty out safely before you jump in… (If the kitty perishing would induce a crying fit or nightmares, wait a little longer. I know 30+ year olds who cannot handle this, so it isn't the game for everyone.)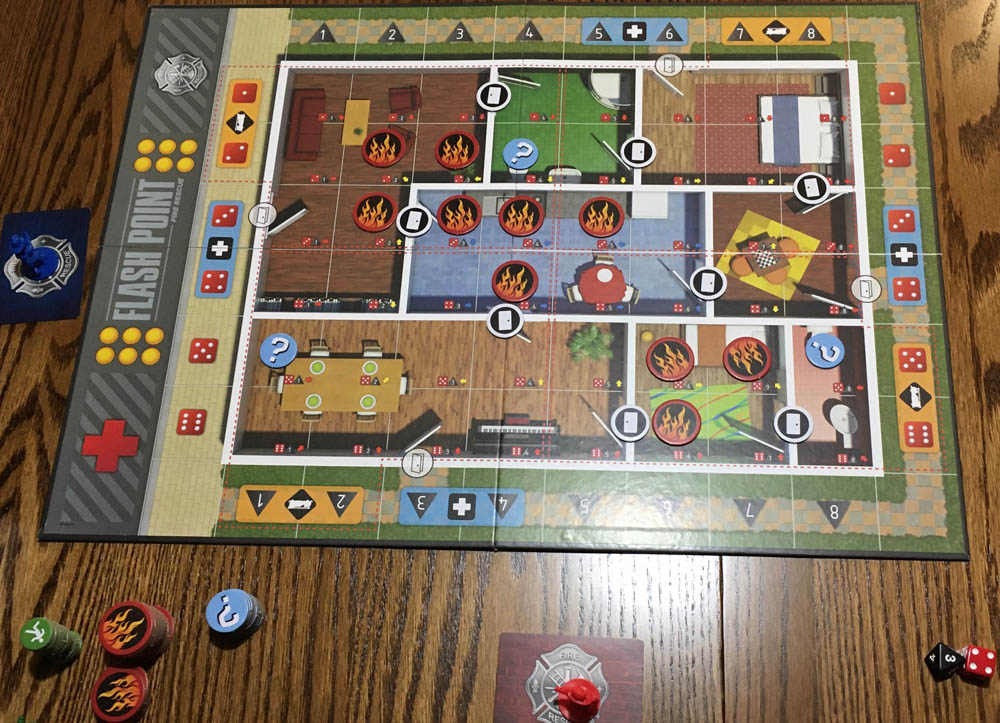 The starting setup begins with two points of interest (potential victims) awaiting rescue while on the loo and another trapped in the dining room who could have just booked out the door but didn't. Gotta admit, I'd hide on the toilet if I couldn't get out too, though. The fire is spreading through the kitchen into the main family room towards one of the doors. Each player chooses which door to come in on and gets four actions. Moving one square takes an action. Spraying fire to take it back to smoke is an action. Spraying a smoldering square to get rid of smoke uses one action. Opening a door equals one action. Dragging an unconscious victim requires two actions, as does chopping a hole in the wall (though if the raging inferno of fire causes an explosion it may just knock a hole in the wall for you). You can also bank actions you didn't use for later.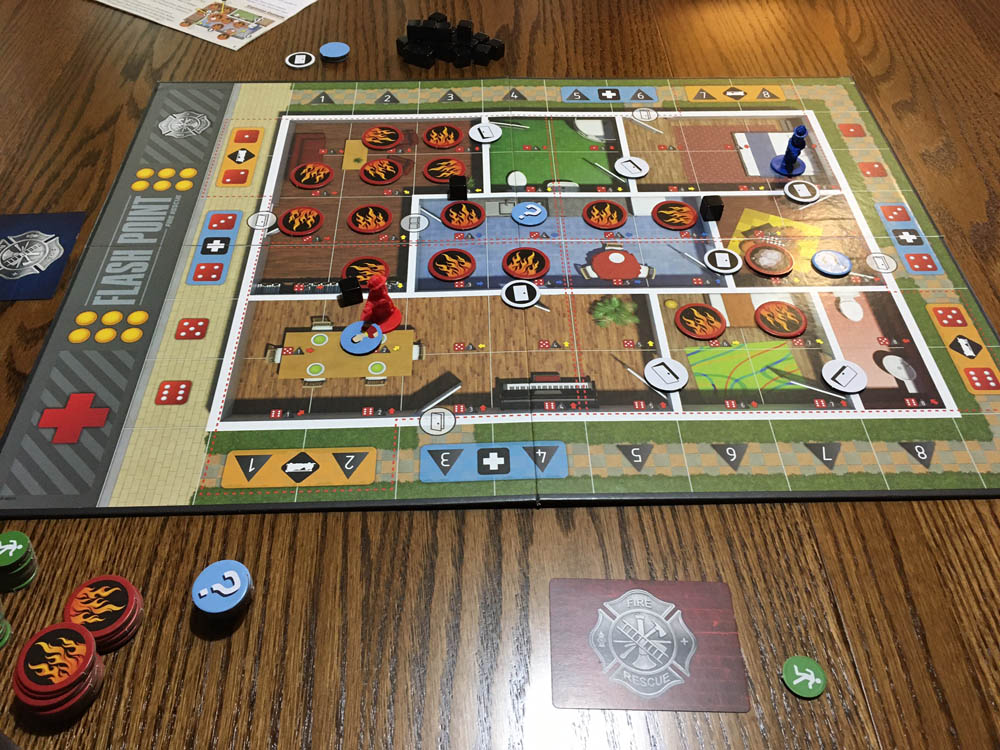 Every player takes their four actions plus any banked actions they wish to use and then rolls to see where the fire pops up next. If you are lucky, you roll a totally untouched square which starts to smolder with smoke. If you are unlucky, you roll an existing fire and it explodes in all four grid directions, sending more fire out at an alarming rate, knocking doors off their hinges, injuring victims and blowing holes in walls. It doesn't take long for the fire to start to spread…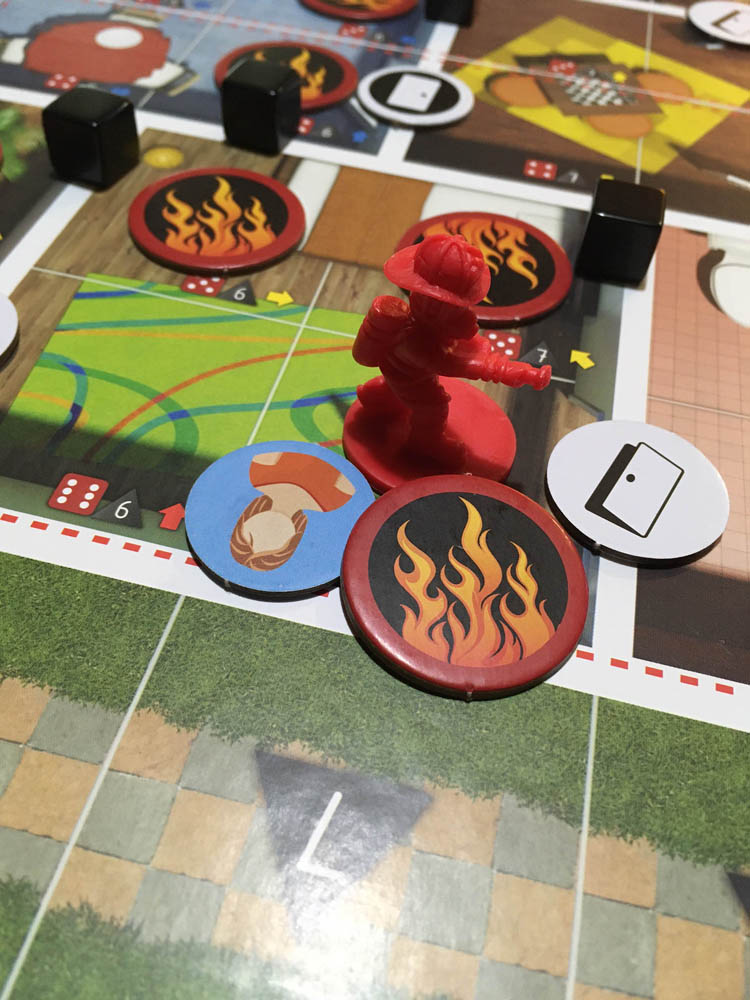 My character firefighter was rescuing this victim when a nearby fire exploded, injuring the victim and myself. In the kid-friendly situation, the injured victim has to be treated at the hospital and you have to get fixed up so you start at the nearest blue EMT square. In reality, neither of you would be so lucky.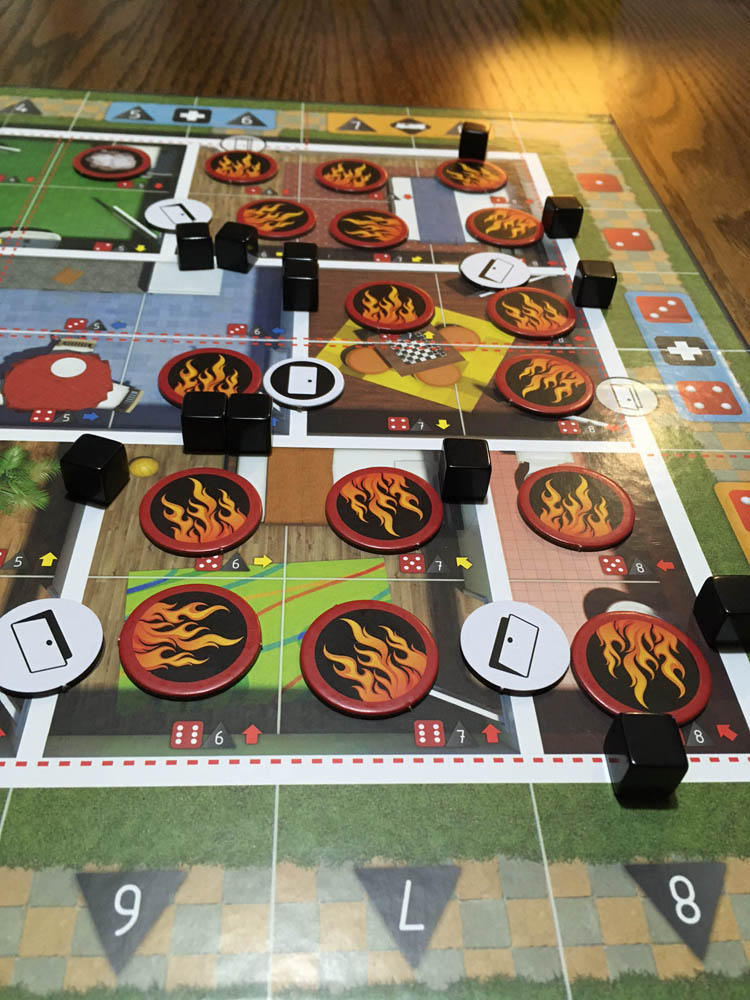 The goal is to rescue 7 victims. Some points of interest have victims to be rescued (including the aforementioned kitty and also a puppy, as well as all sorts of humans) but some are empty blanks. We started this game drawing all blanks and it destroyed us.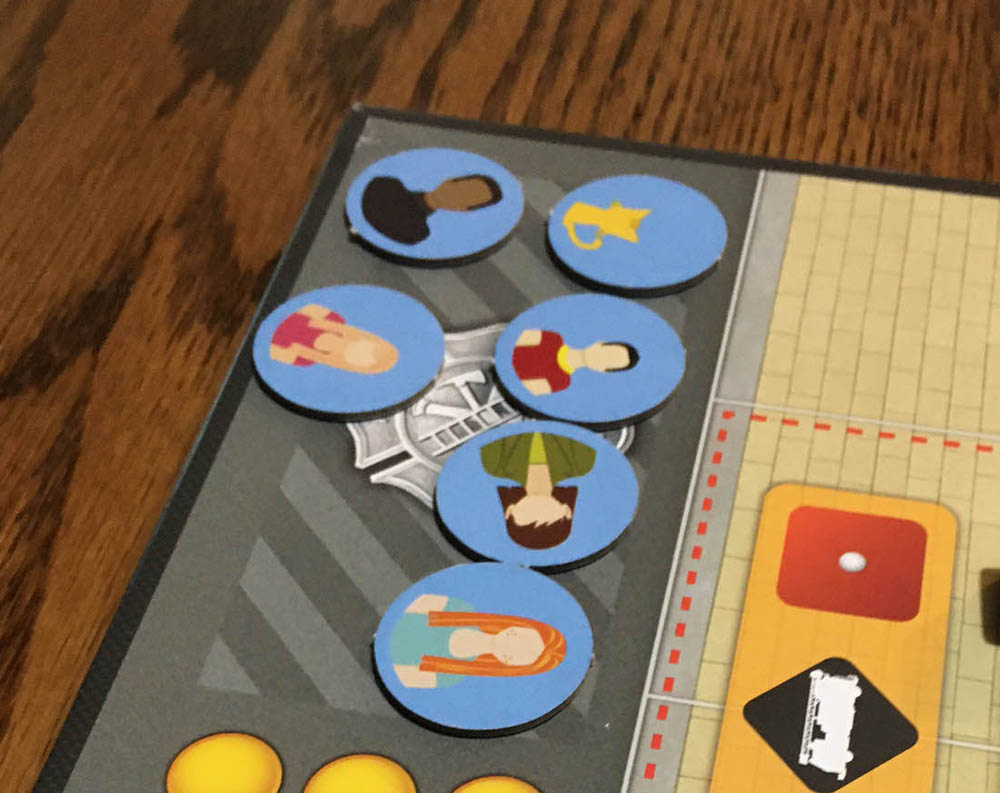 We only managed to rescue 6 victims, though we did get the kitty out. The puppy was not appearing in this film. As I'd mentioned, those who aren't saved require more medical attention; the game doesn't want to depress you thinking that they died because you twiddled your thumbs or chose the wrong exit strategy or something for all that they totally died. As did your firefighter character who was in the building with the inferno but was conveniently time warp transported to the nearest EMT platform.
After easy mode, there are specialized firefighters who have differing abilities, as well as hot spots that blow up instantaneously and hazmat chemicals. Because it wasn't enough to fight fires in a normal home, there had to be a meth lab… But I didn't review that version because it's more complicated and less kid-friendly, and there just aren't enough good cooperative kid-friendly games out there that aren't totally lame (or sparkle lamé or both). That version does make for better storytelling later though, like the bigger fish caught at the lake on that special weekend…
I give Flash Point Fire Rescue 4.5 Cthulus.

(4.5 / 5)
I really like Flash Point. It's actually pretty hard with only two people because you just can't get good enough coverage on the house, fire and points of interest. The game plays best with four, even if that's two players playing two firefighters each. If you are interested in buying the game and battling fire with fire yourself, you can find it on Amazon here.
Just remember, when you purchase anything from the links provided, we get some $ back so the Dark Lord says shop away…
Other collaborative games I have reviewed here on Haunted MTL include Horrified, Sub Terra, The Grizzled, Mysterium and Elder Sign.
Slay the Spire Downfall Review: A Masterclass in Fan Content
Slay the Spire Downfall, also known as Downfall, is a fan-made mod to Slay the Spire by Table 9 Studio. Table 9 is a small game studio that has primarily specialized in small projects but is soon to release its own original game, Tales & Tactics. Downfall is one of its first projects, and has been met with heavy support from the Slay the Spire development team and community. It has been so successful, it even has its own Steam page.
If you aren't familiar with Slay the Spire, check out my review! Now that you've familiarized yourself with the base game, let's get into the expansion!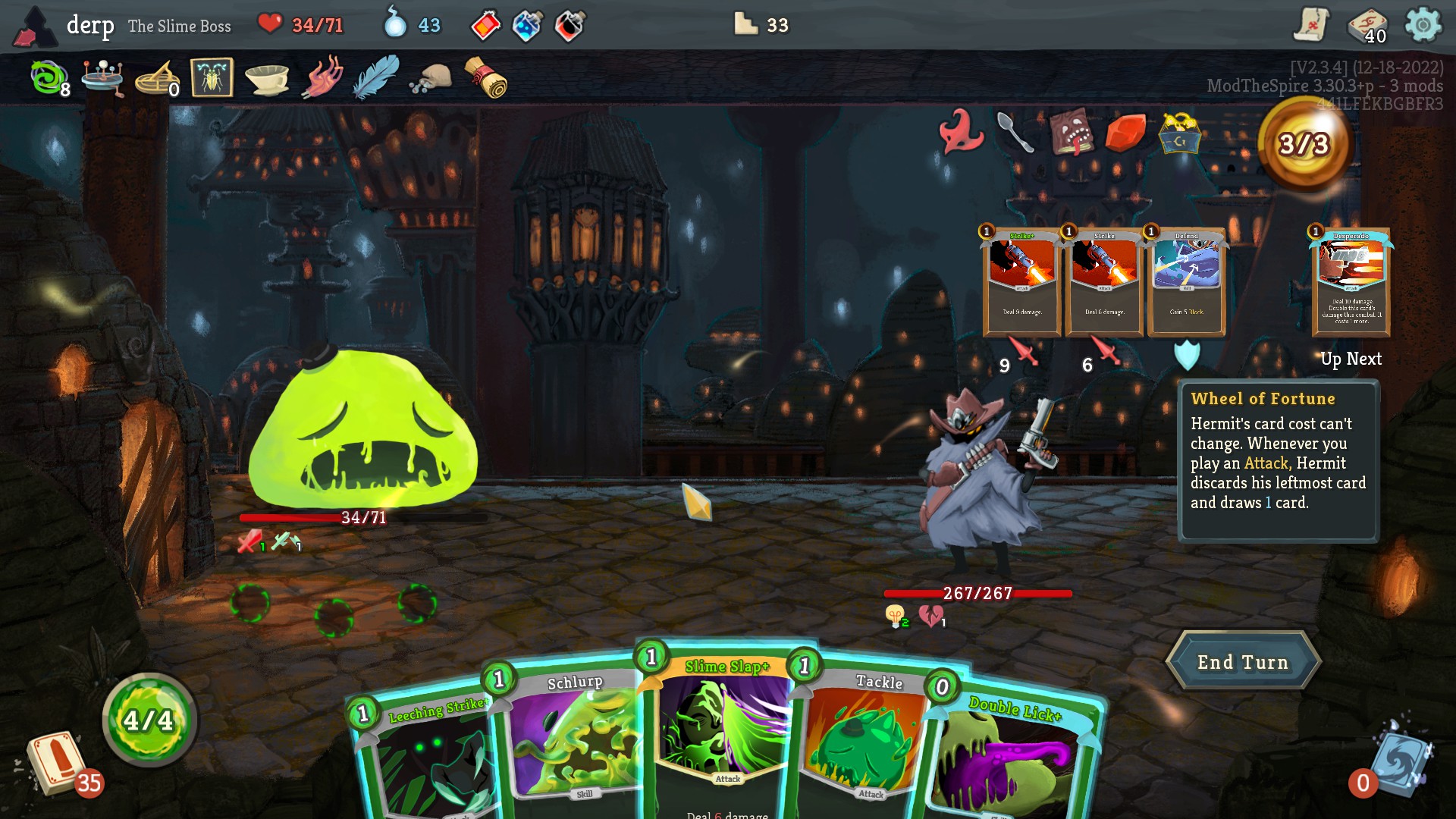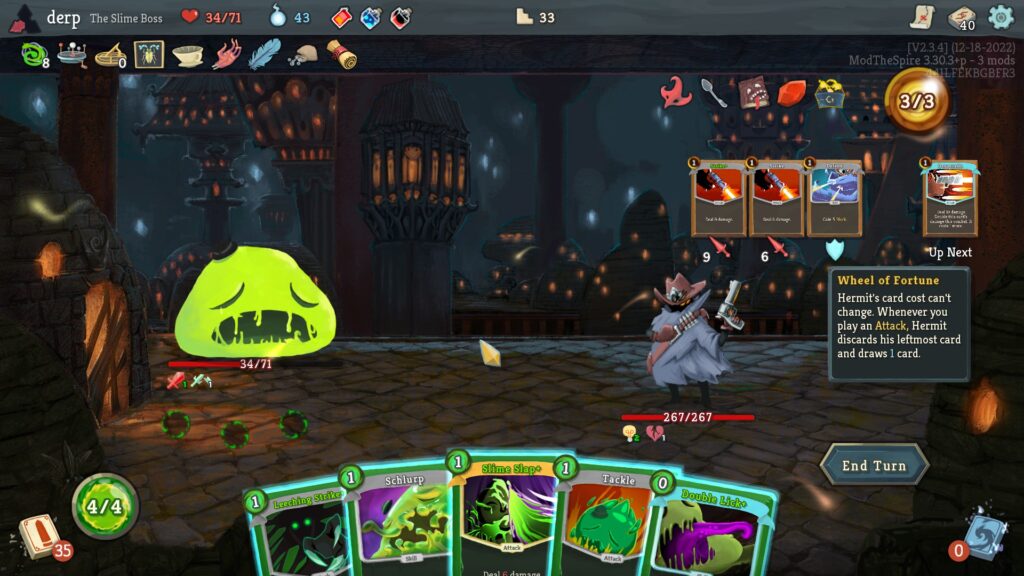 Gameplay
Downfall adds considerable content and new playing options to Slay the Spire. Generally, there are plenty of new cards, events, and relics. Additionally, there is a new hero, The Hermit, an undead gunslinger. Cards in their deck have increased abilities when played from the middle of a hand, creating better outcomes the more deliberate you play.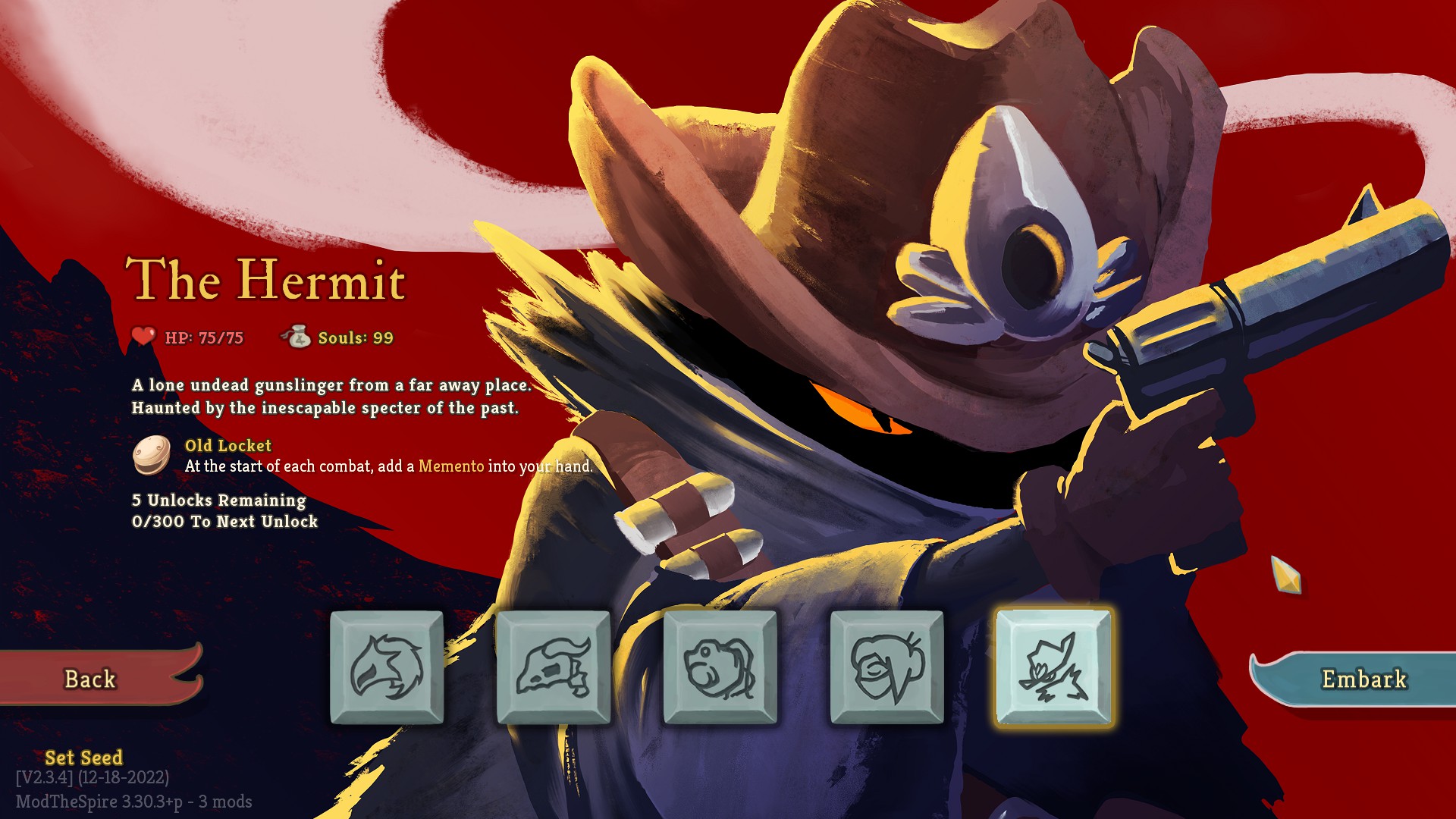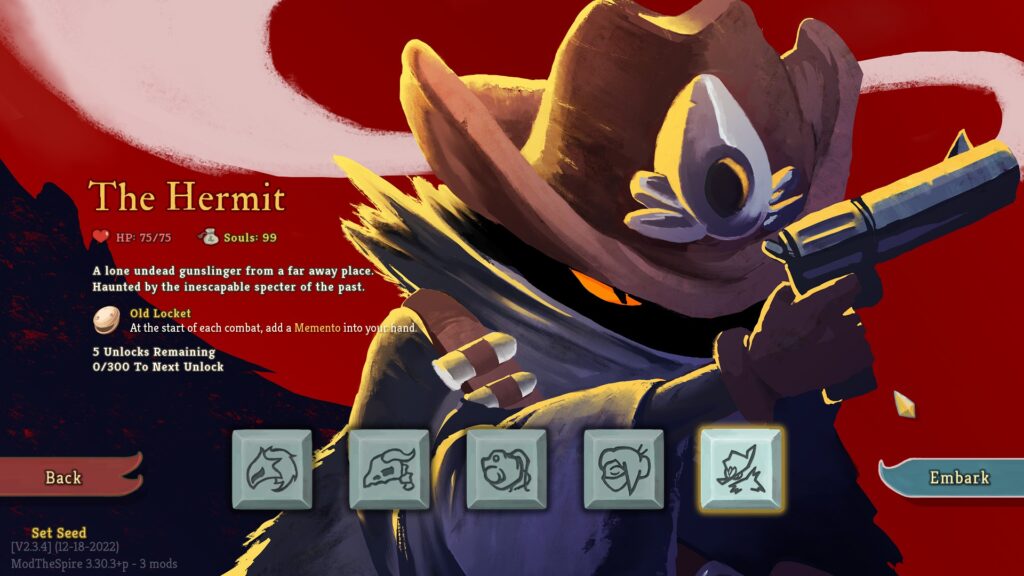 In addition to traditional Standard mode, the game's meat and potatoes is Downfall mode. In Downfall mode, you can play as one of seven bosses from Slay the Spire. Instead of climbing up the tower, you work your way down defending it from the same heroes you'd play as in the base game. Each boss has its own unique playstyle and deck, resulting in even more varied play experiences.
The seven playable bosses are The Slime Boss, The Guardian, The Hexaghost, The Champ, The Automaton, The Gremlins, and The Snecko. All can be encountered as enemies during a Standard run. Their playstyles are as follows:
The Slime Boss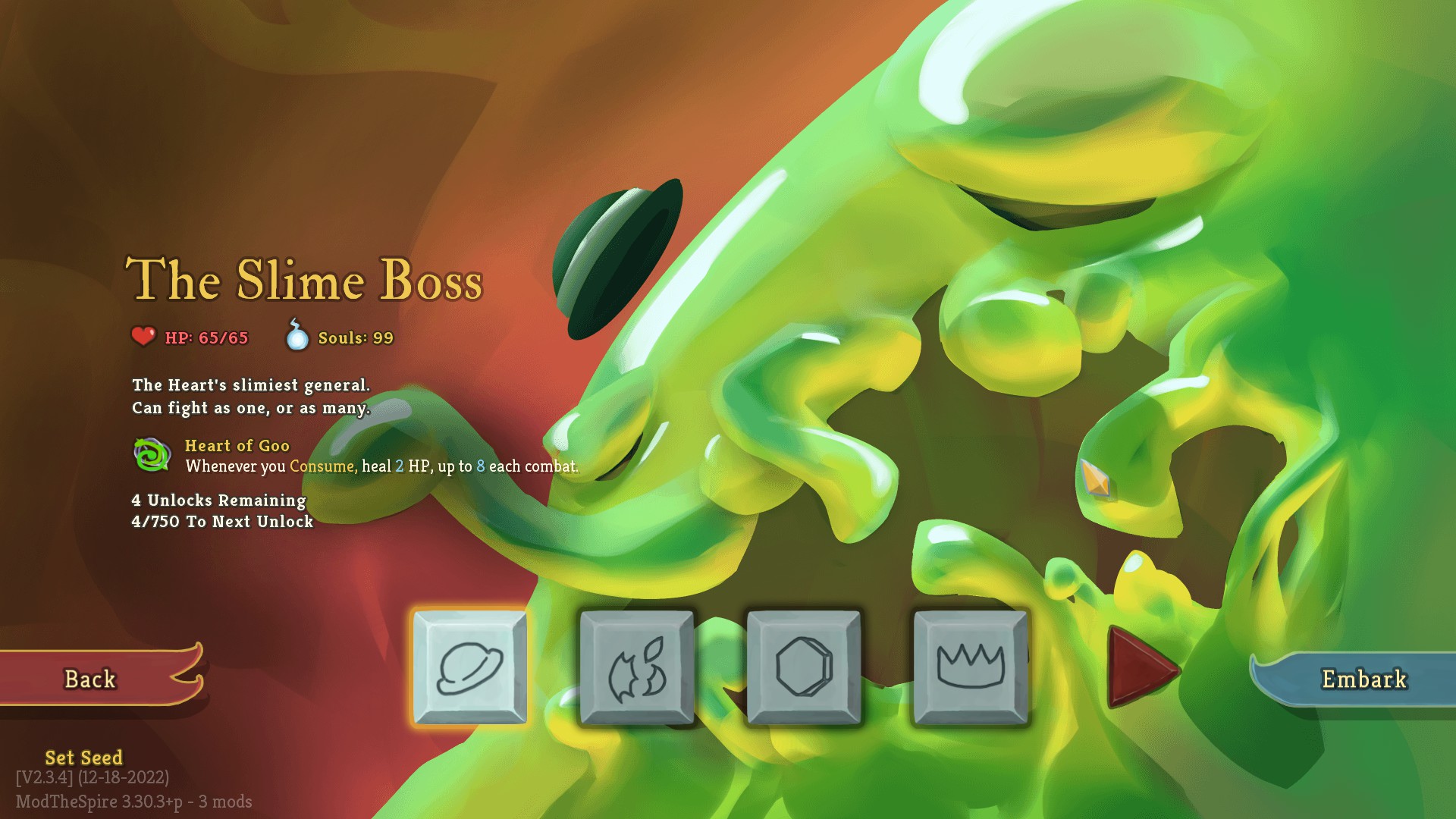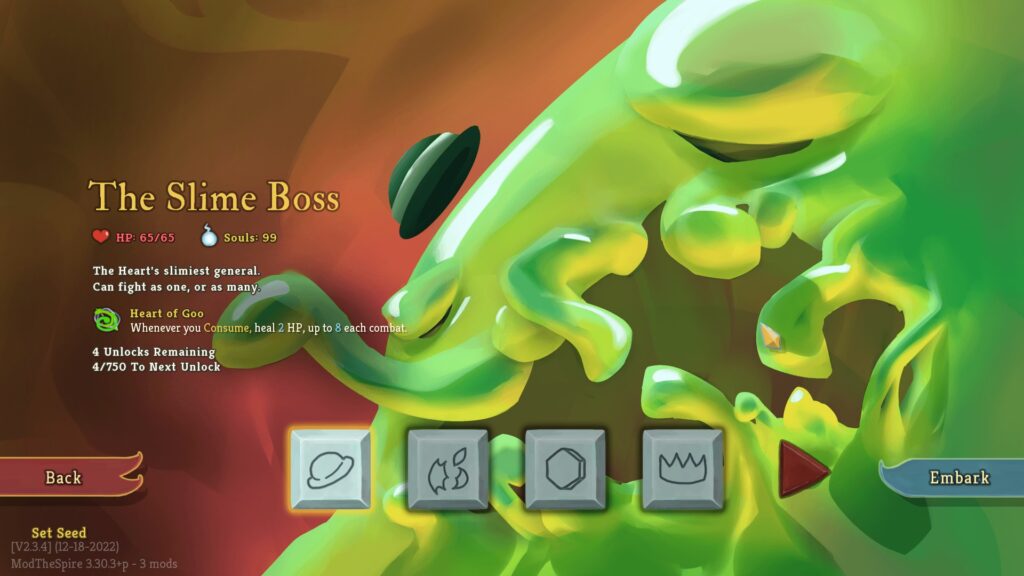 The Slime Boss's special mechanic includes slime minions that can split from the Boss and have a variety of effects. Additionally, the Boss has cards that add Goop, increasing the damage of the next attack and causing additional effects when consumed.
The Guardian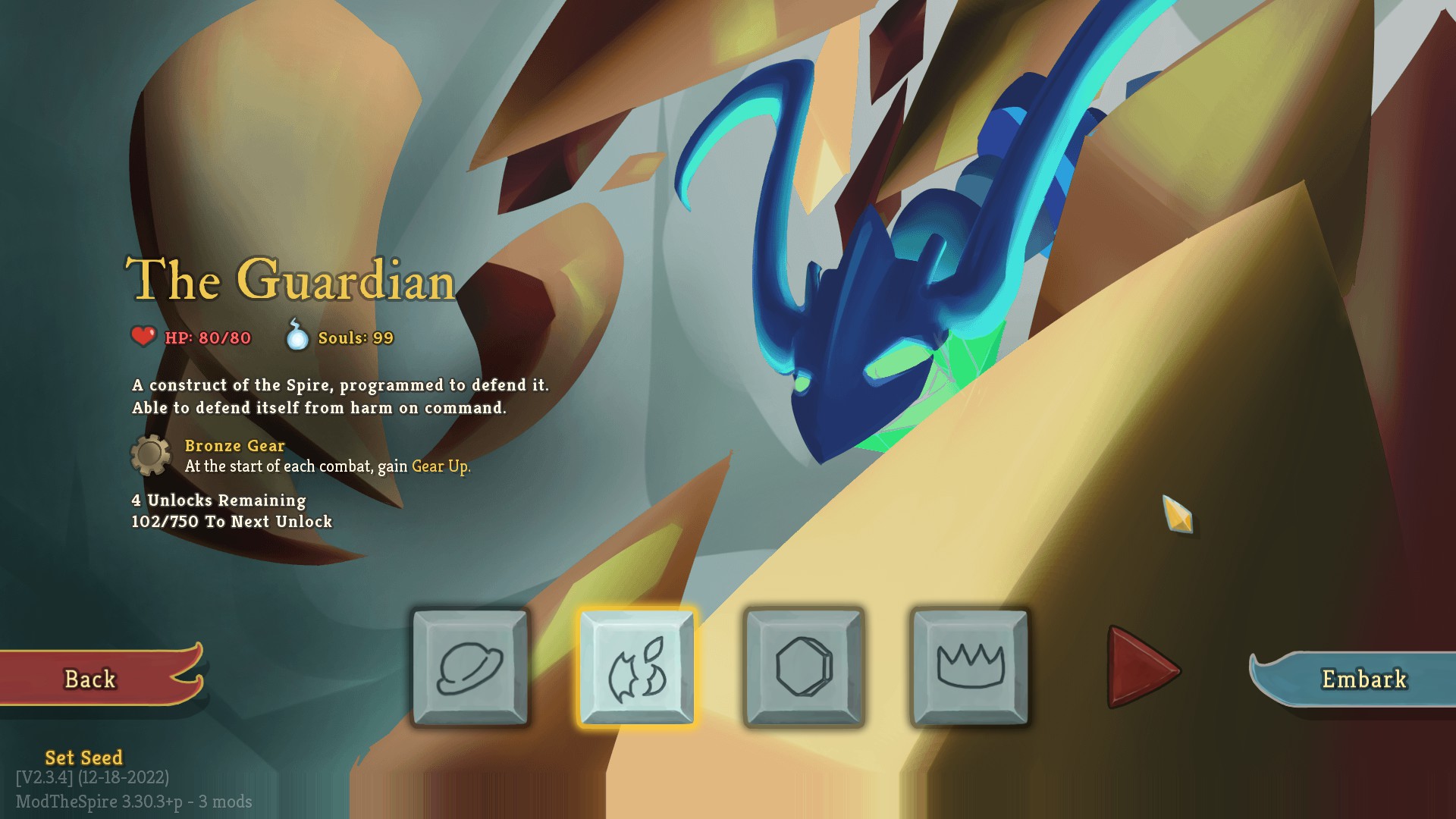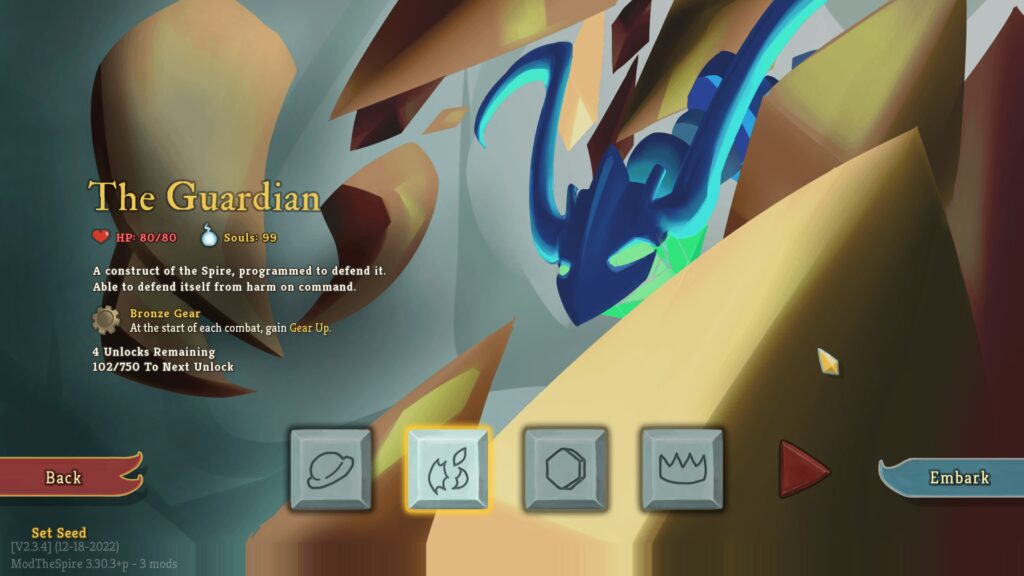 The Guardian's special mechanic is that they are able to phase between modes after taking a certain amount of damage. The cards also have gem slots, which allows gem cards to be combined with other cards to make them more powerful.
The Hexaghost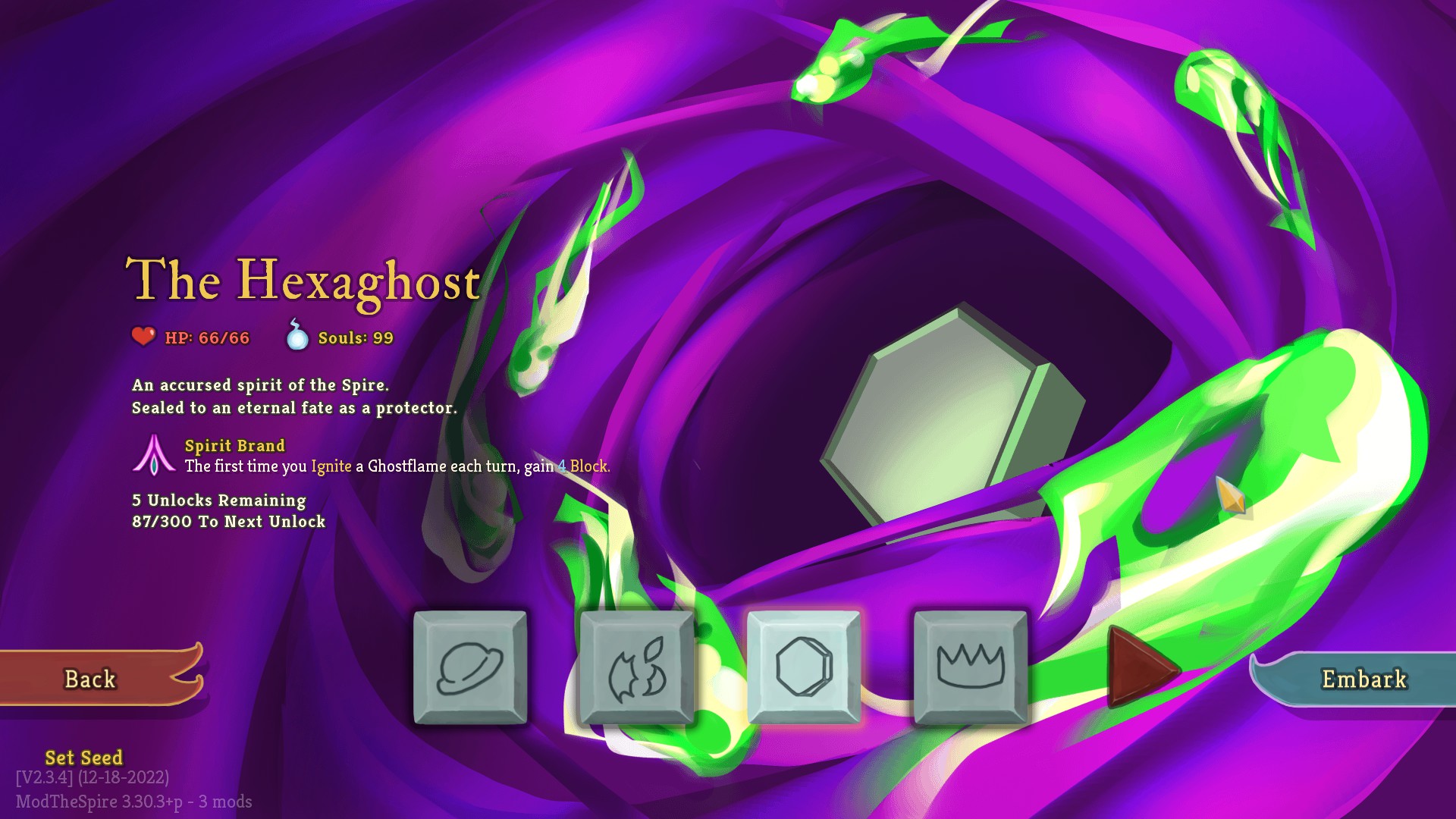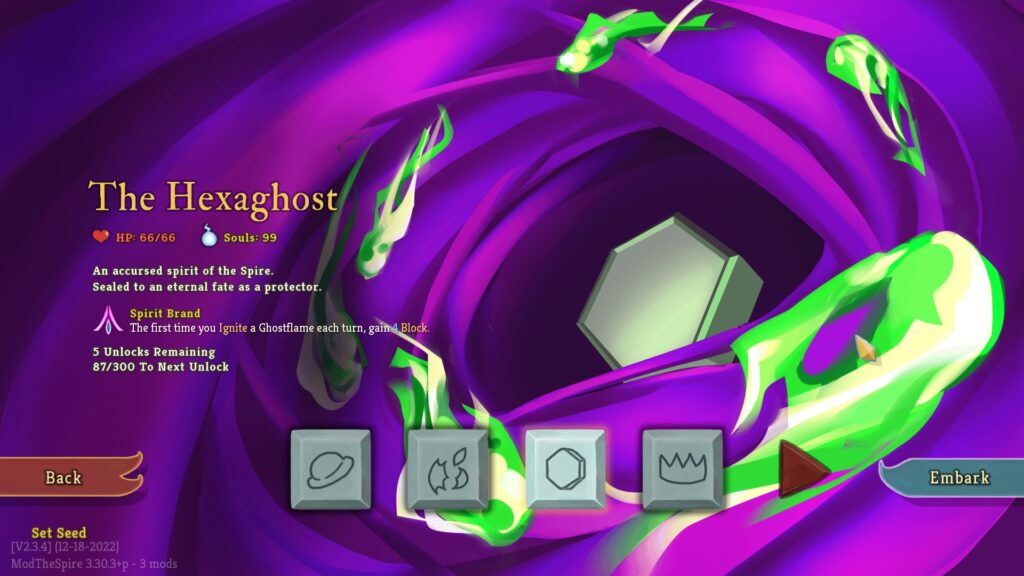 The Hexaghost's special mechanic is that it has six Ghostflames that can be ignited by playing certain card type combinations. When ignited, a special effect occurs. A large portion of the cards in this deck are centered around end-of-combat buffs and cards that disappear if not played immediately.
The Champ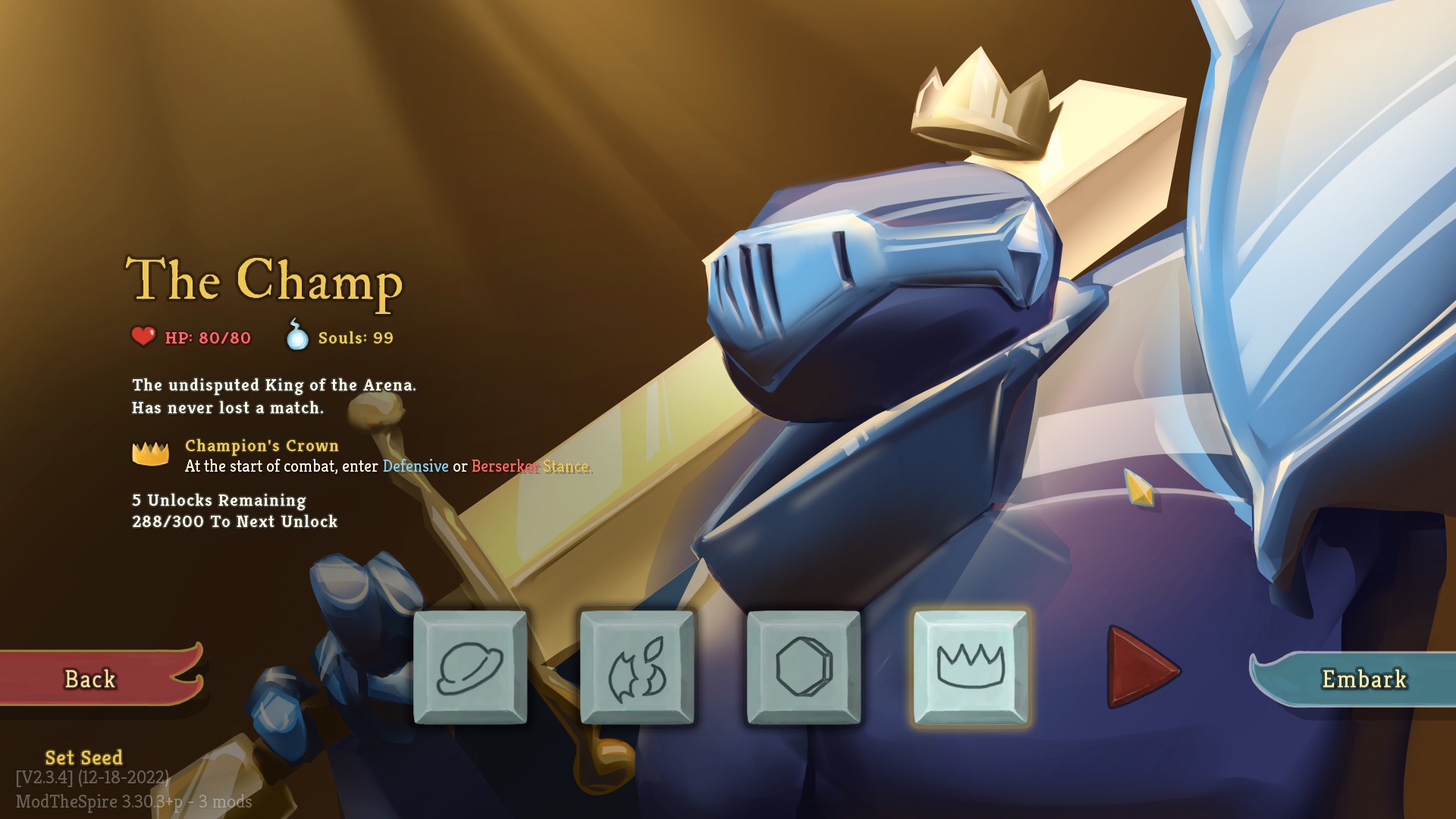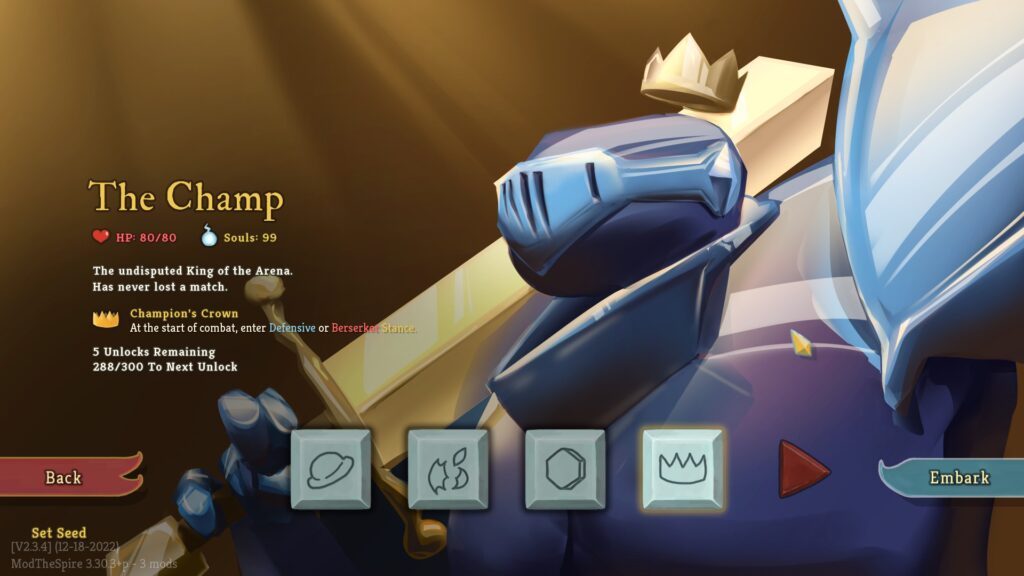 The Champ's special mechanic is that they change between Defensive or Berserker stance, giving them bonuses depending on which stance they are in. Their cards interact heavily with their stances.
The Automaton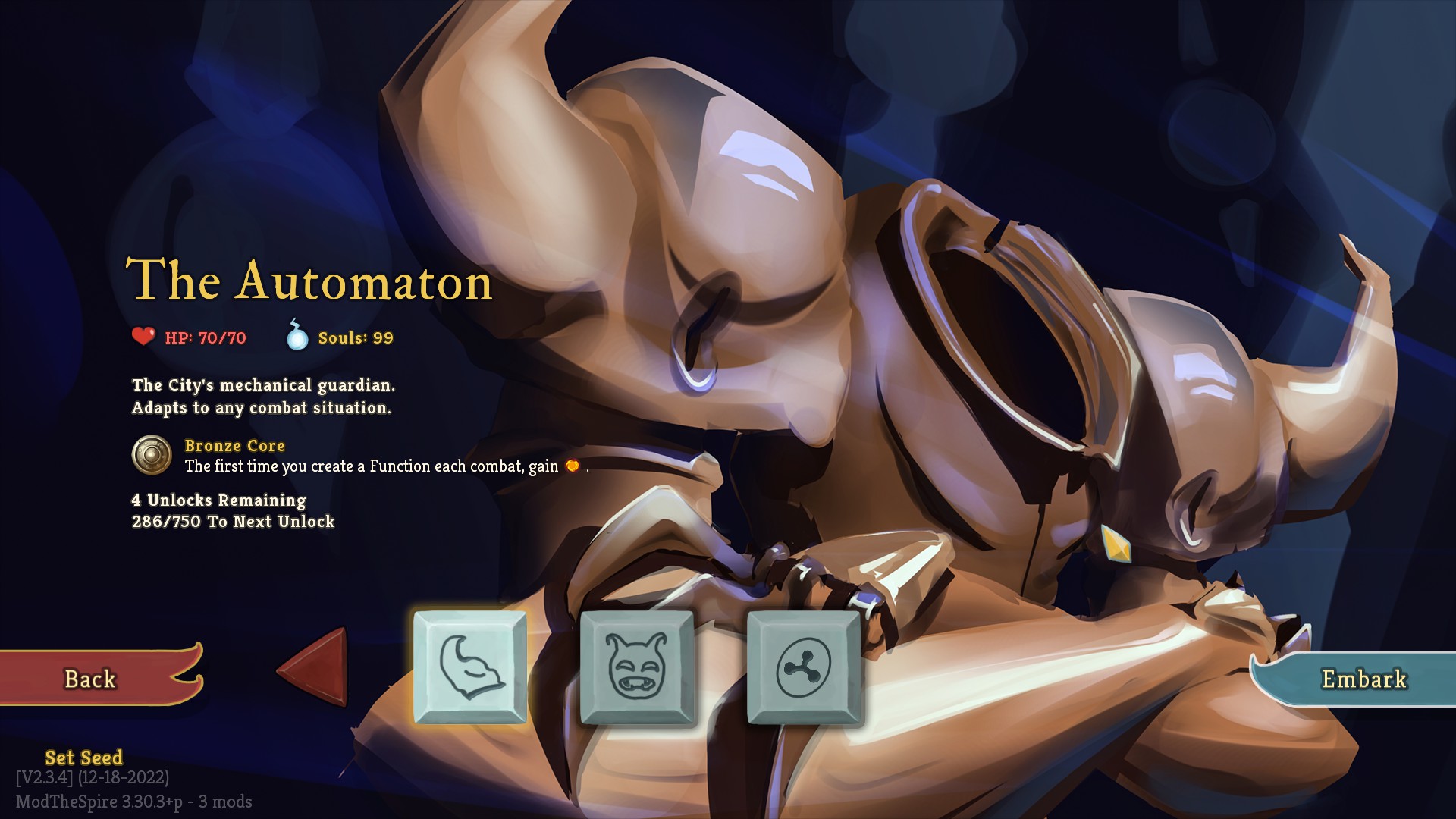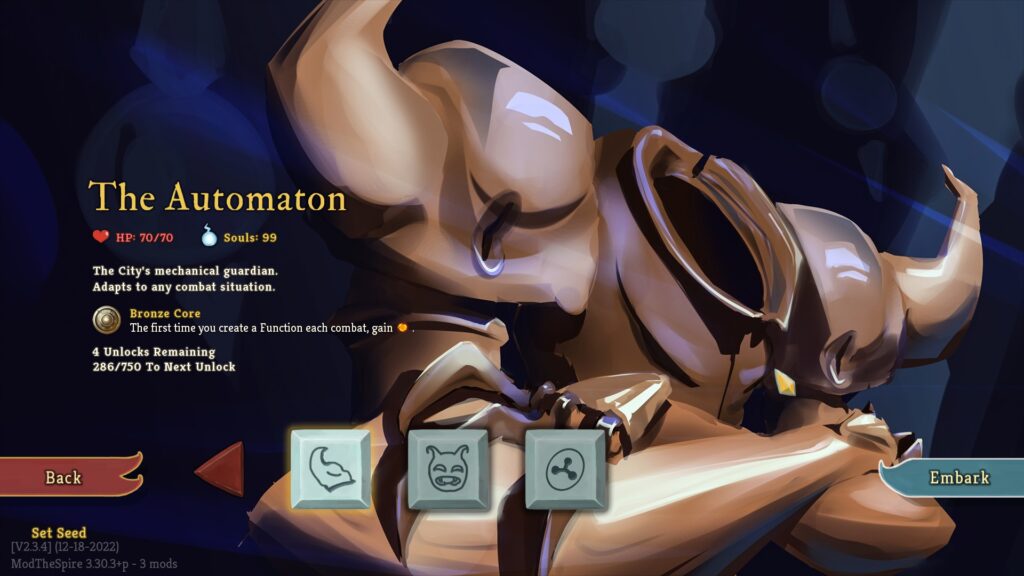 The Automaton's special ability is that they create functions, cards which are the stored combination of three already played cards. Their cards can cause compile errors when certain cards are used together, and the deck is focused on function synergy.
The Gremlins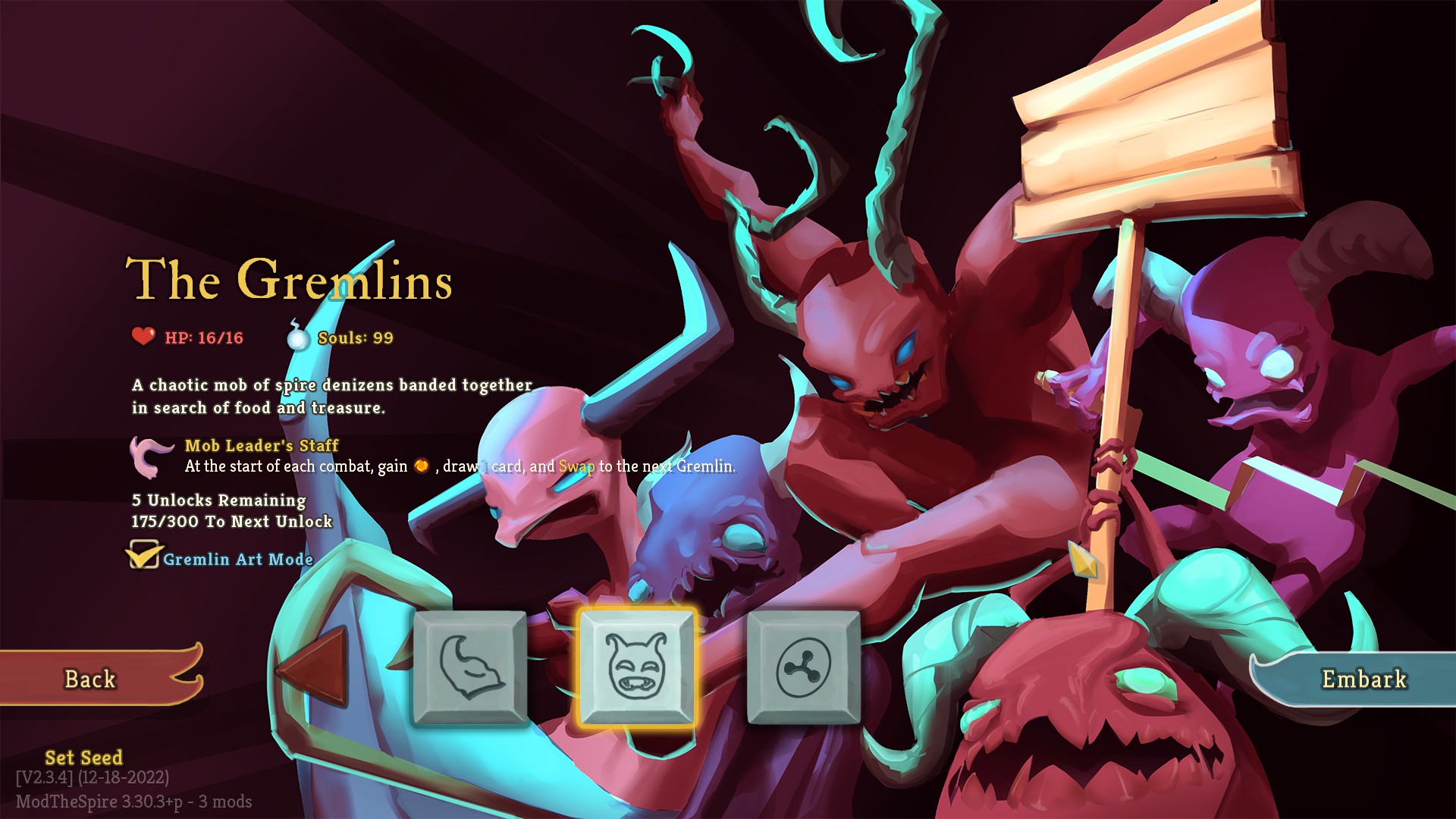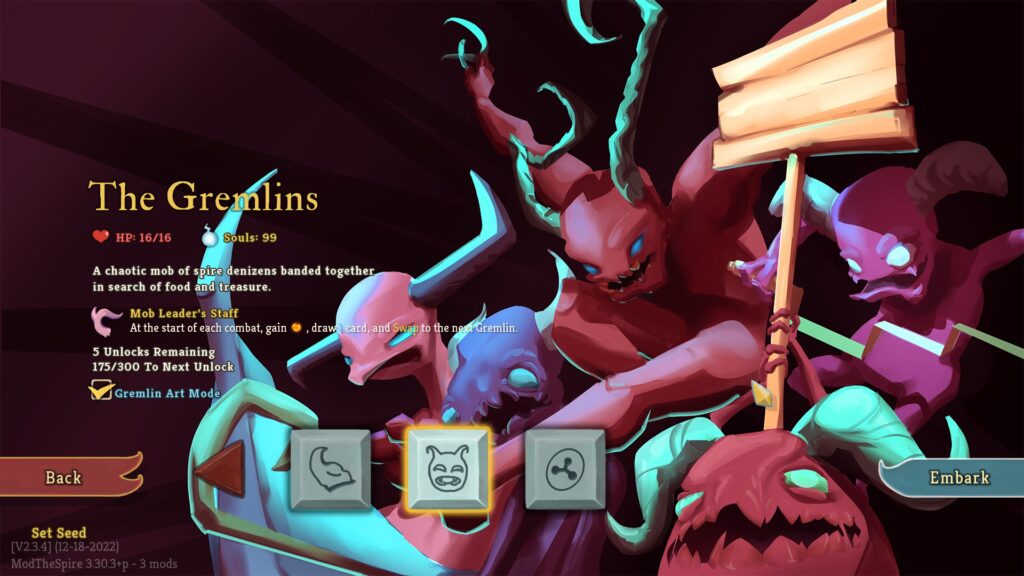 The Gremlins' special ability is that you play as all five gremlins, each with their own health bar and buff effects. Cards have extra abilities depending on which gremlin is the main gremlin at the time.
The Snecko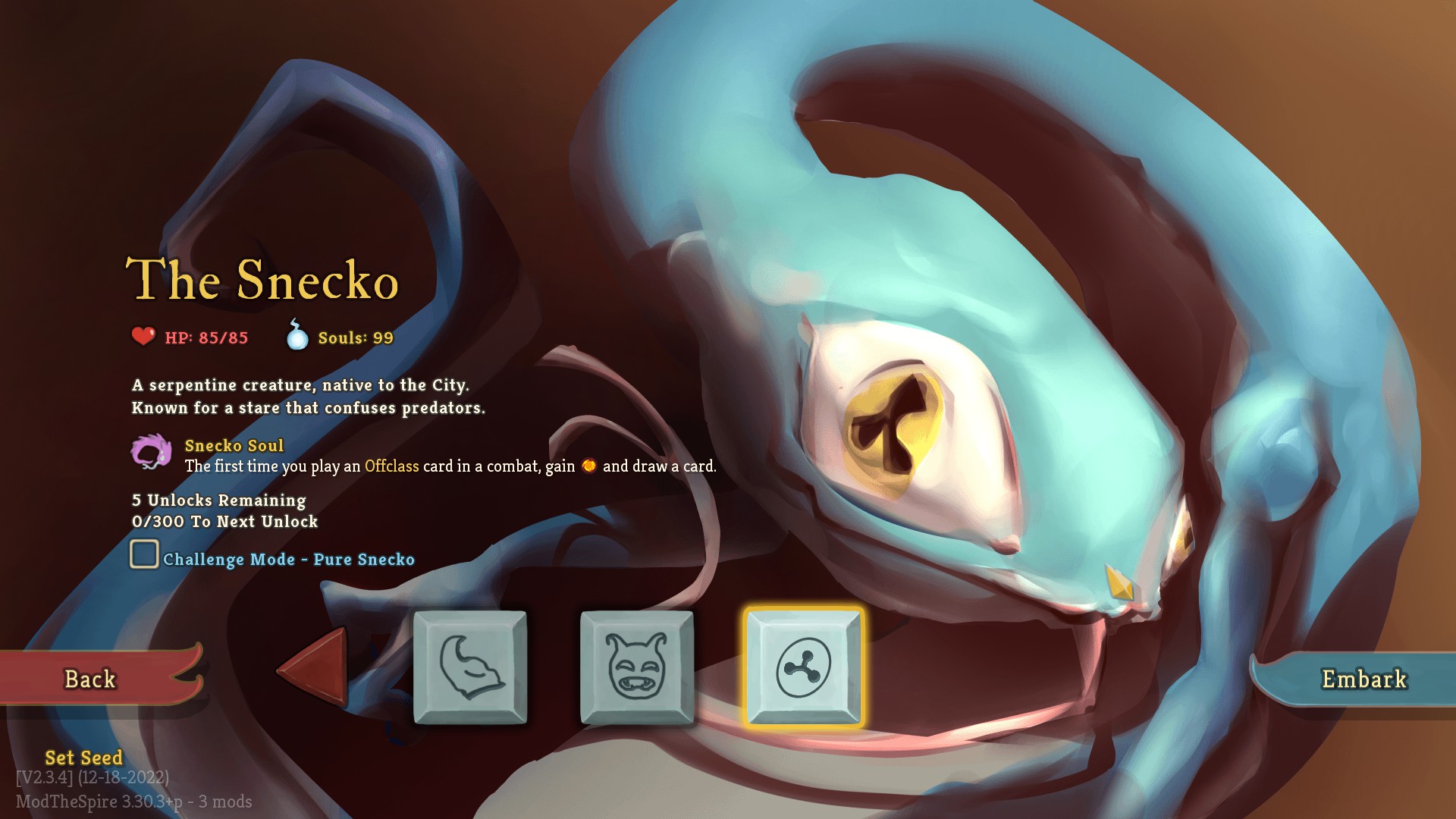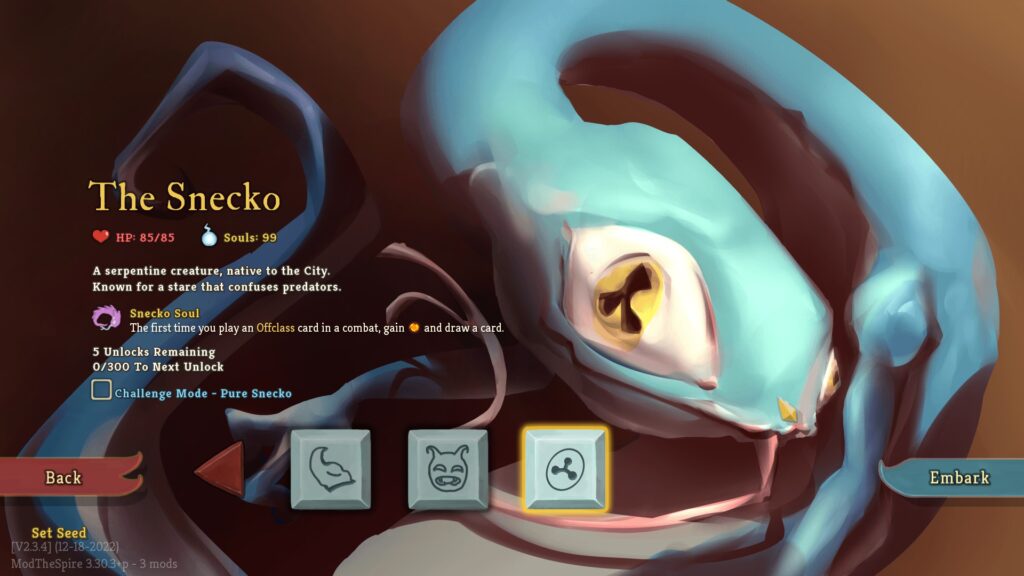 The Snecko's special ability is that they play cards of any class. This means they have access to hero and boss cards of all types throughout the run.
Review
The new playable characters are a hit. They are so much fun to play and add an intriguing new dimension to the game. My favorite new characters are The Automaton and The Slime Boss, though every time I play any character a few times, I find a new favorite! Each character is refreshing and interesting in its own way. 
Generally, the gameplay takes an already great game and gives it even more replayability. My biggest critique is that Downfall currently doesn't work on the Steam Deck, unlike Slay the Spire. However, it's an absolute blast to play either way. Because this is a fan expansion, it is free to download! But you do still need Slay the Spire in order to play.
I can't recommend this game enough. It is enjoyable, has a high level of replayability, and a greatly executed concept. I only wish I could play it everywhere!

(5 / 5)
Slay the Spire Review: Deckbuilding & Monsters
Slay the Spire is a roguelike, deckbuilding video game created by small indie studio Mega Crit Games. Released in 2017, Slay the Spire is the first and only game created by Mega Crit. However, the game has continued to see updates from the development team and fans alike since its release. In fact, a Slay the Spire Board Game just launched in November 2022 on Kickstarter to great success.
In Slay the Spire, you play as one of four characters as they battle their way through a magical tower filled with monsters, loot, and curses. The further up the spire you go, the harder and more lucrative your journey becomes. Will you defeat three of the many bosses awaiting you and receive your glory?
Gameplay
Within Slay the Spire, there are four characters (The Ironclad, Silent, Defect, and Watcher) each with their own deck and playstyle. You begin by choosing which one you will play as for the journey ahead. The Ironclad has a focus on healing and strong attacks, and is the simplest adventurer to play as. This makes sense, as they are the first character you have unlocked and introduces you to the mechanics of the game. Meanwhile, The Silent has a focus on many small attacks and poison. The Silent is very accessible in its mechanics just like The Ironclad, however is less forgiving to strategic mistakes. The Defect is more complicated and has a focus in channeling different elements to produce varied effects on the battlefield. Lastly, there is The Watcher, the complicated character, who has a focus on utilizing different combat forms to gain advantages. In addition to different playstyles through their unique decks, each adventurer also begins with a special ability and starting health.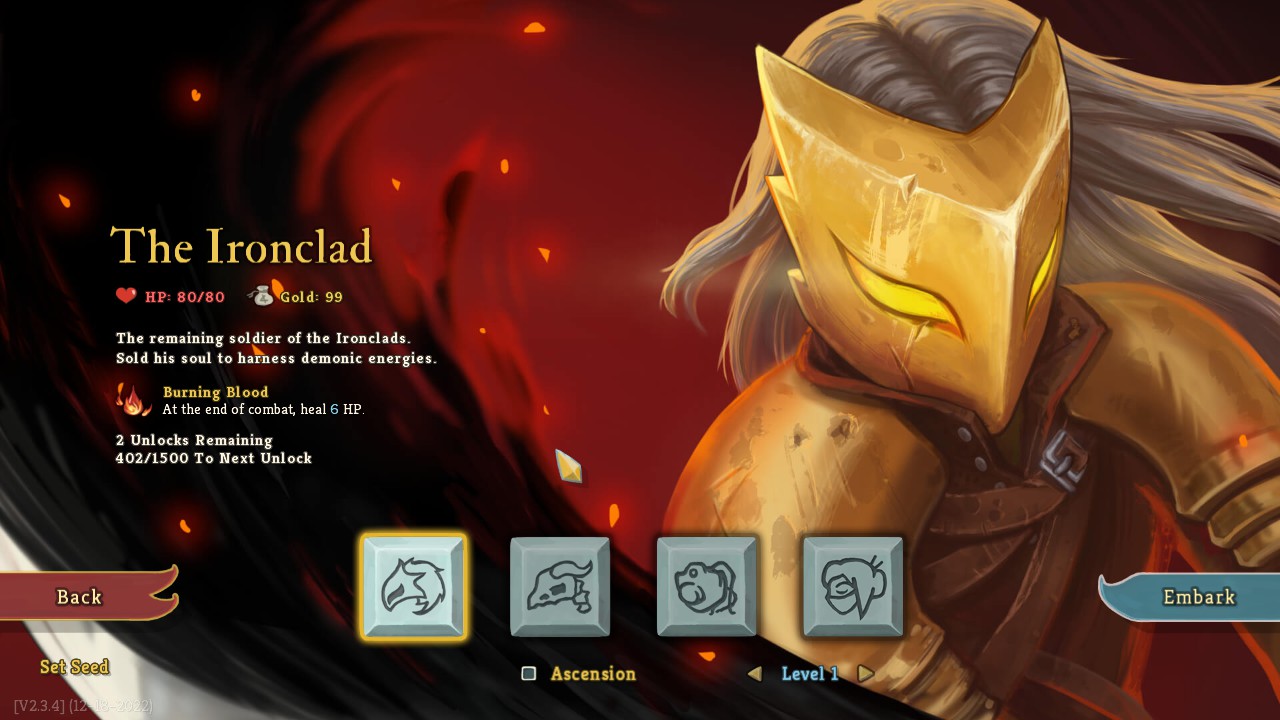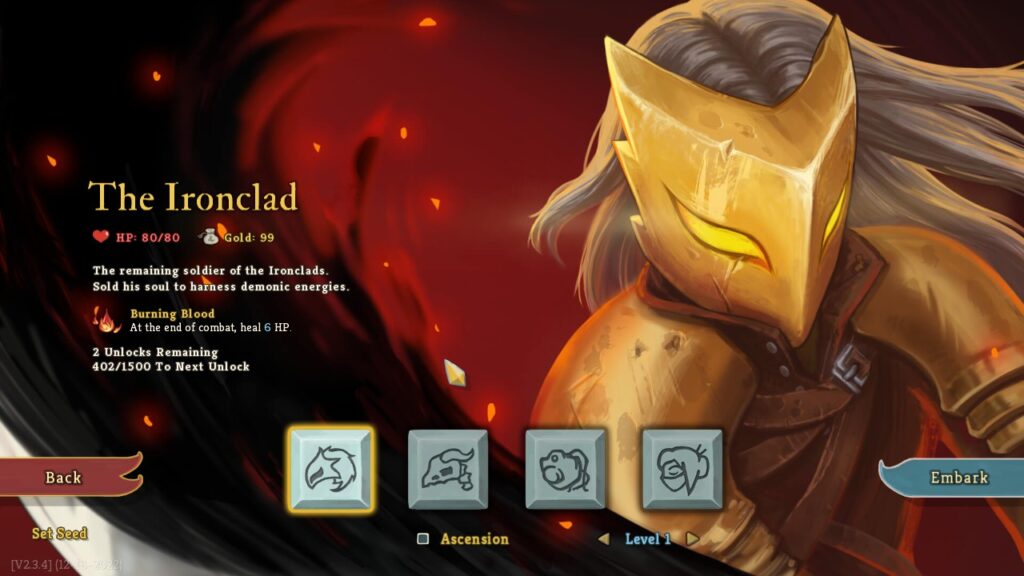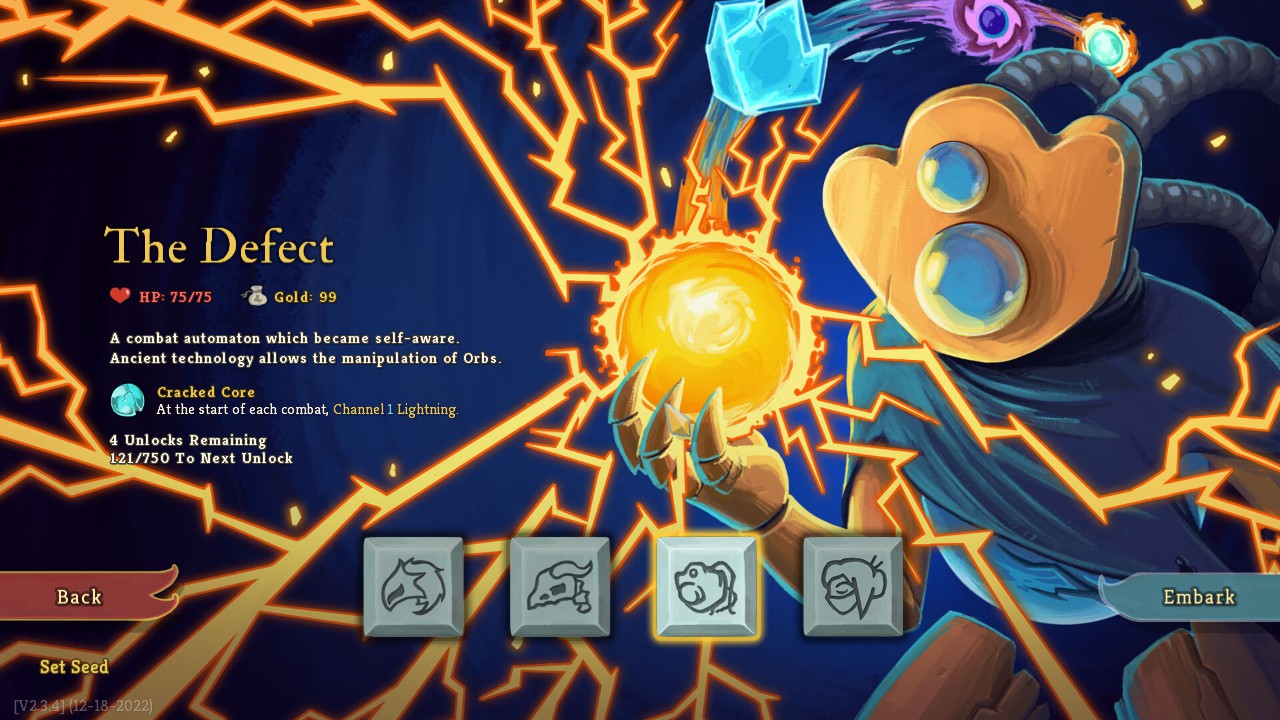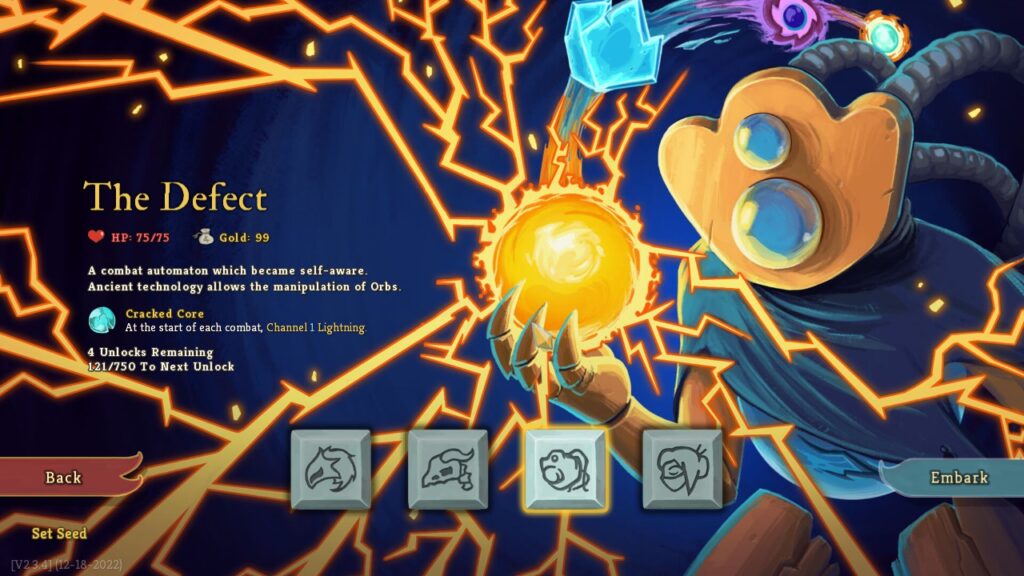 After selecting your character, you journey deep into The Spire, choosing pathways filled with monsters, merchants, more relics, rest sites, and mystery events. Killing enemies provides rewards through gold, cards, single-use potions, and occasionally powerful relics which stay with you the whole run. Elite enemies provide better rewards, however, healing opportunities are usually few and far between. Fighting too many elite enemies may prove more dangerous than lucrative. At merchants cards, potions, relics, and the removal of a card from your deck can be purchased in order to improve your strength. Rest sites provide either healing or card upgrades, forcing you to choose between your precious health and the improvement of your build. There are three acts in a full run, with a boss at the end of each act. As the acts progress, the bosses become harder, testing the mettle of your improvements throughout the game.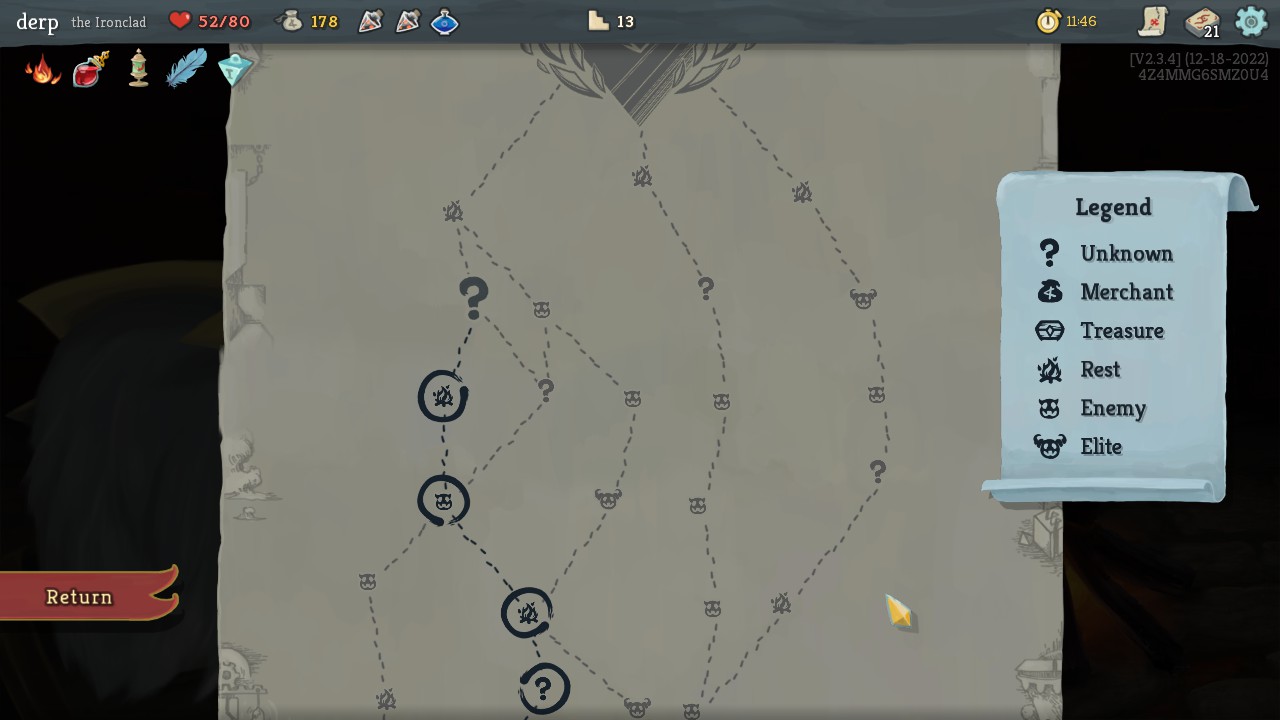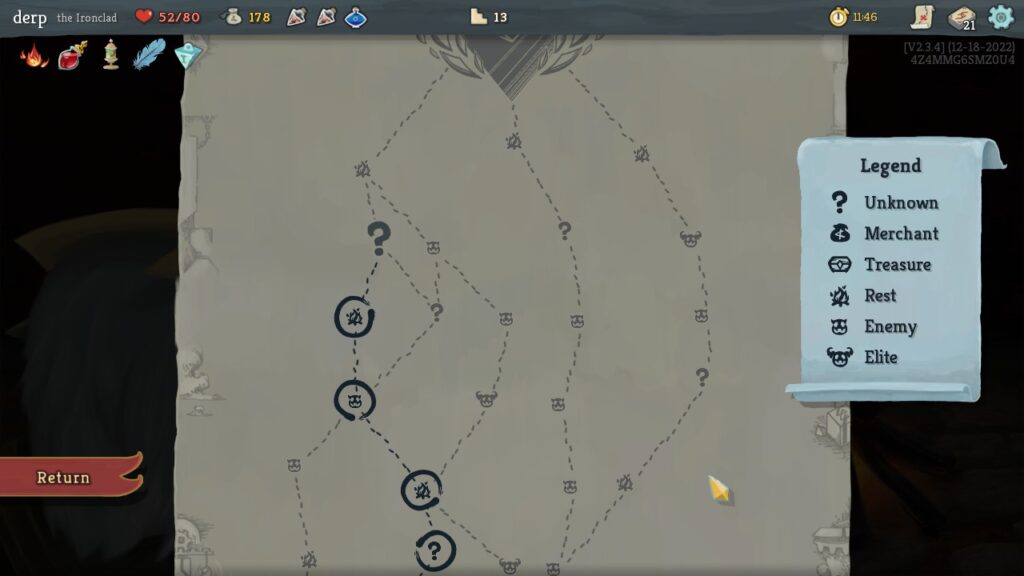 Review
I have absolutely adored my time playing Slay the Spire. The progression within a run is difficult but rewarding. There have been times when poor luck ended my run, however I still always had fun anyway. The diversity of characters and the resulting playstyles is great, even if I have found myself going back to The Ironclad time and time again. Additionally the game gives the player a significant amount of agency in the decisions on how to improve your deck and character. This creates replayability and a sense of ownership over a given run. The game also rewards and encourages taking chances, making it a blast to push your luck.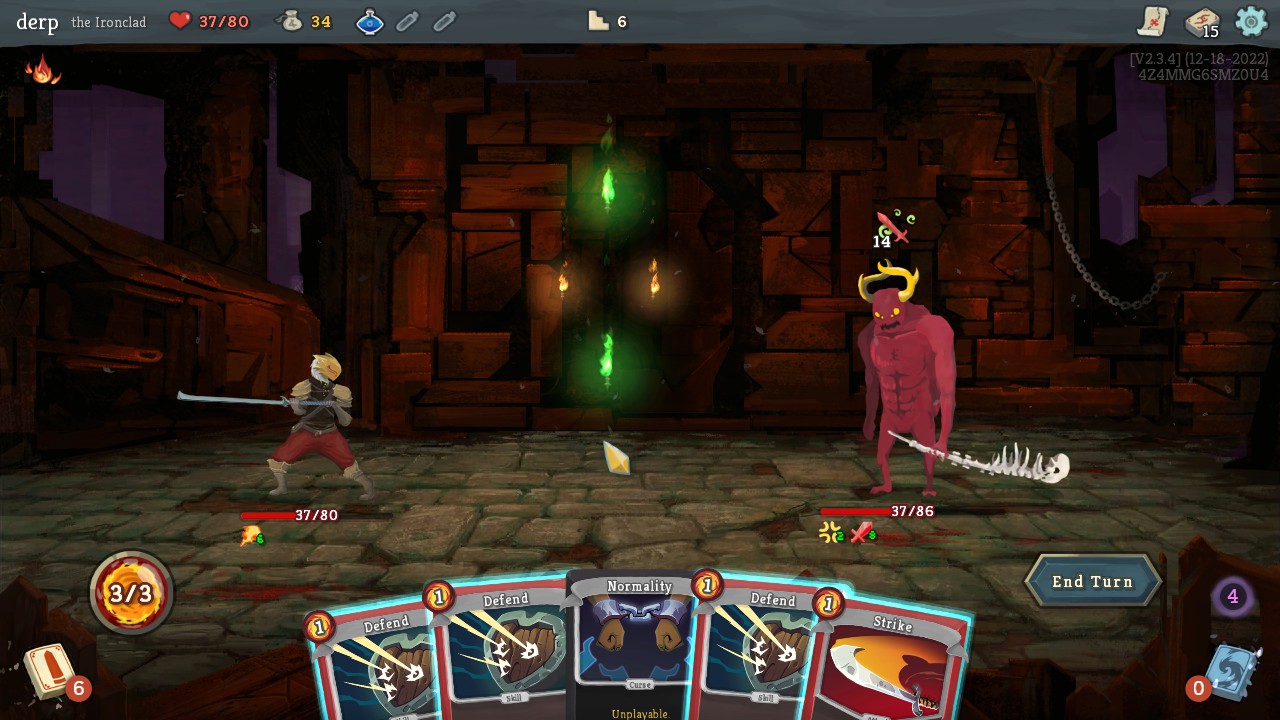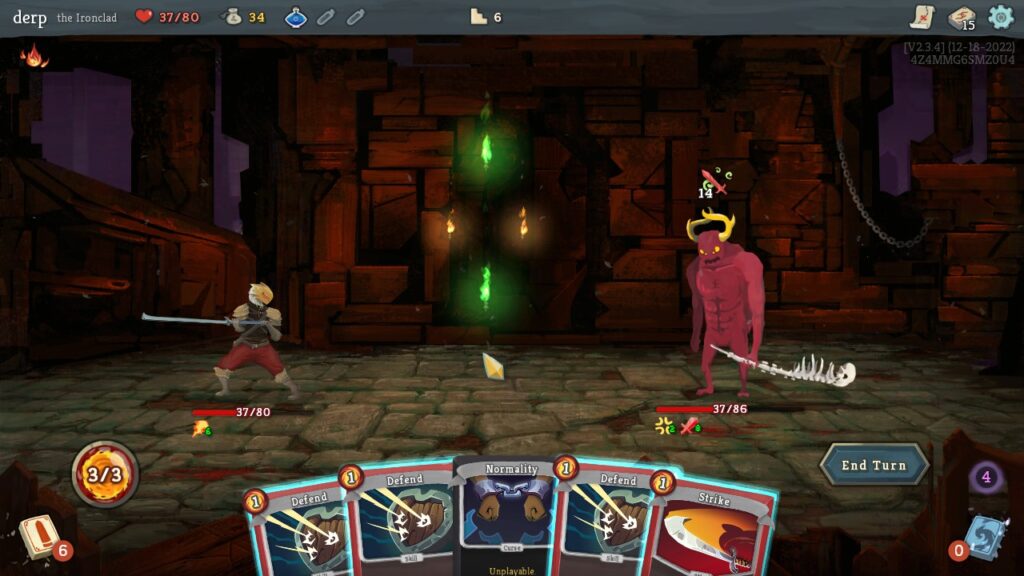 While I've had a great deal of fun, there are some areas for improvement. My biggest gripe is that there aren't more unique characters, monsters, events, and bosses. I'd love to see more playstyles as well as see less repeats of bosses, monsters, and events. The system and gameplay is so robust, it just needs some more content to be a top tier game. That being said, there have been periodic content updates (including the addition of The Watcher in 2020) and the community has created an extensive content mod that even has its own Steam page. Also, despite my issue with the amount of content, I definitely will be putting at least 30 more hours into this game.
Overall, I love this game and highly recommend it, so much so, I cannot wait for more content. For $25 on Steam, this game is a must play if you enjoy rogue-likes and deck building games!

(4.5 / 5)
The Last of Us: Episodes 8 and 9: The End
Sometimes life gets in the way. Maybe you watched the episodes the nights they came out, but then you got your stomach tattooed so you didn't have the energy to type on your computer, and then you had to work nonstop for six days straight and housesit 20 miles out of town, and then you got into a hit-and-run car accident with your boyfriend (luckily you're both okay but really very angry at the asshole that just drove away), etc. etc.. March has been a lot, but I finally rolled up my sleeves, made time for my computer and stopped procrastinating the job of writing my final review on HBO's The Last of Us.
Here we will cover the final events of Joel and Ellie's saga. Both episodes were directed by Ali Abassi and written by Craig Mazin and, in episode 9, Neil Druckmann. The adaptation continued to cover the story elements of the game, leaving out and/or changing most of the fighting and action scenes. This change is especially noticeable in episode 9, "Look for the Light," but we'll get to that in a minute. Let's first do a recap of episode 8, "When We Are in Need."
"When We Are in Need"
Ellie is on the hunt for food and comes across a deer, which she shoots down almost effortlessly. It is in this moment that she meets a preacher named David (Scott Shepherd) and his partner, James (Troy Baker, (Joel's voice actor in the video games)). After a moment of hostility towards the stranger, Ellie agrees to give the deer to David in exchange for penicillin. Shortly after giving Joel the medication, Ellie has to leave again to deter David's religious crew from hunting her and Joel. It turns out Joel killed a few of David's men, and the preacher is out for revenge.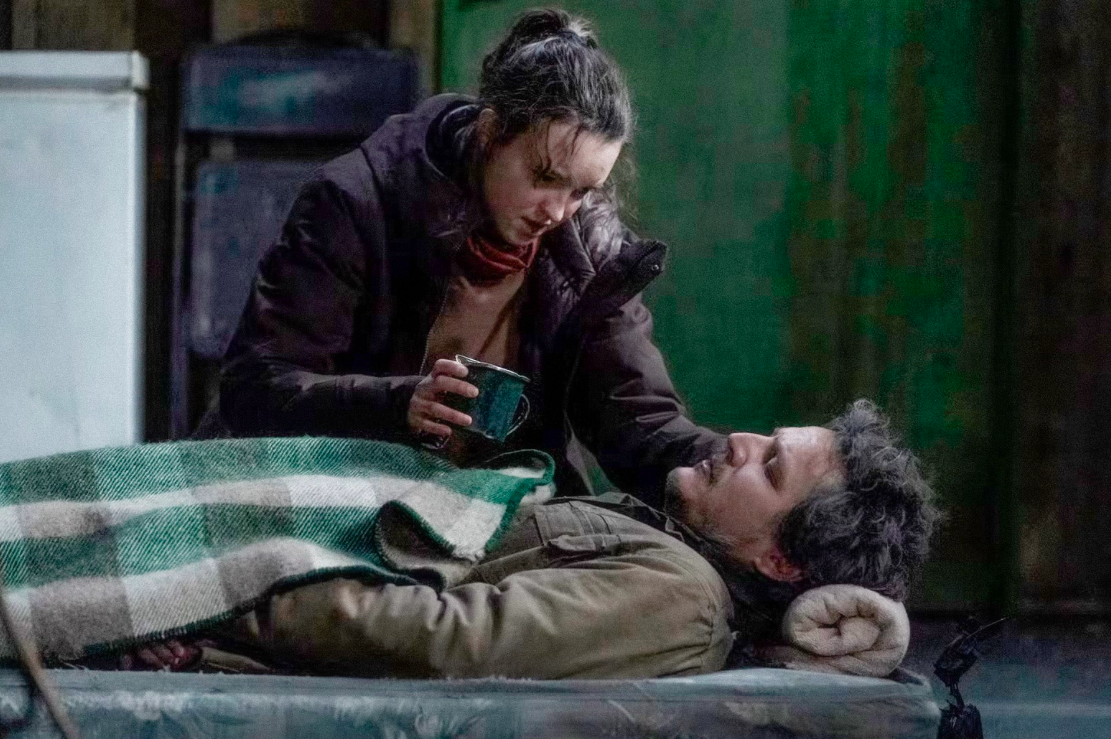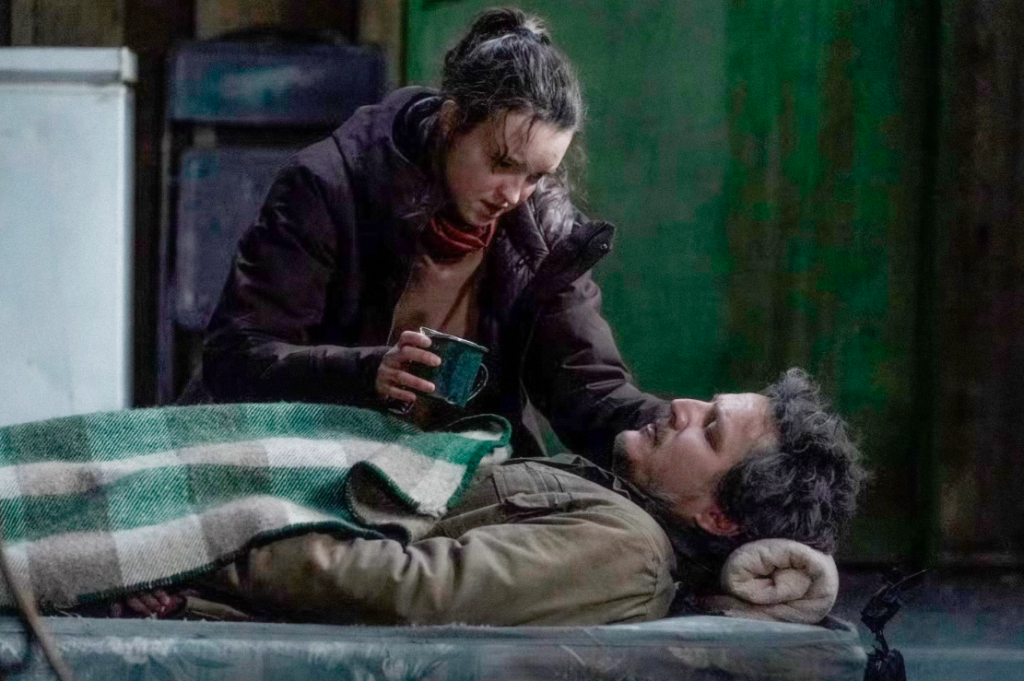 The religious group captures Ellie and puts her in a cell, where she discovers David has been feed them human remains. Meanwhile, Joel finally awakes and is stable enough to escape the house and search for Ellie. He tortures two men into disclosing her location, but he is almost too late. David places Ellie on a butcher block and is just about to chop her up when she narrowly escapes. The two fight until she finally has the advantage and takes him down, bludgeoning him to death with an insurmountable fury of vengeance.
"Look for the Light"
Episode 9 begins with a flashback of Ellie's pregnant mother, Anna (Ashley Johnson, (Ellie's voice actor in the video games). An infected bit Anna just moments before she gave birth to Ellie. Moments pass, and Marlene finds the two in a pool of blood. She is forced to take the baby and kill her friend. Fast forward 14 years, and Joel and Ellie are almost done with their journey. They finally made it to Utah. Ellie, still processing everything that happened with David, is sad and somber. Joel tries his best to cheer her up, but nothing seems to work.
Suddenly, the youth sees something and runs off to get a better look. Joel chases her until he stops and stares in awe. The camera pans from him to Ellie inches away from a giraffe. She is her old self again, cracking jokes and asking a myriad of questions. Later on, when Joel reveals that he tried to kill himself after Sarah's death, Ellie provides him as much comfort as she can. But the fact that Joel can trust her enough to reveal such a secret means is a comfort on its own. He asks Ellie to read some puns to lighten the mood, but his moment is interrupted when a group of Fireflies knock them out.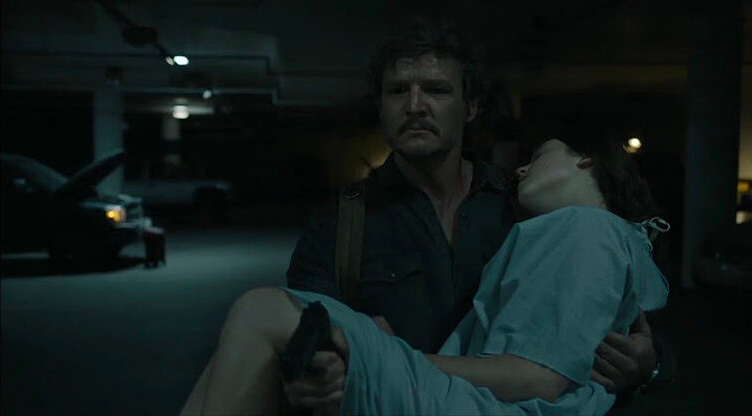 Joel wakes up in a hospital to see Marleen, who informs him that the doctors are preparing Ellie for surgery to remove the part of her brain that makes her immune. This procedure, however, will result in Ellie's death. No matter how hard Joel fights, Marlene won't budge. She instead has two Firefly soldiers escort Joel out of the hospital, but he kills them and everyone else until he finds the surgery room, where he murders the doctor in cold blood. He escapes with an unconscious Ellie and makes it as far as the parking garage until Marlene stops them. The camera cuts to Joel driving a car with Ellie in the backseat.
The End
Ellie wakes up and asks Joel what happens. While he lies to her that there is no cure, the camera flickers back to the parking garage scene with Marlene. He shoots her once. After listening to her begs and pleas, he kills her with a final shot.
The duo have to walk the last few miles to Tommy's town. At the top of a waterfall, they get a spectacular view of their new home, their new futures. Before making the final trek, Ellie tells Joel about her past and how she saw her best friend die. This lead to watching Tess, Sam and Henry die because of the disease. The fact that they all had to go through such gruesome deaths, only for there not to be a cure, is too much for Ellie to handle. She makes Joel swear that he is telling the truth, and in a beat, he does.
Series Verdict
HBO's The Last of Us is a remarkable video game adaptation that deserves all the high praise it has received the past few months. From the set design and effects to the filming, screenwriting and acting, the show is a peak example of how to do an adaptation well. It is heart-throbbing and terrifying.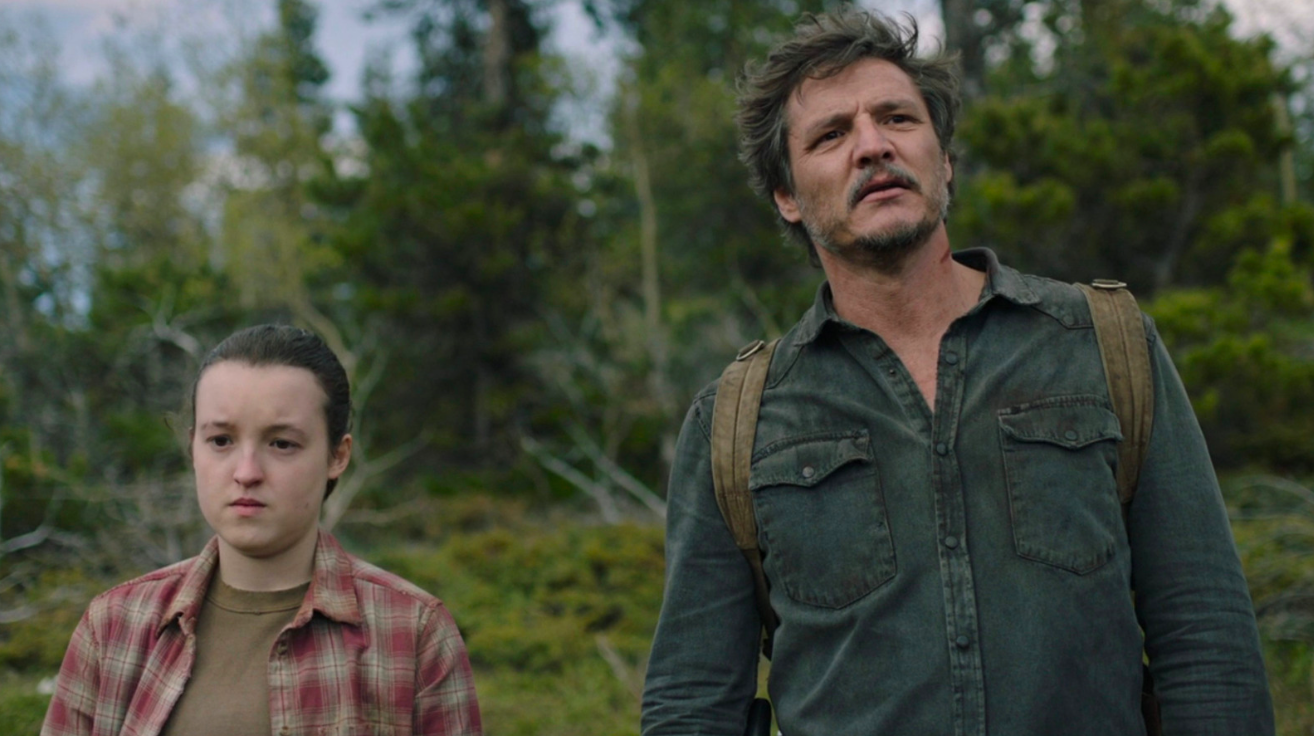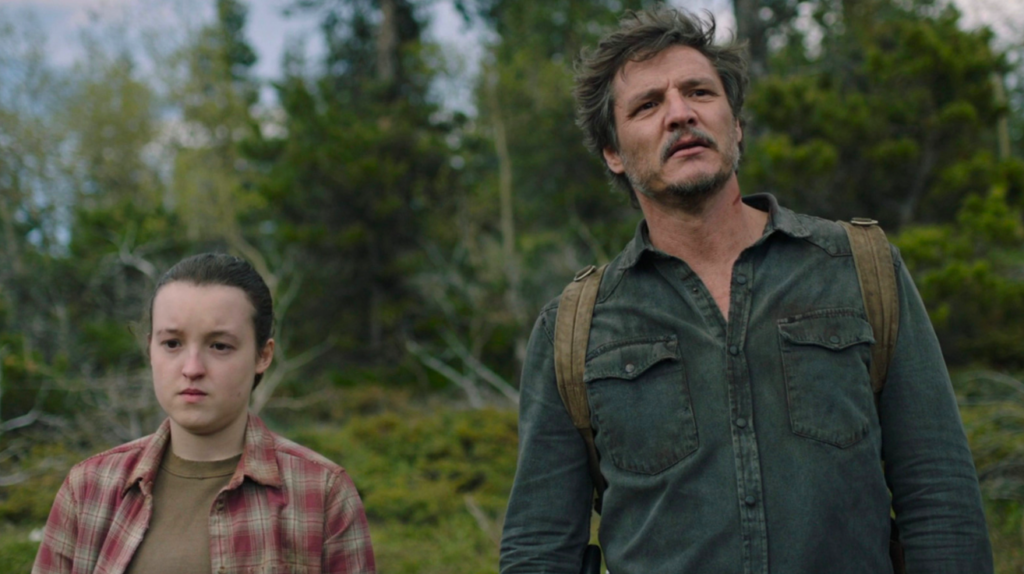 A few issues with HBO's adaptation is how much they excluded the game play scenes. Despite the world being filled with infected, they were rarely on screen. This is disappointing, especially because it increases the stakes and so much of Joel and Ellie's relationship builds in these fight scenes. The biggest disappointment was in episode 9, in which the show completely cut out the game's highway scene. Furthermore, there are numerous creative weapons the show could have included to illustrate Joel and Ellie's means of survival, from molotov cocktails and nail bombs to the beloved shotgun and its shorty companion.
Despite these small quibbles, the show is arguably one of the best American video game adaptations out there. Pedro Pascal and Bella Ramsey were the perfect casting choices for Joel and Ellie, as was the casting for all the other characters.
It will be exciting to see where Neil Druckmann and Craig Mazin take The Last of Us 2. I hope they will include more gameplay (aka a little more violence), more screen time for infected, and some creative liberties with the original story while also sticking to the heart of it. We will just have to wait and see what they come up with. Until we meet again, don't forgot to read about the other shows and games we're loving here at HauntedMTL.
(4 / 5)