You wake up on a tropical island surrounded by killers that have spent hundreds of hours knocking you to the ground and hanging you on hooks to feed an unholy eldritch abomination. But in this beautiful paradise, the one thing they have on mind is love. Or murder. It's honestly a toss up.
This is the fantastic premise behind Behavior Interactive's newest release: Hooked on You, a dating simulator that lets you date four of Dead by Daylight's most eligible bachelors and bachelorettes. A game I can't believe exists but has been welcomed with open arms by the notoriously thirsty fanbase of Dead by Daylight.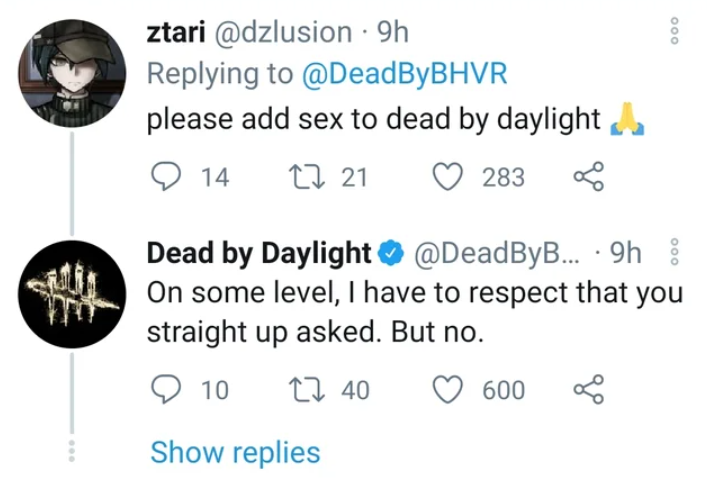 This dating simulator / visual novel drops you in the lap of The Trapper, The Huntress, The Spirit, and The Wraith. Four killers who you might never expect to see wearing bikinis, swimming trunks, and whatever it is that Trapper's wearing.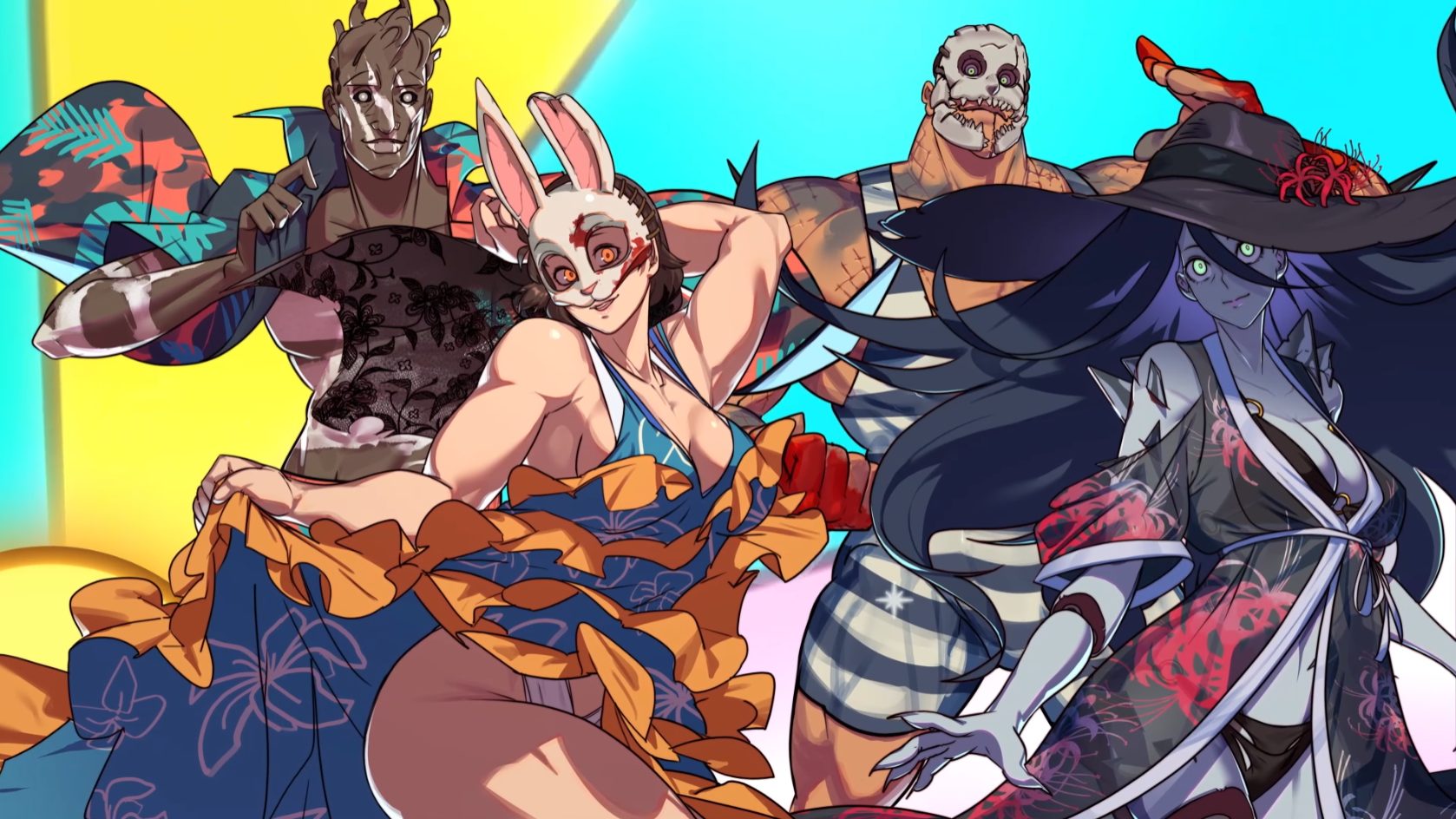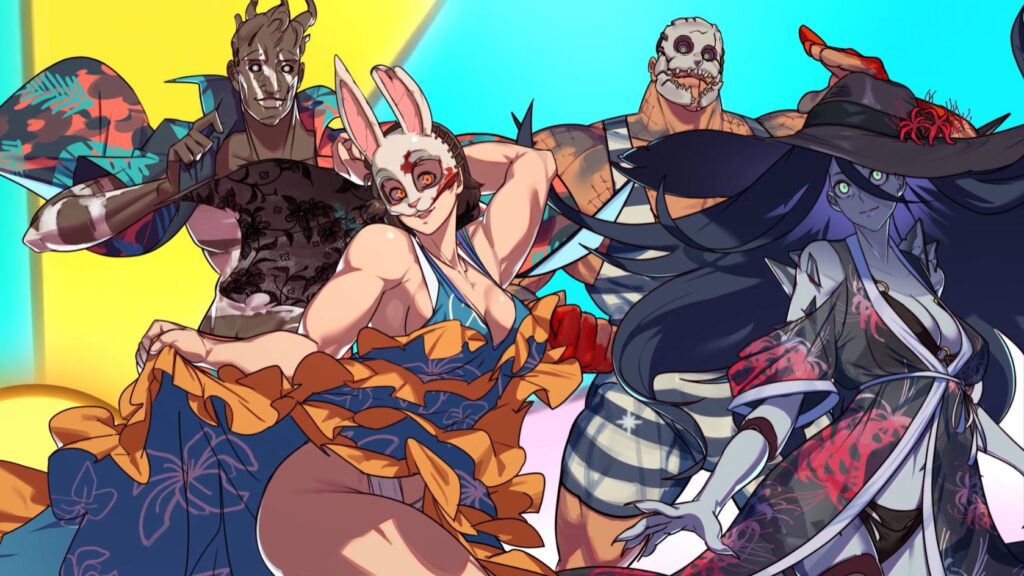 Over the course of a few days, you'll woo them, indulging in sexy beachy activities while learning about their history and the existential angst that drives them to kill. It's a fun game with lots of light, comedic dialogue. Each of the characters offers an interesting archetype that you won't usually get a dating sim, and there's a hint that there's something going on beneath the plastic beach-resort façade.
Like there's some sort of entity keeping killer and survivors alike trapped here. Almost like time has lost all meaning and death is not an escape. Hmmm.
Anyway.
What Hooked on You does best is its great visuals, good music, and interesting world building and characterization. The dialogue has its golden moments. It's snappy, hilarious, and fits the caricatured killers. But where the game falls short is the over-narration and pacing.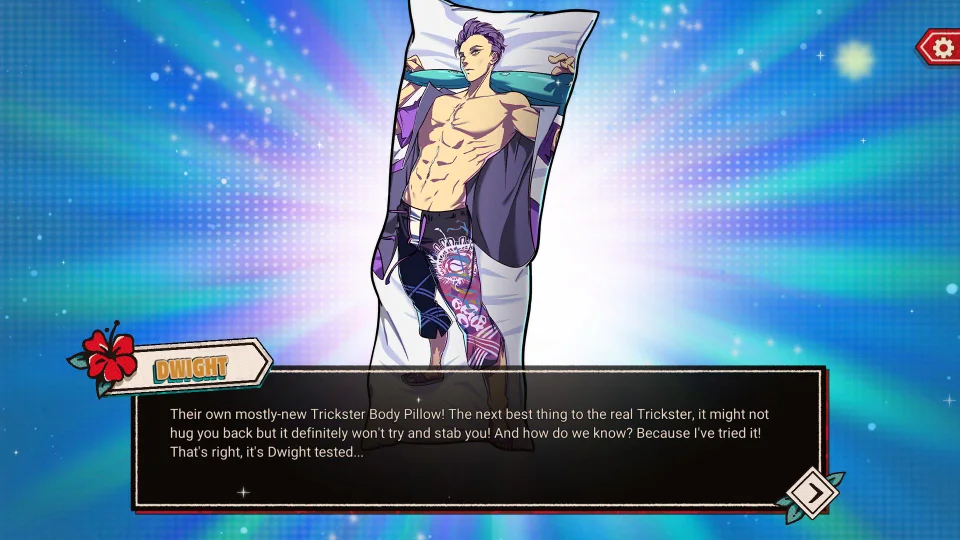 The entire game is a gag. That's obvious to anyone who knows anything about Dead by Daylight. But Hooked on You is intent on reminding you it's all a big joke with constant interruptions that breaks the flow of an otherwise great summer romance.
 But what was even worse, the part of this game I abhorred, was the truly awful mini game. Yeah, I get it. It's like the generators in Dead by Daylight. That's a cool reference! But the games are laggy, inconsistent, and never really give you a chance to get your bearings before speeding up. It's great that you can still "win" every route, even if you fail every mini game, but I wish they'd been done a little better. Or maybe I just suck at anything timed. Both are possible.
If you enjoy silly horror games with moments of utter angst you might Nerdy Streamer Overload!
Would I still recommend it? Hell yes, I would. You absolutely get your money's worth. And even if the narration is a little over the top, it's still a great ride.
You can find Hooked on You on Steam for $9.99 USD. A total steal for what is hours of content if you choose to do every route. So far, I've romanced Muscle Mama Huntress and the Perpetually Pessimistic Spirit.
Heroic Adventures Await: An Epic Review of The One Ring Starter Set
Prepare thyself, brave adventurer! In a time ripe with peril and filled with daring tales of glory, you are invited to embark on Lord of the Rings adventures filled with magical creatures, powerful artifacts, far away lands of Middle-earth and heroic feats. This is the epic journey of Lord of the Rings. The One Ring Starter Set' RPG from Free League Publishing – a game system full of rich stories and strategic battles that draw you into the realm of J.R.R Tolkien's Middle Earth. Whether your story be one of heroism or villainy in this land steeped in ancient lore, Free League Publishing has crafted an inviting experience for veteran players as well as those new to table top RPGs alike!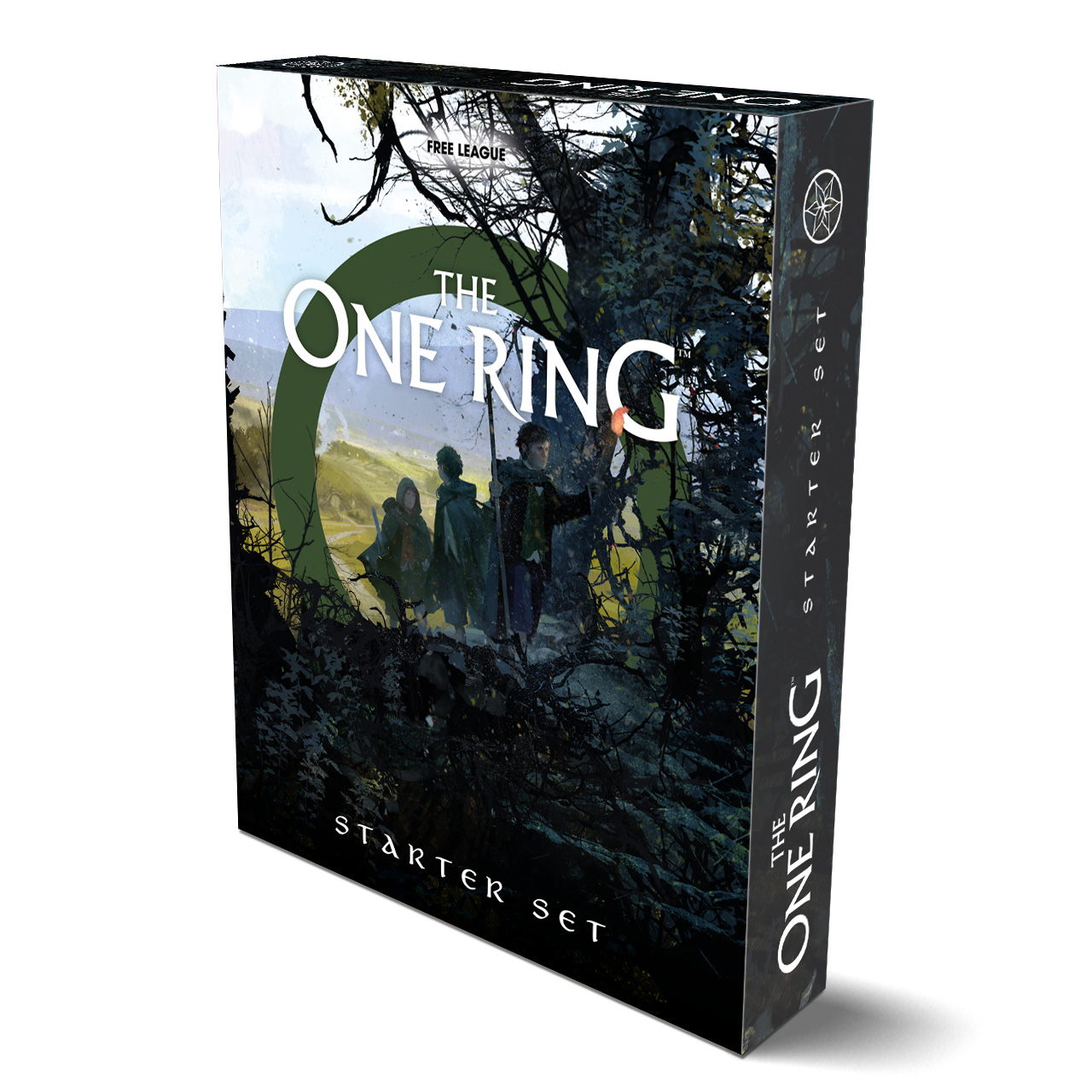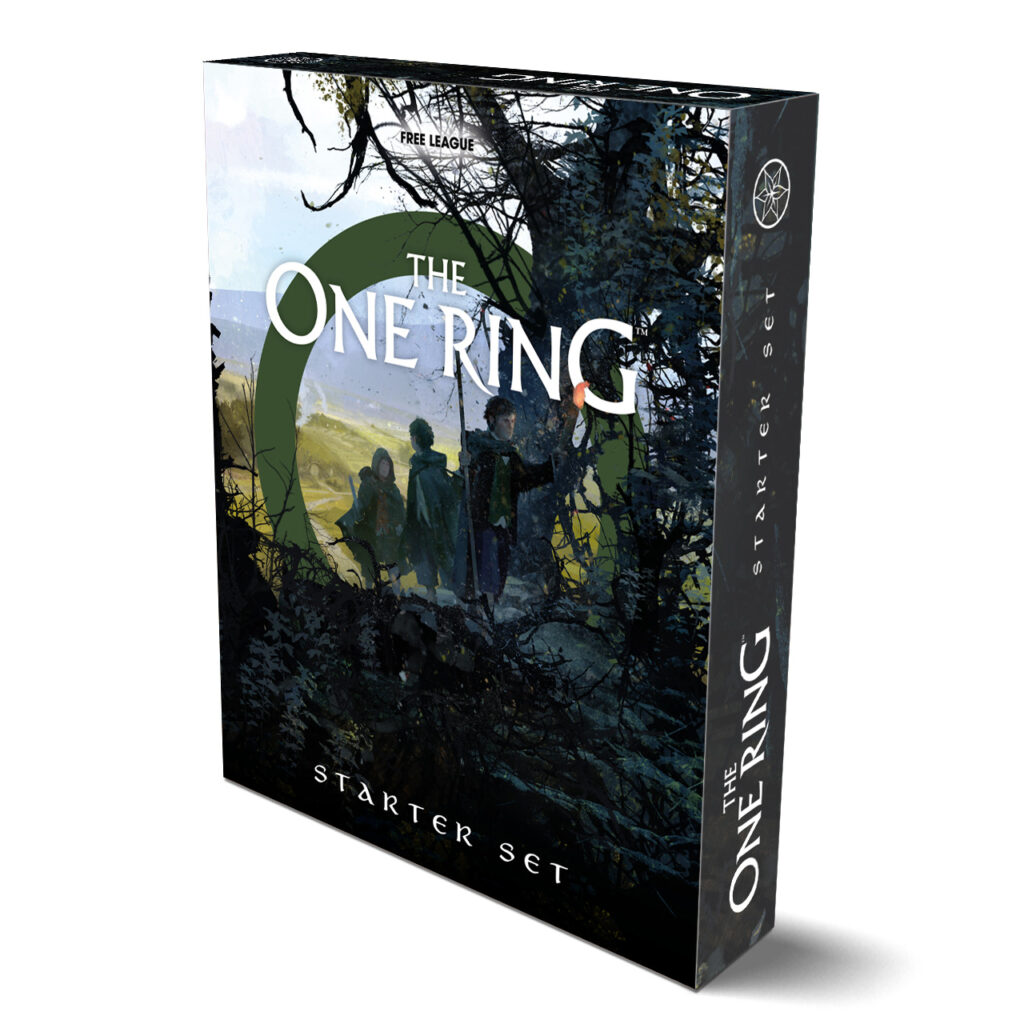 What players can expect
The One Ring Starter Set by Free League Publishing is a pen and paper system that allows players to experience the epic journey of Hobbits. It comes with a lot, and I mean A LOT of goodies, making it a must-have for fans of The One Ring.
From their website the box includes:
A 24-page volume of Rules.
A 52-page volume describing The Shire.
A 31-page volume containing The Adventures.
Eight double-sided pre-generated character sheets.
Two large maps showing the Shire and Eriador.
30 Wargear Cards that can also be used with The One Ring core rules.
Six double-sided Journey Role and Combat Stance Cards that can also be used with The One Ring core rules.
Two D12 Feat Dice.
Six D6 Success Dice.

Free League Publishing
The only things you'll need that aren't included are a pencil and some paper (oh and pizza..oh donuts…okay, pencil, paper, pizza, donuts, and some tea. Hmm…are taquitos still banned in canada? I digress).
I have had a lot of RPG starter sets before, but this beginner box is complete. It's like if the Red Box came with dice and the white crayons with pre-gens, a ton of art, and maps. That's the level of excitement opening this box.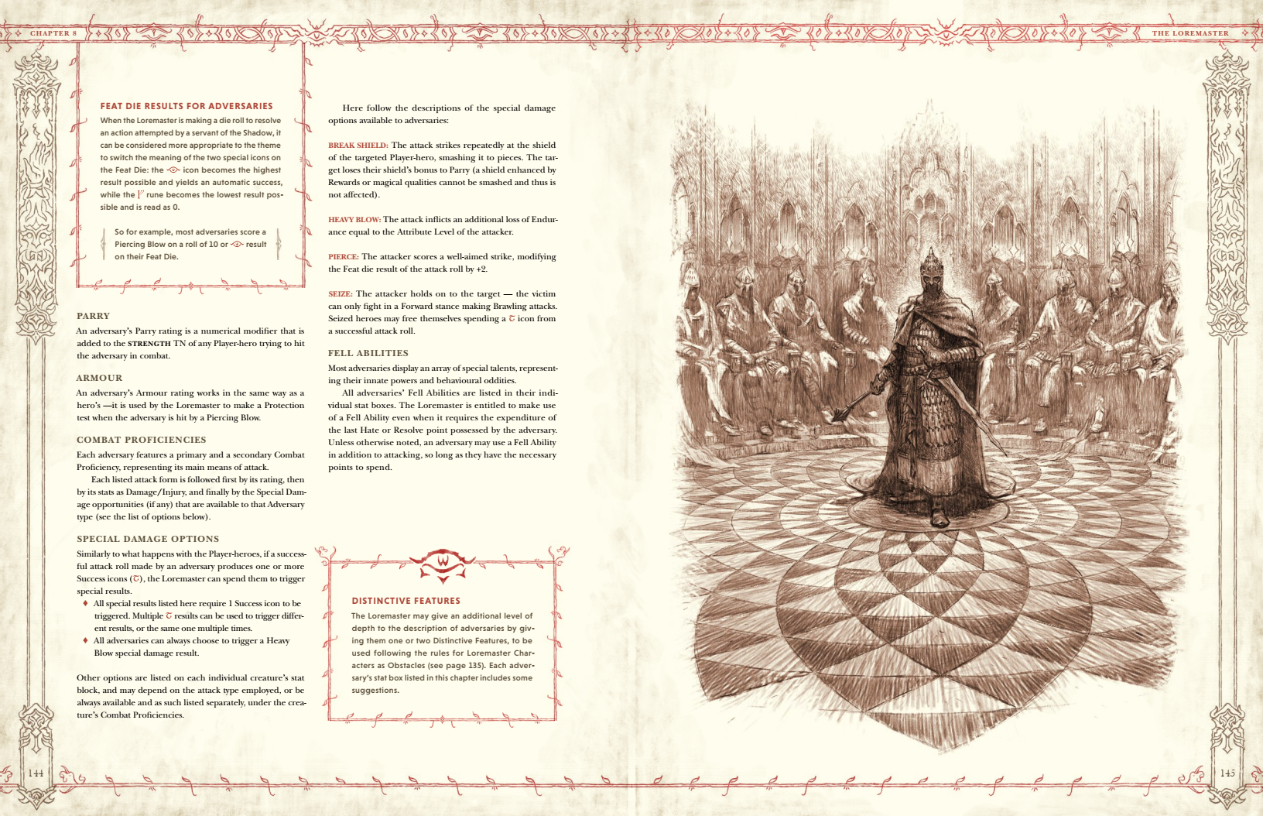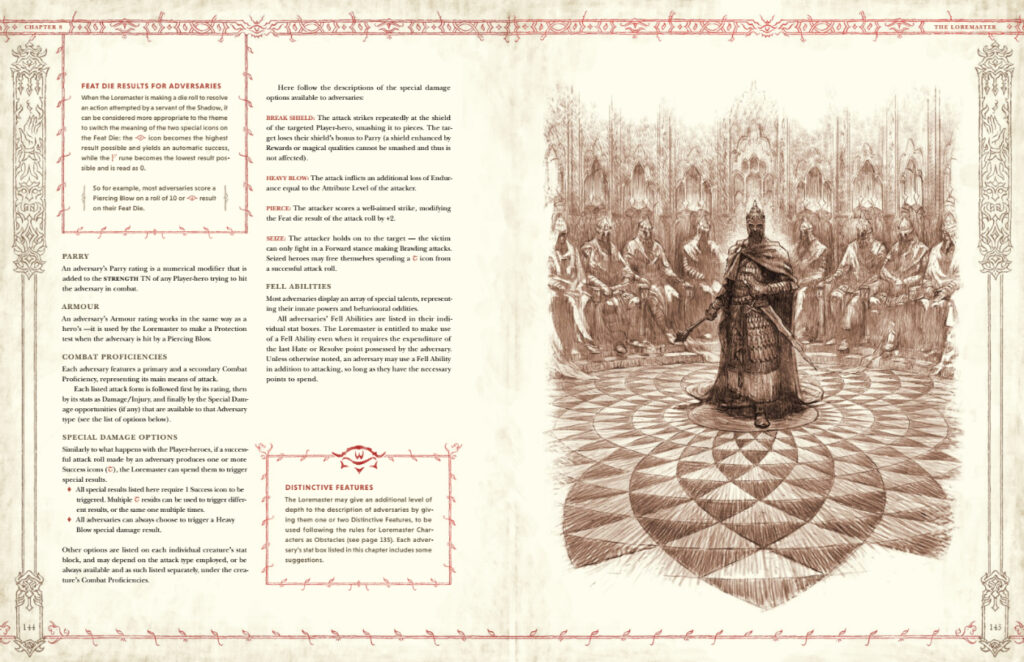 Box fullness rating:

(5 / 5)
Differences between The One Ring RPG and other popular game systems
The One Ring Starter Set RPG is a tabletop role-playing game system based on the world of J.R.R. Tolkien's Middle-earth. The One Ring roleplaying game system is designed to allow players to experience the story of Lord of the Rings firsthand, making choices and facing challenges that determine how the story progresses.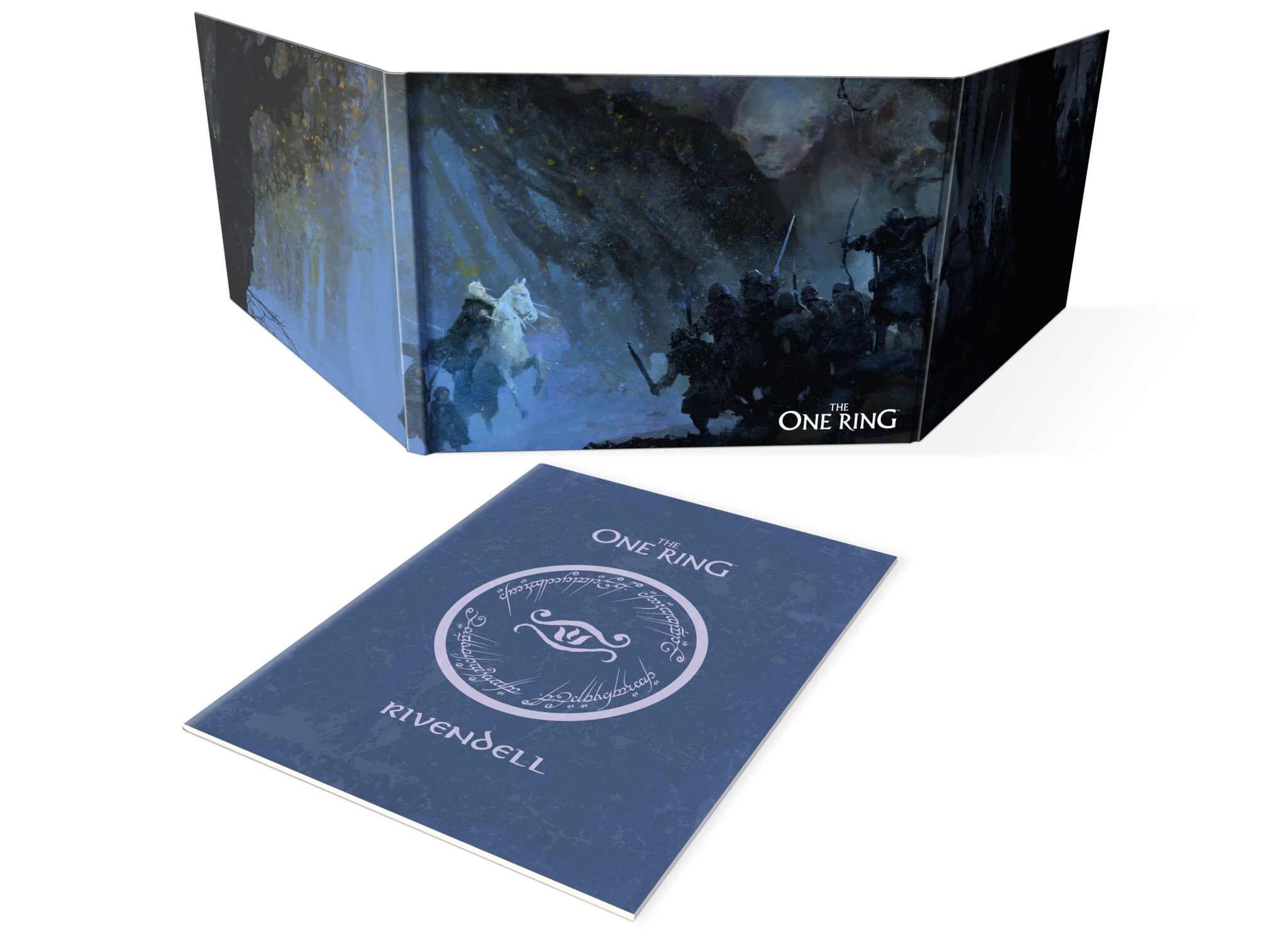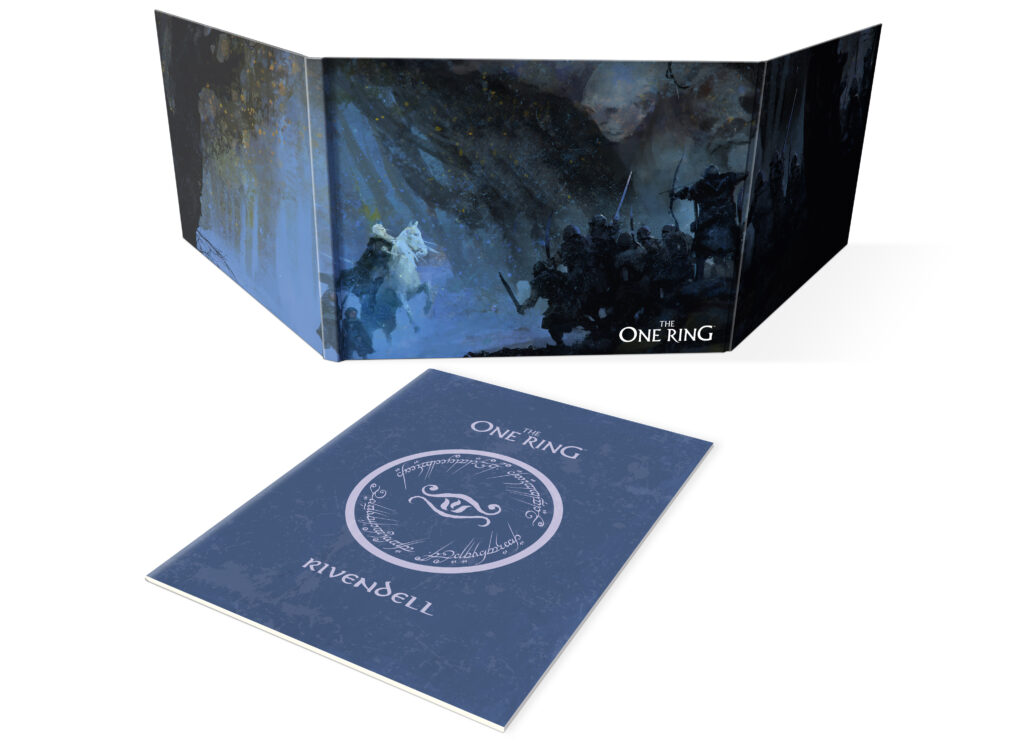 It is also, as I have found by experience, one of the most customizable games I've played in a very long time. Yes, it's weird that a kid who grew up with Red Box and AD&D says that The One Ring set of pre-gen goodies from Free League Publishing is the most customizable in recent adventures. Let me explain 🙂
The Pre-Gens and rule systems can be adapted to your imagination.
I teach various humanities, English, ESL, sociology, business, and 'kitchen sink' at the college level. Roleplaying is a great way to engage students into scenarios or just to explore new worlds and engage in language production. This box has appeared in my classes in ESL, literature, business management, philosophy, and even gender studies. Heck, I've even used it in faculty in-service training. That's how customizable and adaptable the attributes of this game can be.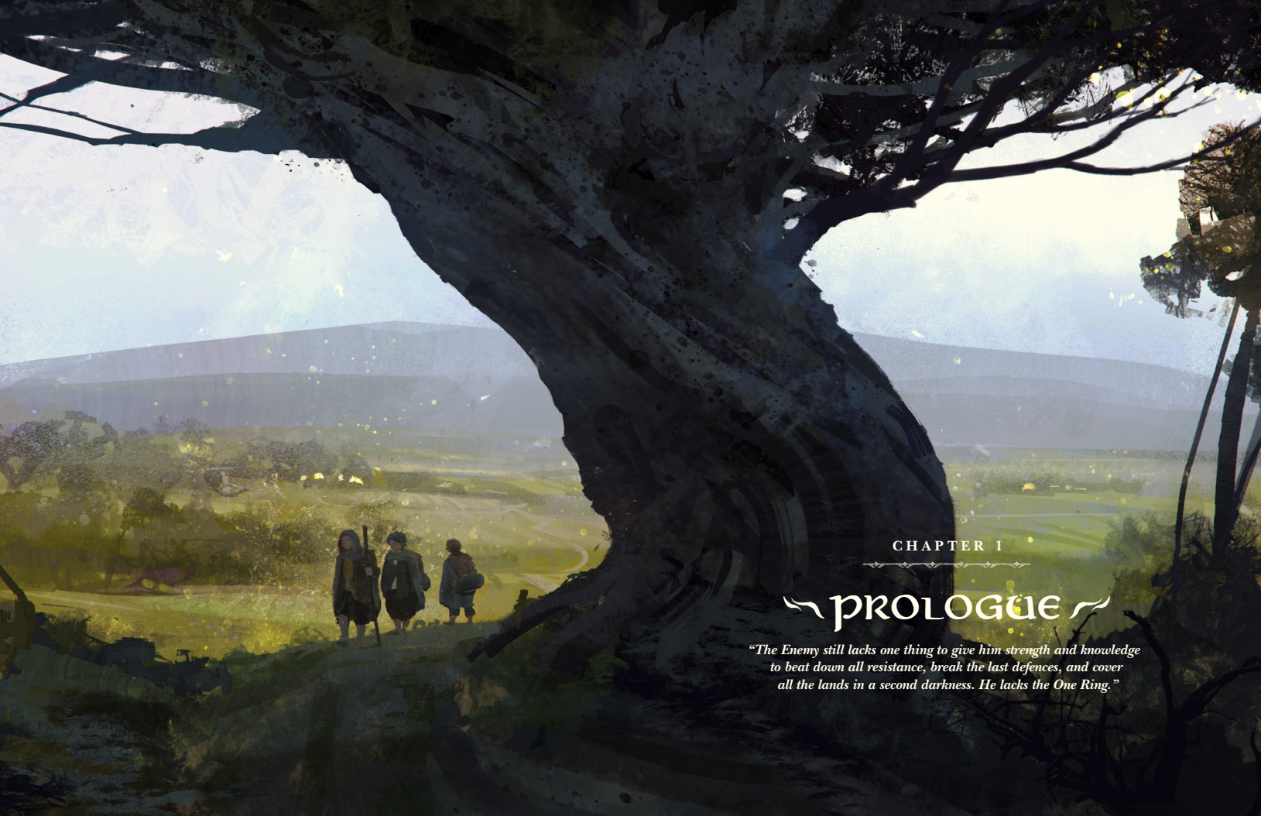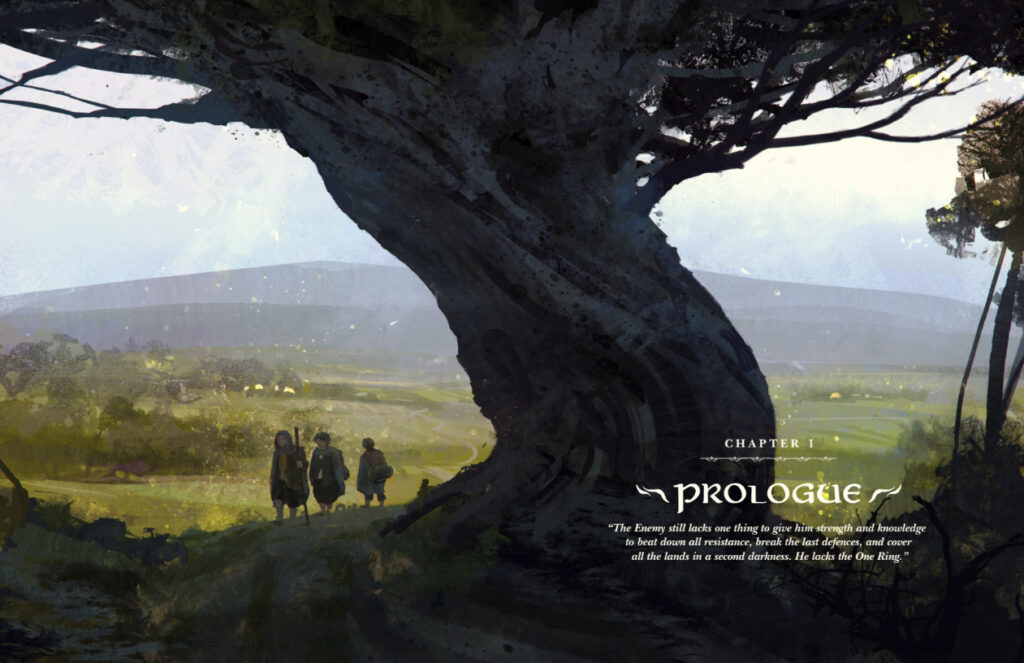 The brilliance of The One Ring game is the lore, the art, and the 'all in one' aspect. Pre-generated characters mean we can explain and map attributes to what a person already knows in the world. Even the students not familiar with Lord of the Rings, still understood the concepts by quick mapping to their existing knowledge. Not only are the characters pre-gen but also weapons/armor item cards are included. My favorite thing to do here is to give a player a pick from the deck, cards down, and have a random piece of equipment. Then I make a secret roll and see if that card is cursed or blessed. Do I tell the student this? Of course not…not until they use it to often hysterical consequences.
The dice and maps are there. A little wipeable white board goes a long way here (get one cheap at Amazon or Staples or Walmart, etc).
The rest is your imagination. This really is a great 'pick up game' feel.
Of course, it works amazingly well as a stand-alone campaign system, too. I mean, it's Free League Publishing. Name one of their games that aren't fun, easy to get into, and instant hits like The One Ring. I'll wait…
Adaptability rating:

(5 / 5)
The One Ring Playing Tips as we wait 🙂
Playing in a The One Ring campaign can be an unforgettable adventure. Here are some tips to make the most out of your game:
To Pre-Gen or Not Pre-Gen, that is the question
This box, the One Ring Starter Set, is everything you need to start an awesome adventure. If this is your first time venturing into the land of The One Ring, you might want to try the pregenerated characters route. Once you get your feet wet, you can start creating your own hobbits — but — from experience, I can say that we all became attached to our pre-gen characters. They have a backstory that you can tweak and the art work is superb.
Combat and the art of running away
The One Ring Starter Set RPG by Free League Publishing offers an immersive journey into J.R.R. Tolkien's Middle Earth, complete with engaging gameplay, customizable scenarios, and rich lore. The game set includes extensive volumes of rules, adventures, and character sheets, maps, cards, and dice. It is adaptable to various settings and can be used as a teaching tool in diverse fields. The game's high replay value, detailed artwork, and potential for endless adventures make it a must-have for both Lord of the Rings fans and newcomers to tabletop RPGs. Jim Phoenix
Get ready to chuck The One Ring dice! It's a lot of d6 and some d12. This means if you are new to RPG, but you've played 'some' games before, you might have extra d6 but no d12 laying around. For the most part, the d6s are used so if you do have some lying around, feel free to grab them to make the passing of the dice a little less passy.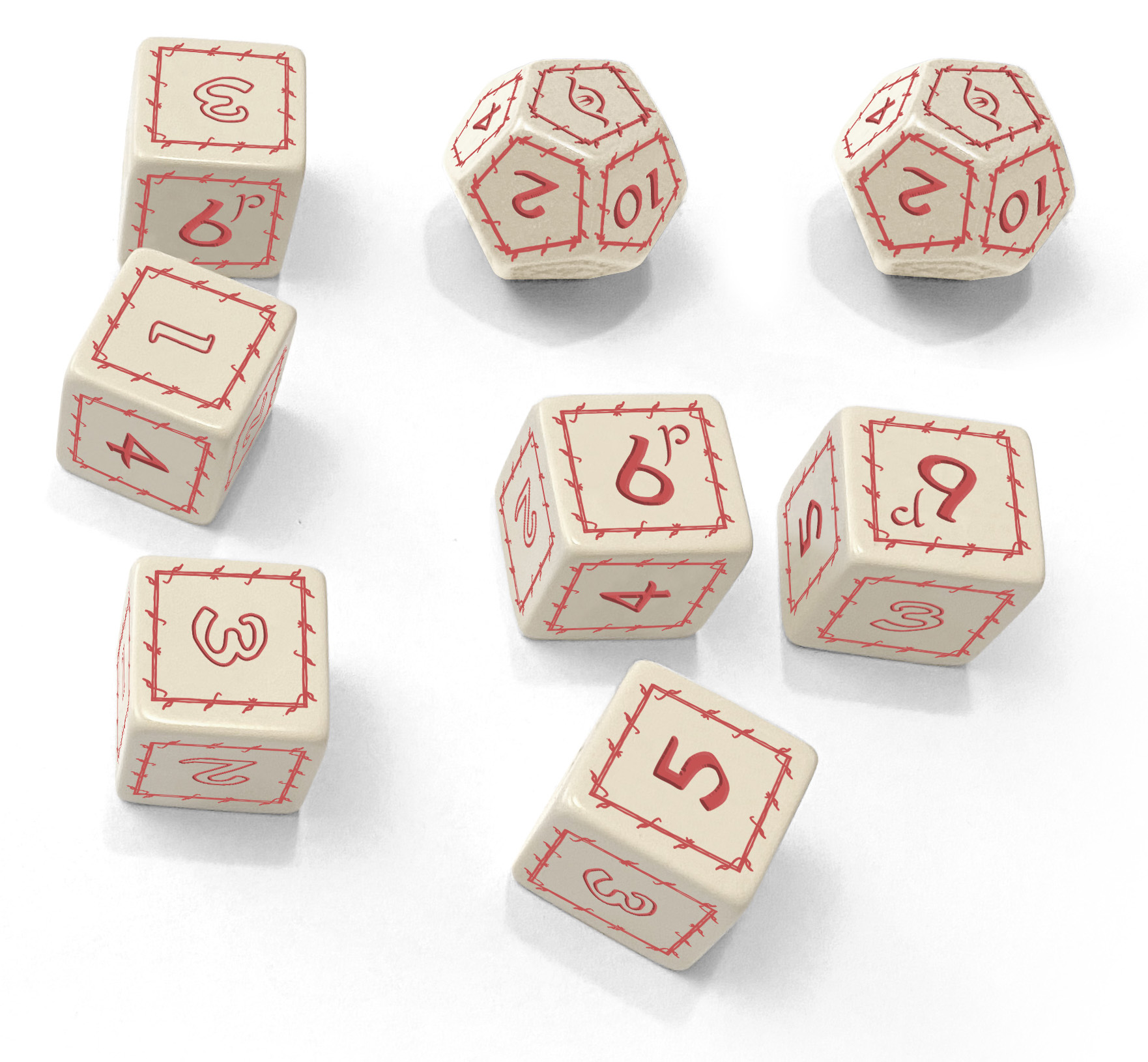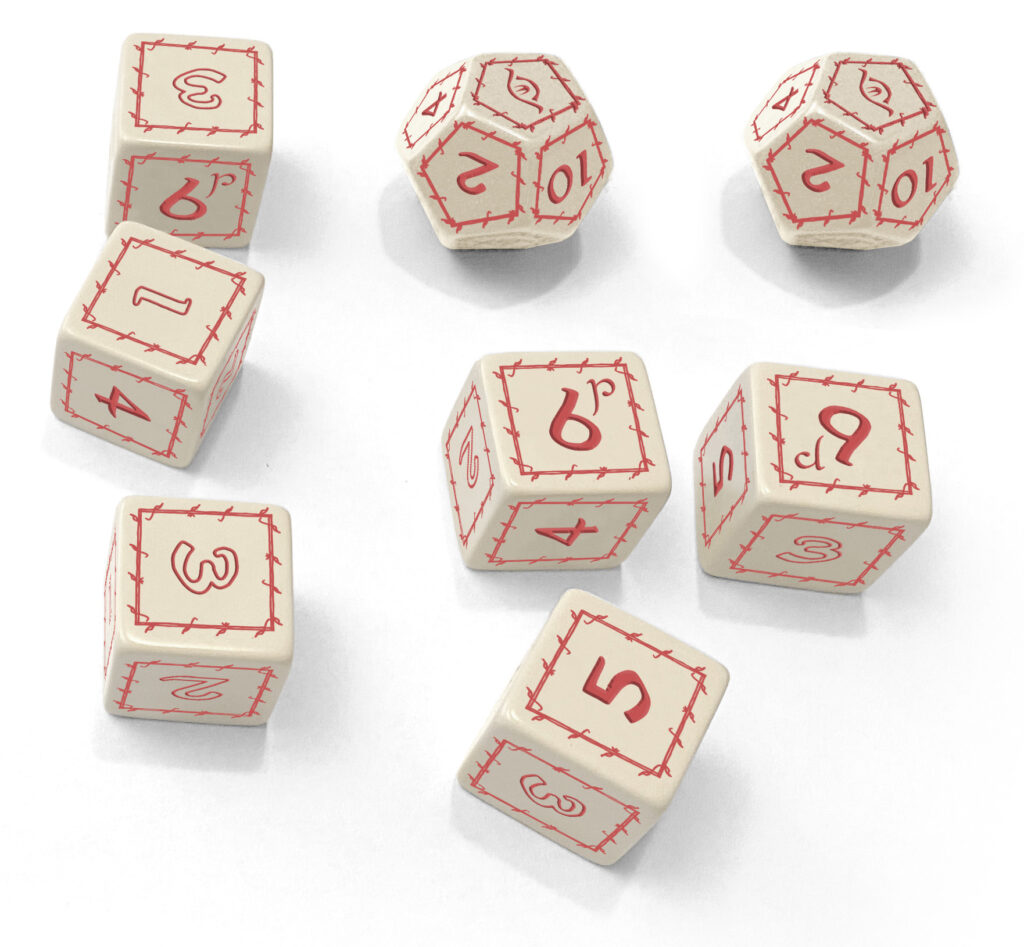 Word on The One Ring dice: Yes, they are graphically designed beauties and feel great in your hands.
Endless adventures
Love the Lord of the Rings books? Awesome, this game, The One Ring, is for you. The movies? Sure! The cartoon movie? Yup, welcome Gen X'er! The Amazon TV show? Got you covered!
Yes, you can recreate moments from the Lord of the Rings books and films (even the TV show!) in The One Ring, but there are many other possibilities for adventures in Middle-earth. That's the beauty about Free League Publishing's games. They are open world concepts. You can zig instead of zag. Players could travel to different parts of Middle-earth and explore its many regions, meeting new people and creatures along the way. They could also join one of the various factions in the war against Sauron, fighting in epic battles against the Dark Lord's forces. Or they could undertake their own personal quests, seeking out lost treasures or ancient secrets. The possibilities are endless, and it's up to the players to decide what kind of adventure they want to have.
Replay value:

(5 / 5)
Score for The One Ring Starter Set
If you are a Lord of the Rings fan, then The One Ring Starter Set from Free League Publishing is a no-brainer. Free League Publishing has never done me wrong and I don't think they're about to start. The One Ring Starter Set is gorgeous and comes with everything you'll ever need to step forth in Hobbit Land. My score reflects being a fan of the land and lore. I've played this with people who didn't know much about LotR and they seemed to have enjoyed it. This shows that the starter set has something for both fans and non-fans. All in all, a greatly detailed adventure in a box.
So what are you waiting for? Unlock epic roleplaying adventures with the Free League Publishing One Ring Starter Set!
Overall Score:

(5 / 5)
Into the Odd Remastered: an Ethereal Steampunk TTRPG
"Fallen cities are adorned with statues of star-beings, cultists manifest their fervour into reality, and belligerent unions prepare for a cosmic invasion. Familiar landscapes are overrun by strange weeds, corrosive mists creep in from the sea, and jet black mountains watch from the horizon. This odd world has been affected by beings stranger than we can imagine." -pg 4, INto the odd remastered: introduction
Into the Odd Remastered is an update of the 2014 role-playing game of the same name. Written by Chris McDowall and sold by Free League Publishing, the rules-lite tabletop roleplaying game asks you to place yourself in a world long ago ravaged by cosmic horrors. The general atmosphere comes across as dark steampunk though there is room for plenty of genres to intermingle.
The rules are relatively simple. Characters have four stats; Strength, Will, Dexterity, and HP. Strength, Will, and Dexterity start as a value between 3 and 18, as determined by rolling 3d6. During the game, players roll a D20 versus their stats, attempting to roll lower than the value in order to succeed. Many effects damage the stats as well as the HP value. Additionally, all attacks always hit, with rolls being used just to determine damage.
The rules can fit on a single page as evidenced by the handy Into the Odd cheat sheet made by garkia19. As a note, this cheat sheet has some minor typos. For example, characters don't have a Charisma score. However, I found it incredibly helpful to use as a reference while I played Into the Odd. Another great resource was Søren Nøhr Ryborg's The Odd Generator, which auto generates characters for Into the Odd. Since we were just trying out the system, both these resources made it really easy to jump in without my players needing to read the whole rule book.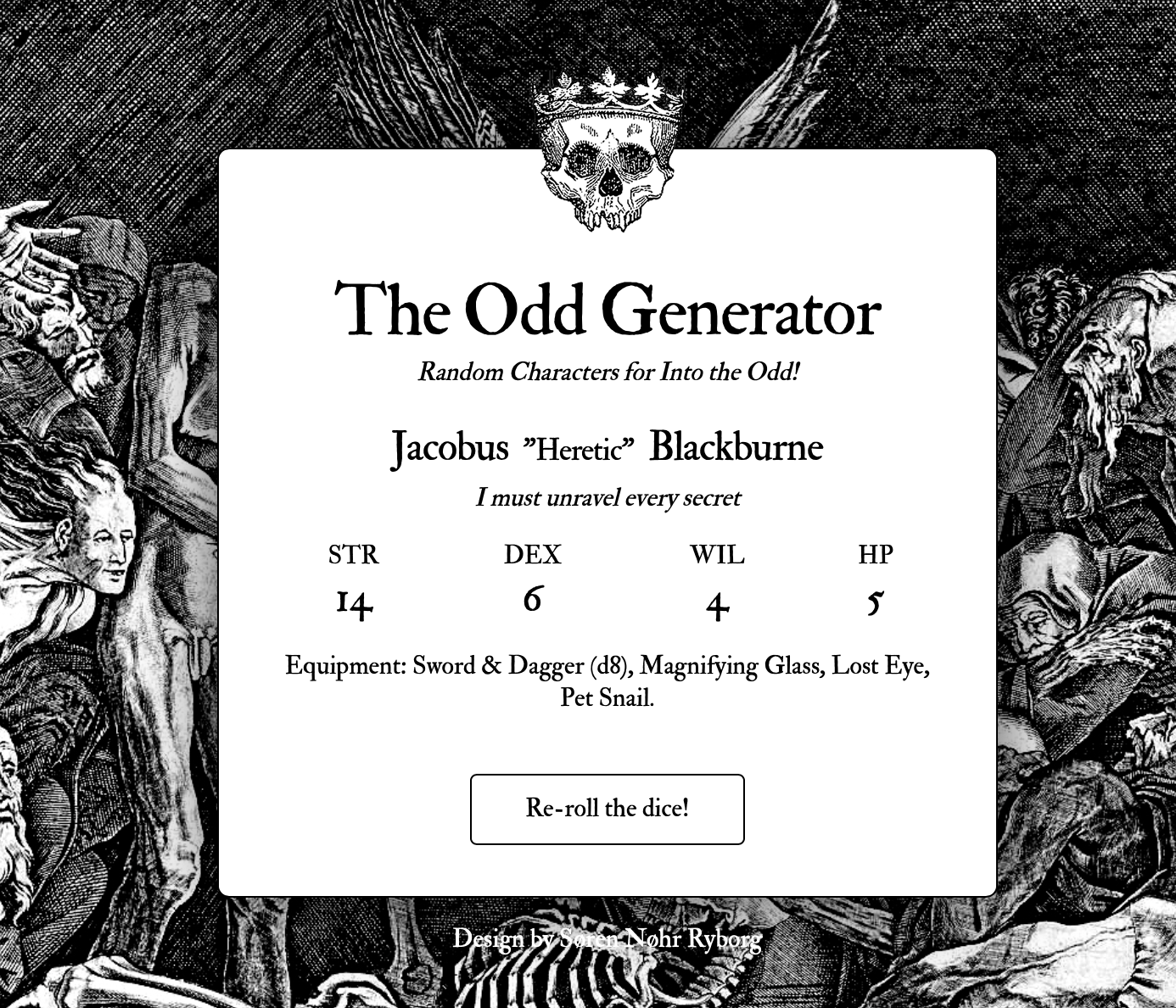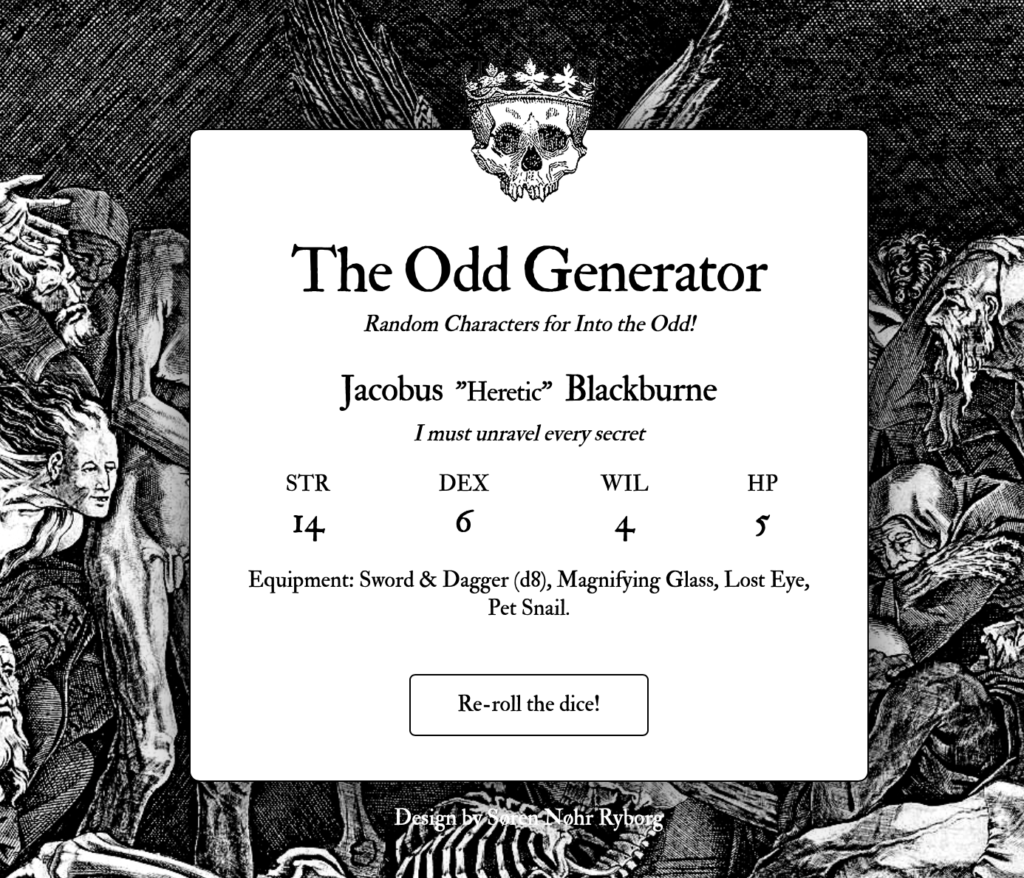 A general shoutout to Owlbear Rodeo, a free virtual tabletop software, David Wilson's 2-minute tabletop token library, and Kenku FM for their role in creating an immersive gaming environment.
The Player Experience
The Into the Odd rulebook, in addition to rules, also contains a sample dungeon. It was this dungeon that I ran for a party of three adventurers. They found the system to be easy to understand, however, coming from more rules heavy systems they often felt like they weren't doing enough. For example, they wanted to roll dice more often. However, they still had fun crafting a narrative and working with each other.
The Gamemaster Experience
I was in love with the idea of Into the Odd. An accessible, low barrier RPG with a splash of steampunk and cosmic horror. What's not to love? But I found the Into the Odd system left a little to be desired. In particular, combat doesn't feel particularly difficult or interesting. Since players always go first and everyone always does damage, it meant my party of three people were able to dispatch any enemy before it could hurt them. Skill checks felt like they had the opposite problem. None of my players could succeed in a skill check because their stats were so low. This meant that the tension was removed from both combat and skill checks. Playing the dungeon and rules as written, I didn't feel as if I had the mechanical or narrative tools to rectify either issue.
The dungeon itself was a bit drab. I loved the art and ideas behind it, but there wasn't much content. A smaller, more detailed dungeon would have been easier to run and better received by my players than a large, sparse dungeon. I also wished for far more traps. While I recognize I could have populated the dungeon myself, I often don't expect to finish a dungeon myself when given one to run.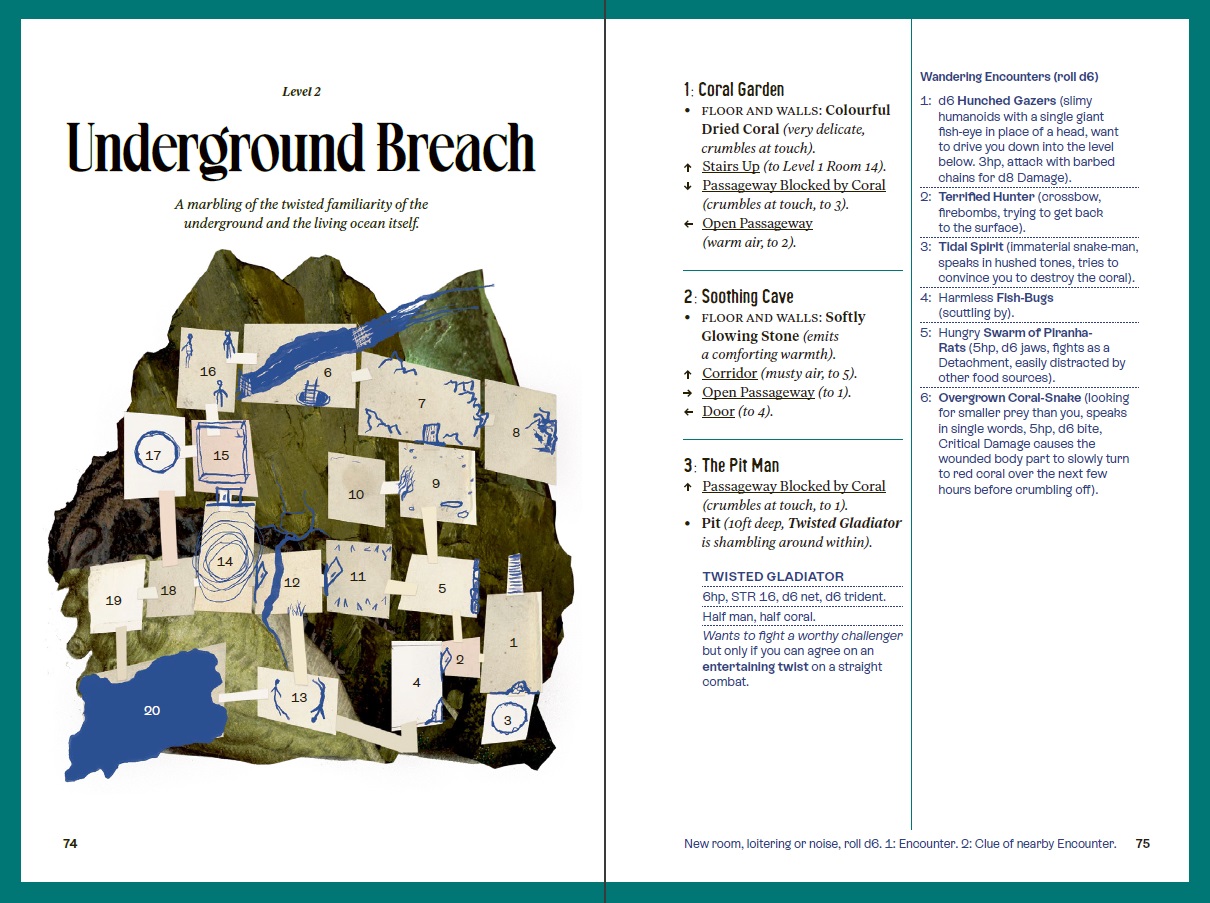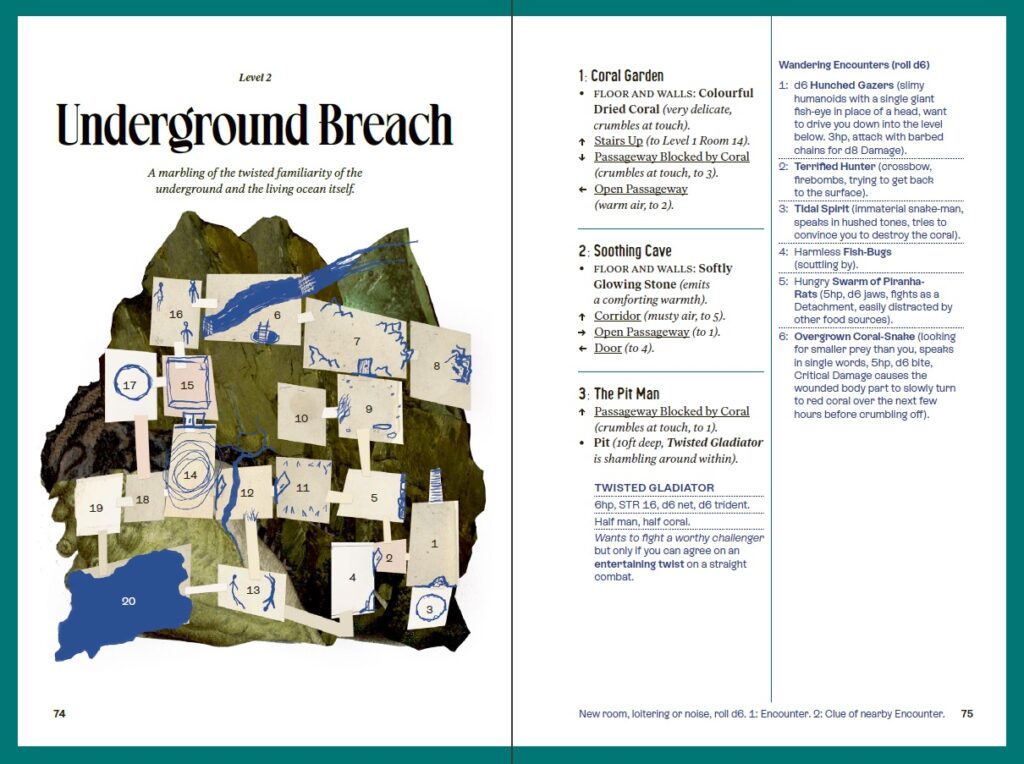 Outside of the sample dungeon, there is not much content for the gamemaster to work with. If I wanted to start running my own Into the Odd games there are very few monster, trap, and loot examples so I would have to come up with everything myself. This is not the end of the world, however, I personally like to have more content than what was provided to start doing my own adaptations. If I were to try this system again, I would want to use it for a heist narrative over a dungeon crawl.
Conclusion
The Into the Odd rulebook provides the skeleton for a rules-lite RPG adventure, however it fails to add any meat to the bones. The result is an RPG that requires far more work for a gamemaster than the rules-lite exterior would indicate. This is not inherently negative, however could be surprising given the game's pitch. If you are looking for a new system to tinker around with, this could be a great next purchase!
(3.5 / 5)
Disco Elysium – A Reflection
Disco Elysium is a role-playing video game released in 2019. It was developed and published by ZA/UM under the lead of Robert Kurvitz. The Final Cut was released in 2020 featuring full voice acting and new content. It is available to play on PC and console.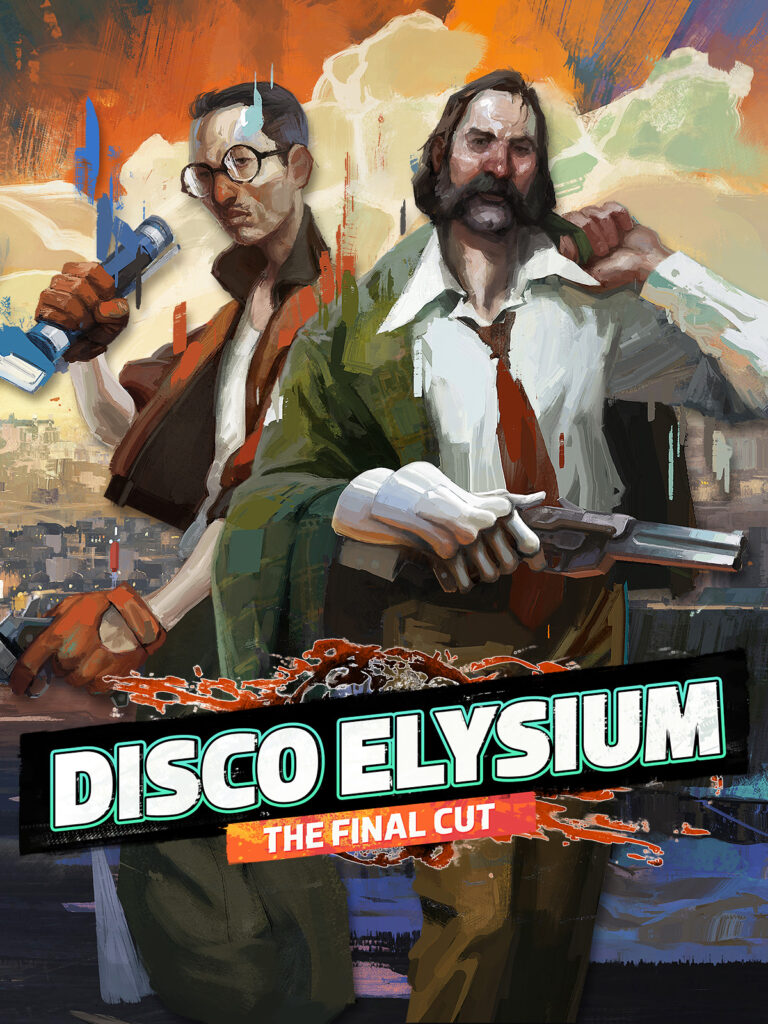 Disco Elysium is a weird game. I have been playing video games, especially RPGs, for most of my life and I can confidently say this game is an outlier. Instead of a focus on combat, the game is written almost entirely around skill checks and dialogue trees. While that alone isn't enough to make the game a stand-out, it is the fact that a vast majority of the dialogue trees occur as your own internal monologue which sets it apart.
Who Are You?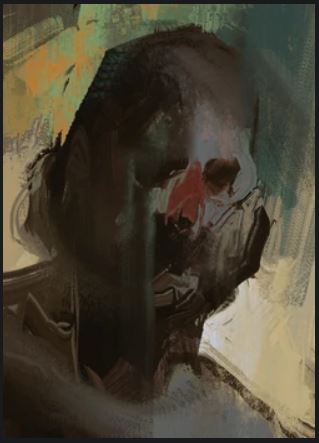 There are 24 different skills split across the four categories of intellect, psyche, physique and motorics. You of course have the more traditional skills such as Logic, Empathy, Endurance and Perception. But there's also more elusive skills, like Esprit de Corps which determines how connected to your home police precinct you are.
After all, you are a police officer in town to solve a murder. It'd certainly help things if you hadn't drank so much that you absolutely ruined your memory (among several relationships in town). "What kind of cop are you?" the tagline reads. You get to decide because you cannot remember who you once were.
This isn't a review about Disco Elysium in the traditional sense. Because Disco Elysium ended up being far more than just a game to me. I found myself relating to the main character (whose name in and of itself is a spoiler) far more than I ever should have. He doesn't know how to be human – and for the most part neither do I.
What Makes You?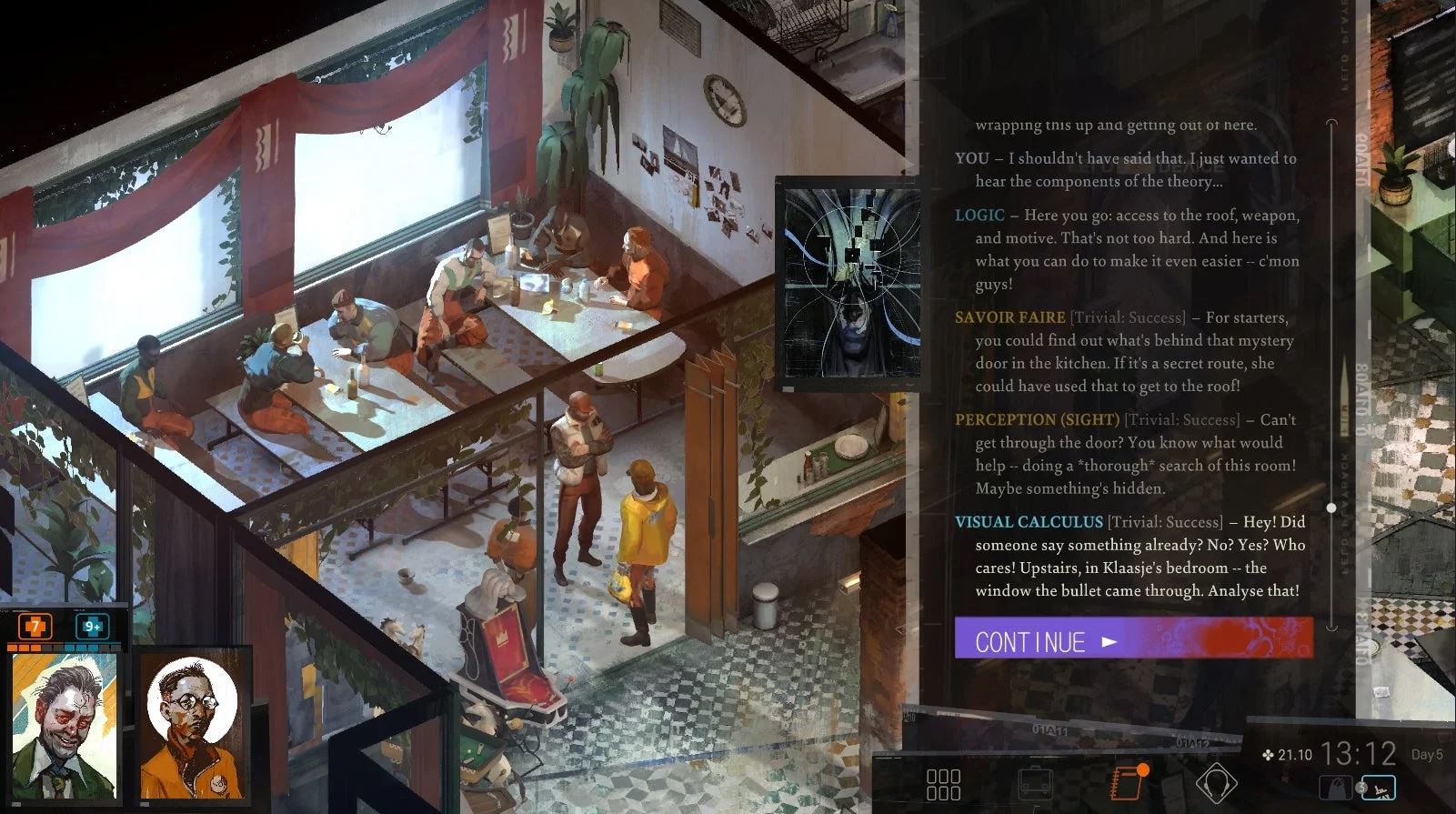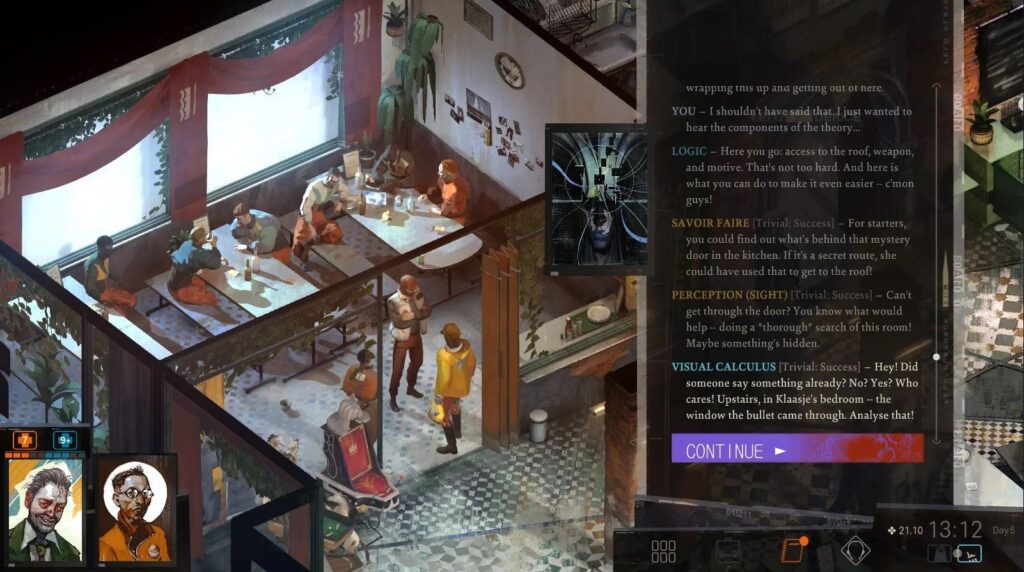 As you play through the surrealist dream that is the setting of Revachol, interactions with the townspeople can be tedious processes. The entire time, you are in constant dialogue with yourself trying to figure out the right thing to say. Logic makes some good points, but Electro-Chemistry says I should forget about all of this and go get wasted because Empathy just chimed in and told me I hurt this woman's feelings with my failed attempt at Rhetoric.
The first time I played Disco Elysium felt like an awakening. No game has ever so accurately managed to tap into the types of conversations I have with myself daily. No game has ever so accurately managed to tap into the sheer shame and self-degradation I endure when I mess up a social situation.
Luckily, in video games there is this neat trick called save scumming. It is when you save the game before important decision making, and if things don't go the way you'd like you simply re-load the save and try again. There is seemingly nothing better than doing something over differently and a new part of your brain chiming in to say, "Damn, that felt *good*. Your heart is pounding nicely. You should tell people to fuck off more often."
What Breaks You?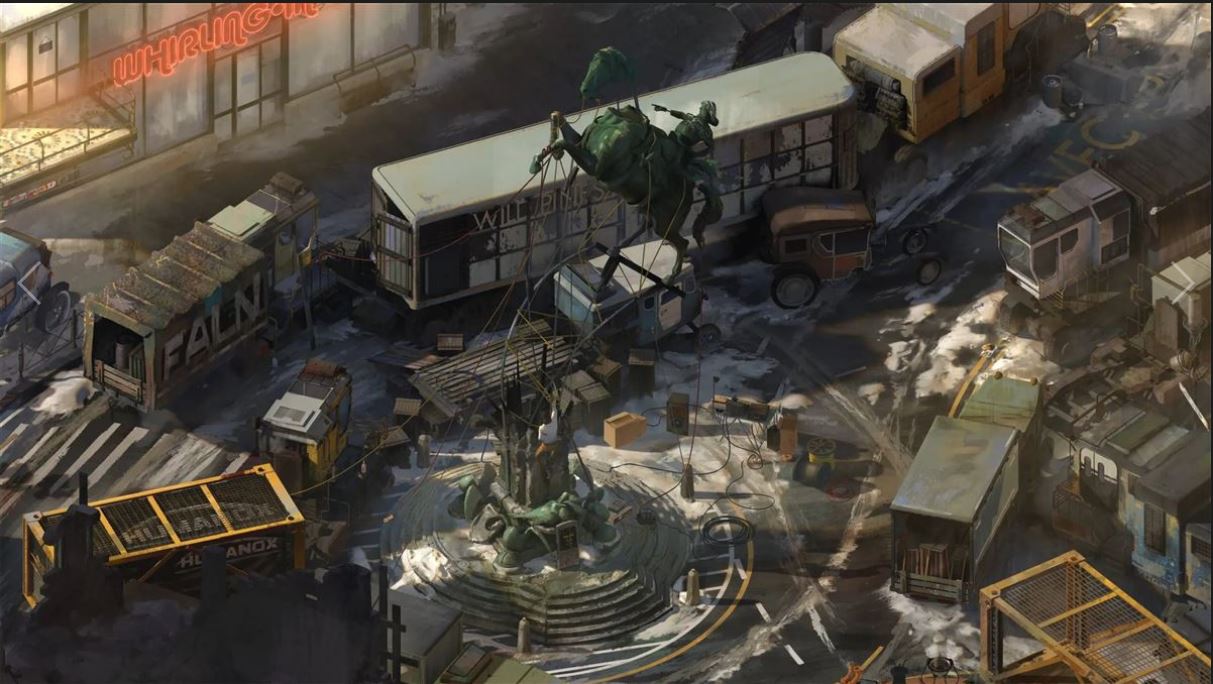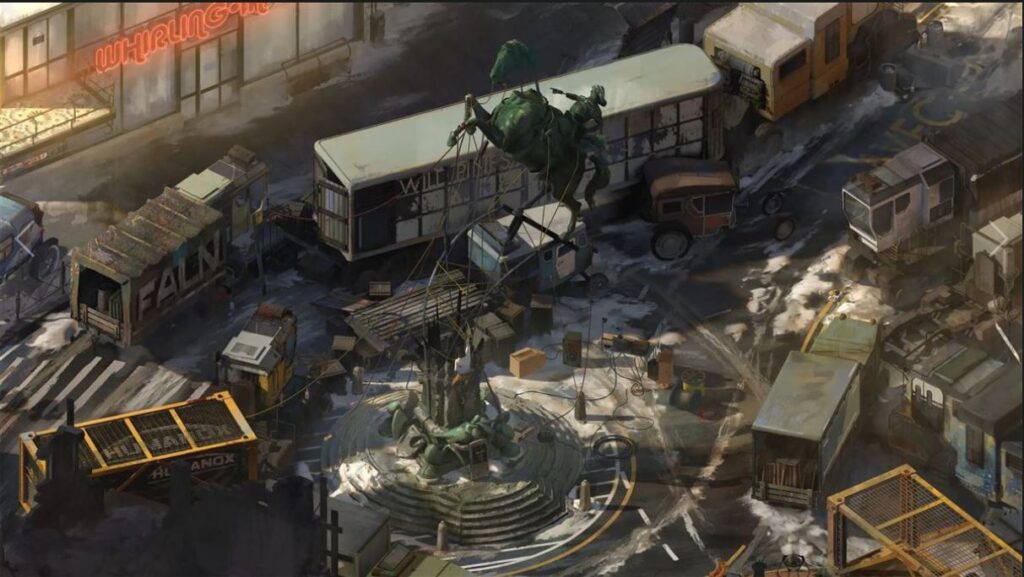 In real life, there is no save scumming. There is no going back in time to give yourself a do-over. I think that is why RPGs speak to me so strongly in general. I can slip into the skin of a new character and failure never has to be an option. The sinking pit of shame only has to last as long as the game takes to reload.
Disco Elysium feels like a game built on shame, guilt and redemption. Probably because it is a game built on shame, guilt and redemption. My entire life has felt like a game built on shame, guilt and redemption. I've gone through like the protagonist – bumbling and trying so hard to pick the correct option in the dialogue tree and only realizing moments too late that I chose the wrong one. My only reward, like his, is a stream of insults hurled at me by my own brain.
Of course, I learned nearly two years after my first play-through that I am autistic. It turns out, most people do not constantly have dialogue trees of pre-scripted responses popping up in their head when they speak to others. They can just… have conversation? With my diagnosis came a lot of soul searching and an equivalent amount of therapy.
What Heals You?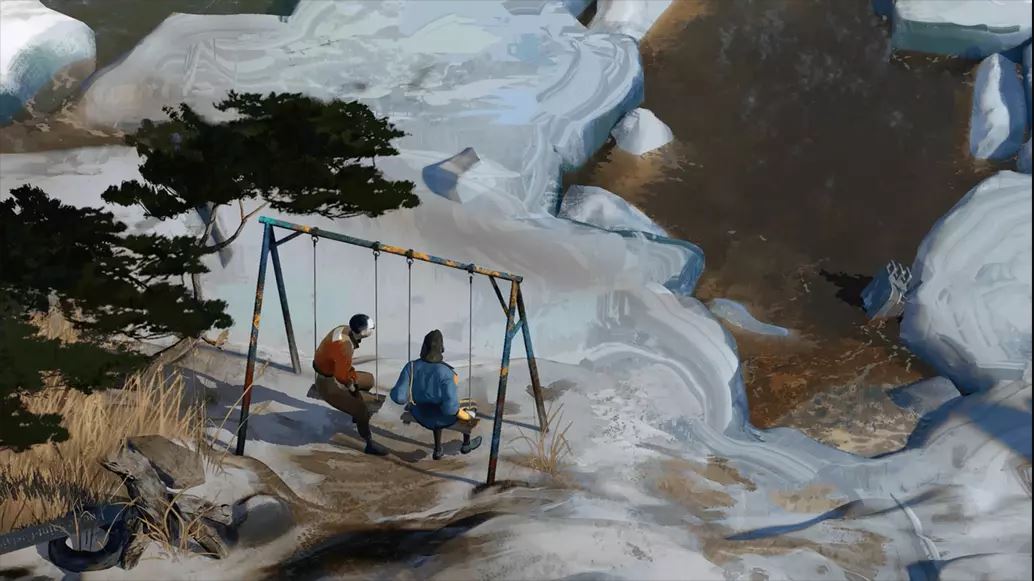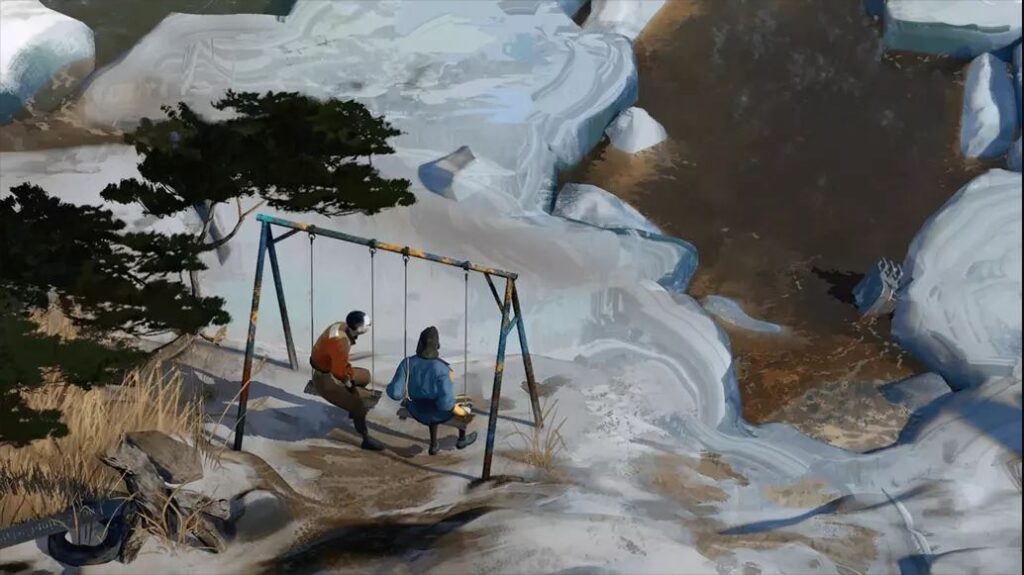 However, it turns out, my diagnosis and the resulting psychology bills shifted the way I play RPGs in a way I didn't realize until I picked Disco Elysium back up for another playthrough. As I load into the opening scene hotel, I walk away from the first skill check knowing I won't pass it. The first time I played, I probably re-did that skill check ten times alone before I got the result I wanted.
As I exit the hotel room to encounter the next character, I'm open and honest with them about the fact I cannot remember anything. I previously ran through that conversation five times trying to convince them that I was normal and that everything was fine with me (despite the obvious indications otherwise).
It took me an embarrassingly long time to realize I wasn't save scumming. Something inside of me had clicked into place. It was a new feeling replacing the insane urge to "get it right." I stopped focusing on how to play correctly and realized that there is no way to play correctly.
I have my skills and I can use what skills I have to solve the problem, even if it isn't the conventional or correct way. There is no sense in trying to shove a square solution into a circular problem.
What is Next?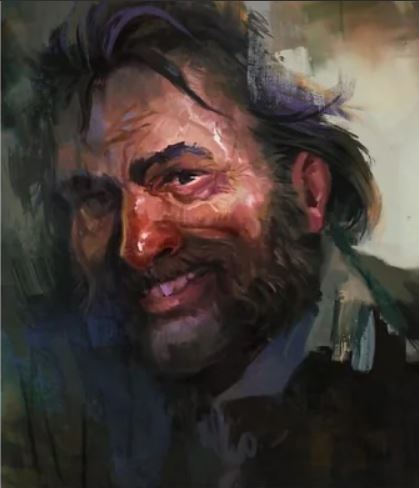 I realized that it's ok to get things wrong, it's ok to admit you don't know what you're doing, it's ok to ask your partner for help when you're terrified they're just going to laugh at you. More importantly, I learned that in Disco Elysium and life that it's ok to walk away from things until you have the needed skills to go back. And you don't need to feel guilty about it.
The first time I played – I immediately reloaded when Drama chimed in to tell me "This may have been a *grave* mistake, sire." This current playthrough I sat firm in my decision and finally got to hear Volition's response: "Maybe. Maybe not. Mercy is rarely a *complete* mistake."
My rating for Disco Elysium:

(5 / 5)