Releasing March 1, 2022, Alex Finlay's new thriller The Night Shift is a fast ride from cover to cover.
The Plot
In 1999, four teenage girls are brutally attacked while closing up the local Blockbuster in Linden, New Jersey. Only one survives – by being stabbed 2mm to one side of her heart. The other three perish.
In modern day, four teenage employees at an ice cream shop in Linden are attacked. You guessed it – only one survived. The same phrase was murmured in the ears of the victims at both crime scenes: "Goodnight, pretty girl."
The novel is told in many perspectives that converge at the end to reveal the final scene. We have Ella, the survivor of the Blockbuster murders, Chris, the brother of the man suspected of perpetrating the Blockbuster crimes who fled into the wind, and Keller, the FBI agent who is determined to find the perpetrator of both crimes. As the three navigate their way through different parts of the atmosphere and events surrounding the case, truths begin to emerge.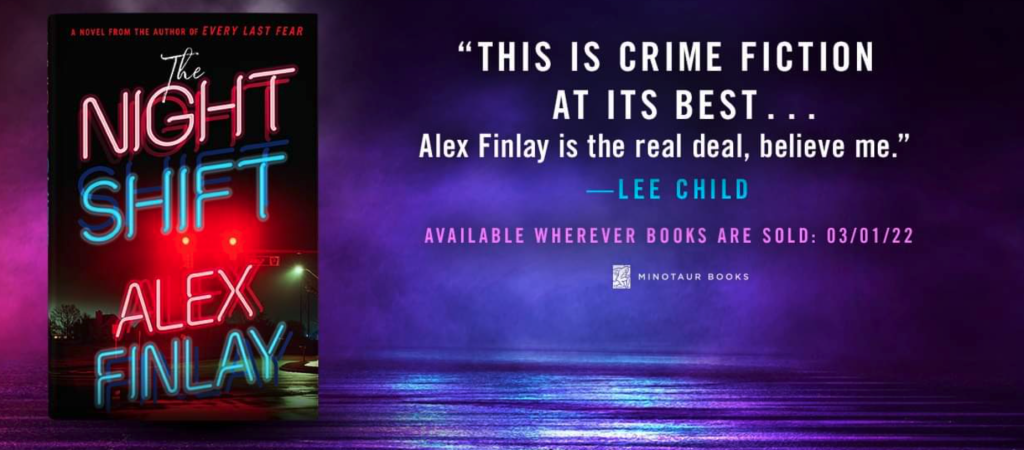 The Verdict
This is the twistiest thriller boasting the largest number of shocking reveals that don't feel forced or over the top in content or number. Around every corner lies a juicy reveal, but it does not get to the point where the trick is cheap or uninteresting. When you think that must be it, there's another.
The way that Finlay weaves the strands from each character together slowly throughout the novel is masterful and truly speaks to the writer's abilities. This novel is such a thrill ride that I could not put it down and finished it within 12 hours of picking it up.
Ella as a character was the most compelling for me during the reading process as she must relive her trauma from the Blockbuster killings while trying to find answers for herself and for Jesse, the ice cream murders survivor. Trauma and its cycles were explored with nuance and care as we watch from the outside as people involved with the murders grasp for suspects and closure.
2022 is ripe with amazing new fiction and this will surely be much talked about on its release date, March 1st. I recommend this novel to fans of the thriller and horror genre as well as true crime fans. This novel is so human and speaks to the emotion of the reader while being an atmospheric masterpiece.

(5 / 5)
If you want to check out The Night Shift, get it below!
If this novel sounds up your alley, you may also enjoy this novel.