You read that right – forgettable. Not unforgettable. Forgettable. Rachel Hawkins' thrillers are always super buzzworthy when they are released. As someone with serious FOMO, I can't believe I haven't read her novels yet. I changed that this month but was seriously disappointed in what I experienced. You can see others' ideas about the novel over on Goodreads, but find mine below.
The Plot
Lux and her boyfriend Nico only met a few weeks ago in California. Lux becomes adventurous after the death of her mother and agrees to travel in Nico's boat, The Susannah, to Hawaii. When they get there, the boat has internal issues – the motor is busted and there's a hole in the body. Lux and Nico barely have any money and work jobs that don't pay too much. Lux is disappointed as her whole plan was to travel the world with Nico.
When two young women approach Nico about paying for a ride to Meroe, a deserted island with a questionable past, Lux negotiates it into the fixing of their boat in addition to payment for the trip. She says that Nico will be able to show the women a more authentic trip if they go in their own boat and the women agree.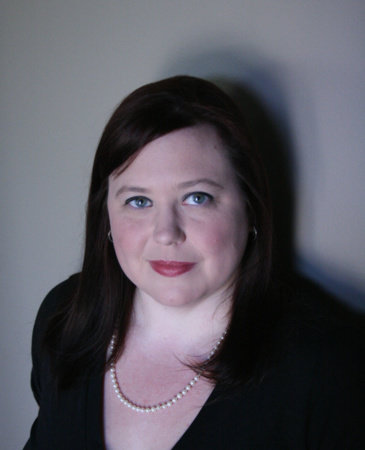 The four arrive at Meroe to find another couple staying on the island. Then, a stranger shows up. Is it bad news and will they survive?
The premise of this novel is extremely interesting. It reminds me of Agatha Christie, but takes a huge nosedive after the awesome premise. Sadly, about 75% of the novel is petty arguments and interactions between all of the characters staying on the island. These people do not act like they are 20-30 years old. They act like spoiled teenagers, betraying each other and talking behind each others' backs. That is my first issue. The characters act unbefitting of who they are supposed to be.
This novel is marketed as a mystery and a thriller. What is the mystery? Where am I supposed to feel thrilled?
The novel, at about 75% in, finally realizes that there is supposed to be a plot. Suddenly people begin turning up dead and injured. It all happens so quickly and so nonsensically that I when I finished, I closed the novel and said to myself that I would never pick up another one of Rachel Hawkins' books again. I was baffled that I spent so long wondering where the novel was going only to be treated like a reader who has no idea what a good book reads like.
I felt offended as a reader that Hawkins would lead her reader through a minefield of petty emotions and squabbles only to lead us to the most resoundingly disappointing, forgettable ending I've ever read. Literally. I am writing this review 24 hours after finishing the novel, and huge chunks of it are already leaving my memory.
Skip this one and don't waste your time on a novel that goes nowhere but to a dissatisfying end.
(2 / 5)
If you want to read Reckless Girls, we are providing the link for it below. Remember, if you use the link we will get $ as an Amazon Affiliate.
Blood Meridian, a Book Review
Blood Meridian, or the Evening Redness in the West, (1985) is a Western (or Anti-Western) epic novel by Cormac McCarthy.
Blood Meridian, or the Evening Redness in the West, (1985) is a Western (or Anti-Western) epic novel by Cormac McCarthy. This review discusses the digital copy of the First Vintage International Edition.
The kid wanders the West as a survivor and thug. After getting caught up with the ominous Judge Holden, his life remains forever entwined with the cruel force of the man. The kid becomes a soldier, a scalper, and an outlaw but always finds Judge Holden somewhere in the distance. Civilization approaches the untamable West, which forces the kid adapt or die. But it is Judge Holden who remains: an unchanging force of cruelty.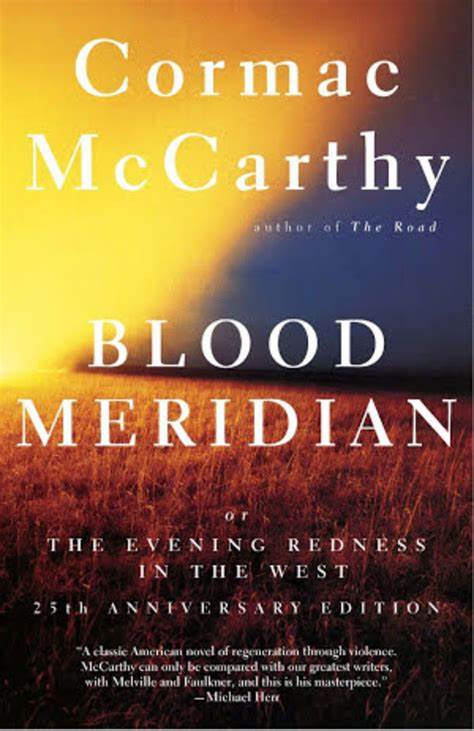 What I Liked
Cormac McCarthy remains one of the most brutal authors, both in narrative and writing. You will feel the danger of the West, its inhuman cruelty, and fear for the kid. Many often call Blood Meridian McCathy's magnum opus. As a result, if this brutal novel satisfies your readerly tastes, you'll have his entire collection to sample.
Judge Holden remains a true force of evil and cruelty masked in human form. McCarthy likes to represent forces of nature through his antagonists. Judge Holden doesn't always directly antagonize, but his role becomes increasingly clear as the novel continues.
Few authors convey cruelty like Cormac McCarthy, who structures his writing so that sentences bleed into each other in frantic syntax. I mean this somewhat literally as he removes quotation marks in dialogue or creates blunt sentences to reflect the mood he wants to display.


Tired Tropes and Trigger Warnings
Era-appropriate (using "appropriate" loosely here) racism encompasses this novel in a rather uncomfortable and upsetting way. We are dealing with the West, where scalping earned payment and slavery was a debatable issue. McCarthy doesn't shy away from this reality. It also should be noted that some characters thrive in such industries. This reality certainly doesn't make the reading any less harsh.
There is graphic violence and cruelty in every chapter, altogether influencing nearly every page. It will be a hard read for those sensitive to any kind of abuse, because all kinds appear in this novel. Few horrors depict the cruelty of man like a Cormac McCarthy novel, and Blood Meridian is no exception. In fact, it might be the leading example.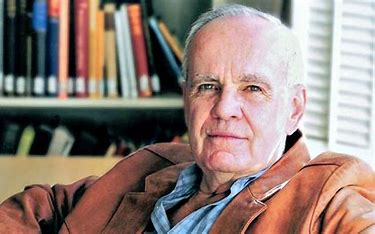 What I Dislike, or Food for Thought
McCarthy provides brutal and challenging prose. Blood Meridian is more accessible than many of his other novels; regardless, it still provides a difficult reading experience for those unaccustomed to his style. After the first two chapters, you'll grow accustomed to the style, or it might be a skip. I say the first two as Chapter 1 runs through the boy's life to the point of his adventure, which might be its own sore spot for some readers.
Don't expect realism in the novel. As mentioned, McCarthy favors villains that represent a force of nature. This stylistic choice often makes his characters, largely the antagonists, superhuman forces.
Following down this criticism, or consideration, also extends to realism holistically. McCarthy brings life to his interpretation of the West, the States, and Mexico. Don't expect accurate descriptions of locations or historical events. I didn't note many historical inaccuracies, however I'm also not versed in that era.
Blood Meridian deconstructs the pop-culture West, lingering on the horrors of the era and the indifference of the West. Expect the psychological nature of man to be the center of its haunting.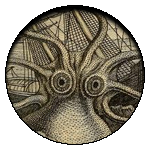 Final Thoughts
Cormac McCarthy earns his reputation as one of the great living American authors, and Blood Meridian remains one of his most haunting novels to date. Few authors dare to display the cruelty of man, producing emotional truth and horrid images that can twist a reader's stomach. Cormac McCarthy's Blood Meridian dares all that and more.

(4 / 5)
A Pilgrimage of Swords, a Book Review
A Pilgrimage of Swords (2019) is the first novel of a grimdark fantasy series (The Seven Swords) authored by Anthony Ryan.
A Pilgrimage of Swords (2019) is the first novel of a grimdark fantasy series (The Seven Swords) authored by Anthony Ryan. The book is technically a novella, running slightly short of a novel-length, but reads like a collection of short stories. This review will cover Subterranean Press' digital copy of the novella.
Desperate to change his fate, Pilgrim forfeits his name on his quest to meet a mad god. He and his fellow pilgrims travel a dangerous road filled with abominations and horrors in the desperate hope that they might have one prayer answered. With a twisted sentient sword, he fights his darkness and the God's abominations in the hopes of something better.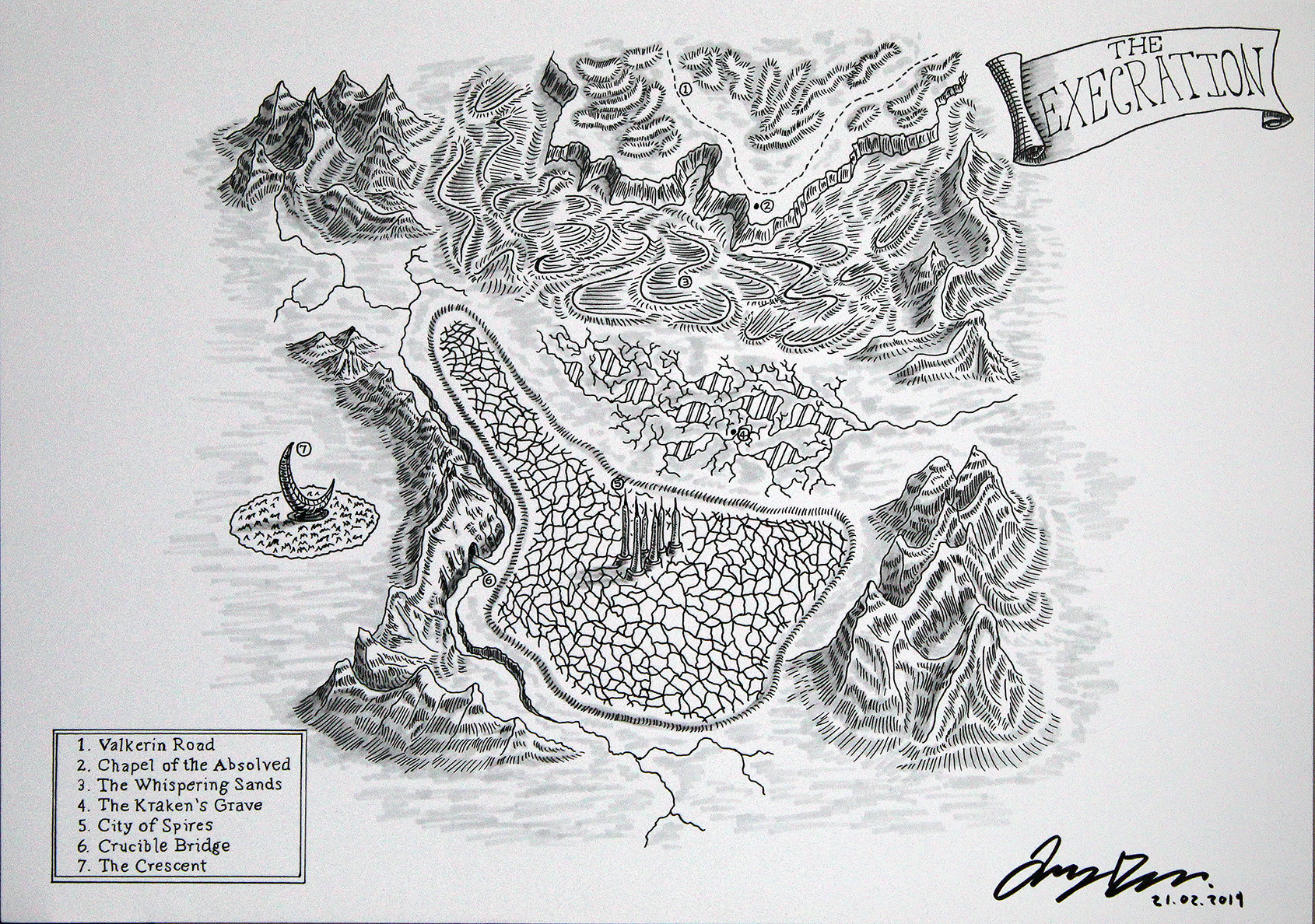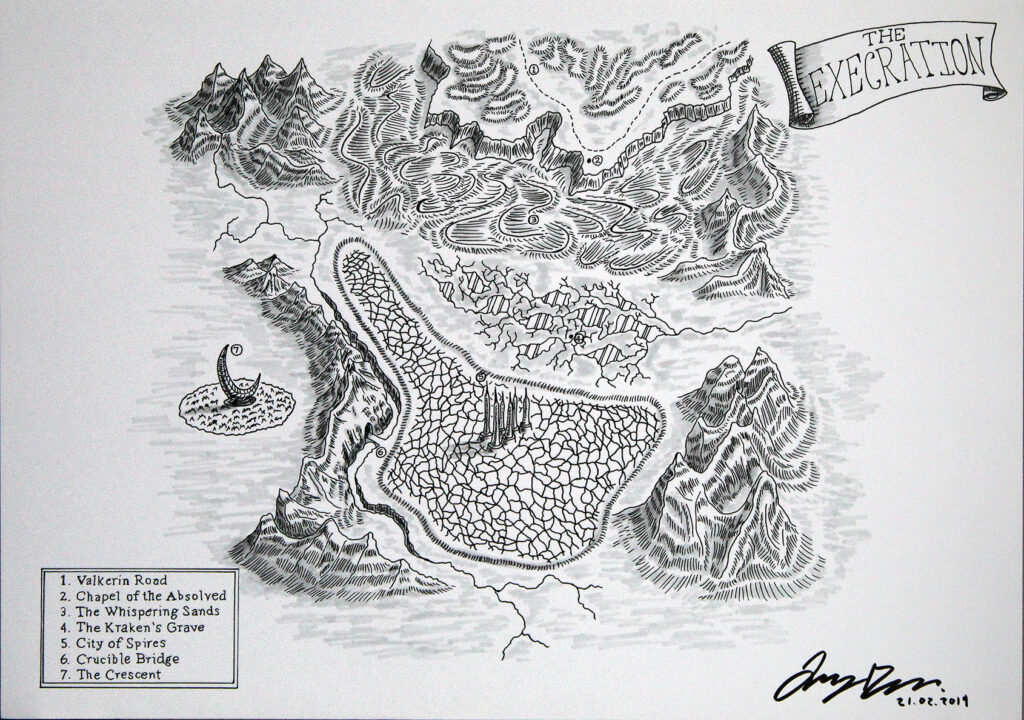 What I Liked
As mentioned, this novella reads like a collection of short stories. Each story tackles a specific challenge and region. The strategy works well in building the torment of the journey and keeping the reader consistently engaged.
A voice plagues Pilgrim, constantly antagonizing him at every step of their journey. The style in which this "voice" delivers their intrusive thoughts, while not inherently unique, remains an enjoyable and satisfying read. The voice itself becomes a favored character of mine. Pilgrim and "voice" share a dynamic of brooding hero and antagonizer. Again, not unique, but done with great effect.
Despite the tight word count, several twists effectively engage the reader, helping to add to the world that we only get a glimpse of.
While the supporting cast doesn't have as much time dedicated to them, they collectively add to the experience with unique perspectives and dynamics.
In terms of horror, the final chapter provides the most stunning examples. This review is spoiler-free, but the build-up certainly exceeds expectations for the first read.


Tired Tropes and Trigger Warnings
A Pilgrimage of Swords resides on the lighter side of grimdark high fantasy, but it remains grimdark. The world of A Pilgrimage of Swords is uncaring and cruel, producing characters that reflect that, functioning as opportunists.
Animals do die, and children are equally prone to potential death. Again, not entirely out of character for the setting, but it should be mentioned for readerly consideration.
As the description might indicate, torment and suffering are recurring motifs in the story. While the tortures certainly are sadistic, readers get the aftermath. The novel doesn't linger in its sadism.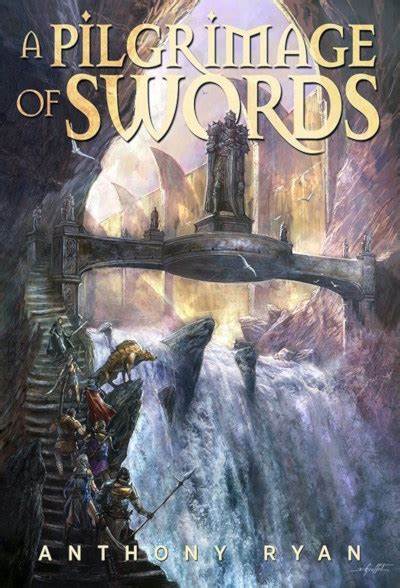 What I Dislike, or Food for Thought
As A Pilgrimage of Swords is a high fantasy novel with light grimdark elements, the horror reflects that concept. There are tense moments, and characters are prone to danger, but genuine horror remains lacking. The novel doesn't claim itself as such, but our audience should consider this. However, walking gods of madness twisting their environment to reflect their psyche shouldn't be ridden off too quickly.
While I mostly enjoy the brevity of the story and how the chapters read like short stories, it limits the time we have to invest in the characters and setting. This novel is the first of a continuing series, so this criticism doesn't inherently apply to the other novels. This first introduction remains easy to recommend for those looking for a quick read, not a long investment.
Many plot beats are predictable and can somewhat underwhelm a reader when the obvious thing happens. I will admit that this isn't too often a hindrance but compromises to accommodate the tighter word count. Luckily, there are plot twists to minimize this underwhelming predictability, but the chapters could still utilize an extended word count.
The name doesn't exactly fit this first entry of the series. It might be a perfect name for the series, but this novel's pilgrimage has little to do with swords.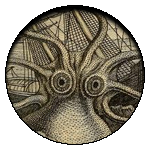 Final Thoughts
A Pilgrimage of Swords has a few haunting moments but is an otherwise enjoyable and quick read. If a grimdark set in a high fantasy where cruel gods walk the earth sounds like an interest of yours, this will certainly satisfy that itch. While it remains a little too brief, this is by design and part of a larger narrative.

(4 / 5)
Creepy Comics Collages by Jennifer Weigel, Part 5
Well, you won't get rid of me that easily… Ha ha, I lied about coming to the end and the afterlife in the Creepy Comics Collages segment, it was just an opportunity for rebirth. Besides, it's World Collage Day! So having come into another comic book to rework, here we go again…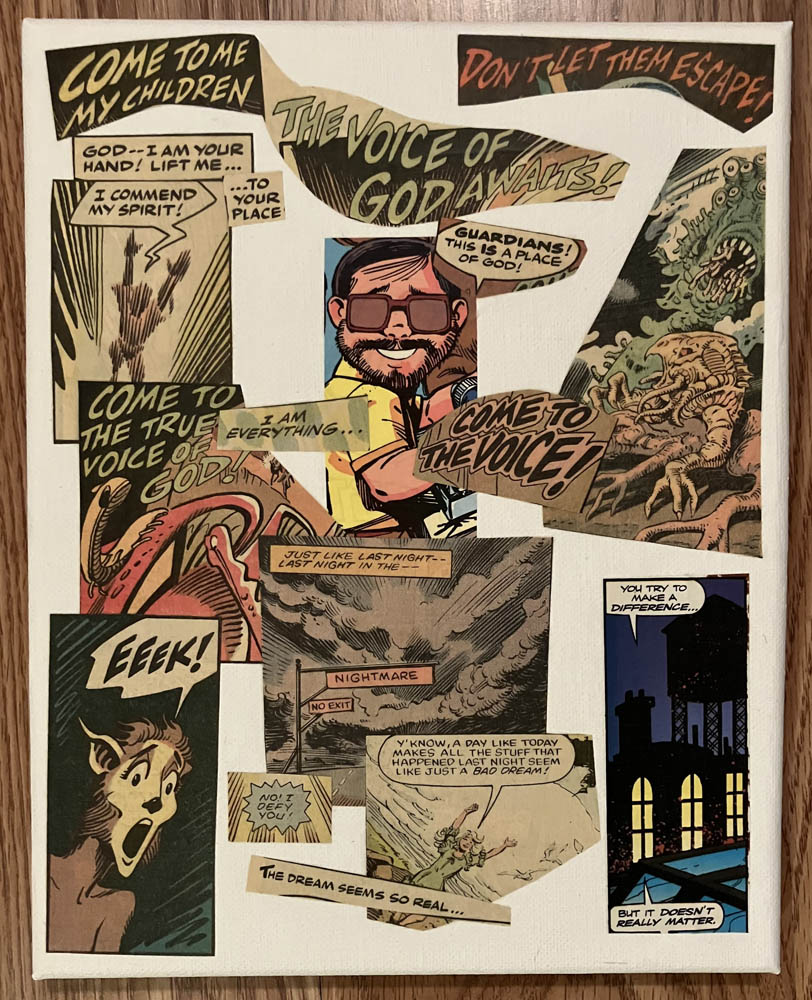 Creepy Comics Story 9: The Voice (of God or Reason or perhaps an homage to my ex)
"Come to me my children, the voice of God awaits!… Don't let them escape!" Please beam me up out of this weird comic collage alternate reality. "God I am your hand! Lift me… to your place. I commend my spirit!" I want to go back to dreaming about starfish.
The computer programmer behind the scenes turns to face us and smiles. "Guardians! This is a place of God!… Come to the true voice of God!" "I am everything." "Come to the voice!" And the horrific AI generated creatures abide by his every coded word.
Just like last night in the — signs posted for Nightmare, No Exit. The deer spirit faun screams in surprise, "Eeek!" "No! I defy you!" She returns to the form of a little girl with arms outspread to the open sky. "Y'know, a day like today makes all the stuff that happened last night seem just like a bad dream!" The dream seems so real…
Somewhere in the city, the computer programmer sits up at night in pensive monologue, "You try to make a difference… But it doesn't really matter."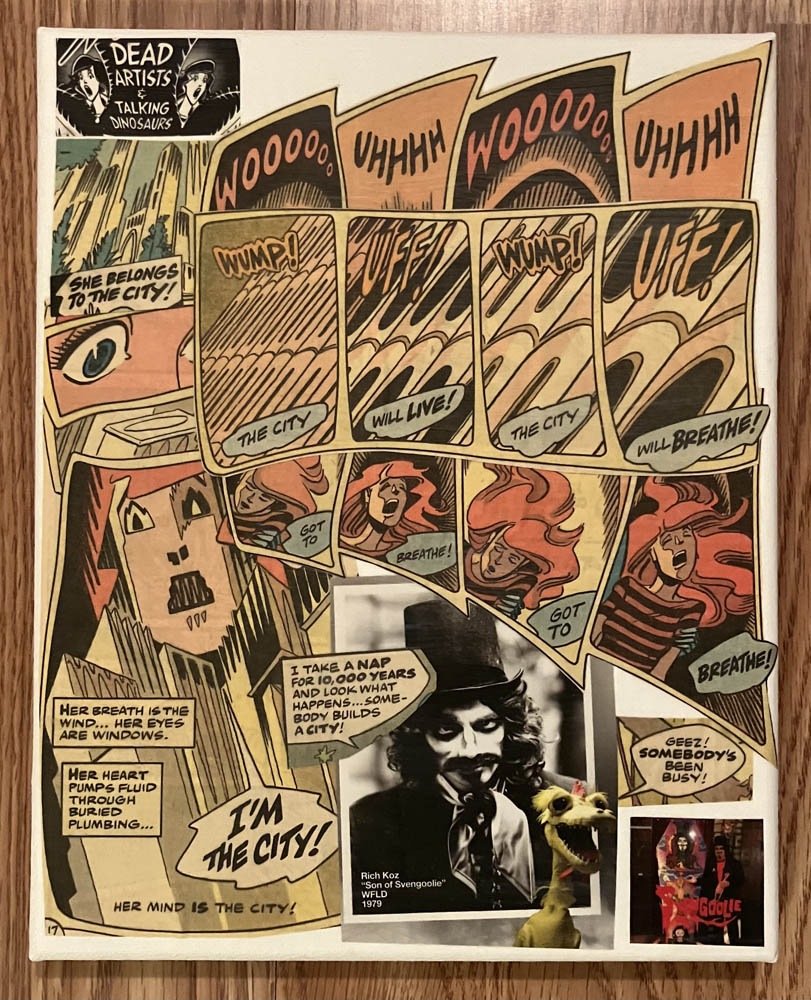 Creepy Comics Story 10: The City (Metropolis becomes self-aware)
This segment is brought to you by Dead Artists and Talking Dinosaurs. No really, wait for it…
Woooooo Uhhhh Wooooooo Uhhhh… Wump! Uff! Wump! Uff! "She belongs to The City!" The Glenn Fry 1985 hit single looms ominously overhead as Metropolis becomes self-aware. "The City… will live!… The City… will breathe!" The City gasps for air, "Got to… breathe!… Got to… Breathe!"
Her breath is the wind… Her eyes are windows. Her heart pumps fluid through buried plumbing… "I'm The City!" Her mind is The City!
And we have a celebrity appearance by Rich Koz "Son of Svengoolie" WFLD 1973: "I take a nap for 10,000 years and look what happens… some-body builds a city!" Kerwyn chimes in, "Geez! Somebody's been busy!" And we cut out to a scene of Svengoolie standing alongside his coffin.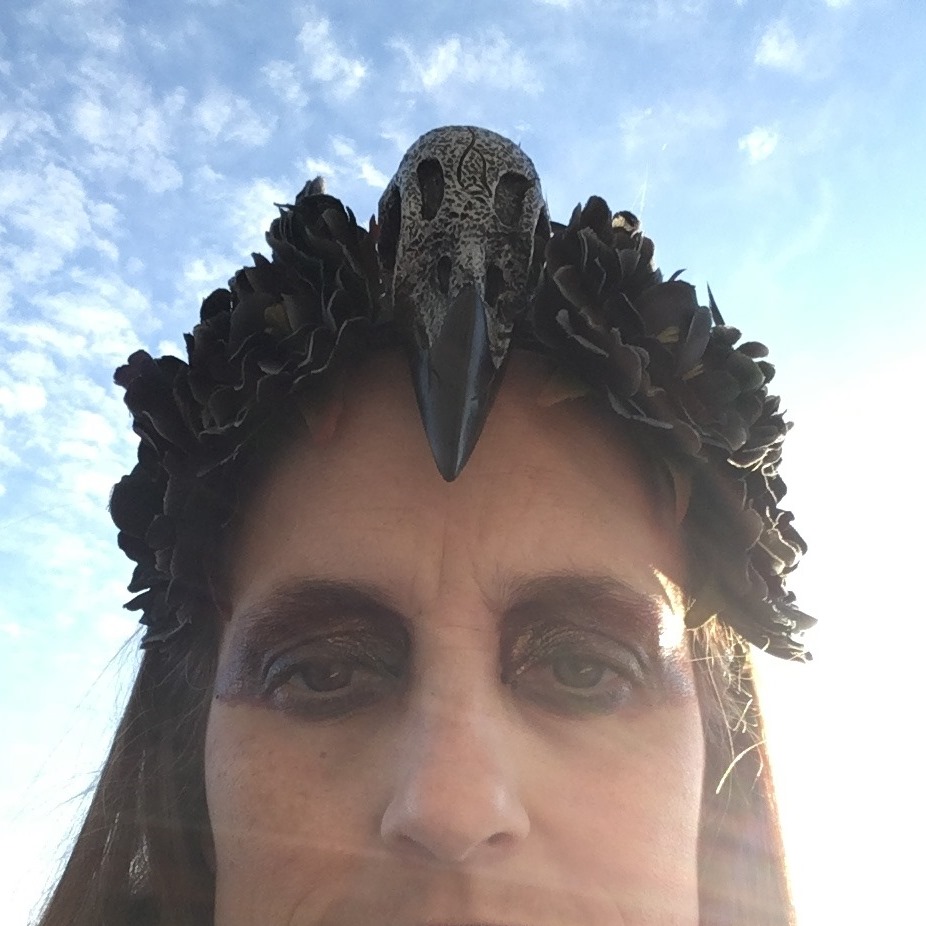 Well, that's all folks. Or is it? For now, any way… until I get more comic books… Duh duh DUHHHH…
If you want to see more art, check out more of Jennifer Weigel's work here on Haunted MTL or on her writing, fine art, and conceptual projects websites.