The Plot
A stranger approaches our nameless narrator at her movie theater job selling popcorn in the middle of nowhere. She doesn't have any family or friends that will miss her, and she looks frightening similar to Rosanna Feld, the celebrity. This stranger, Max, takes our narrator and helps her become Rosanna after the real Rosanna suffers a mental breakdown that requires she stay away from the public eye of Hollywood.
Our narrator becomes Rosanna's body double. She undergoes intense studying of Rosanna's mannerisms, relationships, and favorite fashions. The narrator eats what Rosanna likes to eat and undergoes plastic surgery to make everything just so. She becomes Rosanna, lets her essence live inside her body, as she goes on dates with her best friend and interviews on nightly news outlets. Max monitors all of her events, her texts, and her conversations. Is Max really just her employer looking out for Rosanna and her wellbeing? What caused Rosanna's inability to leave her home?
Its Merits
This novel is an in-depth character study into the psyche and how fame, beauty, and the expectations of Hollywood can change a person. This psychological thriller isn't fast paced and full of plotting. It is a deep look into what one must do to lose their former life and everything they once were. The narrator truly becomes Rosanna and will do anything to maintain her life force within her body. She channels everything about Rosanna after watching hours of everyday footage of the celebrity.
Obsession is evident as the narrator transforms into someone who disappears her old body. This novel is one of nuanced terror, one of psychological disadvantage. The reader for this novel must be okay living in a space of digression. The plot is the narrator becoming Rosanna. There are answers about the intriguing questions of why along the way, but there is no plot and you must be comfortable in that space.
Beyda is masterful with her exploration of the human condition as it relates to the truth of woman as object in front of a camera. The prose is haunting, and the evolution of the narrator is compelling on its own. Terror scratches beneath your skin as you read the narrator's desire to impress Rosanna with her transformation. Max's identity and the narrator's trust and mistrust of him moves the narrative forward and all is revealed in the end. However, the end is not the goal in this novel. It is the journey where true humanity and inhumanity takes place.
The Verdict
The Body Double has a measly 2.8 stars on Goodreads, for what I imagine is its lack of standard plot and focus on deep character study. This is not a novel for the standard reader interested only in surface level story and plotting. This novel is a skillful exploration of what it means to be yourself in a horrifying way in a very untraditional sense of the novel. This is more than a slow burn. It crawls with anticipation and dread. This is an extremely literary take on a horror/psychological suspense novel, and I loved it.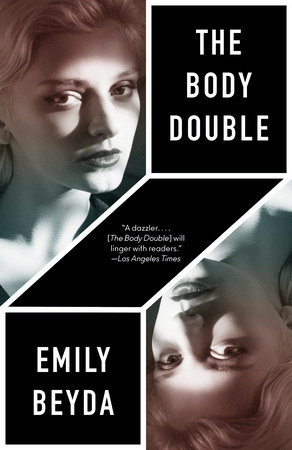 (4.5 / 5)