They Were Here Before Us is a 98-page novella-in-pieces by Eric LaRocca and independent horror publisher Bad Hand Books. Eric LaRocca is a Bram Stoker Award®-nominated and Splatterpunk Award-winning author best known for the short story collection Things Have Gotten Worse Since We Last Spoke and Other Misfortunes published by Titan Books. Similar to his other work, They Were Here Before Us is a collection of short works. It contains a total of six self-described novelettes, vignettes, and short stories that are centered around the theme of loss and love, with the back cover summarizing succinctly, "The only thing more brutal than nature is love."
Pros
As a collection of works, They Were Here Before Us has carefully selected and well-written prose. It was accessible in its descriptions, word choice, and sentence structure. All the stories were grisly though I found the gore mostly tasteful and not too excessive. Beware, my stomach did turn once or twice in the more challenging scenes, so I wouldn't recommend for queasy readers.
Four of the six works have animal protagonists, a unique twist on typical horror scenarios. In fact, I particularly enjoyed the description of the mundane horror of everyday events within the animal kingdom. The book excelled at capturing that novel perspective. I did also appreciate the diverse representation of humans throughout the book, as all the (living) adult characters were explicitly queer.
My favorite works from the collection were "All That Remains is Yours to Keep" and "A God Made of Straw". Both stories are from the perspective of animals, a beetle and a crow respectively. They told tales of everyday violence and love for both humans and the animals around them. I found the perspectives within these two to be particularly gripping and interesting to consider.
Also worthy of note, is that the book is filled with stunning art from Caitlin Hackett. The cover depicts her full-color work while the inside pages feature black-and-white renditions. I was blown away by the pieces associated with each story as well as the creepy accents placed throughout the pages. As a biologist and lover of cosmic horror, I felt like her art was made just for me.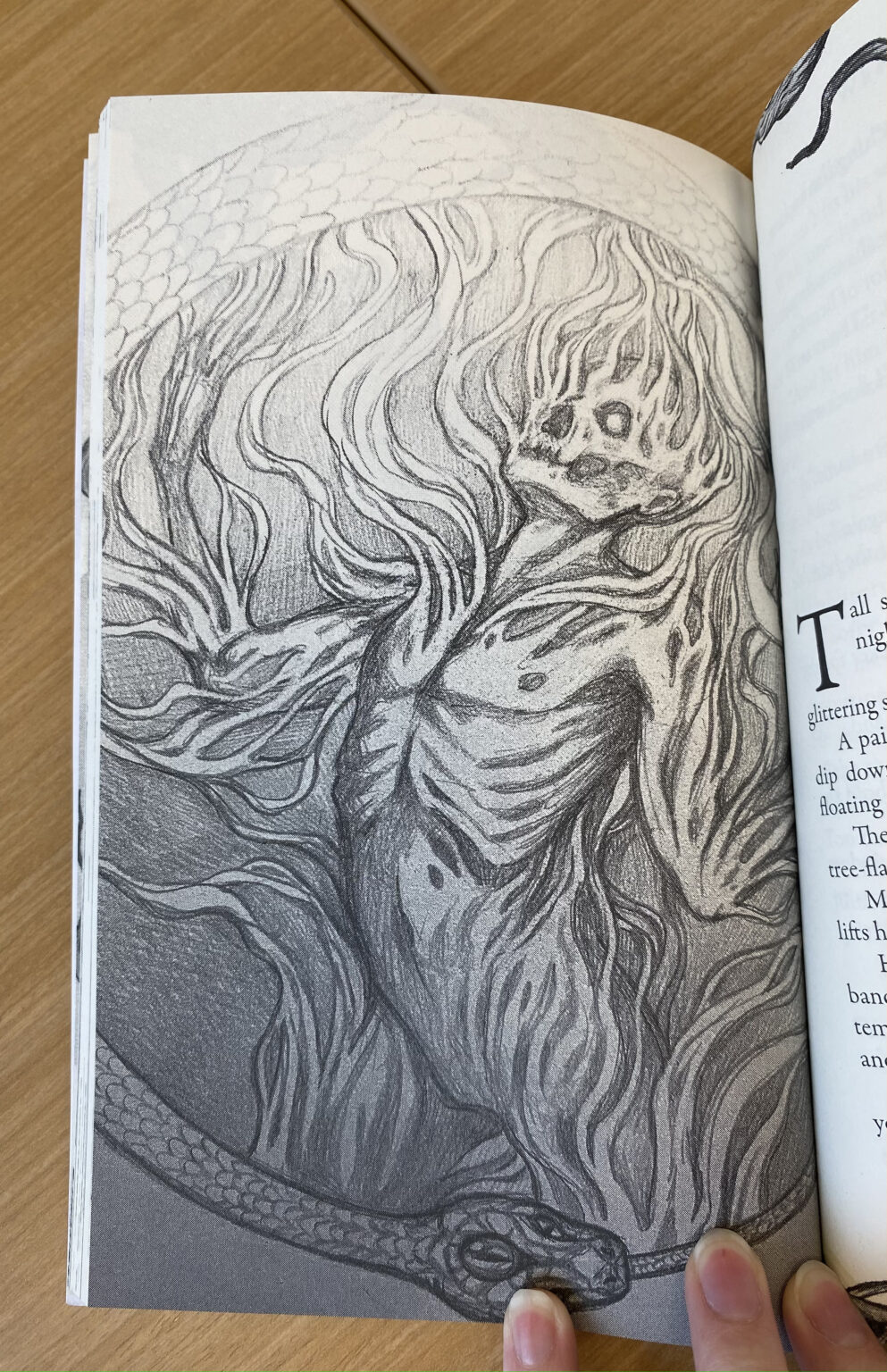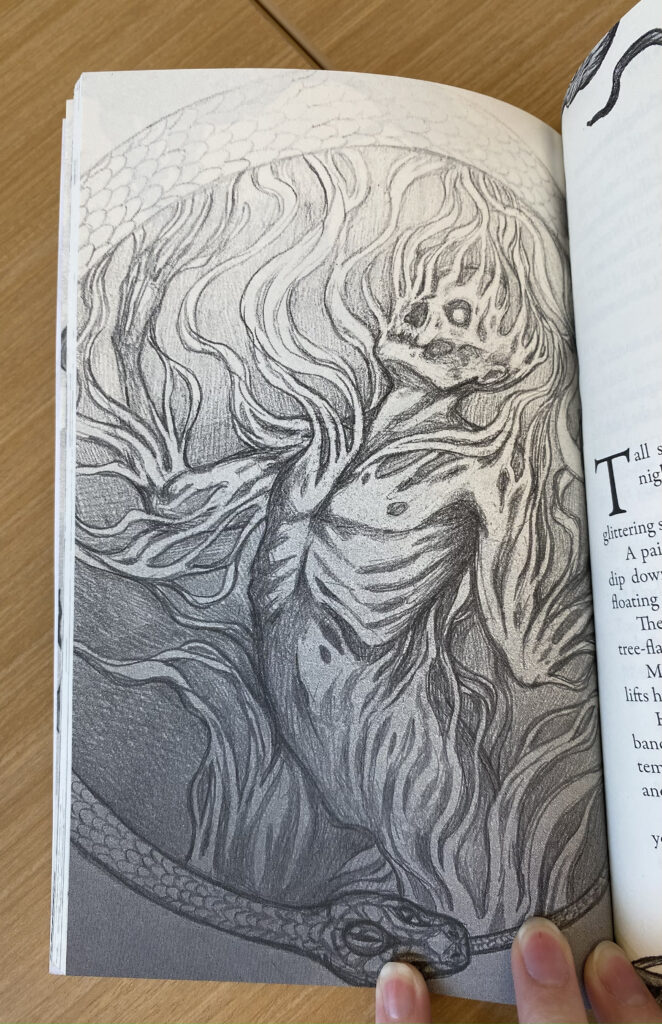 Cons
Most of the stories asked, "What if we observed the horror of an everyday phenomenon from an animal's perspective?" and I felt the collection was the weakest when it diverged from that idea.
My least favorite story was the final one, "When It's Dark Out". I found it to be weakest in terms of general plot as well as overall connection to the rest of the stories. I didn't find myself as gripped and likewise, plot holes were harder to forgive. The story was about the supernatural, while the other stories mostly tackled the mundane with some speckles of surrealism. I also found its connection to the reoccurring animal imagery to be weakest as well. 
Additionally, I wasn't incredibly enamored with "Delicacies From a First Communion". Instead of a wild animal, it is told from the perspective of a rich man's pet chimpanzee, a perspective I found to be considerably less enticing and relatable than the wild animals. This story also hints at implied bestiality, which felt like a cheap plot point considering the more innovative approaches to how nature, love, and brutality intersect within the other stories.
Conclusion
I didn't dislike any of the stories, but during my reading, I definitely found some stronger than others. Overall, I enjoyed the novella and recommend it to those looking for a quick read with exciting concepts, quality prose, and compelling characters. However, if you're squeamish about gore, death, or children in harm's way, I would suggest you find another book.

(3 / 5)
What Have We Done: Alex Finlay Produces Another Hit
Jenna: A stay at home mom with a secret assassin past
Donnie: An alcoholic rock star
Nico: An executive producer of a reality television show
They all have a past, but who is out to get them?
The Plot
Jenna, Donnie, and Nico share a troubled past. They were all orphans who lived at Savior House — which is much less savior, much more terror. When their friend Benny, a famous judge, is murdered and the FBI comes looking, Jenna, Donnie, and Nico must race against the clock to figure out who is targeting them.
The Verdict
From the author of The Night Shift, which I reviewed here, I would expect nothing less than what Finlay has delivered. Finlay notoriously creates stories with palpable thrill and spine-tingling revelations.
I particularly enjoyed the character of Jenna. She is a reformed assassin living a normal life as a new stepmom. When she is called in to make a hit and her family is threatened, she goes badass mom on 'em. While I still thought Donnie and Nico as characters were engaging, it was nothing for what I felt for Jenna.
Also, major props to Finlay for creating a character that kills with a very unique weapon. Read it to find out more!

(5 / 5)
"The Writing Retreat" Gone Bad: Julia Bartz's Debut
Keeping it all in the family, Julia Bartz's The Writing Retreat is the debut novel of the sister of Andrea Bartz, author of We Were Never Here, which I reviewed here.
I was much more impressed with The Writing Retreat than I was We Were Never Here.
The Plot
Five up and coming female writers under 30 are invited to a writing retreat hosted by the reclusive and acclaimed horror writer Rosa Vallo. Rosa reveals the details of the retreat: each writer must complete a full length novel from scratch over the next month. The best novel wins a multi-million dollar publishing deal with Rosa.
Suddenly, the retreat turns into a nightmare when one writer goes missing in the snowy terrain outside.
The novel hinges on friendships in turmoil and has a focus on LGBT+ representation as well as interpersonal female relationships. The novel explores the dark publishing world and the search for fame and the Great American Novel.
The Verdict
This novel is atmospheric and intellectual, page turning, and the English major's required reading. I absorbed this novel and found Julia Bartz's writing and conceptual chops to be leagues above her sister's.
Ths novel releases on February 21, 2023 and it should be in your cart right now.

(5 / 5)
Buy it here!
A Murder in Reverse: "Wrong Place Wrong Time"
The Plot
"A brilliantly genre-bending, mind-twisting answer to the question How far would you go to save your child?"  — Ruth Ware, #1 New York Times bestselling author
Jen watches her son murder a stranger. Stab him to death. She and her husband, Kelly, watch as their son Todd is taken into custody.
The next morning, Jen wakes up and it's yesterday. Jen knows that at the end of the night, her son kills someone. She is determined to stop it.
Jen goes further and further back in time trying to discover why Todd murdered a stranger and how to stop it.
The Verdict
This book is twisty. Right when you think you know the ending, something else is there to prove that the story is more multifaceted than that. While the premise of the novel is simple, Gillian McAllister elevates a simple concept with deep, dark twists.
It is best that you don't know too much going into this one. For fans of Blake Crouch, this is such a good thriller with time travelling vibes.
(4 / 5)