Catching up with my reading log this week with the two big titles that have made up the bulk of my column, John Constantine, Hellblazer, and Killadelphia. I can count on these two titles as a one-two punch of quality storytelling, so this pairing always brings me joy.
Too bad I'll need to break up the band soon. Hellblazer's run is long done now. Thankfully, Killadelphia is going strong. But enough about me, how are the comics this time around?
John Constantine, Hellblazer #11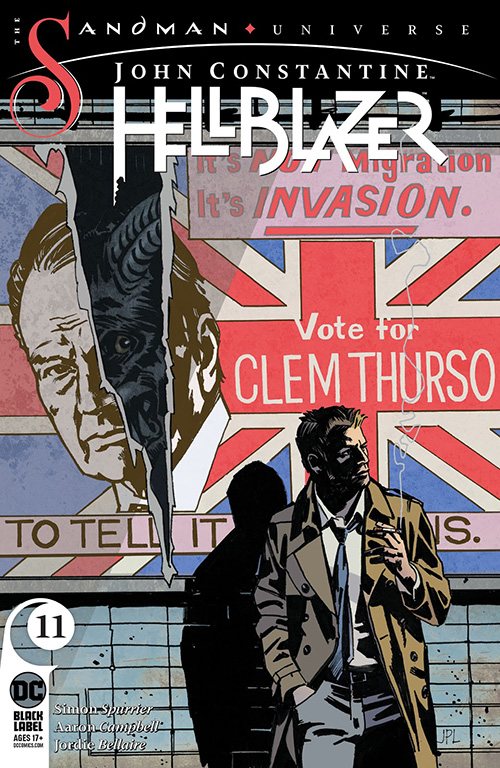 Reviewing the remains of a cancelled series is a little odd, isn't it? Part of my own review process is to look at the potential of the comic in the future – it is why I have not really enjoyed Alien all that much. Knowing that Hellblazer got cut short kind of guts that, but I do the best I can with the knowledge that this issue of John Constantine, Hellblazer, is the penultimate issue. The run has been great, and if there were any cosmic justice, I wouldn't see the end of the road here.
Issue #11, titled "The Sceptered Isle: Part One," has John Constantine piecing together the murder of a politician who is far older than any of his constituants would have ever suspected. I am not going to assume I know how things work on the British isles, of course, but one would assume the working many might frown upon that sort of thing. What we get is the murder of a long-lived mischievous entity in England – Rawhead. Far from a nice entity, he is still seemingly a victim of the plans of the older John Constantine that is bumming around London. A literal troll who becomes the ultimate troll – a politician.
Simon Spurrier's writing here is great. Sharp. He deftly weaves an interconnected history between Constantine and Rawhead, who goes by many names. There are some interesting nods and angles here that I am sure I missed as well, not being a Brit myself. The story is very much in line with the political critique that has been an undercurrent in the entire run. I enjoy political magick Hellblazer, but I can see how some readers may feel it dates the material. As it stands, reading the issue now, it is most definitely rooted firmly in the era of Boris Johnson. How the modern-day connects to the mythical foundation of Britain, on the other hand, is peak Hellblazer – shocking and cynical – wait until you see it.
One element of the story I am iffy on is how this entity ties to one of John's current companions. I wouldn't dare spoil it here, but the path Spurrier treads skirts familiarity a bit. It is still an interesting angle, however. Not necessarily shocking, though. That might be the major flaw of the issue for me.
Aaron Campbell's art here is great. It fits the tone of the story quite well, particularly his approach to John's face. John is an ugly man in many ways, and Campbell doesn't shy away from it. His Constantine looks like he's taken a few pops to the face, and most of them well-deserved. Early on in the run, I had expressed some concerns about the inconsistency in John's appearances, but it seems that Campbell has nipped that. The two-page spread near the end of the issue is definitely one of the most disturbing and bleakly hilarious images in the run as well. Jordie Bellaire's colors work well with Campbell's art. There is a lot of sickly green and brilliant red that punctuates the subdued colors. Wonderful stuff.
To say that this issue introduces a giant wrinkle into John Constantine's world would be an understatement. And to do so in such a wonderfully sordid and gross way is particularly fun. I admit that the reveal of a certain character's connection to Constantine is a little contrived, but I am willing to accept its logic. Hopefully, Spurrier will continue to work on Hellblazer in some capacity – his approach has been entertaining.
(4 / 5)
John Constantine: Hellblazer #11, written by Simon Spurrier and illustrated by Aaron Campbell, is available from DC Comics and your local comic shop.
Killadelphia #11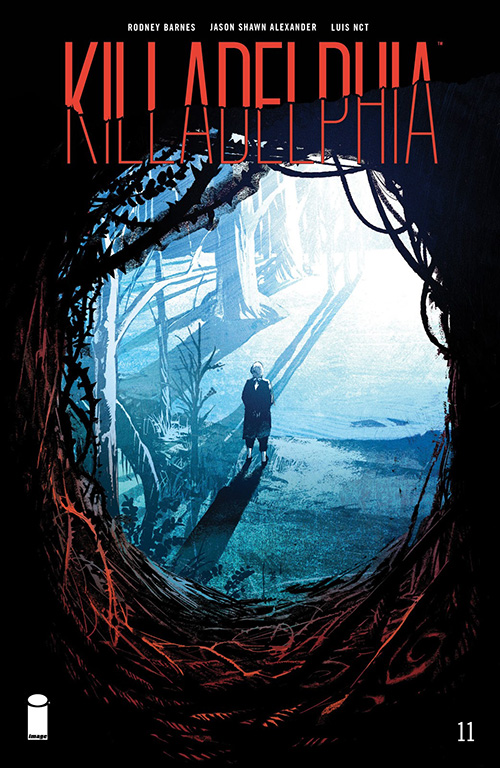 Since we last covered Killadelphia, it was announced that Rodney Barnes will be writing adventures in the world of The Evil Dead with Army of Darkness: 1979. I'm very excited about that because of how good Killadelphia has been. Killadelphia has been moving at a steady clip, so I am very excited to see what Barnes does with Ash Williams.
But, I digress, let's turn to Killadelphia #11, "Burn Baby Burn, Part V, Changing the Story." Much like last time, this issue drifts between the past and the present. I do have some concerns that things may be slowing a tad. Jupiter's raid is still happening and the Sangster crew spends most of the issue talking and thinking. Tevin finds himself wandering the afterlife and has a brief conversation with John Adams about his role in events as well, which ends up being one of the more interesting moments in an issue that continues a lot of place setting.
We are thrown yet another curve ball with Abigail Adams' past. The character already has a lot going on and I am not sure that expanding her sexuality is necessary. LGBTQ+ representation can come in ay number of ways like with a new character. The immortal, vampiric former first lady running a vampire army is a lot for a single character – making her bisexual almost feels like a hat on a hat when there are other characters who could make for good representation. It's not an issue of historical authenticity – rather it is giving one character a lot more than most – especially the connection to Thomas Jefferson. It definitely builds on themes Barnes has been building on in the series, but I worry this one was more for suprise than anything else. It feels a bit too writerly for Killadelphia.
The whole issue revolves around the lies that people and vampires tell themselves: Abigail and her loves, Jupiter believing he had an agency here, and James Sr. thinking he can ever truly leave Philadelphia for the after life. It's good material. The issue has a satisfying enough resolution as well to where my concerns about he pace may be alleviated next issue. We'll see.
I had previous covered a bit of the backing comic, "Elsium Gardens," but I have decided not to do so, mostly so my reviews do not grow any longer than they already are.
As for the art, it can be tough to find different ways to restate the obvious: Jason Shawn Alexander is excellent at what he does. The blood splatters were particularly divine and really reflect motion. He does the best blood in the business, I'd wager. Luis Nct's colors are also wonderful – whether tackling the gory chaos of the streets or the subtle colors of the afterlife.
Overall, this is a solid issue of Killadelphia, of one of the best horror comics out there. The pacing, which had the potential of derailing the progress of the story may not be a concern going forward given the ending of this installment. I do have some concerns of heaping too much on a single character, but Barnes work has been excellent and I am willing to trust his judgement here. I am eager to see where this goes.
(4 / 5)
Killadelphia #11, written by Rodney Barnes and illustrated by Jason Shawn Alexander, is available from Image Comics and your local comic shop.
---
See you soon with another pair of reviews. I am also hoping to dive back into Swamp Thing coverage again, as soon as possible. I just want to tackle this backlog of comics.
In the meantime, please let me know what you think of the reviews. I want to make sure that I am not giving away too much. I also want to make sure they are enjoyable. If you can, drop a comment.