Welcome back to Graphic Content. It's been a while, hasn't it? 2020 has been an odd, challenging year threatening to kill us all and I haven't written a comic review since September. How nuts is that?
John Constantine: Hellblazer #8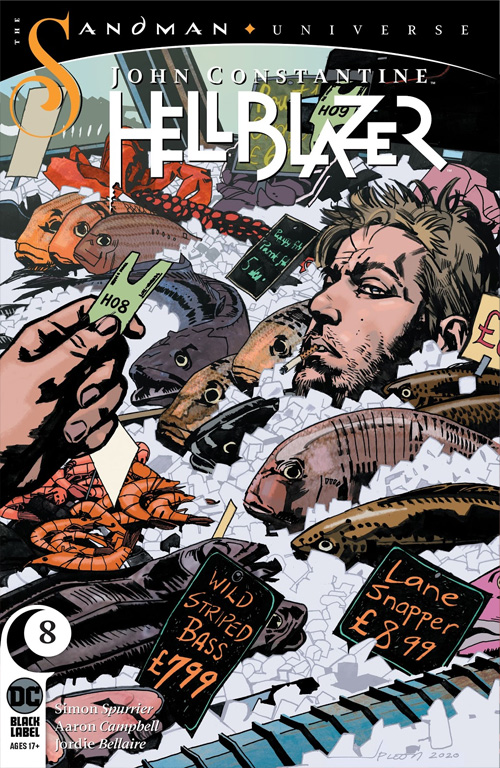 We conclude John Constantine's tragic mermaid case with "Britannia, Rule the Waves, Part Two." This issue stands out as a strong conclusion to a bitter, dirty little parable about the dangers of love with the wrong kind of person. Ultimately, nobody wins. John's scheme to track down his interloper doesn't reveal much, yet, and the mermaid suffers a traumatic fate. I will not spoil what happens, but the story borrows heavily from the almost supernatural exploits of the salmon.
Most of the issue is comprised of heavy narration by Constantine where he fills in the facts around the situation involving the fishmonger and the mermaid. Simon Spurrier has a strong command of Constantine's voice, here tackling the relaying of information with John's signature wit and dickishness, but not neglecting the sadness and frustrations he experiences as a situation he could have intervened in earlier. It's a complicated and messy story, emphasized by Aaron Campbell's gritty illustration style. The coloring also has a profound effect here, mostly using shades of greens and blues until the necessary splashes of red come into play. The color choices here playing well into the theme and setting of the story.
The whole package just works so well as a modern continuation of the Vertigo era and it is a shame the series never really found its audience. The comic ended with issue #12. I'll enjoy the remaining four issues, however, as this run has been one of my favorite Hellblazer runs I've experienced.

(4.5 / 5)
John Constantine: Hellblazer #8, written by Simon Spurrier and illustrated by Aaron Campbell, is available from DC Comics.
Sink #5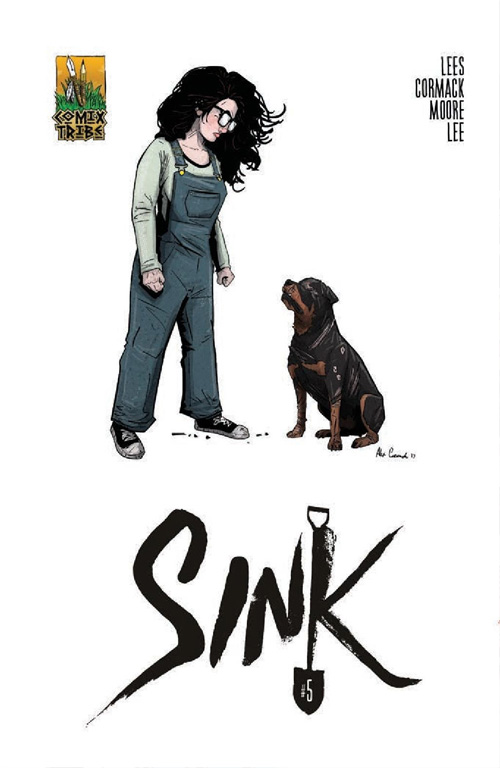 With "White Dog" we return for more Sinkhill weirdness, only this time out inciting incident is a missing dog, one of several in a rash of dognappings in the community. It turns out, sadly, that Sinkhill's ultra-violent streak doesn't limit itself to the human residents only. This is definitely a triggering issue for dog lovers. I will put it at that. The art is particularly sharp in this issue and while not as "gory" as previous issues in terms of volume, there is something about animals being the target that is particularly affecting.
We also seem more of the larger community intersect. Florence, from issue #3 returns at a club in the area called Black Hole. Beyond that, in the final pages, we glimpse the leads from the previous four issues, including our fox-masked friend from issue #1. But more sinisterly we see the return of the blue van and the sinister clowns that have haunted the series thus far. Though these stories are connected by location, the framing here indicates something more. We're on a collision course with something, and it is going to be messy.
(4 / 5)
Sink #5, written by John Lees and illustrated by Alex Cormack, is available on Comixology.
Killadelphia #8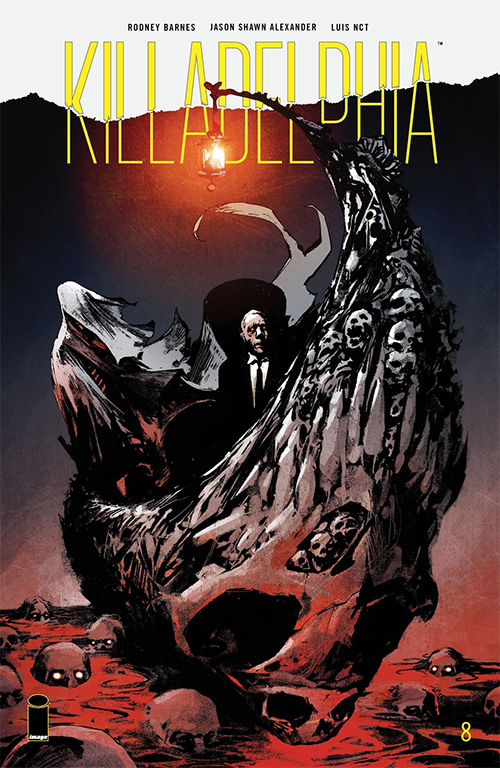 James Sangster Jr. is something of an authority on the very real presence of vampires in Philadelphia, and he now finds himself at the forefront of starting new developments of the vampiric population. Led by Abigail Adams, the vampires are putting something in motion, taking advantage of terrorism to stir up fear in the city. The newest vampire on the current scene, Jupiter, makes a particularly big splash as well at a concert. The way vampires are becoming very public entities and making themselves known is very entertaining and gives the book a feeling of constant escalation.
Some very fascinating stuff comes into play in this issue. Particularly involving James Sr. and a journey to the afterlife. We learn a bit more about the metaphysical and mystical of the world, which is an interesting contrast to the reality by which the vampiric strain is presented in Jr.'s reality. Father and son cross paths as well, in a hilarious punchline. All told, Killadelphia continues to build a fascinating world and again I need to remark on the pace by which it is doing so.
Visually, the comic continues to be quality work. Jason Shawn Alexander's linework matches the tone of the book well, but can still offer a number of surprises. Especially in one of the visions of the afterlife. We are presented with something, visually, that we've not really seen in Killadelphia yet… serenity.
The backup feature, "Elysium Gardens" continues. Vampires and werewolves… it makes one wonder if the vampires of Killadelphia aren't the only creatures of the night around. Given the way the world is expanding, it might not be out of the question for a werewolf to arrive in Philly. Won't that complicate things?
(4 / 5)
Killadelphia #8, written by Rodney Barnes and illustrated by Jason Shawn Alexander, is available from Image Comics.
---
I am hoping to move this column into a bi-monthly sort of thing, so now more than ever I ask for any reading suggestions you may have. What horror comics do you think I should read and review? Let us know in the comments or hit me up on Twitter.
What Have We Done: Alex Finlay Produces Another Hit
Jenna: A stay at home mom with a secret assassin past
Donnie: An alcoholic rock star
Nico: An executive producer of a reality television show
They all have a past, but who is out to get them?
The Plot
Jenna, Donnie, and Nico share a troubled past. They were all orphans who lived at Savior House — which is much less savior, much more terror. When their friend Benny, a famous judge, is murdered and the FBI comes looking, Jenna, Donnie, and Nico must race against the clock to figure out who is targeting them.
The Verdict
From the author of The Night Shift, which I reviewed here, I would expect nothing less than what Finlay has delivered. Finlay notoriously creates stories with palpable thrill and spine-tingling revelations.
I particularly enjoyed the character of Jenna. She is a reformed assassin living a normal life as a new stepmom. When she is called in to make a hit and her family is threatened, she goes badass mom on 'em. While I still thought Donnie and Nico as characters were engaging, it was nothing for what I felt for Jenna.
Also, major props to Finlay for creating a character that kills with a very unique weapon. Read it to find out more!

(5 / 5)
"The Writing Retreat" Gone Bad: Julia Bartz's Debut
Keeping it all in the family, Julia Bartz's The Writing Retreat is the debut novel of the sister of Andrea Bartz, author of We Were Never Here, which I reviewed here.
I was much more impressed with The Writing Retreat than I was We Were Never Here.
The Plot
Five up and coming female writers under 30 are invited to a writing retreat hosted by the reclusive and acclaimed horror writer Rosa Vallo. Rosa reveals the details of the retreat: each writer must complete a full length novel from scratch over the next month. The best novel wins a multi-million dollar publishing deal with Rosa.
Suddenly, the retreat turns into a nightmare when one writer goes missing in the snowy terrain outside.
The novel hinges on friendships in turmoil and has a focus on LGBT+ representation as well as interpersonal female relationships. The novel explores the dark publishing world and the search for fame and the Great American Novel.
The Verdict
This novel is atmospheric and intellectual, page turning, and the English major's required reading. I absorbed this novel and found Julia Bartz's writing and conceptual chops to be leagues above her sister's.
Ths novel releases on February 21, 2023 and it should be in your cart right now.

(5 / 5)
Buy it here!
A Murder in Reverse: "Wrong Place Wrong Time"
The Plot
"A brilliantly genre-bending, mind-twisting answer to the question How far would you go to save your child?"  — Ruth Ware, #1 New York Times bestselling author
Jen watches her son murder a stranger. Stab him to death. She and her husband, Kelly, watch as their son Todd is taken into custody.
The next morning, Jen wakes up and it's yesterday. Jen knows that at the end of the night, her son kills someone. She is determined to stop it.
Jen goes further and further back in time trying to discover why Todd murdered a stranger and how to stop it.
The Verdict
This book is twisty. Right when you think you know the ending, something else is there to prove that the story is more multifaceted than that. While the premise of the novel is simple, Gillian McAllister elevates a simple concept with deep, dark twists.
It is best that you don't know too much going into this one. For fans of Blake Crouch, this is such a good thriller with time travelling vibes.
(4 / 5)