We return to Graphic Content with a new series in the mix – motivated by the recent Elvira special I am diving into the most recent Elvira comic, Elvira Meets Vincent Price #1. The question is, do those two go together like peanut butter and chocolate, or does Elvira's schtick lose its pointedness on the printed page? Let's find out!
Elvira Meets Vincent Price #1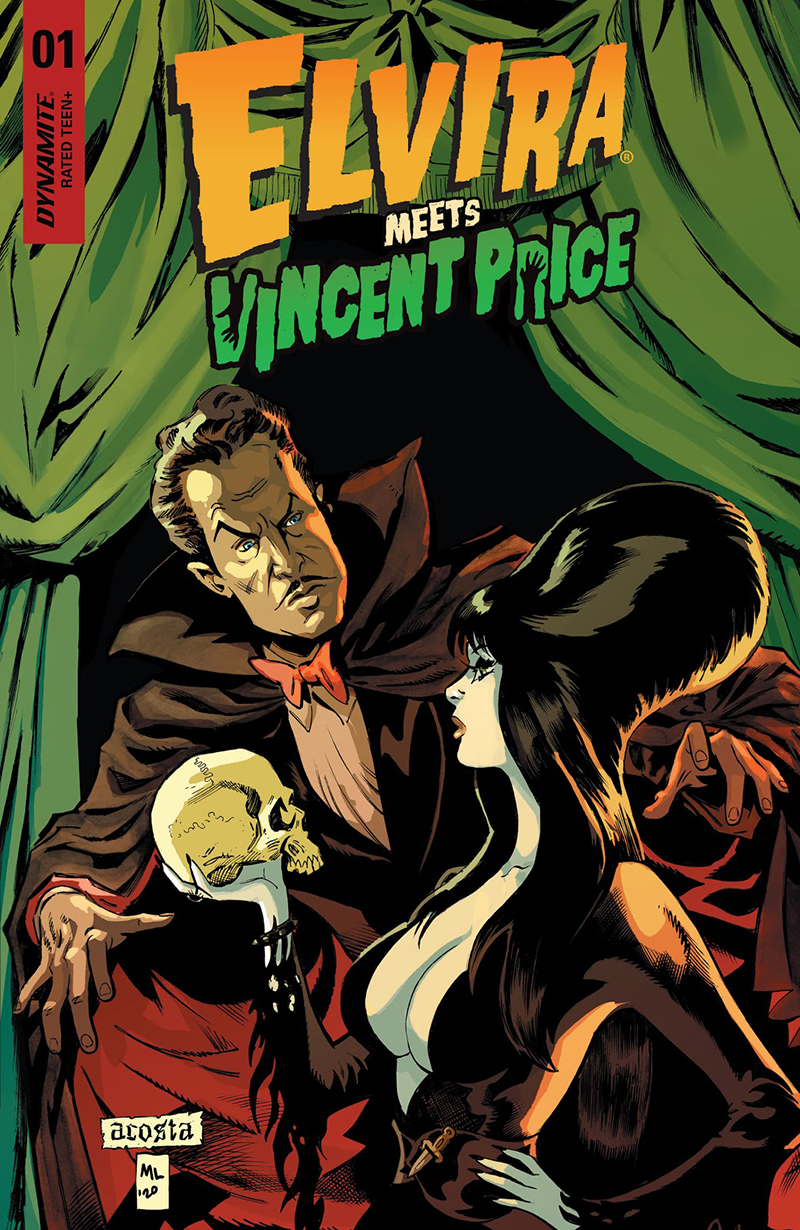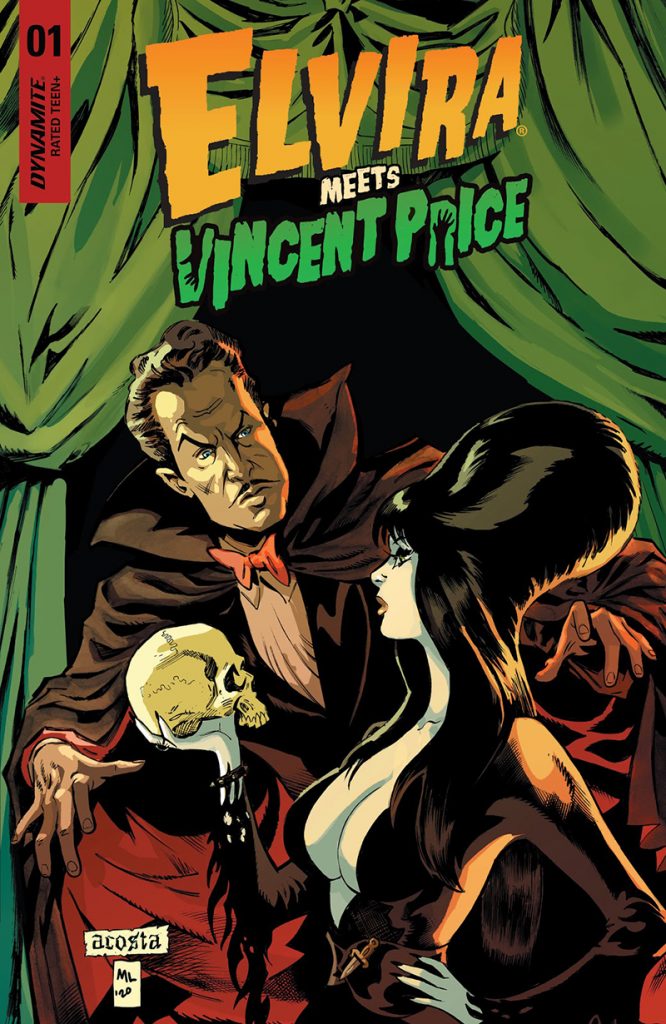 Elvira, fresh off of a whole heap of journeys (available of course in other comics) seeks a new deal to relaunch her brand of movie macabre on a streaming service, any streaming service, but finds herself betrayed. More alarming, however, is an urgent request of Vincent Price, the long-dead horror icon, who tasks here to track down the print to a film that most assumed was an apocryphal legend. Elvira and the ghostly Vincent Price travel to Venice (no, not the one in Europe) to save the world… and they need The Rise of the Ram to do it.
I never gave the Elvira comics much thought growing up. It wasn't that I didn't love Elvira, but I just assumed that as a licensed comic I would be getting something that was a pale imitation of the stuff I love. Thankfully, this first issue of Elvira Meets Vincent Price shows me how wrong I have been – that maybe there is some gold in those (haunted) hills. it helps that Elvira's Cassandra Peterson seems to be very much involved with the comic – she isn't just licensing the character but seems to want to contribute. She has found an able partner in writer David Avallone who manages to nail the goofiness of the Elvira of Movie Macabre with the continuity and storytelling of Elvira, Mistress of the Dark, and subsequent movies. We get a modern-day Elvira in the age of streaming, and the challenge she faces as the previous generation of influencers (horror hosts), with nods to the past with the inclusion of her loyal dog Gonk. It all very much works.
What makes this more impressive is that the story being told is goofy, compelling, and also nails the characterization of Vincent Price. Even as the dead, he is still charming as hell under Avallone's pen. it's quite a pleasant surprise. Naturally, the book is referential – Elvira breathes horror cinema – but Avallone's Price is not merely an assemblage of characteristics mined from films. The Vincent Price here feels like you would expect Vincent Price to feel if he were in such a state. It's a pleasure to read.
The art of licensed comics can be tricky. Sometimes you end up with comics that are so beholden to looking like the source material that it feels lifeless and static. Juan Samu doesn't have that problem. His Elvira looks like Elvira, his Vincent Price looks like Vincent Price – but they are also not photo-realistic. The approach is good. Characters can distort and act without having the awkward attempt at photorealism found in a lot of licensed books. It also helps that as far as people in horror go Elvira and Vincent Price are pretty distinct. it is a nice combination of appropriate likeness and cartoony exaggeration and it absolutely works.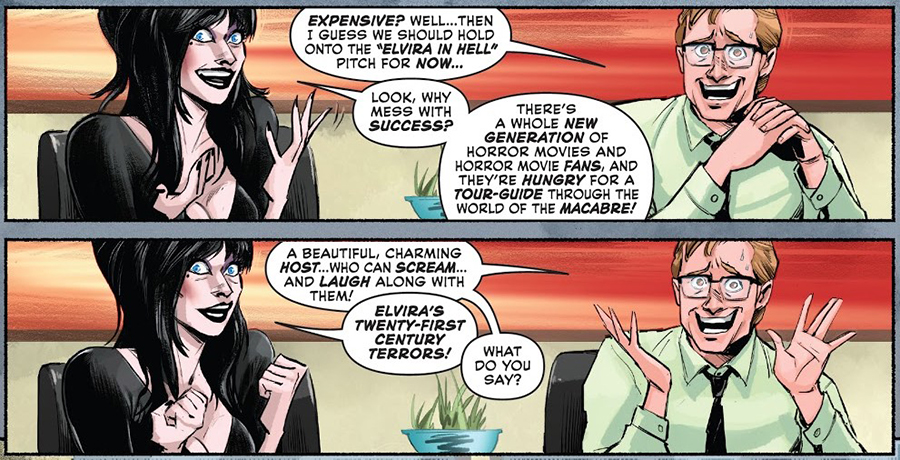 Bottom Line
Elvira Meets Vicent Price deftly avoids the typical problems of licensed comics but really getting to the heart of why people appreciate Elvira's character and her approach to goofy horror. The comic also nails the likeness issue, not being overly beholden to realism, and letting exaggeration play out as needed. The central conceit is inherently silly, but that's absolutely perfect for the subject matter. Isn't Elvira a little silly, anyway?

(4.5 / 5)
Elvira Meets Vincent Price #1, written by David Avallone features art by Juan Samu, and colors by Walter Pereyra. This comic is available from Dynamite Entertainment or your local comic shop.
---
Have you read previous Elvira comics? Let us know your favorites in the comments, and check back next week for a new installment of Graphic Content.