"Hunting Season" by Nick Roberts
Barren McNeil had always been good with a gun. Ever since he was eight years old and his father took him to shoot beer cans with a BB's, Barren realized he was a natural. He instinctively knew how to aim; immobile targets never stood a chance. The first time he fired his dad's rifle, the kick and BOOM of the gun sent a previously dormant rush of adrenaline through his body that he relished. Pretty soon he and his old man were targeting clay pigeons careening through the sky. Barren savored the rare grins of approval from his father as the targets exploded to smithereens, raining debris across the open field. He didn't know which he enjoyed more: firing weapons or pleasing his dad.
After his tenth birthday, he and his father always went out together for hunting season. With each progressive season, Barren's skills sharpened. Throughout his early teenage years, Barren dominated the youth competitive shooting scene. Never once did he feel fear or intimidation stepping up to the range with his weapon. As soon as he stared down the sight of his rifle everything but the target dissolved away. The noise of the crowd, the wind, and the birds all just evaporated from existence. The only thing he was aware of at that finite moment in time was the rhythmic THUMP of his heart as he focused on the solitary target.
After proving himself time and time again with kids his own age, he began entering into adult competitions. No one could best him, regardless of age. His parents helped him secure a marksman scholarship, and that's how he made it through college. All through this time, as soon as hunting season rolled around, Barren and his dad would hit the woods. When his father passed a little after Barren's 25th birthday, he continued the tradition, until recently. He could swear that he felt the old man's spirit out there in the woods with him, and he liked that.
For roughly the next twenty years, Barren's life course was similar to many other Americans. He finished school and then toyed around at various entry-level business positions until he discovered that he was a natural at selling real estate. He obtained his license, made some profit, and began a successful real estate agency. At his ten-year high school reunion, he ran into a former girlfriend named Sally, and the sparks reignited. Barren and Sally dated, fell in love, and got married. They quickly bought a beautiful house on a large farm. The many acres of private property was a necessity for Barren and his favorite pastime of target shooting.
After a few years of mostly blissful marriage, they decided to have children. Sadly, it was discovered that Barren was infertile. They were both devastated and considered adoption, but even that never came to fruition. Sally went back to school for her master's degree in social work, and Barren leaned all the more into his thriving business. However, whenever he needed to clear his head and let the worries of the world slip away, all he had to do was step out back with his rifle and some targets.
***
The chilly Autumn wind blew against Barren's taut face, pulling him away from his memories. He stood alone in the silent woods. He was miles away from his empty home. It had been a little under three years since he had last spoken to his now ex-wife, and his real estate business was in a downward spiral. He knew he had no one to blame but himself – he had neglected them both since the accident.
The frigid dawn temperature was perfect for hunting. He could sense the animals moving about to stay warm. The sun was just beginning to peek above the Appalachian mountain range that surrounded the sprawling West Virginia valley. Forty-four years old now, Barren leaned back against a tall Sycamore tree and took a warm swig of amber whiskey. Drinking during hunting season was a time-honored tradition, but this year it was a necessity. He assessed the half-empty pint in his hand and then slid it back into a pouch in his tan vest; his mesh-camo ballcap kept the bright rays out of his eyes. A disturbed flock of birds flew over his head.
God, he missed this.
It had been three long years since he had been in the woods. Three years with no hunting and lots of drinking. A few shots of liquor helped to dull the pain at first, but then he noticed that he needed more to get the desired effect. After what he'd been through, though, anyone would drink; at least, that's how he justified it. He pulled the bottle right back out and took another generous gulp. The sourness of the bourbon coated his throat as he exhaled a deep, boozy breath. Numbness began to take hold, and he welcomed it. He took a slow look around the woods desperately trying to stay focused on the majesty of the forest. The last time he was out during hunting season was three years ago in this exact location, and he had returned to it intentionally.
***
The Morris family had recently adopted a new tradition of renting out the Rusty Mountain Lodge for their Thanksgiving festivities. Originally, the family had celebrated the holiday at a different Morris's house each year. As time went on, there became many factions of the original Morris clan that had grown exponentially; larger accommodations were naturally in order. All of the elder siblings agreed that the best course of action was to rent a large enough venue for everyone to get together without tripping over one another. Located just an hour away from most of the family, the historic and luxurious Rusty Mountain Lodge was an ideal place for a gathering.
Arnold and Debra Morris drove carefully up the winding gravel road. Their two children, Nathan and Sam, sat in the backseat glued to their phones with headphones on their ears. On either side of them were miles of trees atop rolling hills. Arnold loved this part of living in West Virginia. He had seen the beauty the world had to offer during his time in the military, but nothing came close to fall in the Mountain State. Debra loved it, too. She stared with awe at the bright orange and yellow leaves barley hanging on by a thread to their branches. A swift wind would easily create a shower of fall foliage. As she looked deeper into the forest she could make out shades of light brown and pink as the sun's rays made everything glow.
Arnold accidentally hit a deep pothole in the road, and everyone was popped out of their respective trances. Debra gasped and the two teenage boys looked up from their electronics obviously annoyed.
"Oops," Arnold said as he slowed down a bit. The crunching of the gravel was audible as the heavy SUV crept along the road. Debra looked back at the boys.
"Put down your phones and appreciate the scenery," she instructed her sons. Neither one heard her through their headphones. She reached back and snapped her fingers in their line of sight. They both looked up, and she motioned for them to take off their headphones. They did. "Put down your phones and appreciate the scenery," she repeated. Sam, the oldest by two years, placed his phone on his lap and looked out the window. Nathan, fourteen, just waited for his mom to turn back around so that he could resume his game.
"It is pretty out here," Sam said earnestly.
"Mhmm," Nathan mumbled without looking up from his screen.
After a few more ascending miles, the family arrived at a clearing in the woods. The two-story cabin stood tall in the open area. The building was from the Civil War era, but the inside had been modernized. It was ideal for a remote getaway without sacrificing all of the present-day amenities. Smoke bellowed from the stone chimney as many members of the Morris extended family were already inside cooking and drinking. Almost twenty cars were haphazardly parked around the building. Arnold didn't like being the last to arrive, but Debra had a cooking mishap earlier in the day that had set them back an hour.
"Here we are," Arnold announced as they pulled into an open spot beside a white minivan. "Everyone grab something to carry."
The family entered into a bustling cabin. The senior aunts and uncles were hidden away in the kitchen preparing the turkey and side dishes. A multitude of cousins in their twenties and thirties carried drinks, desserts, and hors d'oeuvres. There were quick, frenzied greetings as everyone rushed by attempting to prepare the massive Thanksgiving feast. Depending on where one stood in the cabin, smells of pies, wine, or turkey permeated the warm atmosphere. The teenagers mostly congregated on the porch out back, while the little children ran through the field playing tag. The grandparents lounged around the blazing fireplace.
About twenty minutes after Arnold and Debra's arrival, one of the Great Aunts shouted from the kitchen, "Dinner time!" Everyone, no matter the location, dropped what they were doing and assimilated in the massive dining hall. A senior member of the Morris family led everyone in prayer, and then they all dug in.
Arnold and Debra sat together with Arnold's brother, John. Soon after finishing his first helping, Arnold did a quick glance around the room trying to find where his kids were sitting. He looked at the two kids' tables, but his two boys weren't there. He scanned the remaining tables where the adults were, but could not find them.
"Did Nathan and Sam already eat?" he asked Debra.
"I don't know. I haven't seen them," Debra said as she surveyed the room. "Did they not hear us call for dinner?"
"I'll go find them," Arnold began. "They're probably still out back with their damn headphones on."
Arnold got up and walked over to the kids' tables.
"Hey, do you guys know where Nathan and Sam are?" Arnold asked the group of kids.
Jill, Arnold's teenage niece, said, "They went on a walk through the woods, but they said they were coming right back."
About a mile away from the cabin where the Morris family was enjoying their Thanksgiving dinner, Barren McNeil was walking through the forest, back to where he parked his vehicle. After sitting out in the cold all morning, he had not even spotted a deer. This was his first time at this hunting location, and he was not glad that he came. If it wasn't Thanksgiving and Sally wasn't waiting on him for their small family dinner, he would stay out all day. It was a last ditch effort, but Barren was walking as stealthily as possible hoping a buck might stumble upon his path. He was just thinking about how ridiculous that was when he heard the snap of a branch.
Barren's ears perked up out of sheer reflex. He immediately halted and crouched down to one knee, carefully lifting the sights on his rifle up to his eyes. Leaves rustled from the same direction as the previous sound. Barren looked, but didn't see the deer. There was another small sound of a stick breaking. Something with brown fur poked out from behind a tree about thirty yards away from Barren. He aimed the gun, but the animal retreated back behind the tree. Barren sat, waiting for it to get curious again. He was breathing, but it was so shallow and controlled that it was barely audible. Time seemed frozen.
Finally, the animal emerged and Barren fired at the movement. The animal fell to the ground with a thud, disappearing from Barren's line of sight. He quickly stood up with his gun, listening for the wounded animal. The sound of the teenage boy screaming haunted Barren for the next three years of his life. He froze as a hollow feeling sank to his stomach.
The boy screamed again.
This was not a scream from pain, but one of confusion – one seeking help. Barren snapped out of his paralysis and ran toward the wailing. He leapt over logs and dodged tree branches as he recklessly ran through the woods.
"I'm coming!" he shouted as he heard the boy begin to cry. As he approached the scene, he saw a pair of red sneakers poking out from behind a tree. "Oh, no, no, no," he said as she ran up to the boy on the ground. Another boy stood screaming in shock. Barren knelt down to look at the unresponsive child and nearly vomited when he saw the dark crater in the side of the boy's head. Music was still playing from the headphones lying on the ground beside him.
Barren finally looked up at the screaming boy and saw that a red mist had been sprayed across half his face. Barren wanted to say something to calm him down. He wanted to say that it was an accident. He wanted to say he was sorry. Instead, he just shook his head, mouth agape, with a frozen look of bewilderment. Barren thought he heard someone else scream from afar. He stood up and looked in the direction.
"Nathan!" Arnold Morris screamed in the distance as he desperately searched for his boys. "Sam! Where are you?"
Barren stood up from beside Nathan's body. Sam walked backward into a tree and let himself slide to the ground, weeping into his knees.
"Over here!" Barren yelled to their father. "There's been an accident!"
***
The following months were an emotional whirlwind for all involved. Barren was arrested, while the Morris family grieved the loss of their child. Although Nathan's death was clearly an accident, Barren had broken the cardinal rule of hunting: always identify your target before firing. The lawyer Barren had on retainer was the best criminal defense attorney in the state. He struck a deal with the prosecution; Barren plead guilty to manslaughter and received ten years' probation and no jailtime. The Morris family was satisfied with the guilty plea and never saw Barren again.
After the trial, Barren attempted to return to his life. He quickly realized that he was a pariah in his own town. He couldn't deal with the looks he'd get from people when they realized who he was and what he did. Conducting business became impossible, and he started delegating tasks to the point where he didn't even come in the office anymore. His empire crumbled.
His home life was no better. Sally tried to be there for her husband, at first. She knew what he had done was accidental, and she wanted him to move on with his life. Although it was intolerable at times to deal with the infamy, she was willing to weather the storm if he was. However, Barren sank deeper and deeper into self-pity and resentment. He began drinking more and she bore witness to it all. Once his business disintegrated, she gave him an ultimatum: get it together or she was leaving. He was alone in the house the very next day.
It wasn't until the third anniversary of the hunting accident that he realized something had to give. He knew that how he was living was no way to live. Sitting alone in a house all day desperately trying to numb the pain with alcohol was not living – it was barely existing. He thought back to what brought him joy. He thought back to his childhood and shooting cans out in the backyard with his dad. He thought about his dad's grin when he'd nail a target. He thought about what his dad would think of him now. Without wasting anymore time, he pulled his rifle out of the closet and headed back to the woods.
***
Barren stared at the rising sun, now fully emerged from the mountains in front of him. He took off his camo hat, shut his eyes, and let his face bask in the warm rays. Tears started to well in his eyes, and he swayed a bit from intoxication. He opened his eyes and took a sniff of the cool Autumn morning, savoring the smell of dry leaves and dirt. He picked up his rifle and continued his trek through the forest.
The tree looked different than he had remembered it three years ago. Of course, the last time he looked at it he was approaching it from a different direction. This time, he was walking from the Rusty Mountain Lodge where he left his vehicle. He had intentionally walked the same path the Nathan and Sam had walked that fateful Thanksgiving afternoon. Now, having reached his destination, he surveyed the massive tree.
The tall Sycamore was older than he'd ever get and had no doubt witnessed many gunshots in its time. He doubted it had ever seen someone get killed until three years ago, though. Looking at it, it was no different than any of the hundreds of trees surrounding it. Only one with a knowledge of its past would find anything significant in it. He looked up at its branches high in the sky and let his vision move down the thick trunk until he was staring at a spot a little over six feet off the ground.
The bloodstains in the bark had browned and darkened, but they were still there. Even in the chaos of the shooting, Barren remembered the stain; it was forever etched in his memory.
Barren took a moment to appreciate the beauty in his surroundings. The birds were chirping, the sun was shining, and the leaves were doing their annual Autumn dance just before being released by in inevitable wind. He slid his hand into his vest, withdrew the flask, unscrewed the top, finished off the bottle, and put it in his pocket – careful not to litter. The cool wind blew against his cheeks as he leaned back against the marked tree. His hands were moving as if on autopilot, but he only listened to the birds. He listened to anything that distracted him from that song playing in Nathan's headphones that hadn't left his memory in three years. His hands cocked the gun, and he felt the rifle's cold barrel press against the bottom of his chin.
Barren McNeil had always been good with a gun.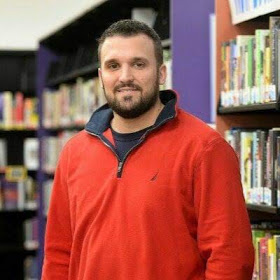 I am a graduate of Marshall University and live in St. Albans, WV. My short works have been published in The Fiction Pool, The Blue Mountain Review, Teen Ink, and The Herald Dispatch. My debut horror novel is being published by J. Ellington Ashton Press.
Nightmarish Nature: Vampires Among Us
This is the kickoff to a new series exploring nature that is kind of horrifying, at least in ways. Our first subject is Vampires Among Us. There are lots of animals named for vampires, sometimes due to folklore and sometimes for their appearance (like the Vampire Squid), but most of these animals don't have blood sucking tendencies.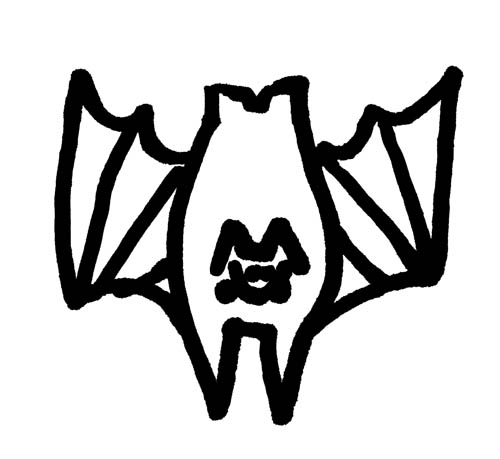 Bats & Birds
There are legit vampire leaf-nosed bats in Central and South America that drink blood. They feed on mammals and are often shown to feed on livestock. They'd be kinda cute if they weren't so creepy. There are also vampiric birds: some finches in the Galapagos have developed the taste for blood of other birds, mainly seabirds that flock to the islands to raise their young.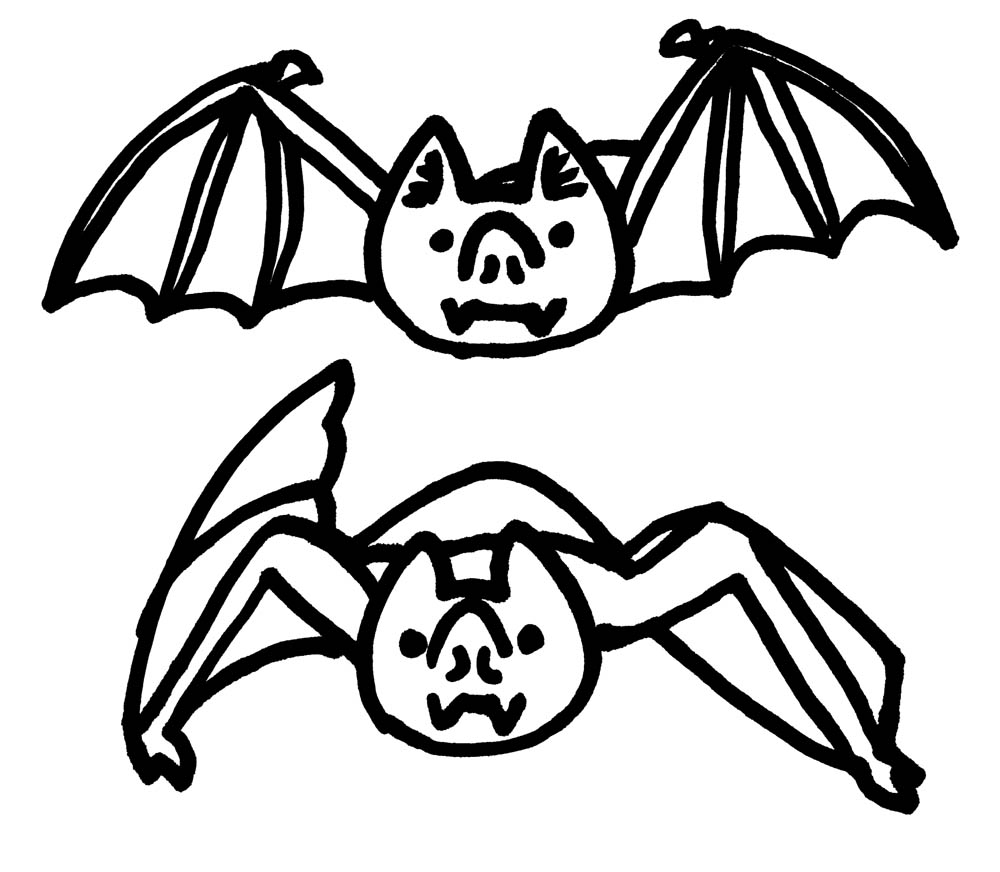 Leeches & Lampreys & More
And then you get into leeches and lampreys and other denizens of the water that are known to attach themselves to larger creatures and drink their blood. Leeches were even believed to have medicinal value (and still are in certain circumstances). And there are also numerous plants that are known to be parasitic and feed on other plants, wrapping their roots or vines around others to steal nutrients.

Spiders
Now I'm going to drift off into the realm where this becomes truly horrific. Spiders. Now, spiders aren't vampires per se, seeing as how they actually kill their prey – they don't just feed off of it while it remains living and wanders about its business. But because of their structure, they cannot eat solid foods, so they have to inject their prey with enzymes to liquefy it so they can slurp it out like a protein shake. That's sort of vampirism on steroids if you ask me, just the kind that no one is coming back from.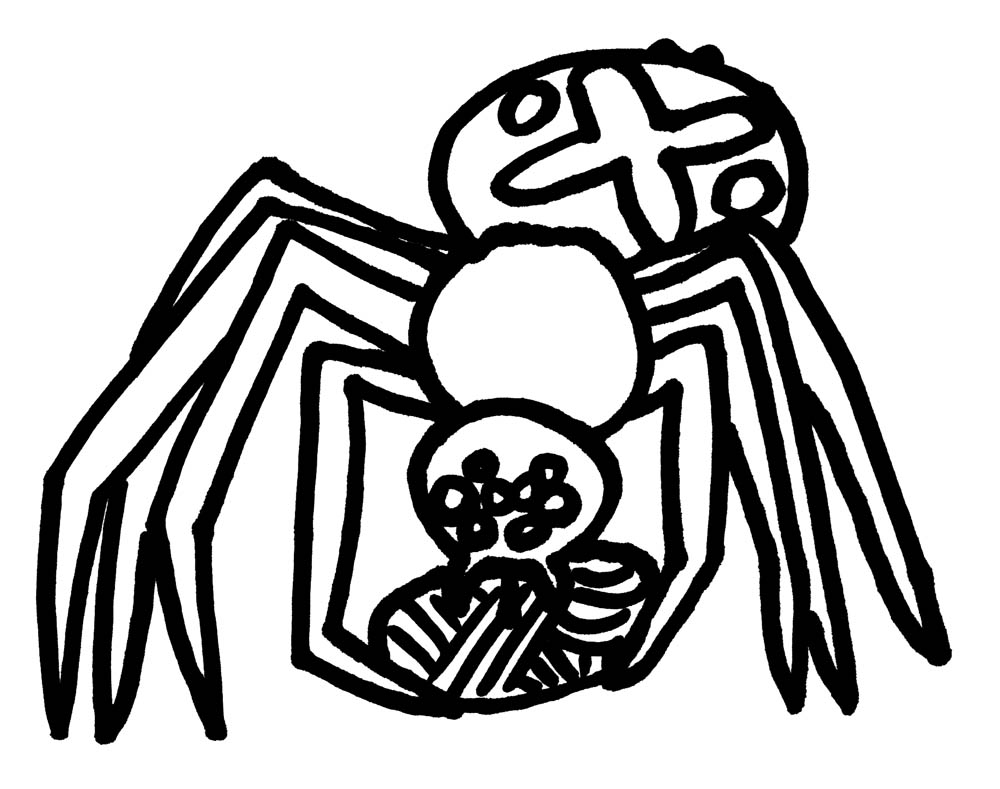 Bloodsucking Bugs
But let's get back on topic. Now let's consider mites and ticks and fleas and mosquitoes and the like. Some drink blood for their survival; others do so as part of their reproductive cycle (like mosquitoes which otherwise eat fruit and nectar but need the extra protein from blood to grow their eggs).
Ticks need to feed on blood once at every stage of their life cycle and can pick up diseases along the way (like Lyme Disease) but don't always do so. Different ticks are more likely to come in contact with different things and often humans are not their preferred meal but they are opportunistic and will feed on whatever is available when necessary. Symptoms of illness from tick bites may take years to develop and can have really weird side effects (like the allergy associated with Lone Star Ticks which makes a person unable to consume mammalian flesh).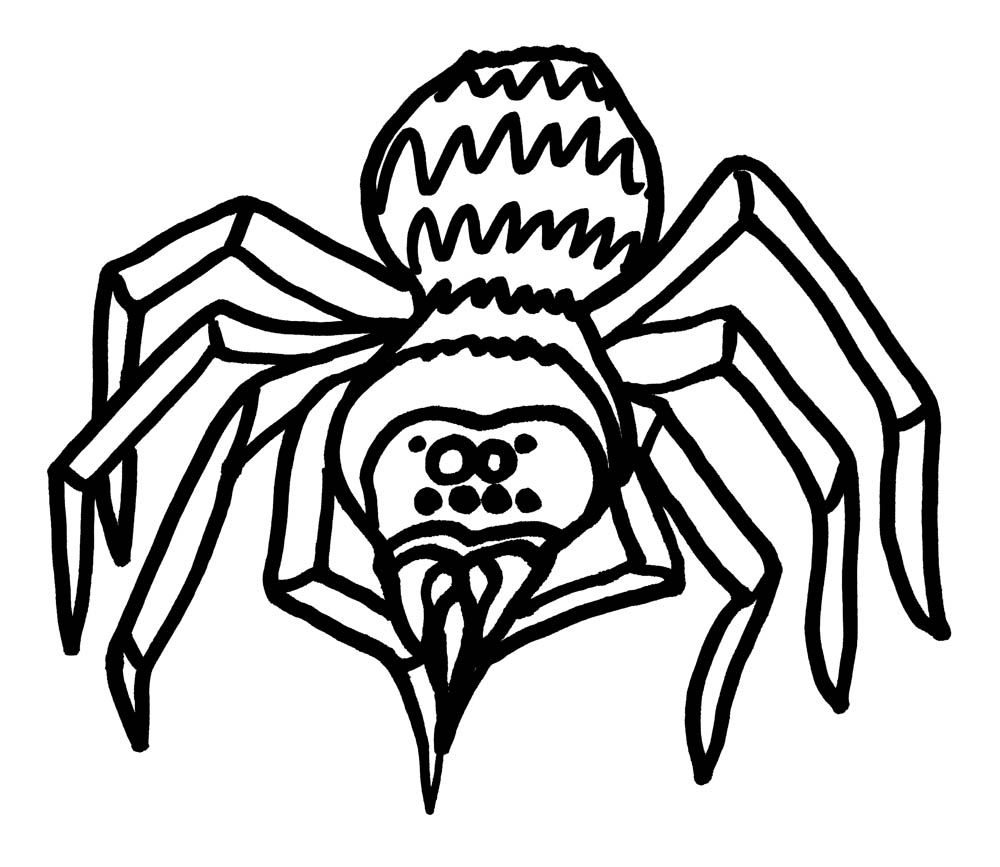 Anyway, here are some brief glimpses of vampirism in nature. Thank you for joining us for Nightmarish Nature and may you avoid getting bitten by any true vampires among us… And I still think spiders take first place in the creepy eating category here, even if they aren't technically vampiric.
Buried Treasure by "Dread Pirate" Jennifer Weigel
This story came to me in a sort of roundabout way from a rather unusual source. So I thought I'd share it with you, dear readership, and see if you can make heads or tails of it. – Jennifer Weigel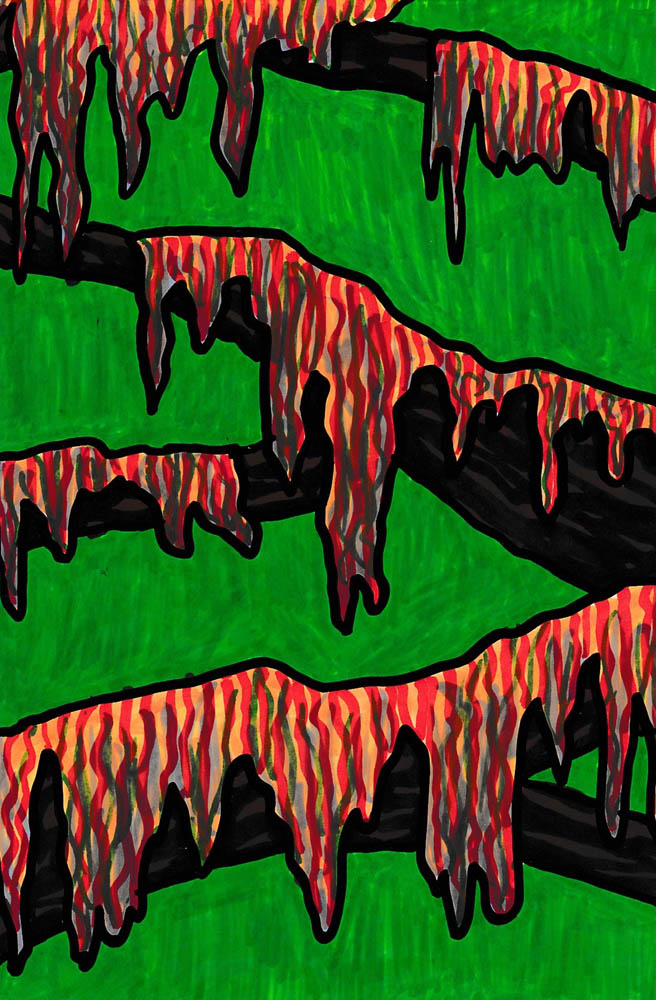 Dread Pirate Rum Tum Tugger could tell this was the right spot.
The site, beneath the sweeping limbs of the Live Oak, Spanish Moss swaying gently in the breeze, was a perfect match to the crude map he had bought off that soothsayer Deuteronomy.
The earth moved easily, as if it had been excavated previously. He dug in with greater fervor with each swipe. The sandy soil gave way to reveal something hard. He scooped and smoothed the remaining detritus from the surface as he uncovered a box.
The carton was simple.
No markings; no ornamentation; no writing. Just a plain cardboard crate, brittle from having been buried for so long but still sturdy. He hoisted it from its burrow.
"Ha HO!" he shouted to the passing breeze, rousing a small cloud of birds that erupted from a nearby thicket. They captured his attention for a moment, but he quickly refocused and returned to his task.
The box was locked but no difference.
Any self-respecting ruffian like himself could pick a lock in seconds. And he did so with panache, as was his way. He pried the lid open and licked his lips.
Inside was the legendary Kernel of Eternal Life, a small sparrow's heart, still beating.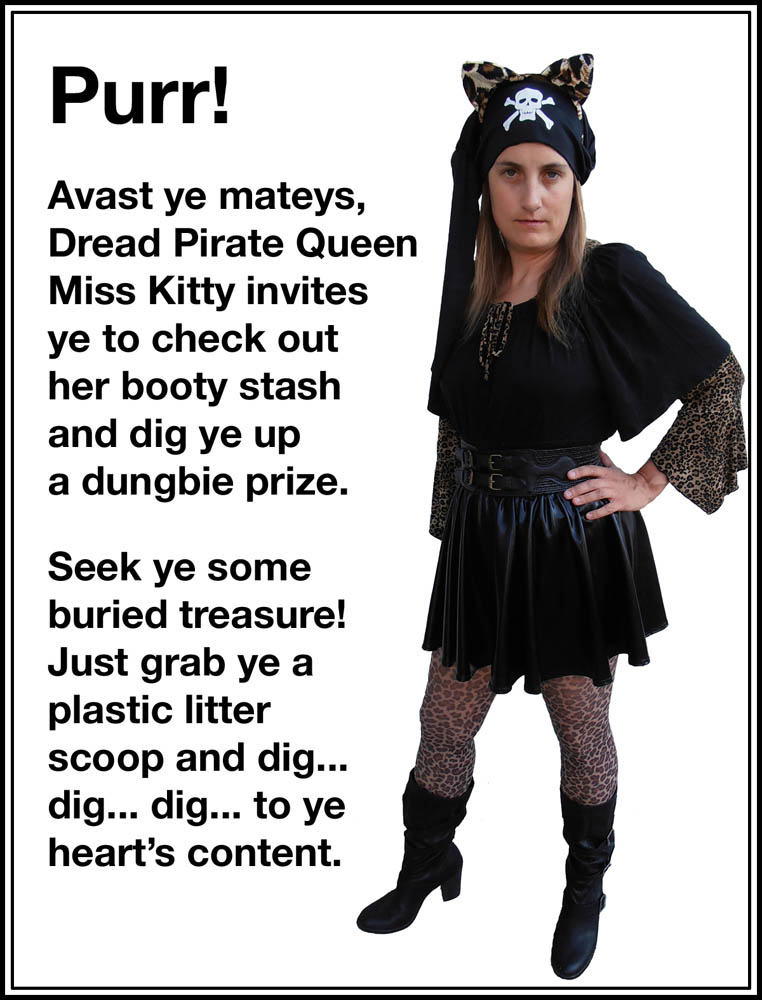 Artwork description: Myself as Dread Pirate Queen Miss Kitty wearing black bell sleeve shirt and black vinyl skirt with strapping leather belt over leopard print shirt and tights, with strapping leather boots, pirate head wrap and leopard cat ears.
Image text reads: Purr! Avast ye mateys, Dread Pirate Queen Miss Kitty invites ye to check out her booty stash and dig ye up a dungbie prize. Seek ye some buried treasure! Just grab ye a plastic litter scoop and dig… dig… dig… to ye heart's content.
---
I created this image for a promotional poster for a performance piece in a charity art show in which I, as Dread Pirate Queen Miss Kitty, hawked a carnival sideshow style sidewalk installation. For a mere $5 donation to the animal shelter the show supported, gallery goers could dig around in a kiddie pool full of litter to find a prize: a cheap plastic trinket from the dollar store. I had some takers, including one kid who seemed to really enjoy the digging and whose parents were all in, saying "You know, you can totally do that at home too."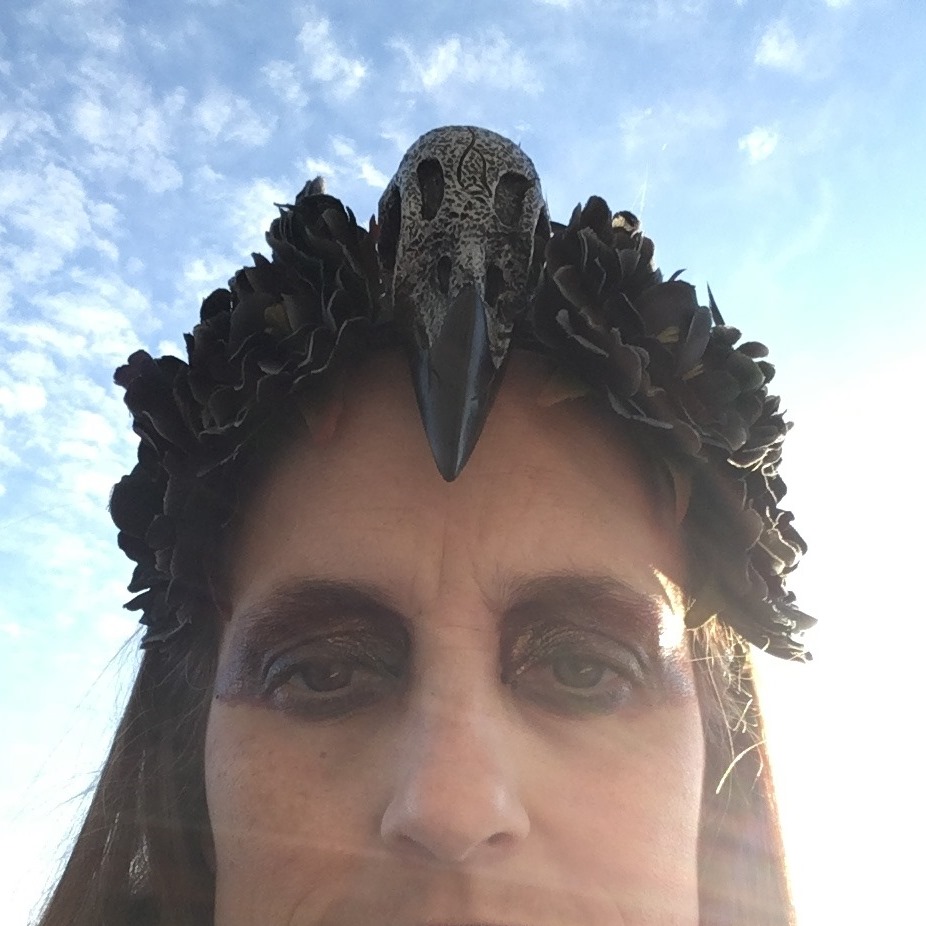 For more cat antics, we invite you to read C-2747's logbook here on Haunted MTL. Feel free to check out more of Jennifer Weigel's work here on Haunted MTL or on her writing, fine art, and conceptual projects websites.
Queen of Everything Mother's Day Wishes
Happy Mother's Day to the Queen of Everything… nothing gets by you.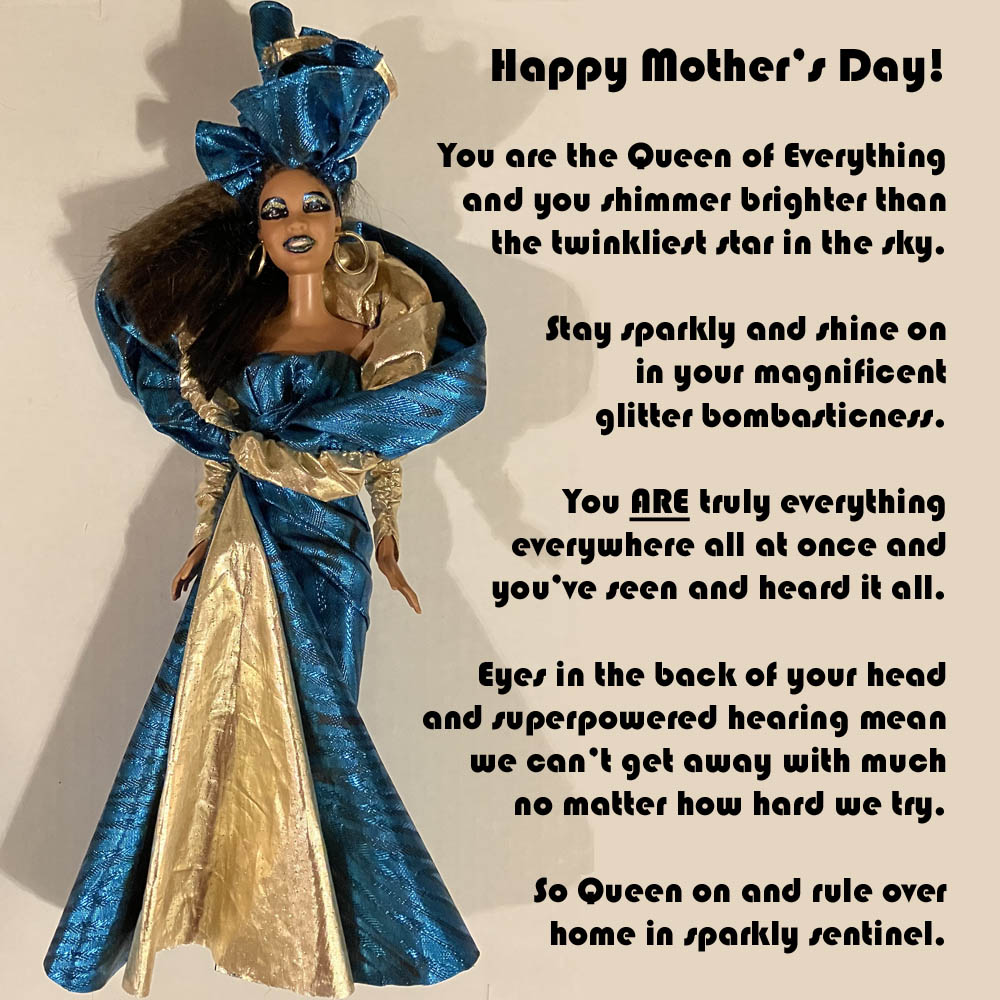 Artwork description: A Happy Mother's Day card featuring a picture of a Nefertiti doll with swooping hair, glitter makeup, and elaborate gold and blue headdress and evening gown.
Image text reads: Happy Mother's Day! You are the Queen of Everything and you shimmer brighter than the twinkliest star in the sky. Stay sparkly and shine on in your magnificent glitter bombasticness. You ARE truly everything everywhere all at once and you've seen and heard it all. Eyes in the back of your head and superpowered hearing mean we can't get away with much no matter how hard we try. So Queen on and rule over home in sparkly sentinel.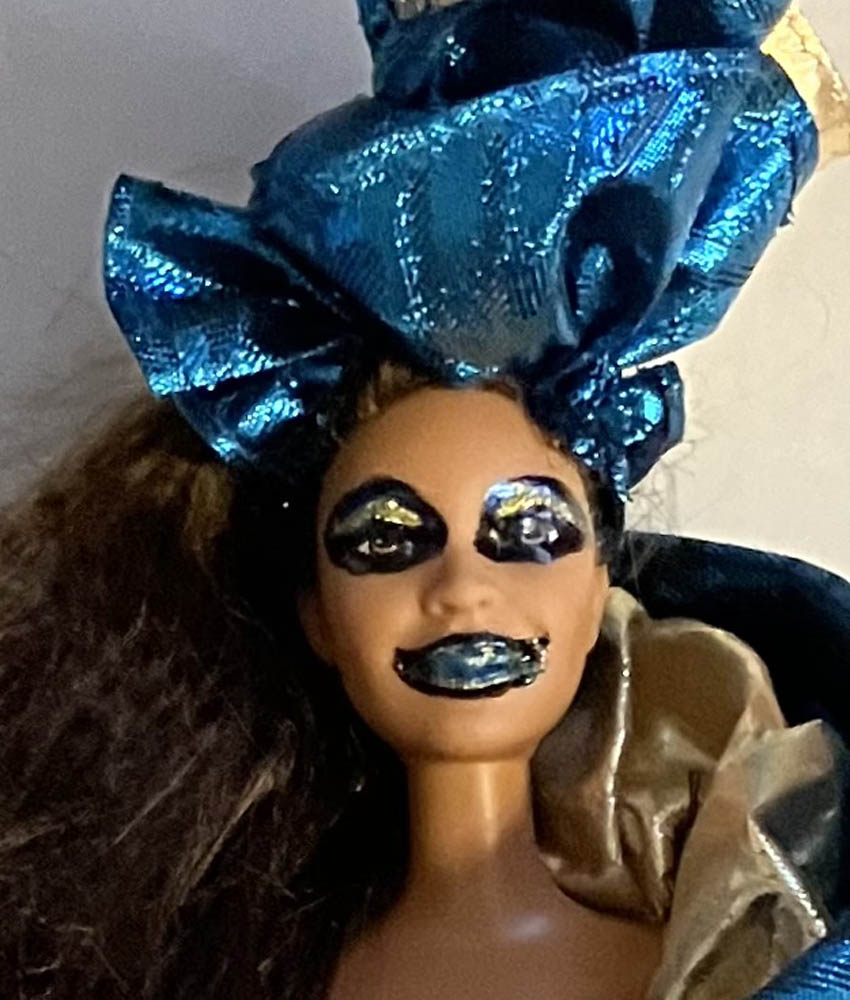 And may this be a testament to why us kids shalt never get you out of bed too early or run amok while you are getting ready to start your day… Because being the Queen of Everything takes planning and preparation…
Feel free to check out this Mummy Dearest Mother's Day card from 2021 here on Haunted MTL.