This is the Part Two premiere of the Haunted MTL Original The Dead Life. The need for supplies weighs heavy on Dani Kim this week. Re-read the previous installment here.
This is a serialized novel of post-apocalyptic zombie survival. Learn more about the story and setting at the series hub and take advantage of a complete list of installments.

Day 25
It had been more than a week of relative calm for the residents of the U-Stor-It. At least, by Dani's count. The group had kept a tight watch from the roof directly on the corner of Lyon and Acacia, careful of ghoul movements. Beyond small clusters, the streets had been relatively silent.
The drug store raid had been a success and the supplies had helped ease their minds. Another run, this time to the dollar mart a couple of days prior, had born a decent supply of canned goods. Best of all, the trip went on without a hitch. So much so that Dani and Edgar had even managed to fill some bags with supplies they couldn't carry back then and hid them out of sight for a future supply run.
Dani sat in her trailer, enjoying the reprieve of privacy. In the time she'd been here with the others, there were several swaps and trades regarding the on-site RVs. With the arrival of Mary and her daughter, Alica, Dani had given them the larger one she had been staying in, opting for an old airstream. Dani wasn't much for comforts these days. A door and a mattress were about as much as she needed.
Her trailer was tucked just in front of one of the indoor storage areas, which was little more than a concrete structure with several small, closet-sized units. This was where the residents had kept the supplies, and Dani held the key and the watch. The decision to lock them away was not popular, but everyone accepted it.
By most, anyway. Sandy Gunderson had voiced her concerns over the lock for the past two days. Everyone knew Sandy had snuck a bag of goods while unloading the last supply run, but everyone kept silent. The less she had to complain about and the more time she spent in the apartment above the rental office, the better.
Dani stepped outside of her trailer. The airstream was planted firmly against the concrete wall along the eastern half of the lot. She had mounted a pop-up canopy over the entrance and braced it with a chest of drawers, a cabinet, and a bucket of nails. Some lawn furniture and a ratty roll of astroturf turned it into a rudimentary room. It wasn't much to look at, but the shade was nice.
From her "porch," she could see Mary and Alicia's trailer, a couple of dozen feet ahead, parked much like her trailer against the wall. Alicia Edwards was sitting on the RV's roof, reading a book. She saw Dani and waived to her, and Dani responded in kind. She liked the kid. Mary was out of sight, most likely inside. The broken leg from the drug store was a mess. They had done as much for her as possible. Dani would check in later.
Directly across from them was one of the clusters of units sat the shitty brown Cadillac of Jimmy DeWitt and Edgar Rosas. They had opted to claim eight units for their own needs. This was in addition to one of the smaller indoor areas between the cluster that housed six 12 smaller closets.
Dani made her way toward Jimmy's cluster but was caught off guard by how quickly Alicia had climbed down from the RV. The kid was agile.
"Ms. Kim, I saw a big crowd of those things in the neighborhood behind us."
"How big of a crowd?"
"It was tough to count them all, but I saw at least ten on the street, between the houses. Not counting the ones in the windows. It's so weird seeing them up in those rooms like that."
"Good eye. I am glad you're keeping an eye on this side of the place. I know Bob appreciates the help."
"Oh, speaking of Mr. Clark, could you take this book back to him? I'm done with it, and I don't want to get too far away from my mom right now."
Dani took the book from Alicia. She flipped it over in her hands and noticed it was a torn and stained copy of Dracula.
"I liked it, but the vampire felt a bit too… well, real. You know?"
Dani nodded. "Will you be borrowing a new one from him later?"
"Could you pick for me?"
Dani smiled. "Sure, I'll pick up a repair manual."
"Hah."
The two stood in silence. The sounds of birds and insects brought a sense of calm. The February mornings were cold, but Emmet was a town in a desert in many respects, no matter how many orange groves had been there 80 years ago.
"Alicia. How is your mom?"
"Her leg is still pretty fucked up."
Dani's eyes widened at the statement. Alicia shrugged.
"I'm 15."
Dani laughed. "I know. I know. Sorry. I was just thinking about how my parents would have flipped had I dropped the 'f-word' on them."
"You can't even say it now, Ms. Kim."
"Fuck off, smartass."

Did you enjoy this installment of the story? How do you think the system they opt for regarding supplies will work out for them? Let us know what you think and what supplies would be your zombie apocalypse necessity.
The Dead Life is a Haunted MTL original fiction series.
Are you ready for the Zombie Apocalypse? (Sponsored)
Don't be caught unaware in an emergency! Consider using our Amazon affiliate link to buy some emergency supplies. Your purchase helps support Haunted MTL. Zombies may not be a reality, but emergencies happen.
Revisitations: The Devil Went Down to Georgia
So I've been working on more painting into found art (as seen here before) and I thought I'd share a newer one, based on the song The Devil Went Down to Georgia by Charlie Daniels. But first let's make like my She Wolf post enjoy a couple variations of the song, shall we?
First we have Charlie Daniels, the writer of the song which was inspired by the beautiful poem by Stephen Vincent Benet titled The Mountain Whipporwill. You can read the poem on Your Daily Poem here.
Then we have to watch my favorite version, the animated music video by Primus. I know there are claymation-haters out there who find the effect bit too "uncanny valley" but how can you not just love those chickens?
Anyway, without further ado, here is my painting, incorporated into a found still life, original signed L. Harady.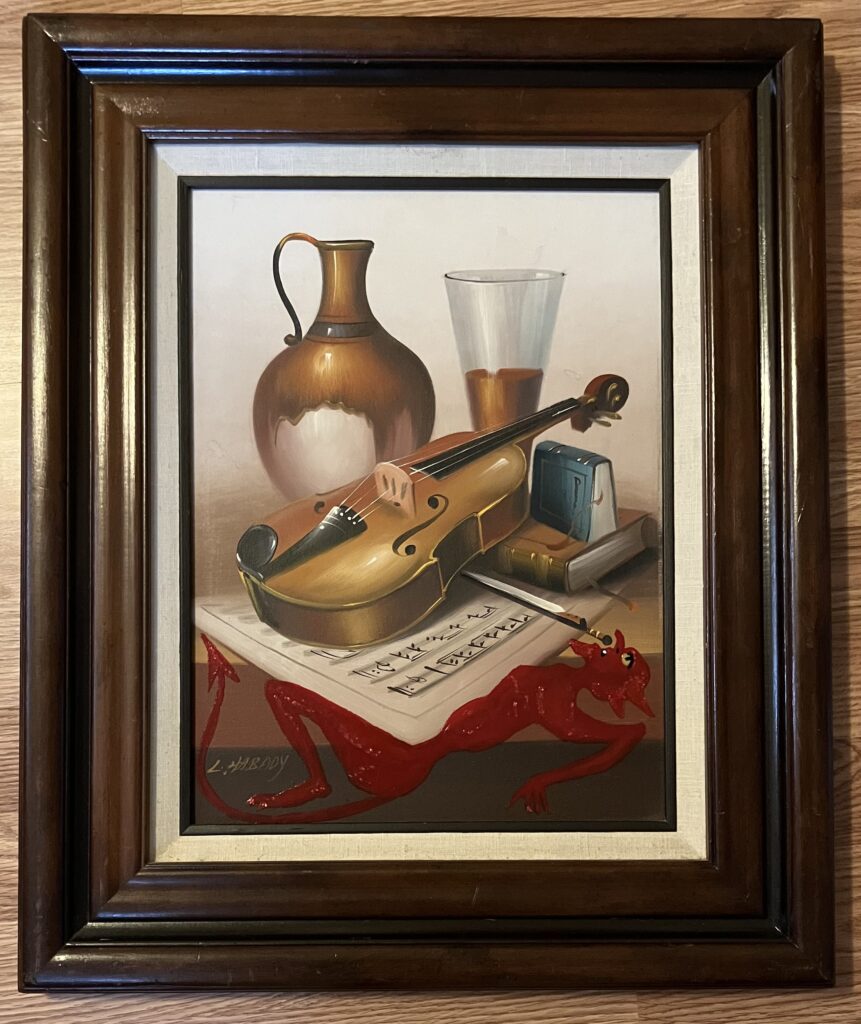 Here The Devil is defeated, crushed along the lower edge of the artwork beneath the fiddle and lamenting his loss. The bow jabs into his sneering nose as if to add insult to injury, but his eyes still glow, alight with the prospect of coming back for another round. (They actually do glow, I have acquired some blacklight reactive nail polish to use in these pieces now.) I suppose I may go to Hell for this portrayal (or for defiling yet another painting) but alas, such is the price of art sometimes. I guess I'll add it to the list…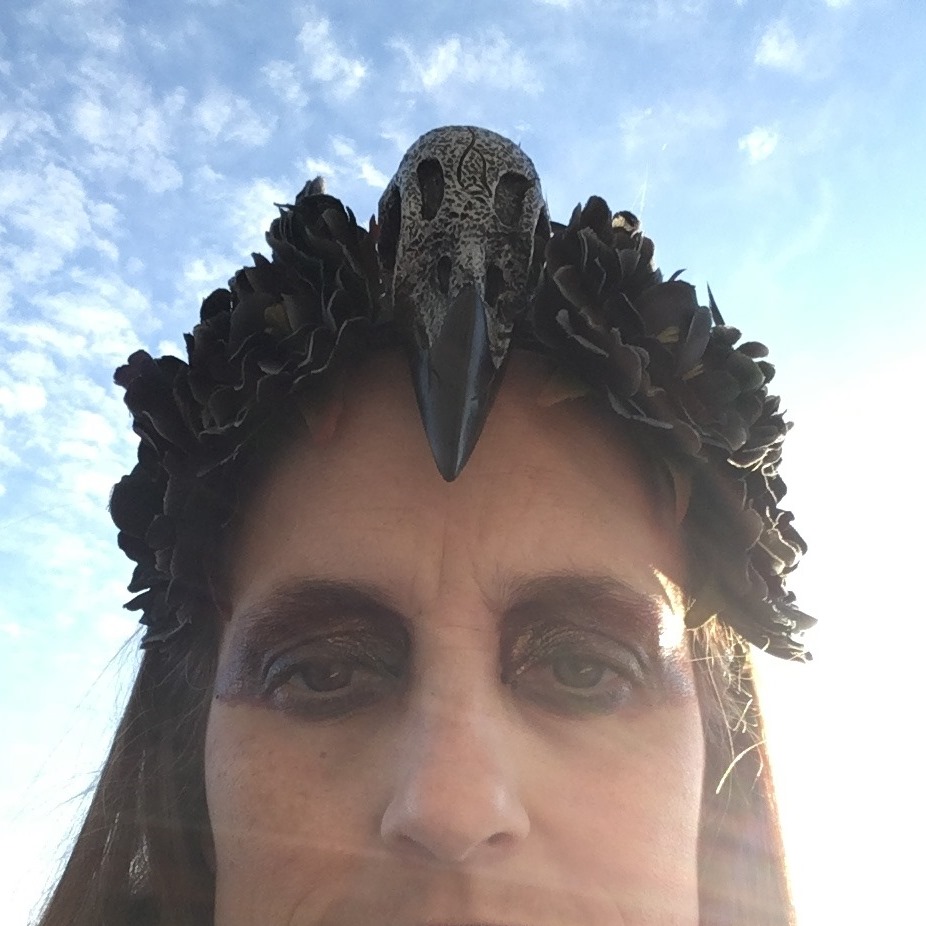 Feel free to check out more of Jennifer Weigel's work here on Haunted MTL or on her writing, fine art, and conceptual projects websites.
Cravings Part 2, story by Jennifer Weigel
If you missed the beginning of this pregnancy horror story by Jennifer Weigel, you can catch Part 1 here.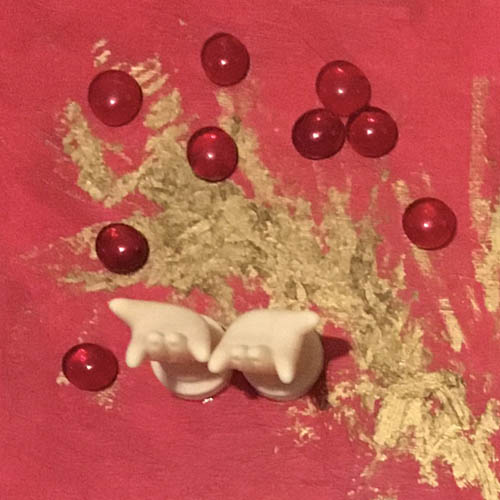 Jayden's stomach turned. Who or what was this creature standing before him, and what had it done with his wife? Claire proceeded to eat more than half of the jar of eggs in a fury of consumption; Jayden finally retreated to the office alone unable to watch any more. He heard a sloshing sound as she finished the jar and proceeded to drink the brine before retreating to the bedroom and crashing into their bed, presumably to pass out. Again. Later that night, he crept in to find her sleeping, clammy and sweaty, nervously twitching. Her body made the most abnormal guttural sounds as her internal systems groaned and sputtered. It was definitely getting worse. Jayden resolved to call Dr. Randolph the following morning; this had gone on for far too long already.
The next day, Claire awoke with a start from another bad dream that she couldn't remember. Crying uncontrollably, she clutched her swollen belly, still ripe with child, and hurriedly exclaimed, "Blood sausage! I must have blood sausage!"
Jayden woke from his curled-up safe haven beside her and muttered, "Wha… What is that? I've never even heard of such a thing."
"Go!" she snapped. "I'm starving. Go now! Return with blood sausage."
Jayden staggered over to the dresser, threw on some clothes, shuffled into his waiting shoes, and gathered himself to duck out the door in the well-practiced gesture he'd become so accustomed to. "I'll stop on my way home from work, I guess," he mused, making his own plans. Claire seemed to settle down a little as she woke further, but it was little consolation.
"Thank you Sweetcheeks," she said. "You're the best." She blew him a kiss.
While at work, Jayden managed to secure an appointment with Dr. Beth Randolph, Claire's primary physician since before he had known her, for later that day. He took off early and rushed home to gather his unwilling wife. She was going in, whether she liked it or not.
He opened the front door and peered inside. The house was dark and quiet, as he'd come to expect. He crept in and stole upstairs to the bedroom to rouse Claire from sleep. He'd tell her where they were going once he got her in the car, no sense in making this even more difficult than it already was. Unsurprisingly, there she was, a shadowy form hunched over in the bed, her back to him with the covers pulled up over her eyes. He peeled away the comforter and blanket to reveal a tangled mess of white knitted yarn; Claire was nowhere to be found. He looked around, trying to focus on the darkness of the bedroom that enveloped him. That unsettling feeling had returned, like he'd had at Maresh's shop, sinking into his gut. Claire was here idling, watching, waiting; he could sense her presence sizing him up as if she could read his mind and was on to his plan. But why was her company so disconcerting? This was still their house, their home, their lives intertwined… Jayden felt his trust ebb, spine tingling sensing danger.
"Hey there Sweetcheeks," Claire's voice echoed from the darkness of the closet. "Do you have something for me?" She emerged into the room, her eyes wide, frothing slightly at the edges of her mouth. Tiny bubbles of drool burst forth from her quivering lips and trickled down onto her chin.
"I couldn't find any… blood sausage… whatever that is," Jayden lied through his teeth. He hadn't even gone to the store. Claire should never have expected him back at this hour; apparently she didn't even know what time it was. But that seemingly wasn't a concern. She wasn't herself. Something about her fragile frame, the way she rocked from side to side, reminded him of that crazy old witch doctor Maresh. He finally managed to connect the two; it was as though she were possessed. It was imperative that she saw Dr. Beth Randolph as soon as possible, if for no other reason than to sever ties to that crazy old hag and hopefully start to snap out of it. He simply had to get her to that appointment.
"No blood sausage!" Claire shouted, becoming more and more agitated. "No… blood… sausage!" Her breathing became less regular and her body shivered all over as she hulked towards him. "I am sooo hungry!"
She lunged towards him, stumbling into his arms and collapsing towards his feet laughing maniacally. Jayden reached for her instinctively, to lower her to the ground gently, and felt something sticky and warm envelop his hand. Feeling lightheaded, he glanced down as he fell to the floor beside her. Protruding from his gut was a long silver thread, no something pointedly metal and hard, oozing thick oil sludge all around. Not oil, blood. His blood. Claire continued laughing, her lightning-fast fingers quickly and methodically ripping their way into his tattered shirt and worming around within his wounded frame to pull forth bits of viscera, which she wrung in her hands and smeared up and down her arms and torso. As Jayden passed out, she mouthed each of her fingers in turn, sucking the precious liquid off of them one at a time, before she began to feast on his entrails.
Claire's belly was finally full. The baby developing within squirmed and settled, as if finally satiated. She swiped a stray bit of flesh from her bosom, licked it off of her fingertips, and heaved a sigh of relief. Miracle Madame Maresh Meliasma was right; she just needed to get to the root of her cravings.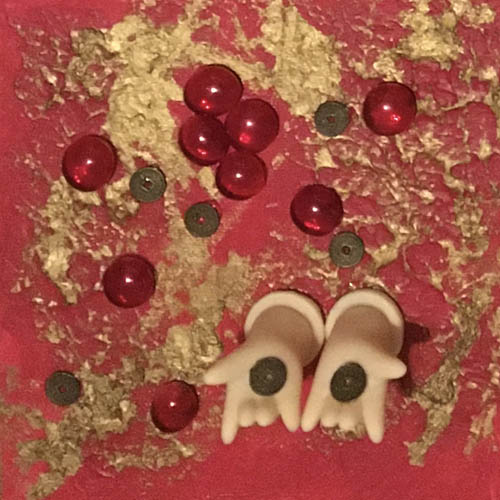 Feel free to check out more of Jennifer Weigel's work here on Haunted MTL. Or on her writing, fine art, and conceptual projects websites.
Cravings, a Pregnancy Horror Story by Jennifer Weigel
Here is Part 1 of Cravings, a pregnancy horror story considering darker cravings and changes in contrast to the glow that comes with the all-too-often toxic-positivity focus of carrying a child.
---
"Honey, I'm home," Jayden's voice echoed through the house like a bad 50s sitcom rerun for all that he didn't watch those kinds of shows. The callout seemed equally rehearsed and hopeful but harbored a hint of fear in the way his voice cracked that didn't bespeak Mayberry or the like. He waited for his wife Claire to greet him at the door. The house was still and cold with all of the heavy drapes drawn and no lights on anywhere. He glanced towards the dark bedroom where she must be napping, like the day before and the day before that, for weeks and months on end now.
Honestly, Claire hadn't been the same since she'd finally conceived, following that witch doctor Miracle Madame Maresh Meliasma's advice after years and years of trying to get pregnant. Now Claire was lethargic and succumbed to migraines, nightmares & morning sickness that kept her bedridden much of the time, screaming bloody murder because of her headaches if anyone so much as flicked on the lights. And she had barely even gotten into the second trimester. Jayden had read that it was supposed to get better but there didn't seem to be any improvement; if anything she seemed to be getting worse. He tried to get her to see her doctor about it but she snubbed the idea. "After everything they put us through, all those years of fertility treatments, the invasive procedures, the bills… No way. To Hell with modern medicine," Claire had retorted.
So now here they were, readying themselves for their first child. Maresh had foreseen that Claire would birth a healthy baby boy, and with all of the card readings, spiritual advice and herbal concoctions, Claire had fallen right in line, hanging onto the witch doctor's every word. Jayden was still frustrated she wouldn't consult with her normal doctor, but she instead visited with Maresh every day through Instachat online for about an hour and even invited the creepy old woman into their home once a week on Thursday mornings to supply fresh herbs, massage her aching joints and swelling tummy, and call forth healing realigning energies with elaborate candlelit rituals. Claire could focus on only one thing: anticipating the pending home birth and natural delivery of their firstborn child, still several months away.
Jayden wished his wife had never set foot in that weird alternative new age spiritual center, something about it had just seemed off. It wasn't the crystals or candles or psychic energy books that seemed to line every surface; he wasn't into any of that mysticism crap but it seemed pretty innocuous. He recalled small figures made of sticks, straw and mud, and giant Mason jars boasting exotic herbal remedies, and the lingering scent of something sickly sweet decaying, all of which was genuinely unsettling, but it wasn't really that either. There was something decidedly sinister about the place that he couldn't quite put his finger on, more caught up in the air surrounding and within the space itself. It settled into his gut like that feeling you get when you know you're being watched by some unseen far away presence or when you meet someone you know deep down has ill intentions. And Maresh herself was just as disturbing; she only ever addressed Claire and had not uttered a single word to Jayden in the entire time. In fact, she acted as if she looked right through him without even seeing him.
As days turned into weeks into months, Claire became more withdrawn and more obsessed about the baby. She never left the house, locking herself away in the gloomy stagnant nest and occupying herself with the remedies, rites and rituals that Maresh suggested. Oh, and knitting. Jayden hadn't realized that Claire knitted since he had never seen her do so before, but her hands were a frenzy of motion, whipping silver needles back and forth and pulling soft white yarn between them like a growing umbilical cord tethering her to the circumstance at hand like some sort of strange pregnancy lifeline. The so-called blanket she was producing grew larger and larger every day.
Jayden snapped out of his reverie to see his wife eyeing him from the hallway. She studied him up and down slowly, staring longingly at his body. She inadvertently bit her lower lip in anticipation, teeth striking flesh to cut forth a small droplet of blood. Her tongue eagerly danced across her pursed mouth and lapped it up before withdrawing again.
"Aw, what'd you bring me this time, Sweetcheeks?" Claire smirked; eyes alight with flame like a cat readying to pounce
She had been ravenous throughout the pregnancy so far, and her cravings kept getting stranger and more bizarre as time passed.  The other day, Jayden had fetched boiled shrimp, and she had devoured over 2 pounds of the mud-bugs in less than an hour's time, shell, tail and all, their little legs matted together like thick wet whiskers.  Today she had requested pickled eggs, the kind that they import from Europe or Dutch-country Pennsylvania in those big almost gallon-sized jars, stained pink with beet juice vinegar.  Jayden procured the giant jar of eggs from the paper bag in his arms.  Claire lunged at him and grabbed up the prize, prying the lid off in one fell swoop.  She reached in, pulled out a pink rubber-looking egg still dripping with brine, and shoved it in her mouth whole.  She hadn't even bothered to chew it before she grabbed another to meet the same fate.  And another.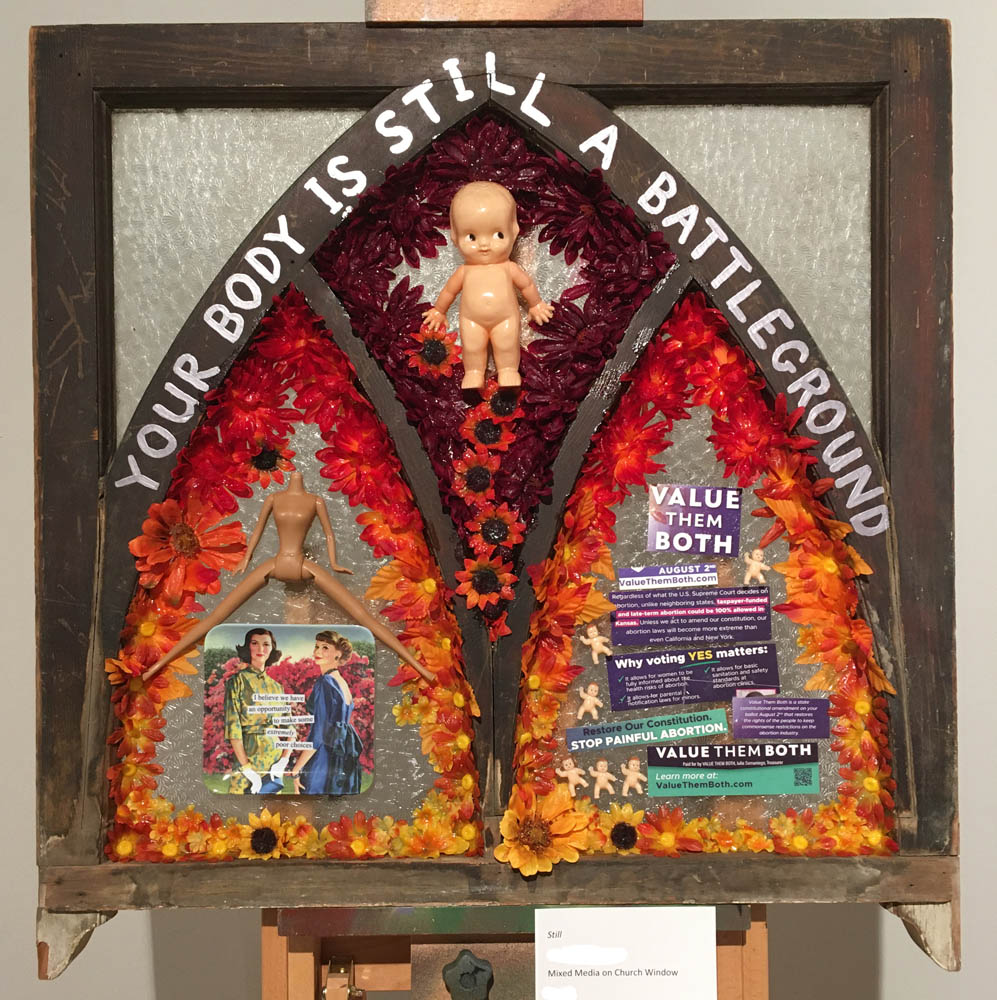 I hope you have enjoyed the first part of this story. Part 2 will air next time here on Haunted MTL. In the meantime, feel free to follow your cravings and order up some midnight munchies, or listen to this lullabye.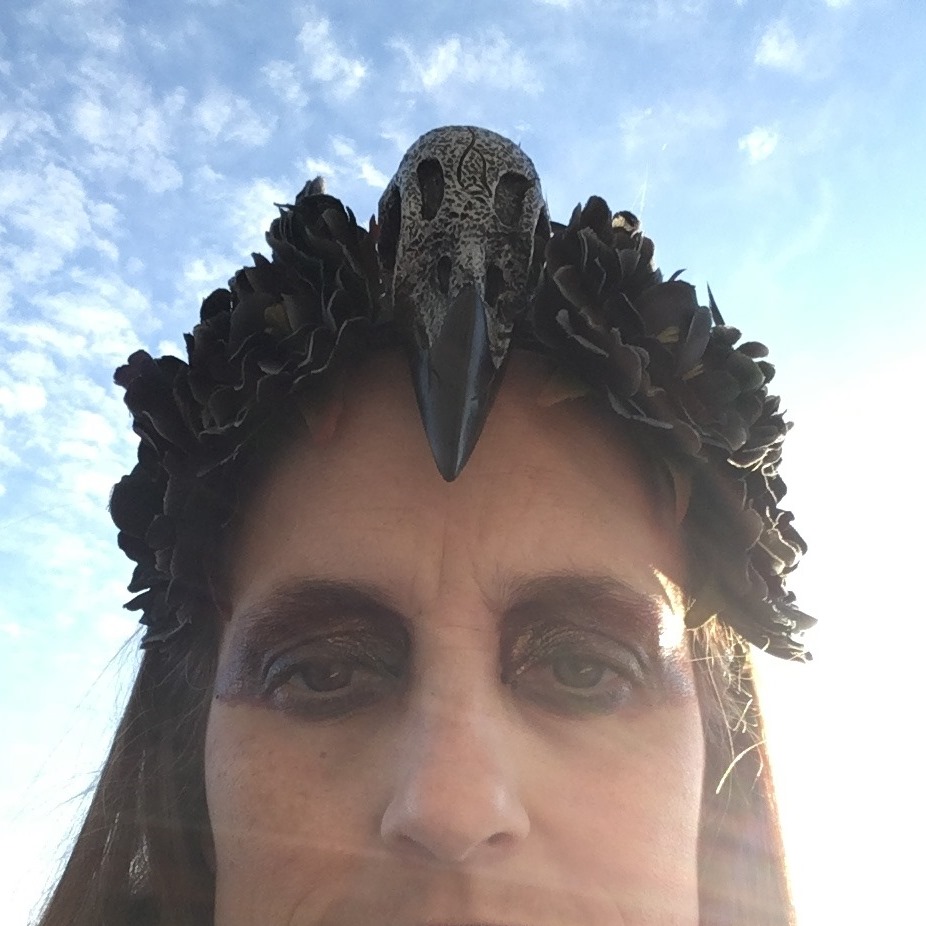 Feel free to check out more of Jennifer Weigel's work here on Haunted MTL. Or on her writing, fine art, and conceptual projects websites.