Our exclusive Haunted Goldrush interview is here! Join the cast of the hit T+E show as they take you through a thrilling journey of mystery. Hear their exclusive interviews and uncover the secrets of the show! Get ready for the spine-chilling premiere of Haunted Goldrush on T+E channel this October 30th at 9pm ET/PT!
Join us for an exclusive interview with the stars of the show as they take us behind-the-scenes of this soon-to-be smash hit. And while you're at it, have a listen as we unravel the mysteries of the paranormal that inspired the show. Don't miss out on this thrilling ride!

Shutter Island (2010): Review
Leonardo Dicaprio's films rarely disappoint. It was interesting to see him flex different acting muscles in this psychological thriller Shutter Island alongside Mark Ruffalo and Michelle Williams. When I say that I was not expecting such a turn in the story, I mean that my jaw was pretty much on the floor the entire time. Without any further ado, let's dive into its mastery, shall we?
A cliché setup done right
We have been here before a million times. A character stumbles into a scene to solve a mystery. Everyone is acting just the right amount of suspicion to make you wonder. Dicaprio's Edward 'Teddy' travels to an extremely remote island where a woman goes missing from a psychiatric institution. He's experiencing migraines and flashbacks to his murdered wife while receiving little to no help from the hospital staff.
Teddy soon suspects that the hospital is experimenting on patients which fuels his theories on what happened to the missing woman. Things take even more of a turn when his partner also disappears. Unsurprisingly, everyone insists Teddy came to the island alone. Feeling like he's losing his mind, our protagonist finds out that this is exactly the case. He is a patient in the hospital and the entire investigation is an attempt to get him to understand the truth.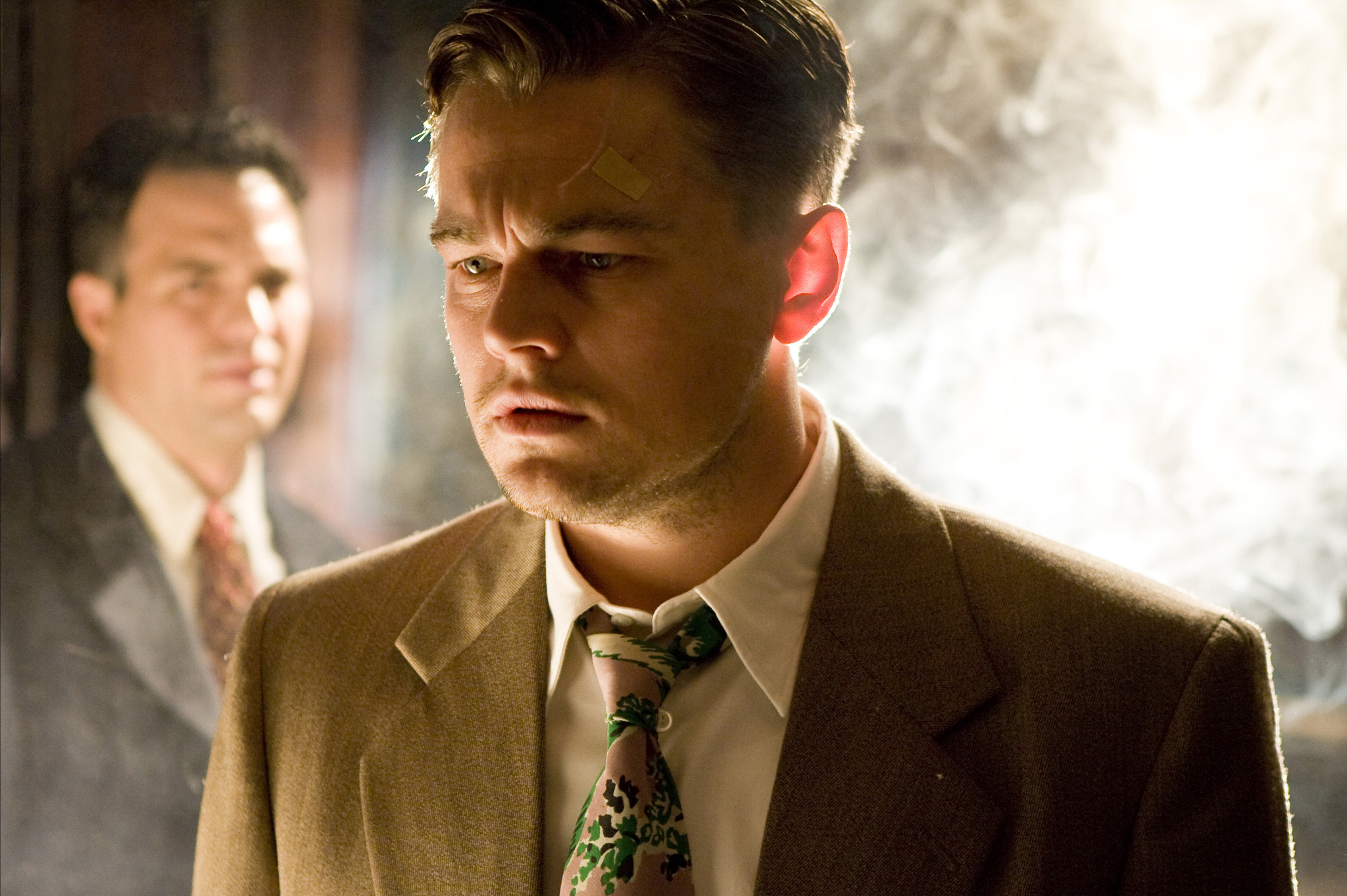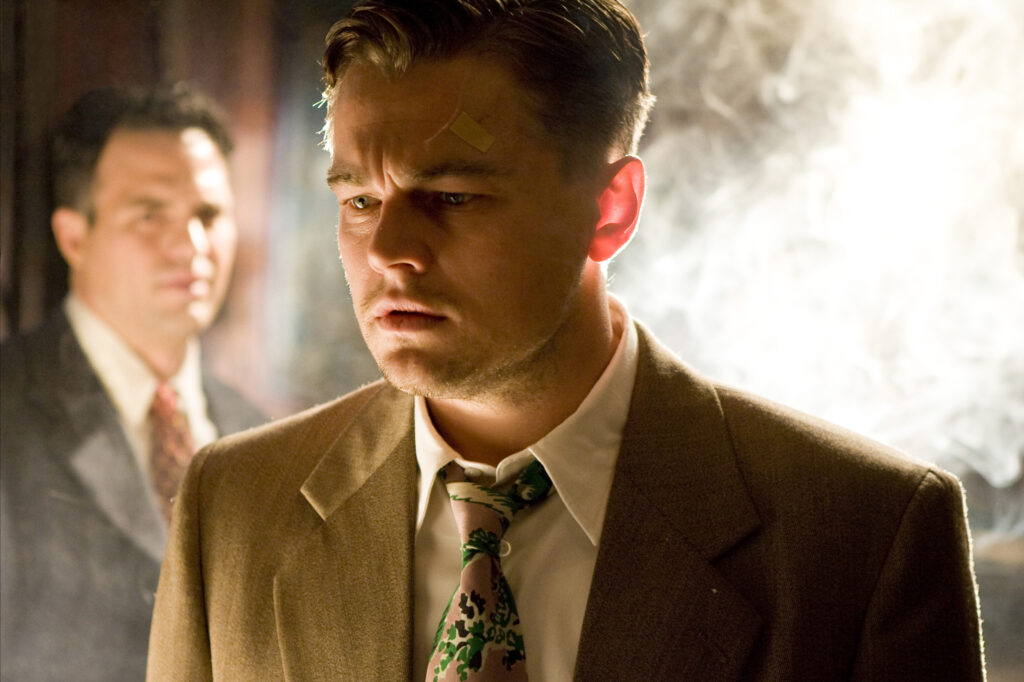 While the whole 'it was all in your head' trope has a bad rep for the fans of any genre, this film uses it masterfully. Watching it for the first time not knowing what to expect is obviously a shock and then watching it again, looking at all the clues that were the which you missed – that's a treat on its own. After all, there's nothing inherently wrong with using cliches if they are done the right way.
Things that go bump in our minds
A huge part of this movie's storyline is Andrew's inability to process the truth. The roots for it stretch far beyond the plot twist. Andrew is unable to acknowledge that his wife is mentally ill and believes that moving them to the countryside will fix everything. After she murders their children, he is further pushed into the world of delusion, convincing himself to be a hero because he couldn't save his own family.
It's interesting to note that in his delusion, Andrew is the one who set fire to their house. Is this a little sliver of his mind whispering the truth to him? Is it his subconscious villainizing himself out of contempt, searching for answers that are never going to come? Andrew's psychiatrist pointed out that his moment of clarity has happened before, only to be undone quite quickly. Perhaps it was easier for Andrew to shut it off rather than live with the knowledge that he could've done something to prevent a terrible tragedy.
Overall thoughts
Shutter Island is a movie that provides both the entertainment value you would expect from a suspense thriller and a deeper layer of thought. Coated with a perfect atmosphere and amazing acting, it's a piece that will definitely hold the test of time.

(4.5 / 5)
Wheel of Time, Daughter of The Night
We've reached episode four of Wheel of Time, which means we're halfway through the season. While it doesn't seem like much has happened so far, this is the episode where things start heating up.
The Story
We begin this episode with a flashback. Ishamael is raising something dark and twisted. As we watch, it takes the shape of a woman.
More on that in a bit.
Meanwhile, Nynaeve is healing from her time in the arches. She is quiet and withdrawn. She's also awkward and uncomfortable around Egwene now that she's initiated and Egwene is not. Her new friendship with Elayne isn't helping.
But the three girls come together when Liandrin tells Nynaeve that Perrin has been captured by the Seanchan.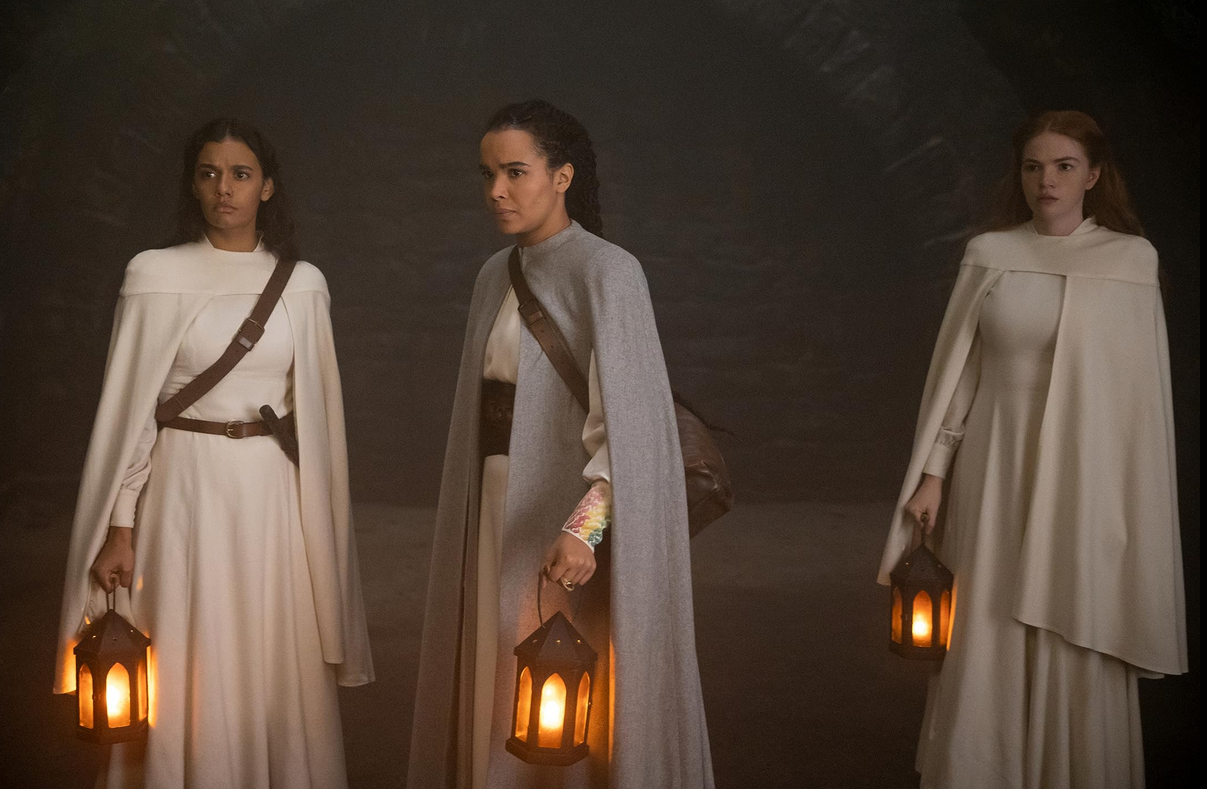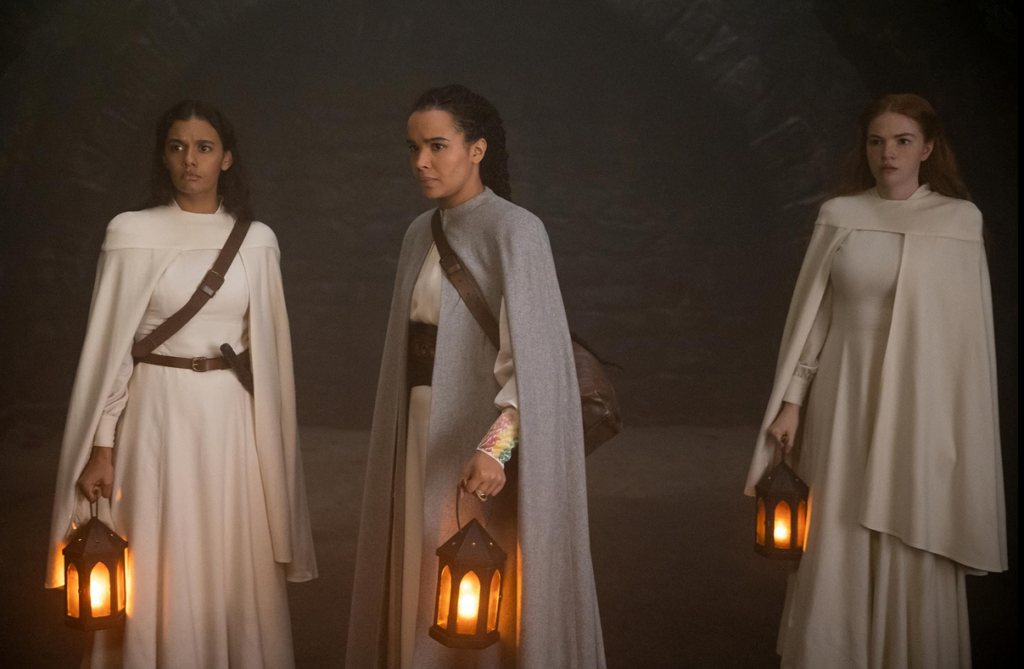 However, Perrin is no longer in the clutches of the Seanchan. He was rescued by Elyas and a pack of beautiful wolves. Beautiful and deadly AF by the way. If you have any fear of dogs, this episode might not help that.
Elyas explains to Perrin that he is a Wolf Brother. This means that he can communicate with the wolves, and eventually will gain some of their abilities. While Perrin and Elyas don't exactly get off on the right foot, he does find a fast friendship with one specific wolf. After a time, he introduces himself by showing Perrin an image of himself jumping up and down. From this, Perrin assumes his name is Hopper.
Finally, we return to Rand. He and Selene have been off in the mountains. They haven't done much more than each other so far.
And that's exactly what it appears they're about to do when Moiraine bursts into the cottage and cuts Selene's throat.
Rand is surprised and furious until Moiraine explains that the woman he knows as Selene is the Dark Friend Lanfear. With this shocking revelation, the two run off into the night.
What worked
It should be a surprise to no one that I loved the wolves in this episode. Hopper himself was worth an extra Cthulhu. But this is not just because dogs are cute. It's also because the dog playing Hopper just does a great job.
On a more serious note, I loved how Nynaeve responded upon coming back to the real world. She isn't okay.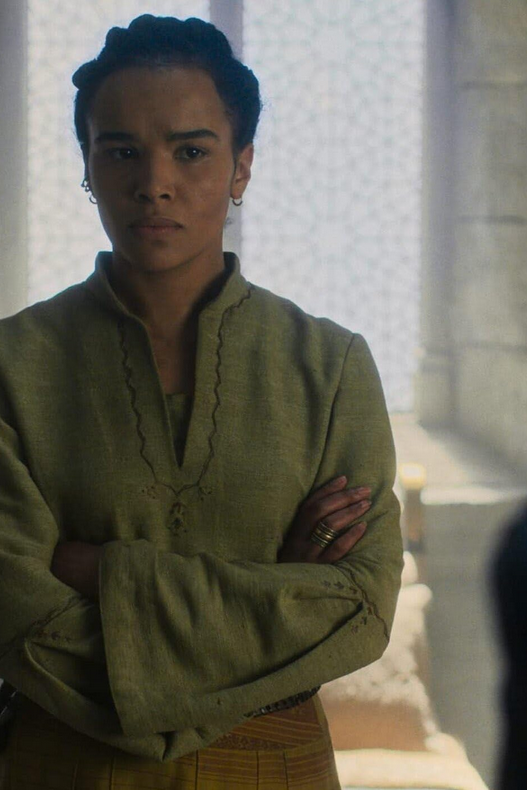 And it's a good thing that she isn't. Too often in fiction we don't see the fallout of emotional damage. Hell, we don't usually see realistic fallout from physical damage.
But she is hurt by what she experienced. And you can tell. That's realistic character building, and we don't see that enough.
I also really appreciate the special effects in this episode. The first time we see Lanfear, she's eerie. She's frightening. Part of this is thanks to Natasha O'Keeffe, who does a great job. But the effects are what really sells this.
What didn't work
If Wheel of Time has any fault, it's that there is far too much sitting about and talking about things. In this case, there's a lot of standing about and talking about things. Some of this was necessary, and some of it could have been done better. Honestly, there just has to be a better way to convey that characters are struggling.
This was most apparent with Rand and Selene/Lanfear. Honestly, anytime the two of them were on screen it was a great time for me to catch up on Instagram.
This might come as a surprise to anyone who hasn't read the books, but Rand is supposed to be the main character. And here we are, four episodes into an eight-episode season, and so far all he's done is mess about with his emo girlfriend!
That being said, the story is starting to pick up. With four episodes left, I can't wait to see how far we go.

(3 / 5)
Into the Deep Woods 1, an October AI journey with Jennifer Weigel
I am embarking on an AI journey using NightCafe to illustrate this graphic story based on a dream I had awhile back. I am also using Canva, so here's to learning more online systems of image dissemination and propagandizing…
I will include some of the original AI generated images with each piece along with a bit of the dream that inspired it. So sit back, relax, and enjoy the show.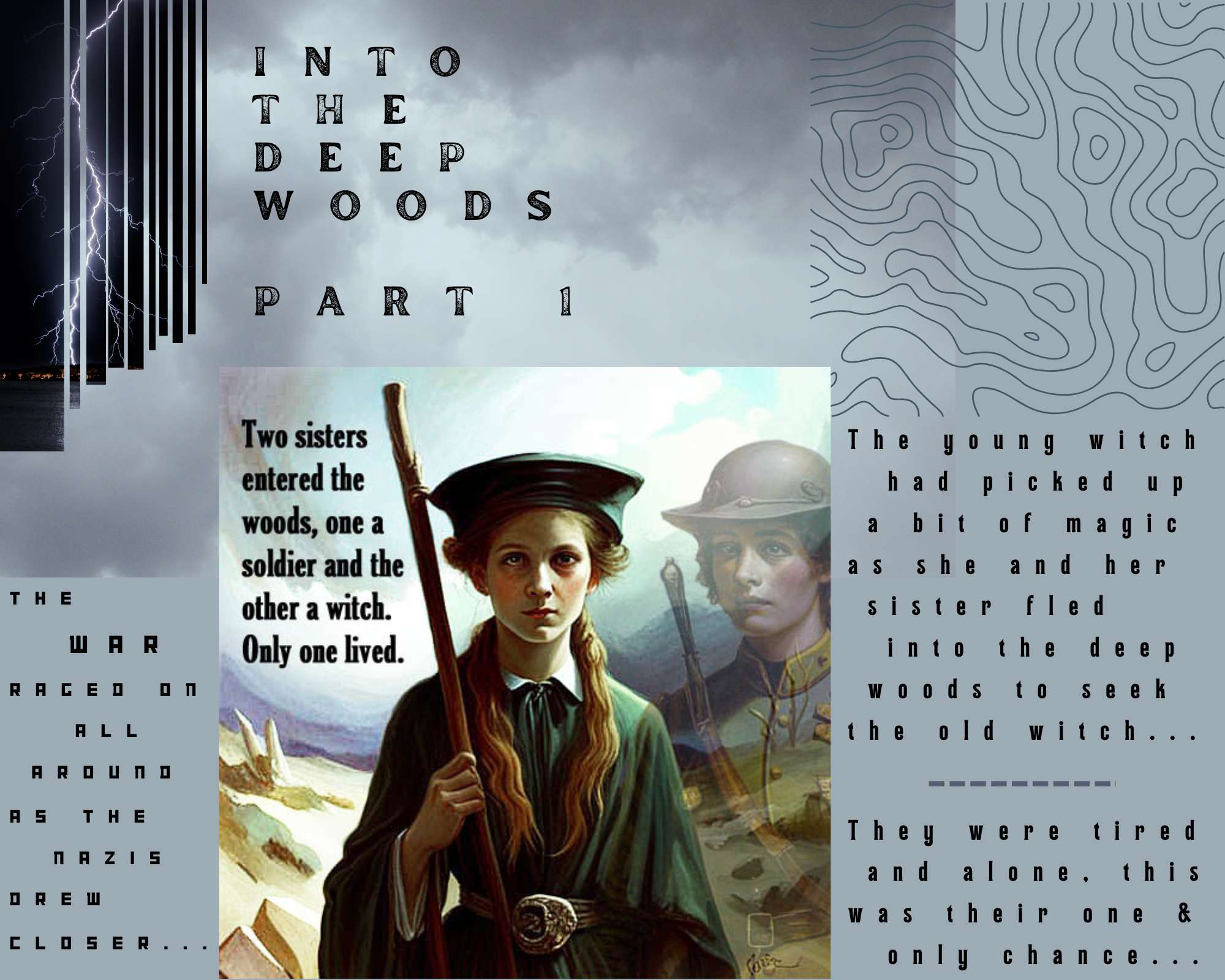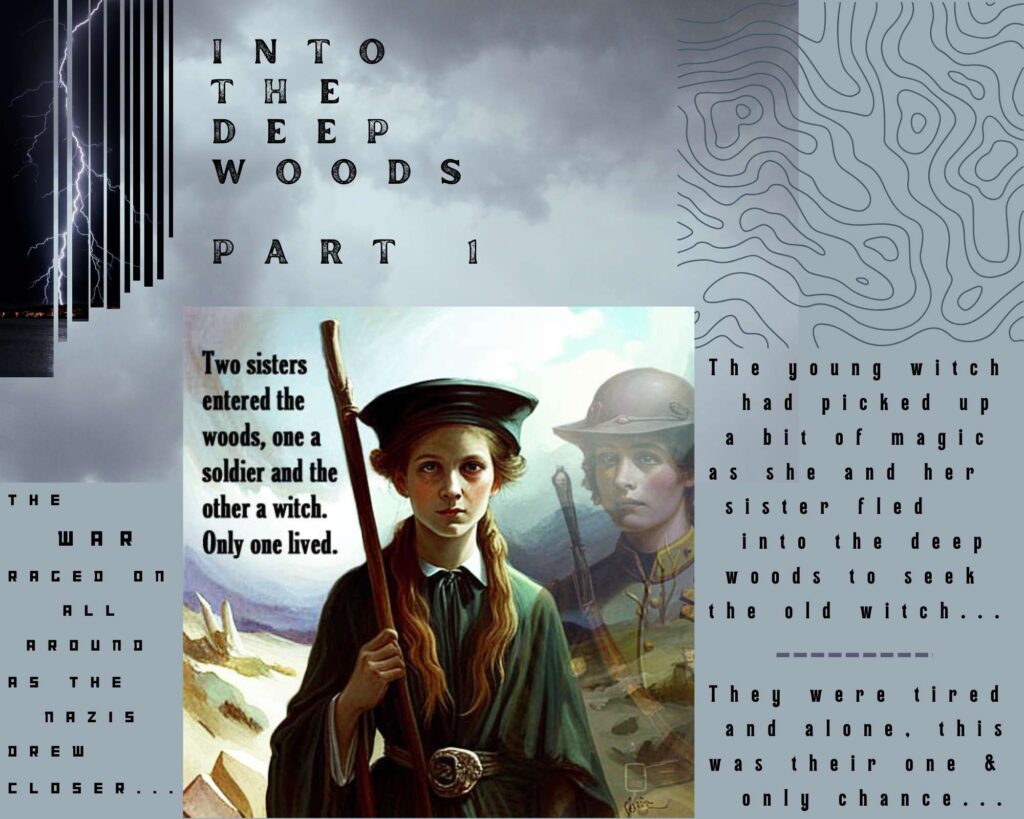 Artwork description: Overall layout: Lightning strike through the corner into obscure clouds and map-like graphic in gray tones sets the mood for Into the Deep Woods.
Part 1, Art: AI generated image of a girl with reddish hair dressed in a robe of some sort and holding a staff. A similar girl in soldier garb fades behind her. Edited in PhotoShop.
Part 1, Text: 1.) Two sisters entered the woods, one a soldier and the other a witch. Only one lived. 2.) The young witch had picked up a bit of magic as she and her sister fled into the deep woods to seek the old witch… They were tired and alone, this was their one and only chance… 3.) The war raged on all around as the Nazis drew closer…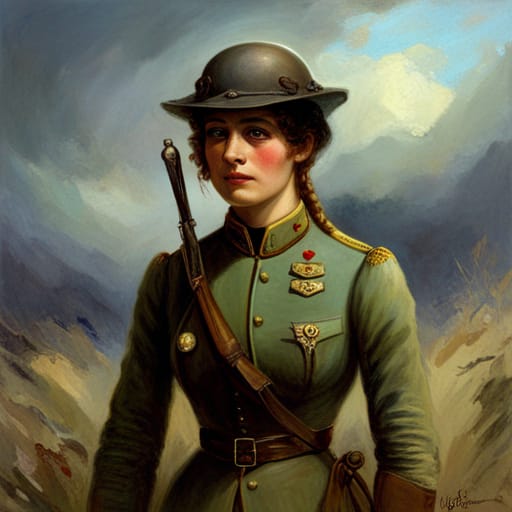 Prompt (Horror): Portrait of soldier girl sister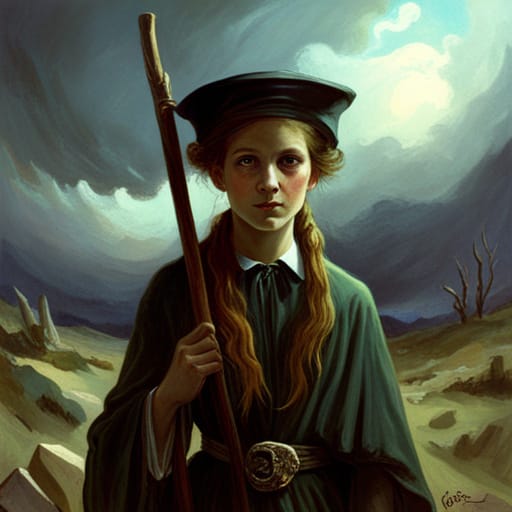 Prompt (Horror): Portrait of witch girl sister (Evolved from soldier girl)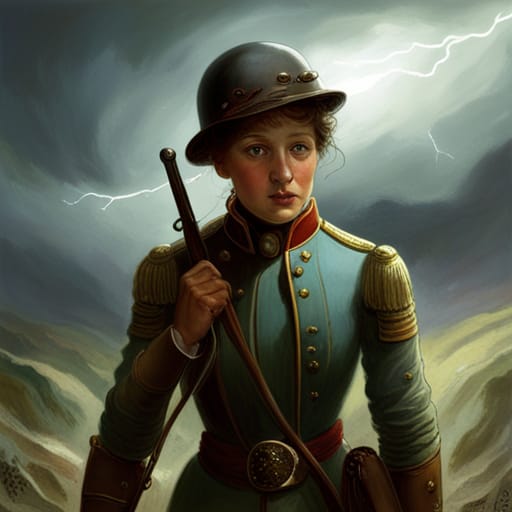 Prompt (Horror): Soldier girl sister hit by lightning (Evolved from soldier girl)
As mentioned this series is based on a dream that I had awhile back. The two girls first enter the woods to escape the Nazis. In my dream there were initially more soldiers with them who perish due to the war or hazards in the woods. It wasn't unlike Pan's Labyrinth but on a much smaller and more intimate scale.
It had been awhile between having the dream and creating this story to share with you. And I quickly learned that the term "Nazi" is prohibited by the AI art generator interface. So there are some changes that have been made, but hopefully you can still follow along. The time and place are not as relevant to the overall anyway.