'All Jacked Up and Full of Worms' is now streaming exclusively on Screambox.
Independent arthouse cinema is a particular subgenre I have grown to be quite fond of over the years, especially those within the horror realm. What draws me in most is when they're nightmarish explorations of our inner selves, heightened by hypnotic visuals. Films like Brandon Cronenberg's ultra-violent futuristic thriller 'Possessor', where brain-implant technology is utilized by agents of a secret organization to possess the bodies of ordinary people, forcing them to commit high-profile assassinations, all while said agent (Andrea Riseborough) struggles to maintain her own self memories. Or Robert Eggers eerie black and white seaside tale of terror, 'The Lighthouse', in which two lighthouse workers (Robert Pattinson and Willem DaFoe) are driven to insanity while living on a mysterious remote island in New Hampshire during the 1890's. Both films utterly unique in their visual representations as well as their executions yet elicit thought provoking questions involving the demons that dwell within us, others, and society. This was the type of mind-bending experience I was hoping to receive while watching Alex Phillip's feature film debut 'All Jacked Up and Full of Worms'. Unfortunately, this is one artistic vision that has left me scratching my head in confusion as to what Phillip's underlying message is, assuming of course there is one.
Digesting the worms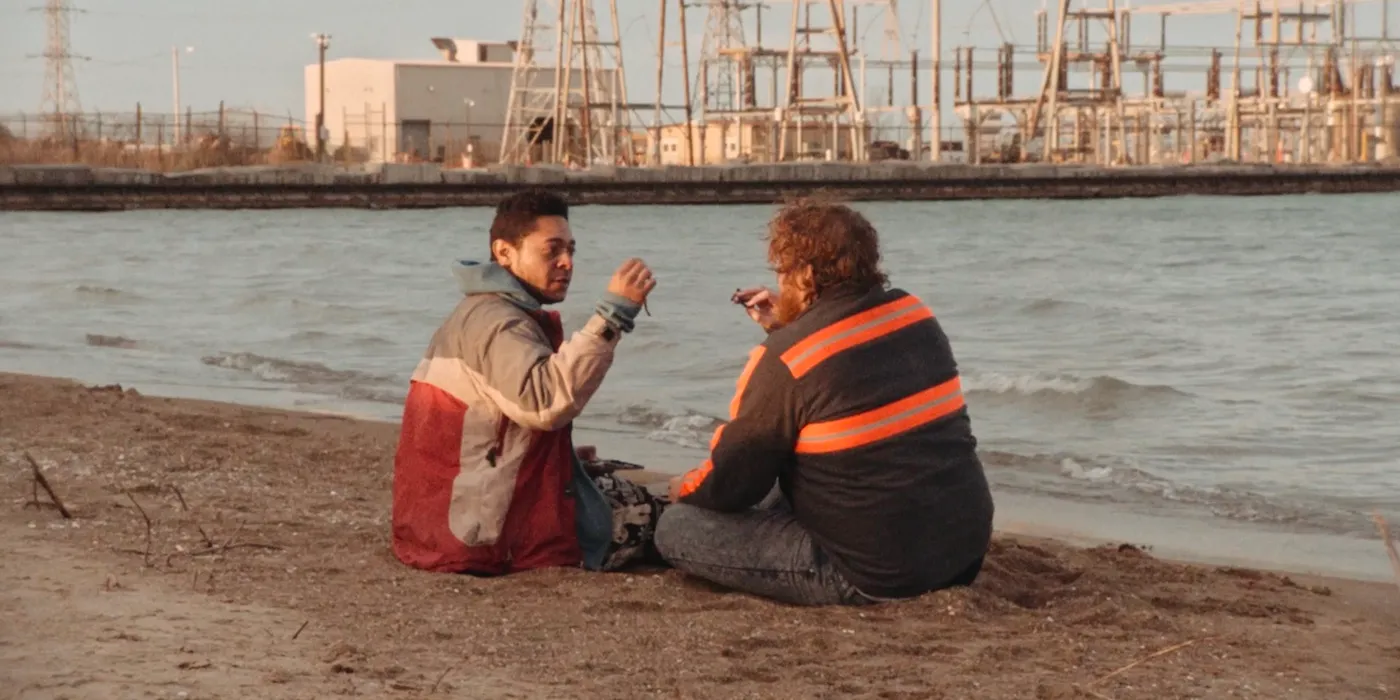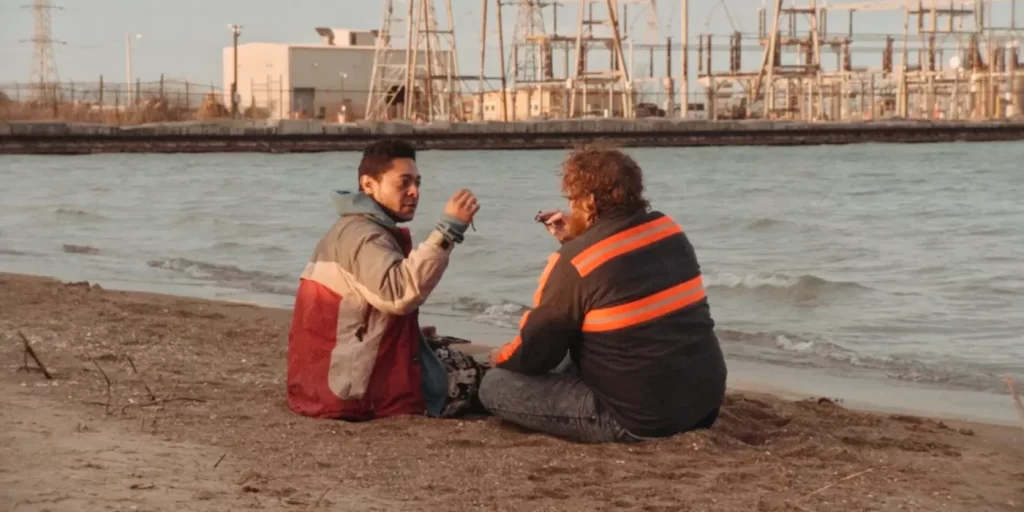 Premiering at Fantastic Fest 2022, when I saw the trailer for 'All Jacked Up and Full of Worms', I was intrigued by its premise and weird transgressive visual flair. The plot for 'All Jacked Up and Full of Worms' doesn't offer much in terms of complexity, as its story is fairly straightforward. Two strangers, Roscoe (Phillip Andre Botello) a maintenance worker at a debaucherous motel and third in a strenuous polyamorous relationship with his girlfriend Samantha (Betsey Brown) and their odd roommate Jared (Noah Lepawsky); each of which continuously chasing ethereal transcendence. Benny (Trevor Dawkins) a lone and strange creep who craves nothing more than to father a baby, encounters local sex-worker Henrietta (Eva Fellows), introducing him to the films hallucinogenic earth worms and coincidentally works at the same sleezy motel as Roscoe. Soon after an awkward, yet somewhat tender session between Henrietta and Benny, the two men cross paths quickly bonding over their depressive lives commencing the vile ingestion of slimy nightcrawlers. What starts off as a fun quirky trip quickly shifts to a night of mayhem after running into maniacal serial-killer clowns Biff (Mike Lopez) and his nameless girlfriend (Carol Rhyu), whom are also fellow worm addicts. I'm sure there's many of us who've dabbled with hallucinogens in the past, hopefully not worms…so you could see why a film like this may be enticing to a particular crowd.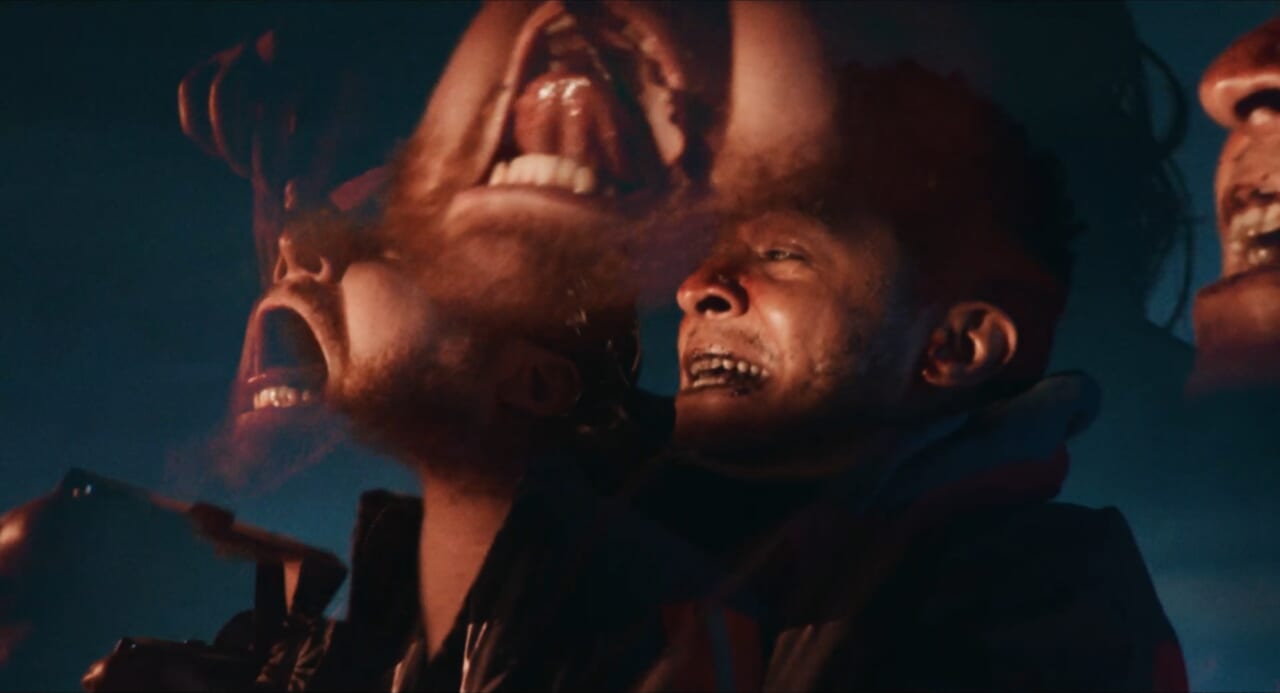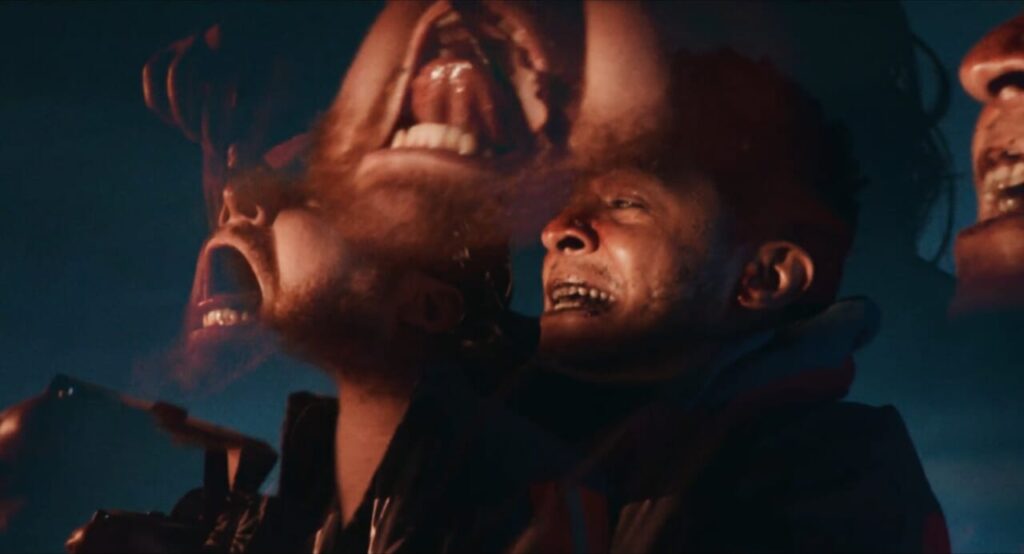 Before I attempt to dissect my thoughts for 'All Jacked Up and Full of Worms', let me first say there are a few qualities to this rather confusing film I did find myself appreciating that others may as well. The cinematography is quite impressive as Phillips combines kaleidoscopic visuals, brief flashes of neon, fountains of blood, and psychotropic effects between scene transitions elevating the trip experience. When it comes to the worms themselves, they're nothing special, your typical earthworms however, the means in which they are consumed is truly grotesque; I guarantee your stomach will churn in disgust. This is intentional as Phillips never shies the camera away from the mass consumption of worms which mainly consists of chewing and a lot of discomforting snorting. Through these effects, the viewer is unwillingly catapulted into the psychedelic hellscape that is Benny and Roscoe's worm trip, which feels everlasting. These moments of sheer insanity are brought to life by the bold performances provided by Botello and Dawkins. Both are able to convey moments of pure anxiety, hyperventilating once their trips begin to turn south as thick beads of sweat trickle down their brows. Though as oddly captivating as these performances are, especially given the bizarre script, the same cannot be said for psycho clown Biff and his maniacal girlfriend. In fact, I found it difficult to appreciate or even like any of the characters in 'All Jacked Up and Full of Worms'.
Descent into the proverbial abyss
This is in no part the actors' fault, but how the characters were written. Benny for example is depicted as being a crude simpleton, with Phillip's slight attempts to make you empathize for this character with his parental aspirations. These moments are quickly overshadowed by Benny's dialogue as it is often times discomforting and quite perverse. It's also Benny's dream of becoming a parent I take particular issue with as well. Not so much him raising an infant but, the way in which he goes about fulfilling his fantasy. In one of the films more controversial moments, Benny purchases a baby doll however, not just any doll…a sex toy baby doll. I'm sure you can imagine the unveiling of said purchase is not only shocking but just as disturbing as you think it is. The scenes that follow afterwards are equally upsetting, so I will refrain from expanding further details at this point. Phillip's is clearly attempting to elicit strong emotional responses, and he most certainly achieves them however, I'm still at a loss as to why these were included.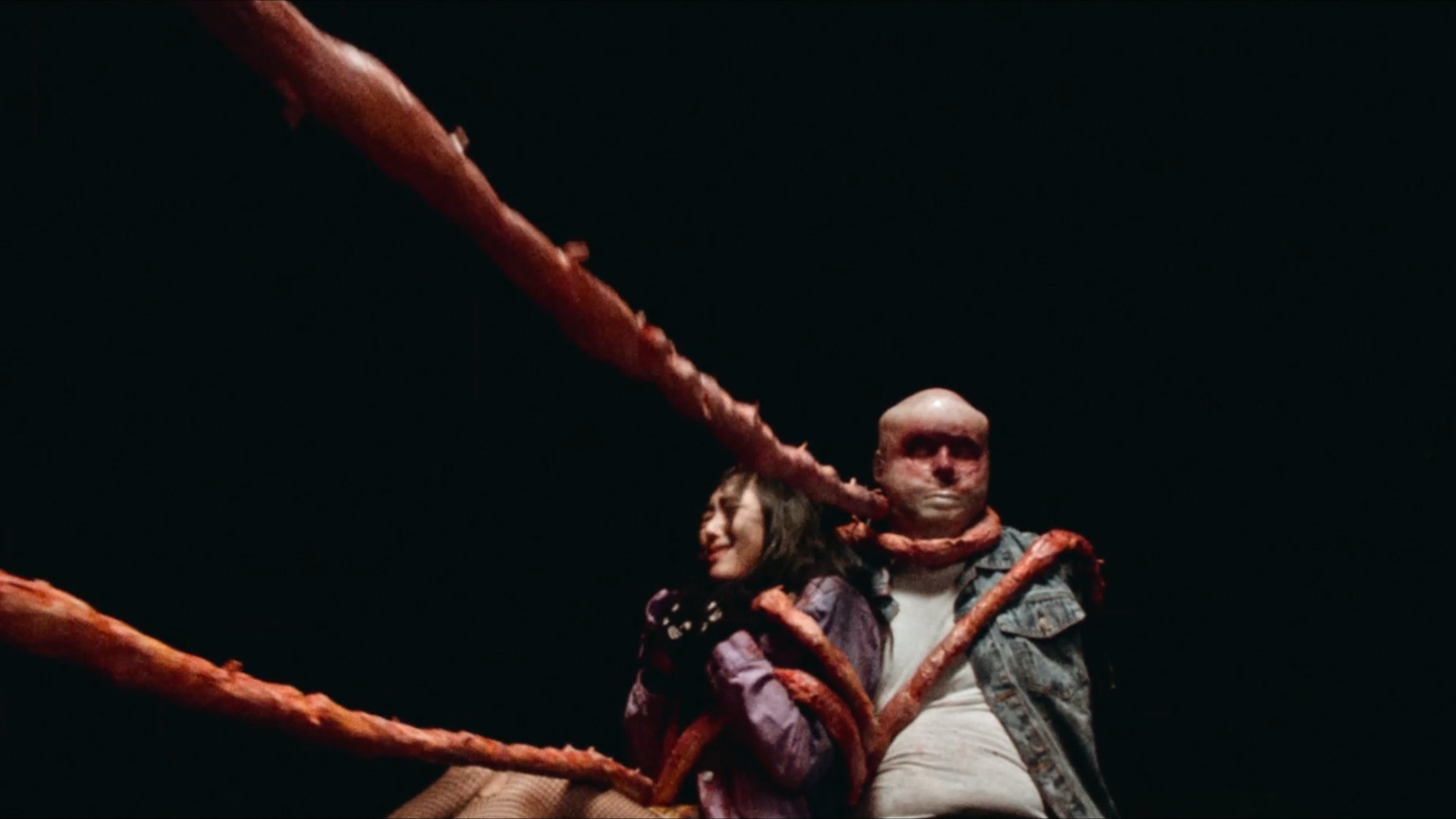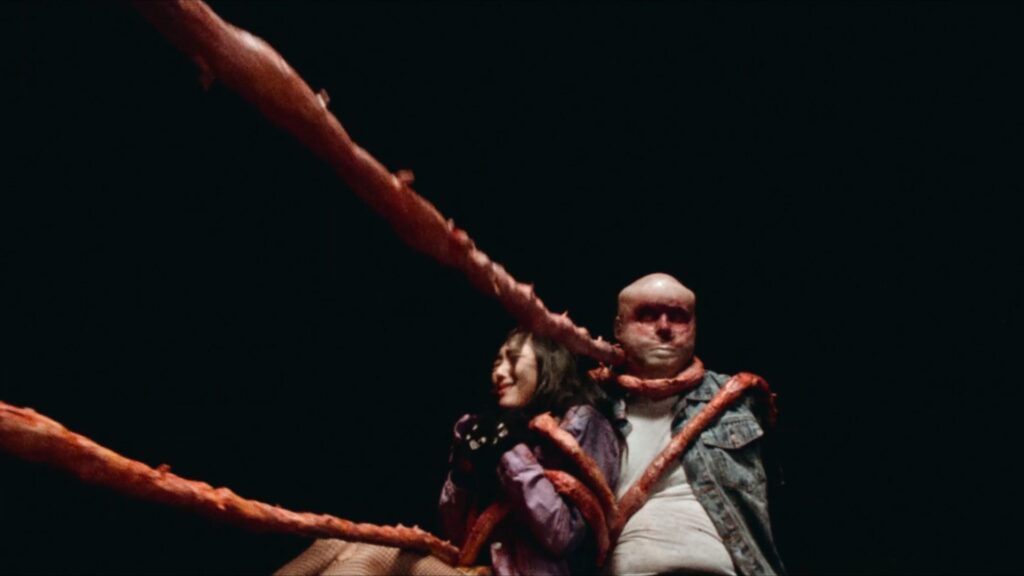 Roscoe is another character who also fails to receive any growth throughout 'All Jacked Up and Full of Worms' which surprised me, as I felt his character would have been the one to reach a life-altering awakening. Regrettably, we're just bystanders watching a character's rapid addiction fuel his increasing need to get high on worms chasing unobtainable transcendence. As opposed to utilizing his 24-hour trip for self-reflection, spiritual enlightenment, or a profound astral journey; he at first introduces the worms as a means of romantic approval from his emotionally estranged girlfriend Samantha, only to then become reliant on them to escape his mundane reality. It's through his frustrating choices that inevitably lead him to the serial killer clown couple where he begins committing unexpected and befuddling acts of random violence. When it comes to Biff and his girlfriend, they are meant to be a reflection of unhinged anarchic rebellion. Alternately, I found their characters to be less than enjoyable, growing more annoyed by their presence the more I saw them on screen. When they try to instill fear, it's laughable as their characters are anything but scary. In fact, the only times I chuckled throughout 'All Jacked Up and Full of Worms' were whenever Biff attempted to be an intimidating presence.
What makes 'All Jacked Up and Full of Worms' more aggravating is how Phillips' chooses to push his jumbled narrative forward. While yes, the visuals can be stimulating at times, it only works when you can feel some sense of curation that helps lead us down a path of clarity or understanding. 'All Jacked Up and Full of Worms' attempts to blur the lines between these characters reality and their chaotic trip by melding images intentionally to exert shock, distress, repugnance, and many other emotional responses. The problem is, the majority of these scenes do not feel cohesive to the film's plot, and there are many of them. Once the off-the-wall climax was finished and the credits began to roll, I was left feeling mentally exhausted attempting to piece together Phillip's obtuse puzzle unsuccessfully. Perhaps that was the intention, to have the audience walk away feeling confused and emotionally strained, questioning whether or not there's an underlying theme. Maybe there is no hidden message or meaning, to be honest, I've yet to still figure that out.
The Comedown
There is a method to the madness when it comes to the presentation for 'All Jacked Up and Full of Worms'. Phillip's had a clear vision when concocting this insane psychedelic trip through hell but, any message the film is trying to convey gets lost in the bizarre editing choice straying us away from any answers to the numerous questions that develop throughout the taxing story. 'All Jacked Up and Full of Worms' is not a film meant to please everyone, though there is a certain audience that will find appeal in this ambiguous venture, especially those seeking a brain-melting horror experience. Unfortunately, for me, Jacked Up worms is a depraved psychedelic trip I do not plan to revisit any time soon.

(1.5 / 5)
The Last Drive-In: Joe Bob's Vicious Vegas Valentine Special Live Watch Party February 10th!
The sweet putrid stench of love lingers through the air which can only mean one thing…Valentine's Day and its annoying little winged cherub, Cupid, is fast approaching. Soon, partners will be spoiling one another with extravagant bouquets of roses, heartfelt Hallmark cards, obnoxiously large teddy bears, glistening diamond jewelry, and heart-shaped candies or boxes filled with assorted mediocre chocolates. You know? Normal things couples do. I tend to prefer my chocolate boxes filled with bleeding hearts, à la 'My Bloody Valentine' but, beggars can't be choosers, right? All jokes aside, Valentine's Day is special for many couples, however, there are also many others who find themselves celebrating this day without a significant other. Luckily, Shudder, along with drive-in king Joe Bob Briggs and co-host Darcy the Mail Girl (Diana Prince) will graciously be keeping us lonely mutants', and yes, all you horror fanatic couples' company on Friday, February 10th as they return with The Last Drive-In: Joe Bob's Vicious Vegas Valentine, premiering live at 9pm EST.
We're headed to Vegas for the Mutant Wedding of the Century! Joe Bob's Vicious Vegas Valentine. . . . Friday the 10th 9pm . . . And you will not BELIEVE what movie the happy couple has approved for the wedding itself! #twistedlove #thelastdrivein pic.twitter.com/buzOvGkytI

— Joe Bob Briggs (@therealjoebob) February 2, 2023
Love Spells Abound…
Back in 2021, Joe Bob and Darcy invited us to a gruesomely passionate night of spell-binding love witches and animatronic dinosaurs infused with teenage human brains during The Last Drive-In: Joe Bob Put a Spell on You. Many, including myself, were introduced to the tantalizing 70's inspired retro throwback 'The Love Witch' and the graphically goofy cult classic 'Tammy and the T-Rex', providing the perfect viewing pleasure to mend any broken heart. While the two films for this year's morbid love-induced special have yet to be announced, as a special treat, Briggs has announced for the first time on The Last Drive-In, he will be marrying one lucky couple during the live showing. We here at HauntedMTL are eagerly awaiting the return of the ghoulish duo so, as is tradition, we will be proudly hosting a watch party on Twitter during the broadcasting of The Last Drive-In: Joe Bob's Vicious Vegas Valentine. Be sure to follow us on Twitter and tag us @hauntedMTL as well as @shudder, @therealjoebob, and @kinky_horror to partake in this night of unholy love.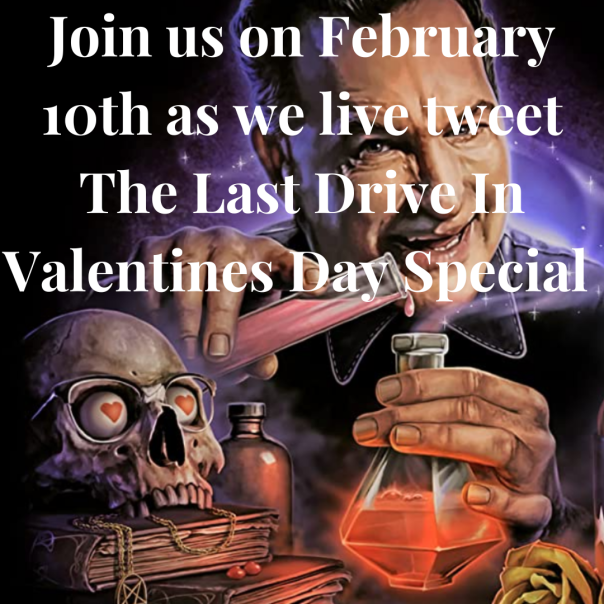 What started off as a one-time special premiering on Shudder July 13, 2018, 'The Last Drive- In' was originally meant to be Brigg's swan song; one last special before hanging up the bolo tie in retirement. However, due to so many mutants, excuse me…viewers tuning in and breaking the Shudder servers, it was only natural to announce an official full season of 'The Last Drive-In', which would make its explosive debut March 19, 2019. Since then, Darcy and Briggs have spawned many exclusive holiday specials, have graciously donated to many charities within the community, and have accumulated 4 seasons of 'The Last Drive-In', with a fifth currently in production premiering on Shudder's 2023 schedule sometime this year, let's hope sooner rather than later.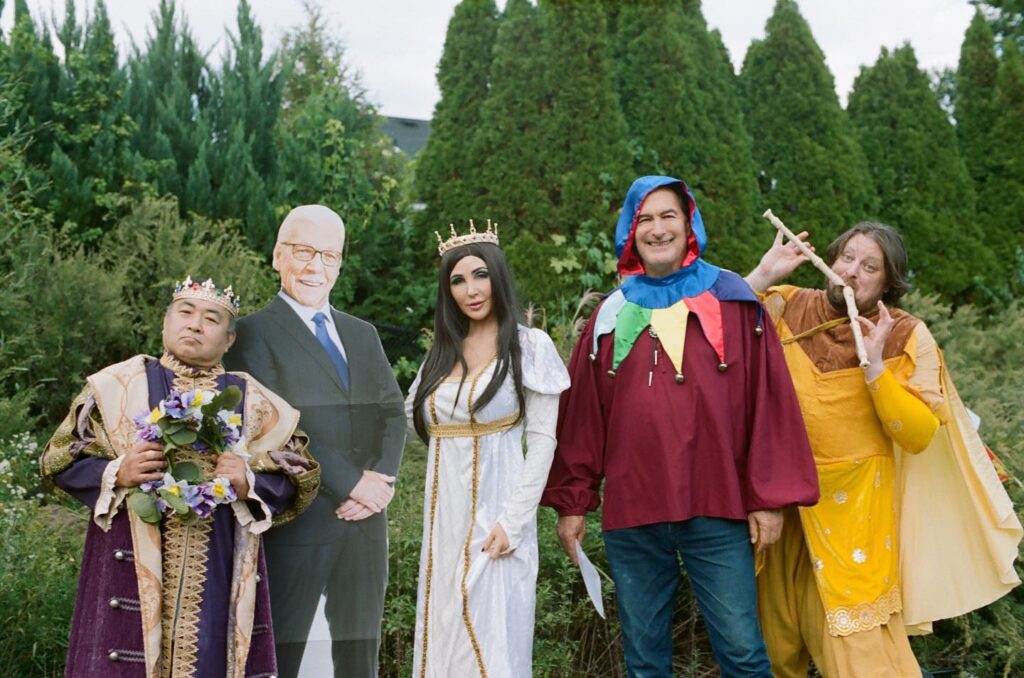 Horror Noire, a Film Review
Horror Noire is a horror collection that includes "Daddy," "The Lake," "Brand of Evil," "Bride Before You," "Fugue State," and "Sundown."
Horror Noire is a horror collection brought by the combined efforts of AMC+ and Shudder. The collection includes "Daddy," "The Lake," "Brand of Evil," "Bride Before You," "Fugue State," and "Sundown." Horror Noire boasts Black directors and screenwriters, providing six unique stories.
As this collection explores six stories, I will skip the usual synopsis to assess the genres and ideas explored, albeit limited as needed. Expect to find supernatural horror, creature features, and psychological thrillers. Many short films deal with these genres while exploring Black issues, but this isn't universal for the collection.
The directors and writers include Zandashé Brown, Robin Givens, Rob Greenlea, Kimani Ray Smith, Steven Barnes, Ezra Clayton Daniels, Tananarive Due, Shernold Edwards, Victor LaValle, and Al Letson.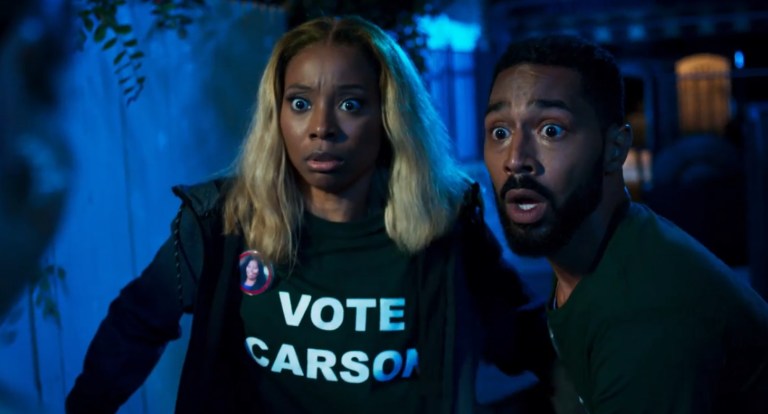 What I Like
Each story remains unique, holding different strengths and weaknesses that highlight drastically different perspectives. Collections like VHS hold a similar premise to create their collection, but Horror Noire gives more creative freedom to its talent to be independent.
My personal favorite short film is Zandashé Brown's "Bride Before You." This period piece unravels a fable set in the Reconstruction Era. The entry feels Fabulistic in approach, which happens to be my preferred niche.
However, the best example of horror goes to Robin Givens' "Daddy," providing an existential horror tied directly to the characters involved.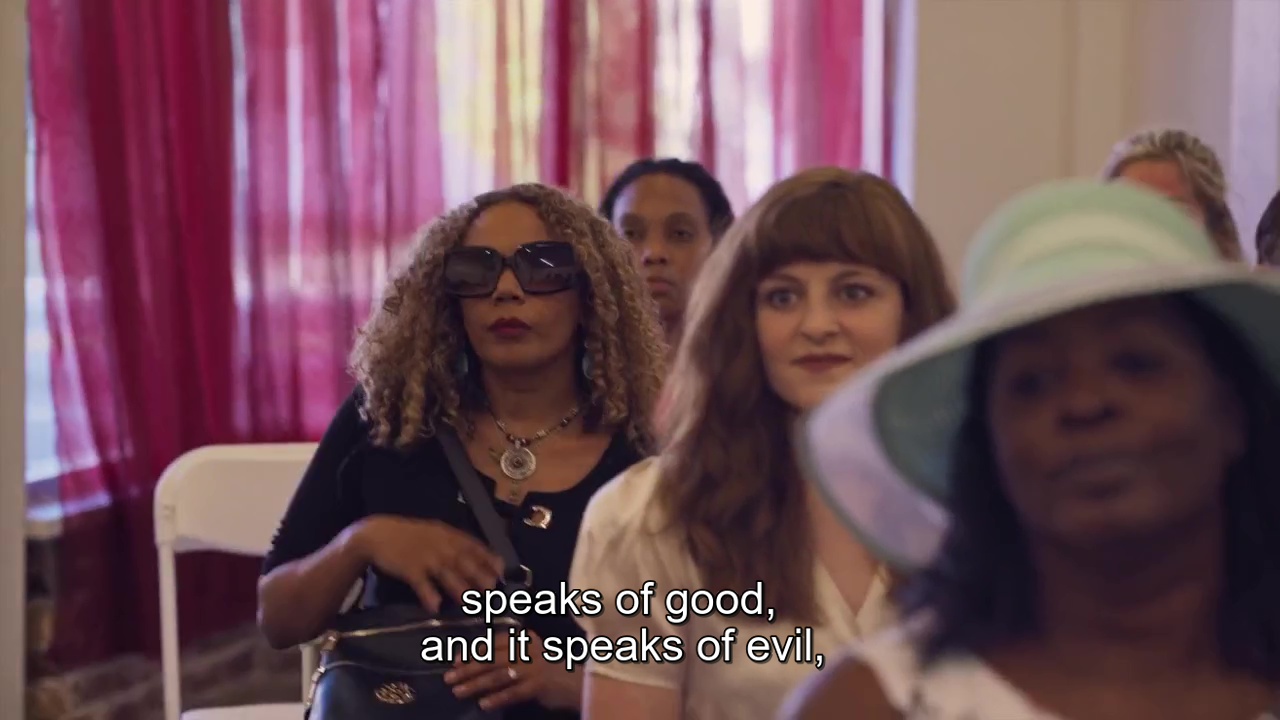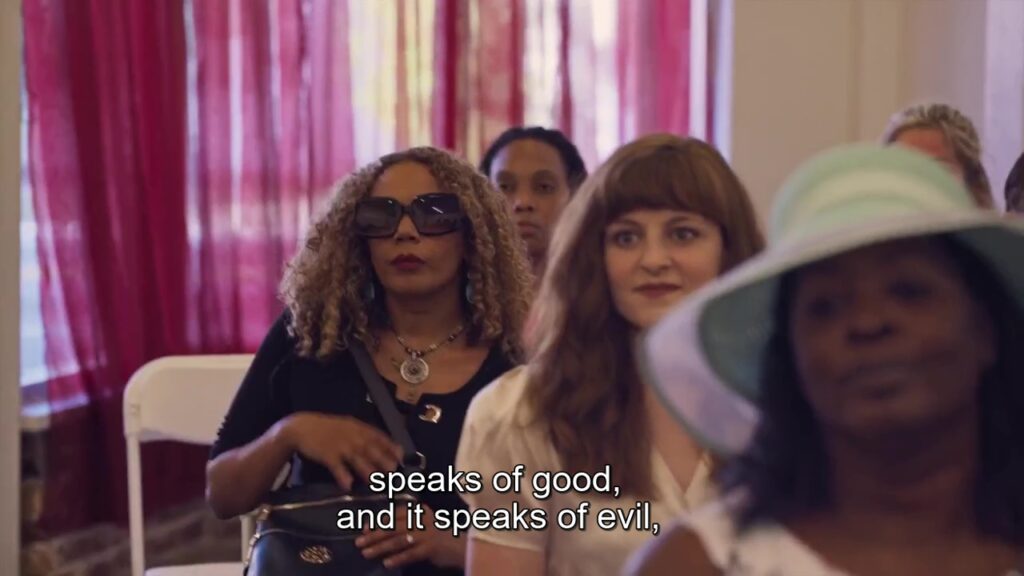 What I Dislike
As mentioned, all have a particular style and idea. The downside of this approach always remains to keep the viewer interested long enough to find their favorite. If you find several underwhelming choices, this becomes a chore. But I imagine that is rare as the variety makes the options refreshing.
Personally, "Brand of Evil" had an interesting premise, but the execution fell short. On paper, it might have sounded like my favorite, which makes the lackluster execution a bigger letdown.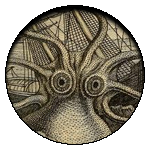 Final Thoughts
Horror Noire gives power and control to Black creators, providing a formula for a unique collection against others in the space. While the various subjects and approaches mean you aren't likely to love them all, there should be a short film for everyone.

(3.5 / 5)
Episode six of Netflix's Dahmer was not, honestly about our title character. Instead, it was about one of his victims, a man named Tony. We've actually seen Tony a few times during this series. We just didn't know it was him.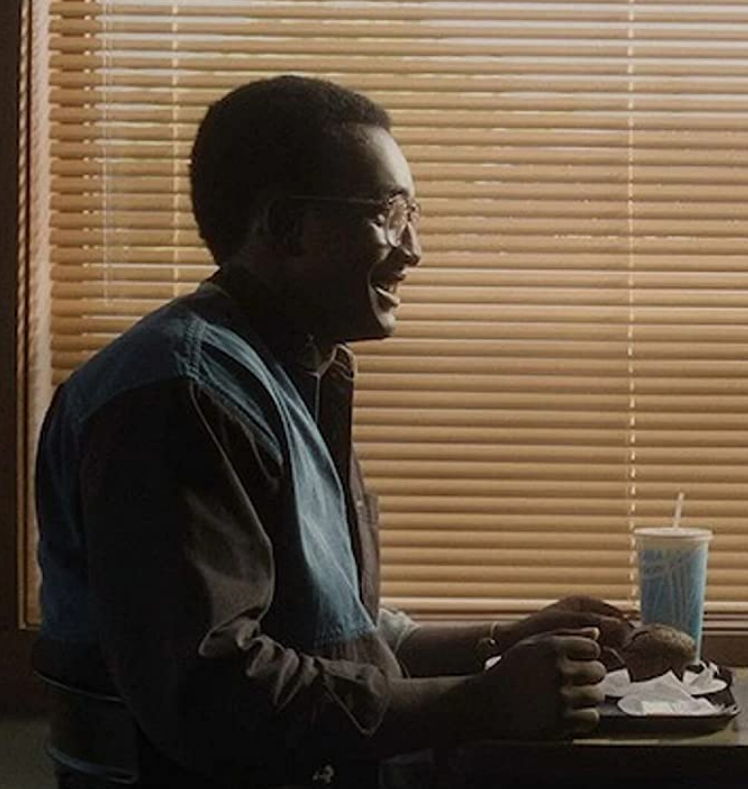 And, well, he wasn't exactly alive the first time we saw him.
Tony was born into a supportive, loving family. This is good because soon after he was born a viral infection took his hearing. He is black, deaf, and gay in the early 90's.
Tony has a dream of becoming a model. And he certainly has the looks for it. He is beautiful, body and soul. He has lots of opportunities for romance, but it's not what he's looking for. He wants a real relationship.
Eventually Tony moves to Madison, trying to pursue his dream. He gets a job and starts getting modeling work.
Then, he meets Jeff Dahmer at a bar.
At first, we can almost believe that it's going to be alright. Jeff seems happy. He's taking care of himself. He's not drinking as much. He even has his dad and stepmom over for dinner. It seems like his life is getting on track. Even better, he's treating Tony right.
Then, of course, things go bad.
One thing that has always bothered me as a true crime fan is that we know so much about the killers, but not as much about the victims. Not so much if we don't know who the killer is, of course. But the names that are part of our pop culture are those of the killers. Dahmer, Manson, Jones, Bundy, Holms. The names we don't know are Roberta Parks, Beth LaBiancas, Leno LaBiancas, and Tony Hughes. And clearly, we should know them.
If Tony Hughes was half the shining, positive person that the show Dahmer made him out to be, I'm so sad that he isn't with us anymore. We need so many more people like him. And many of Dahmer's victims were likely just like him. After all, he was attracted to them for a reason.
This was a significant episode, and I understand why it's the highest-rated episode of the series. I finished it with a heavy heart, saddened by the loss of a man who should still be with us today. 

(5 / 5)