Another Christmas has come and gone and with it we approach the final days of 2022. Presents have been vigorously unwrapped from under our trees as we spent time with our families nestled snug by a warm fire ingesting copious amounts of holiday treats and hot cocoa. However, for genre fans like myself, new horror films centralized around Christmas are easily one of the most exciting parts of the holidays. Thankfully this year, Shudder has graciously gifted us with a yuletide horror story that puts a clever new spin on the "killer Santa" trope with writer/director Joe Begos (VFW) 'Christmas Bloody Christmas'.
Twas the bloody night before Christmas..
When it comes to holiday horror films, especially killer Santas, there are numerous different approaches, some more strong than others. Many have tackled this subgenre with massive success such as the classic 1984 'Silent Night, Deadly Night' and 1980's 'Christmas Evil'. Others have chosen more unconventional routes like the 2005 horror comedy 'Santa's Slay' starring former professional wrestler Bill Goldberg as Kris Kringle. Or the equally bonkers 2010 Finnish horror film 'Rare Exports' in which Saint Nicolas is portrayed as a massive holiday demon entombed within ice. With 'Christmas Bloody Christmas', Begos takes this familiar holiday stereotype and flips it on its head by presenting us with a Terminator-like robot Santa appropriately named RoboSanta+ (Abraham Benrubi). Designed by the US department of Defense to replace the lackluster drunken mall Santas across the country, RoboSanta+ comes equipped with state-of-the-art technology with full range motion, a vocabulary of over 90,000 words, and military grade construction perfect for security defense; what could go wrong?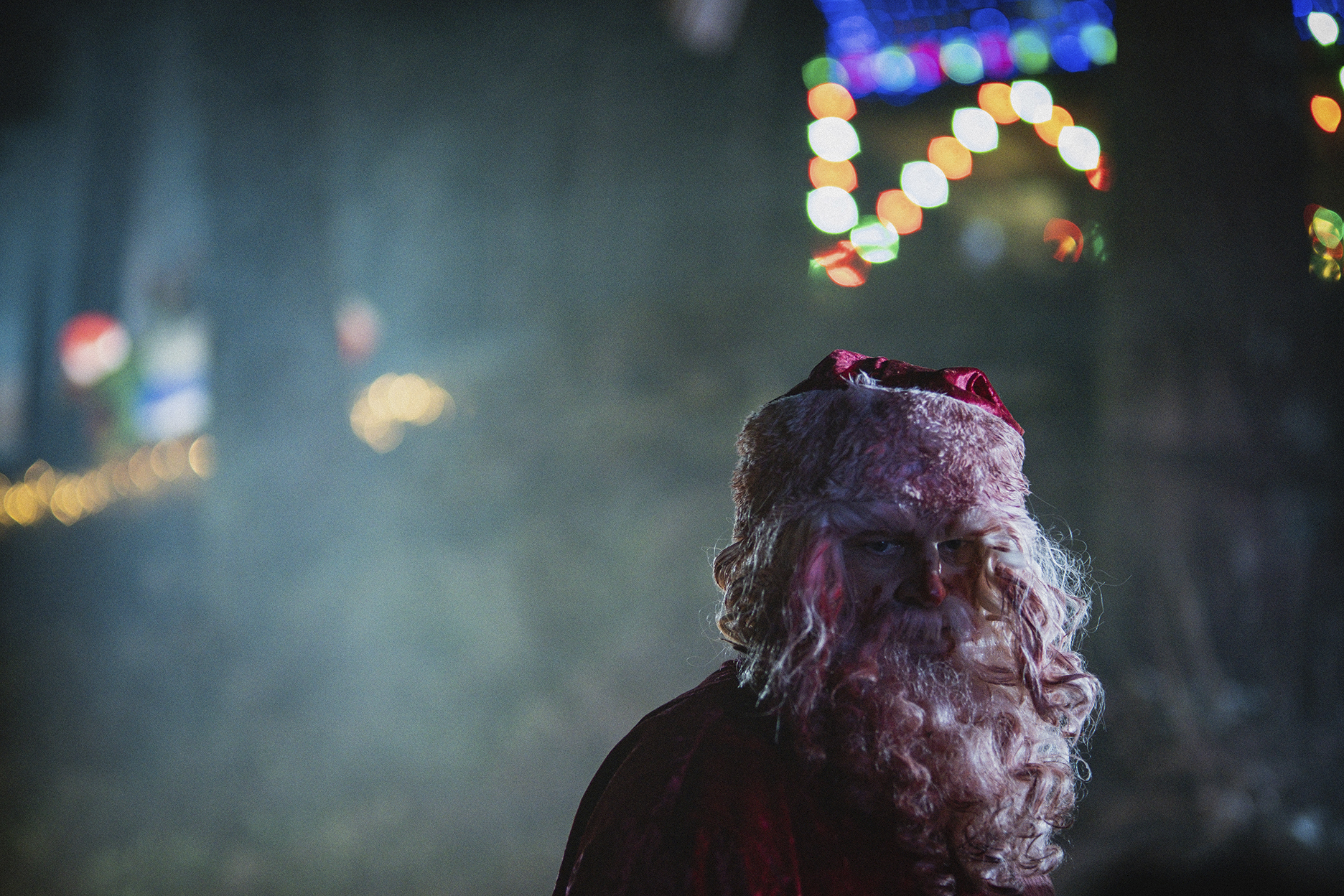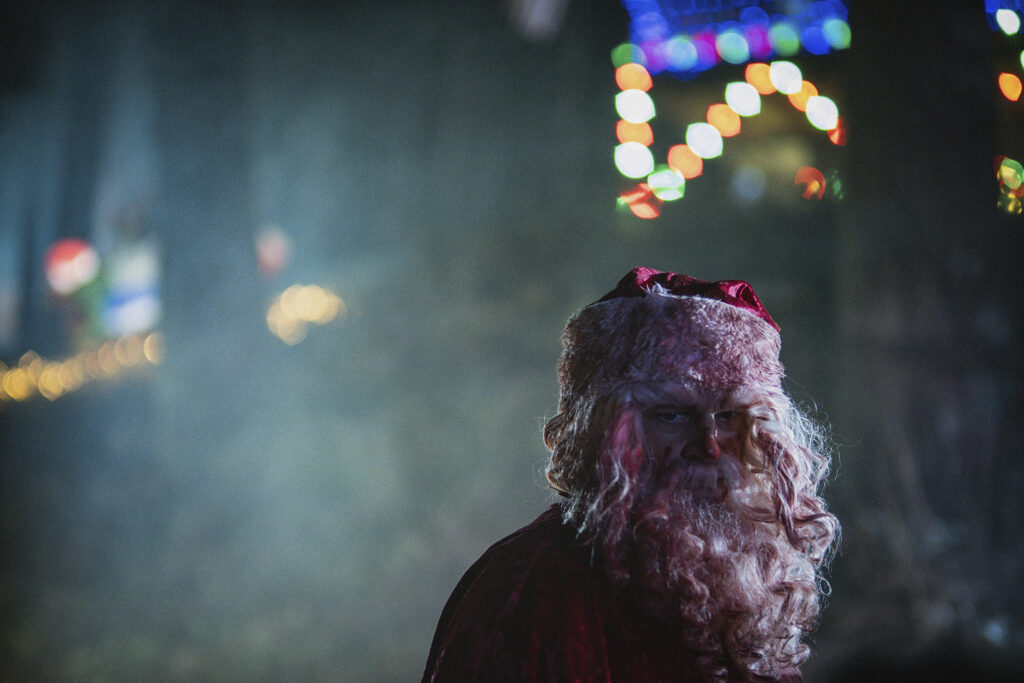 Set during Christmas Eve, 'Christmas Bloody Christmas' opens with a brief sequence of infomercials, one of which explaining the high-tech features of our RoboSanta+ capturing that sense of early 80's-90's channel surfing nostalgia. We are then introduced to the films lead, slacker girl and record shop owner Tori Tooms (Riley Dandy) and her friend/employee Robbie Reynolds (Sam Delich). Following a cheeky conversation in which he convinces her to bail on a date she had previously scheduled a few days prior, a news announcement from the films local television station broadcasts the total recall of RoboSanta+ due to unspecified malfunctioning reasons. As the night of drinking and debauchery ensues with their friends Lahna (Dora Madison) and Jay (Jonah Ray), the films killer robot Santa sparks to life and begins his night of blood-drenched slaying leaving Tori and Robbie with a less than merry Christmas.
RoboSanta+'s Nice List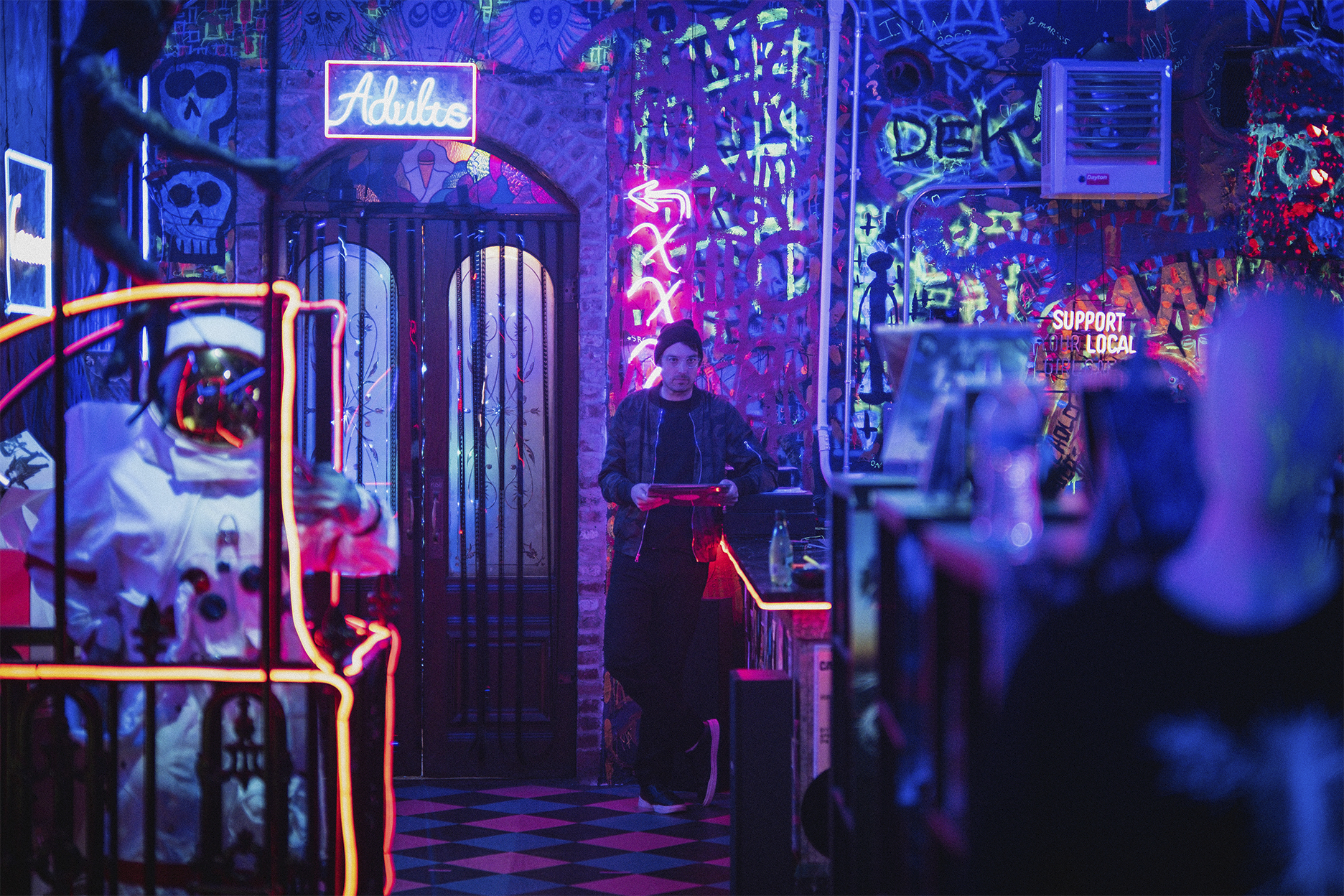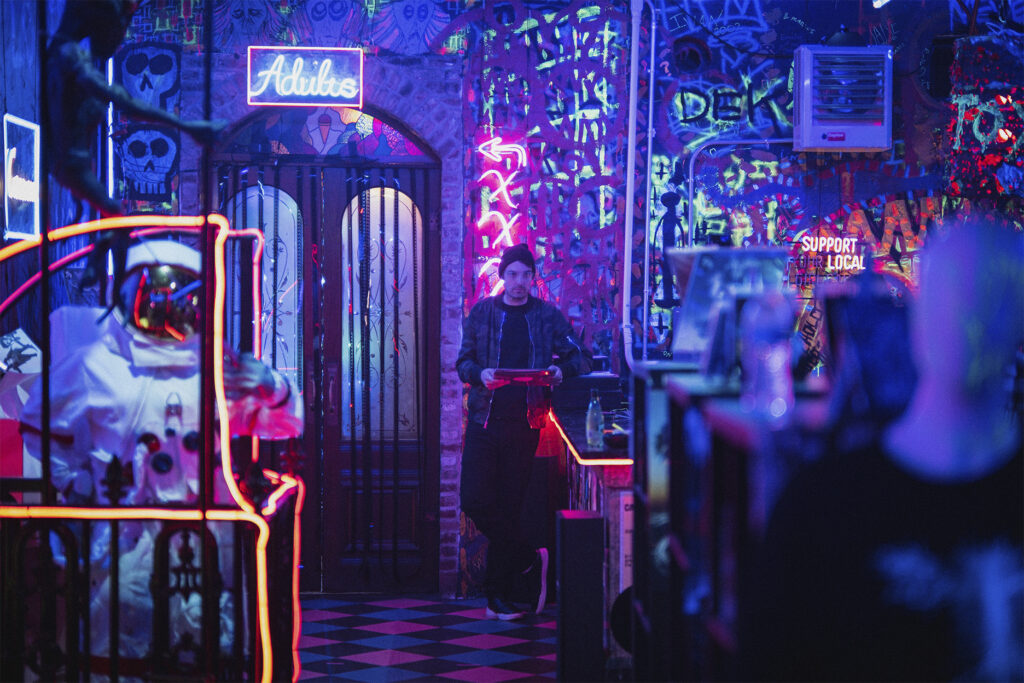 Clocking in at under 90 min, 'Christmas Bloody Christmas' feels perfectly paced, starting off at first as non-stop grindhouse slasher only to quickly evolve into a tense siege film. Though the set designs are minimal, they're beautifully lit and well enclosed; from the bar and sheriff's department, to the local toy store, each location feels creatively unique and wholly utilized. As with Begos' previous film 'Bliss', visually, 'Christmas Bloody Christmas' is a festive treat. His signature use of neon colors splashes the screen with vivid delight. Due to Christmas Bloody Christmas being shot on 16mm, the grainy film only accentuates the bright shades of red and green mixed with cool purples and hot pinks. The film's high-octane energy and carnal slaughter is only amplified by the impeccable score provided by Steve Moore, emphasizing every chaotic moment happening on screen.
RoboSanta+ is especially vicious as he wields his crimson axe butchering bodies in grisly fashion. The first kill we witness after he powers on is cleverly shot through his perspective as we watch him slice through his victim in one fluid swipe. What makes his character even more terrifying isn't his nearly indestructible frame nor the way in which he chops through multiple victims' heads with brute strength, but rather the way in which he relentlessly hunts Tori and Robbie, like an unstoppable force. As he sustains more damage throughout the film, we see the masterful practical effects of his metallic skeleton and illuminating green laser eyes. The carnage candy is gruesome as heads are chopped in-two, bodies are flung like ragdolls, and blood-splatter paints our characters and killer Terminator Santa bright red.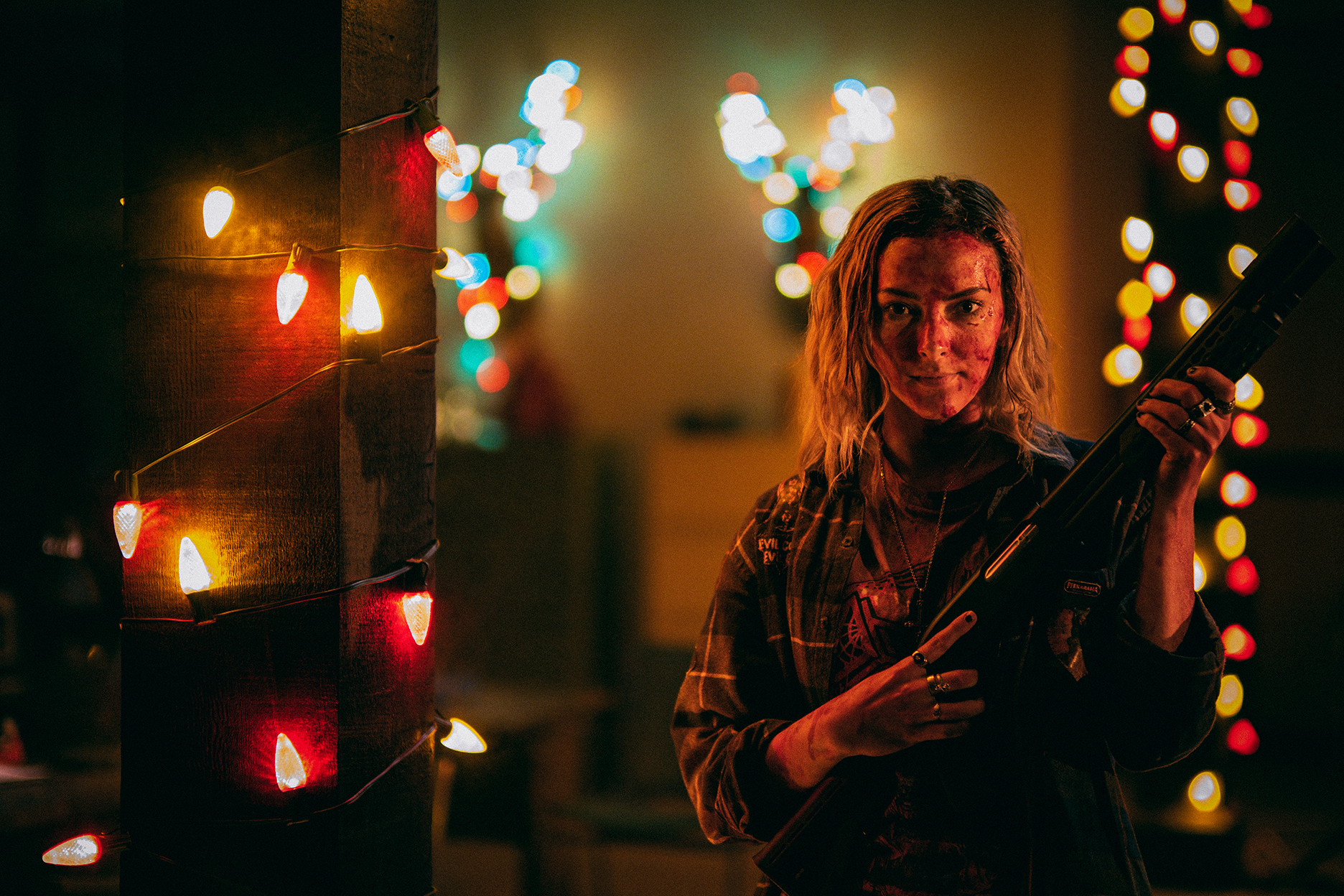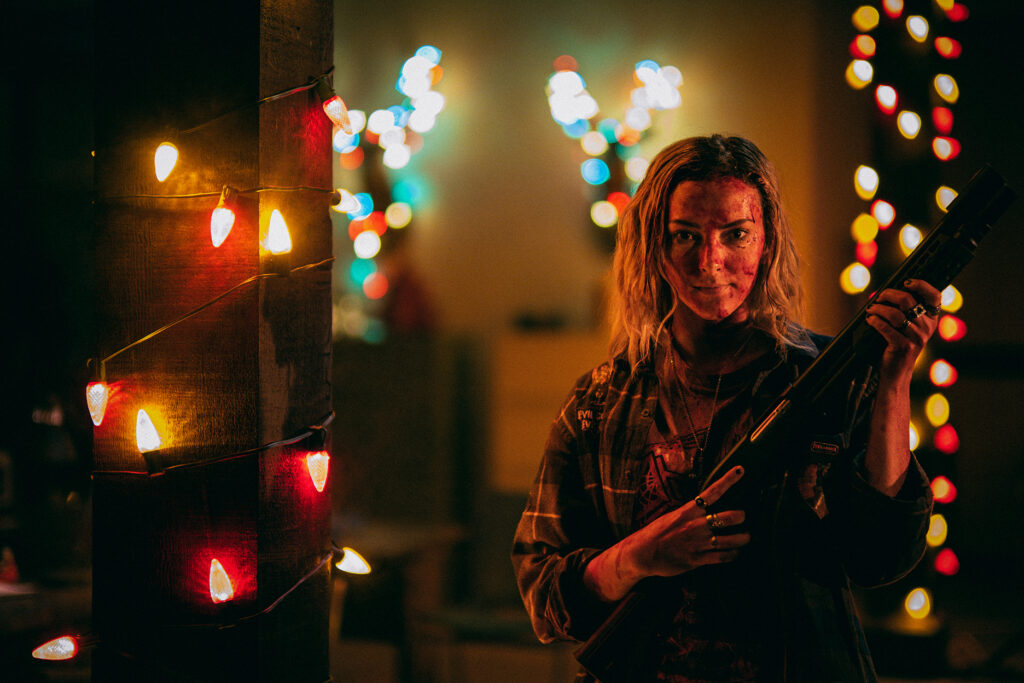 Adding to the non-stop chaos are the strong performances Riley Dandy and Sam Delich bring to Tori and Robbie. The dialogue exchanges between their characters, though often vulgar, feel natural. This is in part because of the well-crafted script and on-screen chemistry between the two actors. Mixed with casual conversations of which horror movie sequel outranks whose and best metal albums, a sexual tension increasingly grows between the two until its resolve in sensual flare. Tori is especially captivating as she is filled with spit-fire charisma and an alluring personality. She is outspoken, wild, and the epitome of a sexually liberated independent woman who's immediately likeable. As the film progresses, we see her evolution into a strong final girl as she fights back against her robotic pursuant, becoming her own Sarah Connor in the process.
Where Robo-Santa's Gears need Tinkering
For as fun as the conversations are between Tori and Robbie, their salacious nature at times can be off-putting. Begos isn't shy when it comes to crude dialogue, as every character for the most part has the mouth of a sailor. There are few sentences throughout the film that do not incorporate at least one or two f-bombs peppered with some other curse word reminiscent of a Rob Zombie film. Though I'm not typically bothered by coarse language in a film, there are times where 'Christmas Bloody Christmas' relies on it so much, it almost feels forced in some ways. This detracts from the natural flow of some of the conversations and can make their characters feel a bit childish. Throughout the first half of the movie Tori and Robbie are so wrapped up in their conversations while continuously drinking and getting high, completely oblivious to the havoc around them. The only character who receives ample development in the story is Tori, which is a bit disappointing as Robbie's character has missed potential for growth. Other characters that are introduced such as Jeff Daniel Phillips' ('The Lords of Salem' and '31') Sheriff Monroe and Officer Smith (Jeremy Gardner; 'The Battery' and 'After Midnight') play no significant role in the film's plot apart from providing a standout scene involving the town's local police station and extra body count.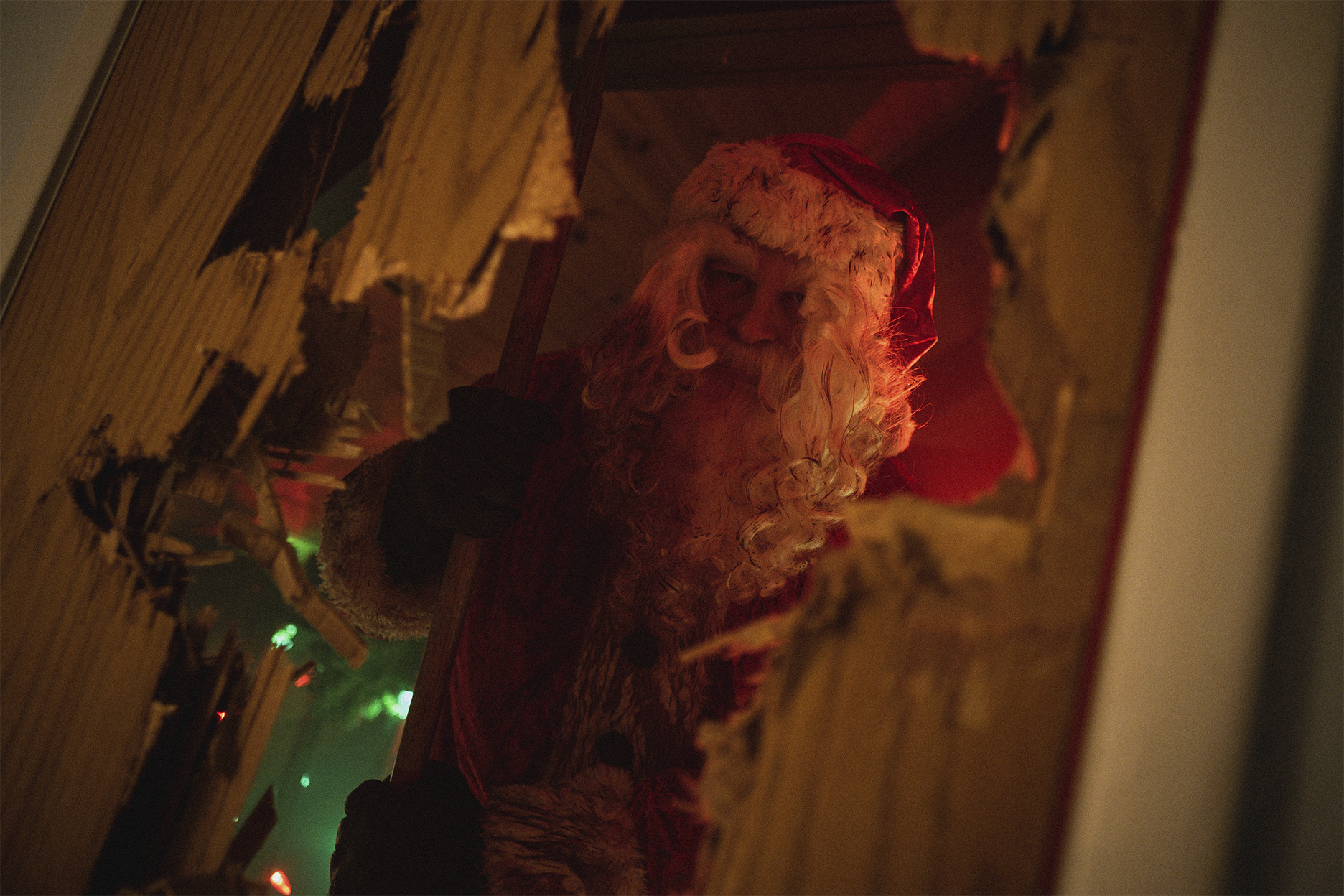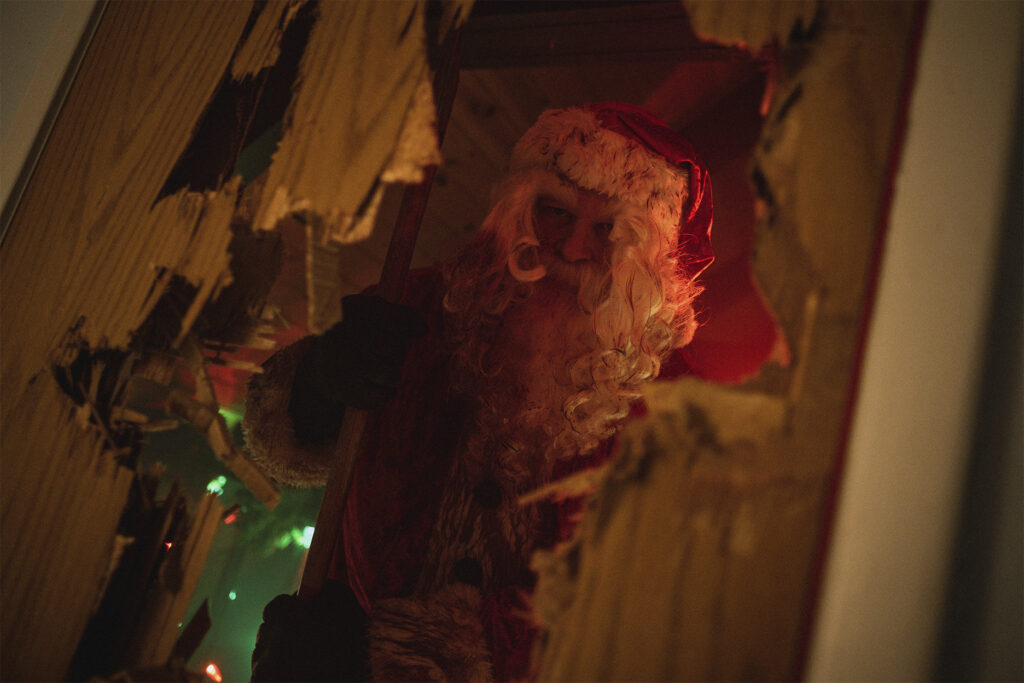 Speaking of the body count, when it comes to the deaths displayed on screen, though as merciless and creative as they are, some are recycled while a couple of others happen off screen. This is a bit disappointing as the ones we are shown are quite brutal. However, this comes with the exception of one for me personally. During the second act of the film before realizing RoboSanta+ is on the hunt for her and Robbie, Tori witnesses the killer robot brutally murder a small boy in his living room while she stares out of her kitchen window. What makes this death even more disturbing is the use of his body after the fact, as the prosthetic doll is used as a means of physical entry and a lifeless shield of defense. I am usually not bothered by most deaths in horror films but, when it pertains to certain deaths such as animals and especially children, I do find myself becoming withdrawn from the film. Though I understand these are moments meant to reflect the monstrous nature of the film's villain detaching him from any real human empathy, for me there is a point where certain deaths feel either unnecessary or added for shock value, rather than true story progression. This scene would have been more impactful to me had his death been heavily implied or altered in a way that utilizes an adult character or, simply leave the boy alive to find his butchered family.
Merry Christmas Bloody Christmas!
'Christmas Bloody Christmas' is a gruesome film with off-the-wall visuals and hypnotic colors creating a wildly unabashed yuletide slasher. Though Begos never answers the questions as to why RoboSanta+ malfunctions or why he is mercilessly stalking his victims, this does not diminish my enjoyment from the visual experience. 'Christmas Bloody Christmas' knows what type of film it is and accomplishes its goal with excellence. The story is not bogged down with complex technicalities, the on-screen deaths soak the screen in blood, jaw dropping practical effects with enriched set designs, and dialogue that feels aesthetically natural. While the script can be extreme at times, Riley Dandy steals the light with her powerful performance echoing final girl icons before her. Filled with 80's grindhouse nostalgia soaked in a neon color palette, Begos delivers 'Christmas Bloody Christmas' wrapped in a gory bow that is sure to become a new holiday horror favorite amongst genre fans.
'Christmas Bloody Christmas' is now streaming exclusively on Shudder. Be sure to check out all of our other holiday horror reviews, as well as our festive yuletide tales of terror: The Twelve Nightmares of the Holidays; 12 short holiday horror stories written by fellow HauntedMTL reviewers and authors, including 'Coming to Town' by yours truly.

(3 / 5)
Episode seven of Netflix's Dahmer brings the spotlight, finally, to the hero of our story. Glenda Cleveland. 
Glenda was Jeff's neighbor. And honestly, I can't think of a worse neighbor. A horrific stench is always coming from his apartment. He has people over, and they make a lot of noise.
While they're dying.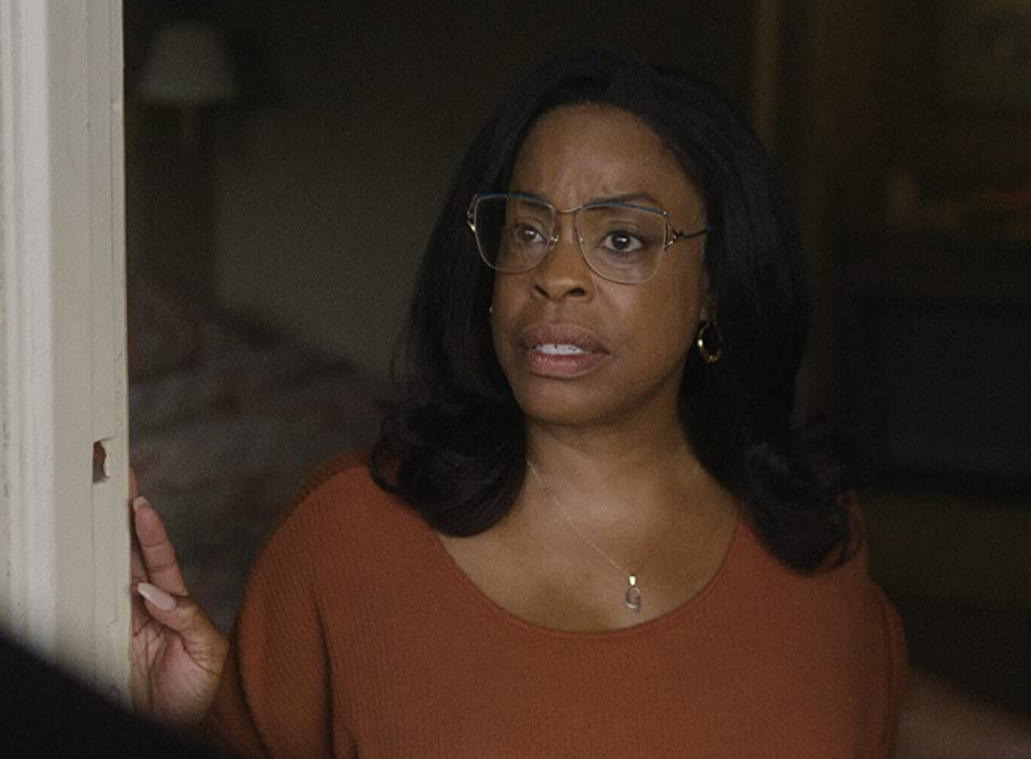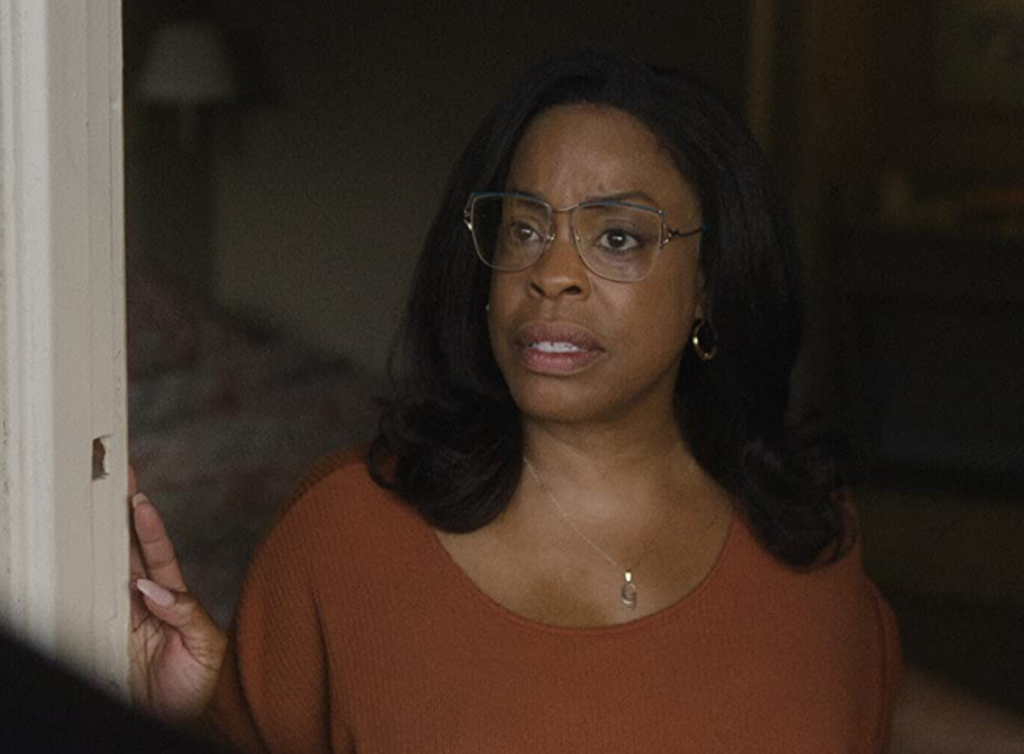 If you'll recall episode one of Dahmer ended with all of his neighbors, including Glenda, being forced to leave their homes. The whole building was declared a crime scene. They're not given any place to go, of course.
Everyone's got a few thousand dollars socked away for an unexpected motel stay, right?
Fortunately, Glenda was able to get a motel room. And that's where she is when Reverend Jesse Jackson finds her.
Glenda pours out her story to Reverend Jackson. The rest of the episode consists of her dark and troubling encounters with Dahmer.
The most compelling scene, I think, is when Dahmer brings Glenda a sandwich. He's being evicted, and he knows it's because she's been complaining about the smells coming out of his apartment.
He tries to pour on his little boy charm. He tells her that he got his apartment cleaned, just for her. He brings her a pulled meat sandwich as a present.
Notice I don't say pulled pork, because I'm fairly sure it was human meat. Or, it was just drugged.
Or both.
This episode just hummed with tension and rage. I was so happy to see Reverend Jackson tear into the police in the most polite way possible. I hated seeing what Glenda went through. And even though I know she lives through this horrific encounter, I held my breath the entire time she was alone with Jeff.
Dahmer is certainly not afraid to jump back and forth between the past and present. But they are careful to never do it in such a way that I felt lost. And I honestly think this was the best way to do it. 
The reason for this is that it adds a level of suspense that Dahmer might have lacked without it. Suspense is something that true crime stories can lack. Especially well-known ones. We have heard this story before. We know how it ends. But in presenting the tale this way, first from one point of view and then another, it reveals sides of it that we may not have seen before.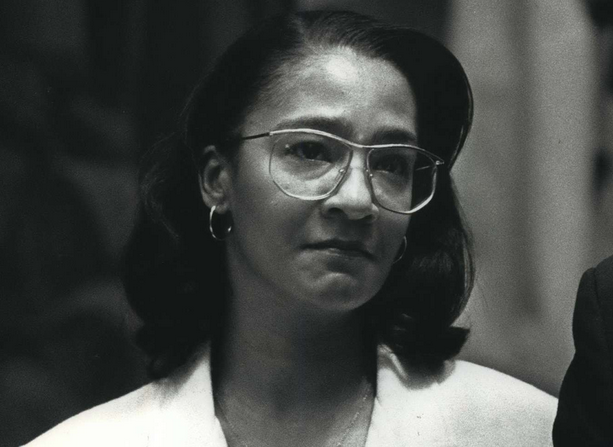 I loved seeing the story from Glenda's point of view. She was brave, determined, and selfless. She had every right to be furious at the way the police dismissed her concerns for years. And yet she continued to handle everything professionally. She never stopped trying to help people, even when no one else seemed to care. And for that, she is a true hero. 
(4 / 5)
Review: I Know What You Did Last Summer (1997)
The second half of the 1990s was a comeback of the slasher sub-genre, thanks to Wes Craven's Scream. It was precisely because of its success that Kevin Williamson was able to pitch the script for I Know What You Did Last Summer. An extremely loose adaption of the book of the same title, it follows a group of teenagers who drunkenly commit a hit-and-run. They decide to – what a surprise – get rid of the body to get away with it. Let's have a look at why this film is a cult classic of its kind, shall we? 
Top not atmosphere makes a big difference
I must've said this in one of my previous reviews but to me at least, the setting in a movie can make or break the viewing experience. In I Know What You Did Last Summer, I always found it a paradox and also highly effective that the action occurs in a fishing town with tons of open land and the sea. However, the characters feel trapped to the point of suffocating by the choices they made because, despite all the roads leading out, they always end up back there.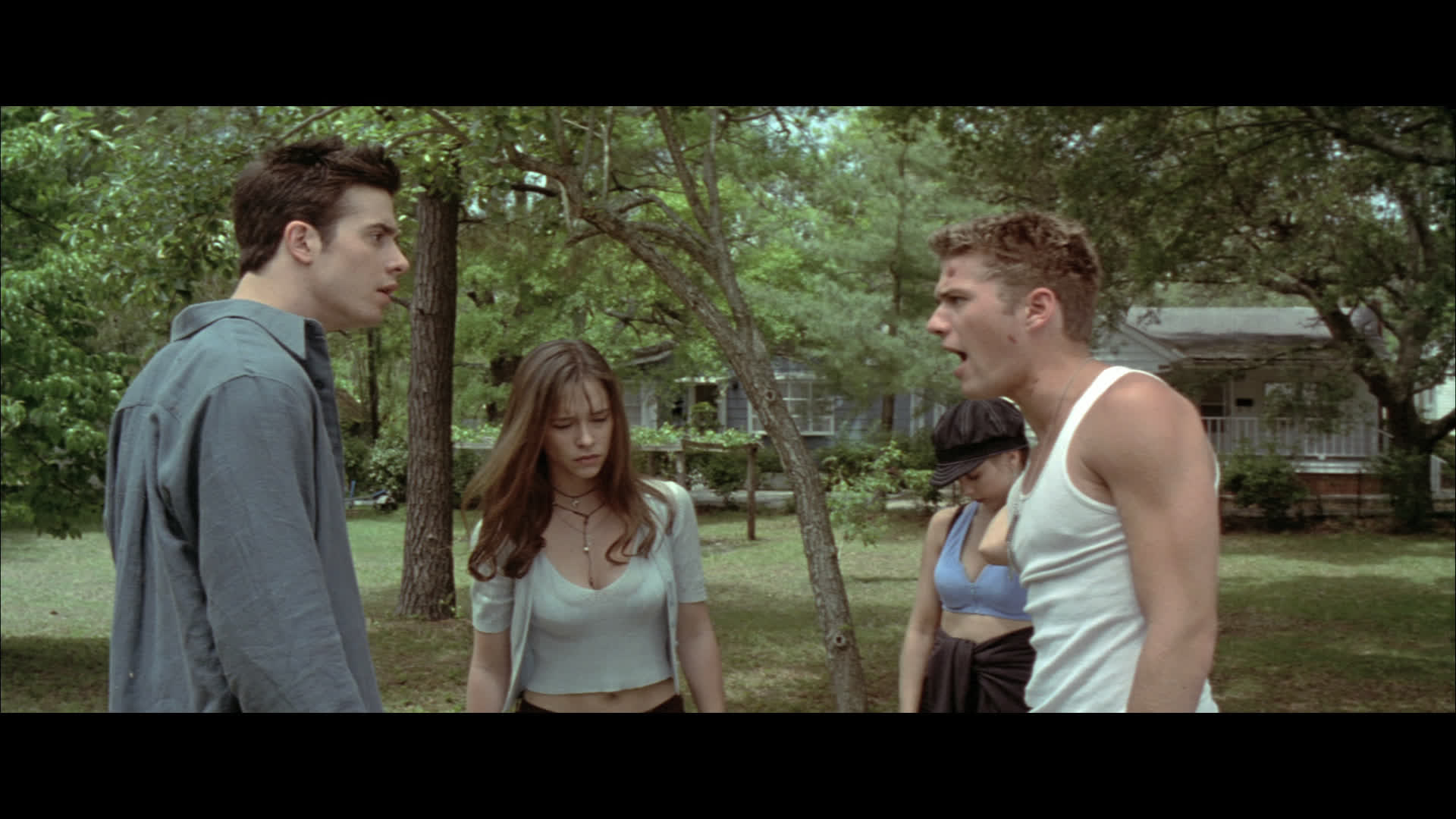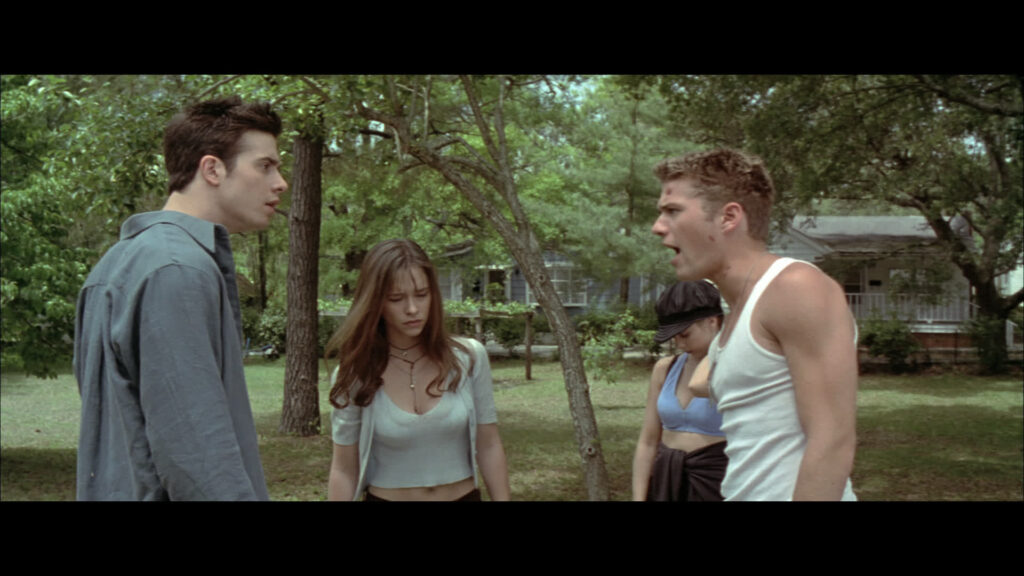 Their small town is living in its own little utopia with beauty pageants, firework displays, and unsurprisingly, not a single person the group can turn to for help. I thought it was really well done and it doesn't hurt cinematography in general is beautiful.
Would the suggestions of the fans make sense?
Something that the fans of the movie have long debated is that they needed to swap the final girls of the movie, killing off Julie and making Helen the survivor. A lot of factors contribute to this. Sarah Michelle Gellar is phenomenal in her role and with all respect to Jennifer Love Hewitt, her portrayal pales a bit in comparison. Helen's chase scene is one of the best if not the best in horror with how hard she fought for survival and how close she was to safety. On the contrary, Julie's chip on the shoulder got on a lot of people's nerves, mine included sometimes.
One has to think of the narrative purpose of the two characters. Julie serves as the outright goody two shoes, the one who actively fights Barry to go to the police, and the one who shows the most obvious remorse for what they've done. Helen is meant to be the ditsy blonde, however, throughout the movie, she's shown to have more going on and that the incident affected her just as much even if it wasn't so transparent.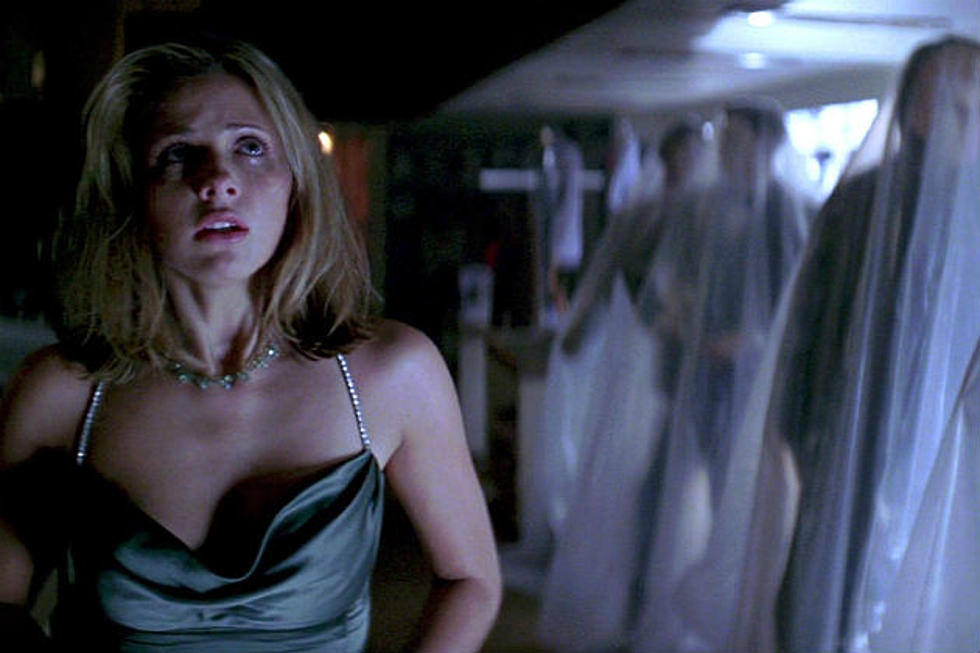 Her endurance throughout the chase is a nice juxtaposition to the role she is meant to play, and to Julie's scene later on (again, with all due respect, she does nothing apart from scream and run a bit) and the fact that she still dies after it gives a good gut punch that actually makes you care about these people despite their more than questionable decisions.
When it comes to the guys, I don't actually have much to say. Barry is a classic jerk stereotype and Ray is a glaring red herring throughout the movie (I would also say Freddy Prince Jr was the weakest actor out of the four but again, I am no acting coach, just my opinion).
Final impressions
To sum up my thoughts on I Know What You Did Last Summer – it definitely has its flaws and asks the audience to suspend their disbelief (even for slasher standards). Regardless, it's a staple entry of the genre and the 90s due to its atmosphere, tension-building, and for the most part decent acting. A must-have in your collection for horror buffs. No wonder it inspired a loosely based TV adaptation (its success is debatable but the thought still counts, right?)
The Last Drive-In: Joe Bob's Vicious Vegas Valentine Special Live Watch Party February 10th!
The sweet putrid stench of love lingers through the air which can only mean one thing…Valentine's Day and its annoying little winged cherub mascot, Cupid, is fast approaching. Soon, partners will be spoiling one another with extravagant bouquets of roses, heartfelt Hallmark cards, obnoxiously large teddy bears, glistening diamond jewelry, and heart-shaped candies or boxes filled with assorted mediocre chocolates. You know? Normal things couples do. I tend to prefer my chocolate boxes filled with bleeding hearts, à la 'My Bloody Valentine' but, beggars can't be choosers, right? All jokes aside, Valentine's Day is special for many couples, however, there are also many others who find themselves celebrating this day without a significant other. Luckily, Shudder, along with drive-in king Joe Bob Briggs and co-host Darcy the Mail Girl (Diana Prince) will graciously be keeping us lonely mutants', and yes, all you horror fanatic couples' company on Friday, February 10th as they return with The Last Drive-In: Joe Bob's Vicious Vegas Valentine, premiering live at 9pm EST.
Love Spells Abound…
Back in 2021, Joe Bob and Darcy invited us to a gruesomely passionate night of spell-binding love witches and animatronic dinosaurs infused with teenage human brains during The Last Drive-In: Joe Bob Put a Spell on You. Many, including myself, were introduced to the tantalizing 70's inspired retro throwback 'The Love Witch' and the graphically goofy cult classic 'Tammy and the T-Rex', providing the perfect viewing pleasure to mend any broken heart. While the two films for this year's morbid love-induced special have yet to be announced, as a special treat, Briggs has announced for the first time on The Last Drive-In, he will be marrying one lucky couple during the live showing. We here at HauntedMTL are eagerly awaiting the return of the ghoulish duo so, as is tradition, we will be proudly hosting a watch party on Twitter during the broadcasting of The Last Drive-In: Joe Bob's Vicious Vegas Valentine. Be sure to follow us on Twitter and tag us @hauntedMTL as well as @shudder, @therealjoebob, and @kinky_horror to partake in this night of unholy love.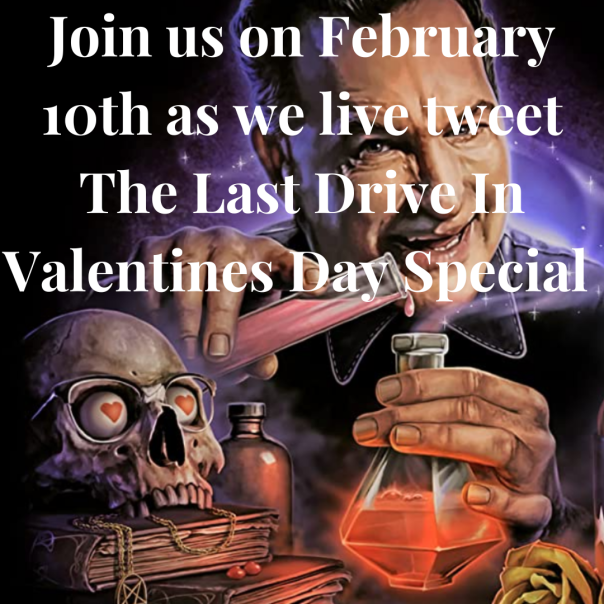 What started off as a one-time special premiering on Shudder July 13, 2018, 'The Last Drive- In' was originally meant to be Brigg's swan song; one last special before hanging up the bolo tie in retirement. However, due to so many mutants, excuse me…viewers tuning in and breaking the Shudder servers, it was only natural to announce an official full season of 'The Last Drive-In', which would make its explosive debut March 19, 2019. Since then, Darcy and Briggs have spawned many exclusive holiday specials, have graciously donated to many charities within the community, and have accumulated 4 seasons of 'The Last Drive-In', with a fifth currently in production premiering on Shudder's 2023 schedule sometime this year, let's hope sooner rather than later.