Another Christmas has come and gone and with it we approach the final days of 2022. Presents have been vigorously unwrapped from under our trees as we spent time with our families nestled snug by a warm fire ingesting copious amounts of holiday treats and hot cocoa. However, for genre fans like myself, new horror films centralized around Christmas are easily one of the most exciting parts of the holidays. Thankfully this year, Shudder has graciously gifted us with a yuletide horror story that puts a clever new spin on the "killer Santa" trope with writer/director Joe Begos (VFW) 'Christmas Bloody Christmas'.
Twas the bloody night before Christmas..
When it comes to holiday horror films, especially killer Santas, there are numerous different approaches, some more strong than others. Many have tackled this subgenre with massive success such as the classic 1984 'Silent Night, Deadly Night' and 1980's 'Christmas Evil'. Others have chosen more unconventional routes like the 2005 horror comedy 'Santa's Slay' starring former professional wrestler Bill Goldberg as Kris Kringle. Or the equally bonkers 2010 Finnish horror film 'Rare Exports' in which Saint Nicolas is portrayed as a massive holiday demon entombed within ice. With 'Christmas Bloody Christmas', Begos takes this familiar holiday stereotype and flips it on its head by presenting us with a Terminator-like robot Santa appropriately named RoboSanta+ (Abraham Benrubi). Designed by the US department of Defense to replace the lackluster drunken mall Santas across the country, RoboSanta+ comes equipped with state-of-the-art technology with full range motion, a vocabulary of over 90,000 words, and military grade construction perfect for security defense; what could go wrong?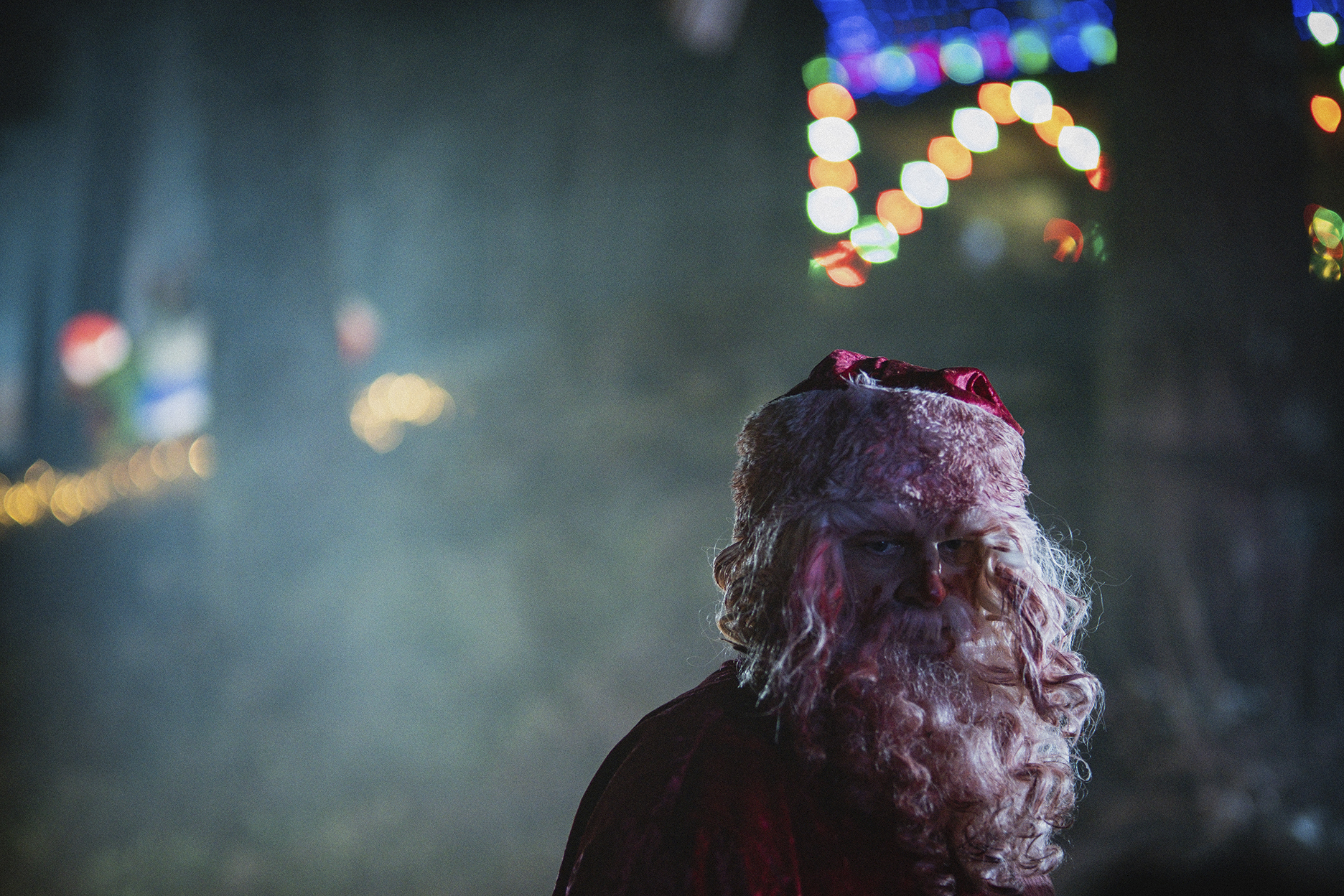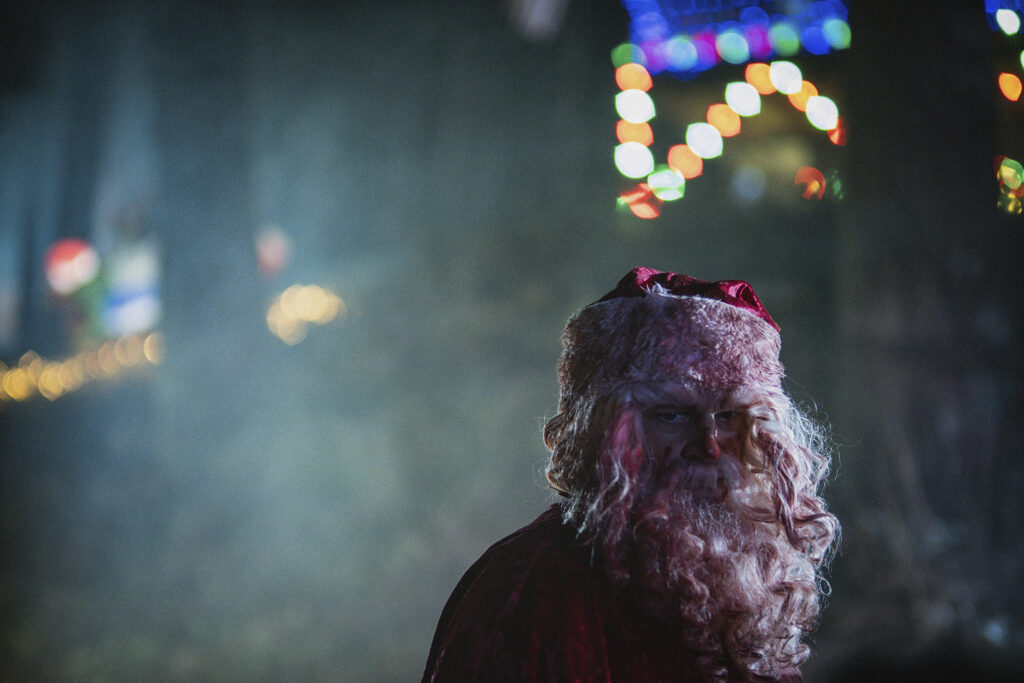 Set during Christmas Eve, 'Christmas Bloody Christmas' opens with a brief sequence of infomercials, one of which explaining the high-tech features of our RoboSanta+ capturing that sense of early 80's-90's channel surfing nostalgia. We are then introduced to the films lead, slacker girl and record shop owner Tori Tooms (Riley Dandy) and her friend/employee Robbie Reynolds (Sam Delich). Following a cheeky conversation in which he convinces her to bail on a date she had previously scheduled a few days prior, a news announcement from the films local television station broadcasts the total recall of RoboSanta+ due to unspecified malfunctioning reasons. As the night of drinking and debauchery ensues with their friends Lahna (Dora Madison) and Jay (Jonah Ray), the films killer robot Santa sparks to life and begins his night of blood-drenched slaying leaving Tori and Robbie with a less than merry Christmas.
RoboSanta+'s Nice List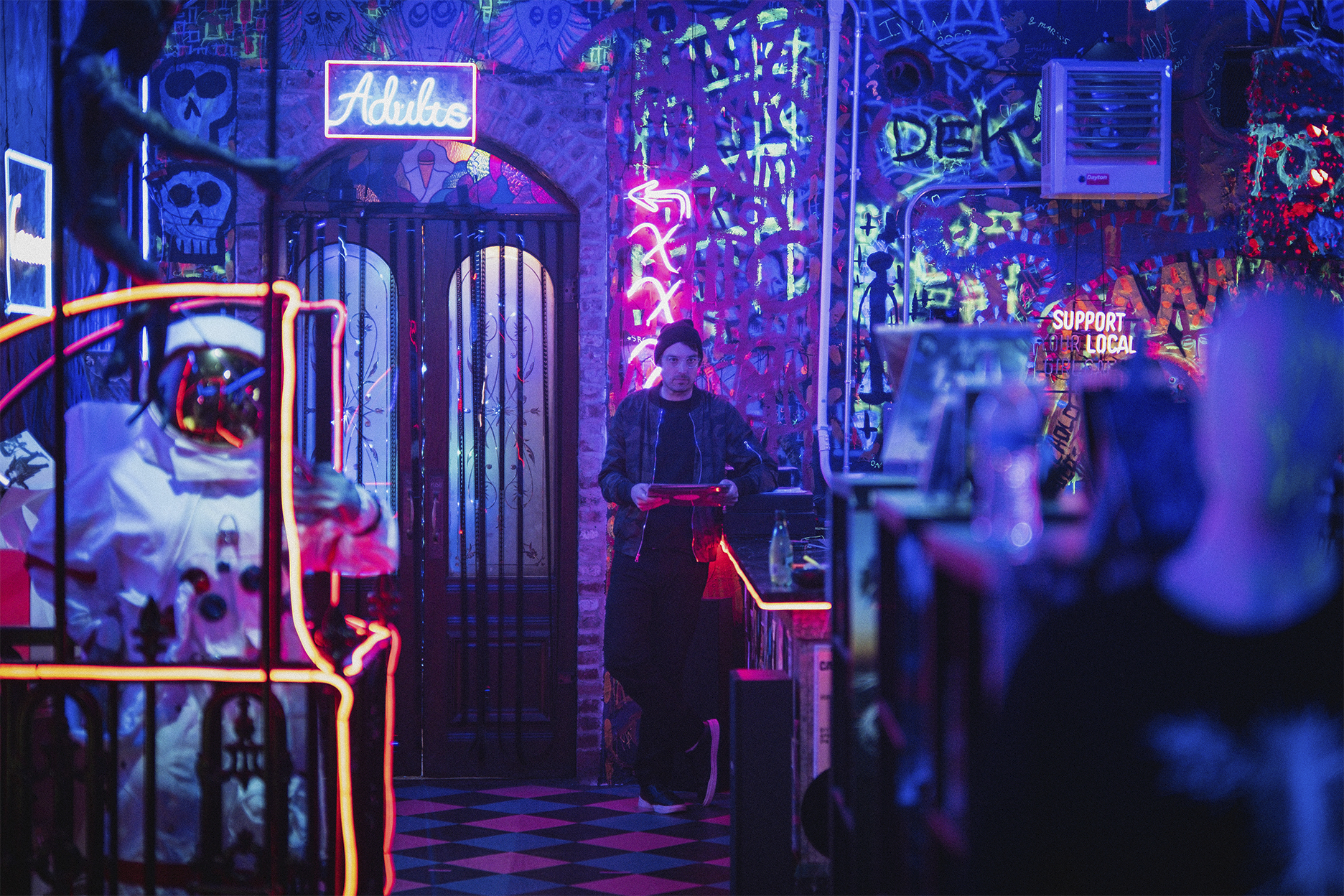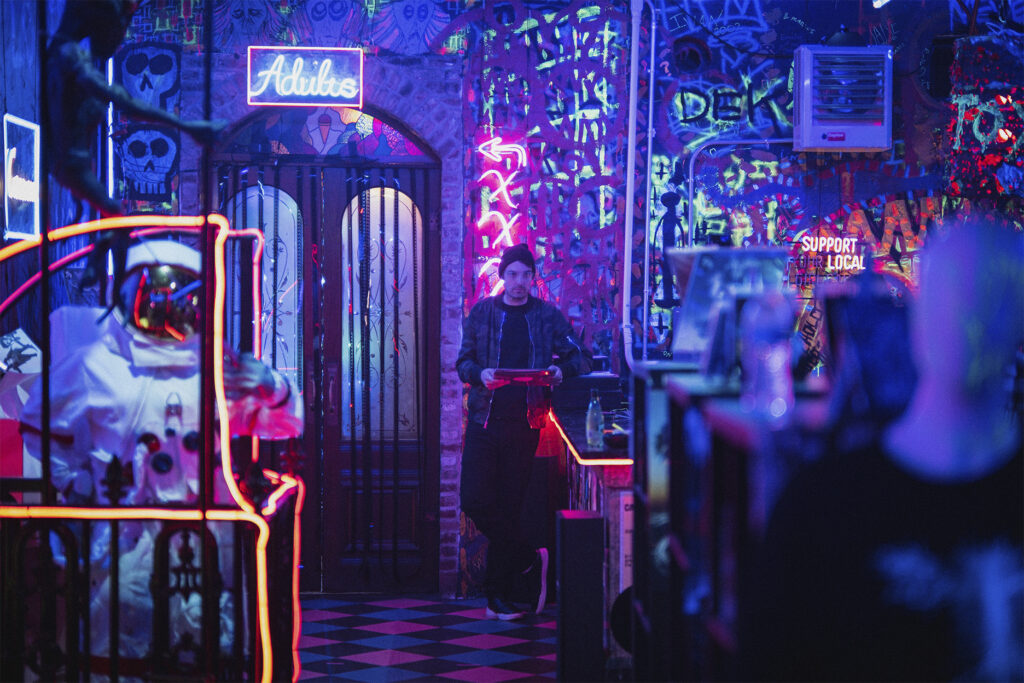 Clocking in at under 90 min, 'Christmas Bloody Christmas' feels perfectly paced, starting off at first as non-stop grindhouse slasher only to quickly evolve into a tense siege film. Though the set designs are minimal, they're beautifully lit and well enclosed; from the bar and sheriff's department, to the local toy store, each location feels creatively unique and wholly utilized. As with Begos' previous film 'Bliss', visually, 'Christmas Bloody Christmas' is a festive treat. His signature use of neon colors splashes the screen with vivid delight. Due to Christmas Bloody Christmas being shot on 16mm, the grainy film only accentuates the bright shades of red and green mixed with cool purples and hot pinks. The film's high-octane energy and carnal slaughter is only amplified by the impeccable score provided by Steve Moore, emphasizing every chaotic moment happening on screen.
RoboSanta+ is especially vicious as he wields his crimson axe butchering bodies in grisly fashion. The first kill we witness after he powers on is cleverly shot through his perspective as we watch him slice through his victim in one fluid swipe. What makes his character even more terrifying isn't his nearly indestructible frame nor the way in which he chops through multiple victims' heads with brute strength, but rather the way in which he relentlessly hunts Tori and Robbie, like an unstoppable force. As he sustains more damage throughout the film, we see the masterful practical effects of his metallic skeleton and illuminating green laser eyes. The carnage candy is gruesome as heads are chopped in-two, bodies are flung like ragdolls, and blood-splatter paints our characters and killer Terminator Santa bright red.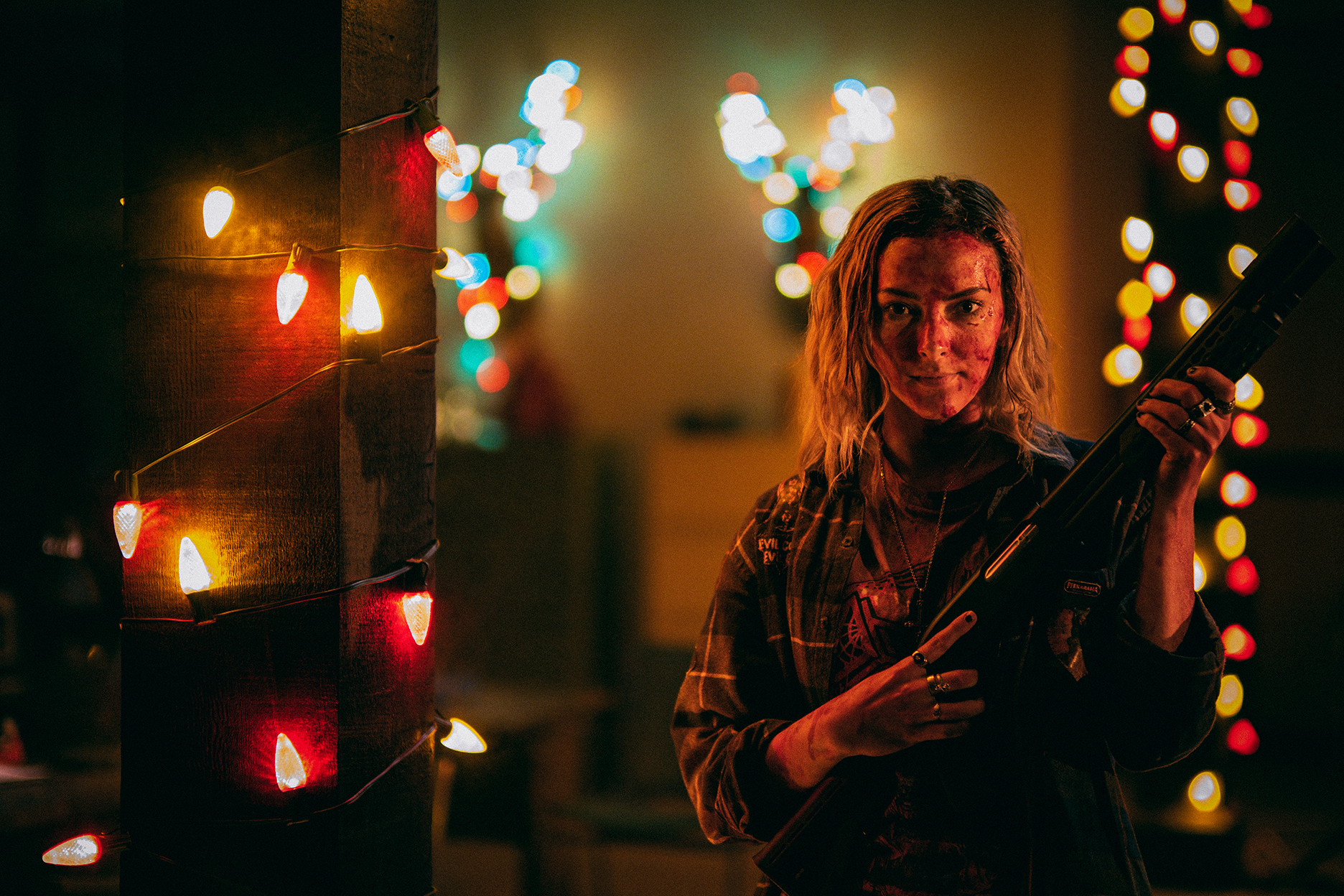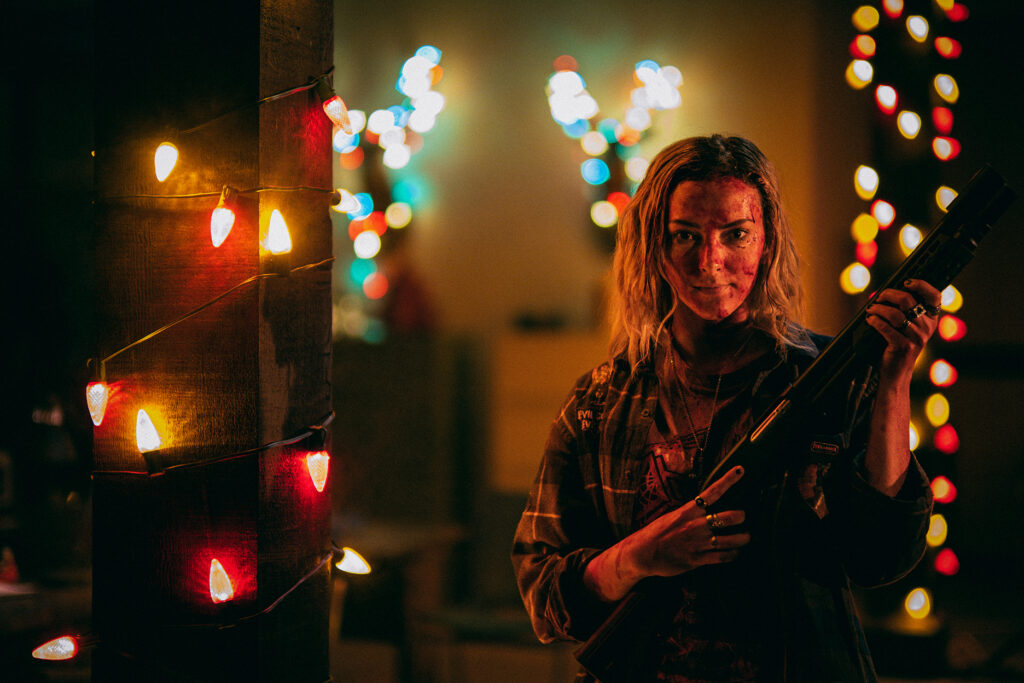 Adding to the non-stop chaos are the strong performances Riley Dandy and Sam Delich bring to Tori and Robbie. The dialogue exchanges between their characters, though often vulgar, feel natural. This is in part because of the well-crafted script and on-screen chemistry between the two actors. Mixed with casual conversations of which horror movie sequel outranks whose and best metal albums, a sexual tension increasingly grows between the two until its resolve in sensual flare. Tori is especially captivating as she is filled with spit-fire charisma and an alluring personality. She is outspoken, wild, and the epitome of a sexually liberated independent woman who's immediately likeable. As the film progresses, we see her evolution into a strong final girl as she fights back against her robotic pursuant, becoming her own Sarah Connor in the process.
Where Robo-Santa's Gears need Tinkering
For as fun as the conversations are between Tori and Robbie, their salacious nature at times can be off-putting. Begos isn't shy when it comes to crude dialogue, as every character for the most part has the mouth of a sailor. There are few sentences throughout the film that do not incorporate at least one or two f-bombs peppered with some other curse word reminiscent of a Rob Zombie film. Though I'm not typically bothered by coarse language in a film, there are times where 'Christmas Bloody Christmas' relies on it so much, it almost feels forced in some ways. This detracts from the natural flow of some of the conversations and can make their characters feel a bit childish. Throughout the first half of the movie Tori and Robbie are so wrapped up in their conversations while continuously drinking and getting high, completely oblivious to the havoc around them. The only character who receives ample development in the story is Tori, which is a bit disappointing as Robbie's character has missed potential for growth. Other characters that are introduced such as Jeff Daniel Phillips' ('The Lords of Salem' and '31') Sheriff Monroe and Officer Smith (Jeremy Gardner; 'The Battery' and 'After Midnight') play no significant role in the film's plot apart from providing a standout scene involving the town's local police station and extra body count.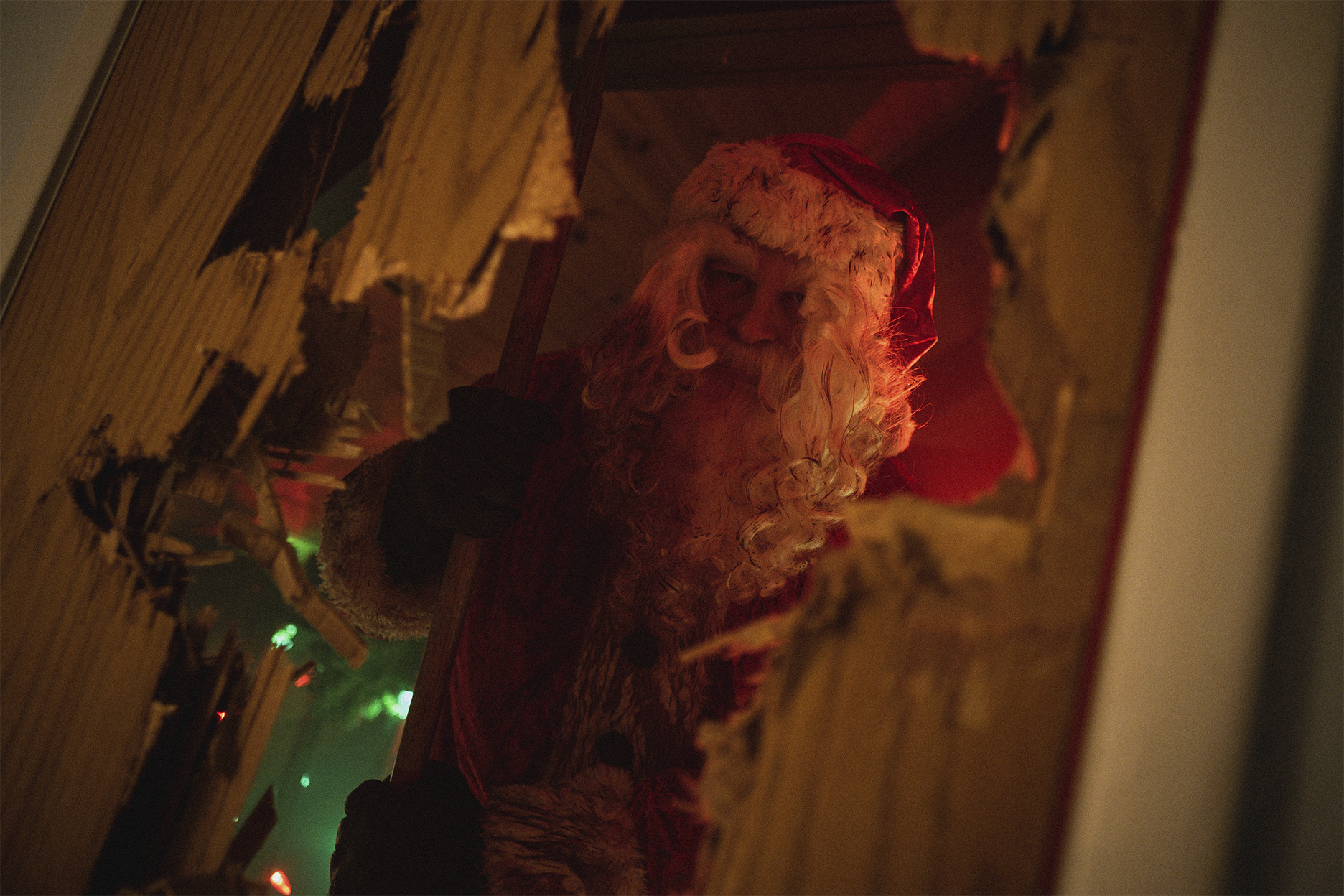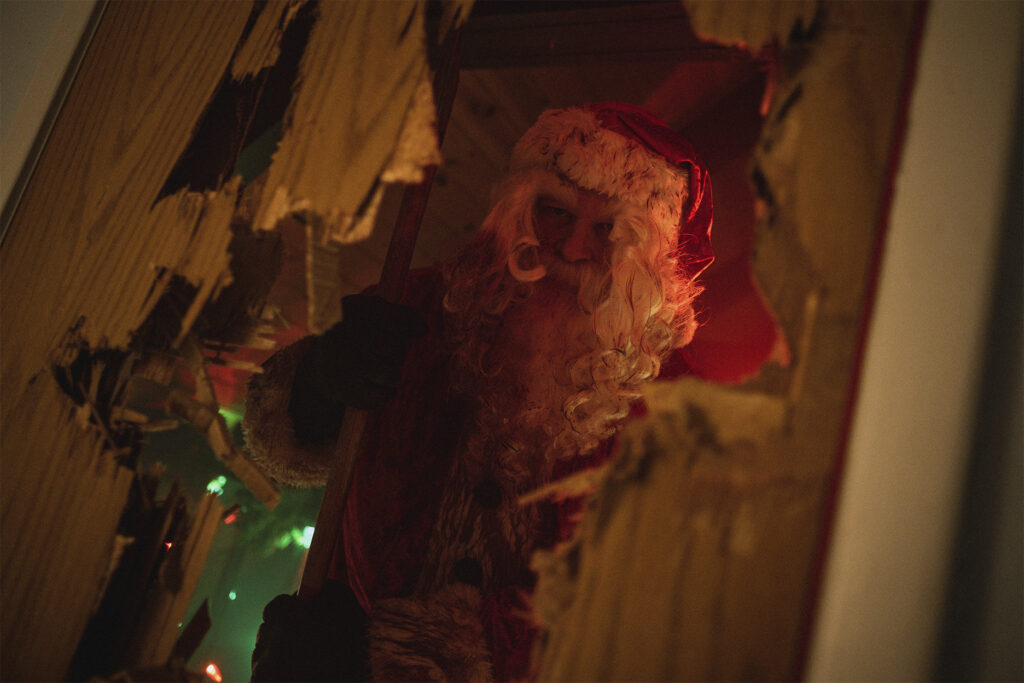 Speaking of the body count, when it comes to the deaths displayed on screen, though as merciless and creative as they are, some are recycled while a couple of others happen off screen. This is a bit disappointing as the ones we are shown are quite brutal. However, this comes with the exception of one for me personally. During the second act of the film before realizing RoboSanta+ is on the hunt for her and Robbie, Tori witnesses the killer robot brutally murder a small boy in his living room while she stares out of her kitchen window. What makes this death even more disturbing is the use of his body after the fact, as the prosthetic doll is used as a means of physical entry and a lifeless shield of defense. I am usually not bothered by most deaths in horror films but, when it pertains to certain deaths such as animals and especially children, I do find myself becoming withdrawn from the film. Though I understand these are moments meant to reflect the monstrous nature of the film's villain detaching him from any real human empathy, for me there is a point where certain deaths feel either unnecessary or added for shock value, rather than true story progression. This scene would have been more impactful to me had his death been heavily implied or altered in a way that utilizes an adult character or, simply leave the boy alive to find his butchered family.
Merry Christmas Bloody Christmas!
'Christmas Bloody Christmas' is a gruesome film with off-the-wall visuals and hypnotic colors creating a wildly unabashed yuletide slasher. Though Begos never answers the questions as to why RoboSanta+ malfunctions or why he is mercilessly stalking his victims, this does not diminish my enjoyment from the visual experience. 'Christmas Bloody Christmas' knows what type of film it is and accomplishes its goal with excellence. The story is not bogged down with complex technicalities, the on-screen deaths soak the screen in blood, jaw dropping practical effects with enriched set designs, and dialogue that feels aesthetically natural. While the script can be extreme at times, Riley Dandy steals the light with her powerful performance echoing final girl icons before her. Filled with 80's grindhouse nostalgia soaked in a neon color palette, Begos delivers 'Christmas Bloody Christmas' wrapped in a gory bow that is sure to become a new holiday horror favorite amongst genre fans.
'Christmas Bloody Christmas' is now streaming exclusively on Shudder. Be sure to check out all of our other holiday horror reviews, as well as our festive yuletide tales of terror: The Twelve Nightmares of the Holidays; 12 short holiday horror stories written by fellow HauntedMTL reviewers and authors, including 'Coming to Town' by yours truly.

(3 / 5)
Episode five of Tim Burton's Wednesday was very busy. A lot is going on here, and most of it is quite fun. So let's not waste any time getting into it.
First, we must discuss the fate of poor Eugene. If you'll recall, the last episode ended with Wednesday finding him in the woods, covered in blood. 
Despite Principal Weem's insistence that he's resting up and healing, he's actually in a coma in the local ICU. But maybe she has reason to gloss over that unfortunate fact. It's parents' weekend, after all. Probably not the best time to admit that a student was grievously injured.
While there are certainly some Nevermore students who are happy to see their parents, none of our main characters are among them. We know that Wednesday isn't thrilled to see her family, as she's still resentful that they left her there.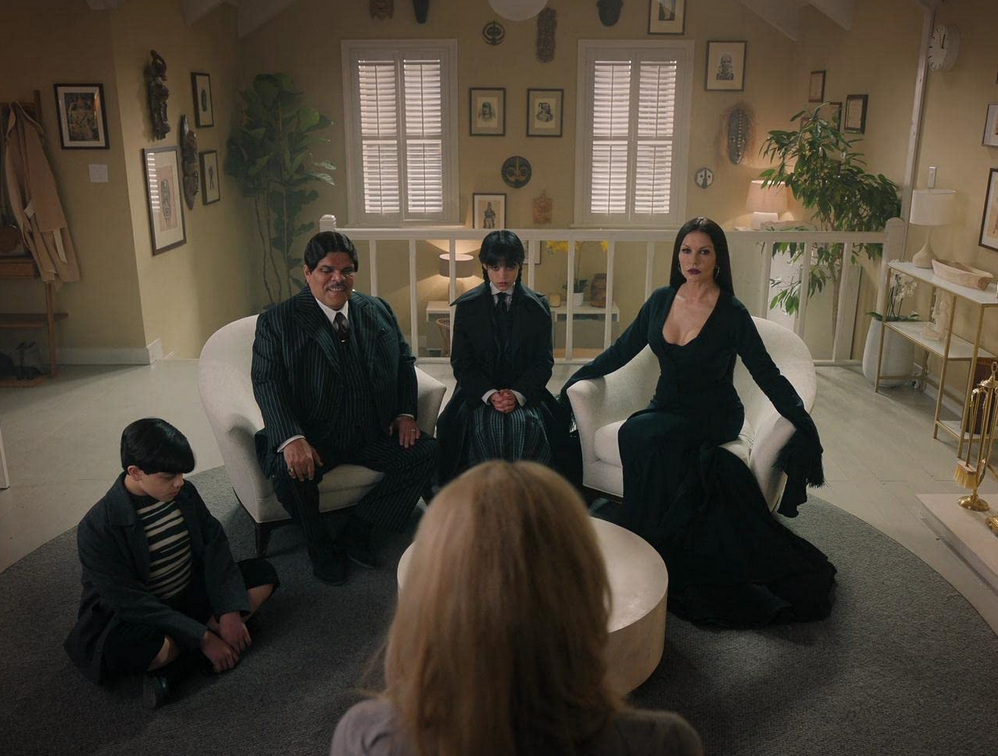 Still, she's not exactly pleased when Gomez is arrested for the murder of a man named Garrett. This devastates the family and forces Morticia to reveal a secret she's been keeping from Wednesday.
Morticia also finally gets a chance to talk about Wednesday's visions with her. She tells her that Goody Addams, who's made psychic contact with Wednesday several times, is there to teach her about her visions. But Goody Addams is also super vengeful, and not to be trusted. I wonder why.
While much of the episode is about freeing Gomez from jail, the subplots are no less interesting.
Let's start with Enid. As we know from the first episode, she has yet to grow into her full werewolf potential. If she can't do this, she'll be shunned by her kind and likely abandoned by her family pack. Her mother wants to help her, by sending her to a summer camp meant to help werewolves wolf out. Enid refers to these as conversion therapy camps. Which is clearly a problem.
The story that shook me was Bianca. She's outright afraid when her mother shows up. And the reason is soon made clear.
Her mother is part of a cult called the Morning Song. Bianca's mother is married to the leader. She's been using her siren song to trap people in the cult. But her powers are fading. She wants Bianca to come take her place. If she doesn't, she'll reveal a terrible secret of how Bianca got into Nevermore Academy in the first place.
I honestly don't have a lot of bad things to say about this episode. Except that wolf out is a ridiculous term and I cannot take anyone who uses it seriously at all. The characters were fun, the storyline was interesting, and it was satisfying to start getting answers. It helped that this episode included some real-world bad guys, like conversion therapy and cults. If every other episode of this season had been as good as this one, the show would be top marks from me all around.
This episode was a dramatic example of exactly how parents can fail at their job of raising their kids. And, thankfully, how they can succeed. We see Enid's mom refusing to let her grow at her own pace. We see Sheriff Galpin ignore a clear cry for help from his son Tyler. We see Bianca's mother, involved in a cult, using her child for her siren powers. And of course, we don't see Xavier's parents at all.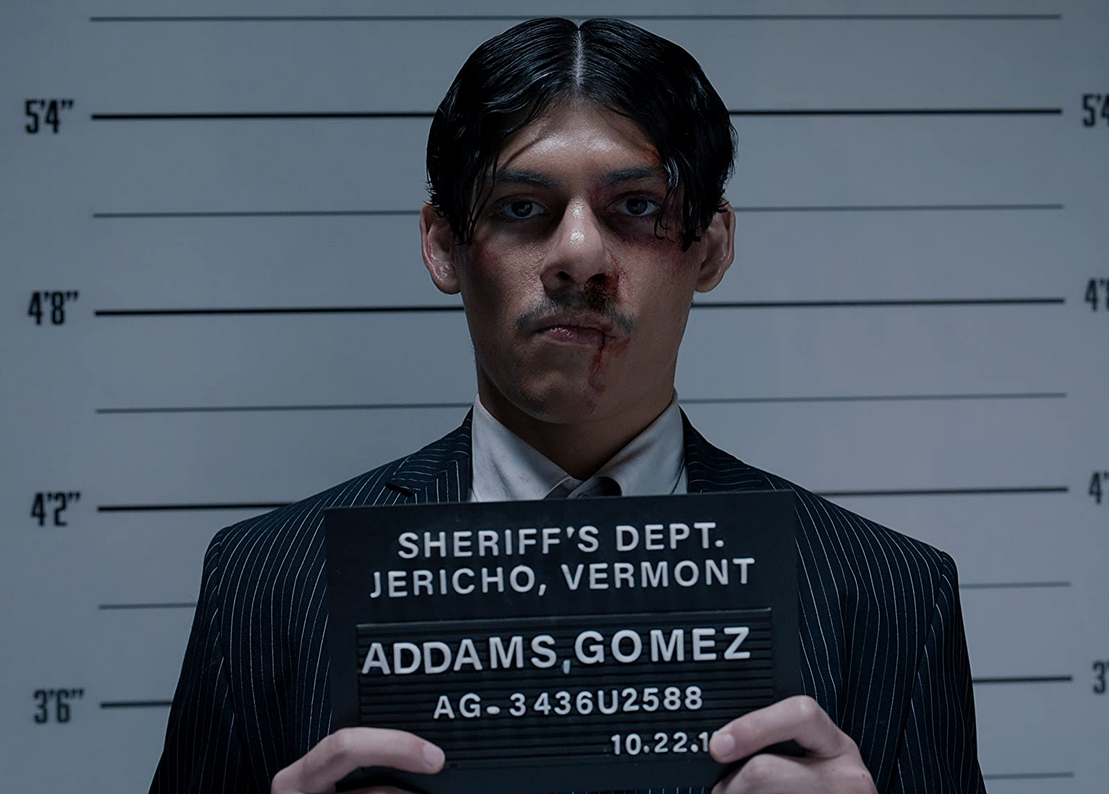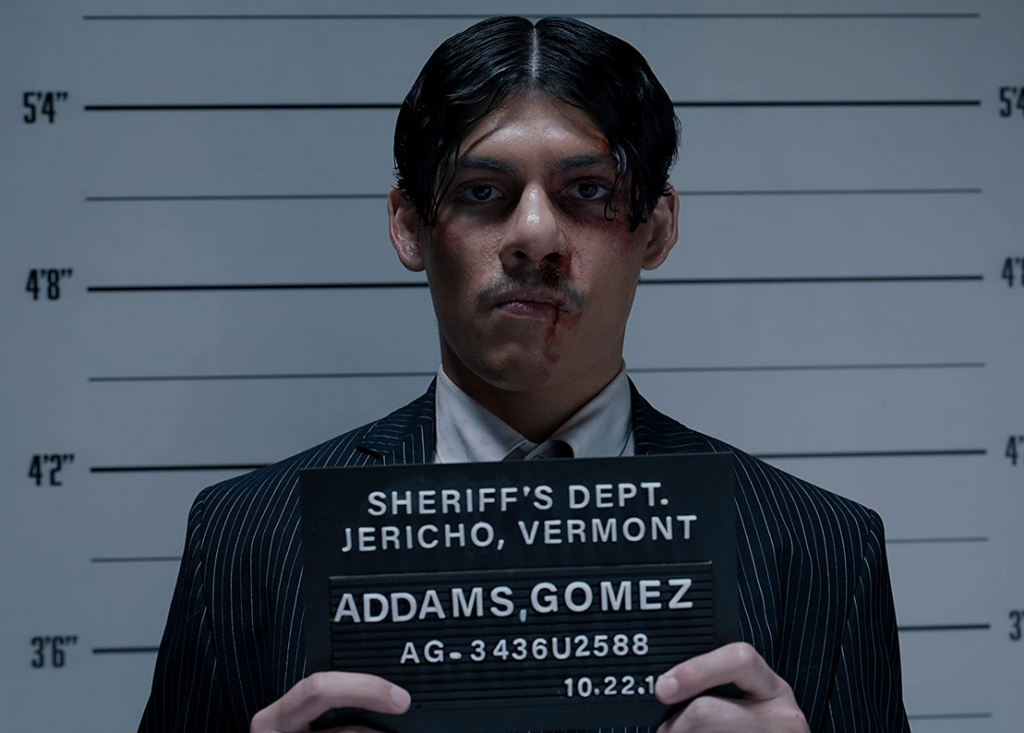 But we also see Morticia being a good mom to a difficult kid who's rebelling against her. We see Enid's father supporting her, exactly as she is. We see Eugene's moms by his side at the hospital. At the bedside of their son, they are still able to give comfort to Wednesday. That is some strength right there.
Overall, this was a fun episode. We got some answers and were introduced to even more questions. I had fun watching it, and I'm looking forward to the next episode. 
(4 / 5)
Solace, a Film Review
Solace (2015) is a mystery thriller directed by Afonso Poyart. This R-rated film stars Anthony Hopkins, Jeffrey Morgan and Abbie Cornish.
Solace (2015) is a mystery thriller directed by Afonso Poyart. This R-rated film includes Anthony Hopkins, Jeffrey Dean Morgan, Abbie Cornish, and Colin Farrell. As of this review, it is currently available to Netflix and Hulu subscribers.
As a string of murders leave FBI agents Joe Merriwether (Jeffrey Dean Morgan) and Katherine Cowles (Abbie Cornish) perplexed, Joe turns to an old FBI contact and friend, Dr. John Clancy. Dr. Clancy possesses psychic abilities that make him an essential asset, but tragedies in his personal life leave him distant and broken. Fearing a person with similar gifts as himself, Dr. Clancy cannot help but lend his assistance.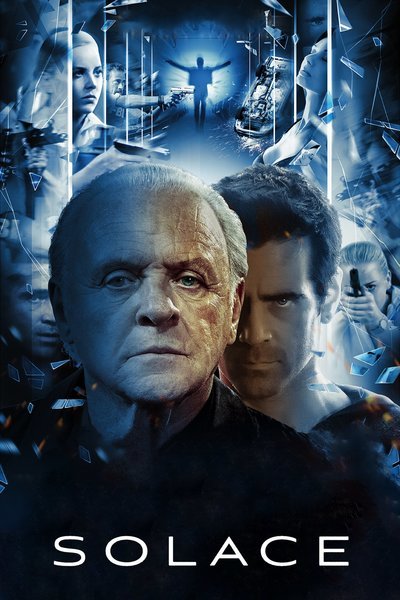 What I Like
This cast is great, with notable legends living up to their reputation. While by no means career-highlighting performances, they work well together and provide a weight that pushes past lackluster character roles.
As the main character, Anthony Hopkins's Dr. Clancy stands out above the rest. Given the most screen time and plot relevance, this opinion comes easily. His role has the most opportunity to make us care for his character.
Solace creates fun and engaging scenes that tie directly to the characters' psychic abilities, adding tension in unique ways. While other movies with psychics utilize similar strategies to convey this power–the movie Next comes to mind–the scenes add variety to otherwise lackluster cinematography. This decision also adds a somewhat strategic nature to the psychic battles.
Originally intended to be a sequel to Seven, this idea, thankfully, does not follow through to the final product. The story behind that is the typical Hollywood shuffle and brand recognition. I can't exactly figure out a place to put this interesting fact, but the choice remains a benefit to the film.


Tired Tropes and Trigger Warnings
Slight spoilers ahead! Read this section with that in mind.
A closeted man contracts AIDS and infects his wife. As this goes into rather old homophobia and fears, I felt it needed mentioning. Considering the film's release date, 2016 (US), the plot point feels uninspired.
Some gratuitous sex scenes tie into the above reveal. The dramatic reveal and voyeuristic nudity (of the wife) make for an odd viewing experience. When the reveal isn't shocking, it doesn't exactly add much weight to the elongated scenes.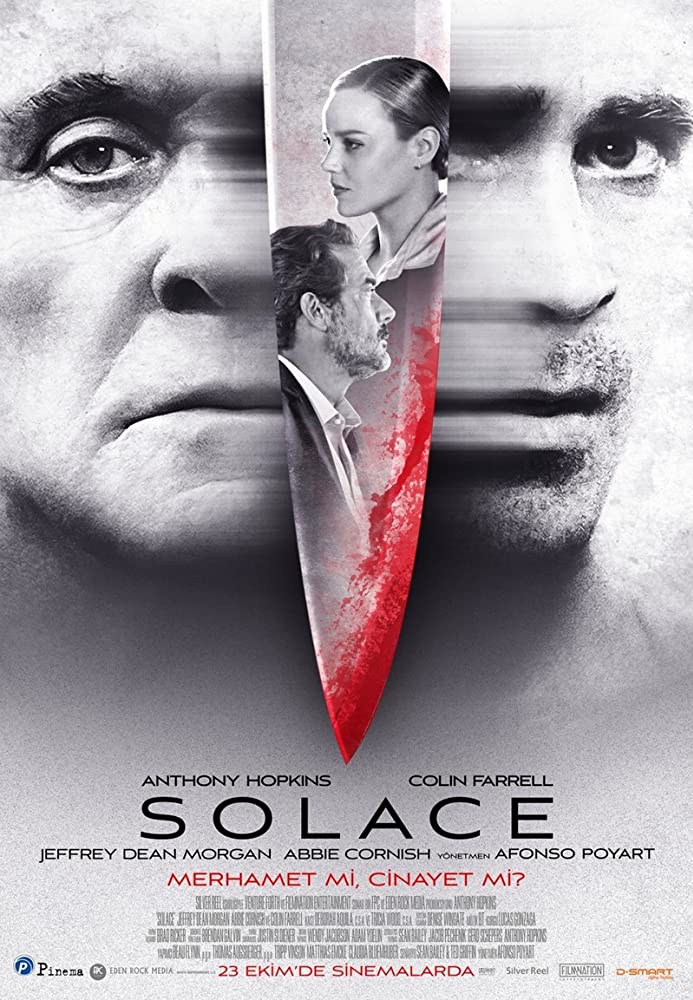 What I Dislike
There are no tactful ways to go about the low effort of the film. It's surreal to see the names attached, the concepts addressed, and how it all fumbles. I imagine this discrepancy has something to do with the original sequel idea, but that remains speculation. Ultimately, the film feels awkwardly low budget for the cast it possesses.
Adding to this weakness are the underdeveloped characters and rushed plotlines. The film feels unfocused in direction, revealing things as they become relevant with fluctuating degrees of foreshadowing. Some of these revelations work, with some speculation, but adding them all together makes Solace weaker as a film.
This film isn't scary, despite the premise being extremely promising. The idea of a potentially psychic killer does evoke a lot of possibilities, added with the exceptional cast, and it seems destined for success. Yet, the horror is middling at best.
Solace wants to be more and achieves some success in certain areas, but its inability to build and support these ideas hinders the overall quality. Perhaps Solace desires to upstage the twists of the typical mystery thriller that makes the film grasp too many new and interesting ideas. Regardless of the reason, the film suffers, and the viewing experience becomes underwhelming.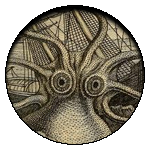 Final Thoughts
For a thriller killer, Solace doesn't hold much water to competition. While the cast performs their roles perfectly and works well with each other, the notable weaknesses in writing and lackluster visuals don't do the acting justice. A surprisingly exciting cast becomes a disappointing letdown.
(2 / 5)
Episode four of Tim Burton's Wednesday was one that plenty of people have been talking about. And now that I've seen it for myself, I can see why. It was memorable. Just not always in good ways.
We start the episode with Wednesday and Thing breaking into the morgue for clues. They discover that each of the monster's victims has missing body parts. If you'll recall, a homeless man was murdered at the end of the last episode.
While investigating, Wednesday finds Xavier's secret art studio. He's been drawing and painting the monster over and over. So, at least someone else has seen it.
Of course, Xavier catches her skulking around his studio/abandoned building on school property.
I honestly don't understand why this school has so many buildings around campus accessible to students without teacher supervision. I wonder what the teen pregnancy rate is at this school.
Cornered, Wednesday invites him to the RaveN dance. This, of course, pisses off Tyler, who has a thing for her. An unrequited thing, might I add.
Not surprisingly, Wednesday doesn't care about the dance. She cares more about getting information about the monster. She goes to Sheriff Galpin, who does seem to be an ally. At the very least, it seems like the two of them are the only ones taking the literal monster in the woods who is eating people seriously.
They agree to work together, to a point. She brings him concrete evidence of the monster, and he agrees to do a DNA test for her.
Of course, we couldn't just focus on that. There's a dance to go to.
If you haven't seen a single episode yet of Wednesday, you at least know about this goofy dance the title character does in this episode. Everyone was doing it, from morning shows to teenagers on Tik Tok. And it's fine. It reminds me of some dance scenes in Addams Family Values. It was awkward and a little funny. It wasn't worth the hype, but it was charming.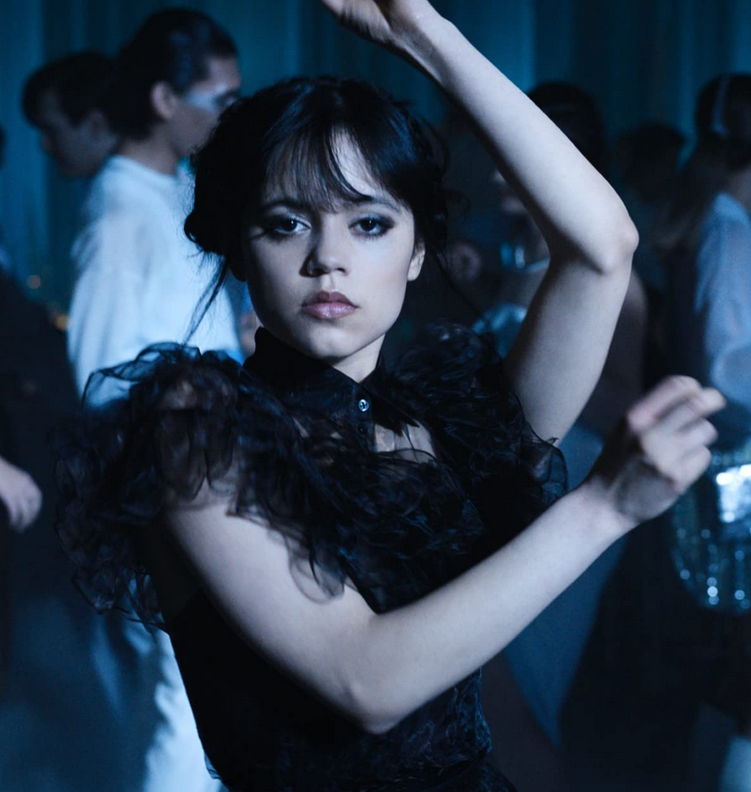 Of course, while the kids are dancing, the town kids are planning to prank them. I mean, I guess this is a prank. They pump paint into the sprinkler system and set it off during the dance. Of course, everyone but Wednesday is wearing white.
In the resulting chaos, Wednesday has a vision of Eugene, who went into the woods looking for the monster's lair. This, of course, is exactly what she told him not to do. She runs out to find him but doesn't beat the monster there. Strangely, she's not the only one running around in the woods covered in blood. So is Ms. Thornhill.
Overall, this was a rather cliche and dull episode. But it wasn't without its moments. One thing I appreciated was Bianca's response to Xavier at the dance. Even though she was pretty desperate to go to the dance with him, she doesn't allow herself to be disrespected. I appreciate that. She didn't take her anger out on Wednesday, either, which was nice. It's 2023. We don't need girls being cruel to each other over boys.
I also like Wednesday going to Sheriff Galpin, and him believing her. We did not have to suffer through the cliche of a teen who doesn't trust the adults around her. Neither did we see the pompous adult who doesn't listen to the teens when they bring evidence to them. And this was so refreshing. I loved to see it.
Now, let's talk about what didn't work here. Specifically, there were too many teenagers with moody, angry brooding moments. Everyone has a crush on everyone else, and nobody is handling it well. Shocker.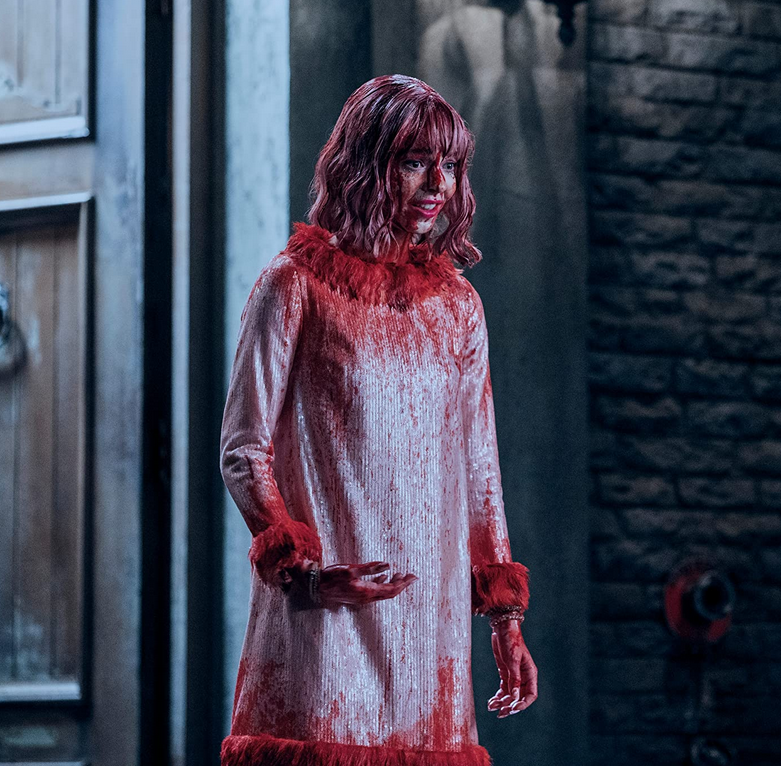 I am not entertained by teenage love triangles. Tyler likes Wednesday, who doesn't care. Bianca likes Xavier who likes Wednesday, who still doesn't care. It's an irritating subplot and could have been replaced by any number of good stories. And yes, I understand that this is a kid's show, intended for kids. Kids deserve smarter subplots. Kids are worthy of smarter subplots. If Disney can realize not every story needs a love component, everyone can.
All in all, this wasn't a great episode. But it wasn't terrible. There was way too much focus on dances and teenage relationships. But at least it moved the mystery forward. So there's hope for the episodes to come. 

(3 / 5)