On the fifth day of murder house, we'll be slaughtered by…
An emotionally broken girlfriend
Two fighting boyfriends
One crying socialite
One maid of fury
Two nursing students
A pair of tragic blond twins
And a freak in a leather mask
Halloween continues in the Murder House. And I'd advise maybe watching this episode sober, Killer Queens. Because it's fast, it's a lot, and it needs a play by play to keep track of everything.
We pick up right where we left off, with firebug Larry hammering on the door. Violet's home alone, and calls her parents at the hospital.
I guess we're just going to ignore the fact that a nurse passed out on the floor when she was doing an ultrasound? Okay, cool, moving on then.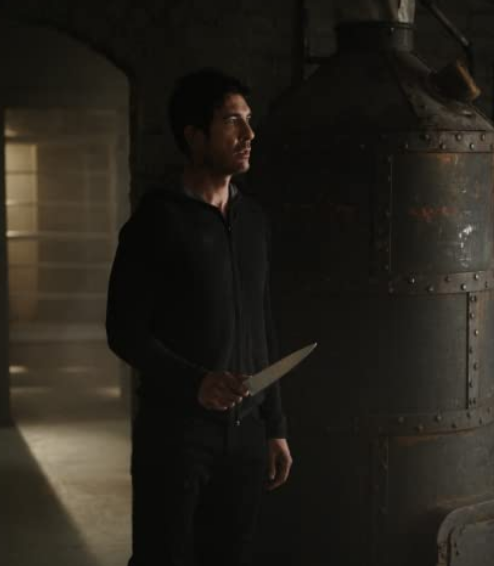 Tate shows up, offering to get Violet out of the house. Which is maybe a good idea. They head to the beach, without thinking of leaving a note or telling Violet's parents where they're going. It's not like anything really scary is happening. Or like her mom's pregnant and was told to avoid stress at all cost.
Teenagers are the worst.
Trying to relax, Vivian decides to pick her battles. She doesn't lay into Violet, and she doesn't pick up the fight with Ben. She goes to take a bath. Too bad Hayden has other plans. She's in the house and calling Vivian to torment her. She wants Ben to tell Vivian the truth, which is not his strong suit. But she also wants Vivian to suffer.
Meanwhile, Larry's decided now is a good time to try and set the house on fire. And Tate's being stalked by a group of teenagers who seem pissed at him.
They have reason to be. We find out in this episode that Tate was a school shooter.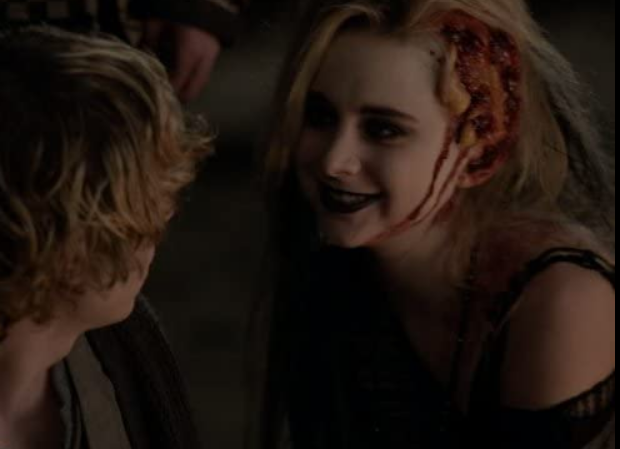 A school shooter is the boogyman of my generation. It says something that the thing that scares us the most is, well, us. But I'm not sure what it says.
Through most of this episode, the three Harmons are separated and dealing with their own battles. Vivian's being hunted through the house. Her dog is thrown in the microwave. Her bathwater turns to blood.
Ben gets into a fistfight with Larry. He's trying to find Hayden, trying to keep Vivian safe. And Violet, unsure of what these people want with Tate, is trying to protect him. Until Constance asks her to come over. They have a lot to talk about. Violet is dating Constance's son, after all.
While this episode is chaotic, it makes sense. It doesn't feel like just a piling on, it feels like an inevitability. There's no way it could have happened any other way. And it was a bloody good time. At least, if you're not living it.
That's it for this time, Killer Queens. Did you like this episode as much as I did? Let us know in the comments. And I'll see you again on Sunday. 
Thanks for reading. If you buy anything from the links below, we do get some money back.