Shudder has another acquisition for us this month to build their library of cutting-edge streaming horror. Last week Shudder announced that it had acquired the film The Cellar prior to its debut at SXSW. This week, Shudder has another festival-circuit film that will make its streaming debut on their platform.
Here are the details from Shudder.
SHUDDER ACQUIRES TIFF OFFICIAL SELECTION GOOD MADAM (MLUNGU WAM) AHEAD OF THE GLASGOW FILM FESTIVAL
The Haunting South African Psychological Horror Will Stream Exclusively on Shudder in Late 2022
NEW YORK – February 10, 2022 – Shudder, AMC Networks' premium streamer for horror, thrillers and the supernatural, has acquired South African horror Good Madam (Mlungu Wam) for release in North America, the United Kingdom, Ireland, Australia and New Zealand ahead of its screening at the Glasgow Film Festival. Also an official selection of the Toronto International Film Festival, Fantastic Fest, AFI Fest and Gothenburg Film Festival, the haunting film from writer/director Jenna Cato Bass (Flatland, High Fantasy) and co-writer Babalwa Baartman will stream exclusively on Shudder in late 2022.
In Good Madam (Mlungu Wam), Tsidi, a single mother, is forced to move in with her estranged mother Mavis, a live-in domestic worker caring obsessively for her catatonic white 'Madam' in an affluent Cape Town suburb. As Tsidi tries to heal her family however, a sinister specter begins to stir.
"Jenna Cato Bass delivers a sensationally fresh take on the haunted house story while layering in cutting social satire about the lingering horrors of apartheid," said Shudder General Manager, Craig Engler.
"Horror audiences are probably the most enthusiastic and open-minded I've encountered, so I couldn't be happier that Good Madam has found a home at Shudder, where even more fans of this evolving genre can discover it," said Jenna Cato Bass.
Good Madam (Mlungu Wam) stars Chumisa Cosa, Nosipho Mtebe, Kamvalethu Jonas Raziya, Sanda Shandu, Khanyiso Kenqa, Sizwe Ginger Lubengu, Siya Sikawuti, Peggy Tunyiswa and Chris Gxalaba. The film is produced by Fox Fire Films, Sanusi Chronicles and Causeway Films in association with Salmira Productions and Strange Charm. Baartman, Cato Bass, Kristina Ceyton (The Babadook, The Nightingale), and Samantha Jennings (Cargo) produce while Salman Al-Rashid, Sam Frohman, Richard Mansell, David Bass and Jason Newmark serve as executive producers.
The acquisition deal was negotiated by Emily Gotto, VP, Global Acquisitions & Co-Productions on behalf of Shudder and Lydia Rodman, VP of Sales at Visit Films, on behalf of the filmmakers. Visit is handling international rights and will be presenting the film to buyers at the upcoming EFM.
About Shudder
AMC Networks' Shudder is a premium streaming video service, super-serving members with the best selection in genre entertainment, covering horror, thrillers and the supernatural. Shudder's expanding library of film, TV series, and originals is available on most streaming devices in the US, Canada, the UK, Ireland, Germany, Australia and New Zealand.
About Visit Films
Visit Films is a film sales company based in New York, whose mission is to sell unique and fascinating American and international independent films. Visit's most recent deals include Oscar-nominated Ascension to MTV Docs and Paramount worldwide, Down with the King to Sony Pictures worldwide, First Date to Magnolia Pictures, I Was a Simple Man to Strand Releasing, El Planeta to Utopia, and Lorelei to Vertical Entertainment.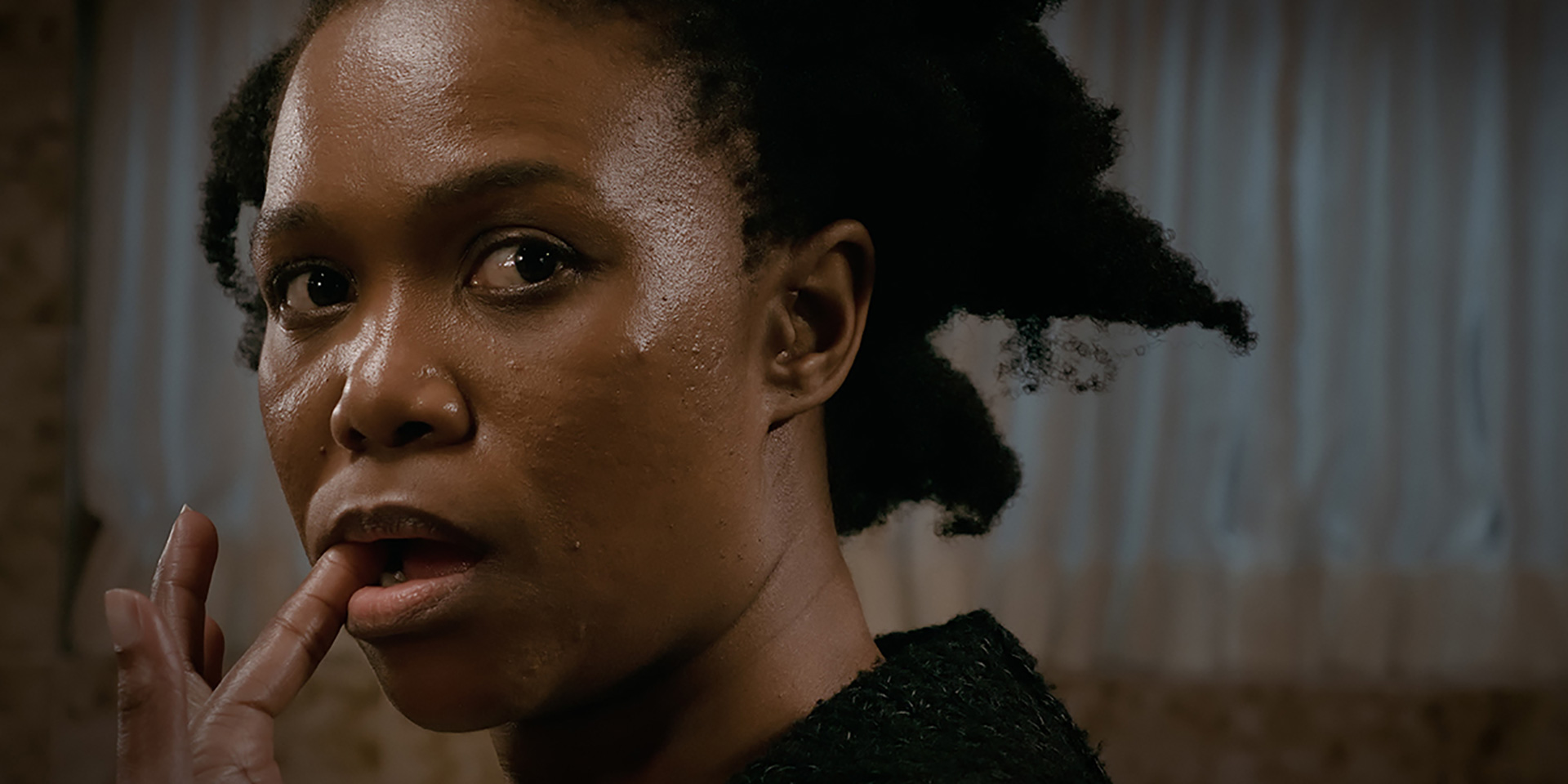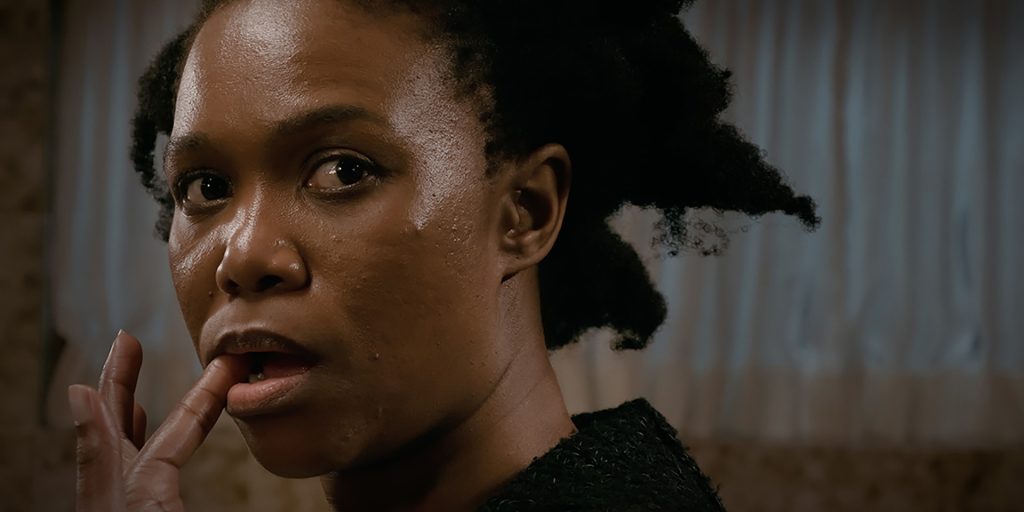 ---
Excited about Good Madam on Shudder?
Good Madam (Mlungu Wam) joins Fried Barry as part of Shudder's selection of South African film on the service. Are you excited about getting a chance to stream more world horror?
We will definitely have a trailer for the film on the upcoming content guide the month the film has its premiere.
Let us know what you think about this news in the comments.
If you want to buy Fried Barry, check below!
#ChadGetsTheAxe Coming Out September 1st
Look, I'm a simple guy. Sure, I like my Small Town Monsters and my silly-billy movies about cats eating people.
But sometimes there comes a film that's smartly written, full of humor and social commentary, plus great acting. Oh, and scares that actually scare the shit out of me.
Almost a year to the date, I got to watch such a film called #CHADGETSTHEAXE that I saw as a screener for FilmQuest Fest in October, 2022. And I was blown away by the talents of director/co-writer Travis Bible and co-writer/producer Kemerton Hargrove; starring Spencer Harrison Levin (Black Jesus), Michael Bonini (New Amsterdam), Taneisha Figueroa (Duck World), Cameron Vitosh (Walker), Brandon Doyle (Murder Made Me Famous), and Shun Hagins (Snitch).
Mini-Review, I swear it's short:
And, I know, I know, I know. 'But Brannyyyyk, isn't livestreaming horror movies just a flash in the pan? Hasn't it been done beforeeee?' For one, stop saying it like that, it's weird. For two, not like this. The care and attention that went into #CHADGETSTHEAXE is wickedly clever with such tongue-in-cheek humor of influencers, humanity, and the toxic culture of fandom. It's the shining example of live-streaming movies because it's so f-ing smart.
Case in point, the characters are living up to their personas. However, even when the personas are ragged and driven to the edge of life and death, we never see them as people, fully dimensional people, because we never see them break away from their devices. There's never a shot that shows us 'hey, this is a film, now let's see them as the real character they are'. The actors are really carrying dual roles as the personas and the real people underneath; as they are struggling to keep up appearances in front of the millions of viewers.
Plus, don't get me started on the characters within the livestream feed, along with running jokes and clues to the haunted house.
Anyway, I don't want to give too much away as I'm going to be covering it on Streamin' Demons soon. But I wanted to also tease about the fact that I'm going to be interviewing some VIPs from the movie for What's Kraken? So, shhh, only tell your closest friends because it's going to be incredible.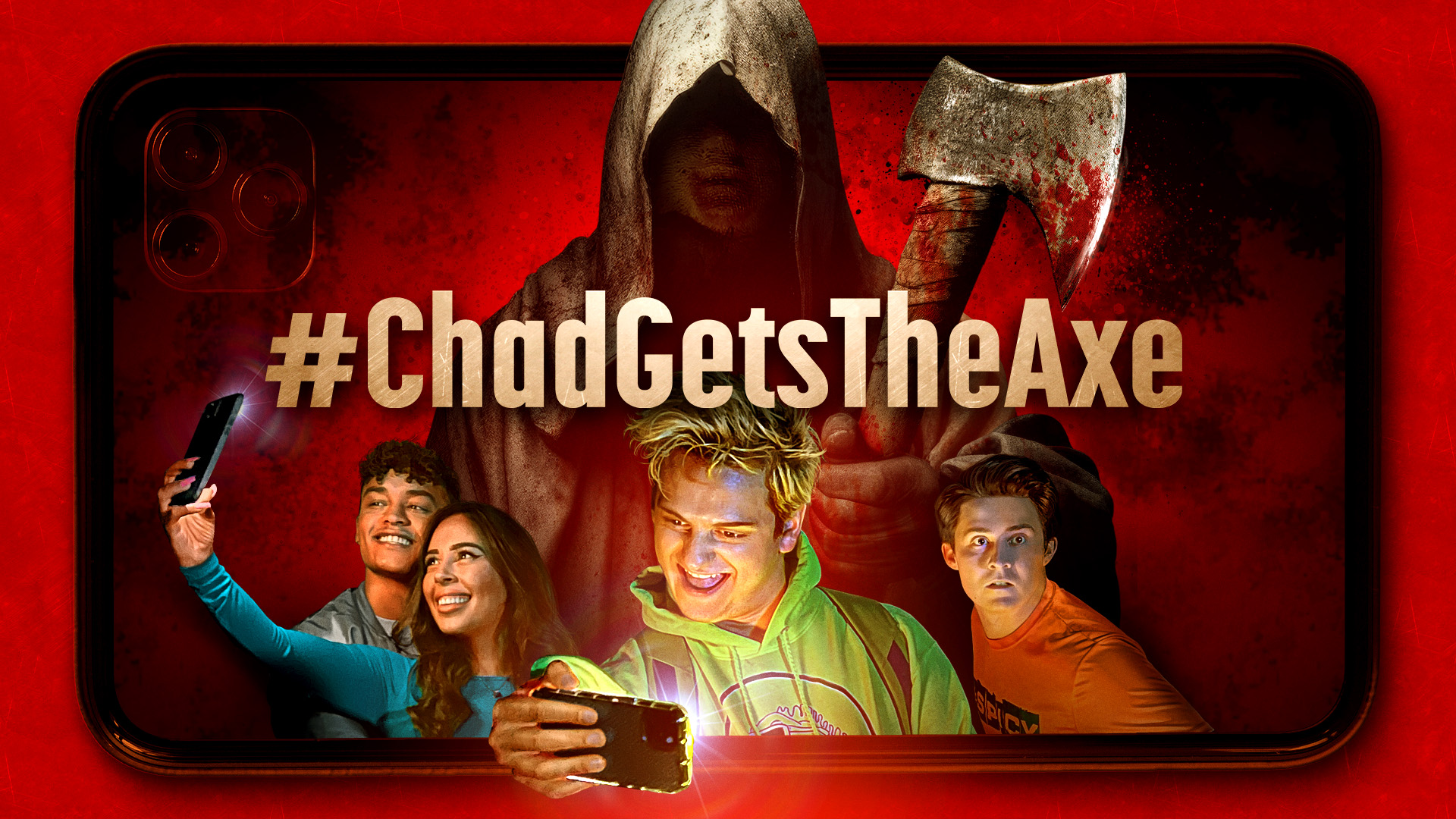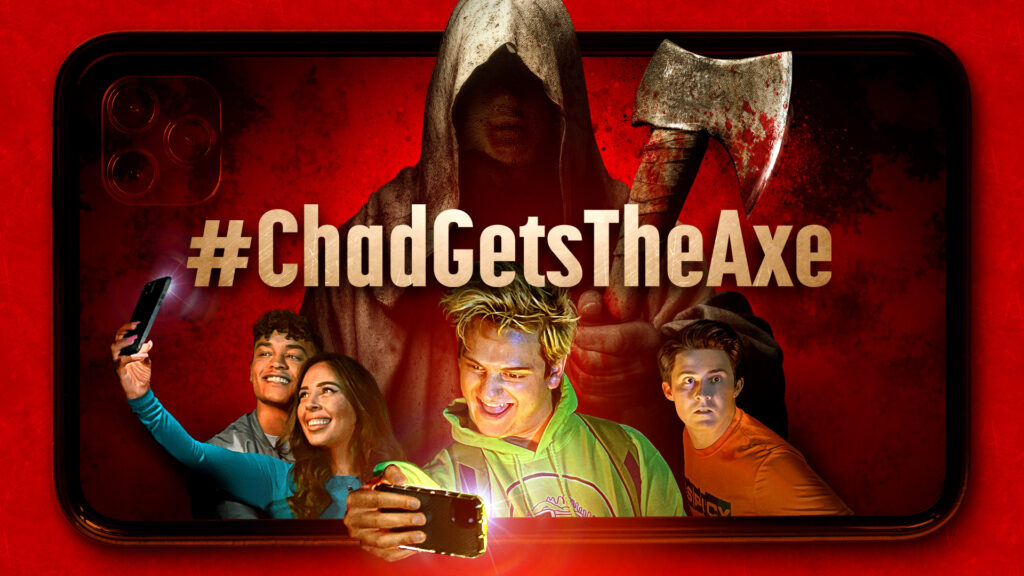 Join the Hype Train:
Adapted from an award-winning short with the same title, #ChadGetsTheAxe follows four social media influencers as they live-stream their trip to Devil's Manor, former home to a Satanic Cult. Things don't go well. And as the violence ramps up… so do the views.
The film premiered at FilmQuest in October 2022 and Internationally at FrightFest Glasgow in March 2023 where it was well received by critics. #ChadGetsTheAxe was produced by Travis Bible, Eric Gibson, Kemerton Hargrove, and Frances O'Hanlon, while Dream Big Group serves as executive producers.
The Horror Collective is the genre label of Entertainment Squad — a production and distribution company founded by veteran producer Shaked Berenson (TURBO KID, TALES OF HALLOWEEN). The label's latest releases include the Daytime Emmy nominated Limited Series DOOMSDAY, the killer-pants Shudder Original SLAXX, and the critically acclaimed horror-comedy SUMMONING SYLVIA.
Website: https://thehorrorcollective.com/
I'm hoping it gets DVD distribution one day because I'm old and I need DVDs for when the zombie apocalypse happens.
June Title for Arrow Streaming
Welcome to June! There's so much on the hopper for Arrow that I just have to give you, my friends, the hot goss.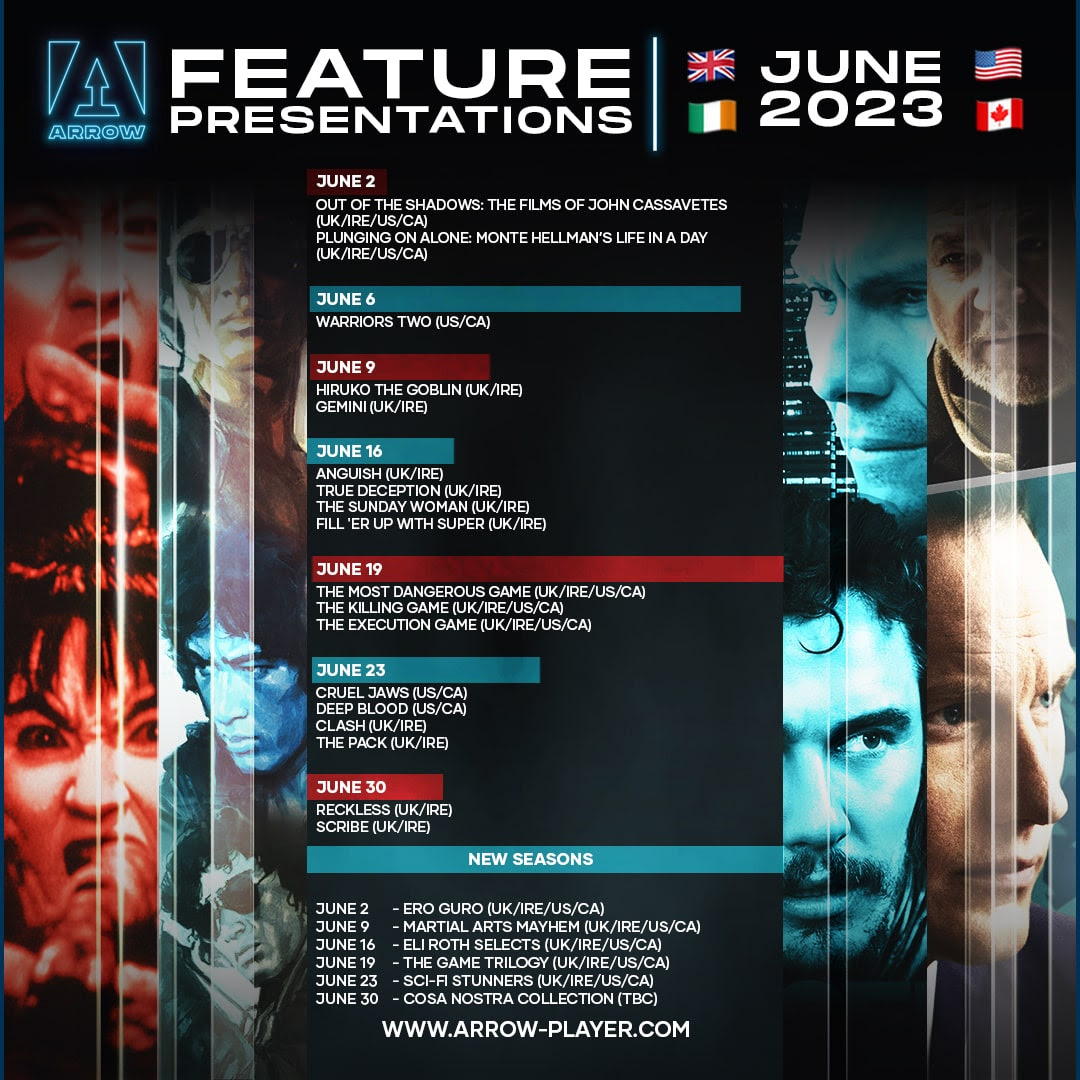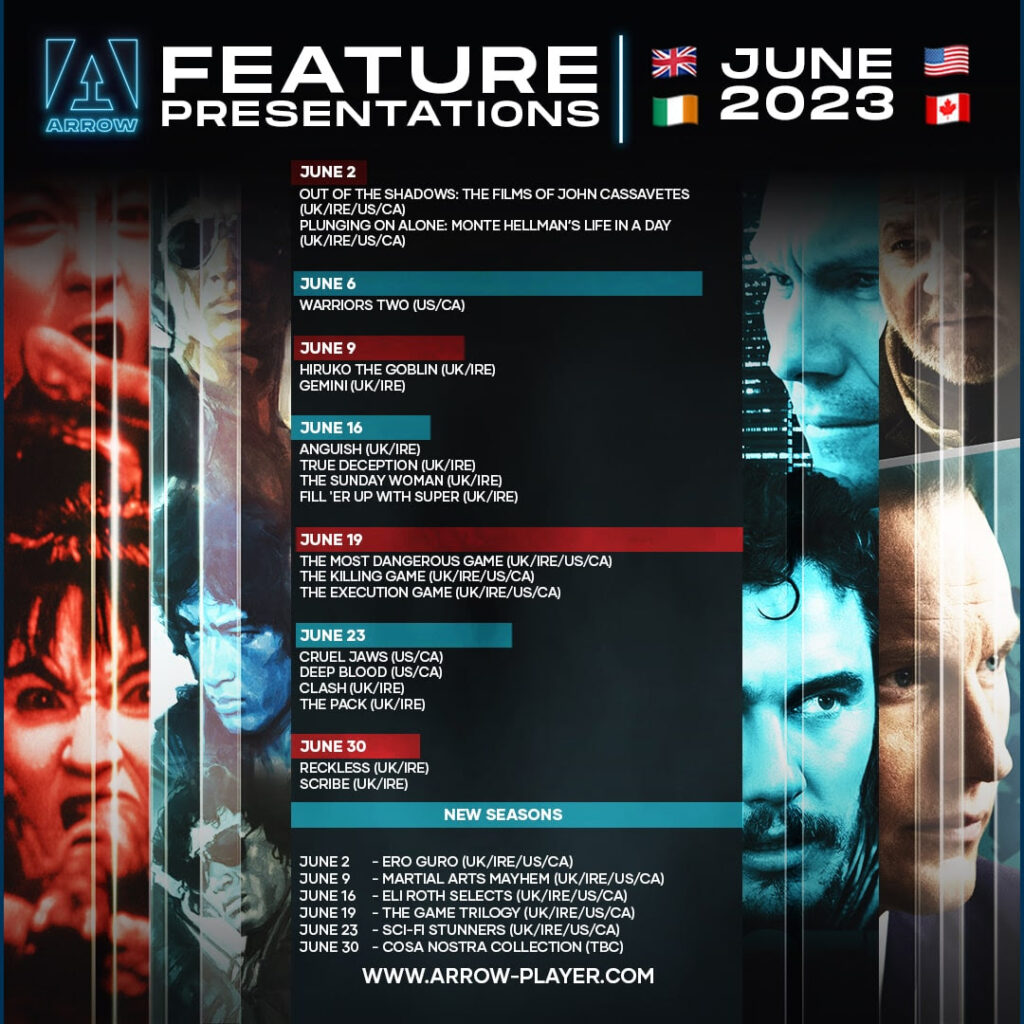 June 2nd: Paul Joyce Documentaries
June 2nd kicks off the month with ARROW's latest curation of Paul Joyce documentaries, this time looking at legendary filmmaker John Cassavetes, straight from the mouth of his friend and collaborator co-star Peter Falk (Columbo) in Out of the Shadows: The Films of John Cassavetes.
After a six year directing hiatus, Monte Hellman sat down with Paul Joyce and just talked for an hour while Joyce filmed. The result is Plunging on Alone: Monte Hellman's Life In a Day.
June 2nd: the wild world of Ero Guro
What is Ero Guro? Well, the Japanese sub-genre of horror and pink films Ero Guro combines the erotic (ero) and the grotesque (guro) to deviant, decadent and unforgettable effect. ARROW's Ero Guro collection features the unholy trinity of core Ero Guro films, Teruo Ishii's Shogun's Joy of Torture and Horrors of Malformed Men and Yasuzo Masumura's Blind Beast, plus plenty more exciting, explicit and enticingly depraved delights to delve into.
Titles Include: Shogun's Joy of Torture, Blind Beast, Irezumi.
June 6th: Warriors Two (US/CA)
After making his directorial debut with the intense The Iron-Fisted Monk and firmly solidifying his worth at Golden Harvest, Sammo Hung would be given more creative control behind the camera. Now able to inject more of his own personality, Hung would bring to life the more upbeat (yet only slightly less violent) Wing Chun cult classic: Warriors Two!
Predating the Ip Man tetralogy by three decades – as well as Hung's own The Prodigal Son (starring Yuen Biao as the younger incarnation of Leung Tsan) by a few years – Warriors Two is one of the earliest films to authentically portray the teachings of Wing Chun while also delivering the kind of kinetic and pulse-pounding fights synonymous with the name Sammo Hung!
June 16th: Eli Roth Selects (UK/IRE/US/CA)
Splatter icon Eli Roth takes a stroll through the archives with Eli Roth Selects (UK/IRE/US/CA). "I absolutely love Arrow and have been a collector of their editions for years, and Arrow Player is the most streamed channel in my house. I've seen a lot of Select lists, and while I agree with them, I wanted to highlight some that people might have otherwise overlooked."
Titles Include: Basket Case, Contamination, Madhouse.
June 19th: Toru Murakawa's Game Trilogy (UK/IRE/US/CA)
Made at the end of the 1970s, Toru Murakawa's Game Trilogy launched actor Yûsaku Matsuda as the Toei tough guy for a new generation. Matsuda was the definitive screen icon of 1980s until his career was tragically cut short by cancer at the age of 40, following his Hollywood debut in Ridley Scott's Black Rain.
The Most Dangerous Game (UK/IRE/US/CA): In this career-defining triptych, Matsuda is Shohei Narumi, an ice cool hitman of few words, a steely trigger finger, and a heart of stone, hired in The Most Dangerous Game by a company bidding for a lucrative government air defence contract to take out the competition.
The Killing Game (UK/IRE/US/CA): Narumi finds himself caught in the midst of violent yakuza gang warfare, while his own brutal past catches up with him in the form of two beautiful women still bearing the emotional scars of his past assignments.
The Execution Game (UK/IRE/US/CA): Narumi falls for a mysterious saloon bar chanteuse who may or may not be part of the same, shadowy underworld organization as the rival hitmen he is employed to rub out. (I'm assuming the tough-guy way and not the sexy way)
June 23rd: SHAAAARKS!!!
Yessss, Cruel Jaws is coming to Arrow!
ARROW heads to the beach for some terror with shark attacks.
Cruel Jaws (US/CA): A huge shark terrorizes a beach in Florida, and the locals try everything to kill it.
Deep Blood (US/CA): Several young men have to stop an ancient native American evil in the form of a killer shark which is attacking a small beach community.
June 23rd: Sci-fi Stunners (UK/IRE/US/CA)
For the penultimate Season, ARROW boldly goes to the stars on June 23, seeking out new life and new cinema.
Sci-fi Stunners (UK/IRE/US/CA): There are other worlds than these. Come and explore them in this collection of cybernetic, planet-probing, time-travelling, cosmos-trotting, aliens-zapping, virtual and far-too-real adventures in Sci-fi Stunners – ARROW's home world for the coolest Cult science-fiction films in the galaxy.
Titles Include: No Escape, Donnie Darko, Crimes of the Future.
Last but not least
Cosa Nostra Collection (UK/IRE/US/CA):
The most American of directors according to celebrated critic Paolo Mereghetti, Damiano Damiani (A Bullet for the General) nevertheless surveyed his own country's mafia history unlike anyone before him, to critical and box office success.
Full of twists and a fascinating meta-commentary on cinema, Damiani points the camera at himself and the genre as he investigates the social impact of mafia violence, a fitting end to this survey of Damiani's Cosa Nostra.
Titles Include: Day of the Owl, The Case is Closed, Forget It, How To Kill a Judge.
About ARROW:
From Arrow Films, a recognized world-leader in curation and creation, ARROW is a premium platform giving audiences an unparalleled viewing experience across multiple devices, so fans can explore the films and TV shows that the Arrow brand is famous for.
Specially curated by members of the ARROW team, ARROW is home to premium film and TV entertainment, exclusive new premieres, cutting edge cinema, international classics and cult favorites – such as the works of Lars Von Trier, Brian De Palma, Dario Argento, David Cronenberg and Park Chan-wook, and brand-new short films from both new and established filmmakers.
In the coming months, ARROW will be adding Oscar-winning hits, European classics, Asian cinema masterworks, rediscovered Westerns, offbeat gems and much more as part of ARROW's international strategy to support and celebrate the medium of film.
For more information on ARROW and its titles, please contact: justin@justincookpr.com or visit https://www.arrow-player.com.
YouTube: https://www.youtube.com/user/ArrowVideoUK
Instagram: https://www.instagram.com/arrowPlayer
Twitter: https://twitter.com/Arrow_Player
Facebook: https://www.facebook.com/ArrowVideo
A horror author goes to Nebula Con
The Science Fiction, Fantasy Writers Association is one of the most prestigious organizations in America for speculative fiction writers. While horror is not specifically mentioned, we all know that it's nearly impossible to discuss fantasy and science fiction without the shadow of horror creeping in.
Each year, SFWA hosts a convention for writers called Nebula Con. I have virtually attended the convention for the past two years. And if you've never attended, you might want to consider it. Even if your writing, like mine, is long in the shadows and short on the elves.
First off, I do want to be clear that Nebula Con is a convention for speculative fiction writers. There are some fan panels, like the one on the works of Robin McKinley, this year's Grandmaster. But the majority of the panels and events are for writers.
That being said, there are panels for writers at every stage of their careers.
For writers interested in crafting better stories, craft panels abound. My favorite panel was the one titled For The Love of Short Fiction. This panel started with a reading of some of the best short works from 2022. Then, each panelist dug into what made that piece work for them.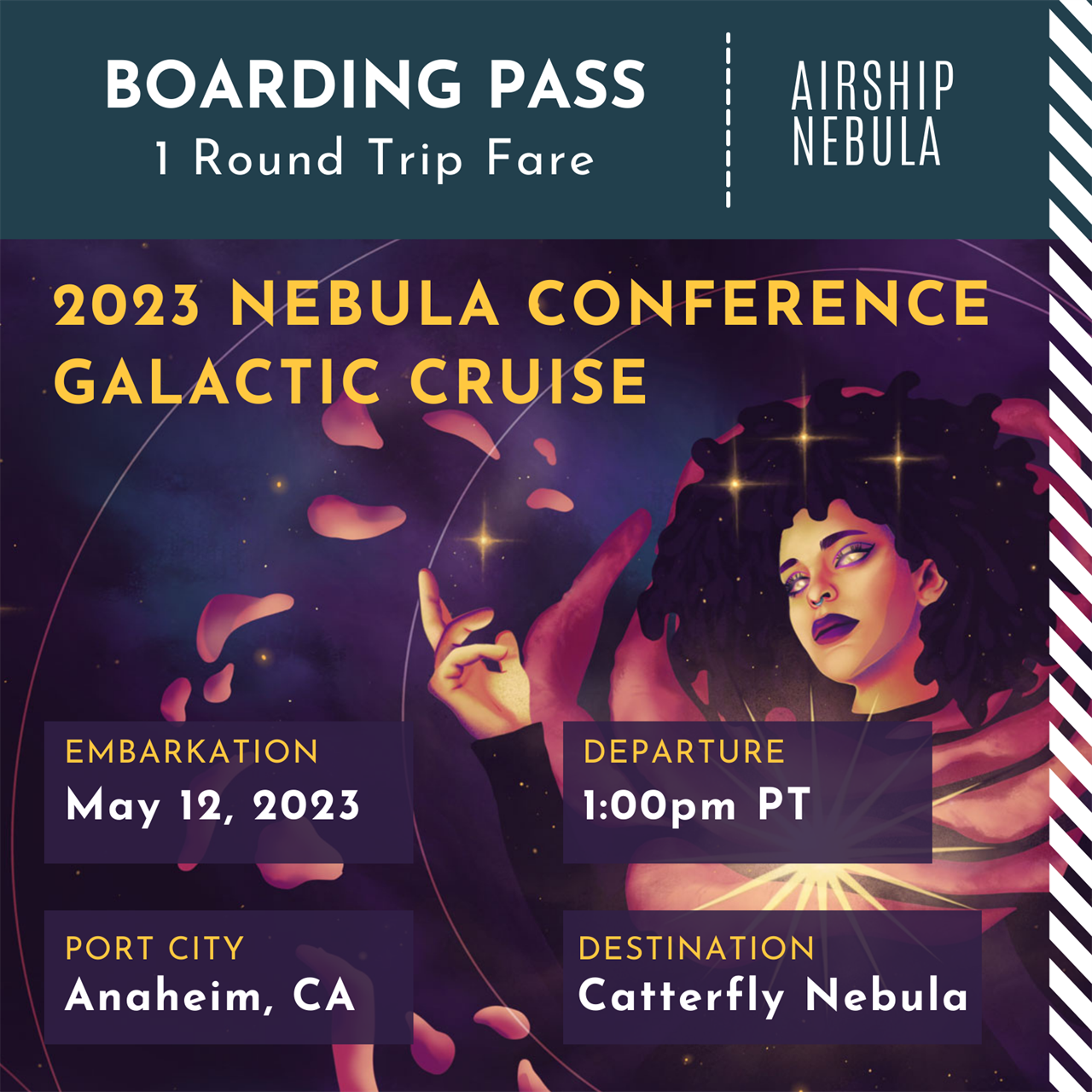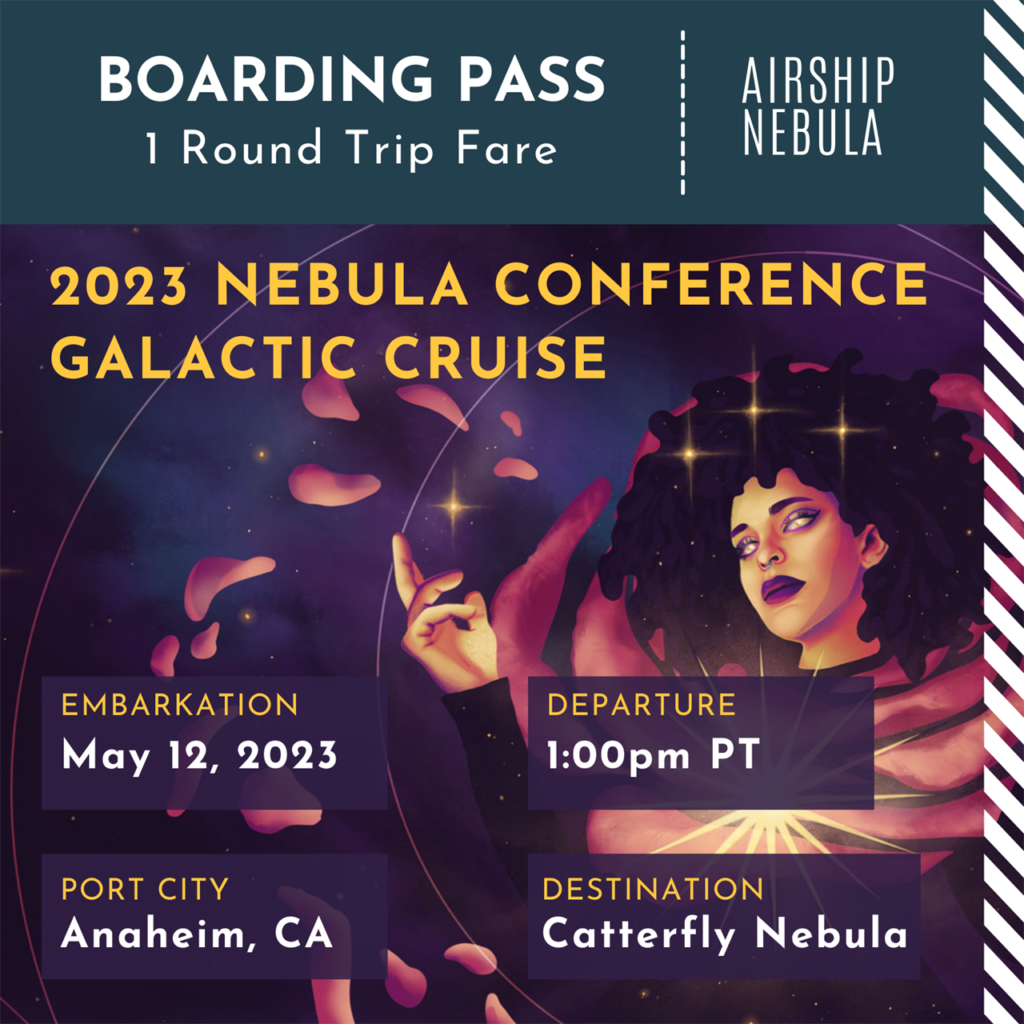 There were several other terrific panels, including one all about constructing a realistic legal system in your fictional world and writing fictional podcasts. (Like I do.)
But, you might say, these are panels for sci-fi and fantasy writers. No, these are panels for speculative fiction writers. Horror authors who want to have any kind of career would do well to master the short story. And if you don't think there's room for some legal horror in the market, you are wrong.
While the craft panels were wonderful, the career and marketing panels were probably the most useful and valuable of the whole convention. Are you, like many other online creatives, worried about the effects AI-generated writing is going to have on our field? There were two informative panels regarding that. Are you wondering how writers' relationships with agents have changed now that self-publishing is so prevalent? There's a panel for that.
A lot is going on in the publishing world. It's confusing as hell, my friends. And one of the ways we keep each other up to date is with conventions like this. What I got out of the panel most was that having a career in writing is possible. My fellow participants and I learned from writers who are doing the thing. It's hard, but it's possible.
Of course, a convention is more than just panels. There's the chance to meet with other authors. This might be where a virtual convention seems to have a deficit. And while I'll admit that meeting online isn't the same as meeting in person, there are certainly perks. I was able to meet, chat with and share stories with other writers in a Zoom chat room. And I came away feeling much like I did as a kid, having met new friends at summer camp. Even if I wasn't sitting across from them, it was great to be surrounded by other people who want to make a living scaring the hell out of other people.
All of this writing joy culminates with the Nebula Awards Ceremony. If you're interested in catching the awards but didn't make it to the convention this year, you can watch it all on Youtube. Each year speculative fiction authors of all kinds of honored, from written work to gaming to television. This year's toastmaster was Cheryl Platz, an author, and actress. As a critic, awards ceremonies are usually something I usually force my way through. The Nebula Awards are a rare treat in that scene. Partially because there's a chance I've met the people up for the awards. But also because the people involved are, first and foremost, writers. It's amazing how much more entertaining events are when the people being honored are, you know, talented storytellers.
If you've been on the fence about attending Nebula Con virtually, I suggest giving it a try. The world certainly needs more stories that go bump in the night.