On the 11th day of Christmas Shudder gifted me, new series and movies! Why hello fellow mutants and Shudder aficionados, winter has fast fallen upon us bringing with it snow chilled nights, crackling embers smoldering in wood-burning fireplaces, mugs of rich hot cocoa, twinkling Christmas lights, and festive new holiday horror films to watch comfortably nestled under our blankets.
As we prepare to bid adieu to one of the genres most exciting years to date confidently strutting into 2023, Shudder has a few more frightful presents placed under our trees for us to unwrap in joyous delight. Allow me, your festive ghoul to guide you through all that will be arriving, as well as leaving Shudder for the month of December 2022, including the return of the king himself Joe Bob Briggs in 'Joe Bob's Ghoultide Get-Together' special and Joe Begos' eagerly anticipated holiday slasher, 'Christmas Bloody Christmas'.
New Treats and Returning Favorites
Let's jump right into the festivities with Shudder this month with the return of their hit original series, the oh-so-horrifically fabulous The Boulet Brothers' Dragula: Titans, new episodes premiering every Tuesday.
The Boulet Brothers' Dragula: Titans –Now Streaming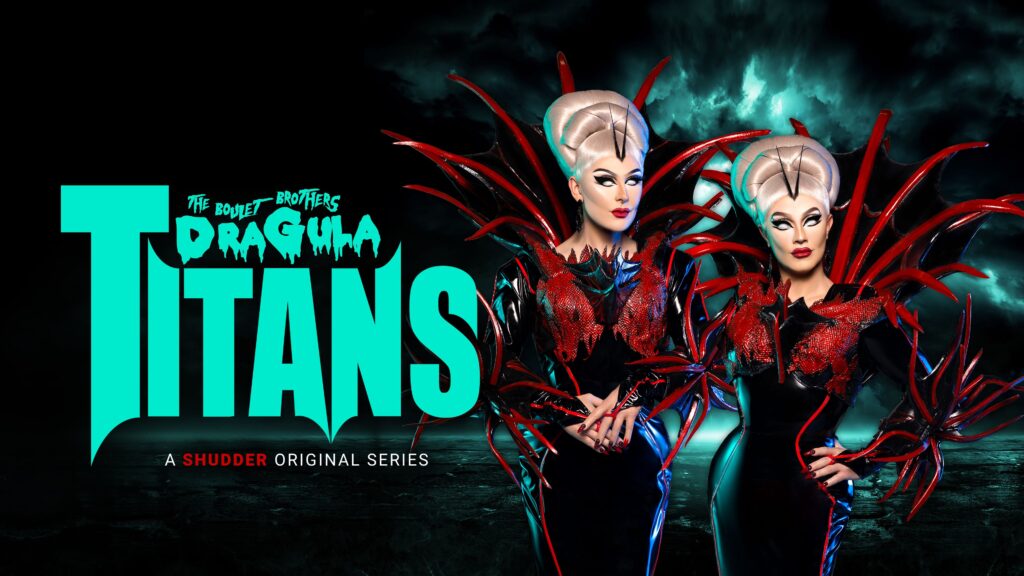 Finding a new home in the company of Shudder, the exquisite mistresses were able to bring a vast number of loyal fans over to the premier streaming service, while garnering a warm embrace from their newly adopted mutant family. Returning with their new original series 'The Boulet Brothers' Dragula: Titans' reintroduces popular drag icons from the show's previous seasons to come together and compete in horrifying challenges of drag artistry pushing these talented artists both physically and mentally. A one hundred-thousand-dollar grand prize, the headlining spot on the Boulet Brothers upcoming world tour, and the first ever "Dragula Titans" crown and title. Filled with surprising guest Judges throughout this spooktacular season including the legendary Cassandra Peterson (Elvira), Harvey Guillen, Justin Simien, David Dastmalchian, Poppy, Alaska, Katya, Shudder Alumni Joe Bob Briggs, Bonnie Aarons, Barbara Crampton, and many more. (A Shudder Original Series)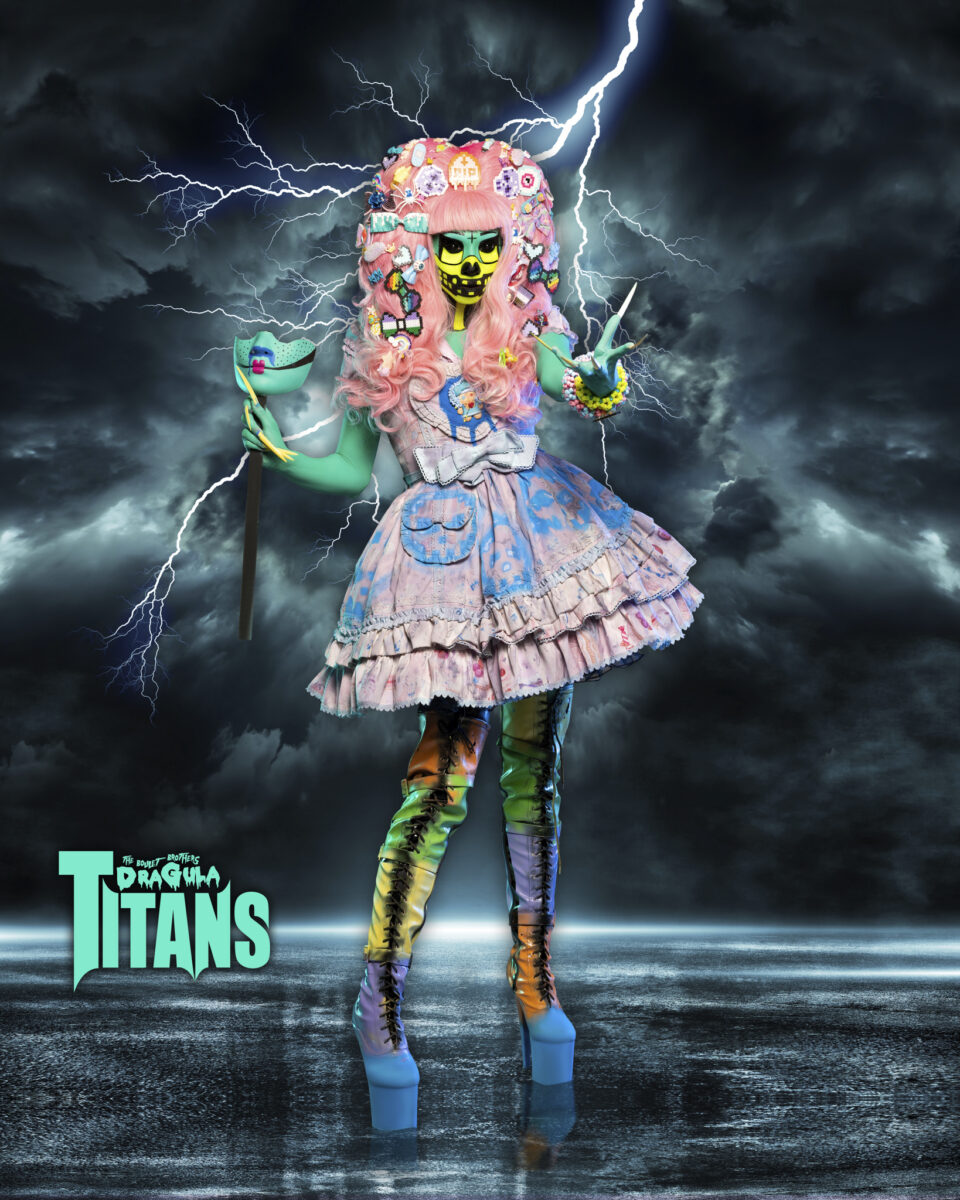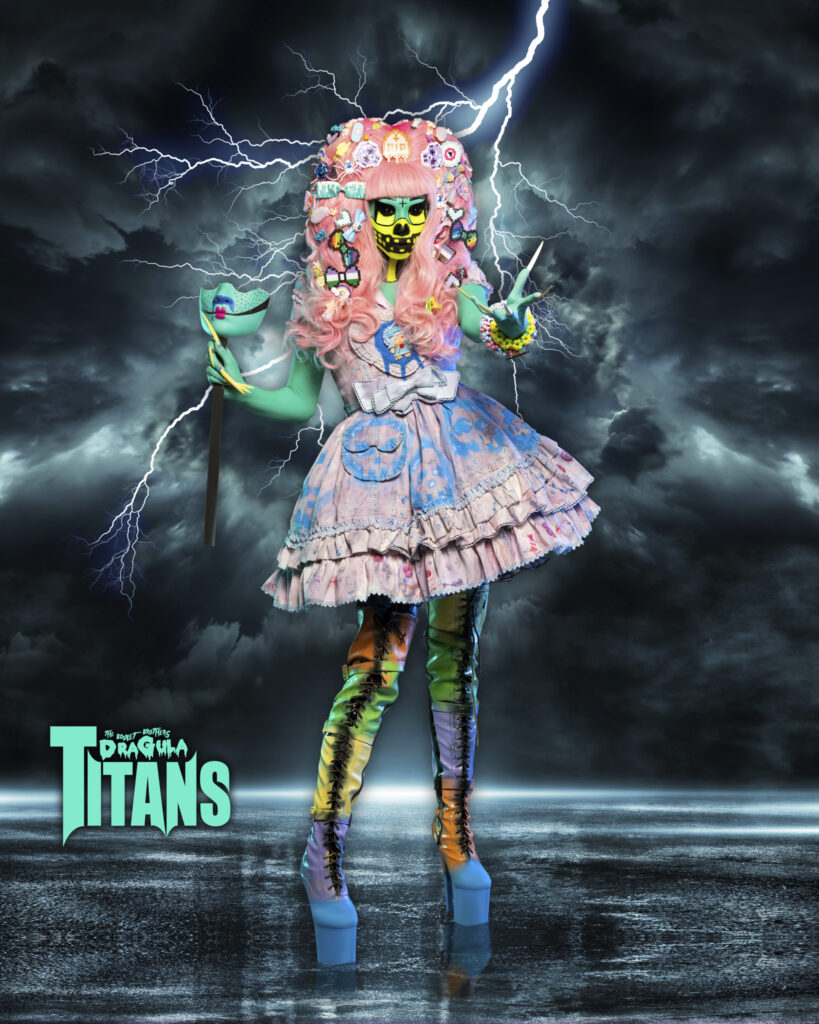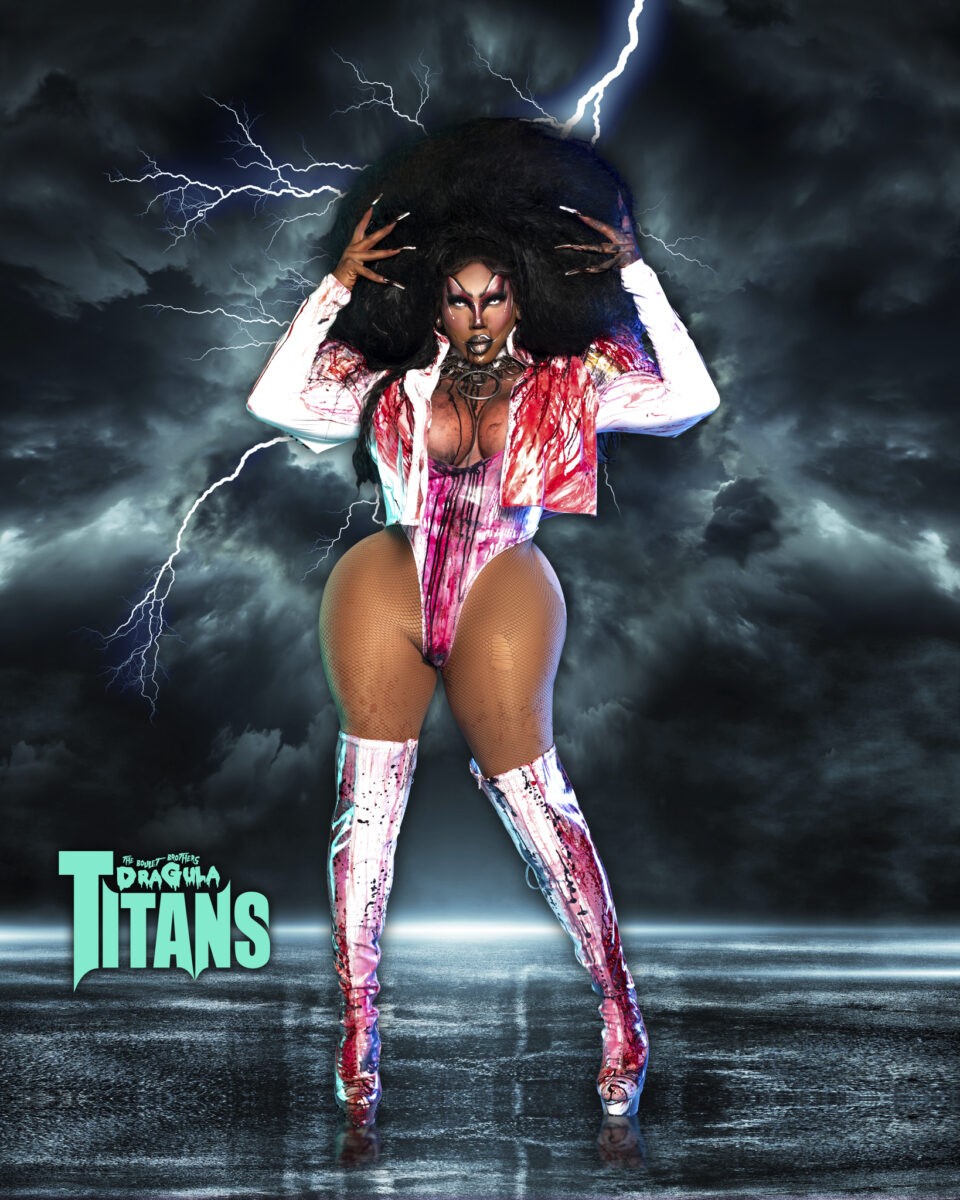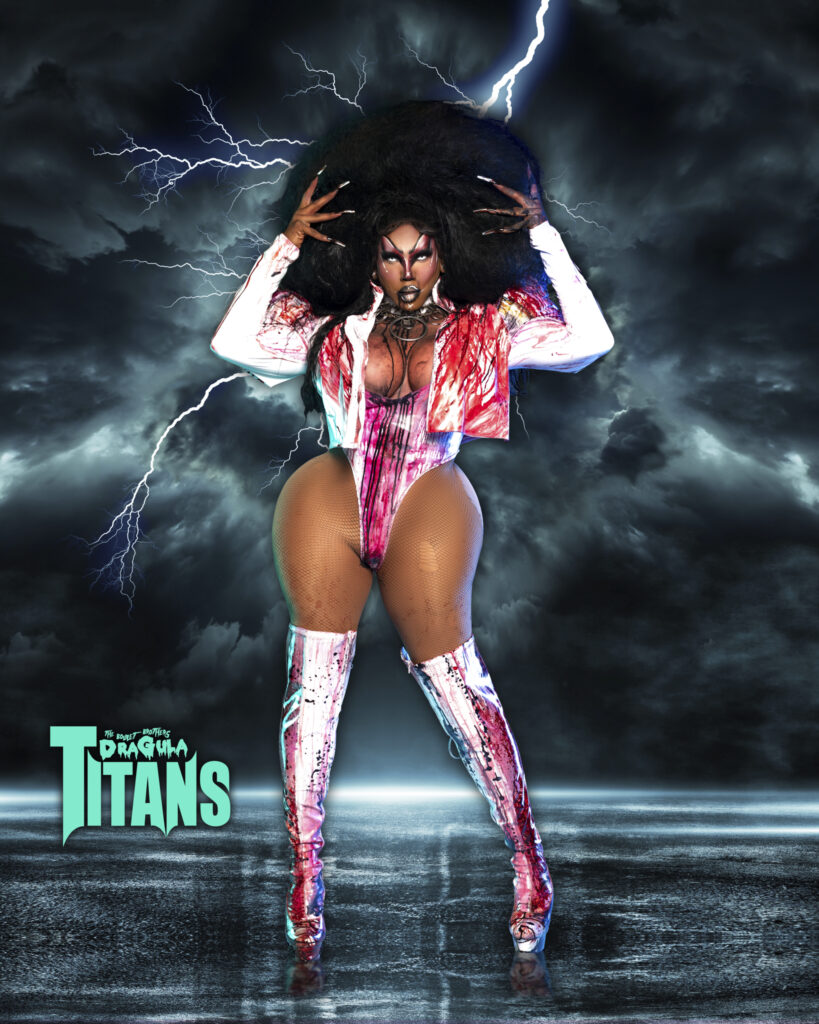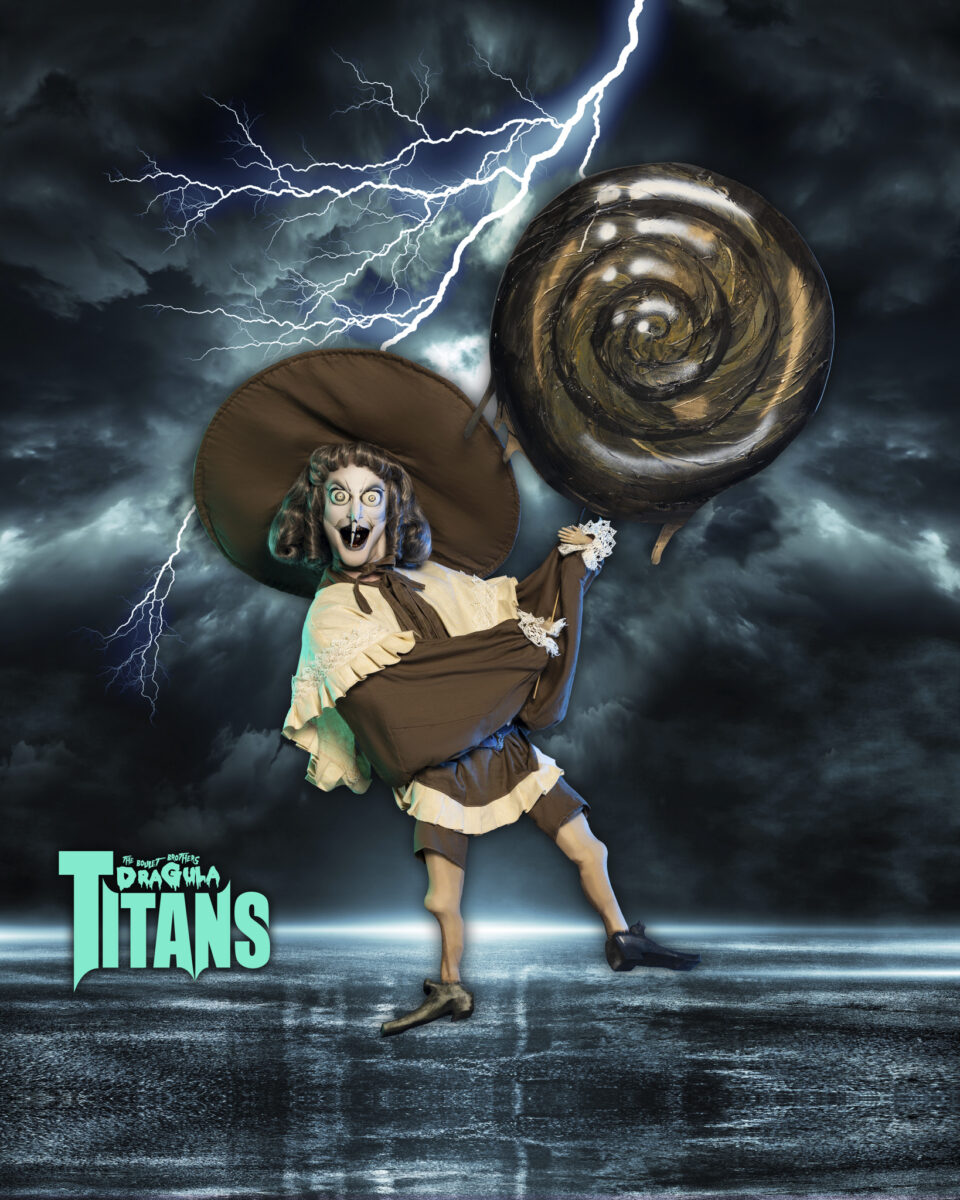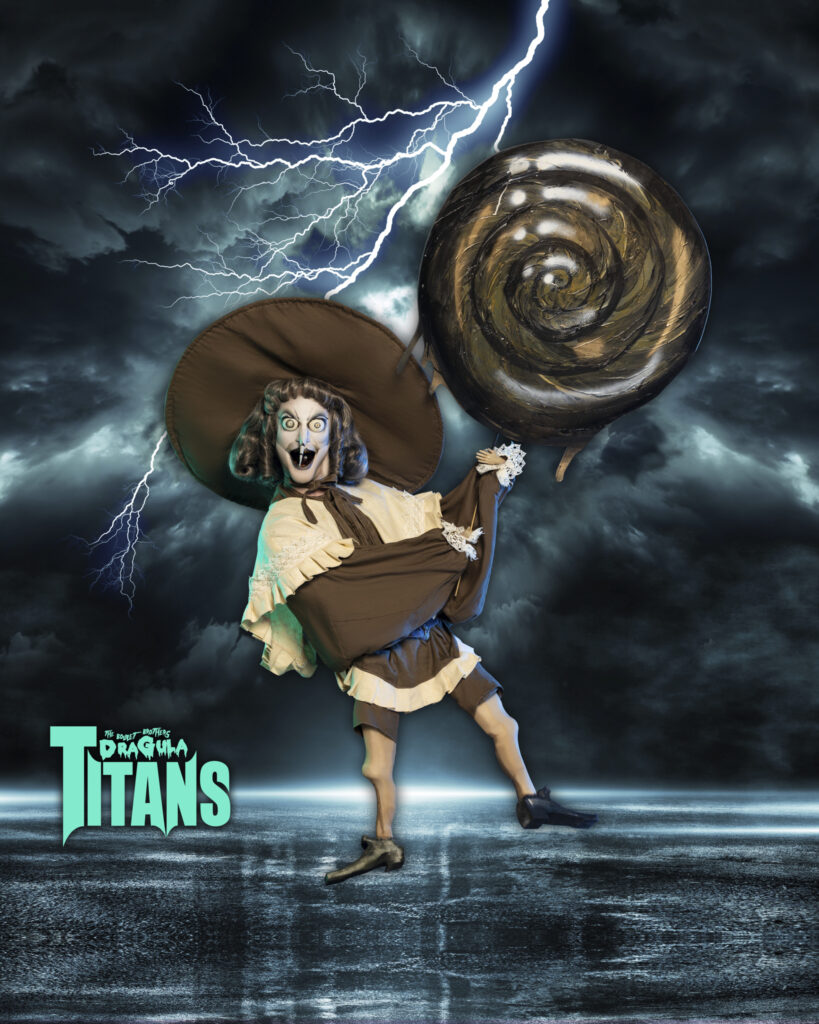 The Last Drive-In Presents: Joe Bob's Ghoultide Get-Together – Streaming LIVE NEXT FRIDAY, December 16, at 9pm on Shudder TV, and on demand starting Sunday, December 18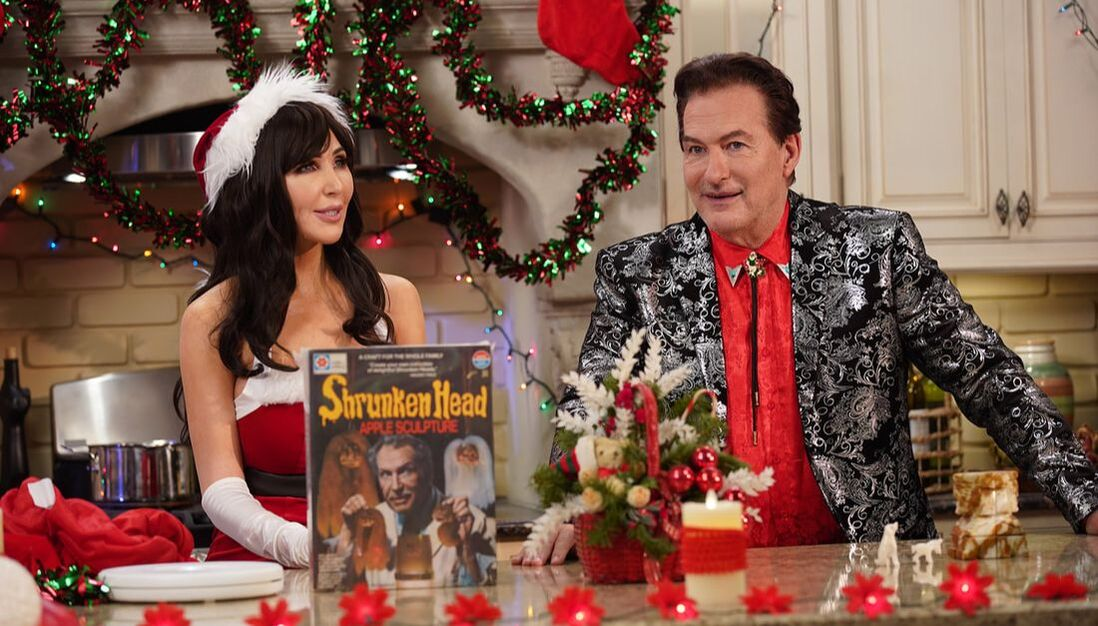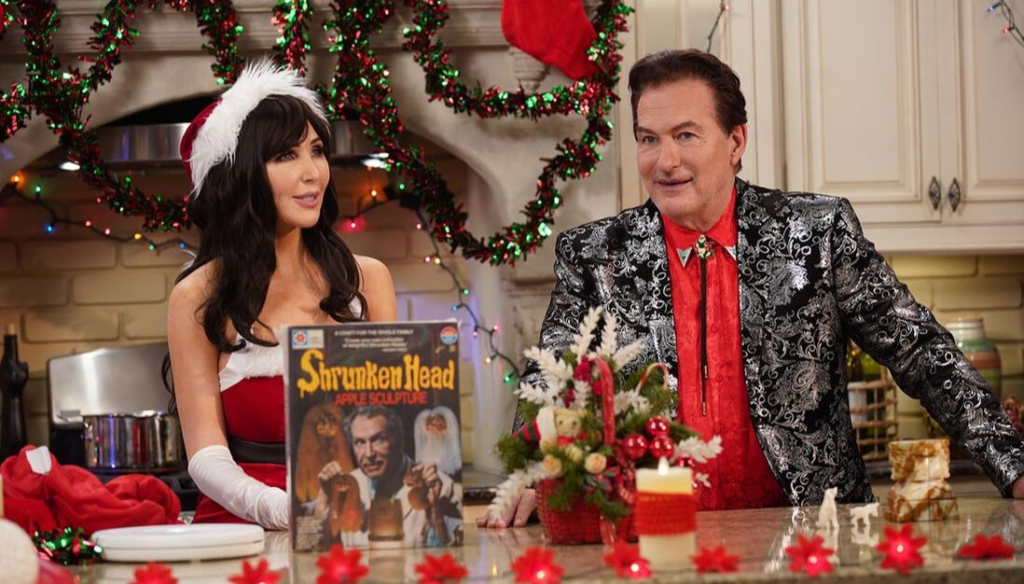 When Joe Bob Briggs made his triumphant return to television with his one-time special The Last Drive-In, horror enthusiasts including myself rejoiced in excitement. I'll admit, memories of late night 'MonsterVision' binges with my father instantly came flooding back to mind. Due to the specials massive success, breaking Shudder's server engines, it's clear we fans wanted more from Joe Bob Briggs, his lovely new mail girl Darcy (Diana Prince co-host and host of The Lost Drive-In Podcast), and The Last Drive-In. Shudder has continued to listen to its fans, as we are now 4 seasons into the show, with a 5th season already in production and a BRAND-NEW holiday special premiering exclusively on Shudder in just under 1 week.
Shudder alumni's Joe Bob Briggs and Darcy the Mail Girl make their festive return to celebrate Christmas in classic drive-in fashion, buckets of gratuitous gore and Joe Bob's copious knowledge of grindhouse horror and humorous rants. The Last Drive-In's third annual holiday special 'Joe Bob's Ghoultide Get-Together' airs live on Shudder December 16th at 9pm EST, with all auctions and proceeds going to charity. And who knows, this year's double feature might even include a holiday horror film or two… (A Shudder Original).
Be sure to join us fellow mutants at HauntedMTL on Twitter as we live tweet along with the show and celebrate the festivities alongside Joe Bob Briggs and Darcy the Mail Girl. Simply tweet @hauntedMTL as well as @shudder, @therealjoebob, and @kinky_horror so we can reply/retweet any posts you have during the live showing.
1 Brit flick, 1 Canuck flick, 20-plus outrageous auction items, 2 rants, 1 sappy letter (because Darcy always insists), the Mormon Tabernacle Choir, the ghost of Bing Crosby, and oceans of Last Drive-In merch that will channel 💰 to charities that need YOU. Genuinely stoked! pic.twitter.com/x9ZpPlWXfJ— Joe Bob Briggs (@therealjoebob) December 9, 2022
New Seasonal Shudder Original & Exclusive Movies
Provided below is a comprehensive list of new upcoming holiday horror films and their premier dates curated by Shudder. Allow me, your purveyor into all things Shudder, be your guide.
A Wounded Fawn – Now Streaming as of December 1st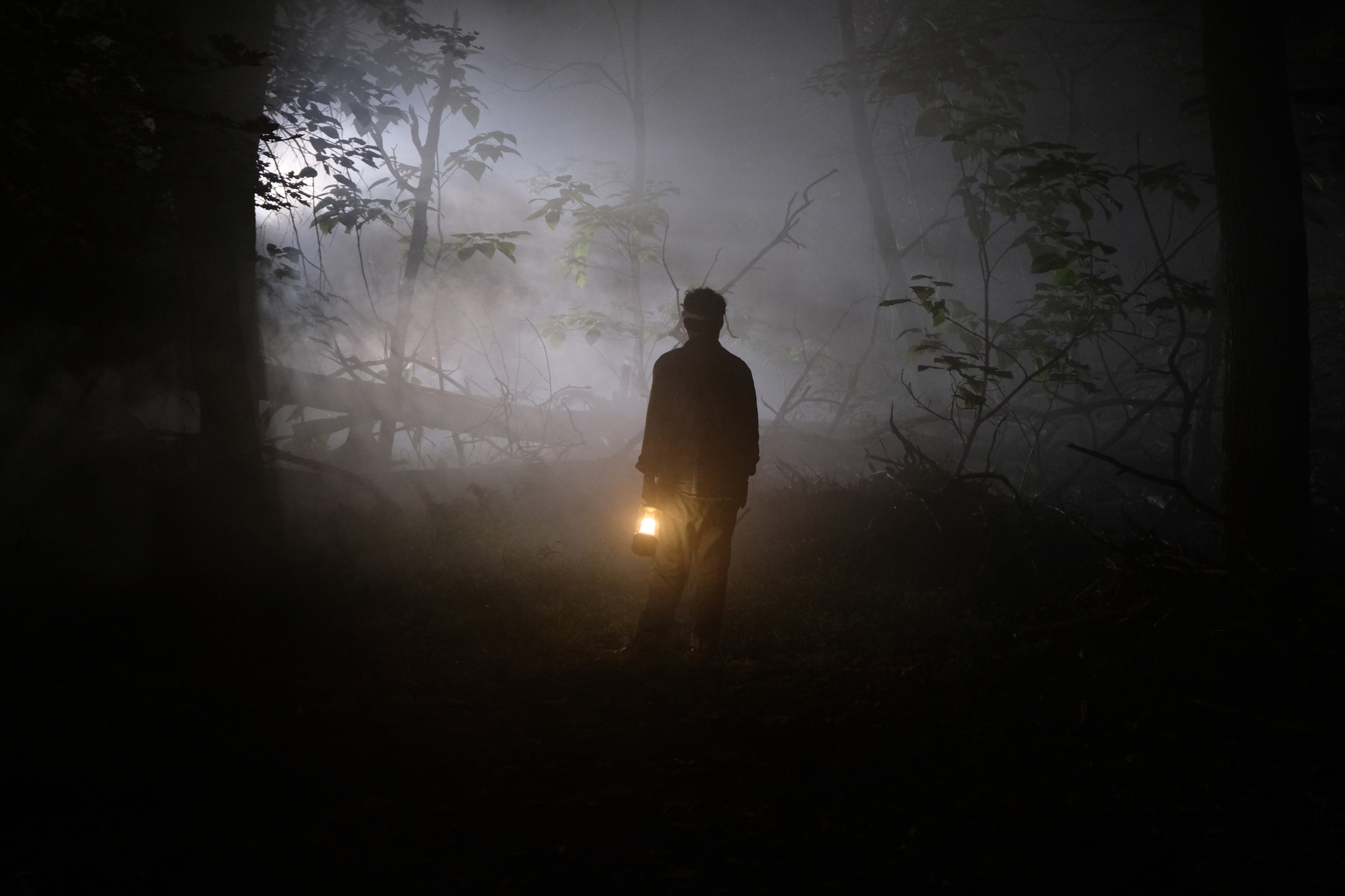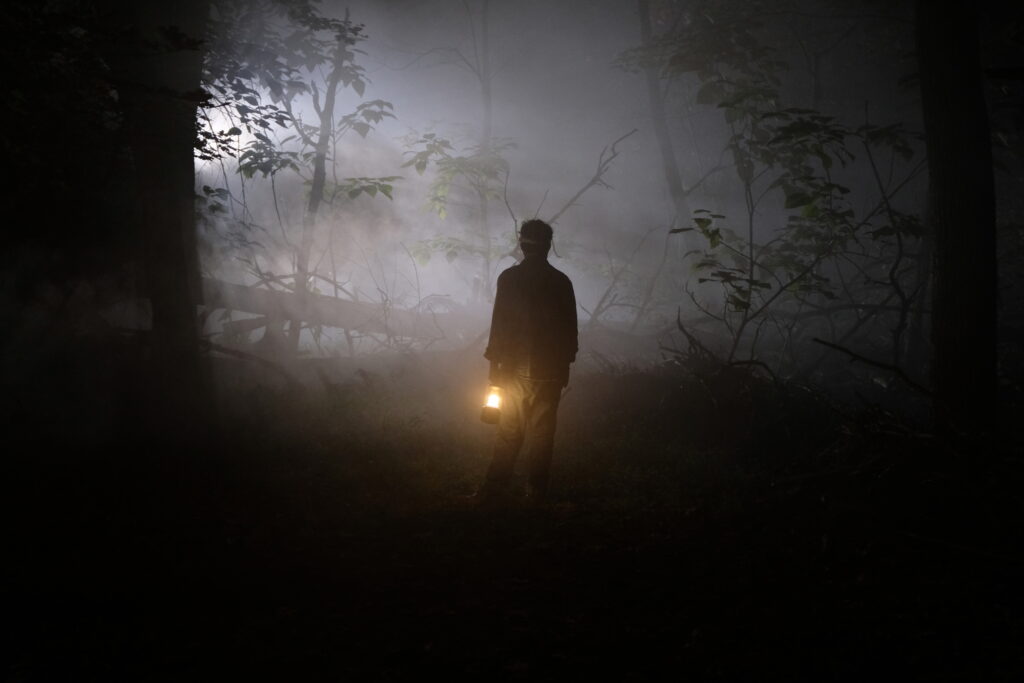 Inspired by surrealist art and Greek mythology, writer/director Travis Stevens (Jakob's Wife) makes his Shudder return with 'A Wounded Fawn'. Following the story of Meredith Tanning (Sarah Lind, The Humanity Bureau), a local museum curator who reluctantly begins dipping her toes back into the murky waters of the dating pool, only to be targeted by a handsomely charming serial killer (Josh Ruben, Scare Me and Werewolves Within). With sparks igniting, a fateful romantic getaway between the two quickly becomes a tense game of cat and mouse, both confronting the madness within him. (A Shudder Original)
Christmas Bloody Christmas–Now Streaming as of December 9th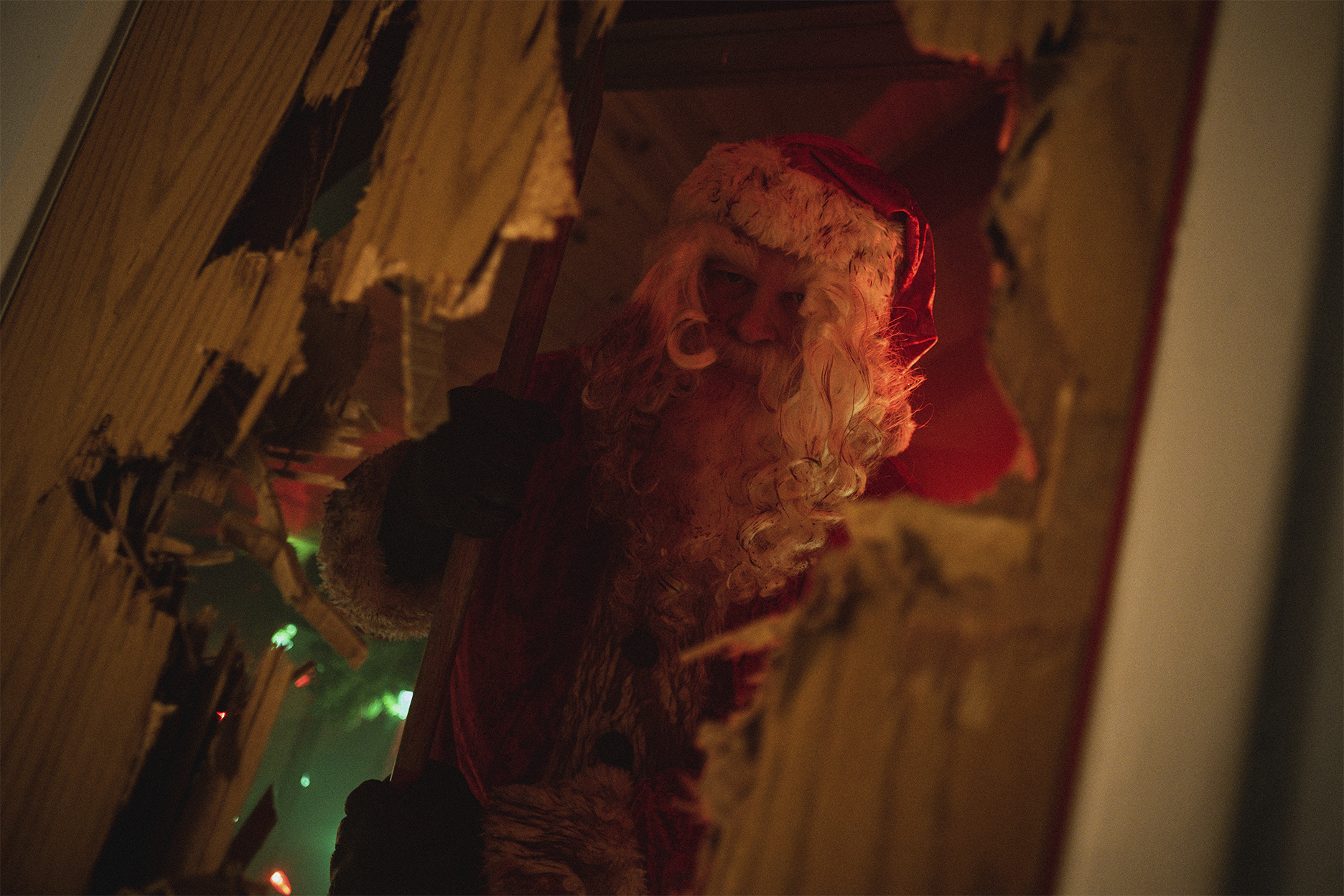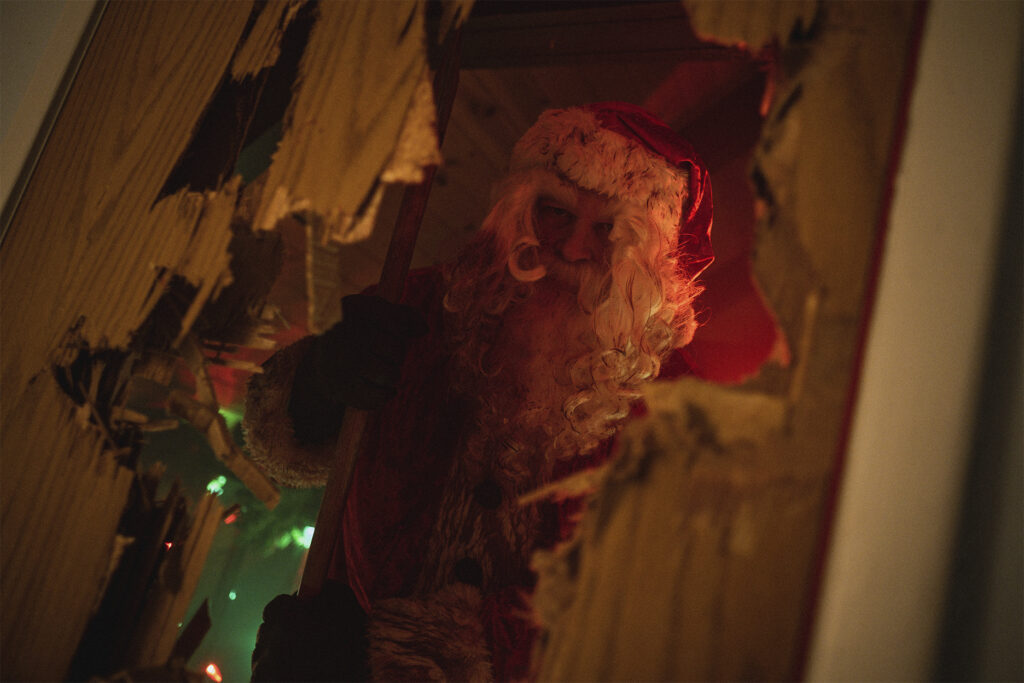 One of my most anticipated releases of the year, Joe Begos (writer and director of Bliss, VFX) has made a lasting impression with his use of grindhouse gore, bright neon colors and signature psychedelic visuals. Begos continues to ride his success with this year's Christmas Bloody Christmas. It's Christmas Eve and spit-fire record store owner Tori Tooms (Riley Dandy, That's Amor) just wants to celebrate Christmas getting drunk and partying, until the robotic Santa Claus at a nearby toy store malfunctions, causing Tori's night of festive debauchery into a night of desperate survival. Jolly robot Santa Claus enacts a rampant killing spree through the flashing neon drenched snowscape against a backdrop of drugs, sex, metal and violence, ultimately forcing Tori in a night of blood splattered fisticuffs against the killer heavy metal Saint Nick. Co-starring Sam Delich (Spiderhead), Jonah Ray Rodrigues ("Mystery Science Theater 3000"), Dora Madison (Alone with You), Jeremy Gardner (After Midnight), with Jeff Daniel Phillips (The Lords of Salem, The Munsters) and Abraham Benrubi ("ER"). (A Shudder Original)
Be sure to check back next week for my full review, as I continue to provide you with more jovial horror film reviews all month long here on HauntedMTL.
The Apology-Premiering Friday, December 16th
Twenty years following the disappearance of her daughter, recovering alcoholic Darlene Hagan (Anna Gunn, Breaking Bad) is preparing to host her family's annual Christmas celebration with the help of her next-door neighbor and close friend, Gretchen (Janeane Garofalo, Wet Hot American Summer). Arriving at their family house unannounced late Christmas Eve, Darlene's estranged ex-brother-in-law, Jack (Linus Roache, Mandy) comes bearing nostalgic gifts and a heavy secret. Soon, Darlene finds herself caught between reason and ruthless instinct. Trapped together by a dangerous storm, a battle of wits escalates to a savage game of revenge. Written and directed by Alison Locke in her first full feature debut, 'The Apology' is sure to fill your chilly nights with unsettling nightmares. (A Shudder Exclusive)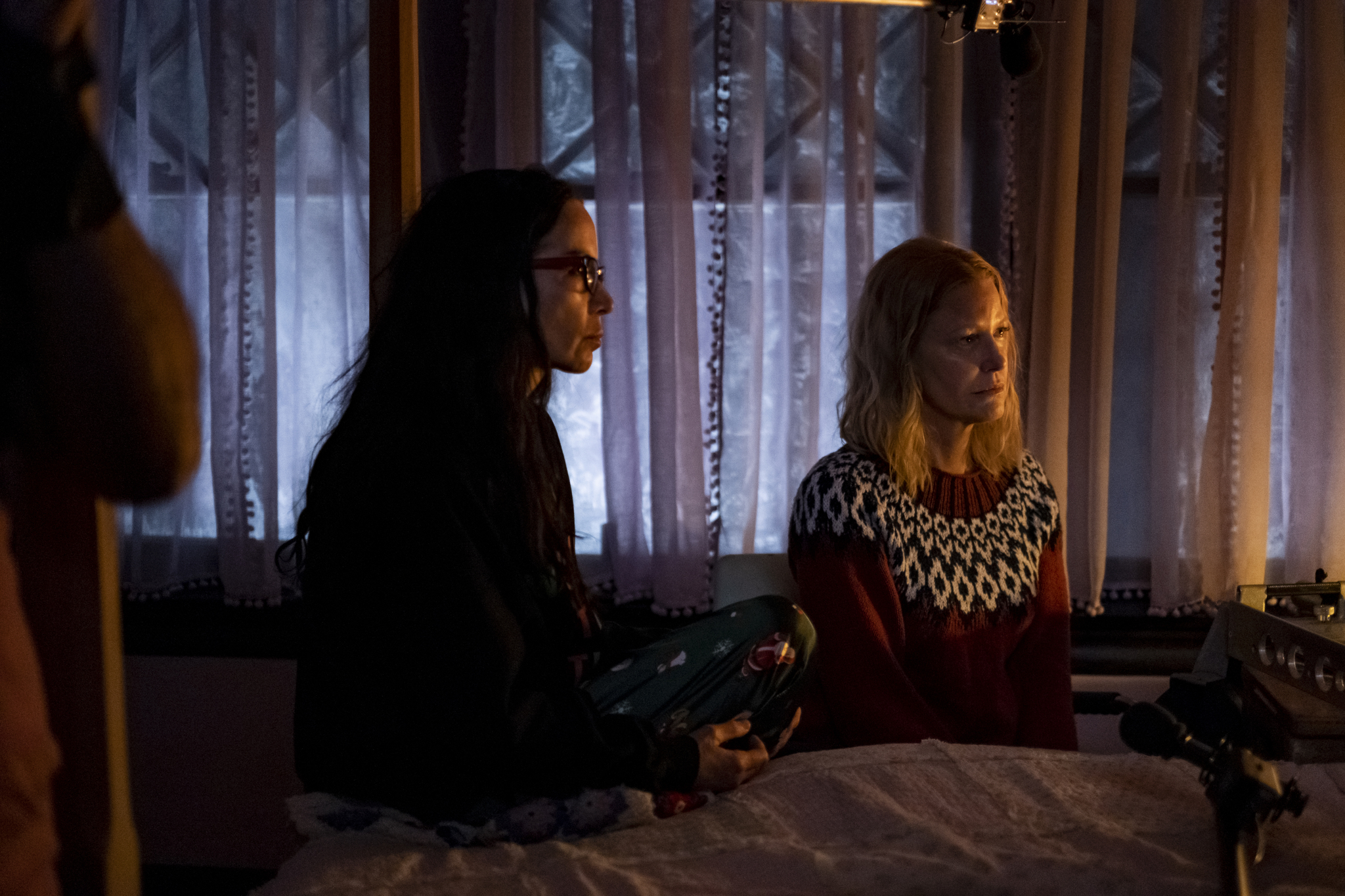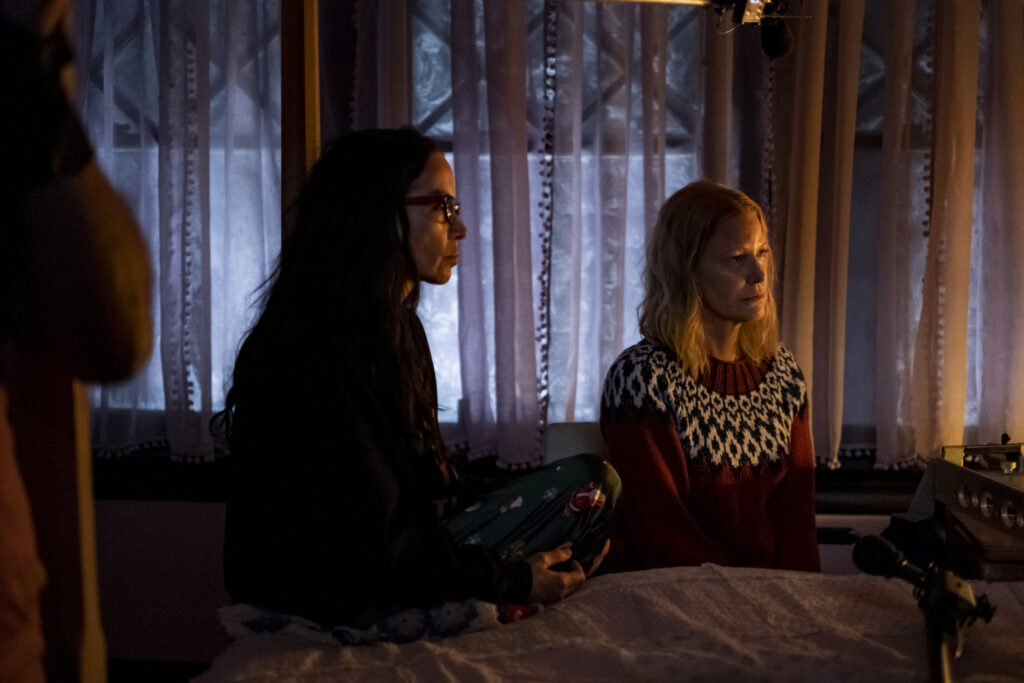 Scare Package II: Rad Chad's Revenge – Premieres Thursday, December 22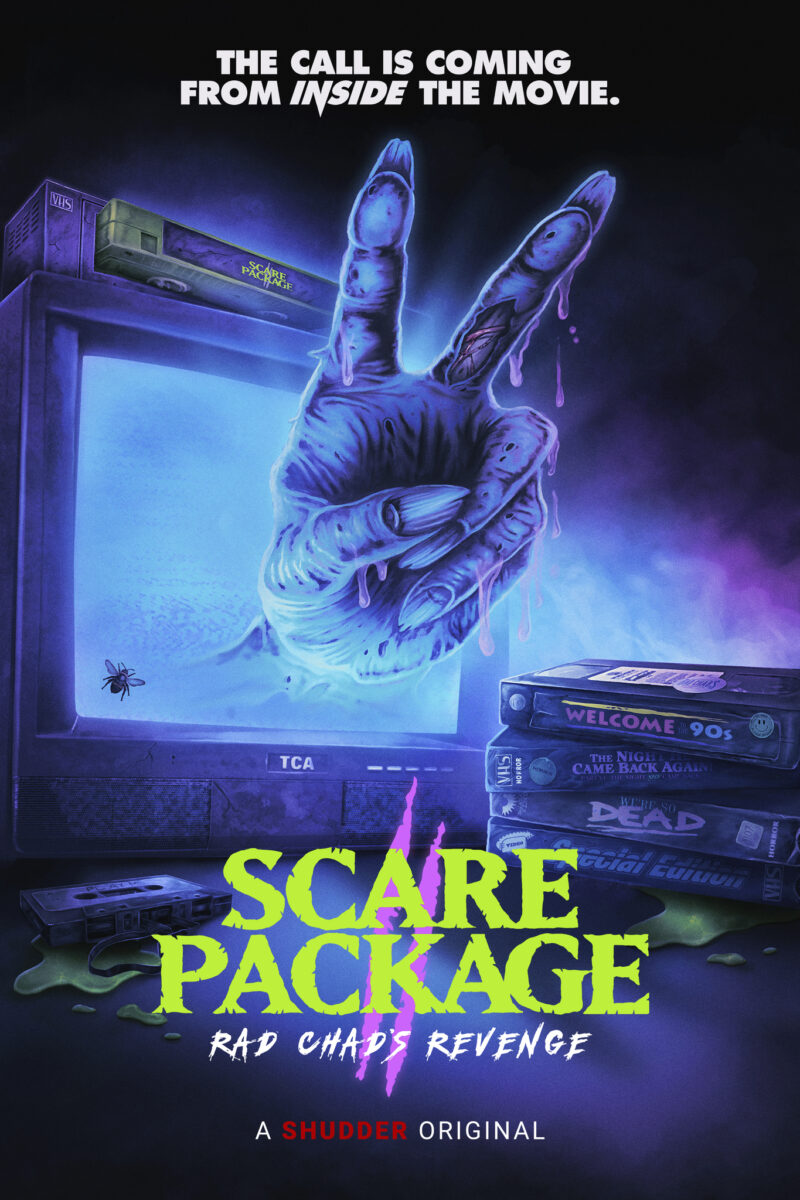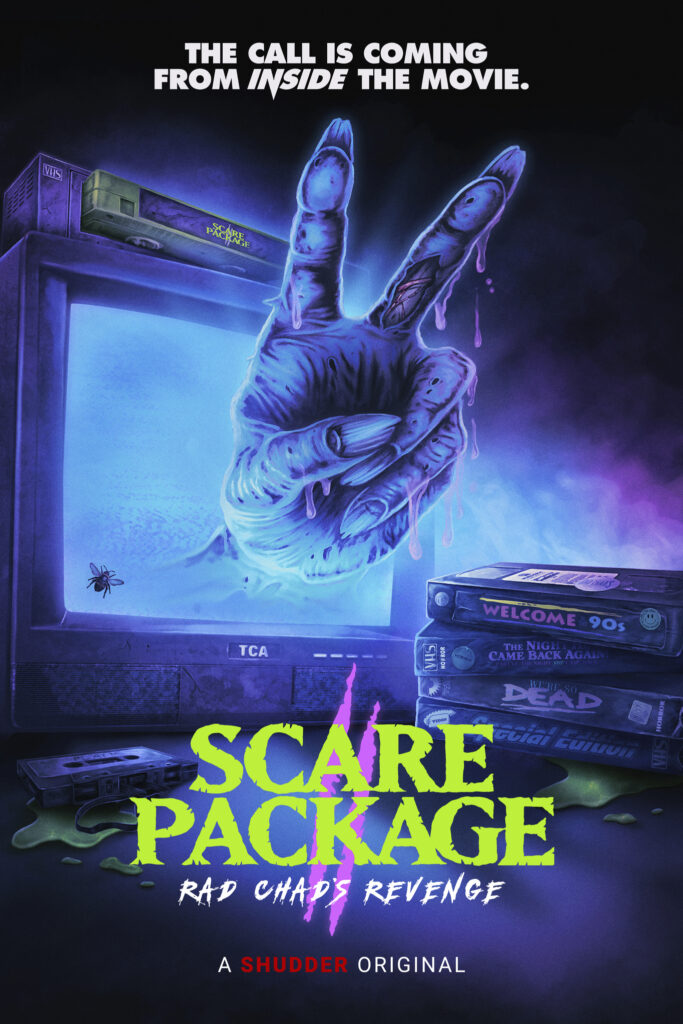 With the surprising success of Scare Package, it's only obvious director and co-creator Aaron B. Koontz delivers his follow-up 'Scare Package II: Rad Chad's Revenge' exclusively to Shudder, offering new and hilariously fun practical effects along the way. When horror guru Rad Chad Buckley's funeral turns into an elaborate series of death traps centered around the deceased's favorite scary movies, the guests must band together and use the classic rules of horror to survive Chad's bloody game. Maintaining the anthology structure from its predecessor: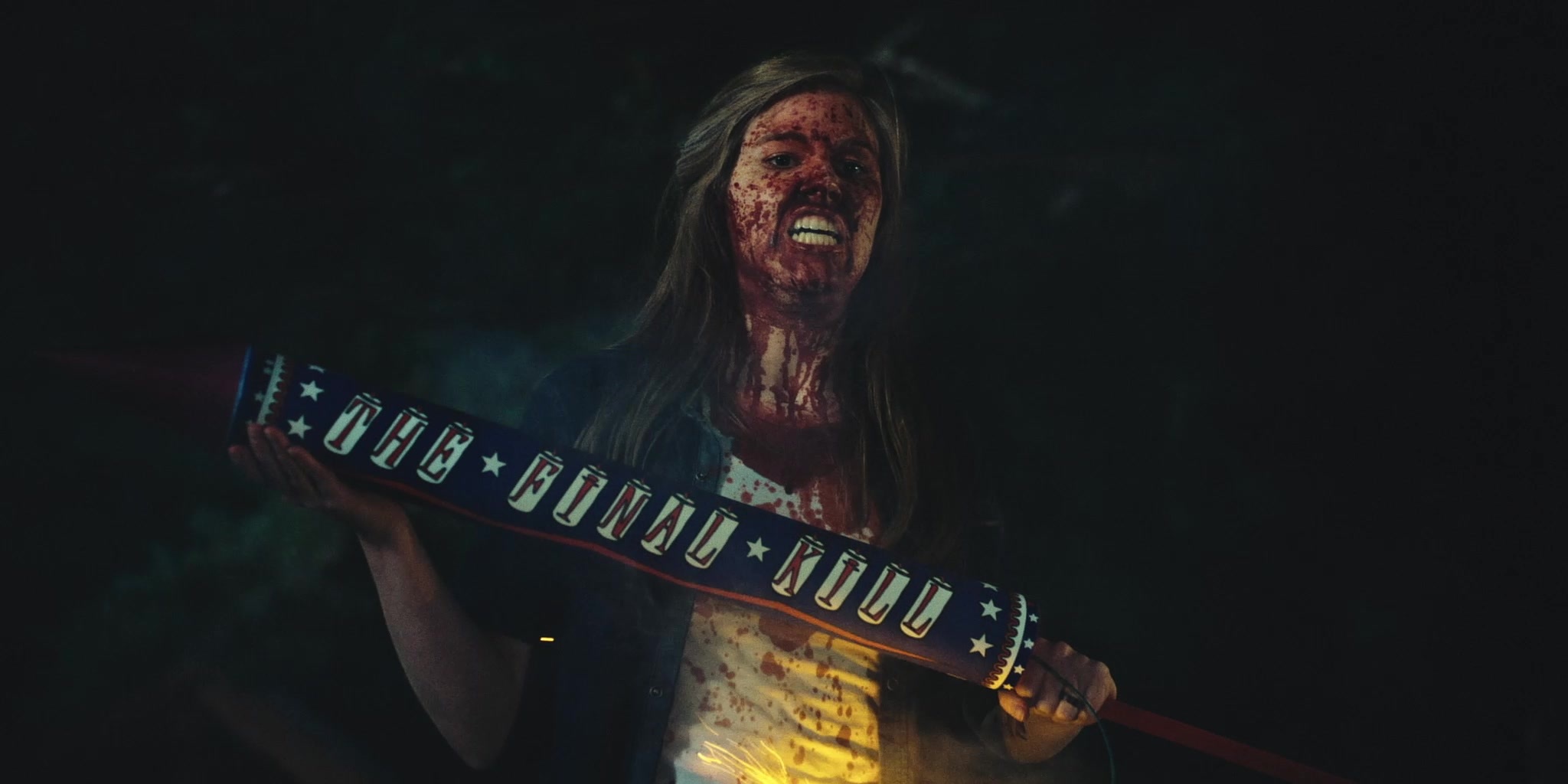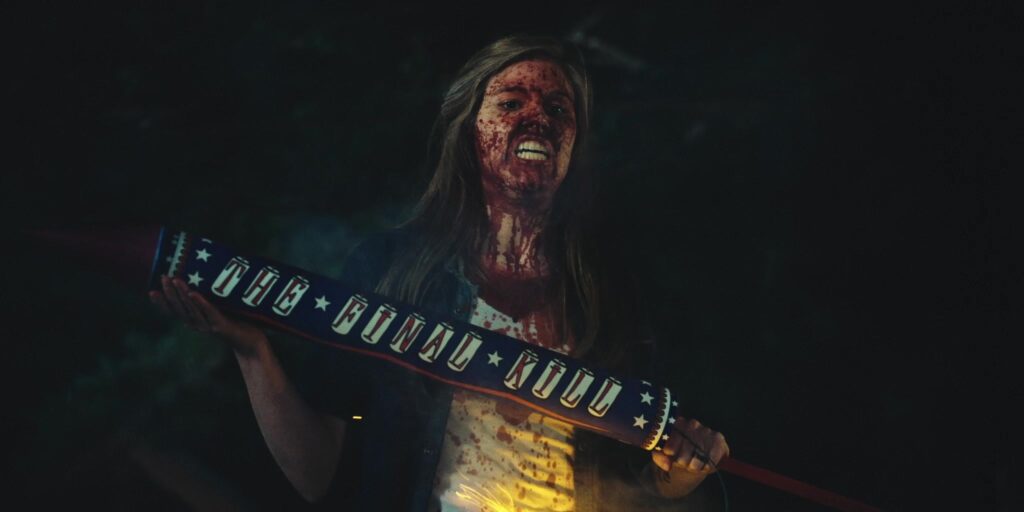 Core Story: Rad Chad's Revenge directed by Aaron B. Koontz.
Segments: Welcome to the 90's directed by Alexandra Barreto, The Night He Came Back Again Part VI – The Night She Came Back directed by Anthony Cousins, Special Edition directed by Jed Shepherd, and We're So Dead directed by Rachele Wiggins. (A Shudder Original)
Burial – Premieres Thursday, December 29
Set in 1945 during the final days of WWII, a band of Allied soldiers trafficking Hitler's remains out of Germany are ambushed by Nazi Wehrwolf fighters. Burial is a gritty fresh take on the werewolf subgenre acting as both a political thriller period piece and bloody creature feature. Directed and written by Ben Park (Girl on the Third Floor) and starring Charlotte Vega (2021's Wrong Turn remake), Tom Felton (Harry Potter series, be sure to check out the massive amount of selfless work in charity he's done over on his Instagram livestream @t22felton), Harriet Walter, Barry Ward, Dan Renton Skinner and Bill Milner. (A Shudder Exclusive)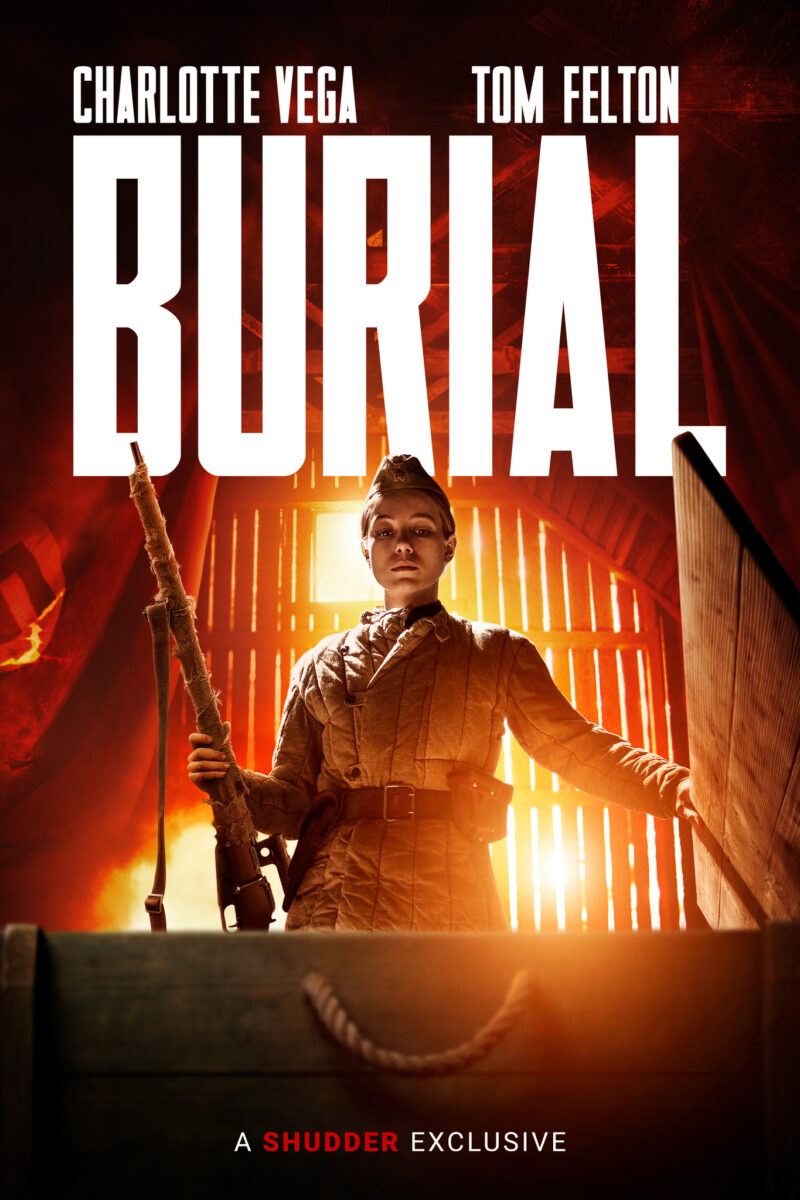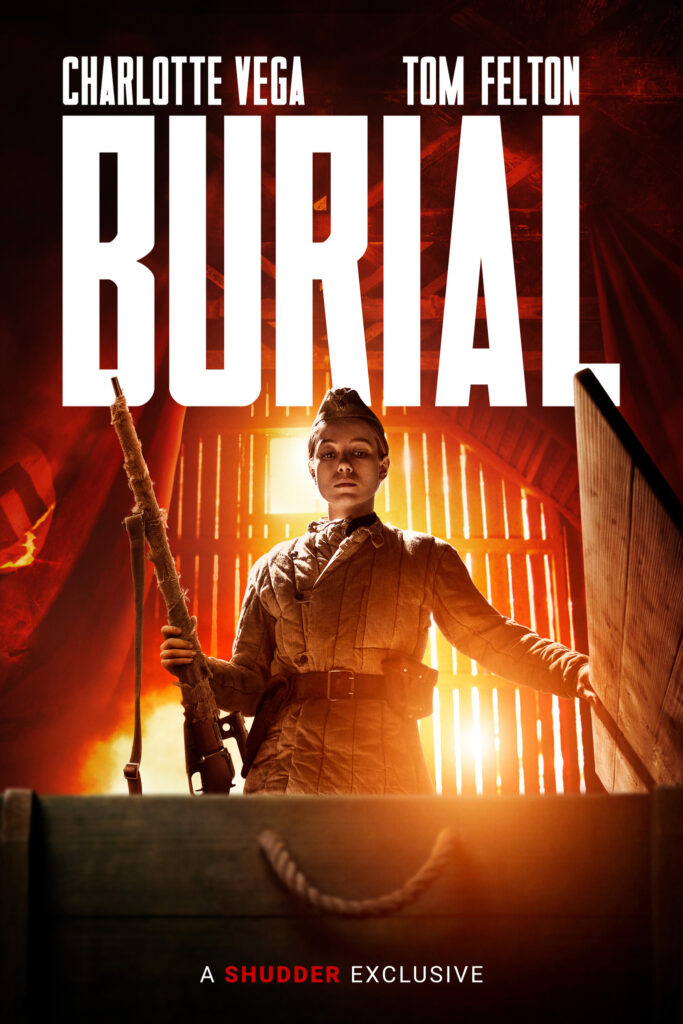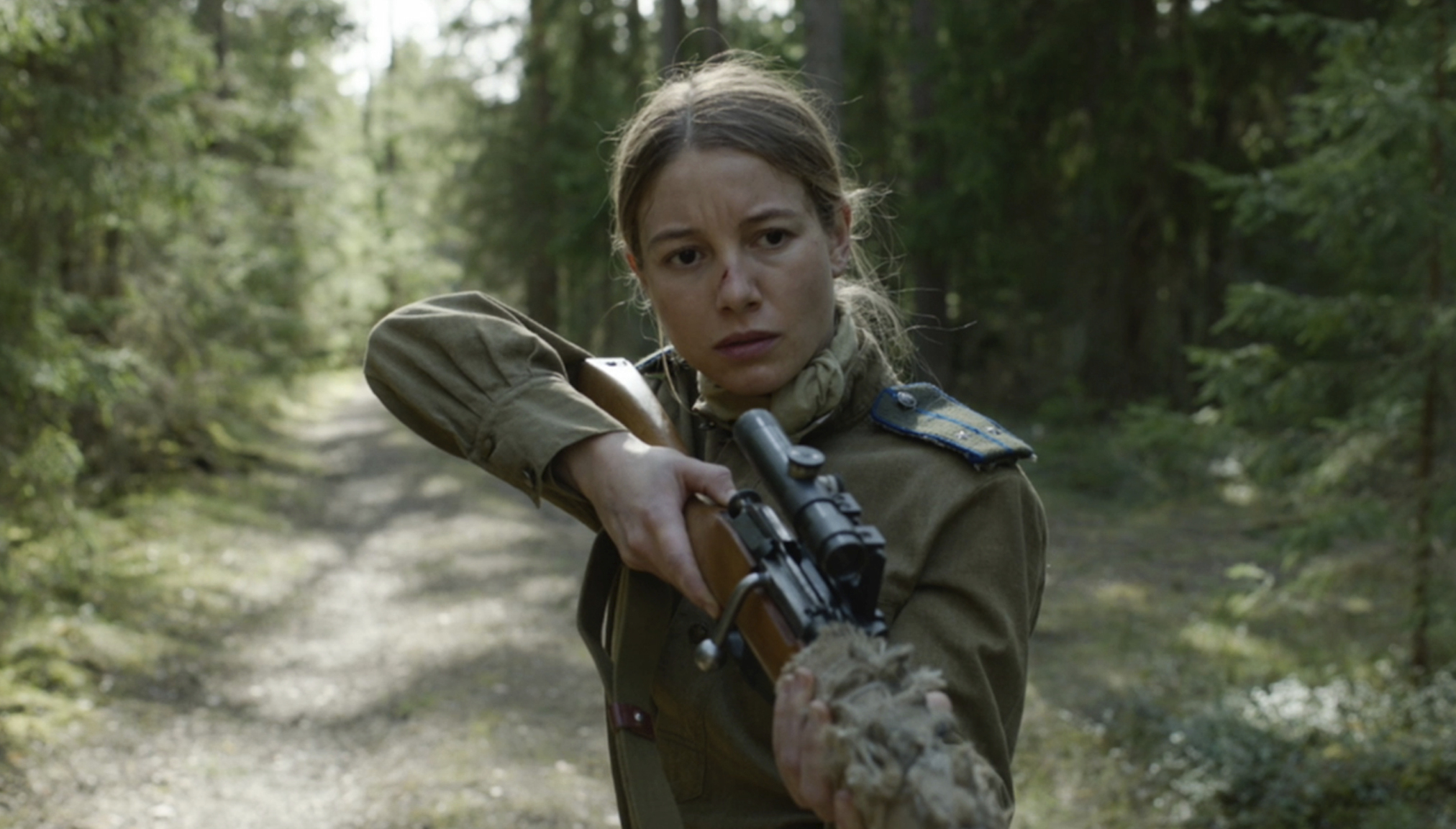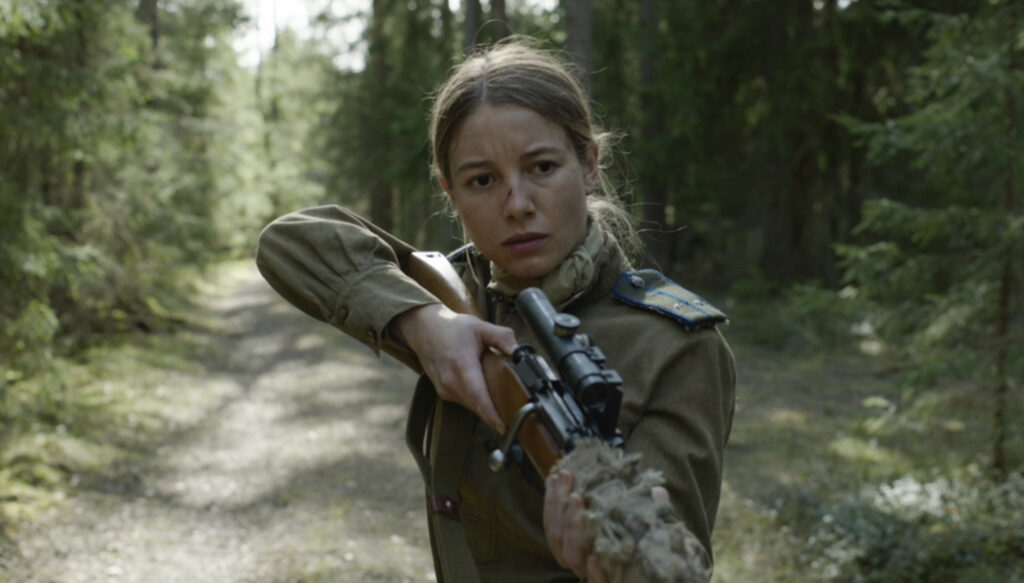 The Unhappy Holiday Collection; for the Grinch in you!
Are you like me and completely dread the holidays? They're stressful, expensive, and the dreary weather brings anything but a festive spirit. However, with the holidays comes beautiful decorations, excuses to bundle up in hooded sweaters and loose sweatpants, and of course, new yuletide tales of terror along with returning classic favorites. Let your Grinch flag fly and celebrate this season with Shudder's "Unhappy Holidays Collection." New additions this month include Night of the Comet (12/1), Christmas Bloody Christmas (12/9), along with current Shudder titles Silent Night, Deadly Night Part 2, Silent Night, Deadly Night 3: Better Watch Out, Silent Night, Deadly Night 4: The Initiation, Silent Night, Deadly Night 5: The Toymaker, To All A Good Night, Black Christmas (1974), Christmas Evil, Better Watch Out, A Christmas Horror Story, All The Creatures Were Stirring, Christmas Presence, Deadly Games, Blood Beat, The Advent Calendar, A Creepshow Holiday Special, and a personal favorite of mine, The Christmas "Ghoul Log
Killer Classics Returning to Shudder's Library
For a full comprehensive list of everything returning to Shudder throughout the month of December, be sure to sign up for Shudder now to receive monthly notifications sent directly to your email and your first 7 days free. Offering an abundance of categories, award winning exclusives including The Last Drive-In with Joe Bob Briggs, and membership plans starting as low as $5.99 per month, Shudder is the perfect gift for the lovable and dorky horror junkies in your lives.
December 1
Night of the Comet: A huge comet passes near the earth, vaporizing nearly the whole planet. Only a few teenagers (Catherine Mary Stewart, Kelli Maroney), survive–all those outside… turned to dust. Those few partially exposed people who survived are now mutated, blood-thirsty zombies begin a deadly hunt for the last remaining humans to feast upon their flesh.
December 12
The Police Are Blundering in the Dark: During an outbreak of violent murders in the area targeting young women, a journalist searching for a female friend gone missing ends up in a villa owned by an eccentric photographer.
The Killer is One of Thirteen: A widow invites thirteen guests to stay at her rural mansion. She reveals to them that she suspects whoever killed her husband must be one of them. Soon, they too are being murdered one by one.
Girl in Room 2A: A sadistic killer cult kidnaps and sacrifices beautiful women. A young girl, just paroled from prison, moves into a strange house and appears to be the cult's next victim.
The French Sex Murders: A man is accused of killing his favorite prostitute in a French brothel. He's tried and sentenced to death. He tries to escape but dies during pursuit. Soon, people connected to the case are killed one by one.
Autopsy: This lurid giallo stars Mimsy Farmer (Four Flies on Grey Velvet) as a morgue worker who begins investigating a series of suicides that she comes to suspect may actually be murders. Helping her with the case is a priest who's prone to violent outbursts. Could his short fuse be because his sister was a recent victim – or is he the man behind the crimes? The only thing certain in this fast-paced fright film is that nothing is certain.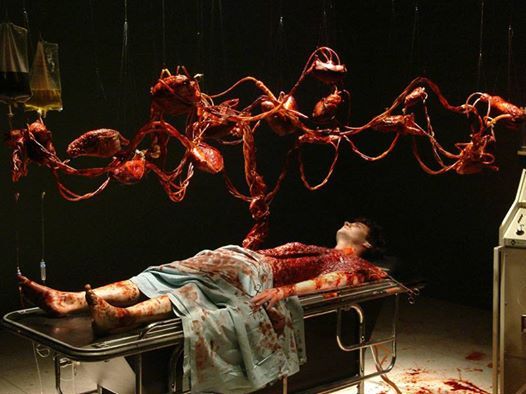 Murder Mansion: A couple, lost in thick fog, take refuge in an old mansion next to a cemetery. Strange things start to happen.
Crazy Desires of a Murderer: A rich girl invites a few of her friends, including one she befriended during a recent trip to Asia, to her family manor to spend the weekend. Soon, someone gets horribly killed, and secrets and dark desires begin to unravel.
Arabella Black Angel: Arabella is a nymphomaniac who has sex with any man. One day, her husband, a writer, meets her and another man. She has a strange reaction: kills the lover. Her husband hides the corpse. From that moment on, he encourages her meetings with other men, and writes down the experiences in his new book.
The Killer is Still Among Us: During a spree of violent killings, a young woman writing a thesis in criminology begins to suspect that her new boyfriend, who is a forensic pathologist, might be a serial killer.
The Sister of Ursula: While searching for their estranged mother, two beautiful sisters, Dagmar and Ursula, arrive at a luxurious seaside hotel. At the same time, a mysterious killer starts murdering promiscuous women in the area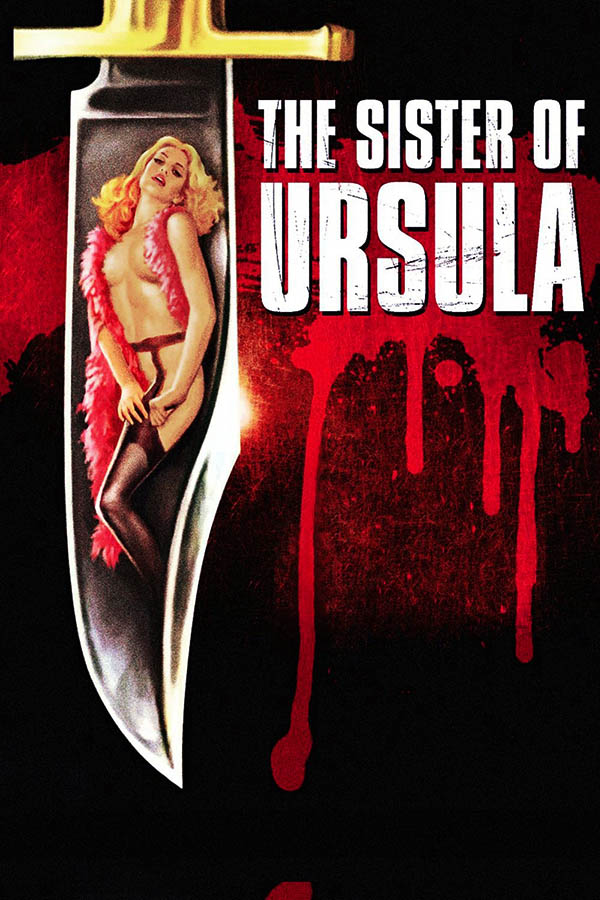 Keep checking HauntedMTL.com, as well as follow us on Twitter and Instagram @_hauntedmtl_ for all your latest Shudder news, provided by yours truly. Now, grab your remote, dim the lights, kick back and enjoy what remains of 2022 with a nice helping of Christmas horror movies with the whole family if you dare.
Joe Bob Briggs Creepy Christmas spooktacular: The Last Drive-In Special Charity phenomena
Famed horror host, Pulitzer Prize nominated, and Cracker Barrel aficionado Joe Bob Briggs is back in action, ready to bring some macabre merriment to your holiday season with Joe Bob's Creepy Christmas. It also gives us horror fans something to take into the new year, be that something Darcy's panties (sorry, box, I tried) or just the intangible good feels of hanging with friends and supporting a lot of good causes.
The Return of Joe Bob Briggs's Christmas Special
The Joe Bob Briggs's Christmas event is akin to a Jerry Lewis telethon for Gen X, with a twist of 'the last drive-in with Joe Bob Briggs'. This 'Briggs' auction of sorts is a nostalgic nod to the past, especially for those who remember the telethons. The dread, however, has shifted from the … well… whatever Jerry was supposed to do (see Sam Kinison's bit on this for more info) to that of evil goodies.
Without a doubt, this Joe Bob Briggs special is the event we eagerly anticipate each year. It's a tradition, and a worthy one at that. We hope to see everyone on the interwebs, joining the 'creepy links' and engaging in the conversation (We'll be on Threads and Twitter….tag us as you wish!) 'live' the only way anyone should ever watch a tv show (oh, and I guess on demand, but ya weirdos will never know the sting of the Iron Mutant Award!). 'Live' is the only way anyone should ever watch a TV show, especially 'the last drive-in with Joe Bob Briggs' (as it's far too hard to watch tv whilst dead).
Joe Bob's Creepy Christmas The 'Last Drive-In with Joe Bob Briggs and Darcy the Mail Girl' special will hit the airwaves live on Shudder TV and AMC+ TV on Friday, December 15th at 9 p.m. ET. Fans of 'the last drive-in with Joe Bob Briggs' can also catch the special on-demand starting Sunday, December 17th.
A Creepy Christmas with a Cause
In its fourth year, the holiday tradition of The Last Drive-In goes beyond mere entertainment. It aims to use the platform to raise funds for four vital causes. The charity auction will feature unique props and exclusive merchandise from The Last Drive-In and memorabilia from Briggs' illustrious 35-year career…including some of his unspoken work as John Bloom. I say Unspoken, because if anyone remembers the first Christmas Special, the autographed copy of Eccentric Orbits was featured (sincerely, a good book–check it out if you haven't. Jim gives it 4.5/5)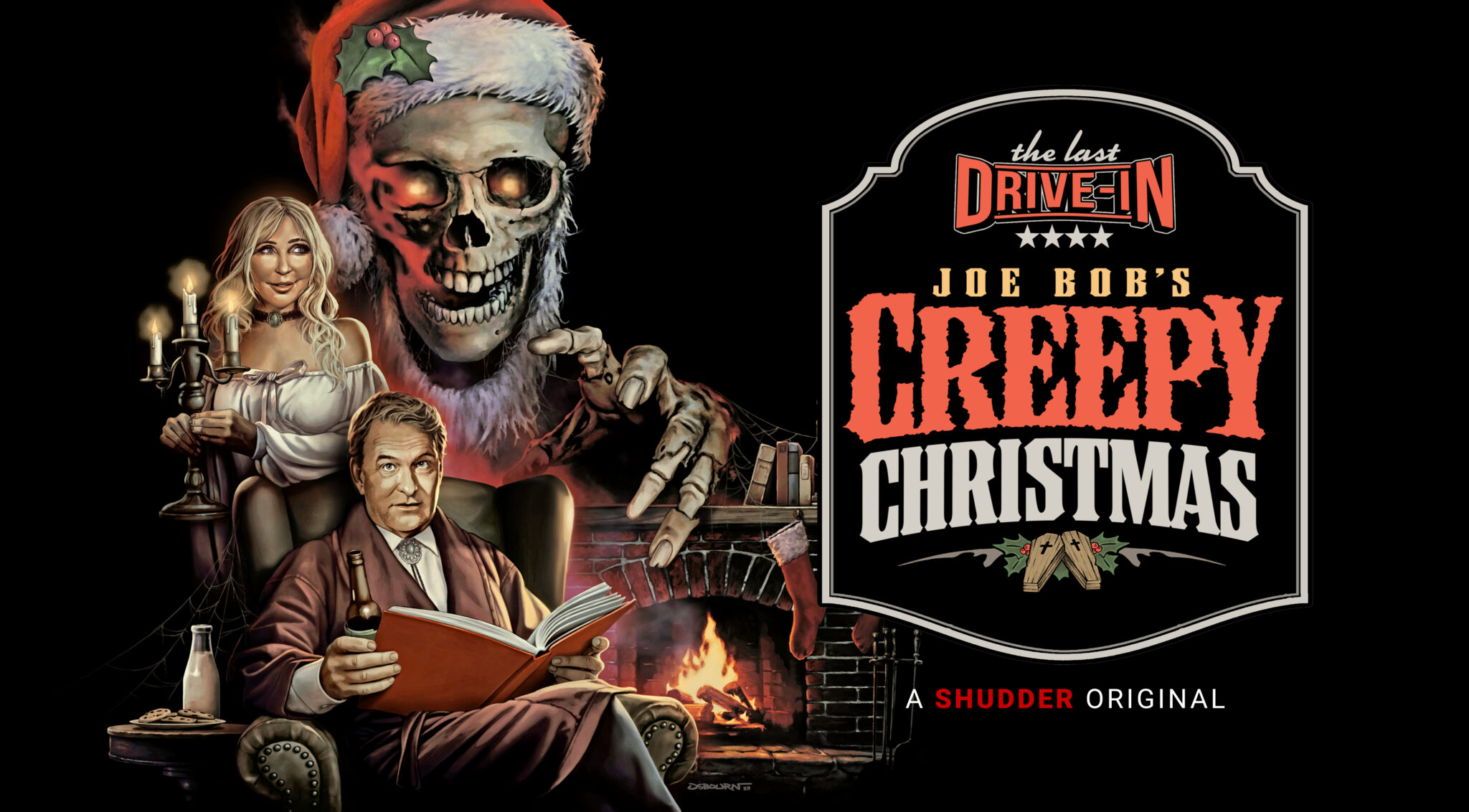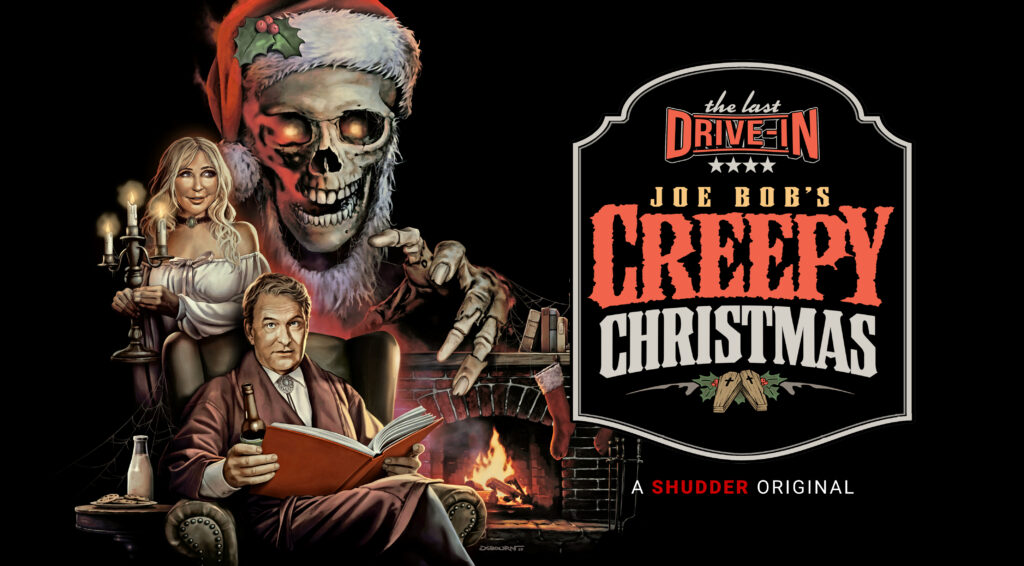 The supported charities for Joe Bob's Creepy Christmas will include:
The Mystery of the Joe Bob Briggs's Creepy Christmas Special
The anticipation for Joe Bob's Creepy Christmas is high, with fans wildly speculating what films will be featured. Personally, nothing can beat the #1 top horror Christmas film of all time, the Easter classic: Passion of the Christ (if a snuff film about a guy who doesn't fit in getting whipped and nailed up doesn't scream horror story, I don't know what does. Also: See Sam Kinison's concept on crosses and resurrection). However, a Christmas movie I really want to see up on this is Hogzilla and Kiss Save Santa Clause! BOOMMM!! Christmas Won!
As we eagerly wait for December 15th, we wonder what surprises our favorite horror host, Joe Bob Briggs, has in store this time. Will there be exclusive 'merch' that Jim will buy and then accidentally put in a Toys for Tots box in the mall?
Join the Fun, Join the Cause, Join the Joe Bob Briggs Christmas event!
Are you ready to dive into the world of Joe Bob's Creepy Christmas? Do you dare to watch along and help raise money for a good cause? If so, join us at HauntedMTL on Threads (_HauntedMTL_) and maybe Twitter (@HauntedMTL) as we experience the thrill and chills that only Joe Bob Briggs and Darcy can deliver.
Remember, this is not just about indulging in some good old horror fun with 'Joe Bob's' double feature. It's about giving back and making a difference. So, let's gear up to have a creepy Christmas with 'Joe Bob Briggs', filled with 'christmas horror films', 'christmas demons', 'christmas slasher films', 'ho-ho-horror', 'yuletide horror' and insightful 'horror commentary'.Joe Bob's Creepy Christmas and make this holiday season memorable for all the right reasons! I'm sure Fright Rags will have another stellar set this year, too. They are perfect for the horror fan in your life (even if that fan is you!). I can't wait to see what they have in store (no pun).
SPECIAL — IF YOU WANT Freeeeeeeee (as supplies last) Fright Rags Joe Bob Briggs merch for this year, just tweet/thread at us during the event and Jim will pick the one that makes him chuckle the most (you will need to give us your address and size in DMs)
No subscription to watch Joe Bob Briggs's Creepy Christmas yet? No problem! Check the link below:
AMC Networks' Shudder is a premium streaming video service, super-serving members with the best selection in genre entertainment, covering horror, thrillers and the supernatural. Shudder's expanding library of film, TV series, and originals is available on most streaming devices in the US, Canada, the UK, Ireland, Australia and New Zealand. For a 7-day, risk-free trial, visit Joe Bob at www.shudder.com.
#ChadGetsTheAxe Coming Out September 1st
Look, I'm a simple guy. Sure, I like my Small Town Monsters and my silly-billy movies about cats eating people.
But sometimes there comes a film that's smartly written, full of humor and social commentary, plus great acting. Oh, and scares that actually scare the shit out of me.
Almost a year to the date, I got to watch such a film called #CHADGETSTHEAXE that I saw as a screener for FilmQuest Fest in October, 2022. And I was blown away by the talents of director/co-writer Travis Bible and co-writer/producer Kemerton Hargrove; starring Spencer Harrison Levin (Black Jesus), Michael Bonini (New Amsterdam), Taneisha Figueroa (Duck World), Cameron Vitosh (Walker), Brandon Doyle (Murder Made Me Famous), and Shun Hagins (Snitch).
Mini-Review, I swear it's short:
And, I know, I know, I know. 'But Brannyyyyk, isn't livestreaming horror movies just a flash in the pan? Hasn't it been done beforeeee?' For one, stop saying it like that, it's weird. For two, not like this. The care and attention that went into #CHADGETSTHEAXE is wickedly clever with such tongue-in-cheek humor of influencers, humanity, and the toxic culture of fandom. It's the shining example of live-streaming movies because it's so f-ing smart.
Case in point, the characters are living up to their personas. However, even when the personas are ragged and driven to the edge of life and death, we never see them as people, fully dimensional people, because we never see them break away from their devices. There's never a shot that shows us 'hey, this is a film, now let's see them as the real character they are'. The actors are really carrying dual roles as the personas and the real people underneath; as they are struggling to keep up appearances in front of the millions of viewers.
Plus, don't get me started on the characters within the livestream feed, along with running jokes and clues to the haunted house.
Anyway, I don't want to give too much away as I'm going to be covering it on Streamin' Demons soon. But I wanted to also tease about the fact that I'm going to be interviewing some VIPs from the movie for What's Kraken? So, shhh, only tell your closest friends because it's going to be incredible.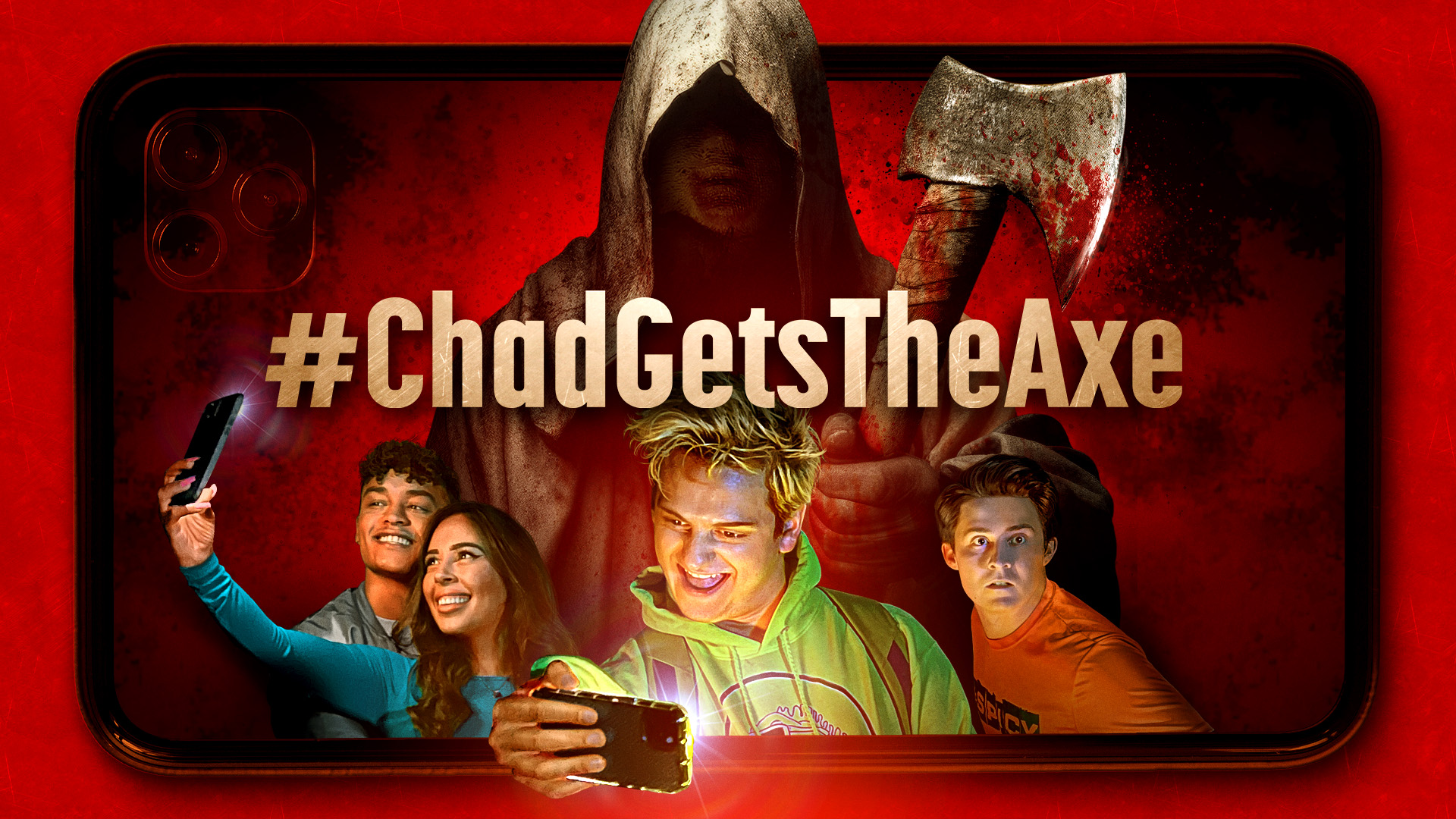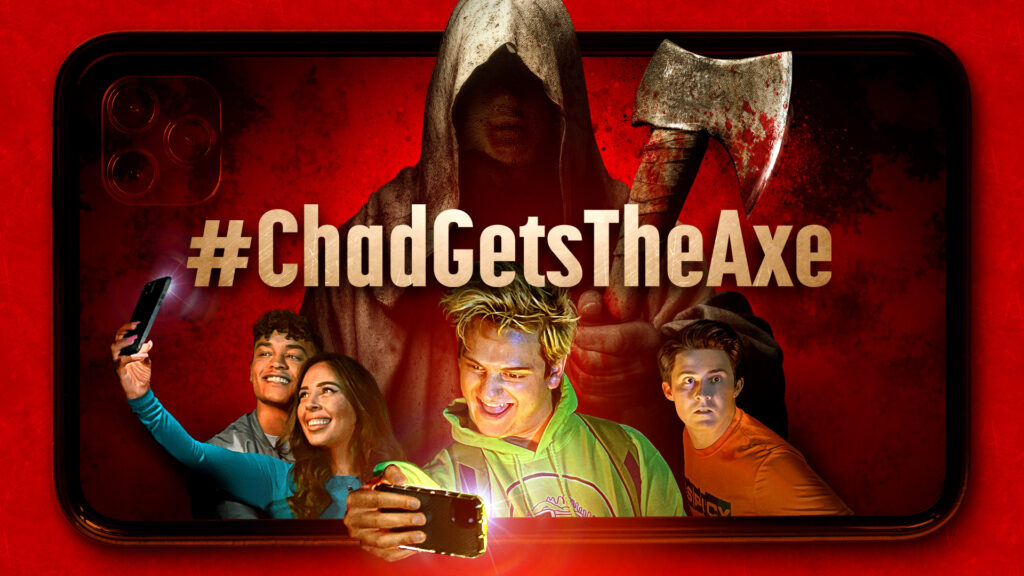 Join the Hype Train:
Adapted from an award-winning short with the same title, #ChadGetsTheAxe follows four social media influencers as they live-stream their trip to Devil's Manor, former home to a Satanic Cult. Things don't go well. And as the violence ramps up… so do the views.
The film premiered at FilmQuest in October 2022 and Internationally at FrightFest Glasgow in March 2023 where it was well received by critics. #ChadGetsTheAxe was produced by Travis Bible, Eric Gibson, Kemerton Hargrove, and Frances O'Hanlon, while Dream Big Group serves as executive producers.
The Horror Collective is the genre label of Entertainment Squad — a production and distribution company founded by veteran producer Shaked Berenson (TURBO KID, TALES OF HALLOWEEN). The label's latest releases include the Daytime Emmy nominated Limited Series DOOMSDAY, the killer-pants Shudder Original SLAXX, and the critically acclaimed horror-comedy SUMMONING SYLVIA.
Website: https://thehorrorcollective.com/
I'm hoping it gets DVD distribution one day because I'm old and I need DVDs for when the zombie apocalypse happens.
June Title for Arrow Streaming
Welcome to June! There's so much on the hopper for Arrow that I just have to give you, my friends, the hot goss.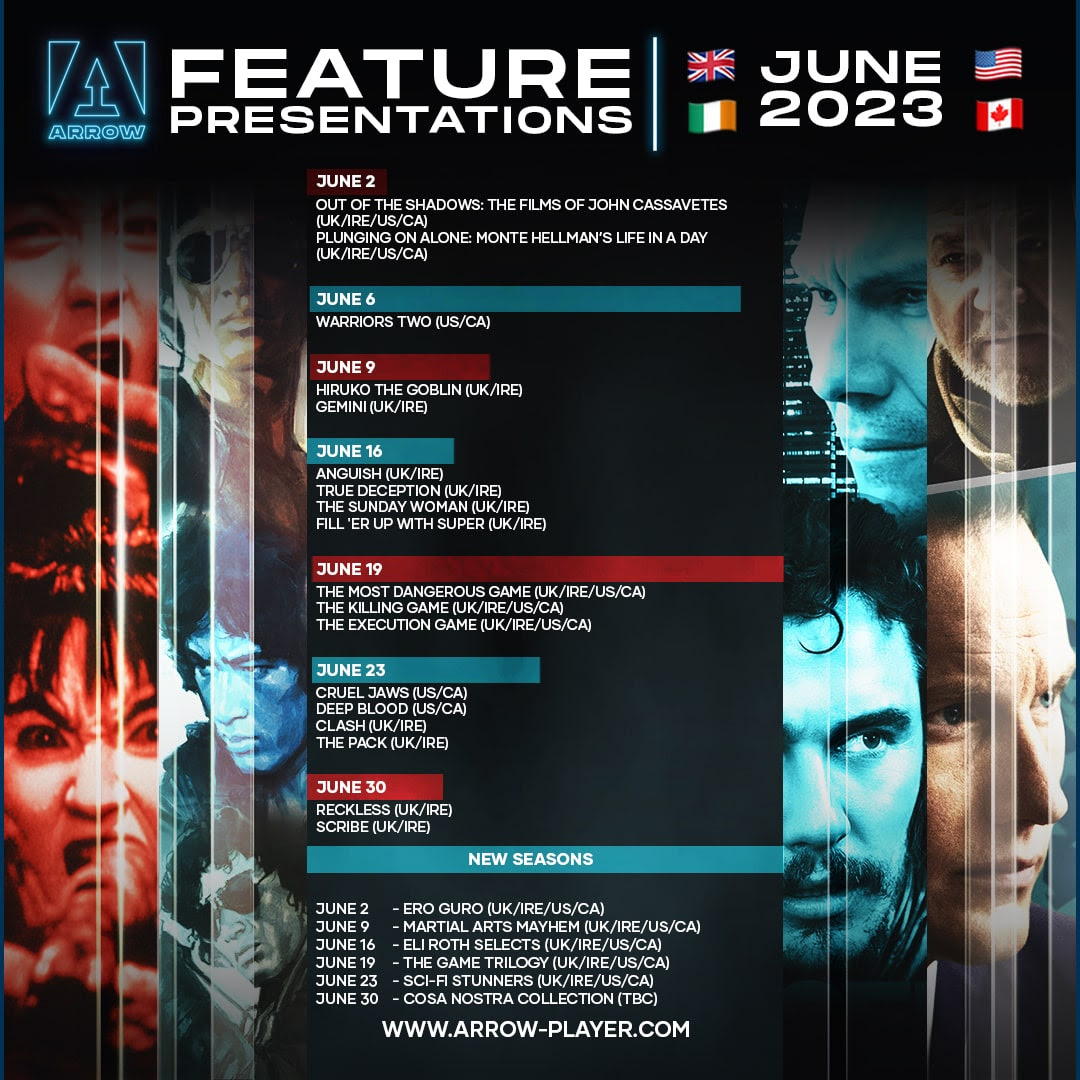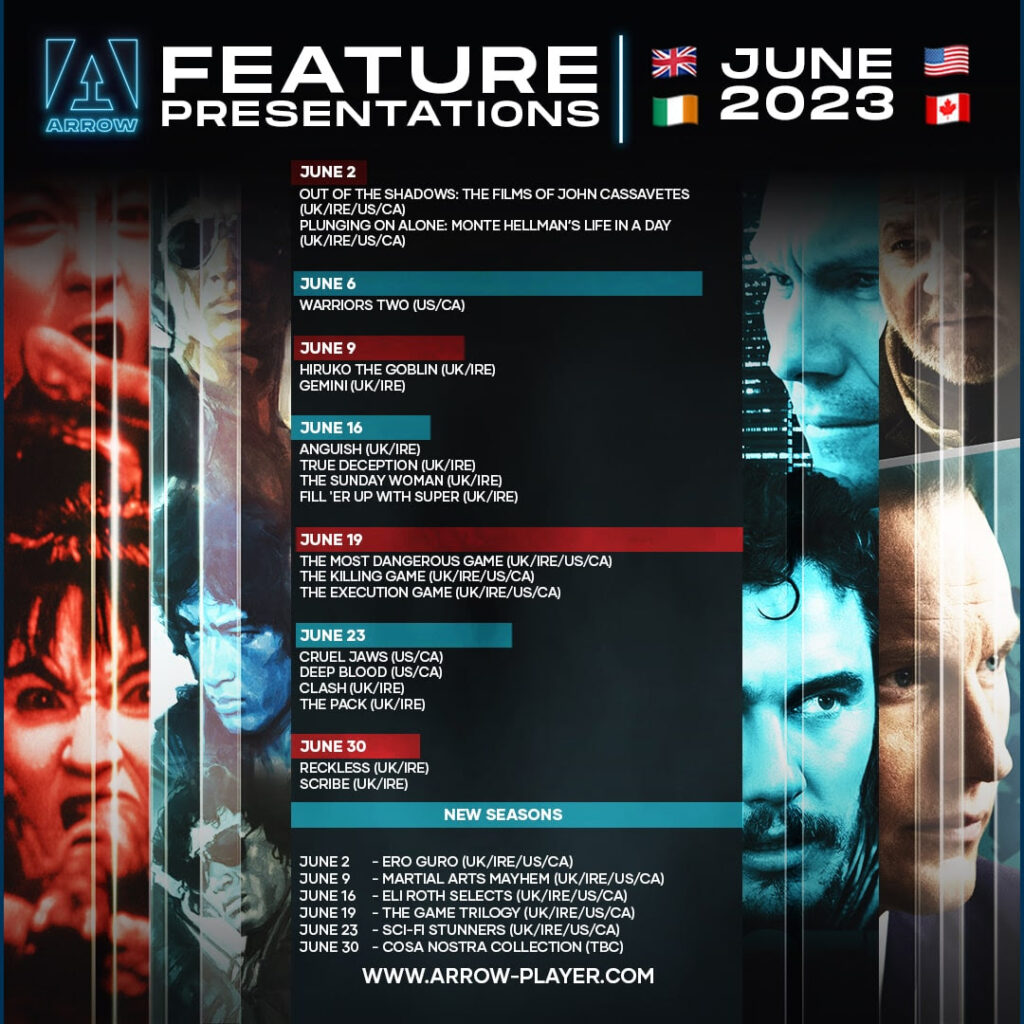 June 2nd: Paul Joyce Documentaries
June 2nd kicks off the month with ARROW's latest curation of Paul Joyce documentaries, this time looking at legendary filmmaker John Cassavetes, straight from the mouth of his friend and collaborator co-star Peter Falk (Columbo) in Out of the Shadows: The Films of John Cassavetes.
After a six year directing hiatus, Monte Hellman sat down with Paul Joyce and just talked for an hour while Joyce filmed. The result is Plunging on Alone: Monte Hellman's Life In a Day.
June 2nd: the wild world of Ero Guro
What is Ero Guro? Well, the Japanese sub-genre of horror and pink films Ero Guro combines the erotic (ero) and the grotesque (guro) to deviant, decadent and unforgettable effect. ARROW's Ero Guro collection features the unholy trinity of core Ero Guro films, Teruo Ishii's Shogun's Joy of Torture and Horrors of Malformed Men and Yasuzo Masumura's Blind Beast, plus plenty more exciting, explicit and enticingly depraved delights to delve into.
Titles Include: Shogun's Joy of Torture, Blind Beast, Irezumi.
June 6th: Warriors Two (US/CA)
After making his directorial debut with the intense The Iron-Fisted Monk and firmly solidifying his worth at Golden Harvest, Sammo Hung would be given more creative control behind the camera. Now able to inject more of his own personality, Hung would bring to life the more upbeat (yet only slightly less violent) Wing Chun cult classic: Warriors Two!
Predating the Ip Man tetralogy by three decades – as well as Hung's own The Prodigal Son (starring Yuen Biao as the younger incarnation of Leung Tsan) by a few years – Warriors Two is one of the earliest films to authentically portray the teachings of Wing Chun while also delivering the kind of kinetic and pulse-pounding fights synonymous with the name Sammo Hung!
June 16th: Eli Roth Selects (UK/IRE/US/CA)
Splatter icon Eli Roth takes a stroll through the archives with Eli Roth Selects (UK/IRE/US/CA). "I absolutely love Arrow and have been a collector of their editions for years, and Arrow Player is the most streamed channel in my house. I've seen a lot of Select lists, and while I agree with them, I wanted to highlight some that people might have otherwise overlooked."
Titles Include: Basket Case, Contamination, Madhouse.
June 19th: Toru Murakawa's Game Trilogy (UK/IRE/US/CA)
Made at the end of the 1970s, Toru Murakawa's Game Trilogy launched actor Yûsaku Matsuda as the Toei tough guy for a new generation. Matsuda was the definitive screen icon of 1980s until his career was tragically cut short by cancer at the age of 40, following his Hollywood debut in Ridley Scott's Black Rain.
The Most Dangerous Game (UK/IRE/US/CA): In this career-defining triptych, Matsuda is Shohei Narumi, an ice cool hitman of few words, a steely trigger finger, and a heart of stone, hired in The Most Dangerous Game by a company bidding for a lucrative government air defence contract to take out the competition.
The Killing Game (UK/IRE/US/CA): Narumi finds himself caught in the midst of violent yakuza gang warfare, while his own brutal past catches up with him in the form of two beautiful women still bearing the emotional scars of his past assignments.
The Execution Game (UK/IRE/US/CA): Narumi falls for a mysterious saloon bar chanteuse who may or may not be part of the same, shadowy underworld organization as the rival hitmen he is employed to rub out. (I'm assuming the tough-guy way and not the sexy way)
June 23rd: SHAAAARKS!!!
Yessss, Cruel Jaws is coming to Arrow!
ARROW heads to the beach for some terror with shark attacks.
Cruel Jaws (US/CA): A huge shark terrorizes a beach in Florida, and the locals try everything to kill it.
Deep Blood (US/CA): Several young men have to stop an ancient native American evil in the form of a killer shark which is attacking a small beach community.
June 23rd: Sci-fi Stunners (UK/IRE/US/CA)
For the penultimate Season, ARROW boldly goes to the stars on June 23, seeking out new life and new cinema.
Sci-fi Stunners (UK/IRE/US/CA): There are other worlds than these. Come and explore them in this collection of cybernetic, planet-probing, time-travelling, cosmos-trotting, aliens-zapping, virtual and far-too-real adventures in Sci-fi Stunners – ARROW's home world for the coolest Cult science-fiction films in the galaxy.
Titles Include: No Escape, Donnie Darko, Crimes of the Future.
Last but not least
Cosa Nostra Collection (UK/IRE/US/CA):
The most American of directors according to celebrated critic Paolo Mereghetti, Damiano Damiani (A Bullet for the General) nevertheless surveyed his own country's mafia history unlike anyone before him, to critical and box office success.
Full of twists and a fascinating meta-commentary on cinema, Damiani points the camera at himself and the genre as he investigates the social impact of mafia violence, a fitting end to this survey of Damiani's Cosa Nostra.
Titles Include: Day of the Owl, The Case is Closed, Forget It, How To Kill a Judge.
About ARROW:
From Arrow Films, a recognized world-leader in curation and creation, ARROW is a premium platform giving audiences an unparalleled viewing experience across multiple devices, so fans can explore the films and TV shows that the Arrow brand is famous for.
Specially curated by members of the ARROW team, ARROW is home to premium film and TV entertainment, exclusive new premieres, cutting edge cinema, international classics and cult favorites – such as the works of Lars Von Trier, Brian De Palma, Dario Argento, David Cronenberg and Park Chan-wook, and brand-new short films from both new and established filmmakers.
In the coming months, ARROW will be adding Oscar-winning hits, European classics, Asian cinema masterworks, rediscovered Westerns, offbeat gems and much more as part of ARROW's international strategy to support and celebrate the medium of film.
For more information on ARROW and its titles, please contact: justin@justincookpr.com or visit https://www.arrow-player.com.
YouTube: https://www.youtube.com/user/ArrowVideoUK
Instagram: https://www.instagram.com/arrowPlayer
Twitter: https://twitter.com/Arrow_Player
Facebook: https://www.facebook.com/ArrowVideo