Welcome back to Haunted MTL as we cover Chucky – S1 E4 – "Just Let Go," the latest episode of the ongoing series featuring America's favorite killer doll.
This series of reviews will be spoiler-free for the events of each episode but will bring up plot points from previous episodes as needed to contextualize the current week's events. For a spoiler-centric view, please turn to the podcast Kids' Stuff for a detailed discussion.
Chucky – S1 E4 – "Just Let Go"
The fire at the mayor's house has led to many hospitalized kids. Jake arrives to check in on what has happened and is confronted by Lexy, who is now well aware of Chucky's murderous intentions. Now Jake and Lexy find themselves as begrudging allies as the halls of the hospital are being prowled. Meanwhile, parents clash, a detective engages in some questionable activity, and Devon starts looking into Charles Lee Ray.
How Was It?
"Just Let Go" is largely a solid episode with a few minor issues and inconsistent logic, perhaps a carryover from last week's outing. This week, Leslie Libman helms the episode's direction and throws in some rather fun, pulpy touches. The writing credit, again, is subject to updating as I can dig up information as I am not working from screeners. This week, the writing is the combination of Kim Garland and Don Mancini with Mallory Westfall joining.
This episode was particularly interesting in a few ways, number one, seemingly shutting the door on the central question the series launched with, but also opening up several new doors. It is also suggesting that the series is going to follow up on the promise of Cult of Chucky's multiple inhabited dolls in a very fun way. Another interesting component of the series is how this episode is creating alliances between characters that will create some interesting and dysfunctional relationships. The episode also reveals just how messed up the parents are and how that is putting pressure on the children.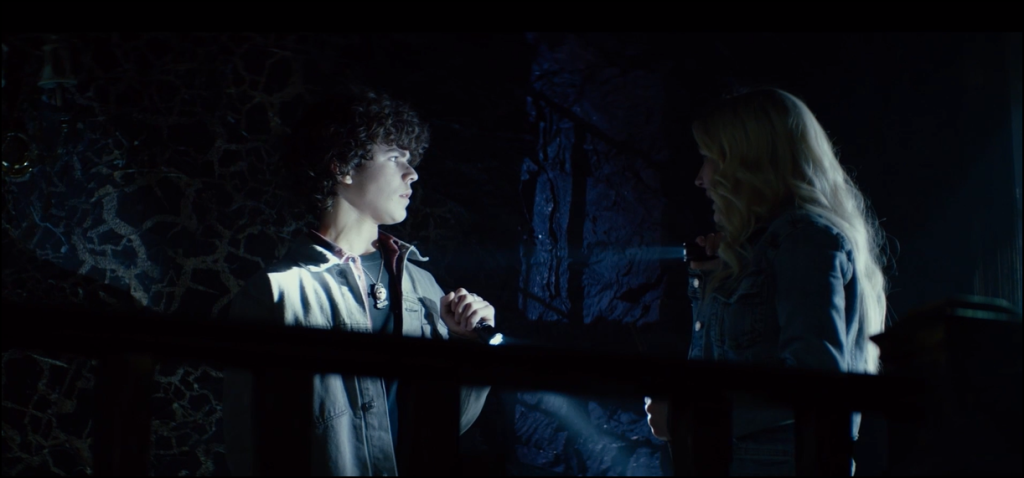 All the kids are game this week, but I'd like to put the focus on Teo Briones as Junior who is fleshed out a great deal more this episode dealing with an injury that can give him a reprieve from the pressure exerted by his father, Logan (Devon Sawa). The scene is well done and reveals more about Junior and his situation than any of the previous episodes.
Rachelle Casseus' Detective Evans is well-acted but also represents one of the larger flaws in this episode with the character's fixation of Jake to a degree that seems… comical. While it doesn't seem completely out of place, as there is a level of camp associated with the series, it does lead the Detective to make some logically unsound choices that I certainly hope are followed up upon in the next episode, because otherwise, that might be some of the weakest writing of the series.
Speaking of camp, the series has exhibited this to a large degree since episode one, but it is dialed up to eleven here. This isn't a bad thing, though, such as Chucky's dramatic new look debuted in this episode, down to his sing-song voice about what he does to a victim. There is also the continued usage of Argentoesque color and a variety of dutch angles and quick, Creepshow-like cuts. We also get a fascinating look at a young Charles Lee Ray, played by Tyler Barish. The flashbacks have been played with heightened aplomb, almost to a cartoonish degree. That is not necessarily bad, but it does feel, at times, like a different show that is being rushed through way too fast.
(4 / 5)
Chucky – S1 E4 – Kill Count and Spotlight
Again, this week, we see kills from different periods in the life of Charles Lee Ray. We only see one happen, however. The kill in the present involves paralysis and needles, which we get to see. The one set in the past we only see the aftermath – which curiously evokes a product killer, which generally seems outside of Charles' style.
Seeds of Chucky
Some elements of this week's episode are callbacks to previous installments of the series. They may hint at the return of key figures from the past. Some other references to other horror classics may sneak in as well. Here are some of the highlights.
Chucky is particularly dangerous when it comes to medical equipment. This evokes Child's Play and Cult of Chucky, but Mancini also confirmed in a special feature that he was referencing Halloween 2, heavily, which spent the bulk of it's run time in a hospital.
The Shining is also referenced in the episode with a toy ball, also confirmed by Mancini.
While not horror, North By Northwest and Big Little Lies are both evocated during the episode.
Fans of Child's Play will also get a treat when an ancillary character from the film is revealed in the extensive Charles Lee Ray flashbacks in this episode.
While not a direct reference, young Charles Lee Ray most definitely evokes a lot of young killers of the 1970s. Particularly, there are some associations one could make to Elmer Wayne Henley or David Owen Brooks, the kid who helped Dean Corll kill multiple boys around 1970-1973.
We will be covering the show episode-by-episode on Kids' Stuff – A Chucky Podcast. However, don't expect spoilers in these written reviews. You can expect them to fly during the podcast. If you missed the latest show, follow it on Spotify, listen to it on Haunted MTL, or find it on your favorite podcast app.