Welcome back to Haunted MTL as we cover Chucky – S1 E5 – "Little Little Lies," the latest episode of the ongoing series featuring America's favorite killer doll.
This series of reviews will be spoiler-free for the events of each episode but will bring up plot points from previous episodes as needed to contextualize the current week's events. For a spoiler-centric view, please turn to the podcast Kids' Stuff for a detailed discussion.
Chucky – S1 E5 – "Little Little Lies"
It's a meet-cute between Charles Lee Ray and Tiffany Valentine in the 1980s, but in the present, we catch up with those lovebirds who have been busy in the two weeks since Cult of Chucky. We also follow Jake, Devon, and Lexy as they are convinced they can solve their Chucky problem once and for all. However, secrets may threaten the Cult and the lives of the kids, particularly Junior, who is seemingly pushed toward a darker place.
How Was It?
Chucky – S1 E5 – "Little Little Lies" is another episode directed by Leslie Libman, who handled last week's "Just Let Go." The credited writers this week include executive producers Don Mancini, staff writer Kim Garland, with Harley Peyton and Rachael Paradis tackling the show for this episode.
While a fun episode full of exciting revelations, some cracks in the structure have begun to appear with this episode lacking an overall focus that made the first four episodes so strong. The narrative throughline is missing this week – particularly through the injection of a pair of returning characters and the need to get viewers up to speed on what is going on. The episode is pretty much the calm before the storm of the rest of the season, but it lacks a strong story, essentially coasting on some reveals with little narrative momentum until the end.
With that being said, seeing Jennifer Tilly and Fiona Dourif return to their respective roles of Tiffany Valentine and Nica!Chucky is quite enjoyable and their sequences are definitely fanservice in a number of ways. However, it does cause the episode to feel disjointed, particularly given the relative denouement produced in the plotline with the trio of Jake (Zackary Arthur), Devon (Bjorgvin Arnarson), and Lexy (Alyvia Alyn Lind). Their scenes are genuinely strong, funny, and set up some future conflict with Junior (Teo Briones), but the dramatic irony of viewers knowing Chucky's fate results in no real tension for viewers. Thankfully, the episode's ending returns things back to the status quo and promises major developments for the final three episodes.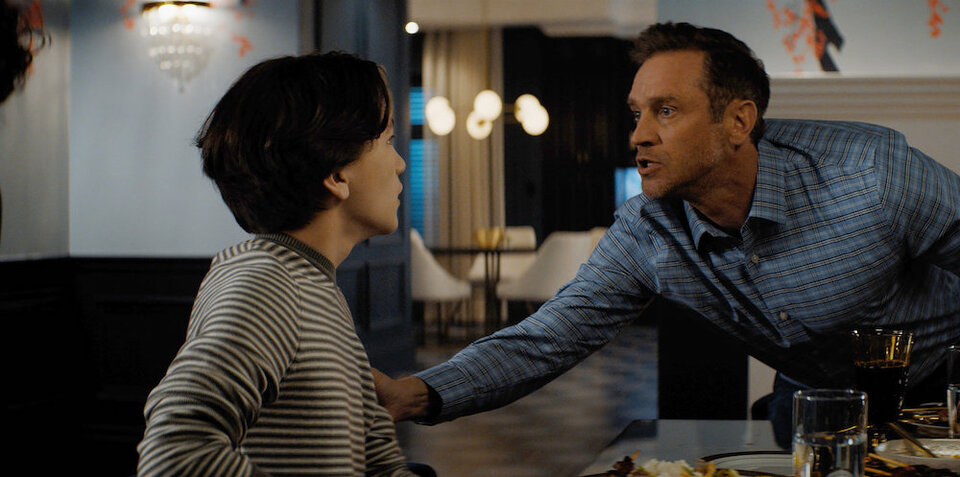 It was an episode full of revelations about relationships between characters. We learn about the first meeting of Charles Lee Ray and Tiffany Valentine in the 1980s, complete with campy dubbing and VHS artifacts. We also learn Bree's secret that she has been hiding from her family, while we see the tension explode in the Wheeler home and Logan begins to seemingly shift into his brother over these past couple of episodes. Plus, Jake seems to find a little happiness. We'll see how long that lasts.
So while a lot seems to be revealed in this episode, it more or less feels like a collection of scenes as opposed to a story. Had there been a strong central narrative this would have been an incredible episode. Even with the ridiculously campy dub of young Charles and Tiffany.
(3.5 / 5)
Chucky – S1 E5 – Kill Count and Spotlight
A number of kills in the past and present this week. Chucky – S1 E5 features a stabbing, a corpse of a victim, a slashing of the throat, and a beheading. Quite an episode for murders. We also get treated to some flashbacks to Nica Pierce's backstory, but those kills don't count here.
Seeds of Chucky
Some elements of this week's episode are callbacks to previous installments of the series. They may hint at the return of key figures from the past. Some other references to other horror classics may sneak in as well. Here are some of the highlights.
This week's title card features hearts and hearts. You know, both kinds.
Jennifer Tilly and Fiona Dourif make their return to the series in this episode. Plus Fiona plays two characters in this episode – which is absoutely crazy when you figure it who.
The timeline of the episode is confirmed to be in 2017, about two weeks after Cult of Chucky.
We encounter another Good Guy doll with a familiar name this week. You may remember a Tommy from Child's Play 2.
Shades of Hannibal can be found in this episode. A psychological appointment evokes the series that Don Mancini wrote on. Particularly, it evokes a very specific character's journey on the show. More on the podcast next week.
Diving around in medical waste and getting high isn't too far out for Chucky. He took a hit off of Andy Barclay's joint in Cult of Chucky.
We will be covering the show episode-by-episode on Kids' Stuff – A Chucky Podcast. However, don't expect spoilers in these written reviews. You can expect them to fly during the podcast. If you missed the latest show, follow it on Spotify, listen to it on Haunted MTL, or find it on your favorite podcast app.