Behind the Monsters – "Chucky" is the third installment of Shudder's horror documentary series, Behind the Monsters, that promises a guide to legendary horror icons. This episode features a real tiny titan, Chucky, the supernaturally-possessed doll.
What started as a nasty spin on 80s consumerism flourished over three decades into an unlikely progressive horror property that refuses to get back on the shelf.

Shudder synopsis for Behind the Monsters – "Chucky"
Does this episode of Behind the Monsters give us the details on the mini-murderer? Let's find out.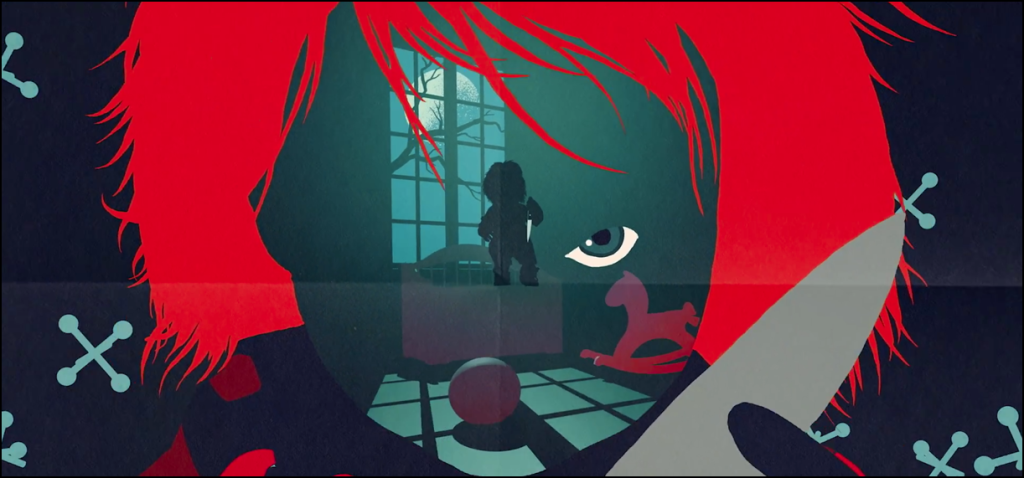 What Worked with Behind the Monsters – "Chucky"
There is a lot riding on an episode based on Chucky for me. I've been producing a weekly podcast about the franchise and Chucky is one of my absolute favorite slasher icons – so it takes a lot to surprise me. And while the revelations were few and far between and the emphasis on the original film Child's Play and Bride of Chucky at the expense of the larger franchise, there was still a lot of fun to be had in this episode of Behind the Monsters.
The key with docuseries such as this is how you answer the question "who can you get?" In this case, the answer is pretty solid. You absolutely need to have Don Mancini and Brad Dourif, as they are particularly key as the faces of the franchise. Brad Dourif, like Chucky himself, is the first draw. More subtle, but perhaps more important for film fans, is Don Mancini. Mancini is a creative mind who has had unprecedented success and influence in a singular horror franchise, which the documentary rightly points out is extremely rare. Of the franchises that make up this first season, the Chucky series is unique in that regard.
However, the inclusion of actress Catherine Hicks, director Tom Holland, and producer David Kirshner is quite welcome and generates some interesting points of discussion. For superfans, there isn't really anything new, but for a more casual audience that this documentary is produced for, there are fun bits. One example, Catherine Hicks' eventual marriage to Kevin Yagher, the special effects technician who brought the Chucky doll to life. It's an adorable story.
The documentary leans pretty heavily on the original trilogy with an emphasis on its commentary on 80s commercialism, then dives for a time into the evolution of Chucky as an icon who develops a character. The episode does sort of gloss over the recent duology of Curse and Cult and just barely discusses the television show, which I felt was a missed opportunity. After all, how many of these slashers have had their own television series and actually been in them?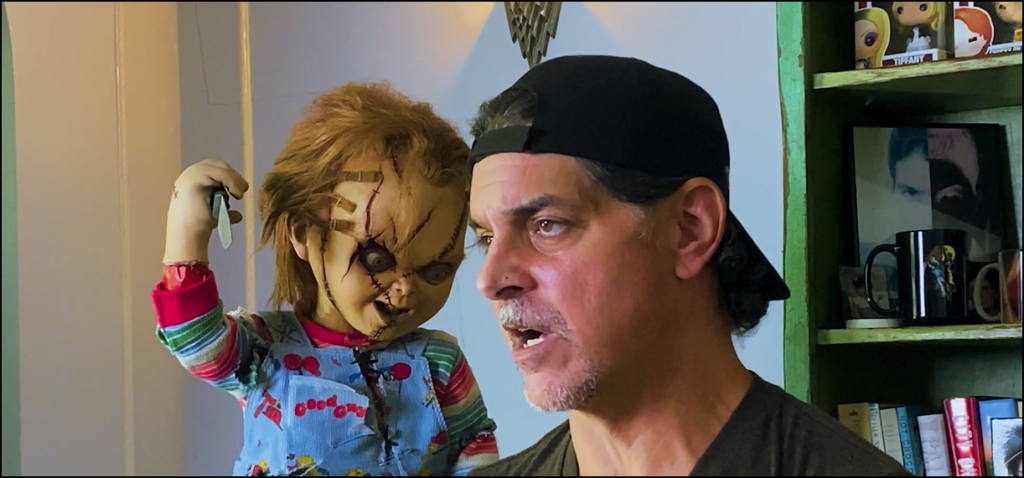 What Didn't Work
In truth, my expectations of the series and the depth by which the respective franchises are approached have been tempered a bit, and by three episodes, I expect a certain level of superficiality to the whole approach. This isn't really a bad thing, though. For what it is, it works.
With that being said, however, I found myself a bit frustrated by the limited scope of the episode. With the franchise as a whole having three distinct eras, an upcoming show, and an unaffiliated remake/reboot, I had hoped the exploration would have given the Curse/Cult era a little more attention than it was given. The limited scope is exacerbated by the even smaller runtime, shaving a whole four minutes from the "Candyman" episode's total time. If these documentaries aren't going to be deep cuts then they should at least be longer to encompass more of their respective franchises. Especially because these franchises have so many installments and there are plenty of developments that can be discussed further. The three periods of the Chucky movies are very, very distinct and in those distinctions, there is a story worth telling. Many of these series span 30 to 40 years, after all. There is a lot of history to cover and a lot of character development, especially with figures like Chucky.
I think the accessibility of the Chucky franchise's key players is a huge benefit for the episode as they are always game to talk up the series. While I wish the episode was longer, it did a decent enough job tackling the appeal of Chucky as an icon in just over 30 minutes, which is no small feat.
(4 / 5)
Did you watch Behind the Monsters – "Chucky," yet? Let us know what you think. Until then, catch new episodes on Wednesdays exclusively on Shudder and come to Haunted MTL for further coverage.