Welcome back to Haunted MTL as we cover Chucky – S1 E8 – "An Affair to Dismember," the latest episode (and season one finale) of the ongoing series featuring America's favorite killer doll.
This series of reviews will be spoiler-free for the events of each episode but will bring up plot points from previous episodes as needed to contextualize the current week's events. For a spoiler-centric view, please turn to the podcast Kids' Stuff for a detailed discussion.
Chucky – S1 E8 – "An Affair to Dismember"
The different generations of the Chucky franchise converge on Hackensack and Chucky and Tiffany's plan comes to fruition. Soon enough a civic even becomes a nexus for the settling of grudges and several characters meet their ends…
How Was It?
"An Affair to Dismember" is exactly what most people want out of a finale. It's longer, ties together the various plot threads, and raises the stakes significantly while introducing complications to play out in a follow-up season. Thankfully, Chucky will be getting a second season, and it is well earned.
The season finale was directed by Jeff Renfroe, working gamely from the script written by series creator Don Mancini and lead writer Harley Peyton. Renfroe's direction is good, especially given the number of distinct storylines involved and the different eras of the franchise that culminate in this episode. There are some marvelous Chucky effects with multiple dolls that also make for a series highlight. Of course, much of this is possible through the guidance of Don Mancini, who has steered this murderous ship since 1988 to a large degree.
The episode is very much written to tie together several threads from the season, some of which are resolved and some of which are not. However, as a whole, fans and casual viewers will be left pleased with the direction the series leaves on. Even more so that a second season is going to happen.
The performances across the board are great in this episode, with some great moments with Junior (Teo Briones) resolving his arc in a suitably dramatic if whirlwind fashion. Jake (Zackary Arthur) and Devon (Bjorgvin Arnarson) get their happy ending after a couple of close calls and a brutal beatdown of a Chucky doll, and Lexy (Alyvia Alyn Lind) suffers a great deal but has become a better person for it.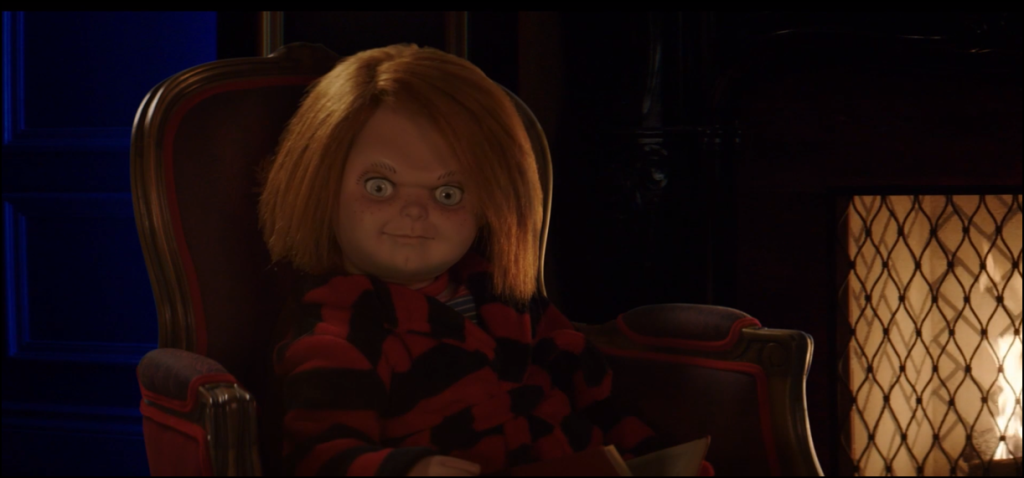 As for the old guard, fates of certain legacy characters are up in the air. There are some suitably bonkers moments when multiple dolls and characters come together and Jennifer Tilly, in particular, makes Tiffany a character almost as evil as Chucky, if not potentially more so. It just depends on how things play out with Nica.
Of course, this show wouldn't have worked without the incredible team of special effects artists and puppeteers who have created arguably the best, and most numerous Chucky shots in the franchise. The sheer scale of what they managed to accomplish on TV just goes to show how vital their work is in making the show a reality. Given everything accomplished this season, fans should be salivating at what they manage for season two.
Chucky – S1 E8 – "An Affair to Dismember" is a great resolution to the show's first season. It manages to craft a stopping point that is as brutal as you would expect but leaves the franchise with a little light at the end of the tunnel. At least with some characters. Where things go from here will be wonderful to uncover.

(5 / 5)
Chucky – S1 E8 – Kill Count and Spotlight
There are well over a dozen victims in this episode as well as the destruction of multiple Chucky dolls. Be sure you catch the fourth-wall-breaking tally where Chucky recounts his streak for the season: 21 kills total.
As for the highlight in the kills this week? Just do yourself and check your seat the next time to go to the movies.
Seeds of Chucky
Some elements of this week's episode are callbacks to previous installments of the series. They may hint at the return of key figures from the past. Some other references to other horror classics may sneak in as well. Here are some of the highlights.
We get a number of movie references in this episode. Not Chucky films, but film in general. Beyond a show of Frankenstein that plays into the episode, there are also references to The Shining, Ghoulies, and Boxing Helena. Plus, the title also borrow from the 1957 film An Affair to Remember.
The Shining reference is also a continuation of a scene of Seed of Chucky where Chucky "couldn't think of a thing to say."
One eye-popping scene evokes the fate of the security guard at the factory in Child's Play 2.
We get the final piece of the puzzle regarding the fate of Charles Lee Ray in 1988 and who got in touch with Detective Mike Norris.
Glenda gets a mention.
Chuck talks about his "Achilles heel" in the form of axes, funs, fire, and industrial-fans. All references to his deaths in the franchise.
Prince gets a mention.
The series makes a nod to popular YouTube channel Dead Meat, by doing it's own Red Meat-style kill recap.
The episode lampshade's Chucky's unusual strength while also dropping a Teddy Ruxpin joke in the same sequence.
Chucky loses his head again, as has become a staple of the series.
We will be covering the show episode-by-episode on Kids' Stuff – A Chucky Podcast. However, don't expect spoilers in these written reviews. You can expect them to fly during the podcast. If you missed the latest show, follow it on Spotify, listen to it on Haunted MTL, or find it on your favorite podcast app.