Based on the novel by Donald Ray Pollock, The Devil All The Time is an ambitious, 138-minute feature that follows three different storylines all packed tight with religious fright. If you're against organized religion, this film will probably reaffirm your disdain. It features an all-star cast that are all thieves of the spotlight. Each and every one shines bright when on screen. No one falls flat. The performances are incredible and without them, this film would be nothing but a beautifully painted empty cardboard box. Most impressive are Tom Holland, Bill Skarsgard, Robert Pattinson, and Harry Melling.
Spider-Man, Pennywise, Edward Cullen, and Dudley Dursley have all left the building.
Although not a bad film by any means, The Devil All The Time never gets the chance to properly take off. The biggest issue is that it's actually too short. Two hours and eighteen minutes is a long runtime but for the story that it's telling, it's not long enough. It either needs to be longer or turned into a miniseries. If it had perhaps been spread out into four hour-long episodes, The Devil All The Time could've been something magnificent. There are too many characters and too many subplots. Its a bit too much crammed into a small space. Don't let the length fool you, it is a very small space.
Also, there's a narrator which I absolutely HATE! The narrator is the author himself, literally, who is only there to simplify the plot in an audiobook-like fashion. I really hate it.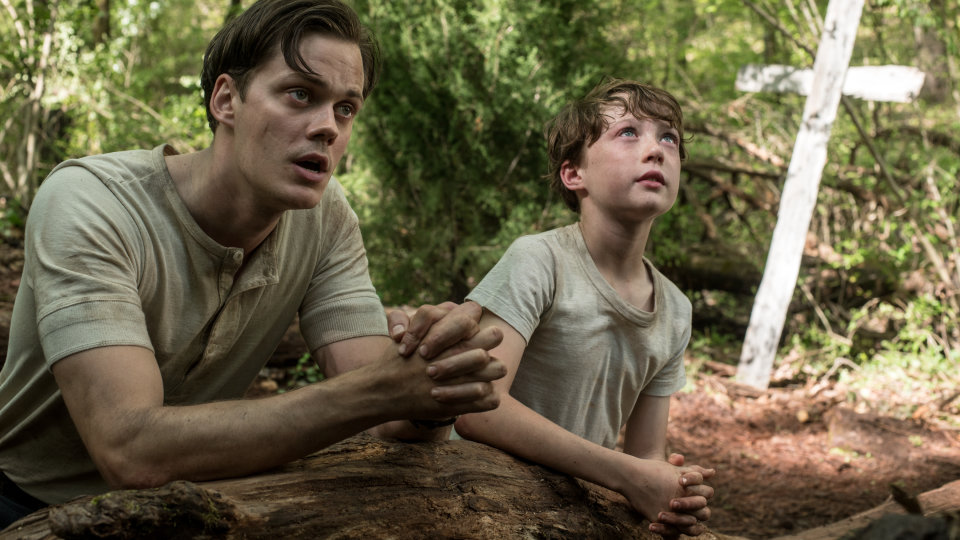 The past
The whole first act is essentially just a prologue. This part of the book is titled, "Sacrifice." Take that as you will. It runs for a whole 41 minutes before the main character, Arvin Russell (Tom Holland) is finally put in the driver's seat. Everything up to that point is backstory. The film starts in 1945, with WWII veteran Willard Russell (Bill Skarsgard) home from the war but haunted by the horrors he witnessed. He lives tormented by his own struggling faith until he falls in love with a good-natured waitress named Charlotte (Hayley Bennett) and has a son, Arvin.
Meanwhile, we're also introduced to Helen (Mia Wasikowska), a woman whom Willard's mother had hoped he would marry before he met Charlotte. Instead, she marries the terrifying, deranged, and overtly righteous preacher Roy Laferty (Harry Melling). They have a daughter named Lenora, whose fate becomes intertwined with Arvin's when both their parents suffer tragic ends. They are left as orphans and together go to live with Arvin's grandmother, where they grow up as siblings.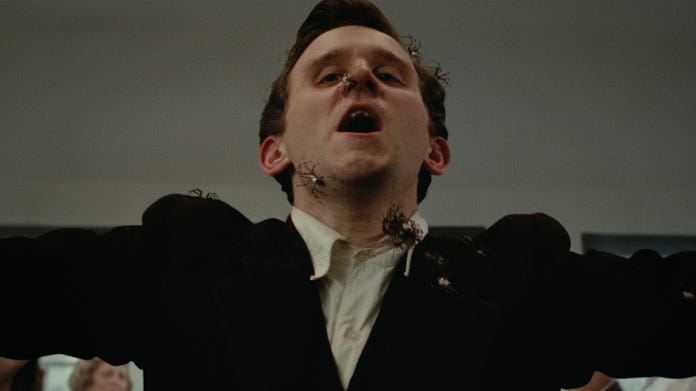 The past comes back to haunt
Just the way the first half feels like a prologue, a lot of the second half feels like an epilogue. There is a brief section in the middle that feels like it might be the centerpiece but it's fleeting and comes off as nothing but a dolly used to carry the film's baggage over into the next scene.
Jumping ahead to 1965, Arvin and Lenora (Eliza Scanlen), now about 15, are still coping with the loss of their parents. After seeing his father's mental deterioration in front of a cross, Arvin has lost faith in any sort of higher power. While Lenora puts her loss into her faith. I won't say what happens after that but just know that it's a slow burn of events that ends with Arvin going on an unintentional murder spree.
Everything about the film is part of a plot. Nothing is filler, which sometimes a movie needs to give it life. The Devil All The Time seems reluctant to admit that the past and present should be their own separate stories. It attempts to weave them together as if they're one and the same, giving no room for breathing. Which is ironic because it's also incredibly slow. One major flaw is the subplot involving a sheriff played by Sebastian Stan and a serial killer couple played by Jason Clarke and Riley Keonugh. They feel completely out of place and are really only there to enforce the third act, and it's clear that this is because the film just couldn't fit them in. It's a shame too. If given more focus, this would have been a much more disturbing film. However, Stan does have the best line: "Some people were born just so they could be buried." Make that the tagline.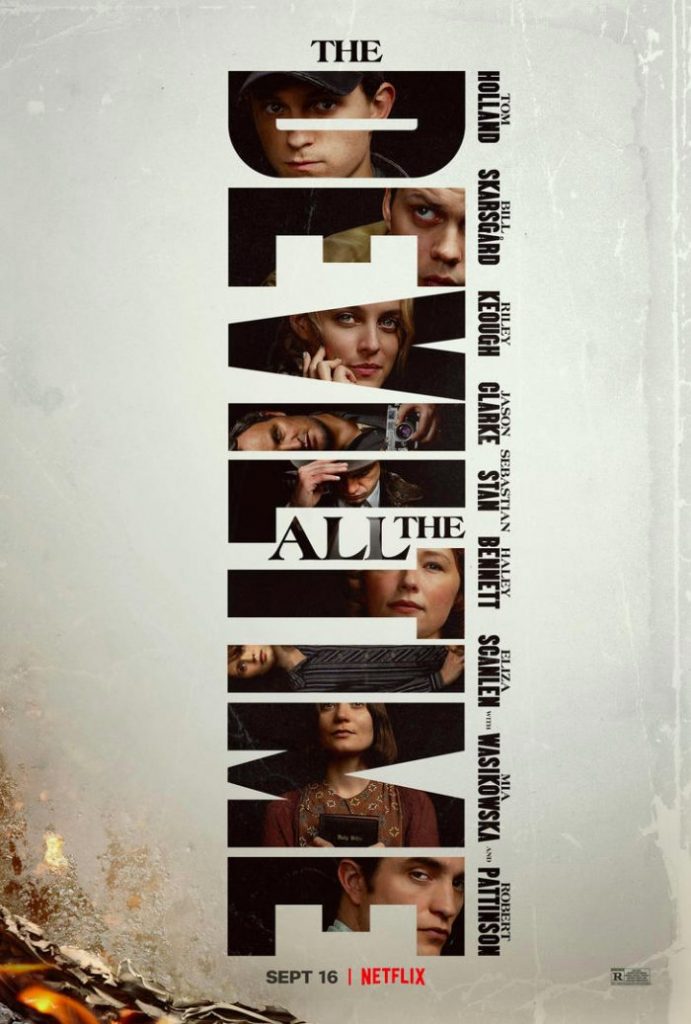 Verdict
The Devil All The Time is too slow to be exciting and too brutal to be relaxing but it has its moments. There's a large overreaching theme about testing your faith. Not necessarily religious, but faith in anything; in one's self, in others, in family members. Everyone in the film is looking for a way to see God and some are so desperate for it, that they invertedly turn into sinners. Everyone descends into darkness and everyone is connected.
Despite my complaints, I honestly did enjoy this film. There are some blood splatters here and there and one momentarily disturbing image of a crucified dog, but other than that. this is not a typical horror film. Any horror that takes place is all internal. The setting is quaint, beautiful, but it's the human characters that strike fear in the heart.
(3.5 / 5)
All photos owned by Netflix, Nine Moving Productions and Bronx Moving Company.