Locke & Key Episode 8 begins with the events of the previous night passing around the town and people are bringing food to Keyhouse. Each of the Locke family members begin to rekindle with people they had a falling out with before the attack. Tyler reunites with Jackie after blowing her off at the party. Kinsey gets visits from both Gabe and Scot, who, upon seeing Gabe, sees his chances with Kinsey wash away. Nina apologizes to Ellie for her actions at Joe's memorial. Bode spends time with Rufus.
Nina, now back to drinking, drops her favorite mug and shatters it. She places it in the cabinet from the basement. Sometime later, she returns to glue it back together but finds it as good as new. Declaring herself sane despite how she sounds, Nina heads to the kid's room to show them but over hears a conversation between Tyler and Kinsey. She only hears part of it but feels they are commenting on her drinking.
On the Hunt…
Kinsey takes Tyler to see the Black Door in the sea caves. They know the only person who could help is Erin Voss, Rendall's old girlfriend, who is in the Matheson mental institution. Kinsey agrees check in on her while Tyler looks over their mom.
Dodge is already making plans to get into Erin's head. Now, with the help of the Head Key, Dodge is able to find where the Omega key, which opens the Black Door, is hidden. Dodge finds that Rendall placed the key in his head.
Kinsey arrives just as Dodge is leaving but is able to talk with Erin. Erin can't say much but she is able to disclose that Lucas, Ellie's old boyfriend, is Dodge.
Back at Keyhouse, Nina places Rendall's urn in the Mending Cabinet. When it doesn't bring Rendall back from the dead, she tosses the urn to the floor, shattering it. Among the ashes, Tyler hears the whispers of a key and, there, finds the Omega Key.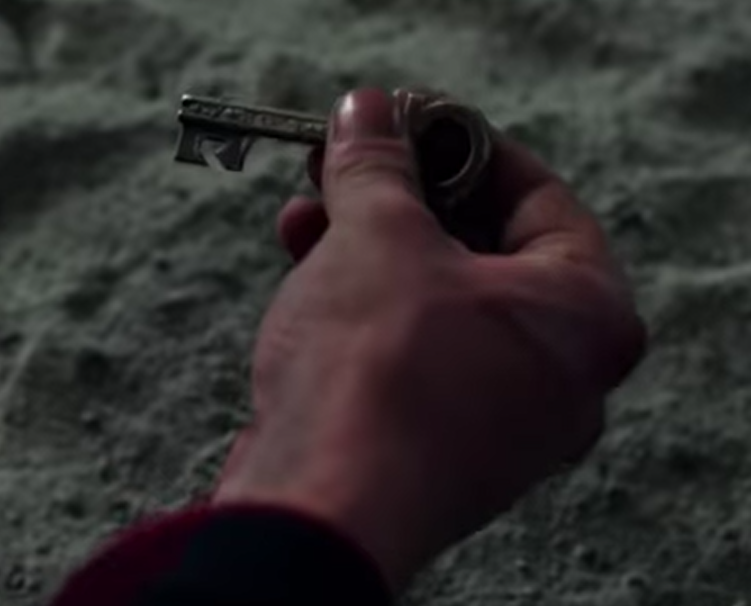 Locke & Key Episode 8 In Review…
With the end only 2 episodes away the build up was a little better this episode. I feel there was a lot that needed to be done to set up the final battle, but that didn't short change content. I'm not sure what's bugging me at this point about the show. I think it has a lot to do with the number of keys that are in play and the lack of significance they play.
For example, the Starfish/Flower Key has only been used to reveal Duncan's memories. Is that it? How about the Well House Key that we saw with Ellie back in Episode 3, is that going to play a part?
Locke & Key Episode 8 get 3 out of 5 Cthulhus

(3 / 5)