For anyone who felt Monsterland wasn't bloody enough, they heard you and they've corrected that. The fourth episode of Hulu's Monsterland, New York, New York, was easily the grossest one so far.


The story centers around two men. One, Stan, is the CEO of an oil company. The second is Josh, his faithful assistant. They're dealing with the fallout of a horrific oil spill that's causing catastrophic ecological damage.
This episode is less relatable and more cathartic.
Stan is feeling the pinch of guilt, even as he tells the world this was everyone's fault but his. He asks for redemption from God and, in a dream, is visited by Jesus. He's told he'll birth the second coming.
Stan starts to feel ill, almost all the time. He's puking up guts and feathers all over the place. Meanwhile, Josh is running all over the place trying to clean up after him, metaphorically. He got a woman Stan harassed to sign an NDA, sent away a journalist trying to get information about the oil spill. When Stan gets ill, Josh stays with him.


And when Stan seems to be possessed, Josh calls a spiritualist to help heal him.
This episode doesn't seem to be well-liked online. Most people seemed to think it dragged. While I'll admit it had a lot more sitting around and talking than other episodes, I didn't have a problem with that. Especially since the action scenes were quite, let's say, juicy.


There was a lot to love about this episode. At one point a waiter tells Stan exactly what he thinks of CEOs who ruin our environment and ignore safety regulations. It was wonderful.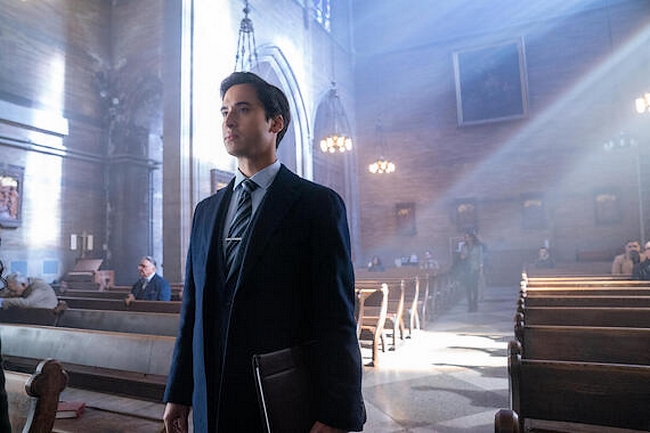 My favorite part of the episode was Josh. He's just trying to take care of his boss and comes off as a really good guy. He's helping a monster, sure. But he's not a bad guy, right?


There's a great line at the end of the episode. Josh, thinking of the events he's witnessed, tells his husband that he's said yes too many times. Yes to taking the job, yes to looking the other way.
"That's how good men turn bad. That's how bad men win."
That was just a chilling line. I always like a horror story with morals, and this certainly had one.
What did you think of this episode of Hulu's Monsterland? Let us know in the comments.