Today's "Treehouse of Horror" (TOH) recap is going to be a little different. Rather than go over every individual segment in episodes 9-11, I have picked my favorites from the bunch. These are the stories I found to be the funniest, most gruesome, shocking and entertaining.
TOH IX: "The Terror of Tiny Toon"
Before Marge takes Maggie trick-or-treating, she takes the batteries out of the remote control so Bart and Lisa can't watch Itchy & Scratchy. For better or worse, Bart has an idea. He finds plutonium in his father's toolbox and smashes it into the remote control. This causes the device to work, except there's a little hitch: it teleports the kids into the Itchy & Scratchy world. Immediately, the cat and mouse team up and take the Simpsons kids on a wild ride, complete with electric bear traps and fire hydrants filled with piranhas. This is a wildly violent episode, and the fact that the villains are two adorable little critters makes it all the more exciting to watch.
TOH X: "I Know What You Diddily-Iddily Did"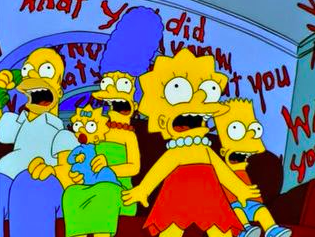 This parody of I Know What You Did Last Summer begins with the Simpsons driving down a windy road after a rendezvous some vampires. The fog is thickening and Homer forgot to fix the car's lights. Marge pulls over until the fog settles, but this turns out to be a big mistake when she accidentally hits and kills Ned Flanders. The Simpsons do their best to avoid acting suspicious, but this becomes a near impossible task when Flanders rises back from the dead as a werewolf. I love when the Simpsons gets creative with their Halloween specials, but their horror movie parodies hold a special place in my heart. I love satire (when it's done well) and these animated renditions are quite a treat.
TOH XI: "Scary Tales Can Come True"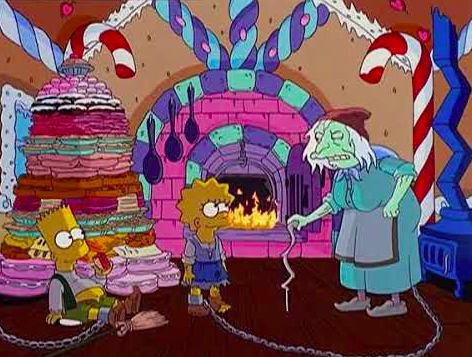 The Simpsons did a little folk horror episode! If you have read anything by the Grimm brothers, you know most of their tales are quite dark and depressing. But "Scary Tales Can Come True" spices things up with witty humor, vibrant colors and death scenes that are absolutely unsuitable for children. Some of the favorite classics this story includes are "Three Little Bears," "Hansel and Gretel" and "the Magic Beanstalk."
Until Next Time…
Next time we will cover all of Installment XII, which does some parodies of a famous wizard and a legendary science fiction novel. Until then, make sure to check out this fun, spooky Exquisite Corpse podcast and Follow-Along Colouring Book. Not only are new one-minute episodes posted every day, but every time you listen to an episode, we donate some money to the Ottowa Foodbank. So head on over and have yourself a terrifying time!