Some high profile characters are killed off during this episode – didn't see that coming.
As Sookie is being drowned by her father in Lafayette's body, Warlow shows up to save the day. Warlow saves Sookie and uses his light to blast her father's spirit out of Lafayette. Sookie tells her father to leave her alone.
Experience the Fairy/Vampire Blend
Warlow is summoned back by Bill but Sookie says that she can take him to a place where he does not feel Bill's pull. The two go to the fairy realm. As night falls, Warlow has Sookie tie him up to a statue as he does not want to hurt her because he hasn't fed. Things get saucy and Sookie and Warlow end up drinking each others' blood and having sex.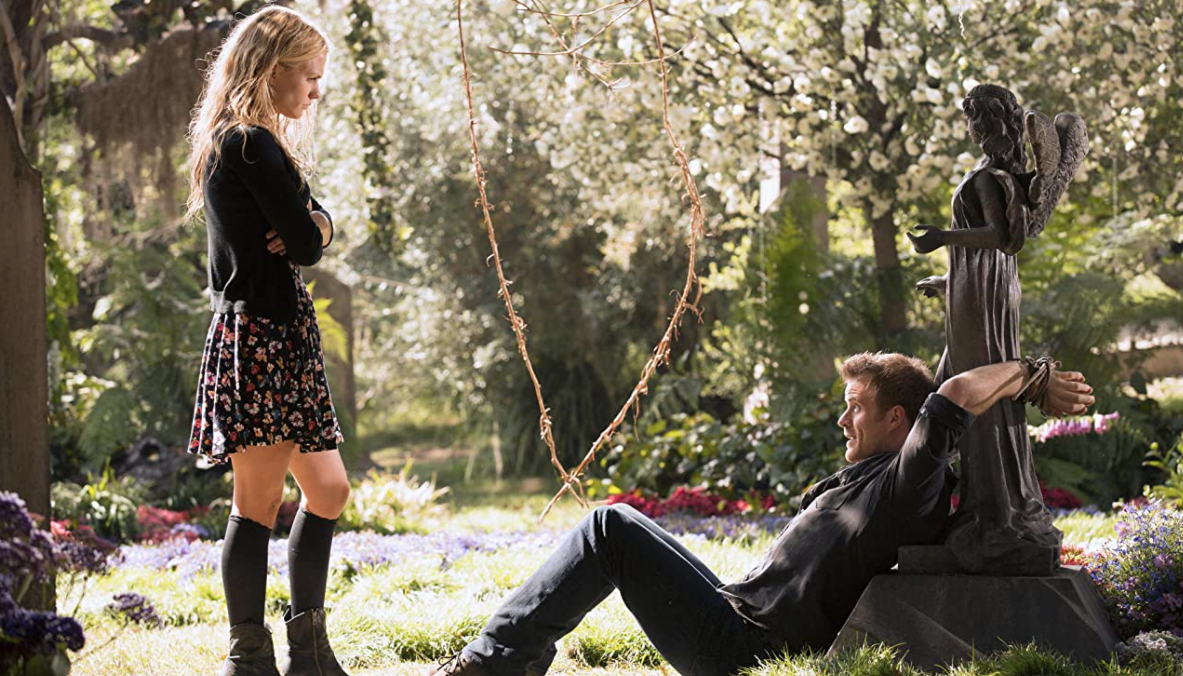 Back at the vampire torture camp, Pam and Eric team up and kill the guards in the room with them instead of fighting each other. Eric looks through the glass they broke on the window and sees that Steve is inside the observation room with Burrell and Sarah.
Punishment
Burrell punishes Eric for his misdeeds by bringing Nora into a room where they are both tied up and injecting her with a poison that kills vampires. He leaves Eric to watch Nora die. Eric summons Willa. Willa glamours a guard by ripping out his contacts and Willa, Eric, and Nora escape. Willa goes back to look for Jessica and Tara. Eric investigates a Tru Blood production lab he comes across disguised as a guard. He learns that Burrell's Tru Blood factory is lacing every bottle of the blood with the same poison that is killing Nora.
Jason shows up at the LAVTF looking for a job. He quickly convinces a recruitment officer that he is a bigwig vampire killer. Jason is interviewing for a position at Burrell's death camp when Sarah walks in. Jason and Sarah privately discuss how he is here to save Jessica and that Sarah better not get in his way or he will tell Burrell she cheated on him.
Sarah retaliates by making Jason watch Jessica attempt the copulation study.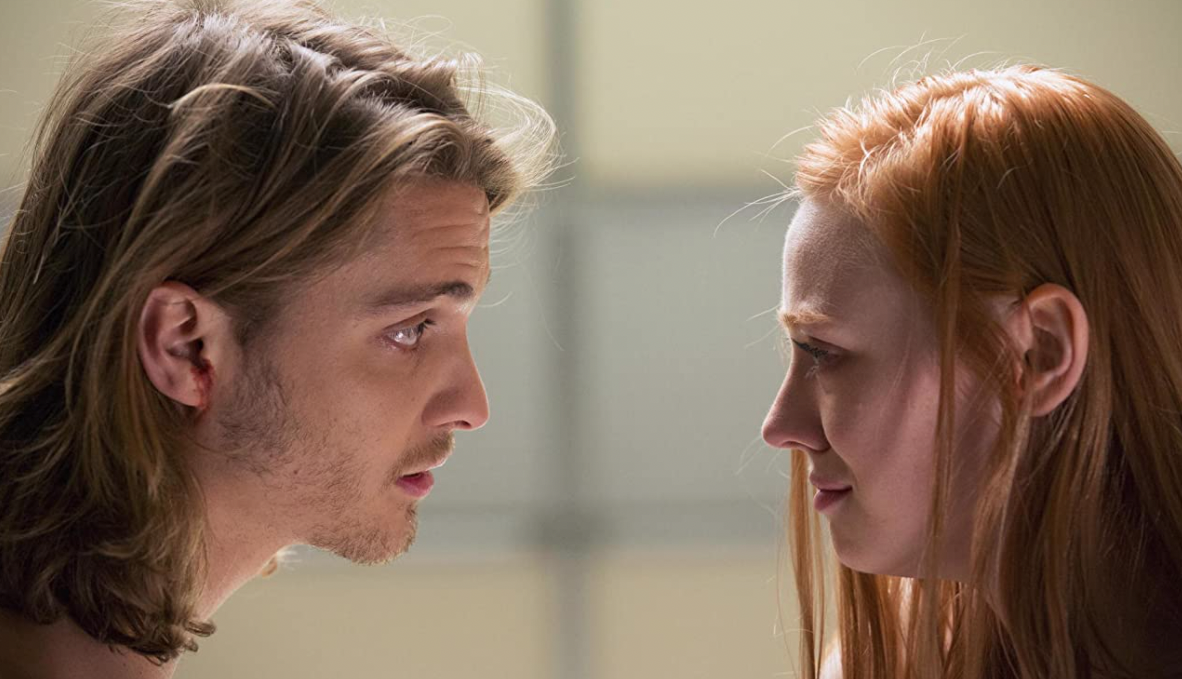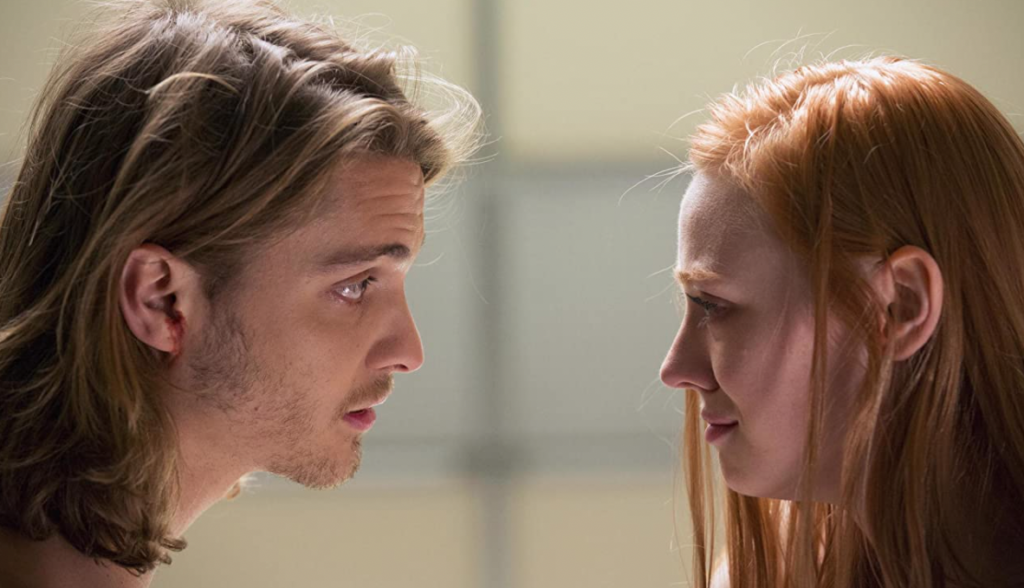 Bill has Takashi drain his blood and force him into a comatose state so he can speak with Lilith. Lilith does not give Bill any answers and just tells him not to come see her again.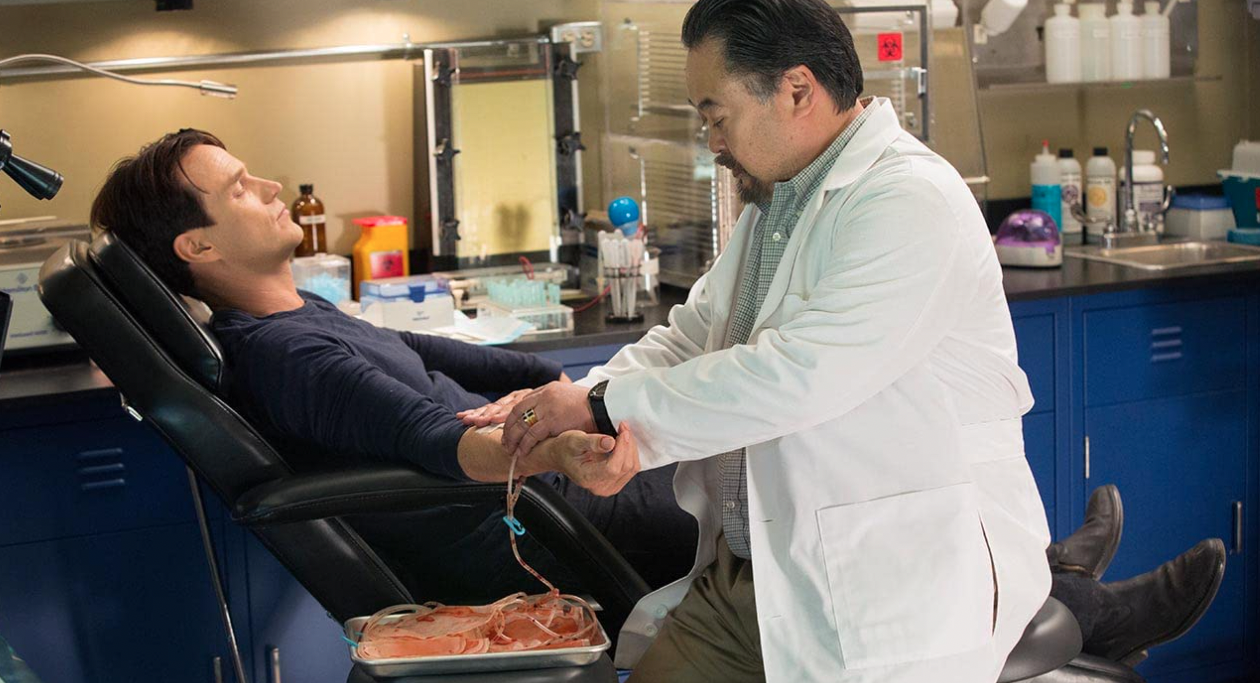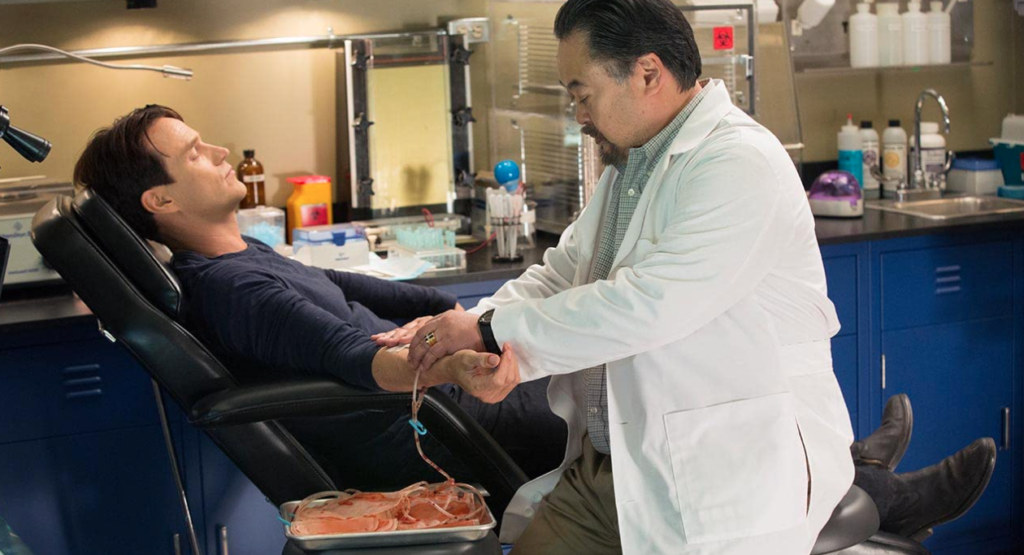 Sam and Nicole turn Emma back over to Martha and Alcide tells Sam to leave town and Sam agrees. It looks like we may lose Sam as a character.
Unfortunate Demise
Terry goes to Lafayette's house and tries to give Lafayette his safety deposit box key. When Terry leaves, Lafayette calls Arlene and tells her what happened. They are both worried that Terry will kill himself, so Arlene enlists Holly's friend to glamour Terry.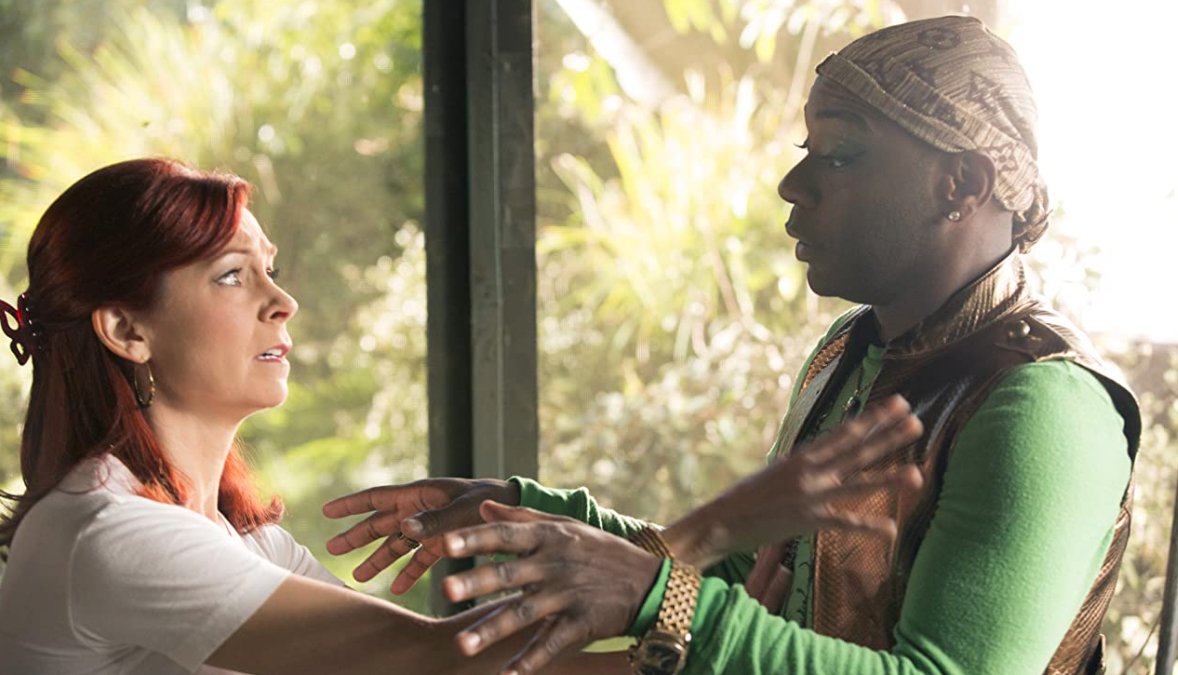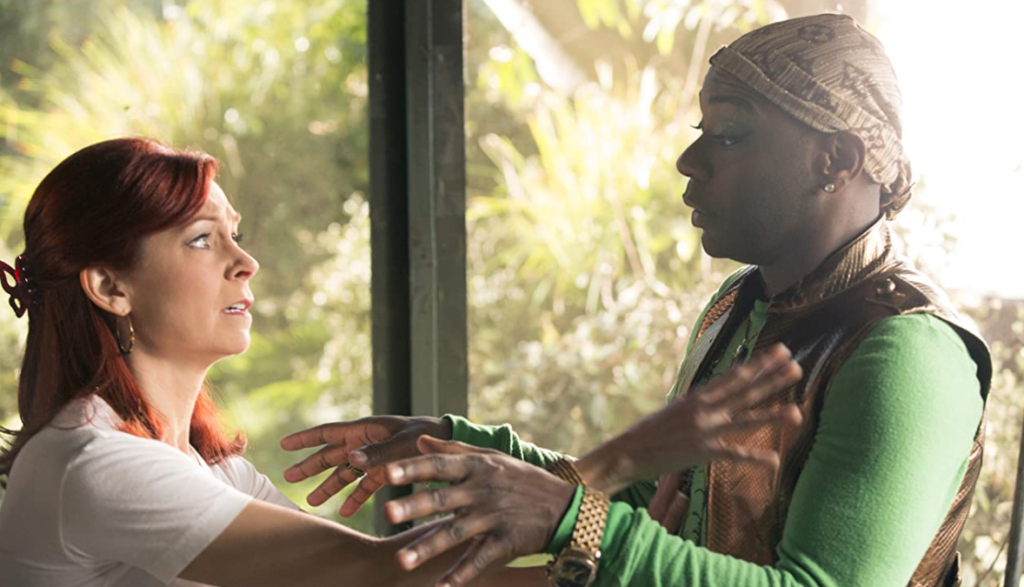 The vampire tells Terry that he doesn't remember the military or the bad things he's done. This doesn't stop the fact that Terry hired a friend to kill him and Terry is shot and dies outside of Merlotte's later that day. This is a hard loss because I felt pretty invested in Terry. He was a great guy and good character.
When Bill returns from speaking with Lilith, he drinks a vial of Warlow's blood and ventures into the sunlight. He goes to Burrell's camp to try and rescue Jessica. Burrell will not give up any information so Bill rips his head off.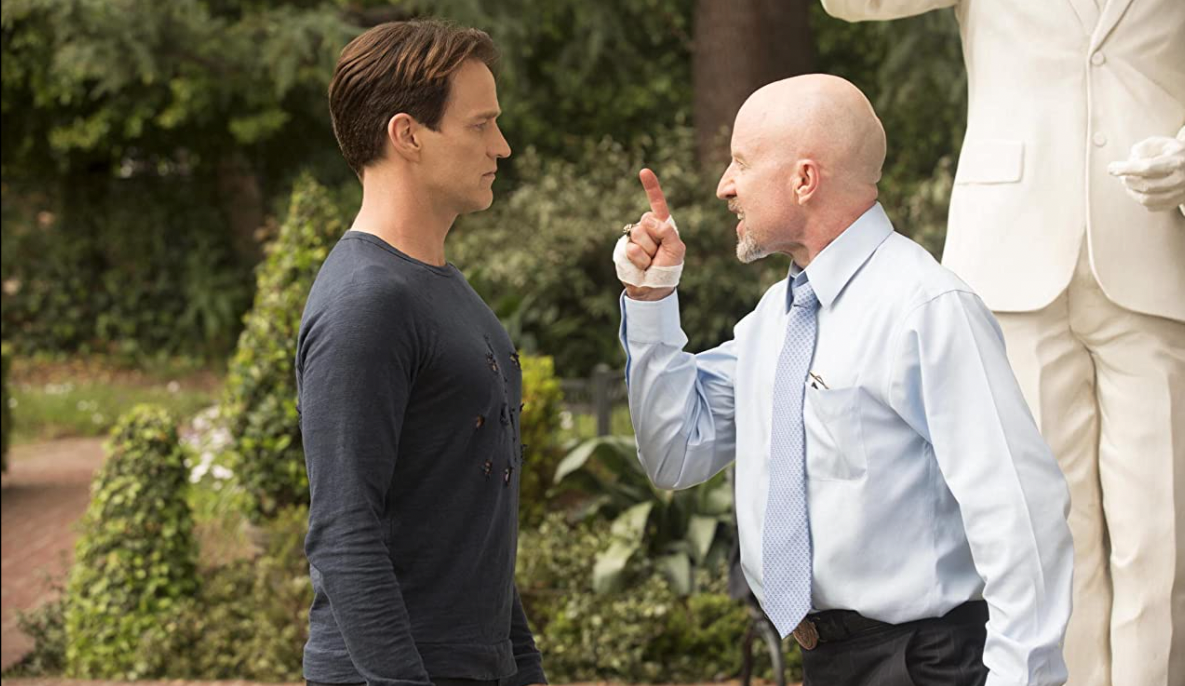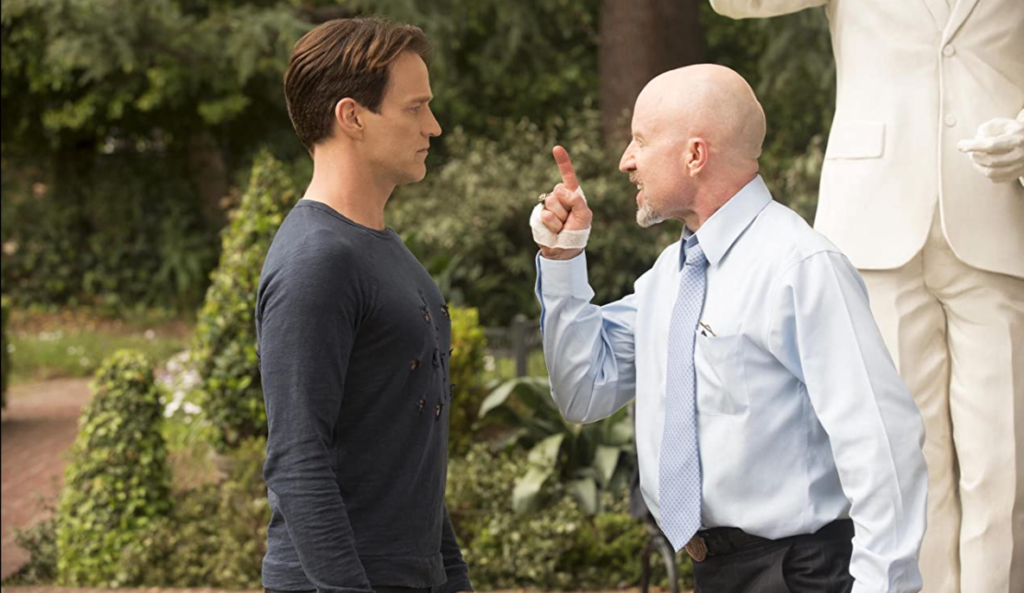 Death number two is a gruesome one, but I am not sad to see Burrell get what he deserves. This does mean that Jason no longer carries leverage over Sarah though.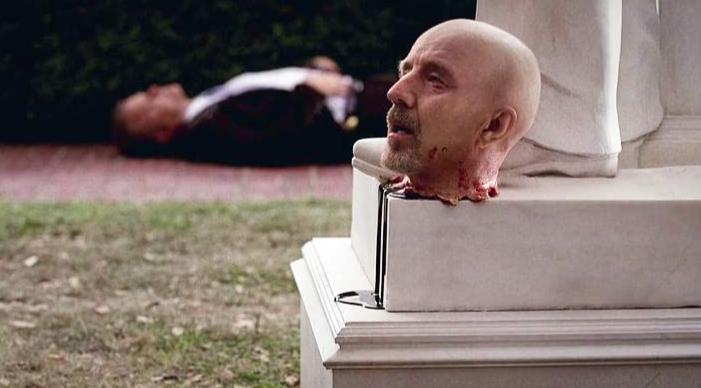 This episode really hit hard and felt like a season finale with all the deaths. This season really packs a punch.

(5 / 5)
If you'd like to check out this season of True Blood, click below!
The Last Drive-In Season 5 Premiering April 21st Exclusively on Shudder!
They say good things come to those who wait, and boy have we been patient. It has been quite a few months since we have been treated to a full season of 'The Last Drive-In with Joe Bob Briggs', in fact, the season 4 finale premiered on Shudder July 1st, 2022. Since then, we have been able to satisfy our appetites with festive holiday specials sprinkled throughout the past year. Specials such as 'Joe Bob's Halloween Hangout' guest starring horror's favorite Mistress of the Dark, Elvira (played by the legendary Cassandra Peterson) and 'Joe Bob's Ghoultide Get-Together'. Last month was a treat in itself, as we were able to witness Joe Bob Briggs and co-host Darcy the Mail Girl (Diana Prince) marry one lucky couple for the first time on the show with 'Joe Bob's Vicious Vegas Valentine' special.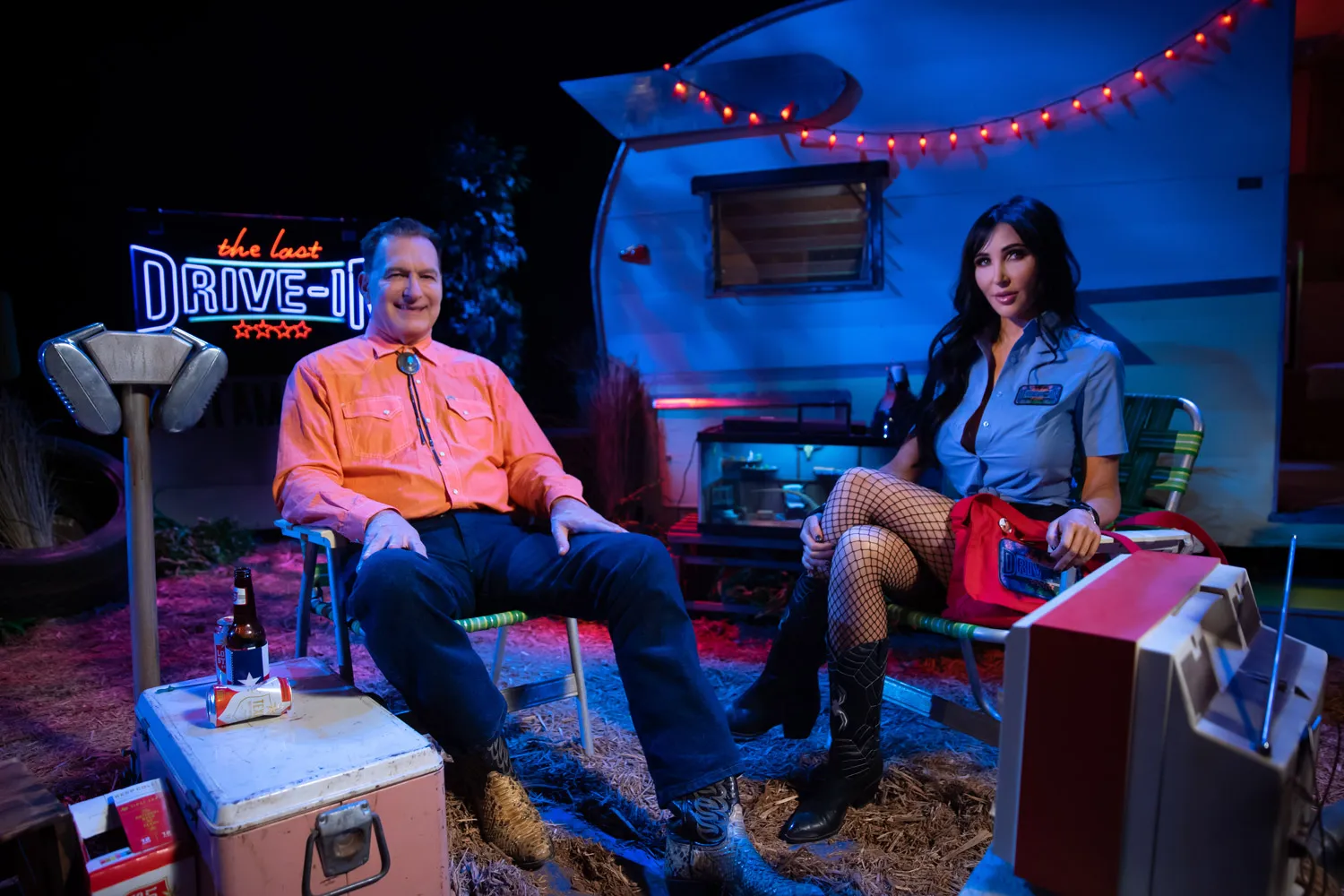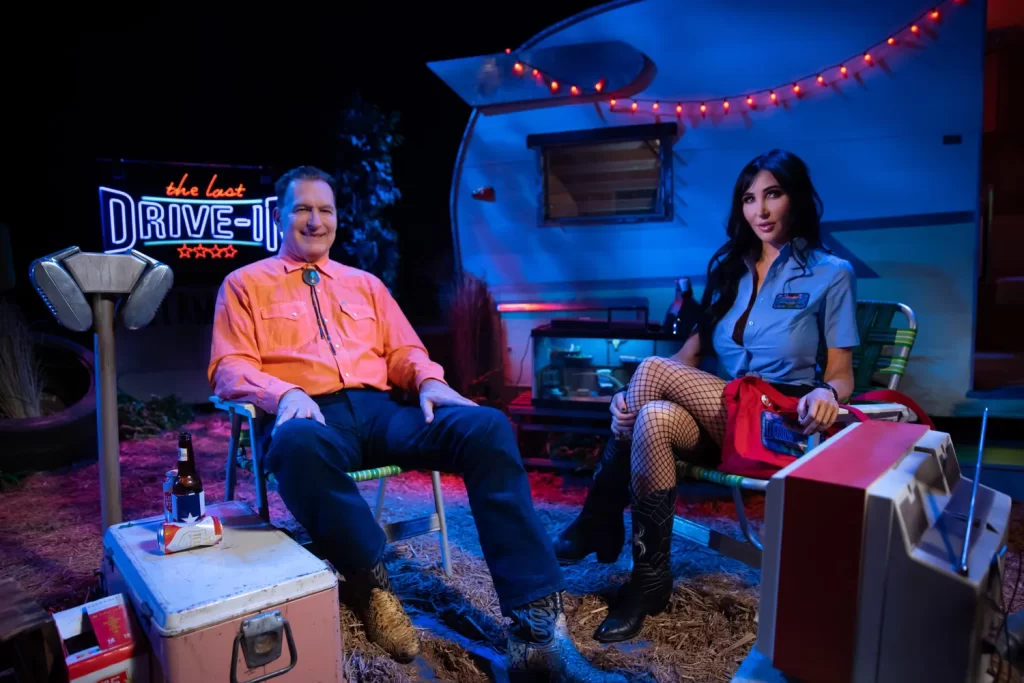 While the current changes in staff at Shudder have left fans questioning whether we will receive a new season of the popular series, I can happily say mutant family, we need not worry. In fact, to our wonderous surprise, Joe Bob Briggs has officially announced via Twitter, season 5 of 'The Last Drive-In' will be premiering April 21st, exclusively on Shudder! One thing that is noteworthy, is unlike previous seasons, it has been reported by 1428Elm that season 5 will be broken up into two parts of five double-feature blood-curdling episodes. Though we have not been provided the official release schedule for the second block of season 5, here is a sneak peek of what we can expect for the first half of the season:
April 21: Season 5 Launch Party!
April 28: Walpurgisnacht Part 2!
May 5: Cinco de Fucking Mayo!
May 12: Mama's Day!
May 19: Dysfunctional Family Jubilee!
Unfortunately, we do not have an official list of the brand-new double feature films for the first half of season 5 but, with amusing episode titles such as these, one can only imagine what grindhouse-classics will be joining 'The Last Drive-In's' already eclectic list of sloshy goodness. For those impatient mutants eagerly waiting for more hilarious Joe Bob rant-filled commentaries, or those newcomers who've yet to experience the magic that is 'The Last Drive-In', all previous four seasons, including past holiday specials are currently available to stream now on Shudder.
If you are just as big of fans of 'The Last Drive-In' as we here at HauntedMTL are, please be sure to follow us on Twitter @HauntedMTL and join us April 21st as we tweet along with Joe Bob and Darcy the Mail Girl for the season premier. As is tradition, we will be hosting live watch parties every Friday with each new episode, including fresh holiday specials. The road to season 5 is upon us…let the countdown begin!
April 21: Season 5 Launch Party!
April 28: Walpurgisnacht Part 2!
May 5: Cinco de Fucking Mayo!
May 12: Mama's Day!
May 19: Dysfunctional Family Jubilee!
. . . and that's only the beginning.#TheLastDriveIn pic.twitter.com/WfeTx0shNa— Joe Bob Briggs (@therealjoebob) March 16, 2023
Shudder March 2023 Release Schedule
Mutant family, please gather 'round as February kicks rocks and we shove our way into March. With the new month comes the shifting from winter to spring as death beautifully resurrects back to life, drunken patrons swarm our local bars like rabid locusts for St. Patrick's Day celebrations, and of course new exclusives and returning favorites on Shudder to satisfy the horror fiend in us all. To quote the prestigious Samuel L. Jackson, "hold onto your butts" and let's dive right into Shudder's March 2023 release schedule.
Shudder Exclusives
While it is true that the release schedule for the start of 2023 on Shudder has been minor and slightly mixed, with films such as the much talked about experimental low-budget indie 'Skinamarink', the surprisingly entertaining horror comedy 'Sorry About the Demon', and writer/director Neil Marshall's return to the genre with 'The Lair'. We also graciously received the wildly fun 'The Last Drive-In: Joe Bob's Vicious Vegas Valentine" special, with season 5 currently in production and premiering later this year; though it can't come soon enough. As we like to do here at HauntedMTL, let's kick off March with Shudder's newest exclusives currently streaming now and in the coming weeks.
Spoonful of Sugar – Now Streaming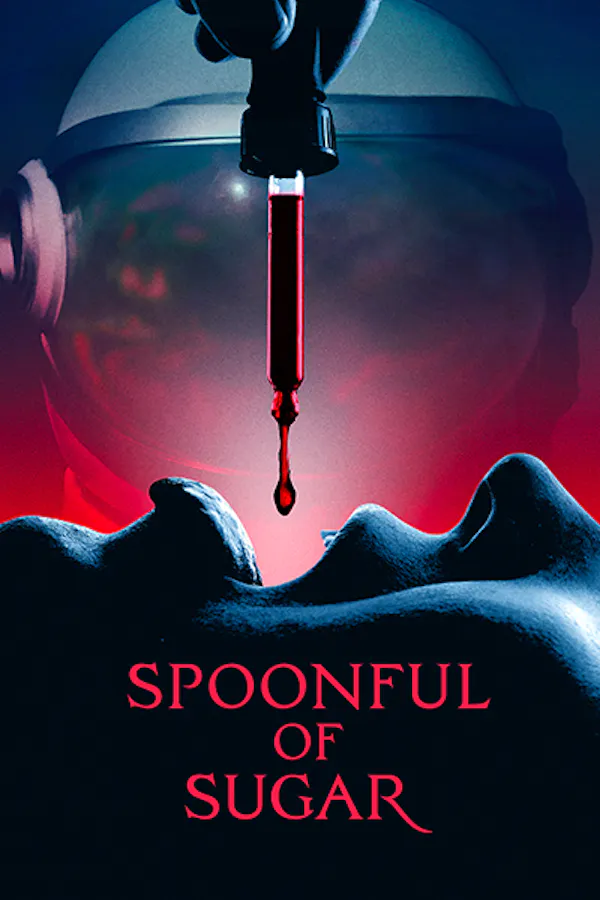 Starting off this list we begin with director Mercedes Bryce Morgan and writer Leah Saint Marie's latest film 'Spoonful of Sugar', now currently streaming.
Millicent (Morgan Saylor), a disturbed college student working on her thesis about children with severe allergies, is hired to babysit little Johnny (Danilo Crovetti), a sickly, mute child who suffers from every allergy under the sun. His mother Rebecca (Kate Foster) is an accomplished author currently focused on her newest book release, while his father Jacob (Myko Olivier) spends his days in the backyard working on frivolous carpentry projects. After experiencing a bizarre sexual awakening while using LSD as an alternative treatment for Johnny, she soon uncovers the family's dark secrets as things begin to become unhinged.
Leave – Premiering Friday 3/17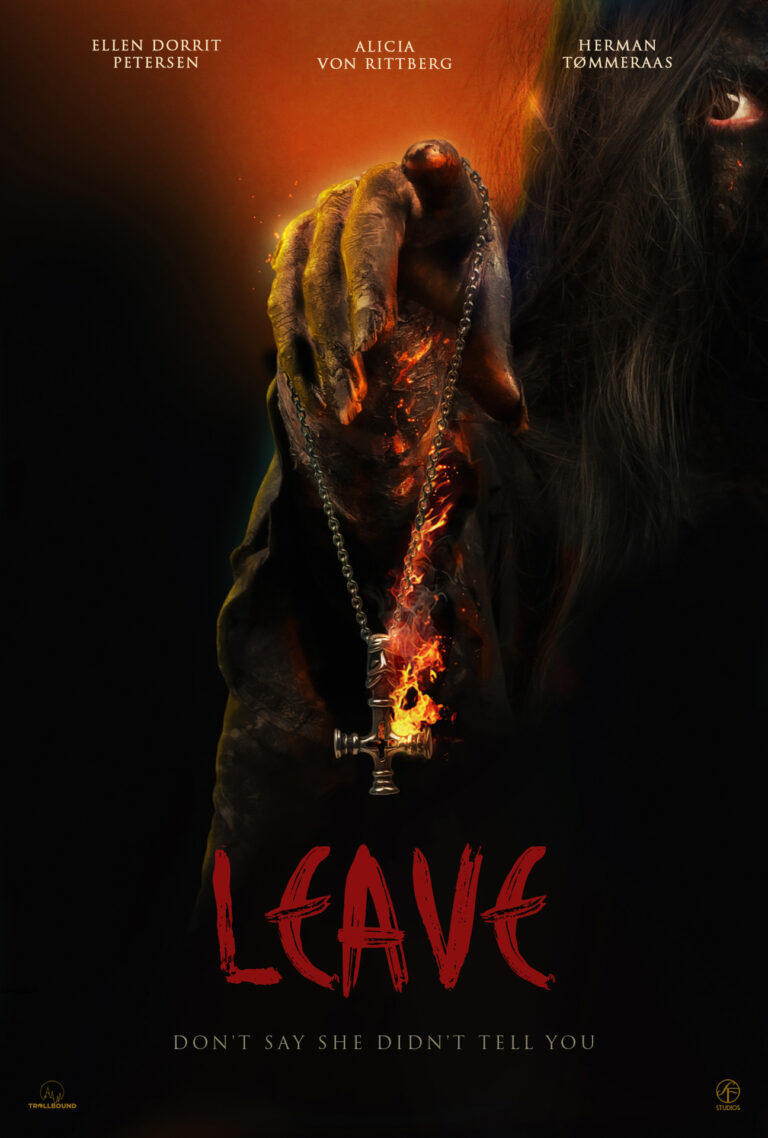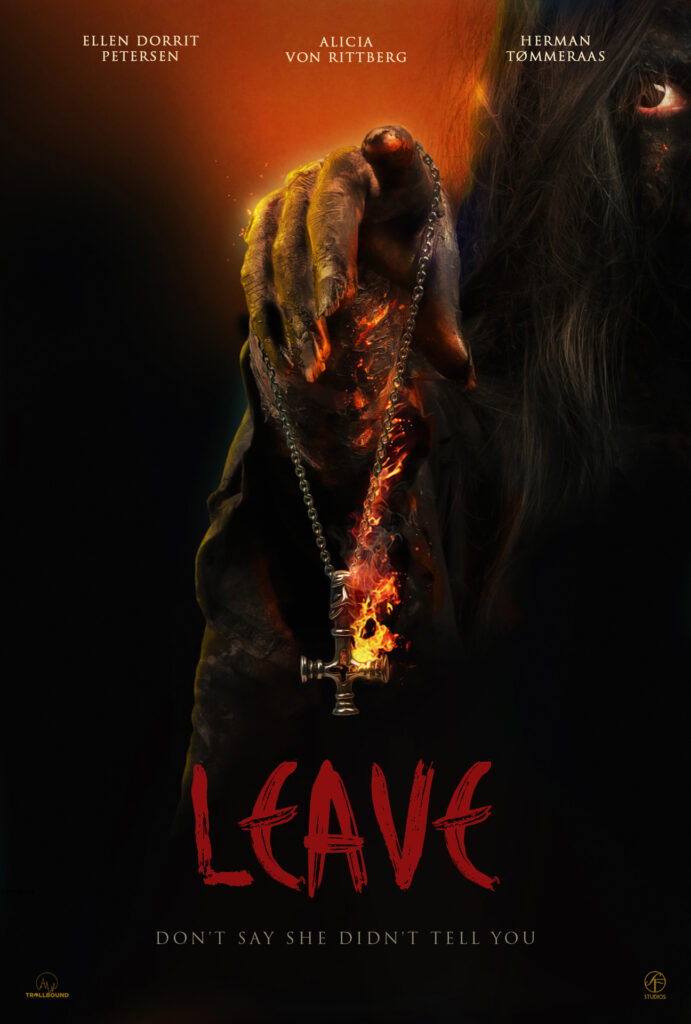 After having been abandoned as an infant at a cemetery wrapped in a cloth with satanic symbols, Hunter White (Alicia von Rittberg) grows obsessed with figuring out who her biological parents are and why they seemingly abandoned her. However, as she gets closer to the answers she so desperately seeks, a malevolent spirit is warning her to leave.
'Leave' premiers exclusively on Shudder Friday 03/17 and is directed by Alex Herron and written by Thomas Moldestad, starring Alicia von Rittberg, Herman Tømmeraas, Ellen Dorrit Petersen, and Stig R. Amda
The Unheard – Premiering Friday 03/31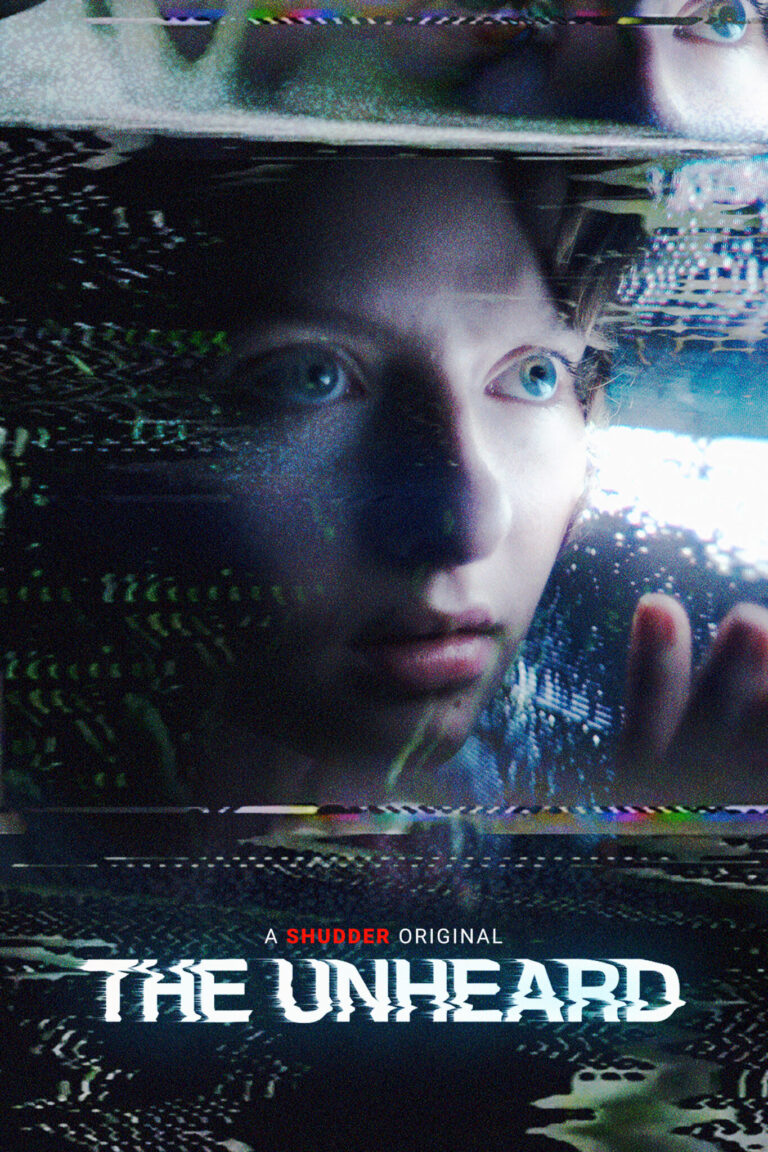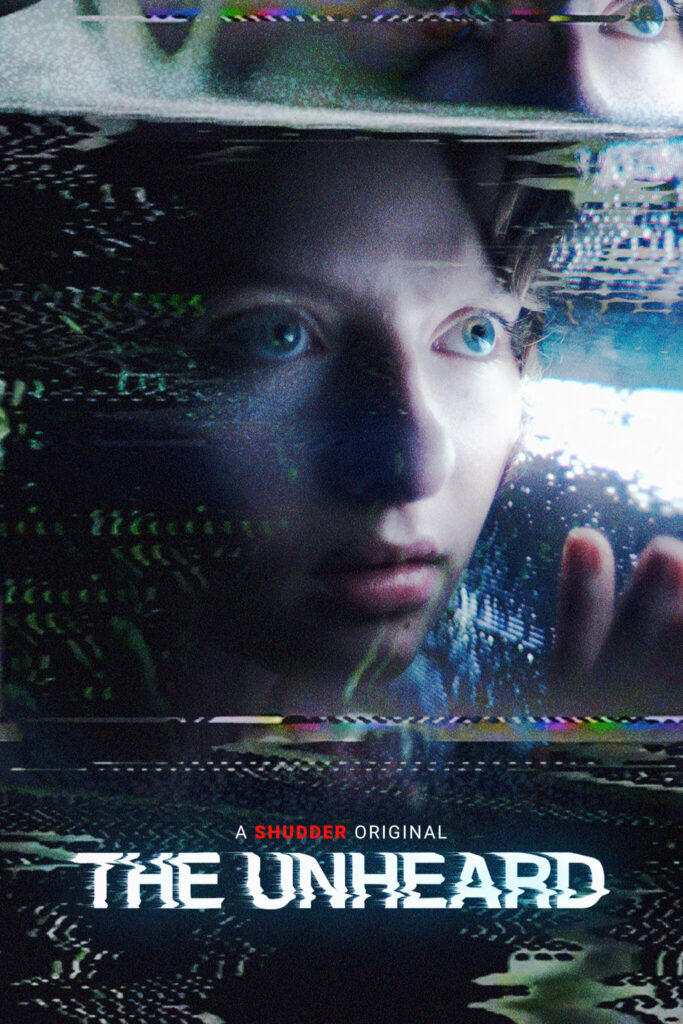 'The Unheard' follows the story of deaf 20-year-old Chloe Grayden (Lachlan Watson) after she undergoes an experimental treatment to restore her hearing. While recovering at her family's beach home after the successful procedure, Chloe begins to fear she is not alone as she begins to experience auditory hallucinations related to the mysterious disappearance of her mother.
'The Unheard' is directed by Shudder alumni Jeffrey A. Brown (The Beach House) and written by brothers/screenwriting partners Shawn Rasmussen and Michael Rasmussen (Crawl), co-starring Michele Hicks and Nick Sandow. 'The Unheard' premiers exclusively on Shudder Friday 03/31.
Returning Classic and Fan Favorites
Now that we've removed the veil for the new exclusive titles dropping this month, I think it's time we reveal the returning classics jump starting our transition into spring for 2023. Allow me to highlight some of my favorite films returning to Shudder for March including 'Gretel and Hansel' and 'The Company of Wolves'; grim re-telling's of popular children's fairy tales. We also cannot forget John Carpenter's haunted coastal horror 'The Fog'; no, not the remake…thankfully.
Gretel and Hansel – Now Streaming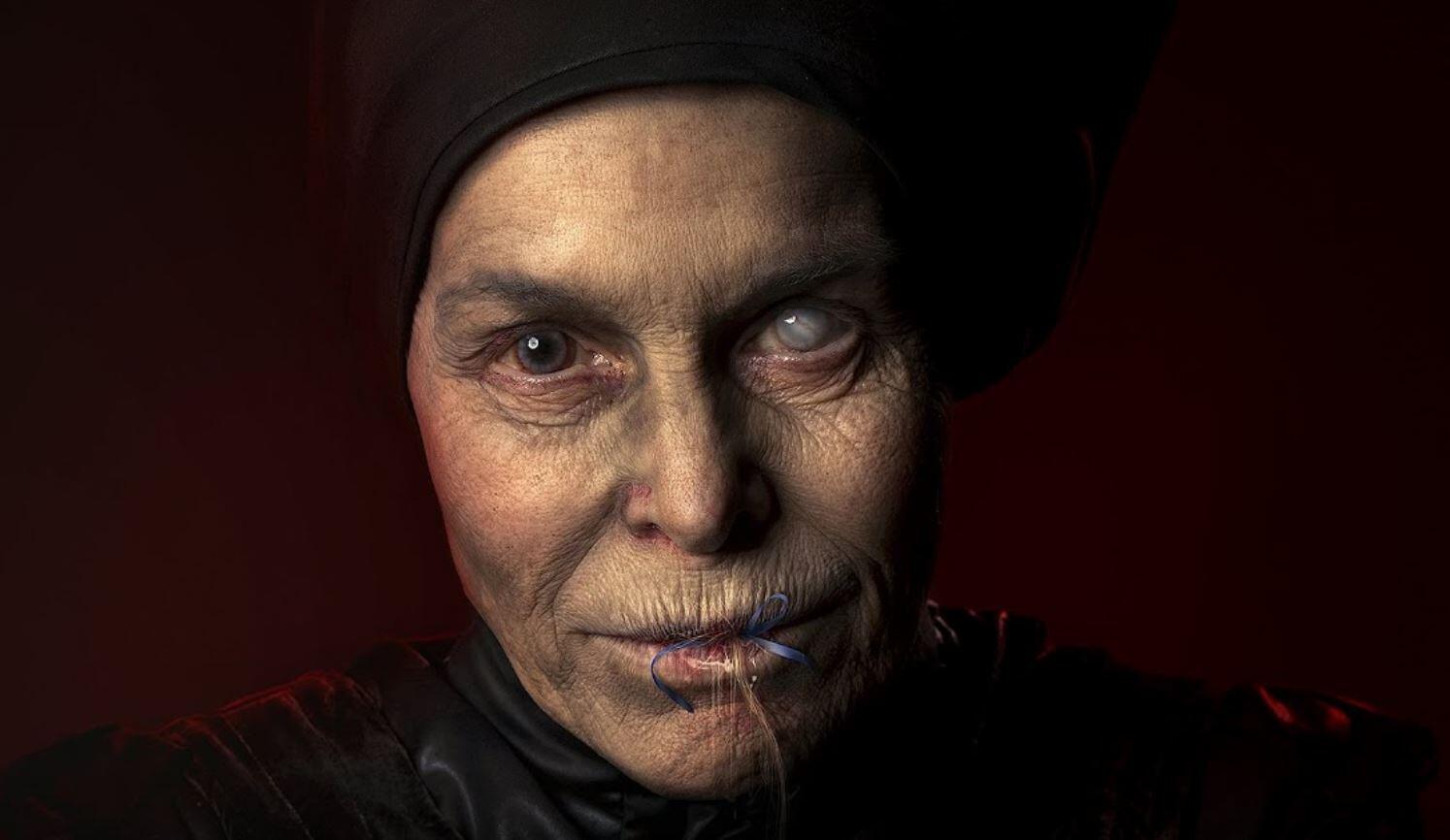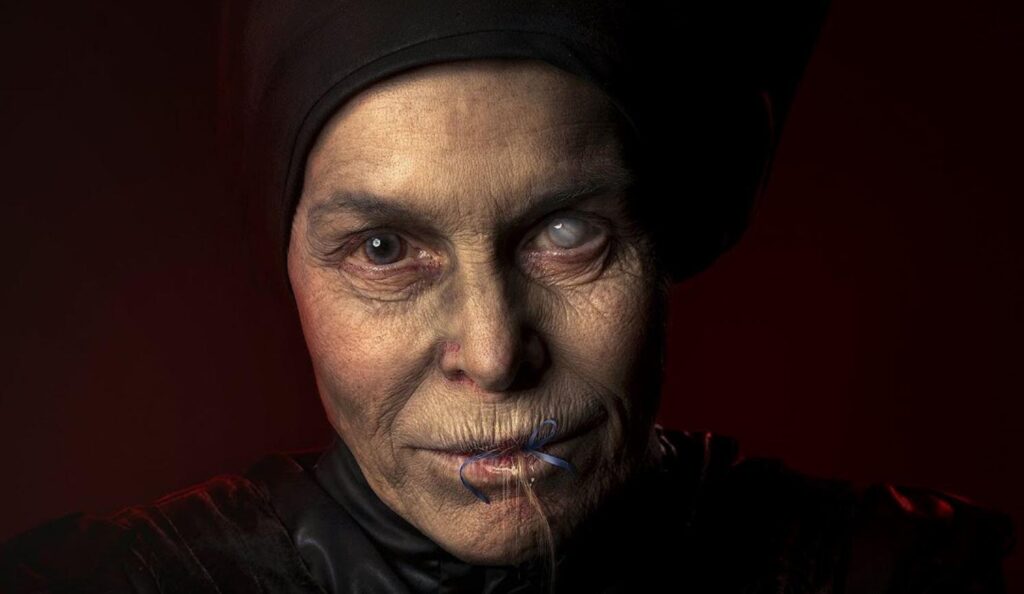 Directed by Osgood Perkins, 'Gretel and Hansel' is a terrifyingly dark and unique vision to one of history's most famous childhood fairy tales. After being thrown out of their mother's home, Gretel (Sophia Lillis) leads her younger brother, Hansel (Samuel Leakey), through the woods in search of food and work. The children soon discover a quaint cottage where a fragile old woman Holda (Alice Krige) offers fresh food and bed. The children accept all Holda has to offer, with little thought as to what may be asked of them in return.
Though it has been met with mixed reviews, 'Gretel and Hansel' offers astounding performances by veteran actress Alice Krige as the films iconic Witch of the woods and Sophia Lillis as lead Gretel. Director Osgood Perkins does well to draw his viewer in with a beautifully haunting score and unnerving cinematography, making this one grim re-telling worth checking out at least once. 'Gretel and Hansel' is available to stream now.
The Company of Wolves – Now Streaming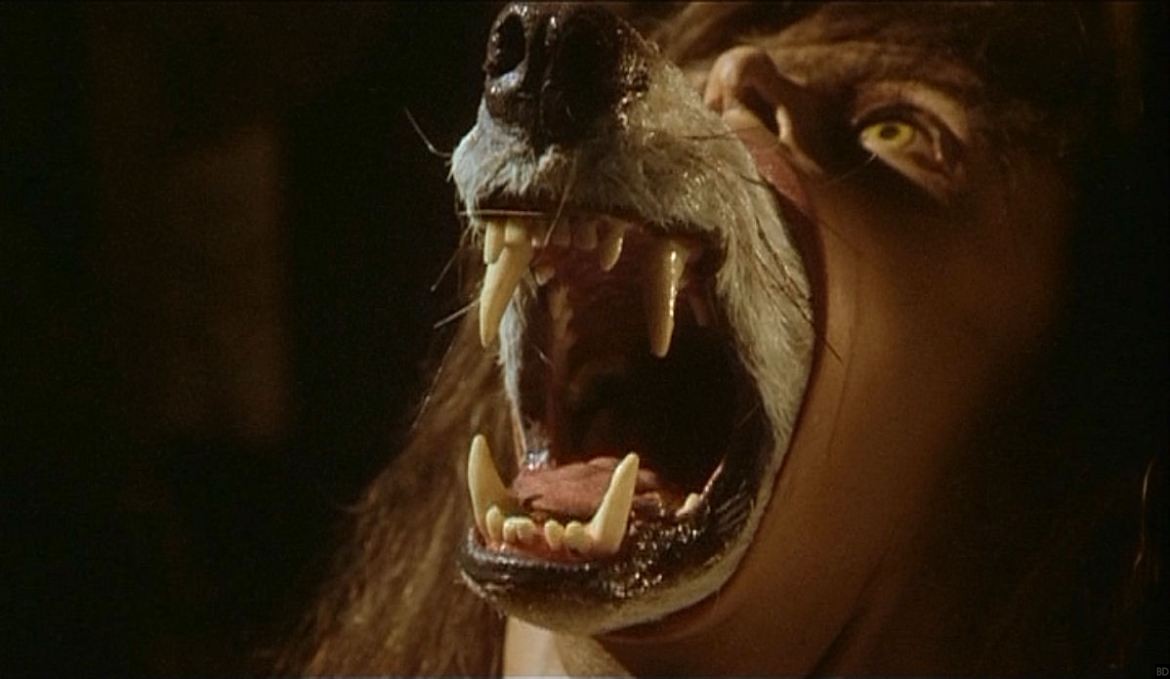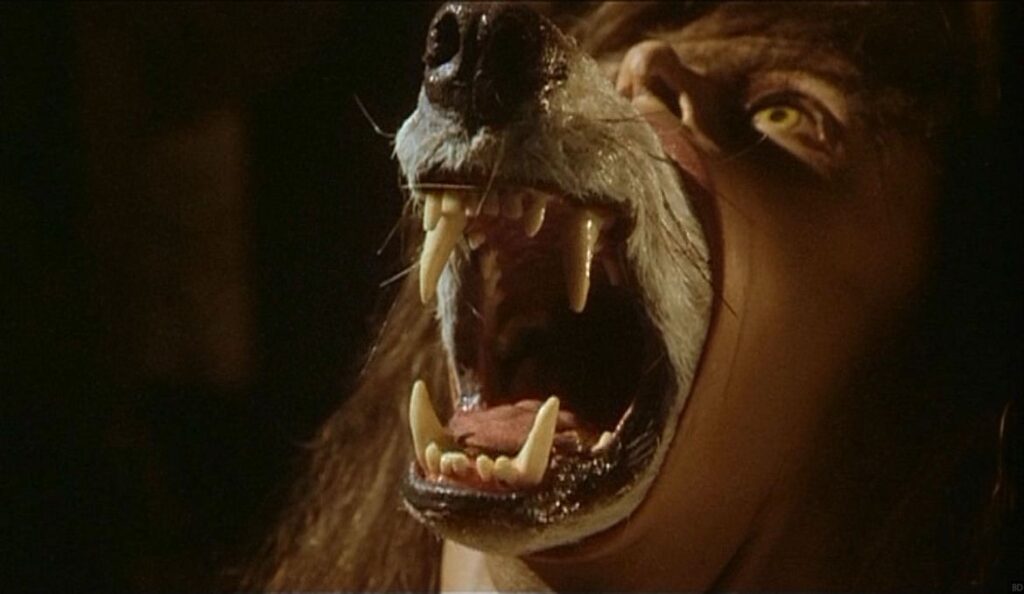 Continuing our list of returning classics, we have yet another bold re-telling of a beloved children's fairy tale, 1984's 'The Company of Wolves'. While the story of 'Little Red Riding Hood' has been retold through various forms of media, including numerous films, 'The Company of Wolves' is a beloved horror interpretation with adult themes and memorable practical effects including one of the genres best werewolf transformations.
A wise grandmother (Angela Lansbury) tells her granddaughter Rosaleen (Sarah Patterson) a disturbing tale of innocent maidens falling in love with handsome strangers … and of their sudden mysterious disappearances when the moon is full and accompanied by the strange sound of a beast in the woods.
'The Company of Wolves' is co-written and directed by Neil Jordan and stars Sarah Patterson, Angela Lansbury, Micha Bergese, and David Warner, streaming now.
John Carpenter's The Fog – Streaming 03/31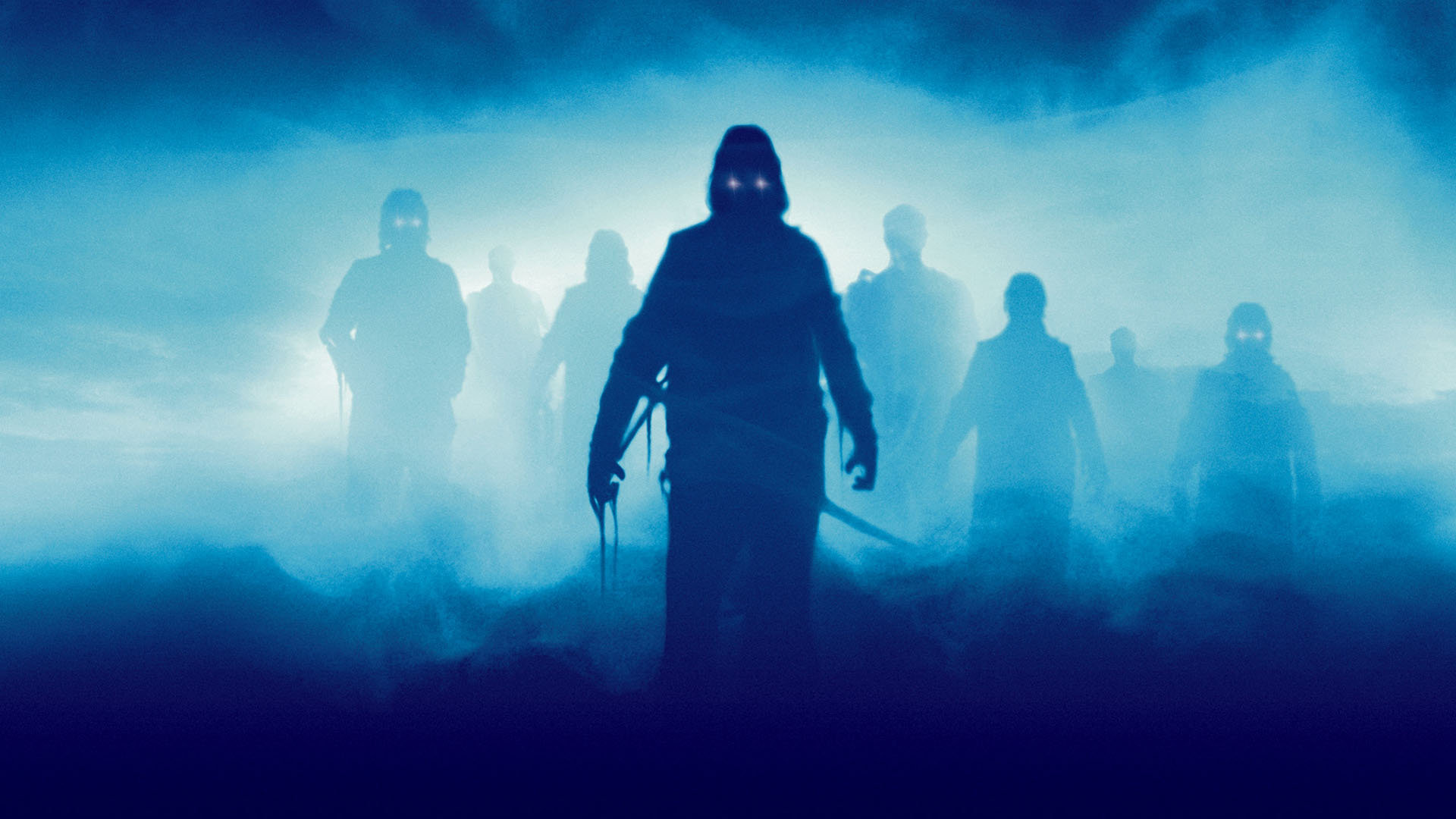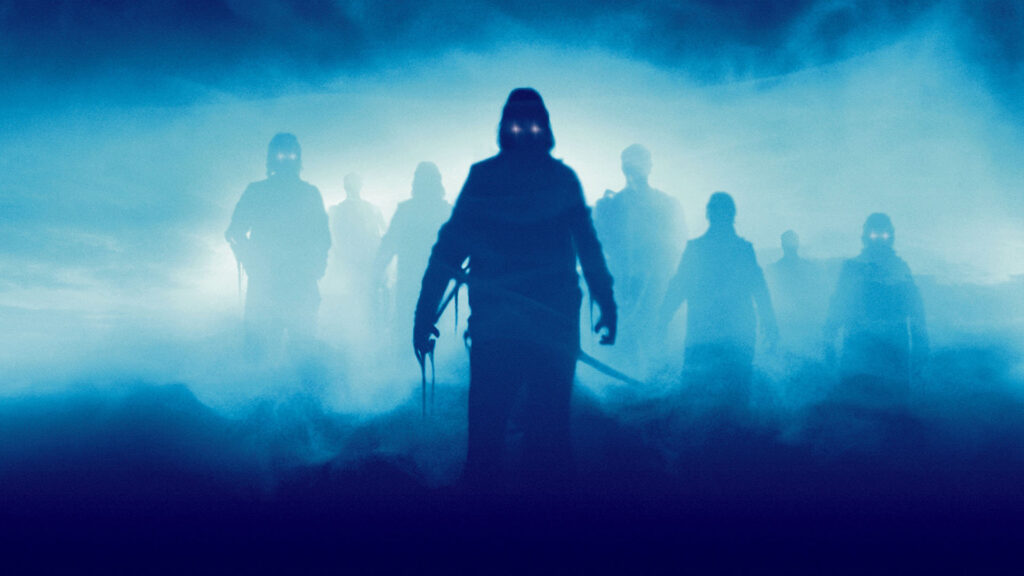 Writer, director, musician, and horror master John Carpenter is a legend in the genre having provided countless classics such as 'The Thing', a terrifyingly gruesome remake of 'The Thing from Another World'. Or his sci-fi action/horror 'They Live' where he deals with societal control through corporations and government. And of course, my personal favorite, the film that jumpstarted his career and created one of horror's most iconic slashers…'Halloween'.
1980's 'The Fog' is a terrifying shoreside tale of vengeful spirits haunting the fictional coastal town of Antonio Bay, OR. as they begin preparations to celebrate its centenary. Following exactly 100 years after a ship mysteriously sank in the town's waters, a thick unearthly fog harboring the souls of those who perished rolls in and with them, the dark secrets of Antonio Bay's past.
John Carpenter's 'The Fog' stars scream queen and recent Academy Award winner Jamie Lee Curtis, genre alums Adrienne Barbeau, Janet Leigh, Tom Atkins, Charles Cyphers, and Nancy Kyes, and was co-written by the late Debra Hill. 'The Fog' will be available to stream on Shudder 03/31.
Full Shudder March 2023 Film Releases
For a full comprehensive list of all the titles being added to Shudder for the month of January, please refer to the graphic below. Please be on the lookout for our review of 'The Last Drive-In: Joe Bob's Vicious Vegas Valentine' to drop later this week here on HauntedMTL and be sure to follow us on Twitter and Instagram for more Shudder news and spooky reviews!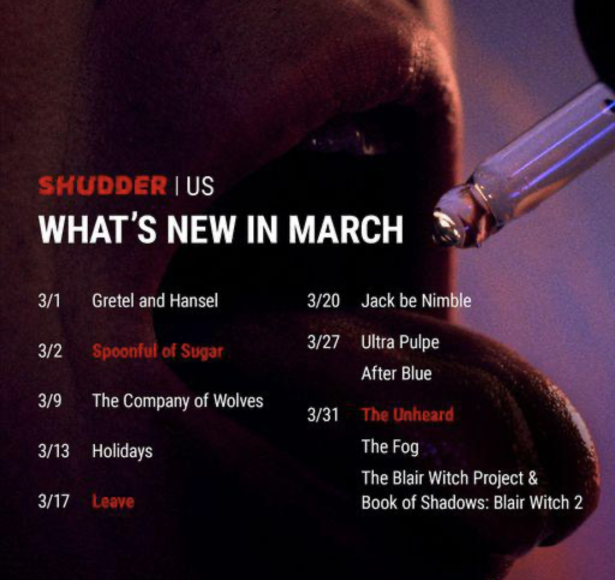 3/1:
Gretel and Hansel
3/2:
Spoonful of Sugar
3/9:
The Company of Wolves
3/13:
Holidays
3/17:
Leave
3/20:
Jack be Nimble
3/27:
Ultra Pulpe
After Blue
3/31:
The Unheard
The Fog
The Blair Witch Project & Book of Shadows: Blair Witch 2
She Wolf, Art by Jennifer Weigel
So this isn't a review but more just some thoughts…
I have to admit that I actually like the She Wolf music video by Shakira.
Maybe partly because my Zumba group back in the day used to dance to it with all of us cautioned to not to look up the music video for fear it would be too risque or something… (The Zumba dance to this was one of my favorites, and I loved our group of mostly 60+ year old retirees for all that some of them did act surprised at these things, whether or not they actually were.) Or maybe partly because it reminds me of Madonna's Express Yourself, or by extension the famous dance scene in Metropolis directed by Fritz Lang.
It's a guilty pleasure.
The ways these things evolve and stay the same over time fascinates me, especially how the messaging and movement change, and yet stay the same.
Anyway, I created this artwork based upon the She Wolf video and song, incorporating a Hazelle puppet head atop a modern Barbie doll body. I don't recall what happened to Barbie's actual head though I'm pretty sure I needed it for another project. (Technically I needed the body for another project too, and this was just a stopover.) Years ago this piece found itself part of the Women's Caucus for Art website as one of the chosen artworks for the year. I was going to try to write something to go with it for Haunted MTL but instead I thought I'd share it as a lead up to my revisitation of my werewolf story from St. Patrick's Day last year.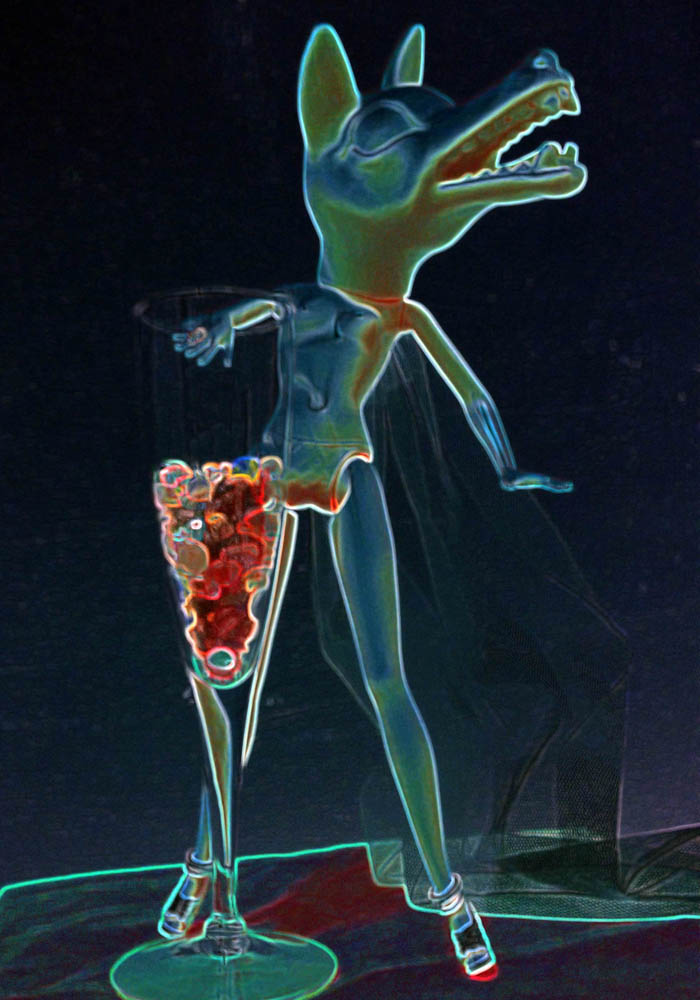 Feel free to check out more of Jennifer Weigel's work here on Haunted MTL or on her writing, fine art, and conceptual projects websites.