And it's time for Fatal Frame 5: Second Drop! I have all my fingers, falanges, and fangs crossed that this chapter is a good one. So far, it's been a bit of a slow burn. And while that's not unusual for a Fatal Frame game, I'm so ready for the training wheels to come off!
Since there are so many character names, here's a list of all relevant names this chapter:
Yuri Kozukata – Our play character this drop. She's an orphan rescued from suicide by Hisoka, who can see "spirit traces", like Hisoka. She's in possession of the Camera Obscura, the camera that can combat ghosts. She also makes questionable decisions.
Hisoka Kurosawa – Yuri's mentor who runs an antique shop. She also reads fortunes and finds missing items and people by following spirit traces.
Fuyuhi Himino – A new character who is looking for her missing friend on Mt. Hikami
Haruka Momose – Fuyuhi's missing friend who was seen on Mt. Hikami.
Ren Hojo – An acquaintance of Hisoka who asked her to find a photobook in the abandoned inn.
A text card provides context about where the second drop starts:
"A few days have passed since Yuri's introduction to shadow reading at the abandoned inn…
Since then, Hisoka has gone off somewhere and hasn't returned. Yuri worries for Hisoka, but isn't sure how or where to start searching.
As she sits waiting at the antiques shop, a girl named Fuyuhi Himinio shows up, claiming to have enlisted Hisoka to help her find a missing person."
Yuri, looking exceptionally bored, sits behind the counter of an antique shop drenched in sepia tones. It's been days since she's seen Hisoka, who left to research a client request. The antique shop is quiet and has been for quite some time.
But a bell chimes and Fuyuhi enters.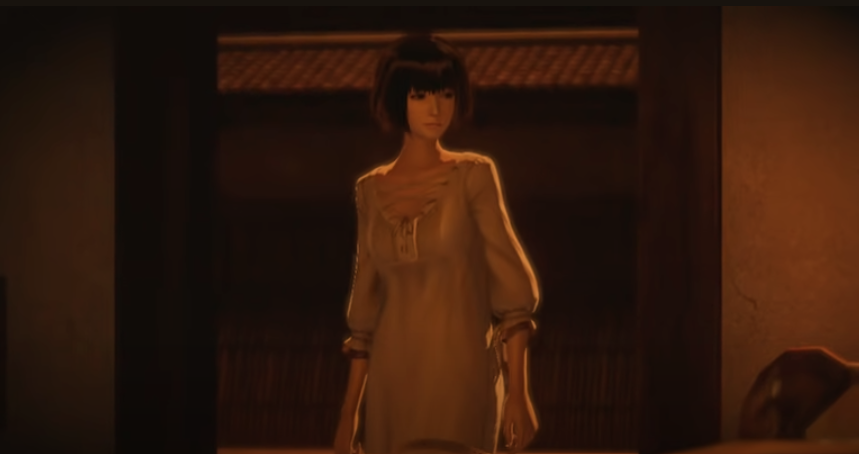 Fuyuhi seems soft-spoken and gentle and incredibly sad, and I have nothing but bad feelings about her. She just feels like someone who has a tragic fate waiting for them.
Fuyuhi tells Yuri that she's been waiting for Hisoka's answer about whether or not Hisoka can find her missing friend, Haruka. But when Yuri doesn't have the answer, Fuyuhi resolves to go to Mt. Hikami to find her friend… alone. Despite its reputation as a suicide destination.
Before Yuri can speak any sense into her, Fuyuhi is gone, determined to find Haruka herself. But Yuri's moved by Fuyuhi's case, and decides to investigate Hisoka's room to see if there's any clues about the missing Haruka.
Leaving the shop, we go into the back office. There, we find a book that provides a bit of lore about Mt. Hikami. And I can't resist a nice bit of lore.
Mt. Hikami has always been a famed ghost spot and is also home to the "Maidens of Black Water". Women who, if you see them, will surely lead you to your death. Those caught in the maidens' gaze will never leave the mountain. And those who die on Mt. Hikami, but don't die in accordance with "local practices" become cursed and are forced to relive their final moments for eternity.
If you see either a looping spirit or a Maiden of Black, you'll desperately want to take your own life.
Or so the rumors go.
It doesn't sound like a place you should go by yourself. Or maybe at all.
Upstairs, in Hisoka's cozy room, Yuri finds a letter and an attached photo from Fuyuhi. In it, Fuyuhi and Haruka smile happily.
This is the token Yuri needs to find Haruka.
But why would see risk everything, after all Hisoka's warnings, to chase after someone who's likely been spirited away?
Mikomori Hot Springs
The sun sinks behind Mt. Hikami, but Yuri makes the walk to Mikomori Hot Springs on the mountain. She clasps the photo of Fuyuhi and Haruka, hopeful that it will lead her to Fuyuhi before things go terribly wrong.
She crosses the bridge beside the abandoned inn, and see the first trace of a spirit, climbing up moss covered stairs. It's possible it's Fuyuhi, but at the distance it's hard to tell. She climbs up the stairs and sees the trace again.
It's Fuyuhi! We're on the right track, she definitely went this way. And yet I have nothing but feelings of foreboding.
An item lies on the ground beside a small creek, and we reach to pick it up. But the moment we do a hand grabs us, forcing us to violently struggle out of its grip. Even though these grabby hands are a staple of Fatal Frame, it's a jump scare that absolutely got me. I'm more nervous than I'd like to be to finally be on this mountain.
Yuri breaks free and claims the item — a tourist brochure of Mt. Hikami, which includes a map. How useful! It turns out we're on our way to the Pool of Purification, and if we continue onward we'll reach the Unfathomable Forest.
What a… charming name for a tourist spot.
As we pass close to a waterfall, we get a little wet, and we're introduced to the "wetness meter" aspect of the game. The wetter we are, the easier a target we'll be for malevolent spirits. That makes sense, when you consider how spirits and water are often tied together in Japanese folklore.
Above us a woman screams, and we see a dark shadow fall as she plunges down the waterfall. Yuri scarcely reacts – did she even see it?
At the end of the path, we find a pool of water, roped off. No doubt this is the Pool of Purification. It's clearly a ceremonial place. But within it we find Hisoka's camera obscura. That's not a good sign.
It was swept her by the currents and caught in the shallows of the pool. So, Hisoka must be here on this mountain, alone and unarmed.
Two spirits lumber out of the pool before we can contemplate the severity of the sitation. They're much more aggressive than the spirit in the inn. But they go down easily enough, and Yuri is left standing with the camera in her hands.
Hisoka is here, but so is Fuyuhi. We need to find her first.
We reach the top of the cliff, where the waterfall begins, and see the spirit of a woman standing atop it. She screams – the exact same scream we heard below, and leaps, plunging to her death in the waters below.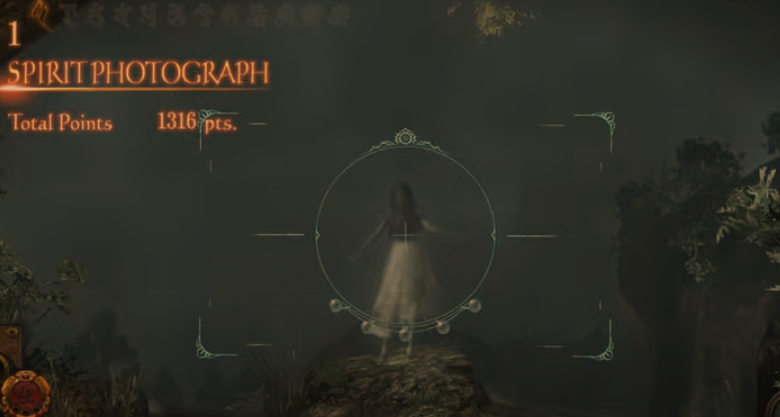 Is this one of the looping spirits written about in Hisoka's book about Mt. Hikami? A spirit cursed to repeat its final moments for all eternity? What a terrible way to go.
We turn and reach a fork in the path, indicating that we're close to the unfathomable forest. We turn left and see a spirit trace of Fuyuhi. On the ground is a note she's left behind. Has Haruka been spirited away, Fuyuhi wonders?
At this point, yes. I think it's safe to say she has been.
We follow the trace deeper into the woods. Stone lanterns have been lit, but instead of being comforting, the flames only add to the feeling that we're somewhere we shouldn't be. Who lit all these lanterns in a place that is supposedly abandoned?
We delve deeper into the woods and find a crumpled note. The writer states that he's seen the same girl hang herself over and over. But whenever he tries stop running he winds up right back where he started. Then, he stated he start to mimic her, hanging himself. But that death took a long time to come. And yet when he awakes, it all starts again.
A looping spirit watching a looping spirit. But it's interesting that ghosts can write notes.
We find Fuyuhi again, her back to us like always. But her trace ends here.
But where she was standing is a note – and it's one written with desperation, love, and a more than a smidge of darkness. Fuyuhi states that she wishes she was the one that disappeared. That Haruka is irreplaceable to her. And that she has a secret she wishes she'd told her before Haruka vanished, and that she wishes they could end things together.
Is this letter influenced by Mt. Hikami, which seems to drive people to self-destruction? Or does this truly reflect Fuyuhi's heart? It's hard to tell.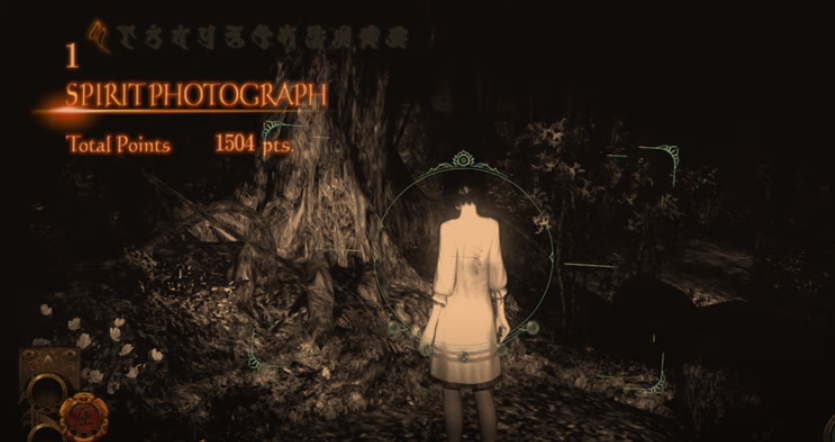 Yuri uses the note to try and pick up Fuyuhi's trace again, but the moment she glances up a hanged woman is staring down at her. The hanged woman vanishes, and Yuri's set upon by a gang of ghostly men.
They're dispatched easily enough.
A little deeper into the woods and we find an old, abandoned tent, with a note peeking out of its entrance. The tent belongs to a man who came to the woods to die. It feels right, he says, and he isn't lonely. There are plenty of people here who are already dead.
But one woman is watching him. A woman in white. And he knows that one day she'll come for him.
It's worth it to stray off the beaten path to find spots like these. The lore is what makes the Fatal Frame series so rich, and there's so many items to find. It's better to find them during the drop then spend your hard-earned points on them!
Not too far from the tent we find a series of small Jizo statues arranged around an air hole. A low howl of wind comes from the hole. This, Yuri infers, is a place of some significance. Perhaps later on we'll find out what that significance is. But Fuyuhi is waiting, and we leave this mossy nook to find her.
We cross a bridge, and arrive at a shrine. There again we catch the trace of Fuyuhi.
But I hate this shrine. I hate everything about it.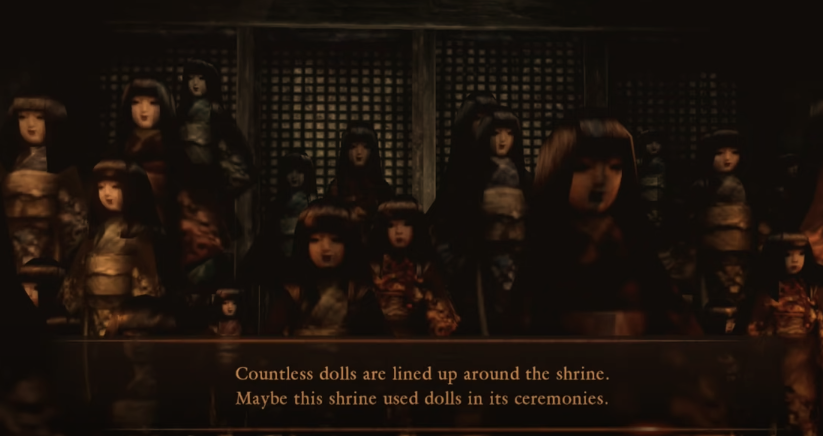 It's a shrine dedicated to dolls.
Why would anyone come here? Seriously, why?
And don't they look a little TOO similar to the one in the abandoned inn? The one who turned to stare at us?
Another note of Fuyuhi's has been discarded here. In it, she reminisces about Haruka. I really think she must be in love with her. But the moment we drop the note we're treated to a child ghost. The Girl Watching from Behind.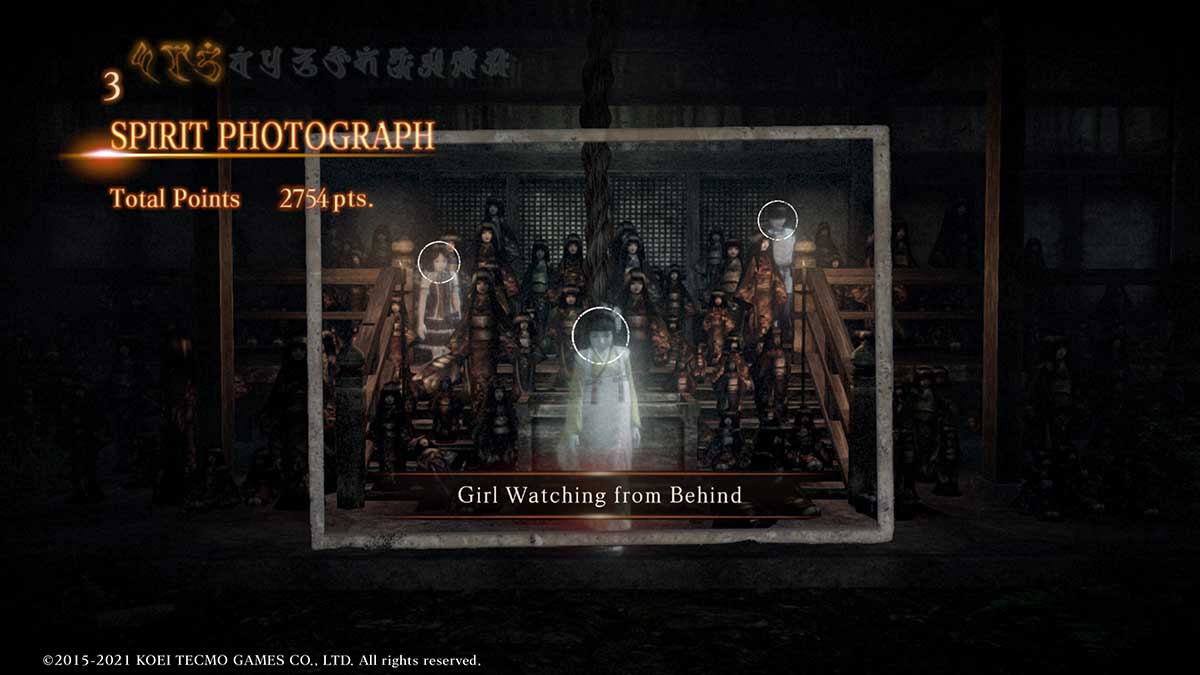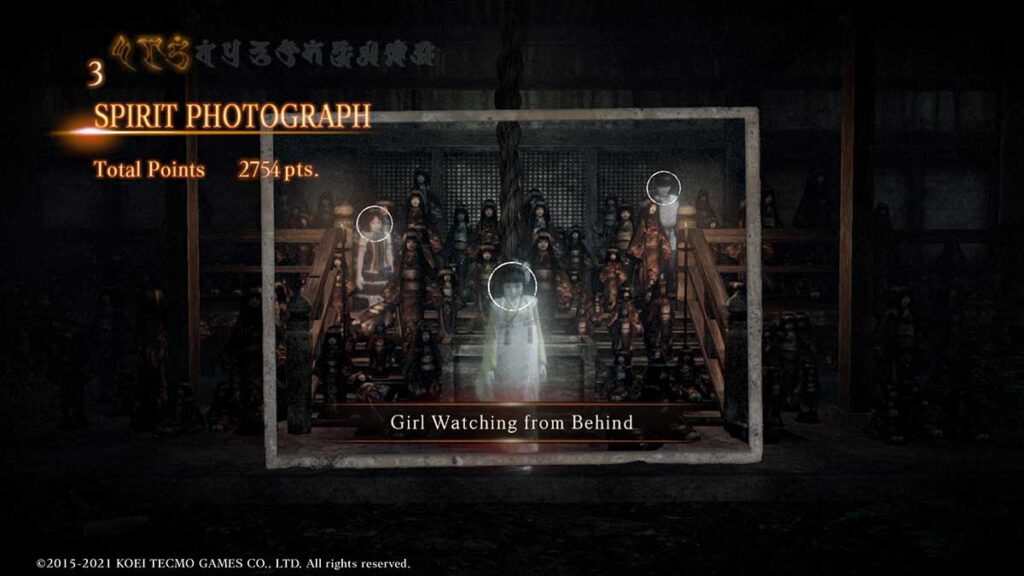 She's undoubtedly connected to this doll shrine. She and her staring companions don't do anything but stare, and I'm grateful for that. I hate ghost children.
But as we try and recatch Fuyuhi's trace, we're beset by another spirit. He's alone and easy enough to take down.
Yuri searches a little farther and sees a woman plunge to her death from a cliff, hitting the ground. Snapping her photo is tough, but when we grab it, we see that it says "Pushed Woman". A note beside where her body fell is titled "Apparent Suicide Note" and says: I can die alone here. I can take things slowly. A peaceful, dignified death.
Someone thought she was taking a little too long, I suppose.
But just a bit beyond that is Fuyuhi. The real Fuyuhi. Yuri calls to her, but she seems to be on a trance. She murmurs that she's certain Haruka is here on this mountain. But when Yuri lays a hand on Fuyuhi's shoulder her mind is flooded with a vision.
Five school girls, standing hand-in-hand in a pond, wading deeper into it, as if they mean to drown. Then, only Haruka and Fuyuhi, lying in the ponds shallows. They were the only two to survive a group suicide attempt.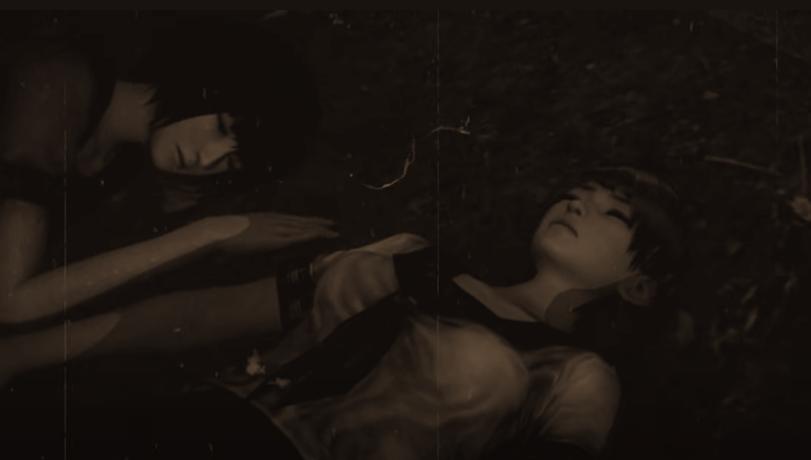 The vision ends, and Yuri understands the deep connection the two girls share. She promises Fuyuhi that she'll find Haruka. Fuyuhi, placated for now, follows her.
We find another note on the ground from a person who says they felt compelled to come to this mountain before sunset, and sink into its waters, where a woman calls for them. But they have to sink before sunset. And they have to write. It didn't matter what they wrote – only that they did it.
It's nice to have a reason for the absolute scrapbook of notes we're finding everywhere.
But who's calling these people, and for what reason? Is this woman the reason why Mt. Hikami has a reputation for spiriting people away?
Another writer of a different note seems to have encountered the same woman. But he seems to think she was a shrine maiden, and he was happy she was there to watch his final moments.
A little farther and we're attacked by a ghost who seems unlike the others. She's almost… familiar. She wears a dress, and she seems lost, maybe confused? We exorcise her, but the moment Yuri touches her, we're faced with the woman's memory.
She was in the woods and saw someone jump from a cliff. But the broken body got up and chased her until she reached the cliff overlooking the waterfall. And it was there that the terrifying, broken ghost pushed her. The confused woman was the very first ghost we saw here – and now she's cursed to run and fall off that waterfall forever.
We draw back towards the doll shrine, and the children are here. Now they want to play, but every time they lay hands on you, you take damage. They're mischievous, fast, and utterly annoying.
We exorcise and touch The Girl Watching from Behind and see her memory. She and the other children were lured by a girl with white hair further into the mountain. The same girl in Ren Hojo's dream, who was stabbed in the back and pushed into the black box.
Once the fight is done, we find Hisoka's pendant by the river. Touching it, we see a vision of Hisoka fighting in the water, only to be pulled under by a ghostly woman. The camera obscura floats away, and Hisoka is nowhere to be seen.
Fuyuhi vanishes and there's someone singing nearby. But a strange, off-kilter song.
"Play with me forever. I will always remember you. I know I'll remember you. Forever and ever—"
We follow it to find Fuyuhi, standing across the river, a blade in hand. As she sings, she raises the blade to her own neck and the song abruptly cuts off. When Yuri brings herself to look again Fuyuhi is gone.
No, she's not gone.
She's right behind her.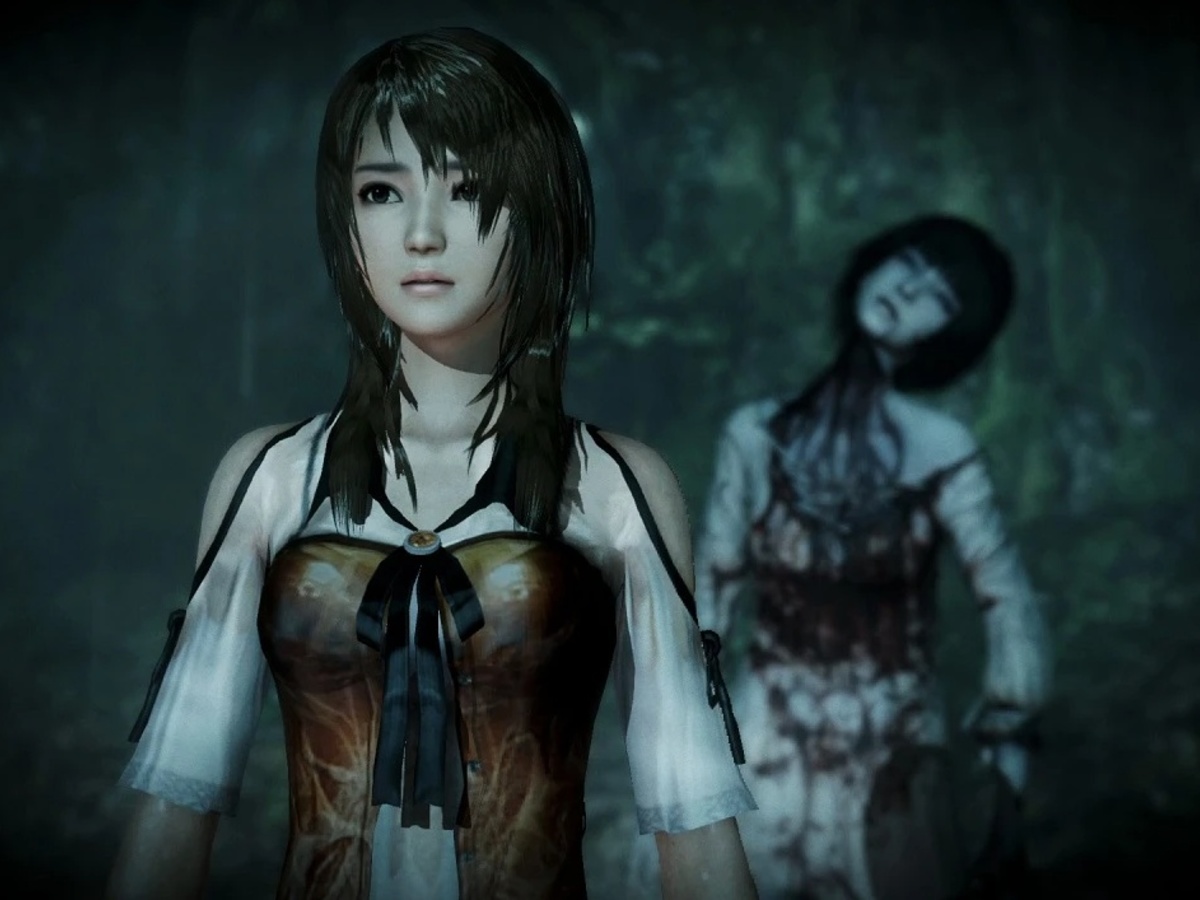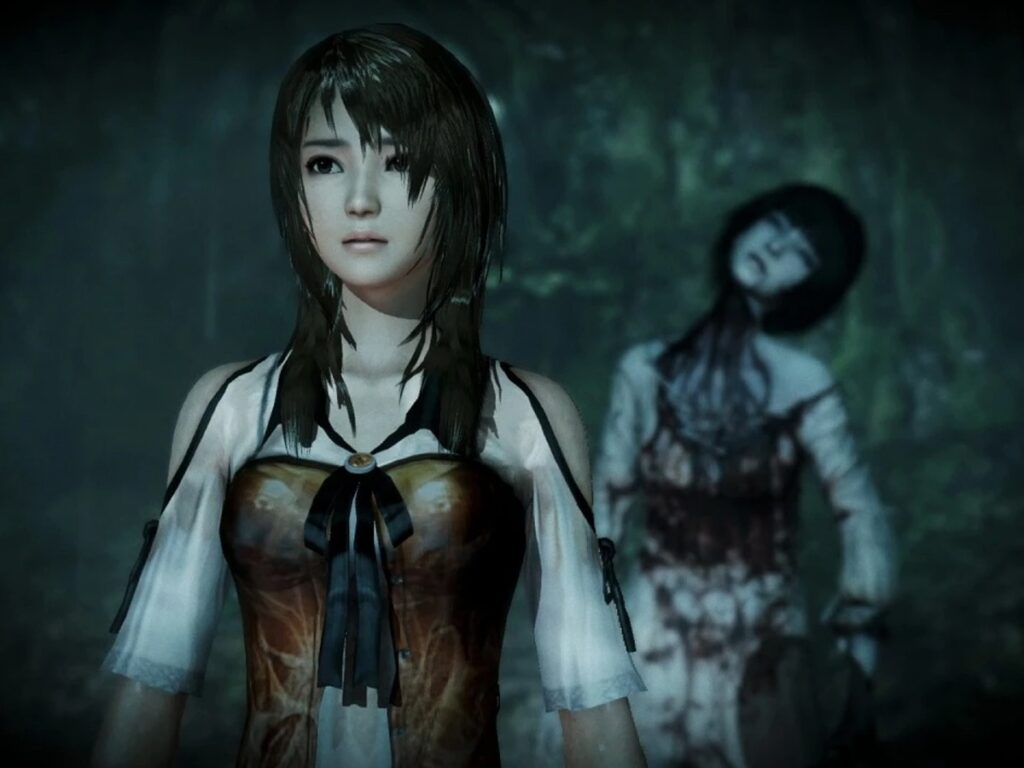 Her neck is scarlet, as is the front of her dress. And her head lolls in a strange, disjointed way. She lunges, and here comes the boss fight.
You exorcise her and she turns to her unbloodied self, collapsing to the ground. Yuri touches her, and again Fuyuhi's memories flood into her.
Fuyuhi sees a blade on the ground and picks it up. A few yards away, she sees a spirit cutting its own throat.
As if her hand is being controlled by someone else, Fuyuhi puts the blade against her own neck, mimicking the spirit, and she struggles desperately against it. Behind her, we see the spirit that had cut its own throat with a vice on Fuyuhi's hand, trying to force the blade against Fuyuhi's skin.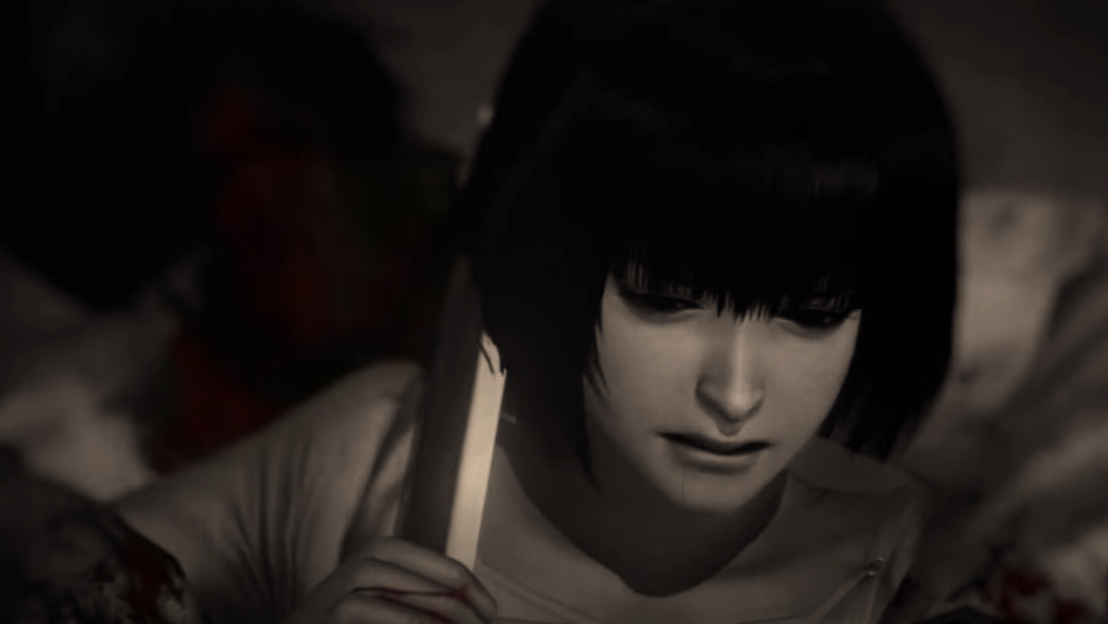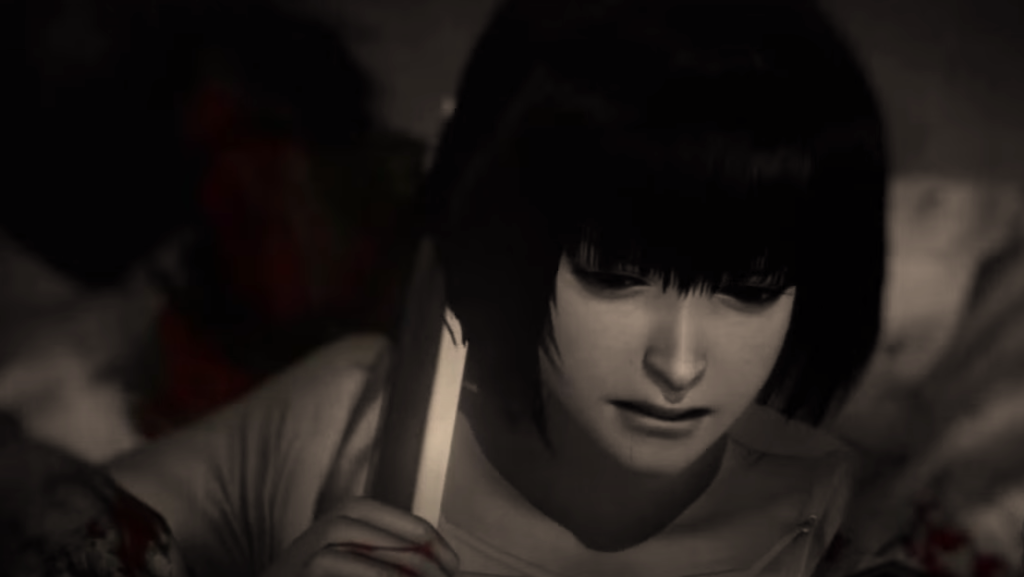 In the mist Fuyuhi sees Haruka — or what she thinks is Haruka. And in her surprise her resolve loosens and the spirit takes control, forcing Fuyuhi to cut her own throat. But the spirit that was watching her wasn't Haruka at all. Rather, a woman wearing a veil. The woman, perhaps, described in so many notes. This woman watches Fuyuhi die.
The memory fades but the woman who watched Fuyuhi die doesn't. And now she has her sights set on Yuri.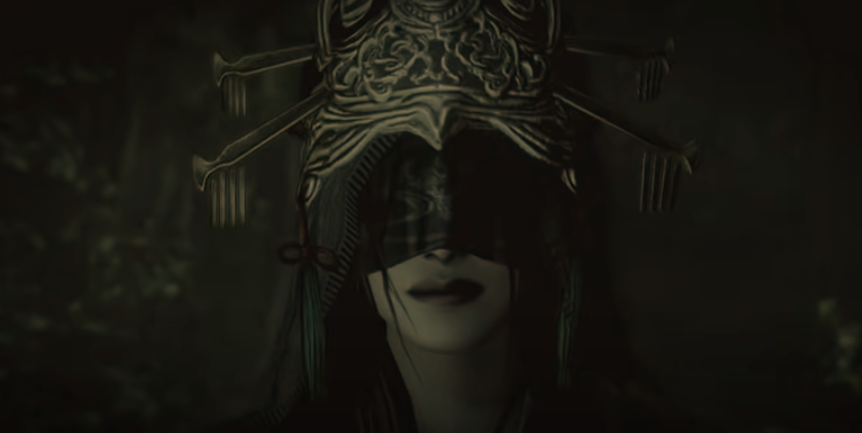 This woman, a spirit, is our tutorial in being "tainted". Some ghost attacks can leave us tainted by the Black Water. While tainted our health continuously decreases. Only by purifying ourselves or defeating all present ghosts can we cure this status effect.
This fight is challenging because of the status effect, but we defeat her. She kneels, and we perform the fatal glance, glimpsing her memories.
A man flees a woman who seems intent on killing him. Is this mad woman the woman we exorcised? No matter who it is, Yuri is certain that she's the one who brought Fuyuhi here. The one who made her kill herself.
Where does that leave us? Empty-handed, traumatized, without our only mentor and friend. Yuri can only retreat to the antique shop and try to regroup.
FINAL VERDICT
Well! Fatal Frame 5 Second Drop is certainly the best part of the game so far. The atmosphere is spot on. Fatal Frame is a series that has always prided itself in grounding its games in Japanese environments and it's done so perfectly with this drop.
It's also done a much better job introducing us to new mechanics while also allowing us to practice the basics. I never felt too overwhelmed with fights, either in number or difficulty.
The only true critique I can give is that the level felt flat at times. While it's great that they created an in-game rationale for why there are so many notes, it sometimes felt too much. But I enjoyed the ability to see the backstory of some the more memorable ghosts.
Overall I had a great time. I'm glad I stuck through it.
Completion Time: 2 hours, approximately
Review: A Plague Tale series
Asobo Studios A Plague Tale series consisting of Innocence (2019) and Requiem (2022) has been out for a while. Weirdly enough, I struggled to put my thoughts into words about these games until now. The way I see it, it's impossible to talk about one without the other, so let's dive in, shall we?
Plot and characters
The story of A Plague Tale games takes loose inspiration from the Black Plague times with a touch of the Hundred Years' War. Amicia and Hugo are siblings on the run from soldiers while also fighting off infected rats, meeting allies along the way. A huge theme of Innocence is Amicia finding a solution for Hugo's long-term sickness. As one would suspect, it turns out to be connected to the plague itself. Amicia also goes from being a disconnected older sister to his biggest protector throughout the game.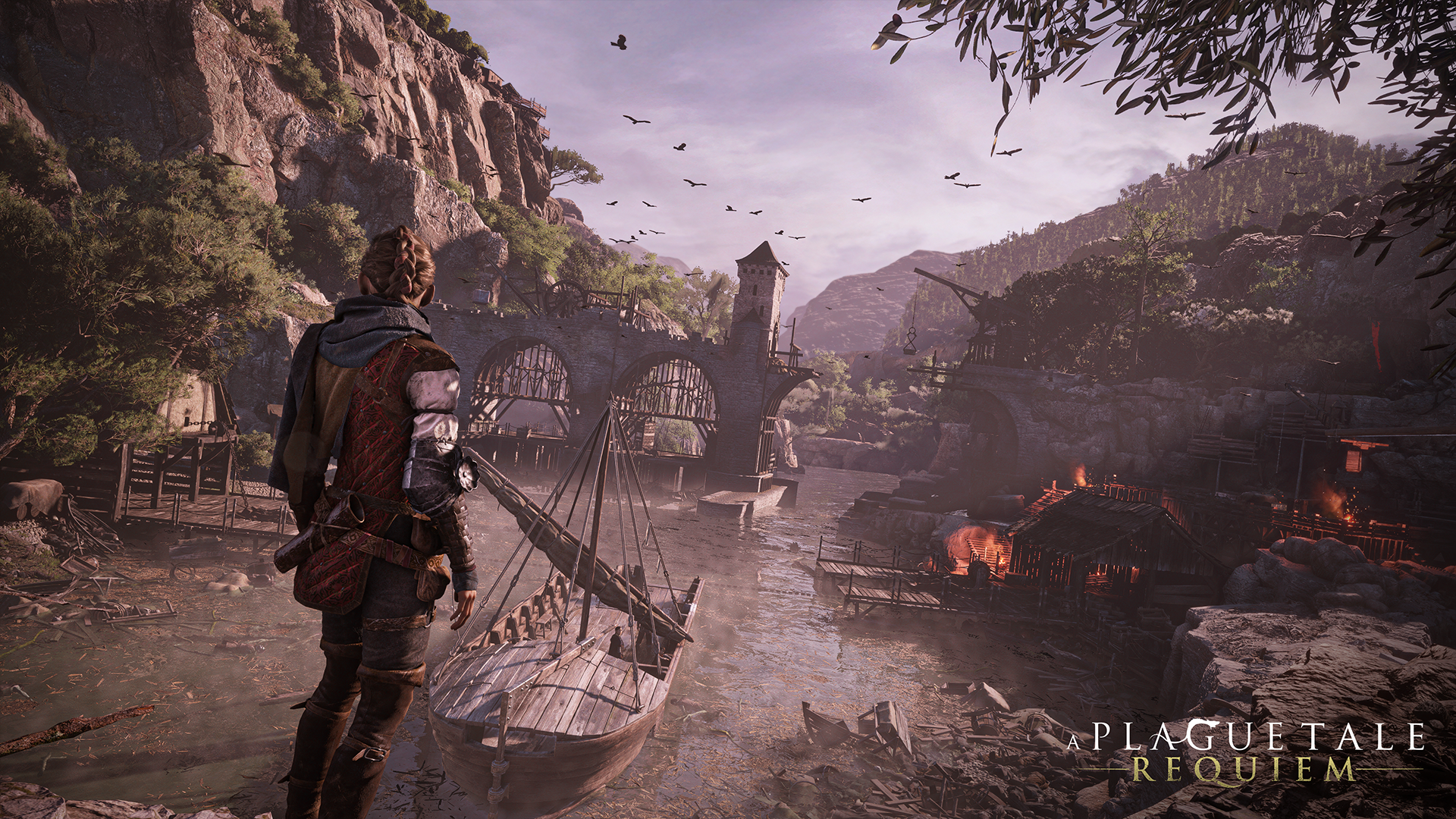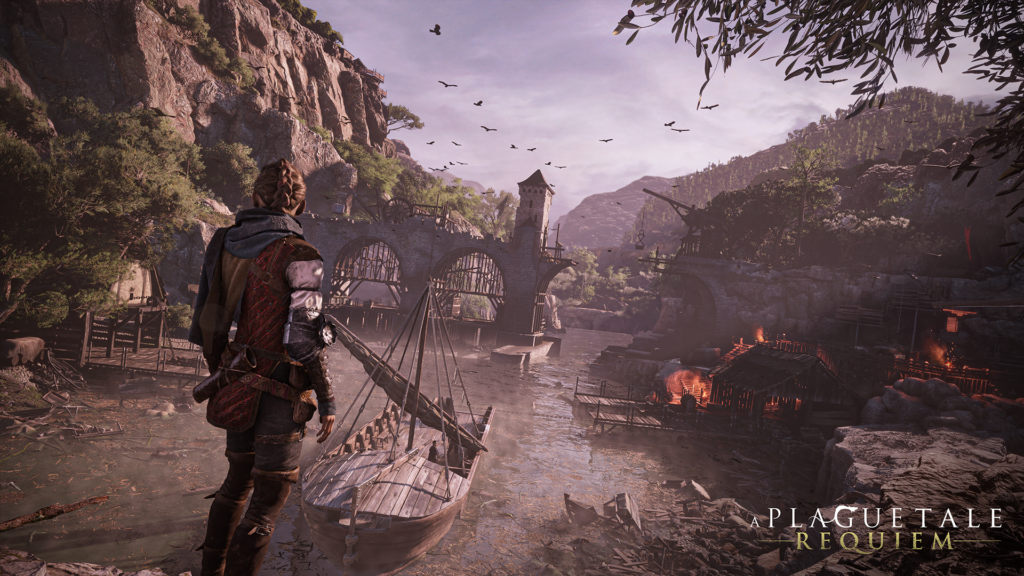 Hugo himself is more or less an annoying kid who wants his mother. This is frankly a realistic characterization as he actually speaks and acts as a child would act. Granted, him essentially walking into the Pope's trap is frustrating but the climax needed to be set up somehow. I also enjoyed Lucas's character as an alchemist apprentice as he proved to be one of the more consistent helpers to the duo.
While Innocence ends on a hopeful note, with the characters on the verge of starting over somewhere new and the plague contained, Requiem shows this was a fake out. The sequel really puts Amicia through her paces. Her character is broken both physically and mentally to the point where she is barely recognizable. Hugo is more mature, although his insistence on this magical island that will fix the Macula issue is an immediate red flag. It's not surprising the supposed safe haven turns into hell quite quickly.
The generational curse where the protector and carrier story repeats itself means a tragic ending for our protagonists. This means it can feel fruitless to play the two installments as the whole point of Amecia's journey is to protect Hugo at all costs, which proves to be impossible. Was it because of certain choices they made or just extremely unfortunate circumstances? Either way, I felt horrible for them both while playing Requiem, so at least it invoked a strong emotion in me.
Gameplay
The series is a third-person stealth adventure with survival horror elements. Innocence has a clear-cut mechanic that relies on Amicia sneaking past or distracting threats with a certain number of puzzles to get past the rats. She is also extremely vulnerable, dying from one enemy hit, forcing the player to start all over. This is something Requiem updates, adding the opportunity for you to recover by running away from the enemy.
It can be frustrating to have to restart a whole section because of one mistake. However, it does make the player think methodically about what the best approach is. I found the challenges a tad repetitive which stopped me from binge-playing the game, but that's just my opinion.
Overall thoughts
After taking this time to digest my feelings towards A Plague Tale games, I can still vouch for the amazing experience. The historical aspects are endearing, and the graphics are beautiful, as is the score. The scriptwriters knew what kind of emotional punches would hit the players just right and the voice actors really gave it all. It's obvious a lot of love went into this project and I am grateful to have played it.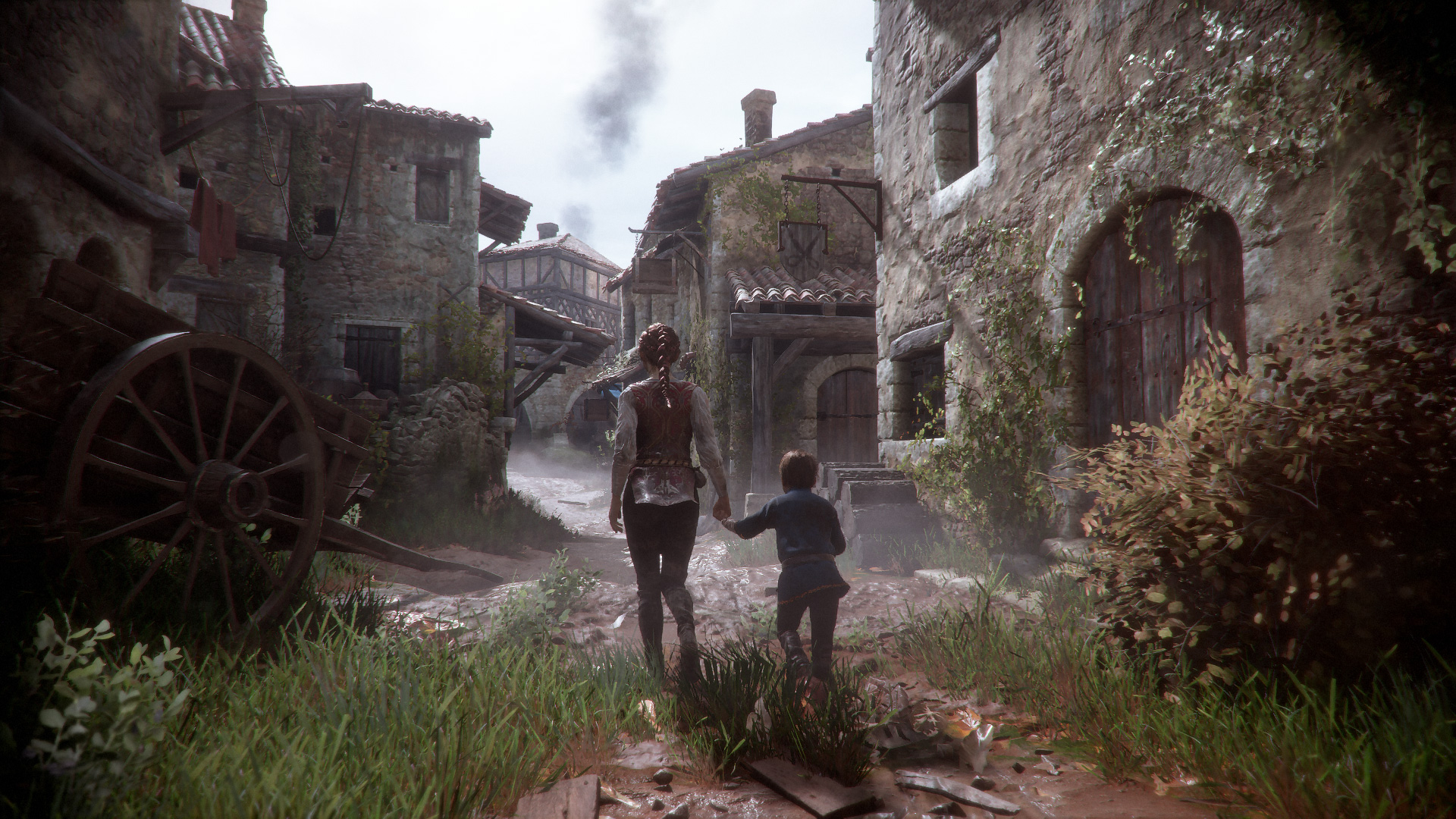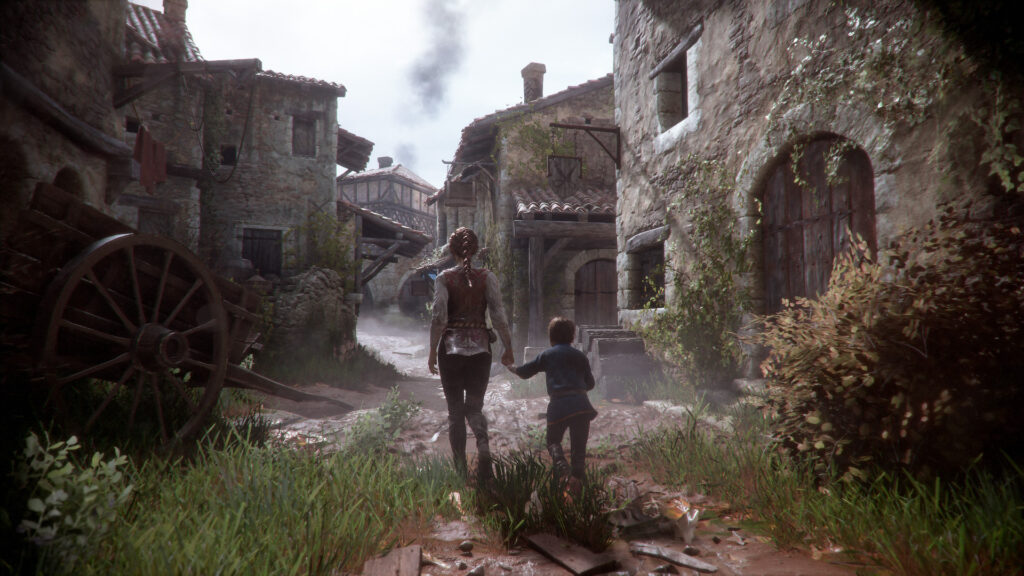 Regardless, there were certain aspects of the story that for me personally, did not sit right. I am not a massive fan of a tragedy that ends, well, in tragedy, especially with hints history will repeat itself again. The entire concept of the 'greater good' and the main characters sacrificing their happiness has been done before and while I can understand why they went that way, it also left me feeling a bit empty.
(4 / 5)
The Last of Us: Episode 7: Left Behind
The Last of Us series is winding down with only three episodes left. Directed by Liza Johnson and written by Neil Druckmann, "Left Behind" adapts the video game's DLC story of the same name. Ellie and Joel are hiding out in a basement, and Joel is suffering greatly from his stabbing. He orders Ellie to go back to Tommy and leave him behind, but she's reluctant. The episode cuts to a flashback of the events that happened before Ellie and Joel met, thus beginning the sweet, tragic backstory of our young protagonist.
First Love
Ellie is stuck in a FEDRA boarding school in Boston. Her best friend and roommate, Riley, ran away a few weeks back and Ellie has been grieving the loss. She gets into fights with classmates and even sends one girl to the infirmary to get 15 stitches. Everything changes when Riley suddenly returns and reveals she joined the Fireflies, the organization FEDRA is training students to fight and kill.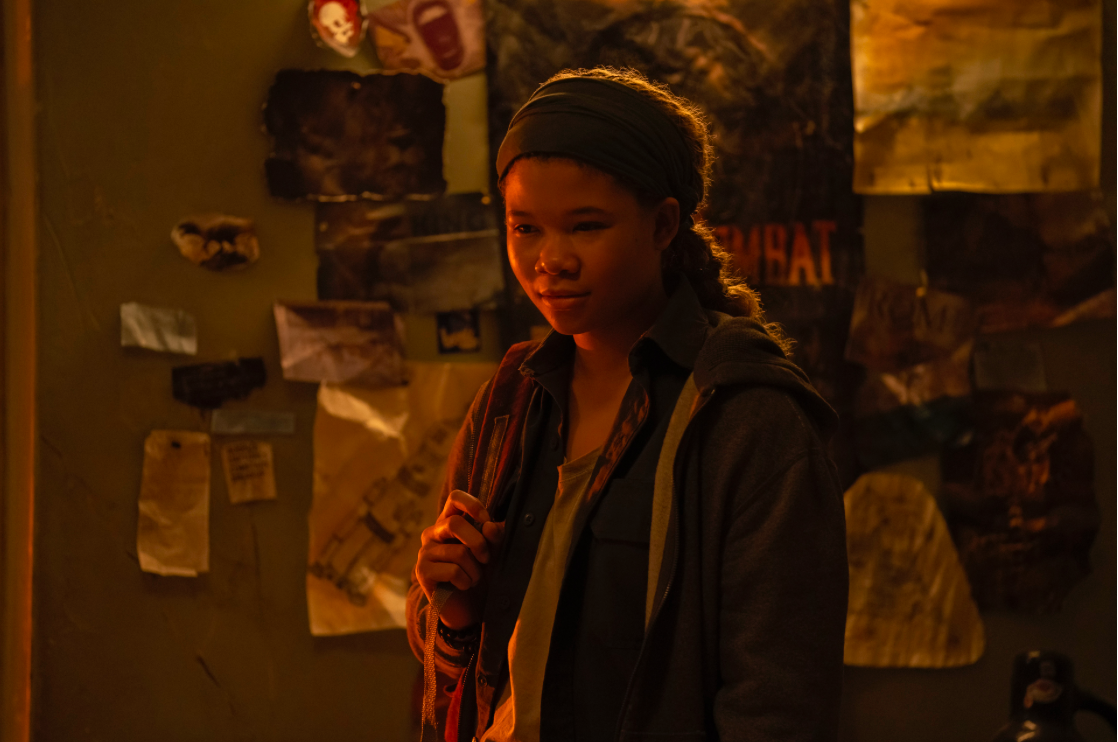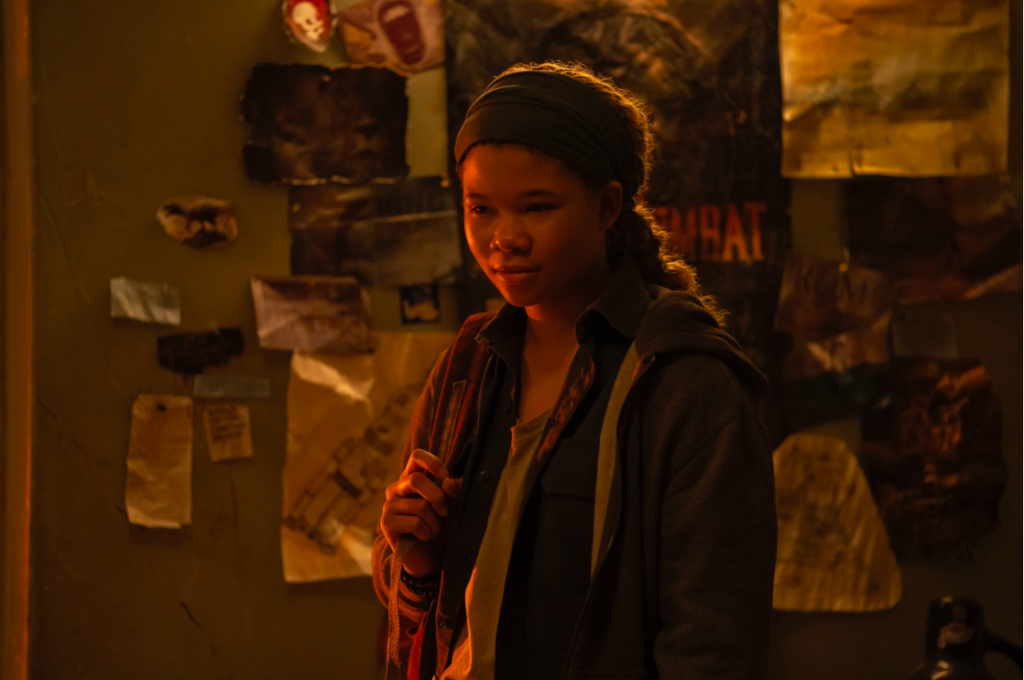 Ellie disapproves of her friend's choices, but there isn't anything she can say that will change Riley's mind. However, as a sort of apology for leaving without saying goodbye, Riley asks Ellie to sneak out for a few hours and join her on a little adventure. Ellie reluctantly agrees.
The two sneak into an abandoned mall that was once used to hoard infected. Now it is filled with wonders and surprises beyond the youths' wildest dreams. The girls connect like they haven't been separated for weeks, and their chemistry is sweet and wholesome. Riley gives Ellie an array of gifts, from a photo booth and carousel ride to an arcade with Mortal Kombat and a brand new pun book.
All Good Things End
The evening comes to a halt when Riley reveals the Fireflies are sending her to the Atlanta base and this is her last night in Boston. Ellie is furious and runs away, fully intended on returning back to her dorm room. But she only gets so far before caving into her feelings and running back to Riley. They reunite in a Halloween store, where they wear goofy wolf and clown masks (replicas of the game's masks) and dance to Etta James' "I Got You Babe." They share a kiss and the moment is so delicate.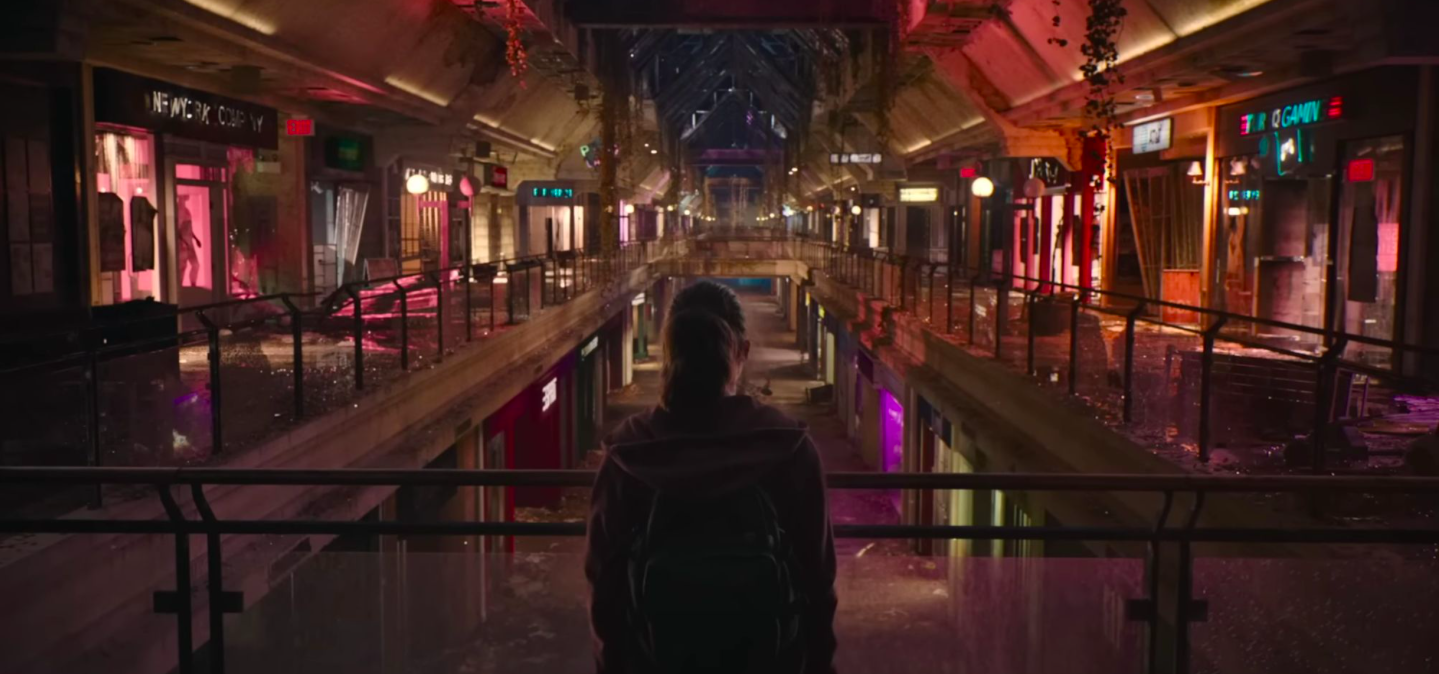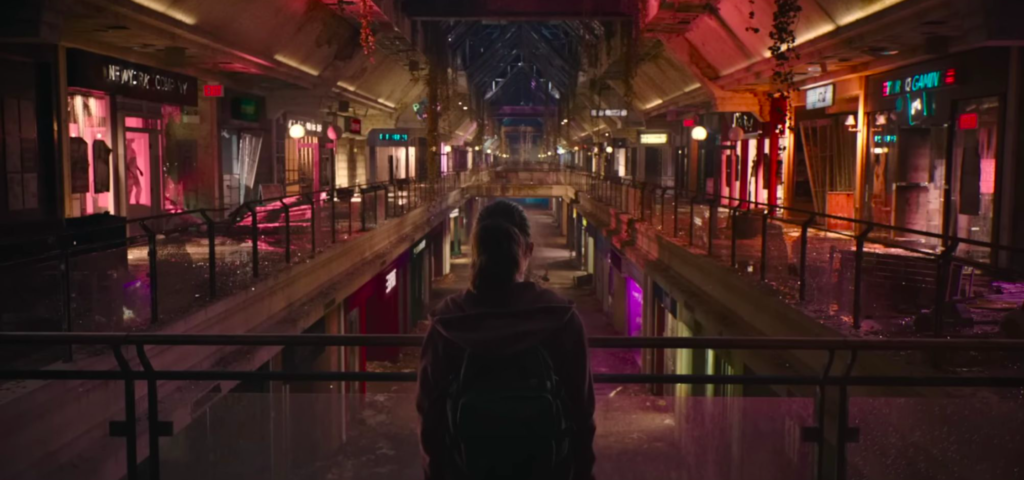 Everything is perfect until it's not.
An infected emerges into the store and attacks the girls. Riley shoots it and Ellie stabs it to death, but neither are unscathed. The clicker bit both of them. At the moment, any and all hope has been destroyed.
The Verdict
HBO's "Left Behind" is the show's truest adaptation of the video game thus far. The show cuts out the parts of the video game where Ellie roams through a mall and evades hunters as she searches for a first aid kit for Joel. Instead, The Last of Us focuses on Ellie's history with her best friend and first love, Riley.
Just as Bella Ramsey is the perfect casting for Ellie, Storm Reid is perfect as Riley. The actors' chemistry maintains the game's charm; their portrayal of teenagers after an apocalyptic pandemic is pure and authentic. For the first time, Ellie and Riley can act like the kids they are, not the soldiers every adult is training them to be. It is endearing to see their relationship come to life.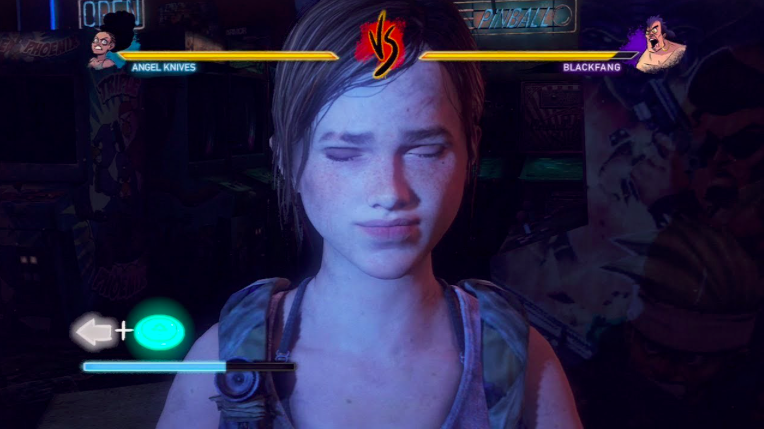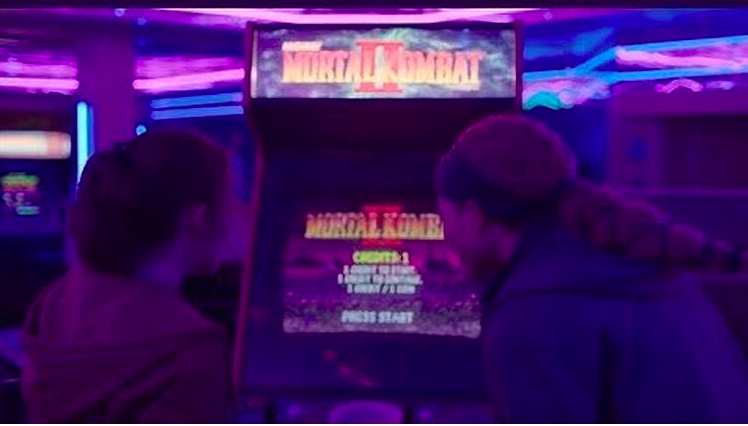 Ellie's backstory mirrors Joel's in that it emphasizes their experiences of loss and grief. The pair have formed a connection they cannot lose. It is because of this that, at the end of "Left Behind," Ellie goes against Joel's wishes and stays with him to help him heal. She had to leave one friend behind before and she refuses to do it again.
"Left Behind" deserves five out of five Cthulhu.

(5 / 5)
There are only just a few episodes left in The Last of Us. Episode 8 releases Sunday, March 5, where we should expect to meet the notorious cult leader, Dave. Until then, check out the other shows and games we're loving here at HauntedMTL.
The Last of Us: Episode 6: Kin
Joel reunites with Tommy in The Last of Us' sixth episode, "Kin." It was written by Craig Mazin and directed by Jasmila Žbanić, who take us to Jackson, Wyoming, a town with electricity, hot water and community. It's a reality that feels like a dream. After worrying so long about where Tommy was, it turns out he is in better shape than Joel could have ever imagined.
Moving Forward
It's been a few months since Henry and Sam's deaths, and Joel and Ellie have finally reached Tommy's rumored location. But it's not just Tommy who's doing well for himself; his younger brother has a new wife, Maria (Rutina Wesley). Together they help run the whole town, taking turns doing patrol and other maintenance that keeps the town running. The Last of Us' set design of Jackson is akin to the second video game; in the first game, Tommy and Maria were still working on the getting the town running and nowhere near as accomplished. This minor adjustment adds a new immersive experience to the show, and emphasizes Joel's qualms about how competent he is to take care of Ellie.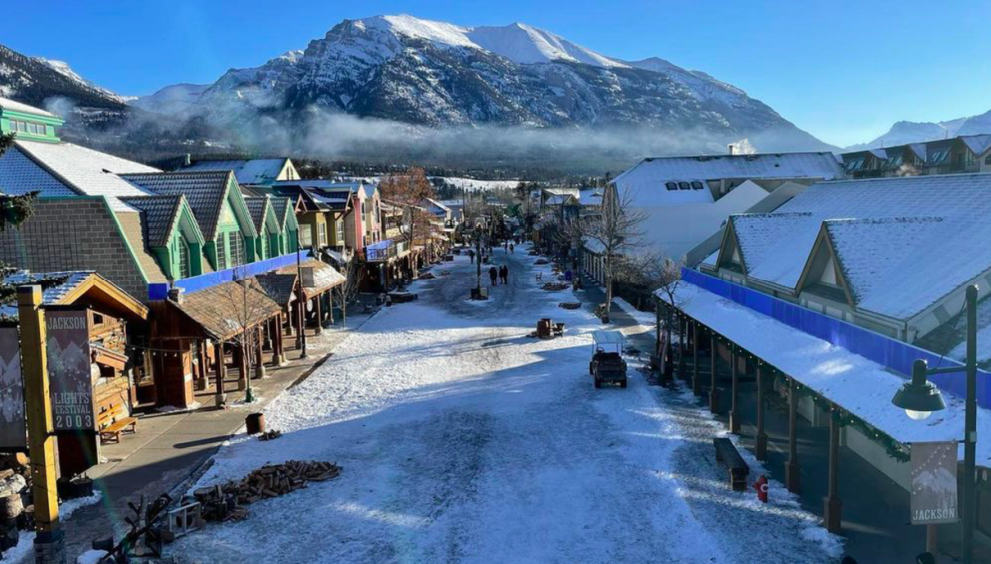 While Joel and Tommy reconnect, Maria brings Ellie into her home and let's her take a shower and gives her a brand new period cup as a present. It is with Maria that Ellie discovers Joel had a daughter who died at the beginning of the outbreak in 2003.
Kin
Joel and Tommy reconnect in a bar, where Joel begins to wonder if Ellie would be better off finishing the route with Tommy in his place. Joel confesses that Ellie is immune and needs to reach a medical center in Colorado. Joel recounts everything he's done wrong, how he's not equip to take Ellie any further and protect her. He asks Tommy to do the journey for him, but Maria is pregnant and Tommy is reluctant to take such a drastic risk. After more pleading, Joel finally convinces Tommy to take Ellie. A new plan is set for the next day.
Ellie, however, overheard this conversation between the two brothers and is disappointed with Joel. He's the only person he trusts, and he betrayed her. Ellie argues that she "is not Sarah," to which Joel counters, "I sure as hell ain't your dad." Whether she likes it or not, she's going with Tommy.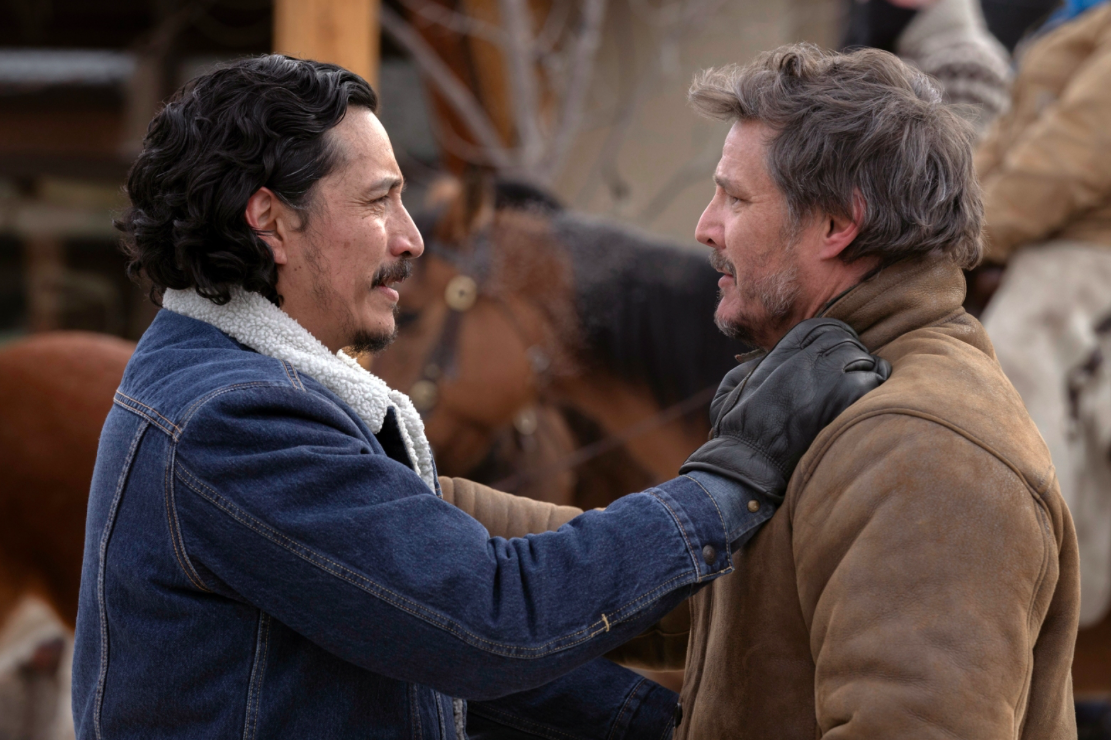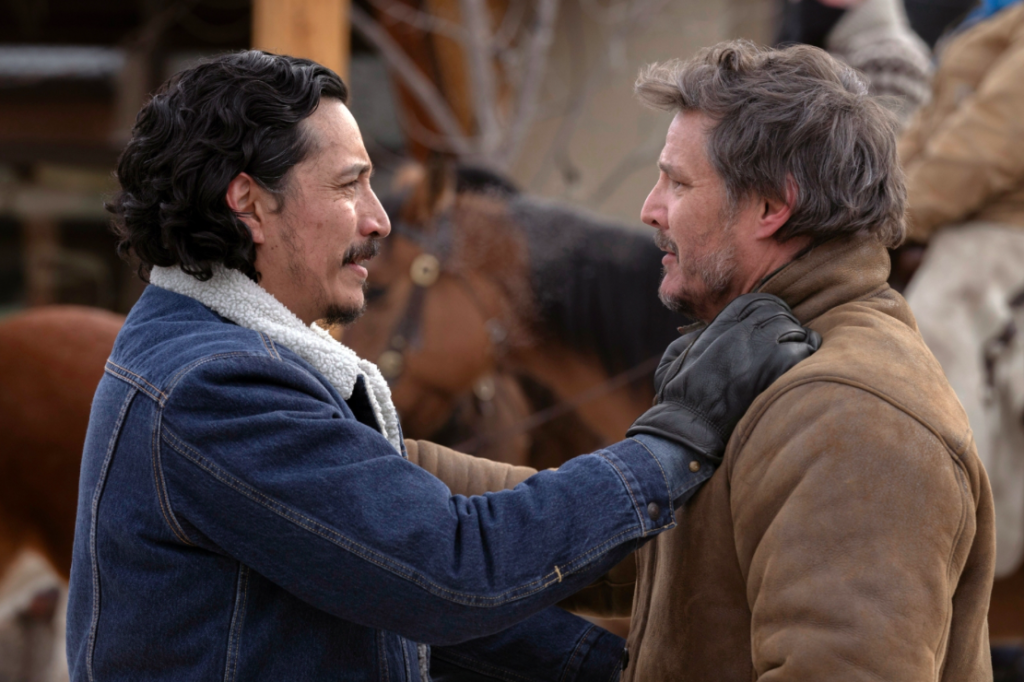 Changing Places
The next morning, Ellie sits in her bedroom and is greeted with disappointment when Tommy opens the door and asks if she's ready to leave. She reluctantly says yes, and they head to the stables where Joel is prepping a horse. He tells Ellie that she should have a decision in the matter, and she immediately chooses Joel. They move forward to Colorado.
The duo eventually reaches an abandoned university in Colorado and discover the Fireflies are now located at a medical center in Utah. Suddenly, an ambush hits. Joel and Ellie are able to fight their attackers off, but one manages to stab Joel in the stomach before falling to his death. Ellie helps Joel onto the horse and they ride far enough away to safety. However, Joel can only go so far before he succumbs to the stabbing and falls off the horse. The episode ends with a horrified Ellie, trying in desperation to resuscitate him, but he cannot wake up.
The Verdict
Just like the video game, HBO's The Last of Us is more than just a show about "zombies" or violence. It implements empathetic writing and various cinematic elements to study personhood and the human connection in dire times. Neil Druckmann and Craig Mazin do a phenomenal job writing scripts for characters fans can connect to and love no matter how long they exist on screen.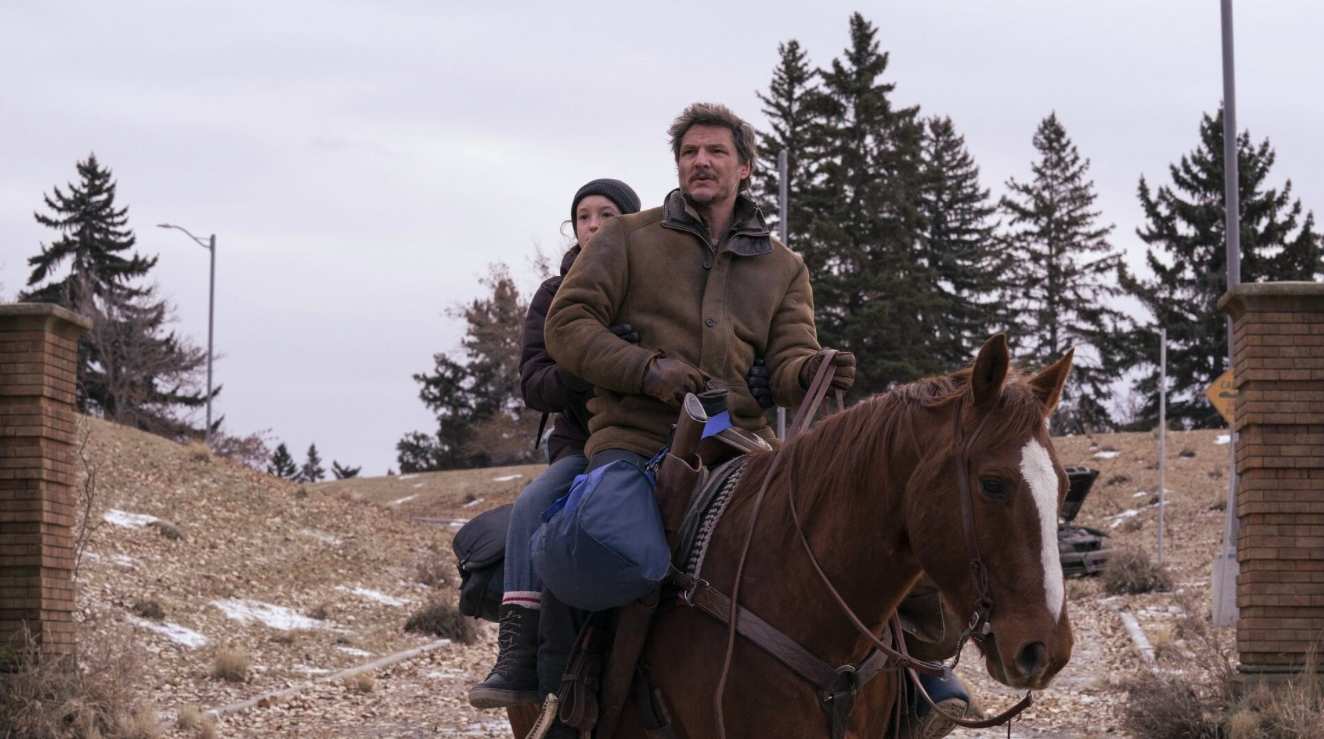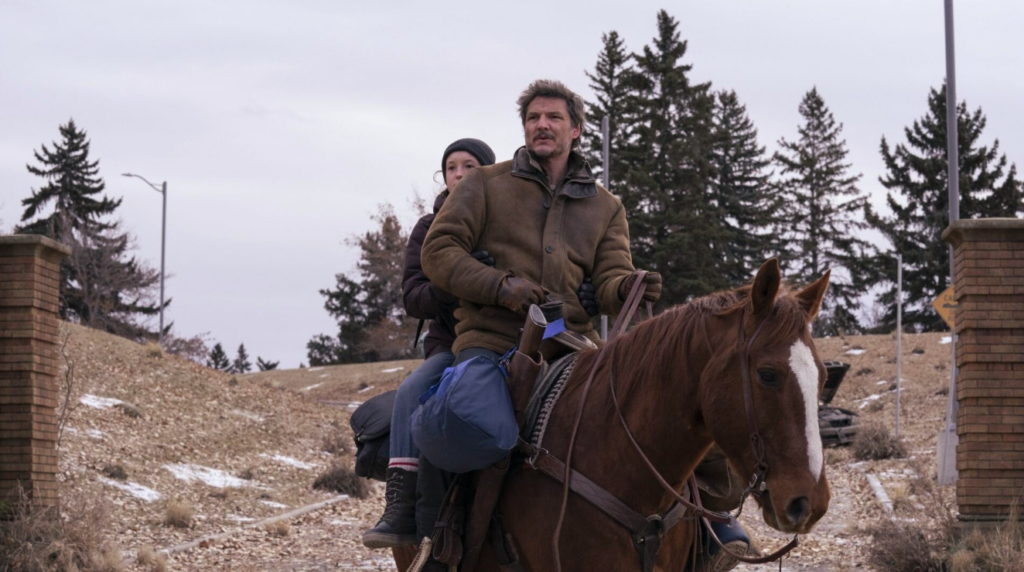 Bill and Frank, Henry and Sam, and Tommy and Maria only exist in one or two episodes. Yet their impact is enormous, shaping the world in a way our two main protagonists could not do alone. While in theory they may just be supporting characters, The Last of Us finds a way to make them more than that. They are characters that stick with you long after they're gone.
The filmmaking also cannot go unnoticed. From the intricate set designs to the natural outdoor world, the camera continues to bring the beloved video game to life through intimate still shots, timely cuts and a gorgeous score to support emotional scenes. The show also knows when to have fun with itself by including little Easter eggs, like when Ellie yells at a girl staring at her (a girl who looks quite similar to Dina in The Last of Us 2.) This is a rather slow part in the game (minus the various shootout sequences), and there is little to no action in episode six. This further proves The Last of Us' strength of a well-made series that benefits from creative liberties and changes, while still staying true to the source material.

(4.5 / 5)
Until next time, check out the other shows and games we're loving here at HauntedMTL.