Welcome to the second installment of Graphic Content's "Just Swamp Things." Why is Swamp Thing fighting mutants atop a gothic castle? Who is the strange crone-like figure in red? Those questions are answered in an uneven second issue of the saga of the Swamp Thing!
Swamp Thing #2 (January 1973)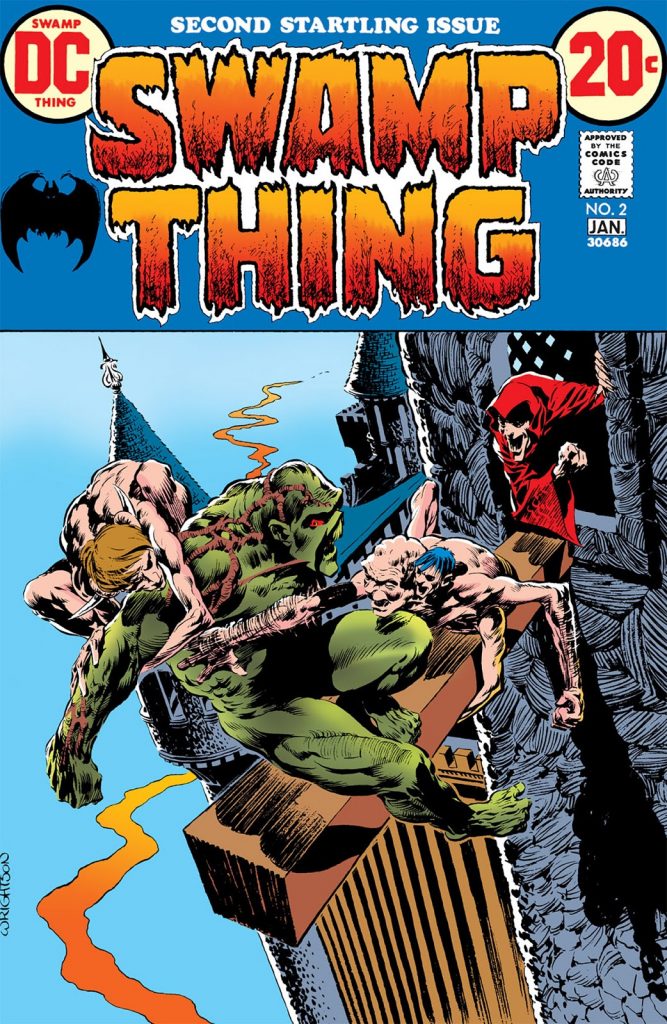 We continue nearly immediately after the events of Swamp Thing #1 with issue #2, titled "The Man Who Wanted Forever." You can read our first installment of "Just Swamp Things" right here.
Len Wein returns to pen the tale while "Berni" Wrightson lends his considerable illustrative abilities. You can, of course, find this issue in the collection Swamp Thing: Dark Genesis. Please order it through your local comic shop!
Issue Impressions
What is great about the second issue of the comic is the immediate one-two punch of the first page. A splash panel with a combination of gothic narration and the composition and pose of a renaissance painting. Swamp Thing is posed behind a compositionally convenient outcropping, observing nearby action, Mutt (Linda's dog) held in his oversized hand. Though it is the day, Swamp Thing is obscured by dramatic shadow. The narration is dripping with a dramatic flair, for the memories burn.
It's a brilliant panel that immediately establishes the sort of through-line of the series following the first issue: Swamp Thing, ever apart from the world he once lived, observing from a distance as his inner feelings are made aware through narration or monologue.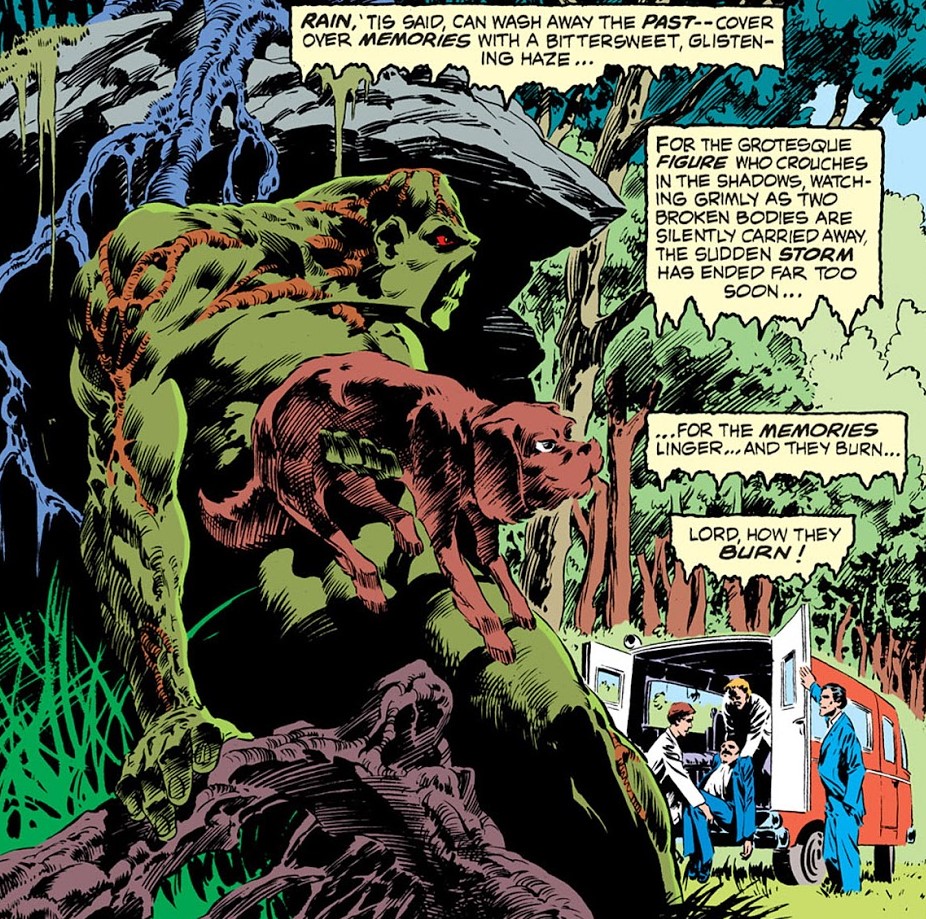 One of the things I appreciate about comics that were released before I was born is that they were often broad in a very endearing way. It's not just that Swamp Thing is haunted and observing the world he once lived from the shadows, it's that he is doing it from behind rocks that obscure him in a way that almost becomes a barrier built for him. His body is not crouched, nor does he make an attempt to hide. It is more he is reposed like a figure in a 17th-century painting, the world morphs about him to suit his mood. He is not just feeling anxiety from his memories, but they instead burn. "Lord, how they burn!"
But how about the rest of the issue? We open with a perfunctory recap of the events of the first issue, Alec's apparent death and transformation into the Swamp Thing, and the death of Linda at the hand of Ferret and his goons. The vengeance is sworn upon Swamp Thing by Matt Cable. Everything a reader needs to pick up from Swamp Thing #2.
Then this happens: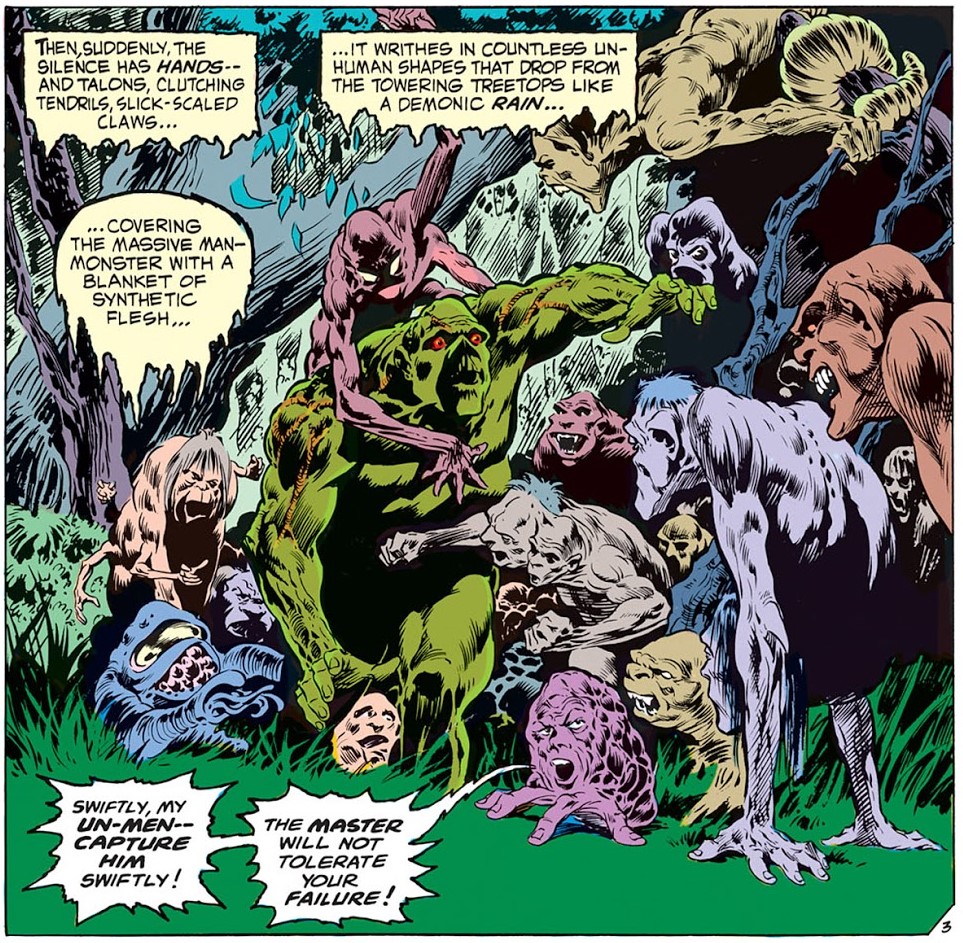 Swamp Thing's sudden abduction by odd Un-Men is incredibly jarring and, admittedly, rather forced. It an awkward inciting incident that is overly sudden and only really has any sort of setup if one reads the first issue. It's a far cry from the brilliance of the first page of the issue. This unevenness in tone will persist throughout the early run of the comic. At its height, Swamp Thing becomes a striking and magic-tinged gothic "man or monster" pulp. At its lowest points, Swamp Thing becomes a stock monster book that positions the hero into jarring, stock situations akin to the more mediocre Weird Tales. I do not oppose the idea of Swamp Thing being taken to the castle of a necromancer-cum-scientist… I just wish it wasn't so jarring.
It's all just so odd. Swamp Thing is strapped to a plane and carried across the Atlantic and into the Balkans. It's pretty ridiculous, but that comes with the territory of comics. Mostly it makes me wonder about the weird Un-Men flying over, to begin with. Regardless, it serves the job of moving Swamp Thing from the American gothic of the Louisana Swamps to a mountaintop castle. Okay, whatever it takes, Wein.
No matter how odd the story veers off, Wrightson is game when it comes to art. Panels depicting the bound Swamp Thing among caves and mountainous paths are fantastic. The castle is suitably monolithic as well. This all leads up to an incredibly fateful introduction, where Swamp Thing encounters a persistent and lasting foe, Anton Arcane. The almost biblical panel depicting Arcane reaching out to Swamp Thing, under the guise of aid, is fantastic.
Arcane proposes a deal, he will restore Alec's human form. In exchange for what, he is not exactly forthcoming. Regardless, Arcane engages in a series of tests that reveal aspects of what Swamp Thing actually is. It's an interesting little sequence that reveals just how far removed from humanity Alec has become. Then, the foreboding line from Arcane: "Yes, Doctor Holland – I would say your body is exactly what I've been looking for!" Uh-oh. The two utilize a ritual with a soul jar. Alec Holland is restored, and Arcane now occupies the body of the Swamp Thing. Inevitably, Alec discovers he has been betrayed by Arcane who seeks the use the powers of the Swamp Thing's body for petty, one-dimensional vengeance upon the village that shunned him. Alec destroys the soul jar, reversing the enchantment, and chasing Arcane to his apparent death, falling from a castle tower. Arcane's Un-Men follow suit, and Swamp Thing wanders through the castle, observed by a mysterious Un-Man, different from the rest.
As for the rest of the issue, Matt Cable is still obsessed with finding the creature he believed to kill Alec and Linda. As he gets details on the strange plane disappearing over the Atlantic ocean, we see that Mutt's radio, still hidden, relays information to Mr. E of the Conclave. It's just a brief reminder of the spinning plates that come with comic plotting but these moments generally work but feel perfunctory.
It is not the best issue of the original run, and there are some plotting shortcuts that result in a second issue that is a far cry from the first. Regardless, it is an important introduction to a figure who will haunt the series in unusual ways. It also is the first of many false leads to a return to the form of Alec Holland, something which will never last.
Swamp Seeds
As for where this series fits in with the lore of Swamp Thing, here is a very brief list.
As I said during the Swamp Seeds of the first issue, there are many Incredible Hulk parallels. Many Hulk stories revolved around scientists attempting to capture and harness the body of the Hulk. We see similar plots with Swamp Thing, but generally, the apparatus ends up being magic.

Well, kind of. Arcane is a fusion of a wizard and a scientist. It's all very muddy.

Obviously, this is not the death of Anton Arcane.
The mysterious figure that observes Swamp Thing on the final page of the issue is Gregori Arcane, the Patchwork Man, a victim of the machinations of Anton.
You should get used to seeing the Un-Men. If you thought they were weird now, wait until you see what happens to them later.
Speaking of the Un-Men, these beings would have their own narratives in the DC Universe, most notably with the Vertigo series American Freak. This title followed a second-generation descendent of Arcane's original Un-Men.
Next week, Graphic Content returns to the standard reviews, which will then be followed by a new "Just Swamp Things" the week after. As for this week, what were your thoughts on Swamp Thing #2, or the review? Let me know in the comments.
Graphic Content #33: Week of Oct. 3
After a brief aside, we are back with Graphic Content this week. Last time we returned to the pages of the classic 1972 run of Swamp Thing. If you haven't read my coverage of ol' Swampy, consider checking out all the stuff I have written about my favorite DC Comics character! However, we now return to a Last Podcast comic and some new books.
We have Sweetie: Candy Vigilante from Dynamite Entertainment and a new Mike Mignola-penned comic, Leonine the Vampyr, from Dark Horse. We also return to the world of Soul Plumber this week, the Last Podcast comic, after I never finished the run over a year ago! Oops!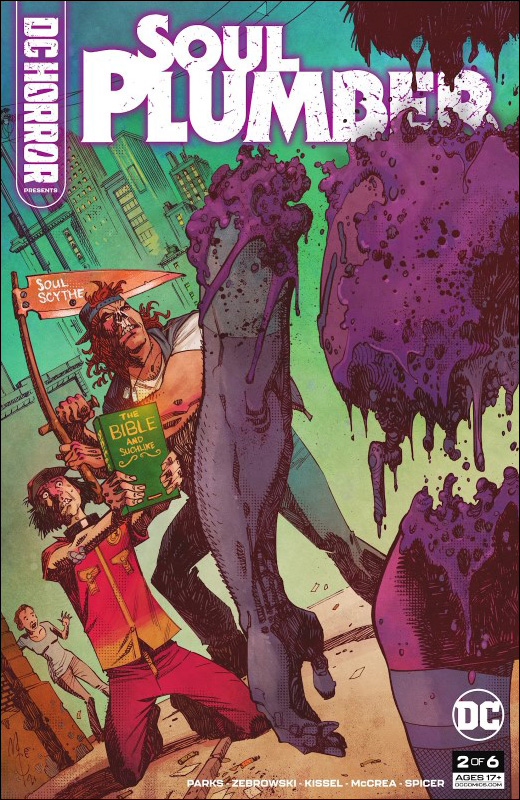 Soul Plumber #2
I read Soul Plumber #1 about a year ago and never had a chance to sit down and read the following issues, so this week's Graphic Content gives me a chance to catch up, starting with #2. This issue follows up directly with Edgar's earnest but misguided attempt at soul plumbing on a local man named Scuzz, which goes about as well as you'd expect from the minds of Henry Zebrowski, Marcus Parks, and Ben Kissel. The series is part of the DC Comics horror imprint.
The story is sacrilegious and gross and carries the general aesthetics of projects in the orbit of Last Podcast on the Left and Your Pretty Face is Going to Hell. It is pretty much what the target audience expects. It is quite fun. There is also some fun plot trajectory by the end of the issue as Edgar and Elk seek to clean up a mess, and two forces appear to have an interest in Edgar in particular. I am also intrigued by the entity that is Blorb and its interest in the realm of humans.
The art continues to suit the writing quite well, with fun combinations of gore, vomit, and liquid shit when needed. John McCrea and PJ Holden's art carries plenty of texture; plus, the grungy colors of Mike Spicer help this version of Indianapolis feel lived in. The mild screen tones add a little more texture here and there.
Overall, the Last Podcast comic delivers what you'd expect.
Impressions of Soul Plumber #2
My impression of Soul Plumber, two issues in now, is that it will be an acquired taste. It probably isn't for every horror comic fan. The particularly gross-out nature of the supernatural elements is much more tongue-in-cheek than other horror series. I enjoy it, but I am also a fan of Last Podcast on the Left. When it comes down to it, the comic is pretty much for the show's fans – a true Last Podcast comic. The storytelling isn't groundbreaking, but it is funny. The art is gross but cool. This is just a fun little ride without rattling the cages of comics too much. We'll see how much soul is left to plumb in the remaining run.
(4 / 5)
Soul Plumber #2 is written by Marcus Parks, Henry Zebrowski, and Ben Kissel. John McCrea and PJ Holden illustrate the comic. You can find more about the comic from DC Comics or your local comic shop. You can learn more about the Last Podcast comic team at their official website.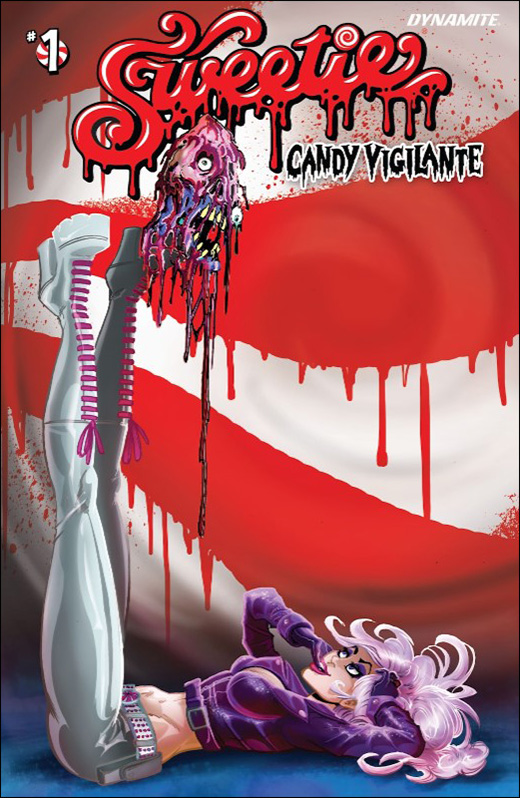 Sweetie: Candy Vigilante #1
You have a problem when your issue synopsis says more about your comic than what is said in the comic. To say I was unimpressed by this comic is putting it in the most diplomatic way possible. Sweetie: Candy Vigilante #1 is also based on a character designed for an Osaka Popstar album which seems to be a branding attempt for the band.
The writing annoyed me by spending excessive time in a scene that said nothing, complete with unnecessary and pointless moments of sexual assault and inane dialogue. The story offers nothing that indicates any form of parody, so I found the whole approach by writer Suzanne Cafiero to be more annoying than entertaining.
I am okay with ridiculous violence and shocks for humor, but generally, those are supplemental to a story for me, and nothing here makes me want to read further.
The art is okay, but Jeff Zornow's style feels inconsistent between panels at key points. There are inconsistencies in figures, faces, and proportion shifts in many characters. Honestly, the art style here evokes the early to mid-2000s for me. It's not terrible and pretty polished overall, but the style also feels uninspiring. Also, I saw a particularly blatant inconsistency in the dialogue balloons on one panel. How something like that slipped is concerning.
Impressions of Sweetie: Candy Vigilante #1
Sweetie: Candy Vigilante #1 is not the worst comic I've ever read, but I am struggling to justify the existence of this non-existent story. The comic seems like an indulgence of a band who came up with a sexy character for a project, but I do not see it being an ongoing thing beyond an arc. Given the issue comes packed in with Osaka Popstar's take on The Archies' "Sugar Sugar," I don't see this as much beyond a "why not" kind of project.

(1 / 5)
Sweetie: Candy Vigilante #1 is written by Suzanne Cafiero. The comic is illustrated by Jeff Zornow and colored by Antonio Fabella. If you want to know more, you can pick up a copy from Dynamite Entertainment or your local comic shop.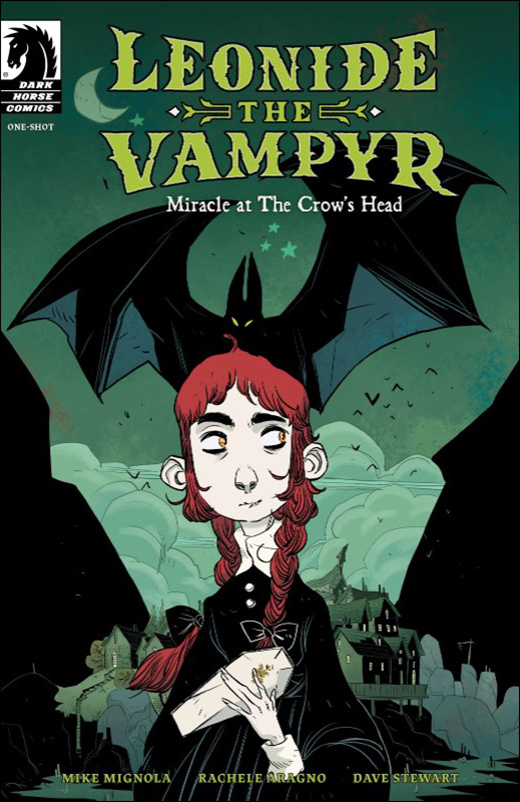 Leonide the Vampyr: Miracle at The Crow's Head (One-Shot)
Another week, another Mike Mignola release. This time we get a one-shot from the Hellboy creator that evokes classic vampiric fables combined with a more all-ages setting and approach.
Granted, even for all ages, the story is dark and has a sinister air, but it is not overly grotesque or violent. It feels like a traditional, folkloric approach seen so often in Hellboy but also gives a sense of whimsy through the art. I do feel the story itself was a little light, however. I'd have difficulty justifying the single issue's price of $4. The set-up of an ongoing story is also quite excellent.
One thing I am confused by: The title is listed as a one-shot by the cover, but the first page suggests Leonide's adventures will be ongoing. Will there be a series of single self-contained issues? The issue implies as much.
Rachele Aragno's art is lovely here, finding a fantastic blend between the heavy shadows identified with Mignola's own work but cartoony enough to work for the book's tone. The character designs are pleasing, and the character of Leonide is quite striking in appearance. The story was a pleasure to read and to look at.
Leonide the Vampyr: Miracle at The Crow's Head Impressions
Leonide the Vampyr looks as though it could be a good, ongoing series to introduce a younger set to creepy comics. It's nice to have a comic that can provide a genuinely chilling effect but not be overly beholden to shock and gore. I think the price is a bit steep given the limited story, but a collected series seems like it would make an excellent library staple for the horror-curious kids out there.
I am eager to see what is next, but I certainly hope the ratio of story to price is better.
(4 / 5)
Leonide the Vampyr: Miracle at The Crow's Head is written by Mike Mignola with art by Rachele Aragno and colors by Dave Stewart. If you want to know more, you can pick up a copy from Dark Horse Comics or your local comic shop.
---
What do you think about this week's assembled comics? I think my winner for the week would be Soul Plumber #2, but what about you? Does this Last Podcast comic strike your fancy?
Graphic Content #32: Just Swamp Things – Swamp Thing Vol. 1 #6
We are finally back with "Just Swamp Things." In case you missed it, last week, I reviewed three horror comics in Graphic Content #31. I decided to take this week to revisit one of my favorite comic book series ever. We last tackled this comic in Graphic Content #19. I am glad to be back at it here to cover issue six of the original 1970s run of Swamp Thing from DC Comics.
Swamp Thing #6 (October 1973)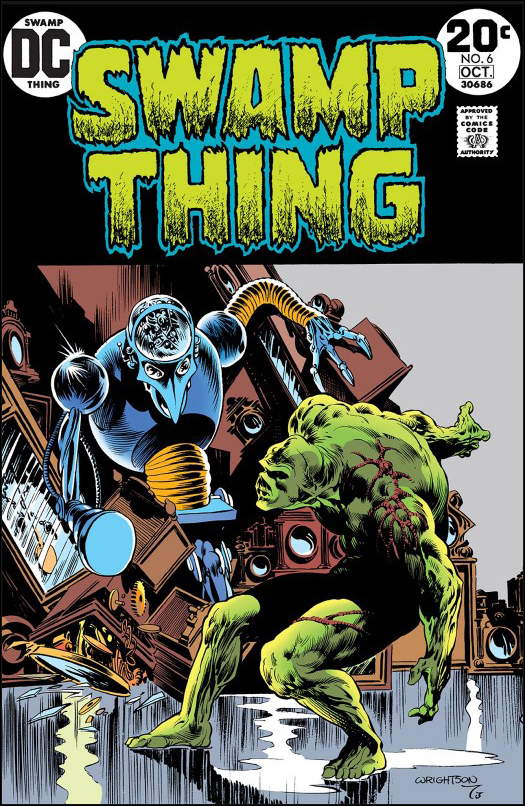 "The Clockwork Horror" offers a strange little tale of Swamp Thing in a Swiss village and his encounter with The Conclave's Task Force Four. Plus, there are robots and heavy German accents. This is a weird one.
The sixth issue of Swamp Thing was published in October 1973. This issue continues the legendary pairing of Len Wein as the writer and Bernie Wrightson as the artist. Wrightson also colors this issue. As for our other contributors, Gaspar Saladino handles lettering, and the editor is, naturally, Joe Orlando.
You can, as always, find this issue in the Swamp Thing: Dark Genesis collection. Please order it through your local comic shop!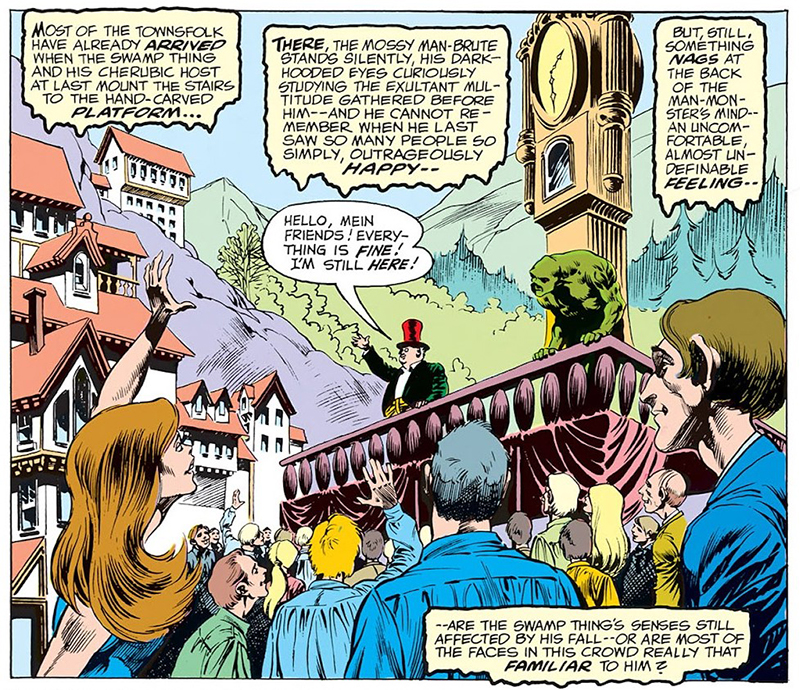 Swamp Thing #6 – Issue Impressions
"The Clockwork Horror" finds Matt Cable and Swamp Thing on a collision course in a strange Swiss village. The village, Bürgess Town, VT, is in the middle of nowhere. Their chance crossing, however, is disrupted by The Conclave. Meanwhile, Swamp Thing struggles with seeing robotic duplicates of Alex Holland and Linda Holland, opening all sorts of wounds.
Swamp Thing #6 is a largely silly affair, but it carries a level of pathos associated with Swamp Thing throughout the run and some moments of genuine sadness. Yet, it is also about Swamp Thing and Matt Cable arriving at the same clockwork village in the middle of nowhere where costumed gunman slaughter the town of robot people. All that, plus, Swamp Thing gets his dog back! Early Swamp Thing is fascinating.
Of the run so far, this is probably my least favorite issue as it arrives at the border of "a little much." I also found the execution of the ideas to be a bit lacking. That's not to say this is a bad issue, either. There is a lot to admire here. I appreciate the first major showing of The Conclave in force, even if their look is a bit ridiculous.
Plus, the issue ends us at an intriguing spot. Swamp Thing is heading to Gotham City.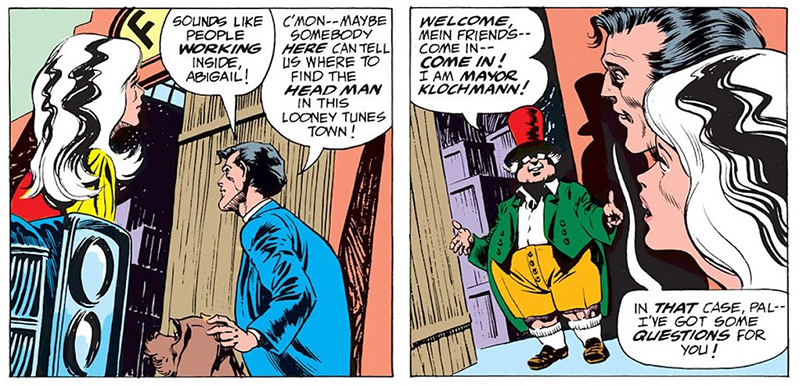 Developments
The characterization remains strong in this issue, with emphasis put on Matt Cable's continually unwinding mental state in his pursuit of truth and the emotional toll Swamp Thing's life has been on what is left of the psychic imprint of Alex Holland. The story also gives them satisfying emotional developments; Matt is given evidence of a deeper conspiracy and that he is not obsessing, whereas Swamp Thing gets another chance to be with Linda, of a sort, and must struggle between his desires and his reality.
Unfortunately, Abby Arcane doesn't get much to do; she is reduced to a sounding board for Matt Cable to be angry and frustrated and ask questions for the audience. I am eager to see her role expand and begin her bond with Swamp Thing because, at this point, she serves little purpose beyond being beautiful. Mayor Klochmann is every bit as ridiculous as you'd expect, down to the heavy German accent.
The robotic body Nathan Ellery controls also allows him to mock and taunt Matt Cable and Swamp Thing, indirectly allowing them to encounter their nemesis. Bernie Wrightson's robot design for Ellery is straight out of the 1950s B-movie style, and I really appreciate that approach, especially in contrast with Klochmann's robotic citizens. Those robots look human, even down to skeletal-like structures rendering the visuals of charged, smoldering robot skeletons evocative of the genocide it technically was.
Goddamn, Bernie Wrightson is good.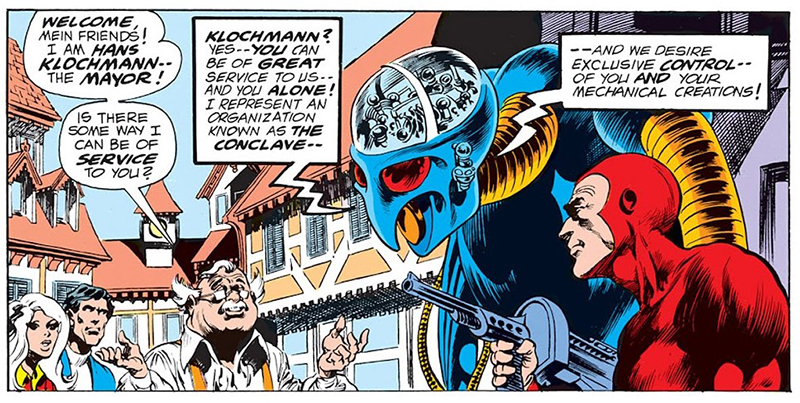 Swamp Seeds
These are some general notes and observations about Swamp Thing #6 I want to make. I have a few notes about continuity here, as well.
Mutt continues to be a good boy doing bad things. He is now with Swamp Thing but still seems to be bugged by The Conclave.
Matt Cable's desk is a clever way to handle the credits for the issue while showcasing his apparent obsession.
We even see Maxwell Ferrett in issue #1 appear in a dossier on the desk. Very fun.
Less fun is that this is the first and only appearance of Bürgess Town, VT, and its residents in the DC Comics canon, as they are all wiped out by the end of the issue.
Next time, we'll see the first encounter between Swamp Thing and The Batman. The connections of Swamp Thing to DC's larger canon would become cemented then, rather than just oblique references.
One of my sources for tracking some of this stuff has been the DCU Guide. I only have so much memory devoted to some of this stuff.
---
See you next week with a batch of comic reviews for Graphic Content. Thanks for checking out this installment of "Just Swamp Things." Please let me know what you think. I would love to hear from other Swamp Thing fans about my impressions of the issue.
Graphic Content #31: Week of Sept. 12
We are back with another batch of horror comic reviews in Haunted MTL's original comics column, Graphic Content. We had a host of horrific new #1 titles to dig up last week; we have three more this week. Do these new comic titles offer something exciting for horror comic fans? Do we have a bold new Lovecraft comic in the rotation? What about revisiting the world of Hellboy, which is a kind of Lovecraft comic?
For the week of Sept. 12th, 2022, we have Lovecraft – Unknown Kadath #1, Castle Full of Blackbirds #1, and The Boogyman #1.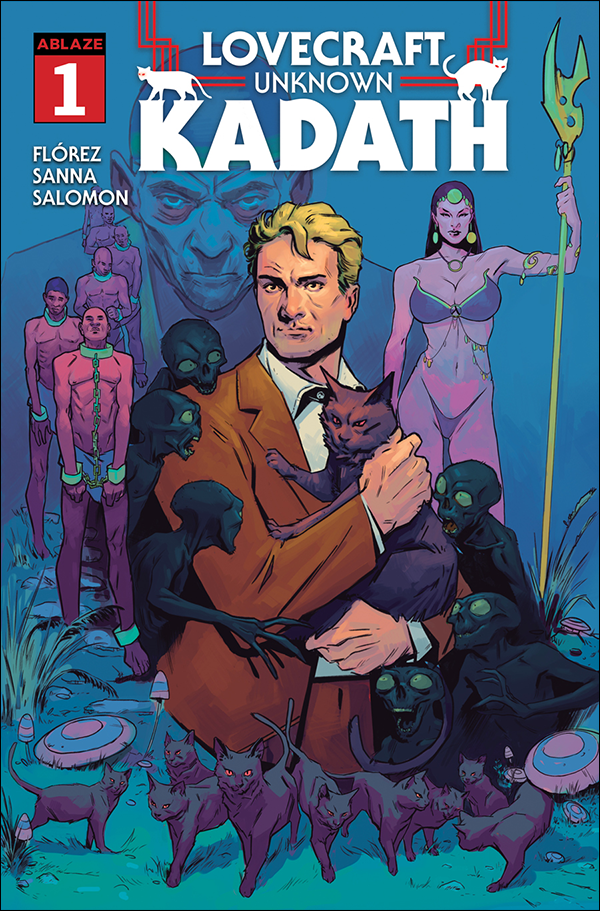 Lovecraft – Unknown Kadath #1 – "Dylath-Leen"
It's always a good day for me when I get to start it off by reading a Lovecraft comic. I also knew I would like this title after the initial pages derive stylistically from Little Nemo in Slumberland. The rest of the comic turned out to be a fun, whirlwind tour of themes and elements of H.P. Lovecraft's work, most notably the character of Randolph Carter, which I enjoyed quite a bit.
Something about Lovecraft's universe lends itself well to severe and psychologically-derived horror. Still, it also makes for fun pulpy-adventure fodder, hence the longevity of the Call of Cthulhu tabletop game. The latter is where Florentino Florez draws his inspiration for his comic, it seems. Florez's writing is solid, and he has created a breezy Lovecraftian adventure I am curious about.
As for the art, the comic opens with a lovely Little Nemo riff and establishes the dreamlike imagery found in the rest of the issue. Artists Guillermo Sanna and Jacques Salomon have created some excellent work here that, to me at least, evokes Mike Mignola in surreality and Hergé in great, lived-in details. I haven't quite figured out each artist's contribution to the overall work, but I am excited to learn more by the next issue.
Impressions of Lovecraft- Unknown Kadath #1
Lovecraft – Unknown Kadath #1 is an excellent start to a series that gives me the 1920s adventure vibes I love in some Lovecraftian adventures. "Dylath-Leen" is a fun Lovecraft comic that evokes the tone and spirit of the dreamlike world that hides Kadath and pairs it with excellent artwork. Florez's writing is well-paced, with enough explanation to keep the reader motivated. Sanna and Salomon's illustrations are equally lovely and horrid as needed.
I am already dreaming of more.

(4.5 / 5)
Lovecraft – Unknown Kadath is written by Florentino Florez and illustrated by Guillermo Sanna & Jacques Salomon. You can find more about the comic from Ablaze or your local comic shop.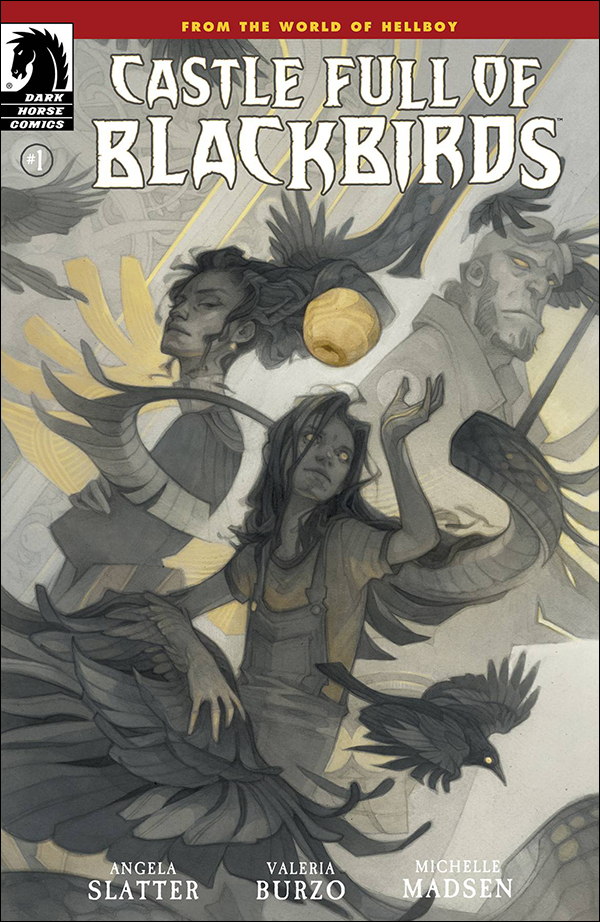 Castle Full of Blackbirds #1
From the pages of Mike Mignola's Hellboy and the BPRD comes Castle Full of Blackbirds. The exponential growth of the Hellboy IP has made it hard for me to keep up, so having not read the prior material leading to this one, I am somewhat new to this side of the larger franchise.
This story is set in the late 1960s, around the start of Hellboy's early career, if I remember my continuity, and follows a young girl named Sara May Blackburn who seeks out a mysterious Linton School for Girls. Readers immediately get the sense there is a lot of background before these first pages, including a flashback to Hellboy himself. Writers Angela Slatter and Mike Mignola provide hints at what has come before, but new readers are likely to be lost as to what is going on. At least I was. Hellboy has always had a problematic relationship with witches at best, so how a school of witches connects to his adventures is enough to drive me forward.
Visually, the comic feels adjacent to what I've seen in the larger Hellboy universe without skewing too hard trying to emulate the angular look of Mignola. Valeria Burzo's art is expressive and textured when needed but is also relatively simple and naturalistic. I am less keen on the colors by Michelle Madsen. They are effective for what they are, but the coloring style feels washed out, and the non-black-filled shading appears slightly muddy. Using gradients in spots is particularly noticeable and doesn't complement the line art.
Impressions of Castle Full of Blackbirds #1
I find myself exploring the Hellboy universe with this new limited series Castle Full of Blackbirds. I am enjoying the ride though this is the most disconnected from the universe I've been. This is due to the sheer avalanche of stories out there right now. The comic serves as an introduction, yes. However, it expects that readers know more than writers Mignola and Slatter are willing to recap. Visually, the art succeeds based on the strength of Burzo's art. Yet, I feel Madsen's coloring choices put a damper on the issue.
I am intrigued, but I worry that the comic may ask too much of new readers.
(3.5 / 5)
Castle Full of Blackbirds #1 is written by Mike Mignola and Angela Slatter. The art is by illustrator Valeria Burzo and colorist Michelle Madsen. You can find out more about the comic from Dark Horse or your local comic shop.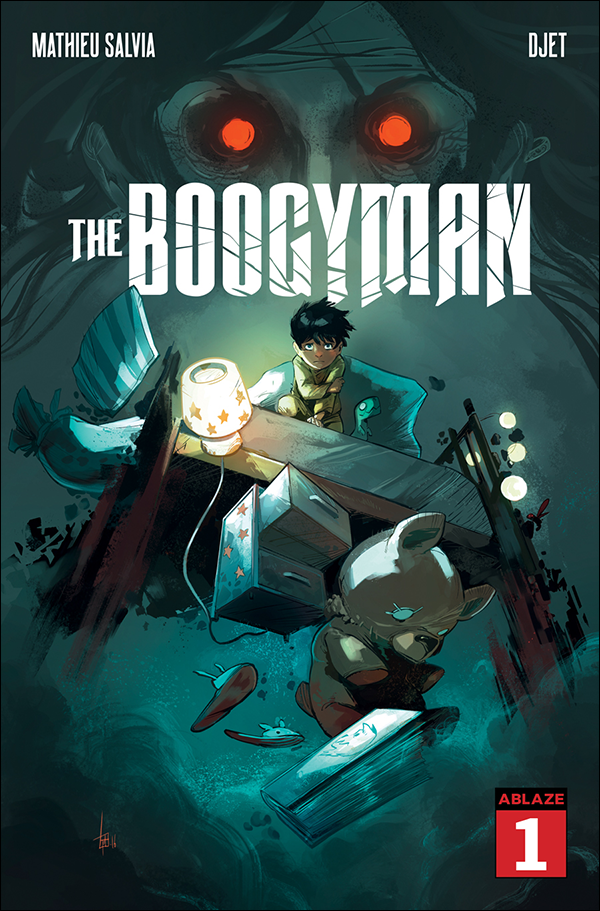 The Boogyman #1
Ablaze has had a terrific week with two intriguing #1s that play with horror themes. I enjoyed the first issue of The Boogyman, and I am looking forward to what is next. I especially like that it presents a Filipino approach to childhood monsters called the Aswang.
Mathieu Salvia had crafted a fun and grim little tale of childhood trauma, murder, and fantastical guardians. Some fun questions arise from what precisely the boogymen are and their purpose that I am eager to see explored. I also find the mystery of Father Death and his relationship to the other boogymen an intriguing hook. I do wonder how far ahead young Elliott's narration comes from, however, because I feel a misstep between what is being presented as internal expression and his status as a child. Then again, I could also be underestimating the mind of a child though, too.
Visually, I think Djet, new to my radar, is just my speed in stylistic expression and detail, finding a real sweet spot in the art for this horror comic. Character forms are overall realistic in their proportions, but stylistic choices give them expressive faces that read well on the page. The level of detail is also lovely overall, with some extra spice when it comes to the nasty, creepy stuff. The sketchy nature of the line art is also complemented well by the coloring choices using some fun lighting overlays and a subtle but effective shading style.
Impressions of The Boogyman #1
The Boogyman looks to be a strong contender for an ongoing horror comic. The juxtaposition of children's fears and what seems to be deeper mythology is compelling enough. The cliffhanger written by Mathieu Salvia has inspired me to await the second issue. I think the artwork by Djet is particularly strong. It finds the right mix of exaggerated expressiveness and serious, grim tones. Consider me intrigued.
(4 / 5)
The Boogyman #1 is written by Mathieu Salvia and illustrated by Djet. You can find more about the comic from Ablaze or your local comic shop.
---
What do you think about this week's assembled comics? There seems to be a bit of a Lovecraft comic theme between the topics of dreams, witches, and Hellboy. Do any catch your eye? Let us know in the comments.