We are back with Haunted MTL's continuing coverage of the Chucky franchise. This week, we talk about Chucky S2 E3, "Hail, Mary!" While the previous episode teased two significant legacy characters in Glen and Glenda – we also had a dangling plot thread involving a dead detective. All that goes out the window this week as we spend our entire runtime at Incarnate Lord.
Worry not; this episode is some of the wildest stuff to happen in the Chucky franchise in a long time.
Chucky – S2 E3 – "Hail, Mary!"
A few keystone moments in the Chucky franchise radically shift the series' trajectory. First was the introduction of Tiffany. Then there was the introduction of Glen/Glenda. The idea of soul-splitting also created a radically new direction for the franchise. This week, the series posits a question: Can you brainwash Chucky?
The episode spends the entirety of the runtime at Incarnate Lord exploring moments of characterization while eliminating some possible narrative angles. The A-plot involves the Chuckybusters trying to brainwash their captured Scout Chucky to get some answers regarding his mission. However, their brainwashing is much more potent than intended and creates a surprising new version of Chucky that is new to the franchise. A good Chucky.
Of course, the writers also enjoy complications – but don't we all? Hence, the arrival of a new delivery truck to the school featuring a familiar box. This arrival introduces another variant of Chucky – perhaps the strangest one yet.
All the while, character relationships are explored, and power dynamics are established. Father Bryce (Devon Sawa) learns something new about the kids and sets to work punishing them. Sister Catherine (Andrea Carter) is the coolest adult in the current season, and Sister Ruth (Lara Jean Chorostecki) is the worst. Meanwhile, Lexy's bully, Trevor (Jordan Kronis), gets to work to assert control over her, but this does not last long.
All the while, Jake and Devon clash over guilt and distrust, Nadine's character grows more intriguing, and Nadine and Lexy seem to bond.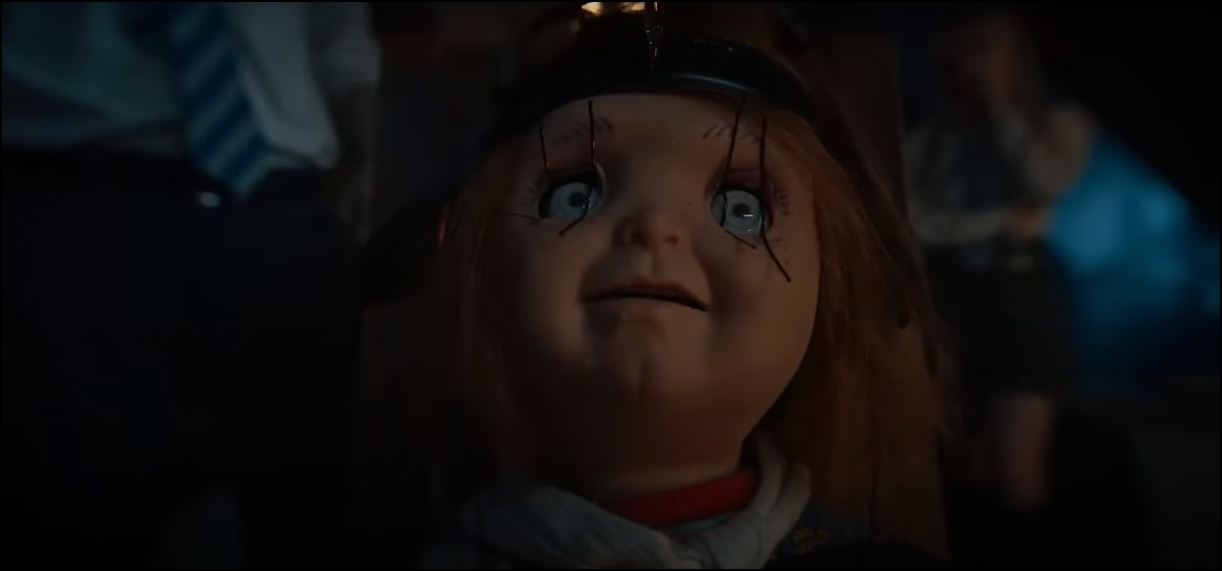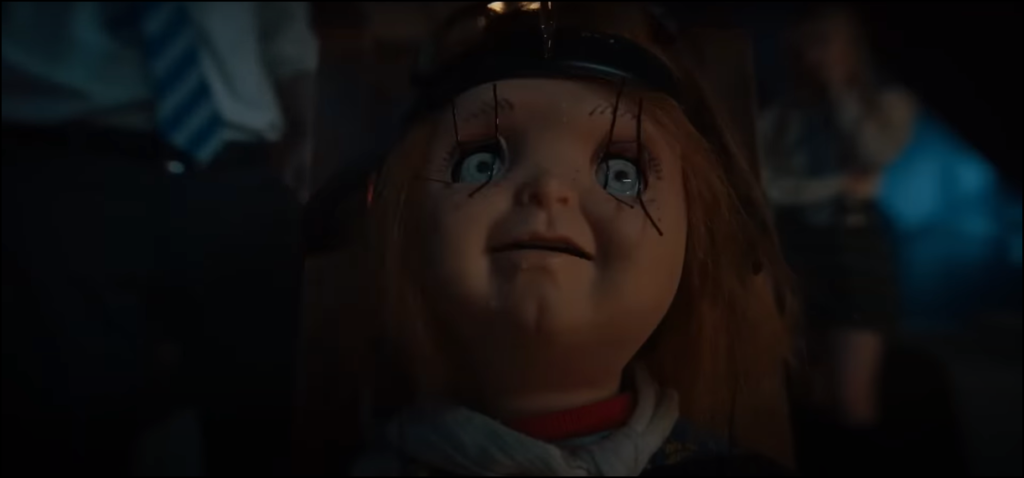 How Was It?
Samir Rehem's fourth directed episode of the series proves to be fun and a good follow to last week, which he also directed. The direction is solid, and some interesting cuts and camera tricks create some fun variation in an episode locked more or less to a couple of locations. One criticism is that this episode was overly dark when it came to light, especially compared to last week. Some of the scenes in Jake and Devon's room could have benefited from a touch more brightness.
Rachel Paradis and Nick Zigler get the opportunity to write one of Don Mancini's long-standing ideas of a Good Chucky, make it work, and garner sympathy for the little psycho during the A Clockwork Orange brainwashing segment. Sympathy for Charles Lee Ray; who knew that was possible?
"Hail, Mary!" is Paradis' second series writing credit since "Little Little Lies" in season one. Zigler serves as one of the go-to writers for the show, with this episode being his eighth writer credit on Chucky. He penned most of season one's episodes.
However, as new possibilities open up, the episode does close the door on a character that could have created some solid dramatic potential. It's a risky move, but I feel the show thrives when it throws caution into the wind.
Highlights
I won't factor in my disappointment to be drifting away from the Glen and Glenda developments from last week in scoring the episode. This largely single-location episode provided exciting developments that could radically shape the franchise.
I do feel the episode's lighting was an issue, and I am still unsure how to feel about removing a character from the overall narrative. However, the moments of character building combined with the utter insanity of how various Chuckies seem to become their own unique entities is fascinating.
(4 / 5)
Chucky – S2 E3 – Kill Count and Spotlight
So far, two more kills have been added to the list for season two, bringing the season total to five. One kill returns Chucky to his roots as "the Lakeshore Strangler." However, the more dramatic and jaw-dropping kill this week involves a Mortal Kombat fatality and is one of the franchise's messiest and craziest kills.
Seeds of Chucky
As always, each review features some notes on references and continuity in the whole Chucky franchise.
SyFy's post-show featurettes have been a delight, and if you head over to Syfy.com, they should be available to watch.
Part of the fun of those, beyond the behind-the-scenes reveals, is that Chucky hosts them. I hope Brad Dourif runs away with a heavy paycheck week after week.
Speaking of reveals – Don Mancini confirms he's been thinking about a good Chucky for a while.
Also revealed – the prosthetic worn by a character for a death scene smelled like vinegar.
This week's title card features crucifixes. We're firmly in religious horror now.
I am annoyed we've swerved away from Glen and Glenda's reveals this week, but I can also see why they would do that.
That was the most Irish priest I have ever seen.
Mentions of MKUltra this week. And no, not Mortal Kombat Ultra.
Speaking of… Chucky needs to be a DLC character in a future Mortal Kombat… he just has to be after tonight's episode.
Regarding movie references this week, we have a huge one with A Clockwork Orange. Also, films used in Chucky's conditioning seem to include The Thing and Psycho II.
Something that made my millennial heart flutter – a direct reference to Child's Play.
Also, we can confirm My Little Pony exists in the Chuckyverse.
Nadine is the coolest. "I've got this bitchin' knife."
We're continuing to cover the Kids' Stuff – A Chucky Podcast show. However, unlike these written reviews, our discussion show contains plenty of spoilers. If you missed the latest Kids' Stuff about S2 E2, "The Sinners Are Much More Fun," you could listen to it wherever you get your podcasts.