We are back with Haunted MTL's continuing coverage of the Chucky franchise. This week, following last week's surprising turn, we talk about Chucky S2 E5, "Doll on Doll," which asks how weird a Chucky-on-Chucky fight be.
We learn that it can be very weird.
Chucky – S2 E5 – "Doll on Doll"
Chucky, S2 E5, "Doll on Doll" returns us to the cliffhanger two episodes ago, featuring the showdown between Good Chucky and Buff Chucky, and the episode wastes no time getting to the action. The episode returns the show to a regular format after the last episode's break. We have more shenanigans at the school with a disappearing corpse, sacrilegious Chucky, and Jake and Devon drifting apart. Meanwhile, we get some fascinating developments in Beverly Hills with Glen, Tiffany, and two surprising reveals for Seed of Chucky fans.
Of course, the episode leaves us with a fascinating hanging thread, introducing yet another new Chucky and the return of a legacy character in a very precarious position in the woods outside of the school.
"Doll on Doll" is director Leslie Libman's third episode of the show, while Mallory Westfall and Isabella Gutierrez take on the writing duties.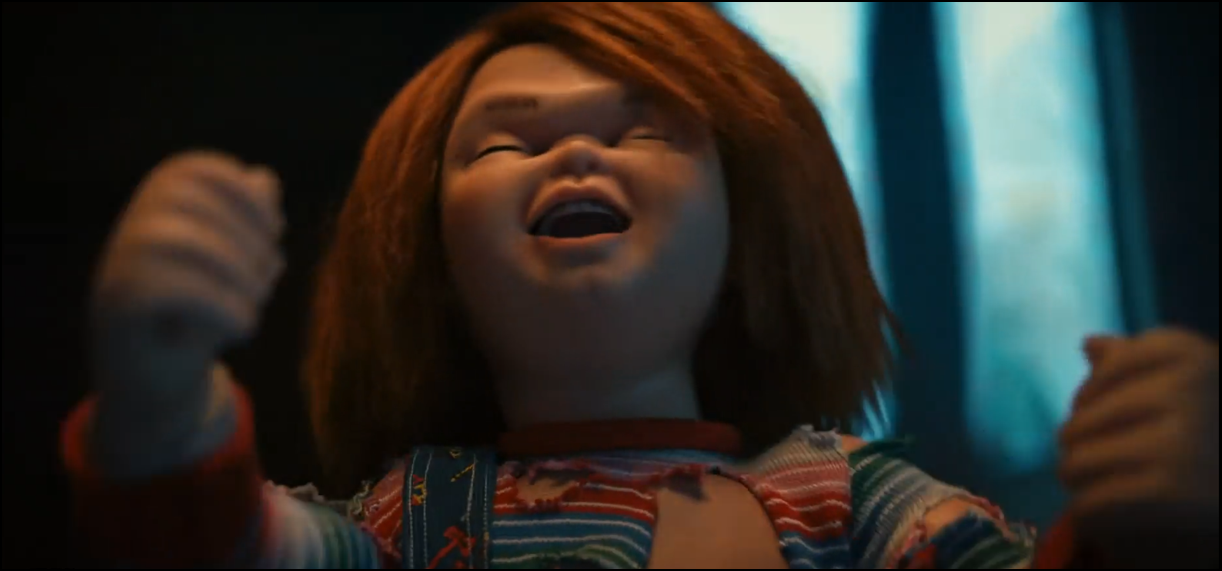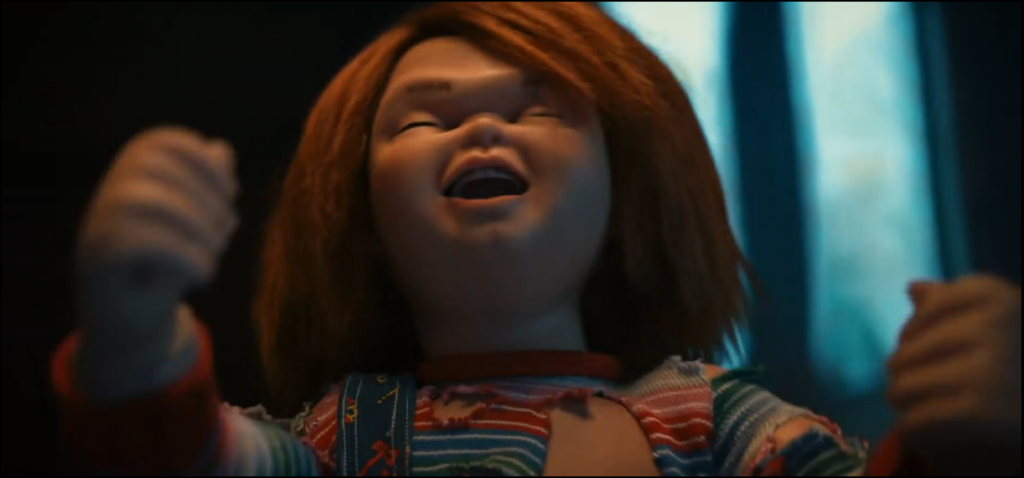 How Was It?
The episode had plenty of fun reveals and nods to the larger franchise. However, I worry that some cracks are beginning to form in the writing of the teenage characters that are a bit forced. It may be the setting, but everyone is amped up and on the wrong foot. With that said, it could be the threat of two Chuckies, but some hair-splitting in character relationships feels more manufactured than organic. My main concern is the Jake (Zackary Arthur), Devon (Bjorgvin Arnarson), and Good Chucky triad, where both Jake and Devon are being unreasonable and understanding in equal measure, but the issue is nobody is talking. Not giving characters a chance to speak is one writing trick I am not a fan of.
That's the worst of it for me, in an overall fun episode that moves the story along on a couple of fronts. e have more stuff for the adults at the school. Father Bryce (Devon Sawa) reveals the depths of his toxic beliefs. Sister Ruth (Laura Jean Chorostecki) gets her chance to screw things up for everyone. We even get revelations about Dr. Mixter's (Rosemary Dunsmore) role in all of this. With her having been curiously involved in the events of the season so far, this is a big moment.
Episode Highlights
The bulk of the excitement in the episode revolves around Tiffany's attempt to keep her secret from Meg Tilly and Glen (Lachlan Watson; only for the secret to be blown wide open in one of the biggest reveals possible. The show takes it a step further when you think Seed of Chucky fans are getting everything they want. We're now moving into a road-trip story of the Valentine/Tilly/Ray family, complete with a couple of very special dolls. I feel the show has very much situated itself around Tiffany right now, and I am all for it. While I love the series leads, I think everything with Tiffany has been absolute dynamite.
Visually, the episode is solid but not as inventive as in prior weeks. I feel the Chucky fight was as good as it could be, given the technical limitations of puppet fighting. The shots were a little safe to make the digital erasure of the puppeteers much easier. I understand why, but I have been spoiled by more visually explosive moments on the show. With that said, the motion of the puppets was good. The hits felt solid, thanks to stunt coordinator Tim Cody.
It also doesn't help that what was rich, chiaroscuro lighting within the school has become overly dim. I felt the lighting in this episode was rough compared to the first two.
(4 / 5)
Chucky – S2 E5 – Kill Count and Spotlight
Only two kills this week, making ten kills for the season so far. The first kill is technical. I won't spoil how, but it involves a knife. We also get an infamous nailfile kill as well. By issue of technicality, the nail file is the winner.
Seeds of Chucky
As always, each review features some notes on references and continuity in the whole Chucky franchise.
There is a significant reference to Apocalypse Now (1979) this week. I won't spoil it, but you'll know if you are familiar with that movie.
Glen's eye-twitching has shown up a few times in the show already, but it tickles me to see Glen is still barely holding things together.
The ritual Tiffany used to inhabit the body of Jennifer Tilly in Seed of Chucky (2008) had a specific term that paid off 14 years later.
More Jennifer Tilly career mentions this episode: Tiffany watches Liar, Liar, and Meg Tilly hangs around for a bit. We also acknowledge her voice acting on Family Guy as well.
There is a Chucky Goes Psycho poster in a room of Tiffany's house, a reference to the film being shot in Seed of Chucky.
That is the review and recap for this week. Kids' Stuff – A Chucky Podcast is on a brief hiatus. This is due to my co-host's work schedule. We're hoping to catch up soon.