Growing up can be tough and it can be even tougher when you're a monster-kid stuck in the human world. That's the central idea of Monster Elementary, an adorable, all-ages horror comedy comic created by Nicholas Doan and Caanan Grall. We're usually a bit on the darker side here on Haunted MTL, but many of us fell in love with horror through kid-friendly concepts to introduce us to our future favorite monsters, and Monster Elementary is doing just that for a whole new generation.
Monster Elementary is a fun, witty, comedy/adventure comic for children of all ages featuring five monster children based on classic monster movie archetypes. These five monster kids are forced to attend a human public school after their monsters-only private school is raided by the FBI. To their surprise, they're not allowed to eat any of the other students. The monsters' adventures and experiences hiding their identities and growing up are the focal point of the book.
We met writer Nicholas Doan at WonderCon 2019 in Anaheim and asked to talk to him about Monster Elementary. We also have some previews of the comics, so be sure to read to the end!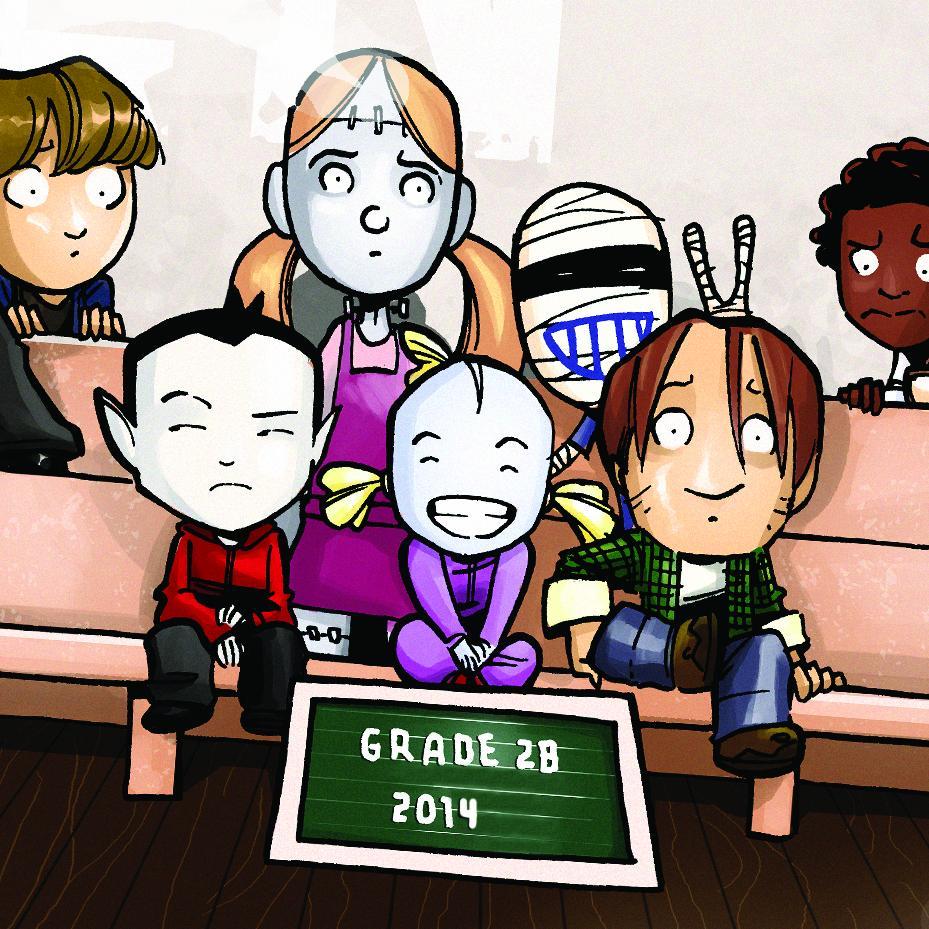 So, Nicholas, what influences you as a writer?
Nicholas: I'm mostly influenced by the things that I enjoyed as a kid. That mostly means the cartoons and comic books of the 80's. Superman comic books especially. The writers that have had the most profound effect on me are Charles Schulz, William Goldman and Mark Waid. I think if you look for it, you can really see Schulz' influence on Monster Elementary.
You have a very diverse writing background, such as being part of the Dramatists Guild and having been a winner of the DC/Zuda webcomic program; does the diversity of writing experience have any surprising benefits to you when writing Monster Elementary?
Nicholas: There are definitely benefits. Writing for Theatre and writing a webcomic for DC are two experiences that heavily affected who I am as a writer. Writing for theatre is very limiting. There are no car crashes or elaborate set pieces, Theatre forces you to focus on character and dialogue. As a Playwright, I found that I wanted all of my dialogue to be interesting and not just informative. When I was writing Pray For Death for DC Comics' web imprint, Zuda, I learned a lot about how tell a story in a serialized comic book format. Most importantly, how to write 4 page chunks of a story that feel like a satisfying read in themselves, but still add to the greater story. I learned a lot about plotting a comic story as well. Zuda really was a crash course in what works in comics and since it was part of an online community, you always got immediate feedback on what works and what doesn't.
You work on Monster Elementary with your wife, Gwendolyn, but do you both particularly love horror? Or is it more of a situation with one of you being a horror fan?
Nicholas: We both love Halloween! I think Monster Elementary really celebrates the spirit of Halloween just as much as it celebrates classic horror. While I love horror films and media, my wife does not enjoy being frightened. That's why Monster Elementary is great for her and people like her. Over the years, Halloween has become more and more of an adult holiday, but we need to remember that it is a day for kids to engage in some of the spookier elements and for everyone to have fun. I like that Monster Elementary can serve as an introduction to horror for kids or a safe haven for adults that don't want to be terrified. I also like making Halloween part of my everyday life.
What is your favorite horror story?
Nicholas: I think the Frankenstein story is one of the most poignant, powerful and rife for reinvention in all of horror. That being said, Peter Jackson's The Frighteners is my favorite movie and I think Stephen King's IT is one of the best horror movies ever. And I can't wait to see the sequel!
What type of monster would you be if you found yourself in your comic?
Nicholas: I would be the Mad Scientist reinventing all of these monsters for another generation to be entertained by them.
How hard is it to work within horror themes but still maintain something tonally for a general audience?
Nicholas: It's really easy for me. I love classic horror. The horror classics are my own personal cannon for the series and the classics never really got too scary. At least not in terms of what a modern audience expects. And at the root of it all, I just want to have fun and help others to have fun with me. This is why I will keep doing Monster Elementary for as long as possible.
How do you go about choosing an artist for a Monster Elementary story?
Nicholas: I seek out artists that have their own unique style. Comics should showcase art. I never want to use a house style, I want every artist I work with to put their own unique stamp on my characters.
Do you have any upcoming events or news you'd like to share?
Nicholas: I'll be at Phoenix Fan Fusion from May 23-26. Then I'll be doing as singing at Astro Zombies comic shop in Albuquerque May 29. That'll be followed up by Denver Comic-Con May 31- June 2. We then hit San Diego Comic-Con July 17-21 and wrap up at Midsummer Scream in Long Beach August 3-4.
Anything else you want us to keep an eye out for?
Nicholas: Also keep an eye on Monster Elementary's Facebook page and Twitter feed for news on our upcoming Kickstarter campaign to fund the third book in the series!
---
Image Gallery
Enjoy these wonderful glimpses at the diverse array of art and stories in volumes 1 and 2 of Monster Elementary.