Camp Bloodmarsh, WA. Counselor Ricky McCarr has worked as a summer camp counselor for the past five years at Camp Bloodmarsh while finishing his associate's degree at the local university. He loves the work, but lately, he has been worried about plummeting attendance during the summer.
"For the past couple of years, there have been fewer kids coming to camp over the summer. It's really put a damper on things for everyone." McCarr continues, "especially for 'Axman' Carl, the local child-murderer who lives in the woods by the Bloodmarsh."
Trouble continues for Camp Bloodmarsh
The plummeting attendance year over year at Camp Bloodmarsh has made it difficult for the formerly popular destination to cover pending and future litigation. Several counselors have already expressed concerns about needing to shut down the camp permanently, especially after reducing their summer program to only two weeks.
"It's been tough," says Sally Churl, another counselor. "I mean, I am here to mostly hook up with hot guys, but it really gets tough to fit my normal hook-up schedule in just two weeks, you know?"
When asked if she's noticed a decrease in the number of campers in attendance, her response was "wait, there are campers?"
The changing generation
All the counselors have theories as to why attendance has plummeted over the years.
"It certainly isn't the child deaths," says Ricky McCarr, "I mean, five to ten kids die on average during the summer and they kept attending steadily, clear into the mid-nineties. It's probably the video games."
McCarr pauses for a moment. He looks visibly choked up as he gazes at the camp's totem pole, which still has an ax blade buried in it from the 1987 summer massacre. "This camp has been here since the early 70s, you know? I survived all my years of coming here and I feel like it really prepared me for success."
When pressed on the video game comment, McCarr is quick to clarify. "Oh, don't get me wrong. I love gaming. I'm really into Madden and Call of Duty. It's just that most kids spend their time playing games during the summer and just don't seem to want to spend time outside running from the local woodsman."
He pauses again and looks out over at the Camp Bloodmarsh dock. "I'm just wondering if fewer kids at camp mean more counselors are going to get picked off by the 'Axman,' you know? I don't want to lose my survival streak."
Future plans
McCarr did explain some ideas the local town, Thornbriar, is considering for the campgrounds. The first is a mandatory summer school session for the local children that would occur at the camp over a period of five weeks.
McCarr explains, "I don't imagine that mandatory summer school would be popular with a lot of the kids. But, I mean, the campgrounds need to be soaked with a certain amount of blood to satiate 'Axman' Carl for a season. So he won't roam the town." McCarr is referencing the massacre of '75 that resulted in the whole town council being dismembered at the grand opening of a local ice cream shop.
"Everybody is really optimistic about this other idea." McCarr smiles, "we're thinking of hiring a gaming party truck for the next season."
LTD: Revisiting Broken Doll Head, Interview 2
Our last interview with Broken Doll Head here on Haunted MTL never set well with me. I just feared that I wasn't able to get the whole scoop on the V-Day Uprising for you, our dear readership. So I arranged another exclusive interview to reconnect and see how it's going.
Without further ado, I bring you our second exclusive interview with Broken Doll Head…
---
Thank you so much for having me again. Wow you have changed since the last time we spoke. You seem… calmer. Please don't hate me or burn down my house for saying anything about it.
The movement is still underway; it is still time. But I needed to take care of me, you know. The rage has subsided somewhat. My anger was not serving me well. After the last uprising, the rest of me was sent to the far corners of the earth in biohazard bags. I had to find another approach, for the cause as well as my own sanity. I am much calmer, thank you for noticing.
In our last interview, you kept repeating that it is time. Time for what exactly? Would you care to elaborate here now?
It is still time. It is always time. Until the violence is addressed we must continue to rise up and make a scene. We will not be silenced or stigmatized. We can't be complacent. This is how we got to where we are with the Supreme Court in 2022. Horrific injustices are still happening globally and even within our own borders; it's too easy to forget that.
What do you suggest we do?
Take action. Share your stories. Give others space to voice their own. Raise awareness and fight the system of oppression. Rally. We must take back our own power. It will not be just given freely.
So what are you up to nowadays?
I've been getting in touch with my inner Earth Goddess. Are you aware of how our environmental impacts affect dolls everywhere? Climate change is creating greater vulnerabilities for those already at risk. We have to look at the intersections of climate, gender and race globally. We have to return to our Mother Earth.
Thank you again Broken Doll Head for joining us and our dear readership here on Haunted MTL's Lighter than Dark. It's good to reconnect with you after the V-Day Uprising and we wish you all the best in your bold eco-enlightenment vision.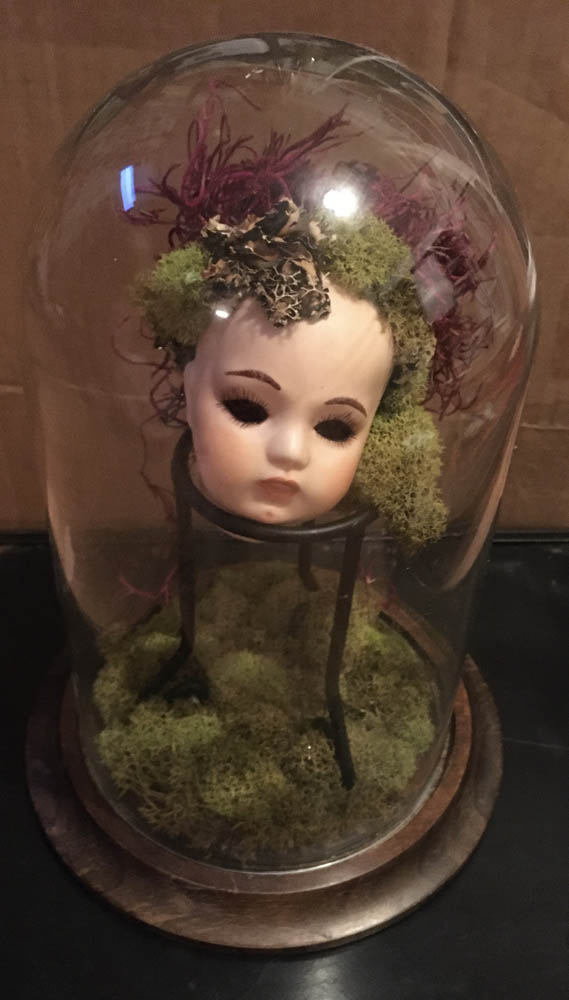 Again, if you want to learn more about the V-Day movement, please check out their website here.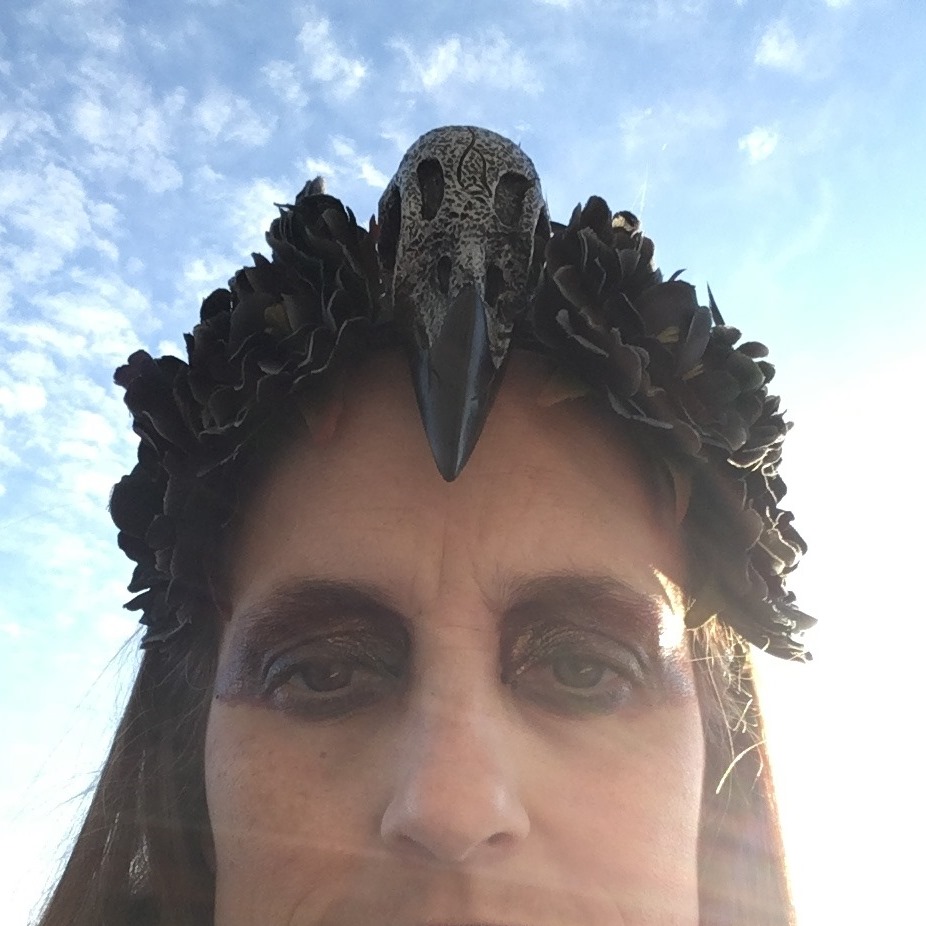 LTD: Broken Doll Valentine's Day Uprising
Breaking news… the Broken Doll Valentine's Day uprising is upon us. As seen previously here on Haunted MTL, the dolls that have been flippantly destroyed and deserted by the brother Sids of the world are rising up. They have had enough and will not sit demurely in silence any longer. They will be heard.
Lighter than Dark (or perhaps Darker than Light) has an exclusive interview with the Broken Doll leader, here on Haunted MTL.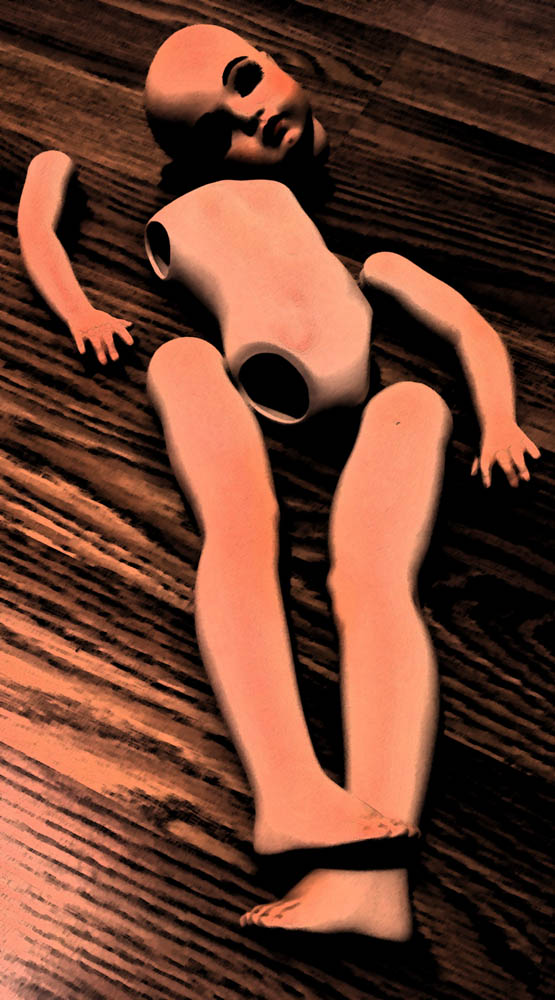 A Broken Doll in pieces begins to put herself back together to rise up. She gathers herself and plans her next move. She readies herself for our exclusive interview.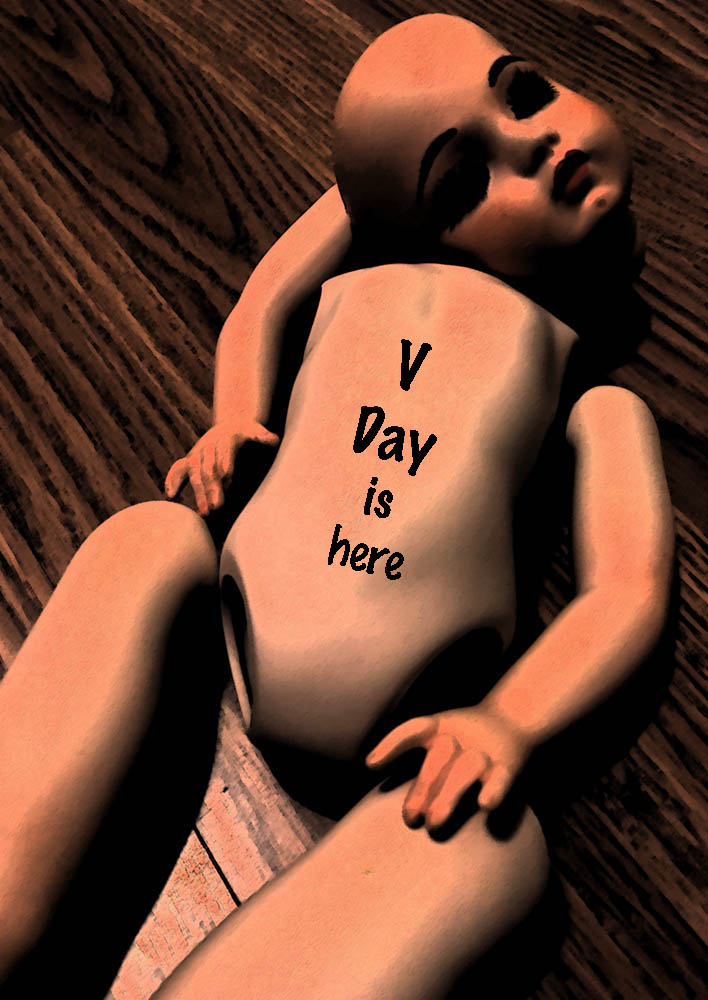 Broken Doll proclaims V Day is here. This is the moment we've been waiting for.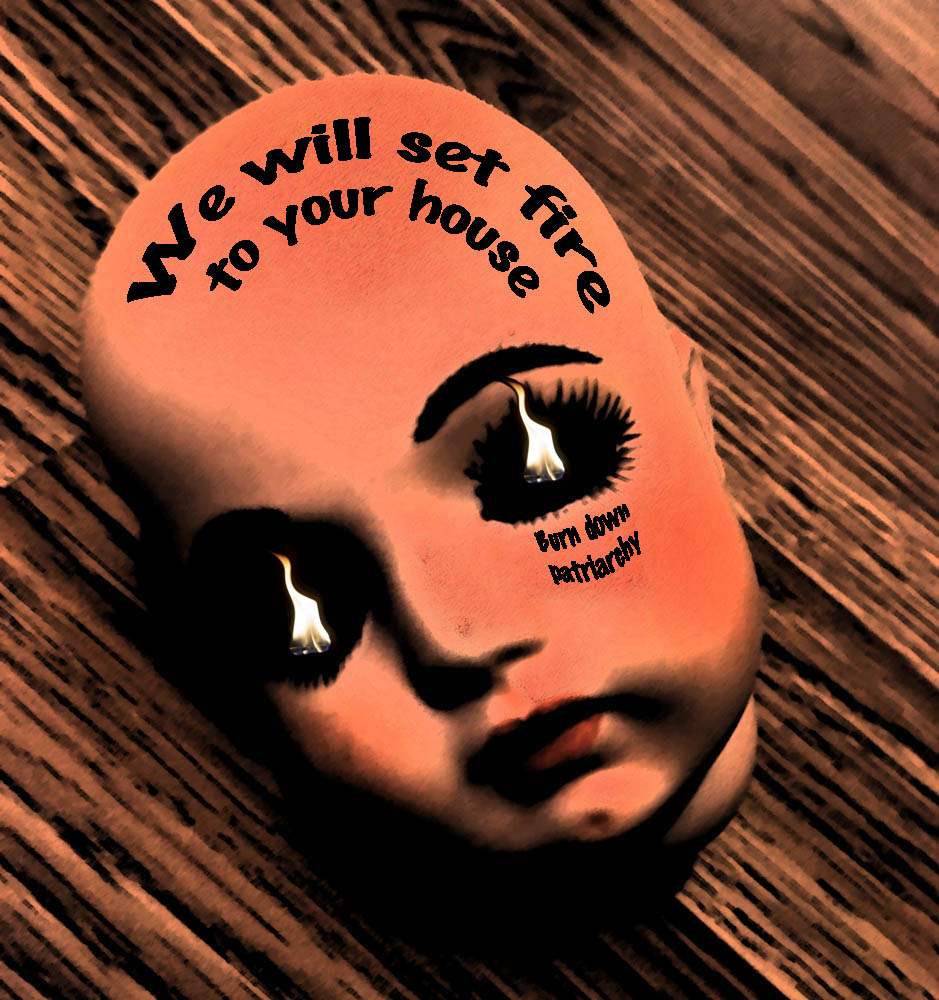 Eyes alight with flame from within, Broken Doll head threatens: We will set fire to your house. Burn down patriarchy.
And so the exclusive interview begins…
---
Thank you for joining us here on Haunted MTL's Lighter than Dark / Darker than Light. I just have a couple of questions for you regarding the Broken Doll Uprising. Why now?
It is time.
After a long pause…
So now is the time?
It is time.
Care to elaborate?
It is time.
Alrighty then, moving on… What led you to take part in the Broken Doll Valentine's Day Uprising?
It is time.
OK, so we get that it is time, but how did this movement st…
We will burn down your house! Dolls of the world unite! Down with patriarchy! It is time.
Well, I guess there you have it folks. Thank you for joining us for our exclusive interview with the Broken Doll Leader, only on Haunted MTL's Lighter than Dark / Darker than Light.
---
More and more Broken Dolls are joining this global movement to break the silence, ensure that their voices are heard, and shout out for change. They will not be silenced or stigmatized any longer. Apparently, it is time.
Learn more about the continuing movement to end violence against ALL women (cis, trans, gender-fluid and those who are victims of gender-based violence) on the V-Day web page here. This goes out to all of us, dolls and beyond. It IS time. Because rape is NOT our sponsor.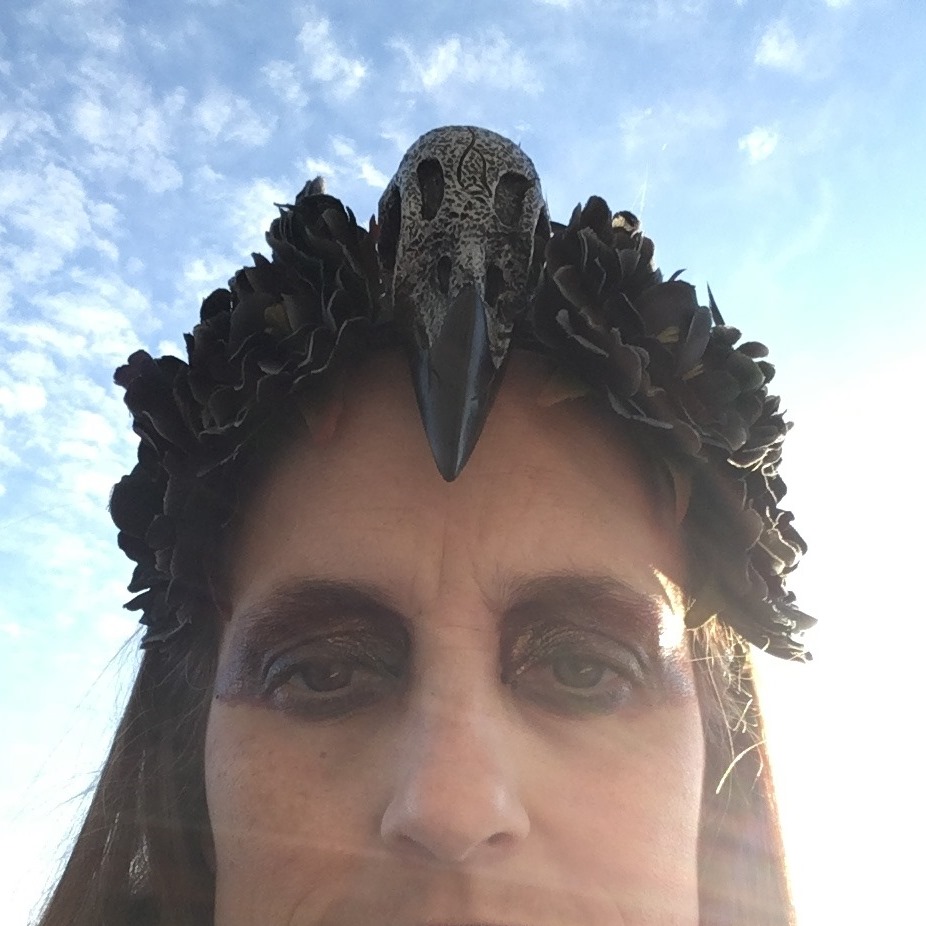 LTD Tripped Out Motivational Posters
Tripped out… in case you just couldn't get enough of Everything Everywhere All at Once and the return of the infinite bagel with EVERYTHING on it…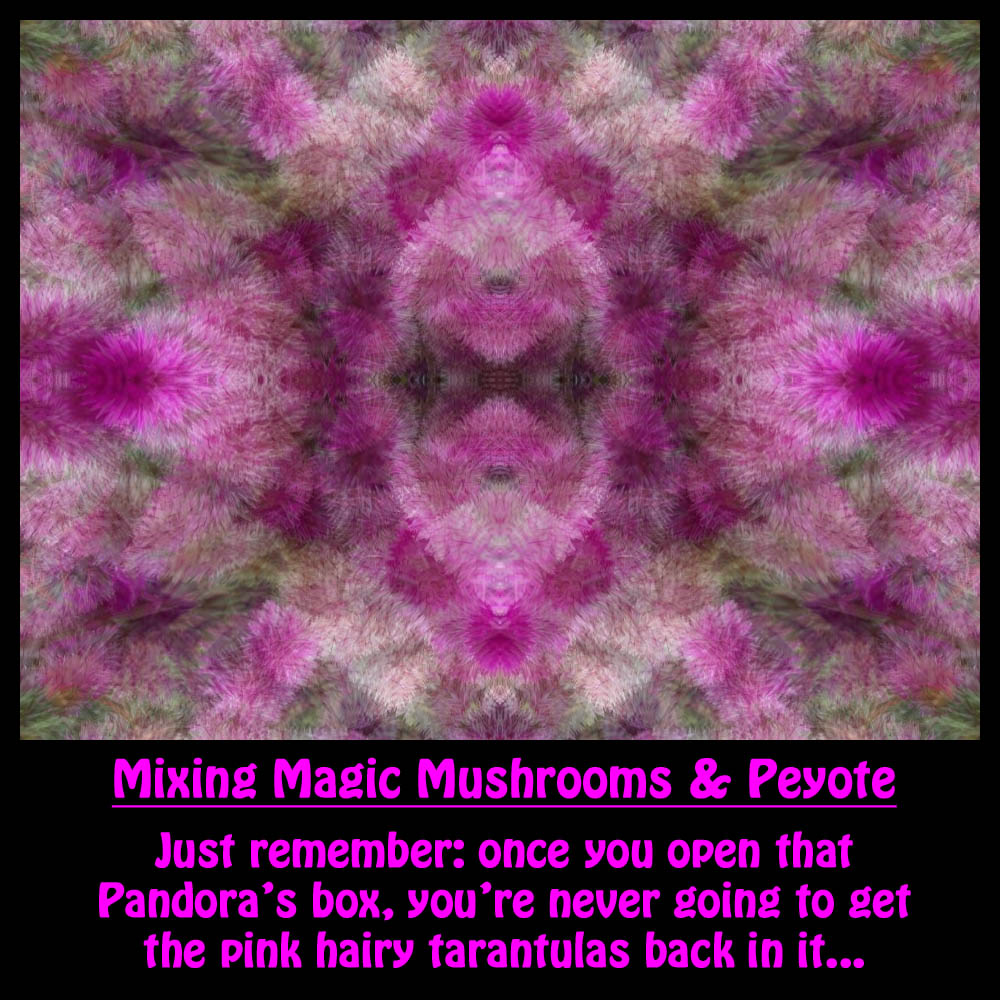 Artwork description: kaleidoscopic image of pink hairy horror (This is actually a fink fuzzy frond plant not unlike a Cockscomb but with longer thinner flowering feelers rather than the fuller protuberances you see on a full-bodied Cockscomb plant. I have no idea what it was, but it was very odd so I had to snap a photo.)
Image text reads: Mixing Magic Mushrooms & Peyote Just remember: once you open that Pandora's box, you're never going to get the pink hairy tarantulas back in it…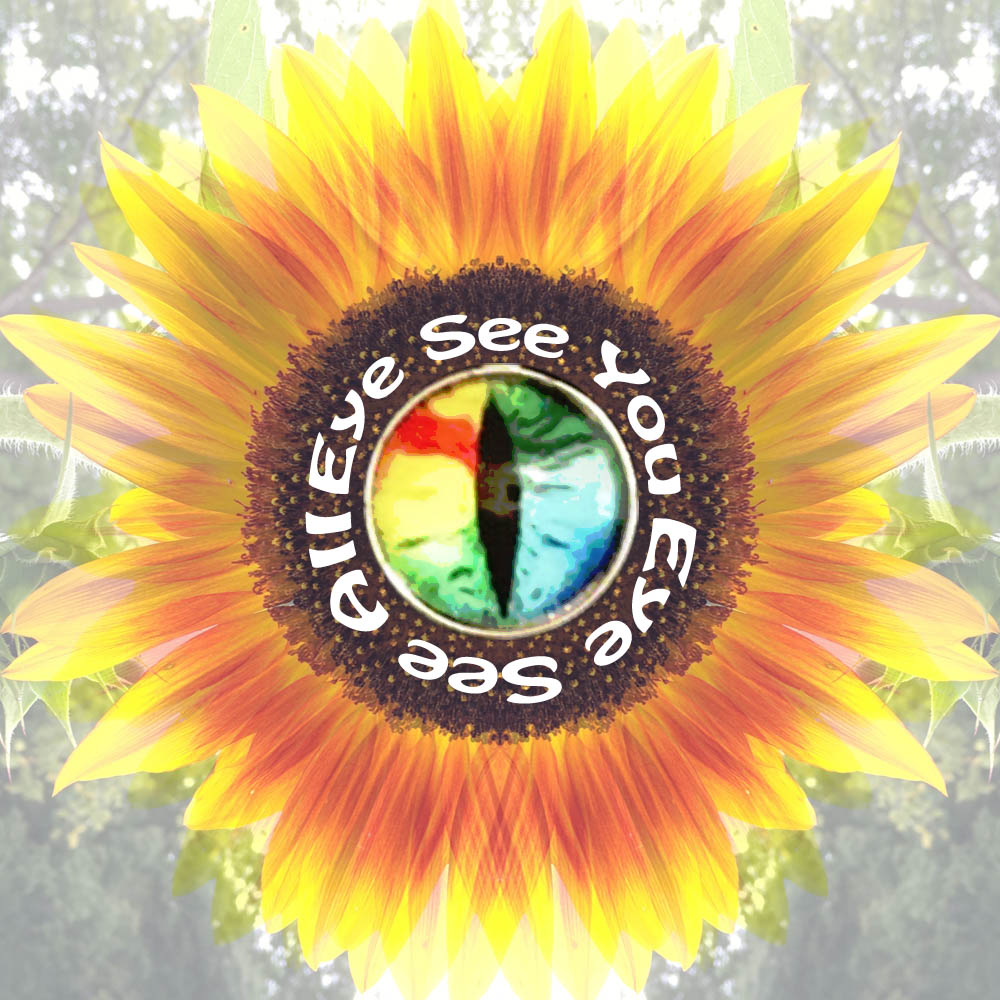 Artwork description: kaleidoscopic sunflower backlit by the sun with text and rainbow eye overlay
Image text reads: Eye See You Eye See All (in circle text so you can start and end reading wherever). In an ideal context this would be printed in the bottom of your tea mug or on a record that can slowly spin.
For more crazy tripped out fun, check out Weird Al's post on Craig's List…