Welcome to our ongoing series spotlighting original horror creations. The first piece we have is an illustration titled "Friday the 13th" by JoseRealArt on DeviantArt. Be sure to read out exclusive interview with the artist as well.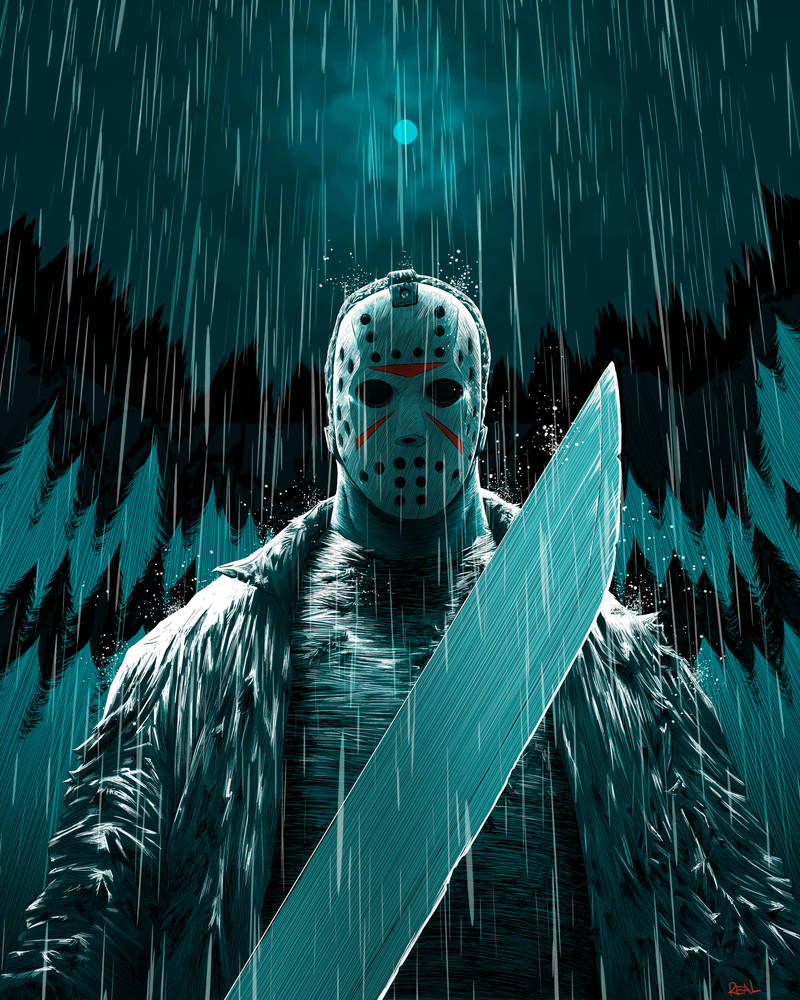 What was your inspiration for "Friday the 13th"?
I would say the Friday the 13th saga itself. I've been rediscovering the classic horror movies with a friend and always feel very attracted to the "killer with a mask" theme. There's something on the inexpressive and mysterious about a mask that makes me feel terrified and seduced at the same time, and there isn't more iconic mask than the Jason one.
What sort of tools did you use for the piece?
Photoshop and a Wacom Cintiq tablet. I used to be very "traditional," I started with a small Bamboo tablet but felt digital was messy and I wasn't happy drawing on the tablet and looking to the screen. But then I jumped to the Cintiq and it was great. It was a little hard at first drawing on the screen itself, but like a canvas its faster once you got the hang of it.
Do you have any projects you are working on?
Yeah, I've been working for a comic book publisher in Dubai and have a few small projects here and there. Keep an eye out for them.
Do you have any particular horror themes you like to explore in your art?
I'm a huge fan of H. P. Lovecraft stories for a long time and been working on a comic book anthology of short tales in my free time. Besides that, I'm very influenced by horror in general, the dark spaces of the world, and the human nature.
Do you have any particular horror films/books/movies you particularly love?
In my youth I was all over Stephen King (like all the edgy guys at my age) but nowadays I've been reading more science fiction. Regarding movies, it's really difficult to choose just one, but would say Hellraiser, for me has all the elements: demons from other dimension and disgusting latex effects. Another personal favorites are Re-Animator and The Return of the Living Dead. More recently I loved the weird atmosphere of Hereditary, but It Follows blew my mind and its on my favorites list now.
Have you ever experienced something supernatural? Anything you would like to experience?
In my adolescence me and my friends used to mess around with Ouija, abandoned houses, and stepping into graveyards at night. We had a few strange and scary moments but probably those moments were just the results of hormones and nervousness of the moment. Today when I hear or feel something odd I always think it's the mind playing tricks on me.
. . .
For more of JoseRealArt's work, you can follow them on social media such as Instagram, Twitter, Behance, and DeviantArt.
If you have an original creation you would like us to spotlight here on Haunted MTL please let us know!
Reanimating Dead Art with Monsters by Jennifer Weigel
Dead art… It's a thing that happens, sadly. Typically found at thrift and antique stores or dumpster diving or by the side of the road. But art is never really dead, just resting… Here are some reanimated paintings I made by incorporating nail polish monsters into existing art.
Let's face it – reworking old abandoned artworks with monsters kind of rocks. For awhile they were all over the internet. I admit, it took me a long time to muster up the courage to paint into someone else's grandmother's art, but once I started I just couldn't stop. From top to bottom, left to right we have: Zombies, Unicorn, Siren, Krakken, Harpies, Sasquatch, Alien Invasion, Witch, and Serpent.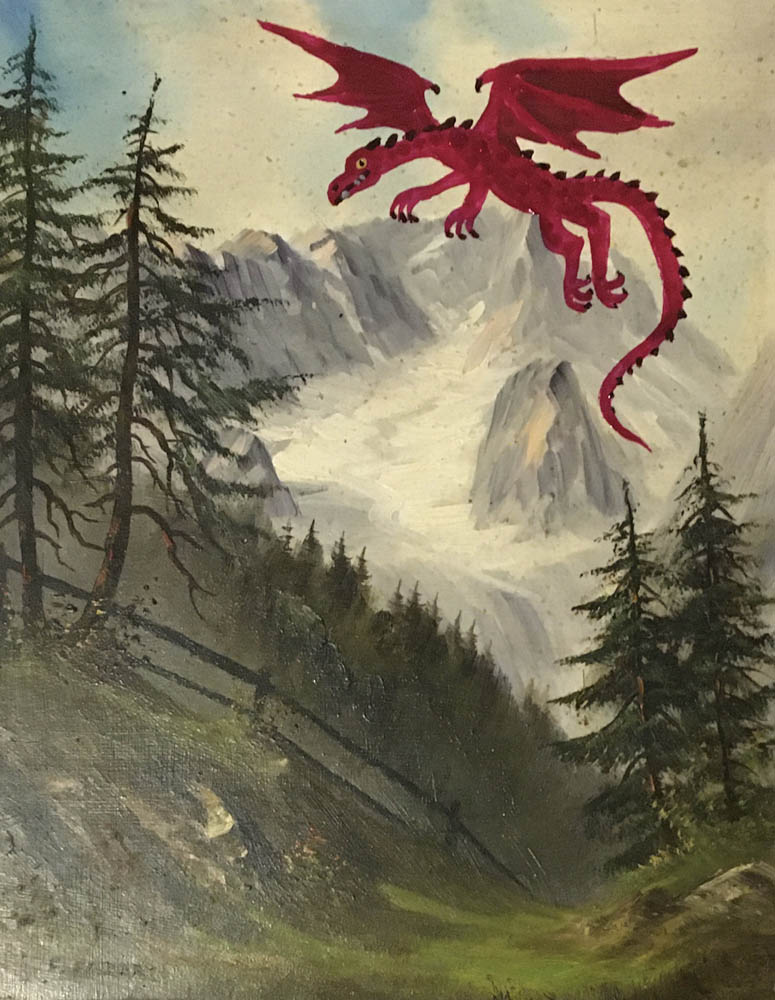 The dragon is probably my favorite. All of the shades of red are really vibrant and striking against the green. And dragons are always so classic and grandiose and terrifying, perfect for pairing with a mountain landscape. I love painting with nail polish for the sparkle, even if the fumes do get kind of noxious en masse. (The best subject to paint in this media is Rocky Horror style lips by the way, in case you were wondering.)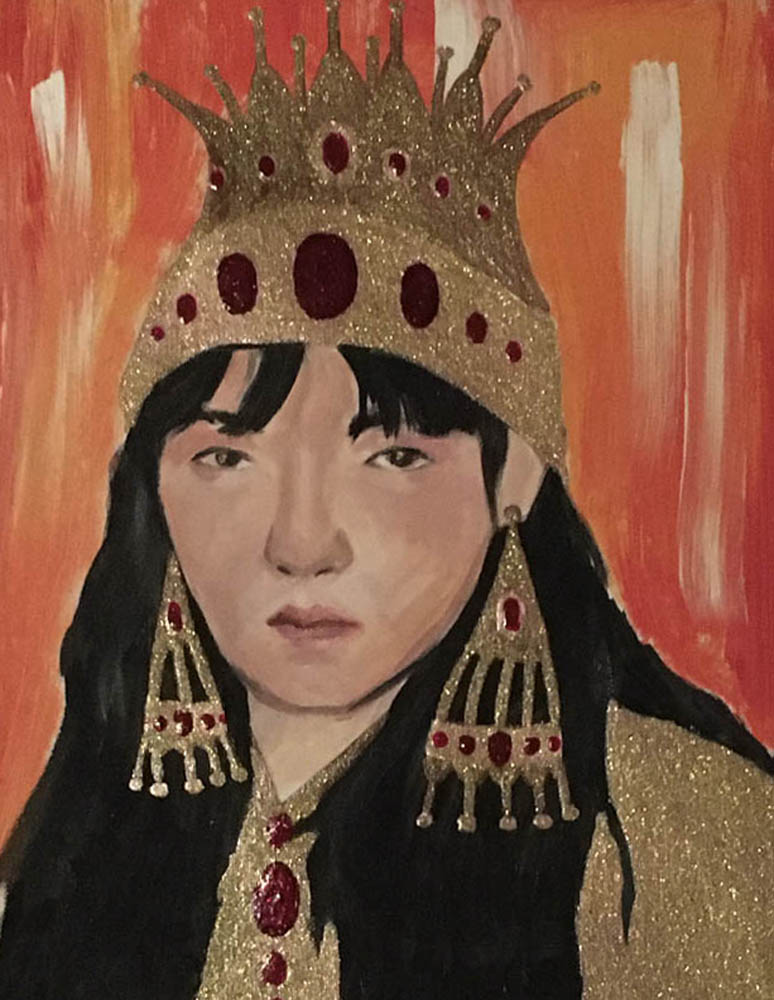 And what better way to complete the collection than with a portrait of a Fairy Queen, her icy stare drilling into your soul. She's up to some sort of magical mischief, that's for sure.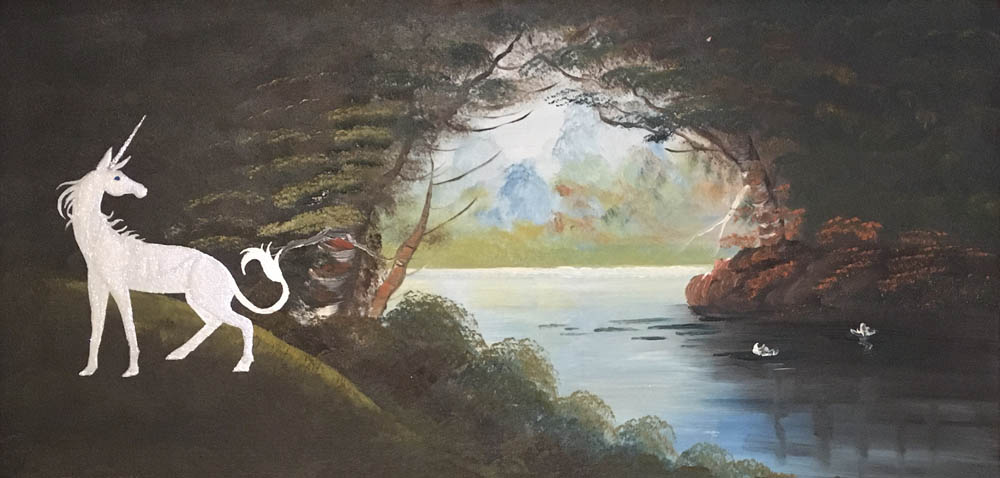 And speaking of magical mischief, this is the monster painting I made just for me. The original artwork is about 4 feet long and I knew as soon as I saw it that I wanted to reanimate it in this exact way for all that this is the last in the series that I did. I even added extra shimmer factor. I'd initially considered adding a sea serpent or a dragon but no, she told me to stop.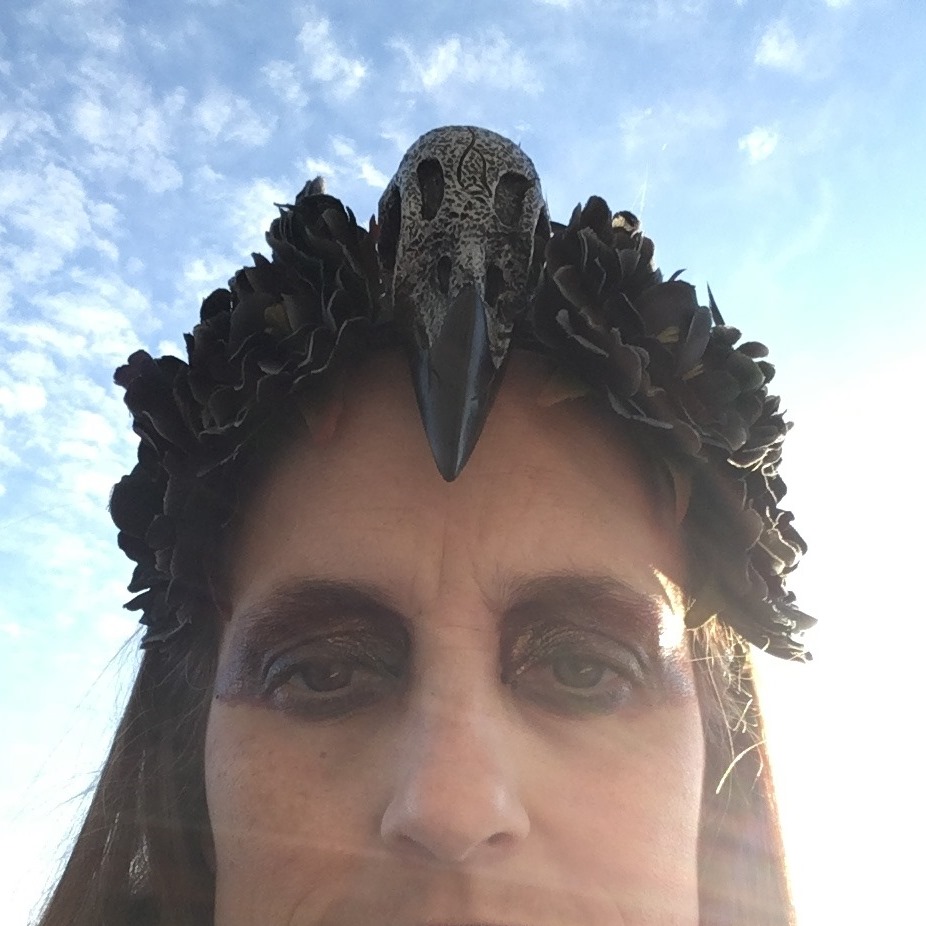 Feel free to check out more of Jennifer Weigel's work here on Haunted MTL or on her writing, fine art, and conceptual projects websites.
LTD: Revisiting Broken Doll Head, Interview 2
Our last interview with Broken Doll Head here on Haunted MTL never set well with me. I just feared that I wasn't able to get the whole scoop on the V-Day Uprising for you, our dear readership. So I arranged another exclusive interview to reconnect and see how it's going.
Without further ado, I bring you our second exclusive interview with Broken Doll Head…
---
Thank you so much for having me again. Wow you have changed since the last time we spoke. You seem… calmer. Please don't hate me or burn down my house for saying anything about it.
The movement is still underway; it is still time. But I needed to take care of me, you know. The rage has subsided somewhat. My anger was not serving me well. After the last uprising, the rest of me was sent to the far corners of the earth in biohazard bags. I had to find another approach, for the cause as well as my own sanity. I am much calmer, thank you for noticing.
In our last interview, you kept repeating that it is time. Time for what exactly? Would you care to elaborate here now?
It is still time. It is always time. Until the violence is addressed we must continue to rise up and make a scene. We will not be silenced or stigmatized. We can't be complacent. This is how we got to where we are with the Supreme Court in 2022. Horrific injustices are still happening globally and even within our own borders; it's too easy to forget that.
What do you suggest we do?
Take action. Share your stories. Give others space to voice their own. Raise awareness and fight the system of oppression. Rally. We must take back our own power. It will not be just given freely.
So what are you up to nowadays?
I've been getting in touch with my inner Earth Goddess. Are you aware of how our environmental impacts affect dolls everywhere? Climate change is creating greater vulnerabilities for those already at risk. We have to look at the intersections of climate, gender and race globally. We have to return to our Mother Earth.
Thank you again Broken Doll Head for joining us and our dear readership here on Haunted MTL's Lighter than Dark. It's good to reconnect with you after the V-Day Uprising and we wish you all the best in your bold eco-enlightenment vision.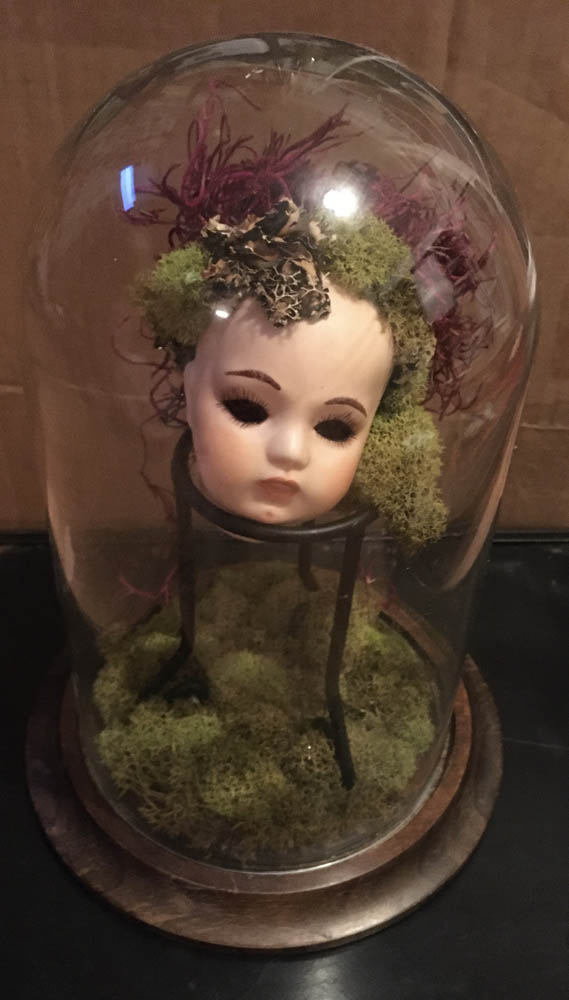 Again, if you want to learn more about the V-Day movement, please check out their website here.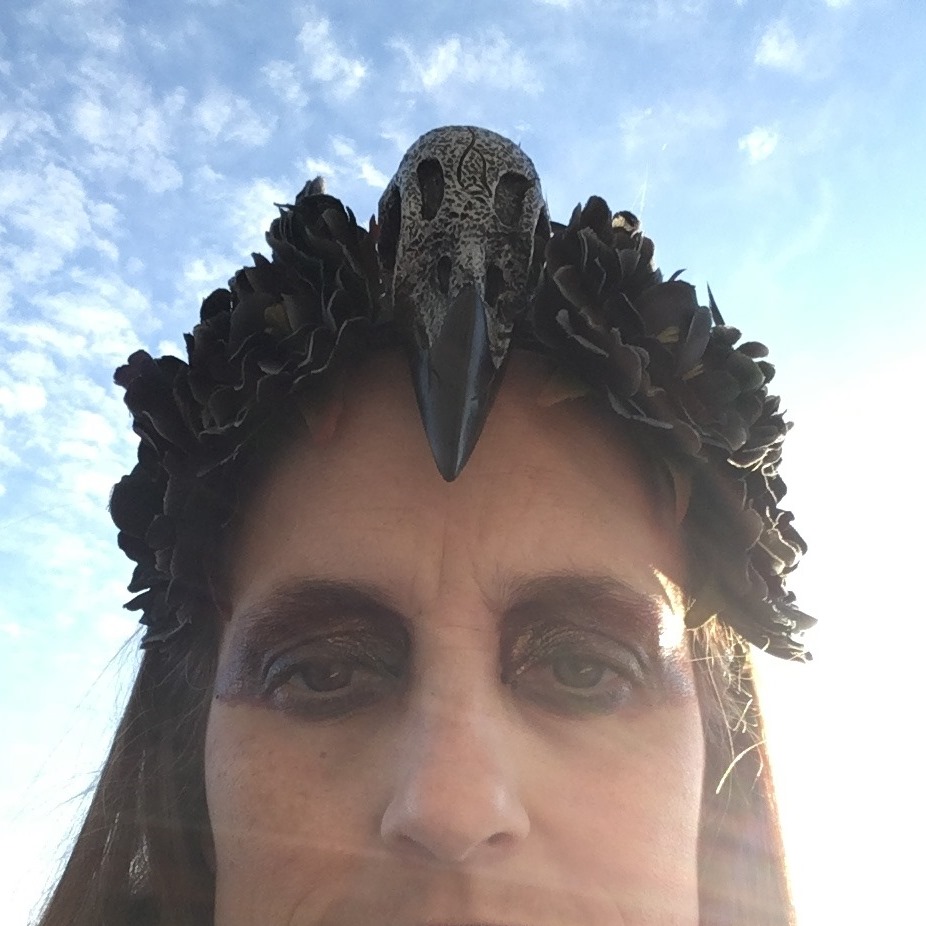 The Way Things Were, story by Jennifer Weigel
Revisiting my last St. Patrick's Day post, what's a wolf to were?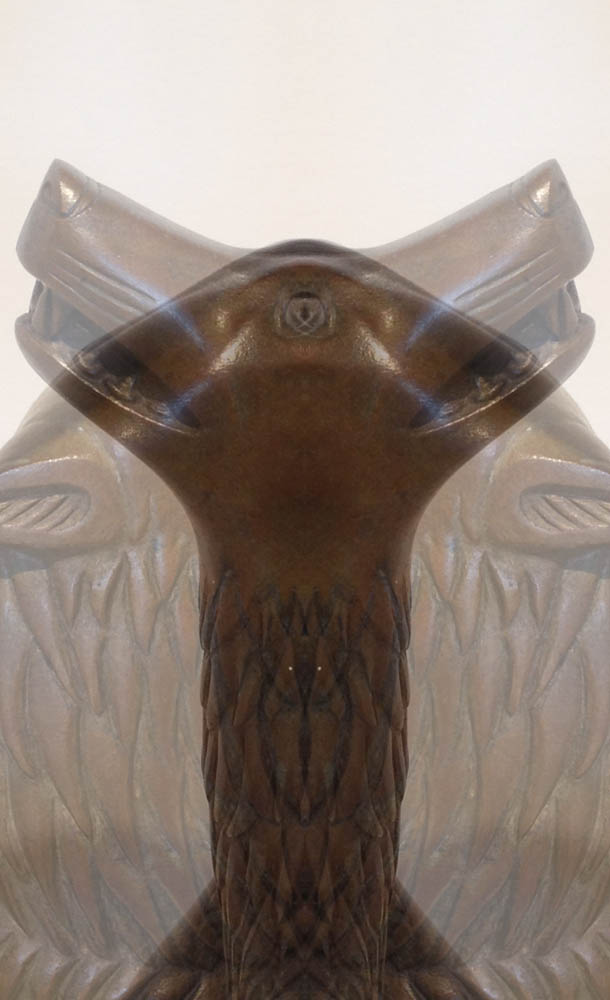 I grimaced as I remembered the previous St. Patrick's Day. I had been shot while I was eating a sugar cookie waiting in line to buy a Scratchers ticket, my golden ride to my dream cabin in the woods. Wow, to think that was just a year ago and so much has changed since then. But where should I begin?
Well, the junkyard's under new management. Or something. It seems they decided I wasn't ferocious enough so I've been replaced by a couple of working stiffs. Or Mastiffs as it were, same difference to me. Apparently after they found the bloodied shirt I'd draped inconspicuously over a chair, they thought something had happened on my watch and decided to retire me.
Or at any rate ol' Sal took me home. I guess it's like retirement, but not the good kind where you tour the world Route 66 style, head lolled out of the side of a vintage Cadillac, breeze flowing through your beard as you drink in the open road. More the kind where you just stop showing up to work and no one really asks about you.
Now Sal's a pretty cool dude, and he tends to mind his own business. But he's a bit stingy with the treats and he's a no-paws-on-the-furniture kind of guy. I don't get it, his pad isn't that sweet, just a bunch of hand-me-down Ikea that he didn't even put together himself. Not that I could have helped with that, I can't read those instructions to save my life even if they are all pictures. It's all visual gibberish to me unless there's a rabbit or a squirrel in there someplace that I can relate to.
And it's been a real roll in the mud trying to cover up the stench of my monthly secret. I miss third shift at the junkyard when Monty would fall asleep on the job and I was free to do whatever I wanted. It sure made the change easier. Monty never noticed, or he never let on that he did. We were a good team and had it pretty good, he and I – I don't know how I wound up shacking up with Sal instead when all was said and done. There was some kind of talk at the time, over landlords and pet deposits and whatnot, and in the end Sal was the only one who said yes.
So there I was, this St. Patrick's Day, trying to figure out how to sneak out into the great suburban landscape with the neighbors' headstrong Chihuahua who barks his fool head off at everything. He doesn't ever say anything interesting through the fence about the local gossip, just a string of profanities about staying off his precious grass. Just like his owners… Suburbia, it doesn't suit the two of us junkyard junkies. I'm pretty sure Sal inherited this joint with everything else here. He just never had the kind of ambition that would land him in a place like this on his own, if you know what I mean.
Fortunately, this St. Patrick's Day, Sal was passed out on the sofa after binge watching some show on Netflix about werewolves of all things. Who believes in that nonsense? They get it all wrong anyway. The history channel with its alien conspiracies is so much better.
I managed to borrow a change of clothes and creep out the front door. At least there's something to say about all the greenery, it is a fresh change of pace even if the yards are too neatly manicured and the fences are too high. And I do love how I always feel like McGruff crossed paths with one of those neighborhood watch trenchcoat spies this time of the month. I'd sure love to take a bite out of crime, especially if it involves that pesky Pomeranian that always pees on Mrs. Patterson's petunias and gets everyone else blamed for it.
So sure enough, I slunk off towards the local convenience mart, which is a bit more of a trek here past the water park and the elementary school. Nice neighborhood though, very quiet, especially at this time of night.
Well, when I got there, wouldn't you know it, but I ran into that same nondescript teen from my last foray into the convenience store near the junkyard. What was he doing here of all places? Seriously don't these kids learn anything nowadays? I let out a stern growl as I snatched a cookie from the nearby end cap, making sure he noticed that I meant business.
Apparently the kid recognized me too, he stopped mid-tracks at the beer cooler and his face blanched like he'd seen a ghost. Some cheeky little girl-thing motioned to him to hurry it along by laying on the horn of their beater car from the parking lot. Whatever they were up to was no good, I was certain. He snapped out of it, grabbed a six-pack and headed towards the cashier, eyes fixed on me the whole time. Not again. Not after what it cost me the last time when I hadn't realized my job was at stake. I stared back, hairs rising on the back of my neck. I bared my teeth. This time, I wouldn't let him off so easy…
The teen edged up to the cashier and presented his trophy. Unsurprisingly, the clerk asked for ID, and the kid reached into his jacket. Let the games begin, I grumbled to myself. But instead of a gun, he pulled out a wallet. He flashed a driver's license at the clerk and pointed in my general direction, "I'll get whatever Santa's having too." He tossed a wad of cash on the counter and gave me a knowing wink before he flew out of there like he was on fire. I stood in dazed confusion as he and his girl sped out of the lot and disappeared down the road.
"Well, Santa?" the clerk said, snapping me out of my reverie. Her dark-circled eyes stared over wide rimmed glasses, her rumpled shirt bearing the name-tag Deb. She smelled like BBQ potato chips and cheap cherry cola.
I quieted and shook my head. "I want a Scratchers. Not one of those crossword bingo puzzle trials but something less… wordy. How 'bout a Fast Cash?" I barked as I tossed the cookie on the counter.
"Sure thing," she said as she handed me a ticket and looked towards the door at the now vacant lot. "And keep the change, I guess."
A couple silver pieces, a peanut butter cookie and a lotto ticket later, maybe this is my lucky day after all…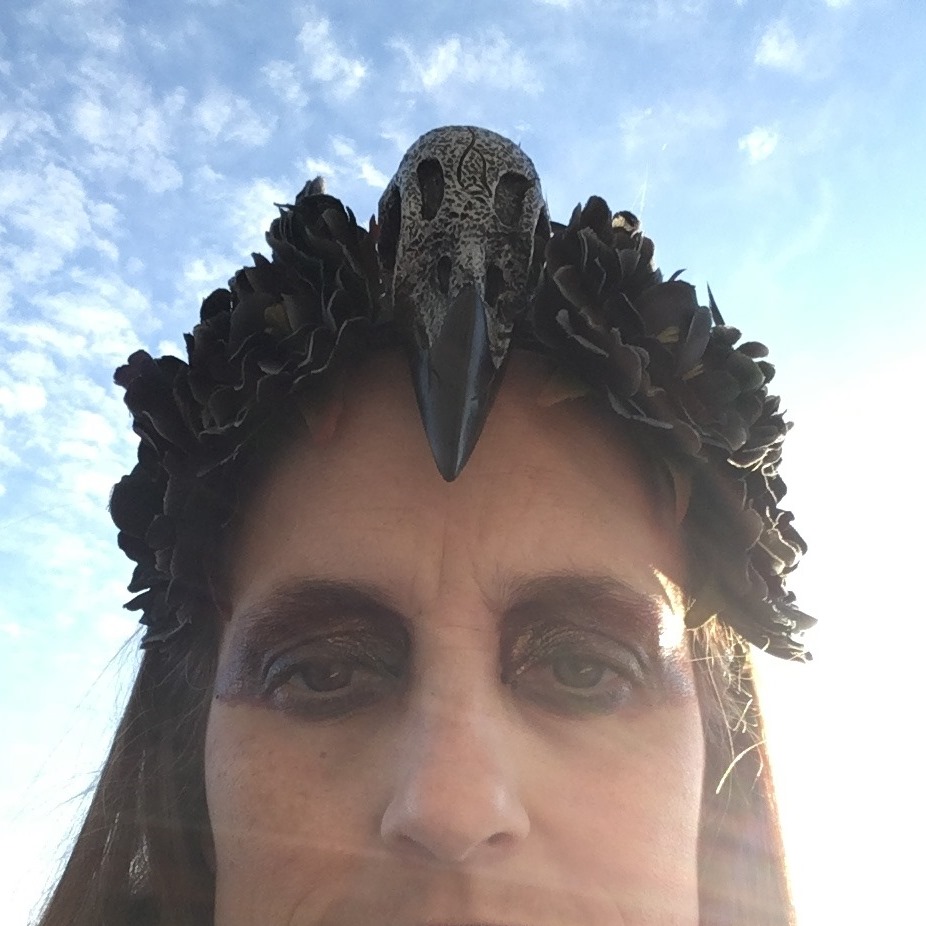 Check out more of Jennifer Weigel's writing here at Jennifer Weigel Words.