We celebrate JM Brannyk's birthday with T+E's Haunted Hospital S4! Come join us as Jim's mind collapses in real time trying to figure out the 'non-binary term for….person' (Spoiler Alert: It's 'person'). Giggle along with Baby Yoda when Brannyk admits to not believing in World Peace (Metta World, that is!). All this and more (aka Faces of Death) on the next Streamin' Demons!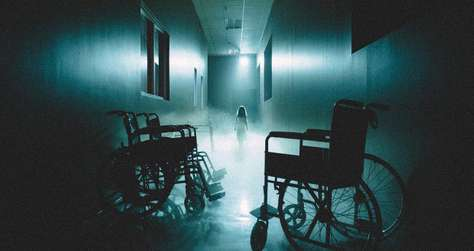 T+E's Haunted Hospital S4
If you love horror, you must check out T+E's Creep Week. Not only is Haunted Hospital Season 4 premiering, but the entire week is crammed full of ghosts, ghouls, and Eli Roths! Uncle Jimbo says Czyk dat out! (Sorry JoeBob!)
Super Special What's Kraken during Creep Week!!
For Creep Week, Jim landed an interview with not just one but TWO stars from T+E's Haunted Hospital Season 4! Stay tuned for that very special What's Kraken!
Remember: T+E Haunted Hospital comes out Oct 12 at 10 p.m. ET/PT! Sign up for the channel if you don't have it (and why don't you have it?!). You can thank me later!
Haunted Hospitals, Season 4
October 12 at 10 p.m. ET/PT • World Broadcast Premiere
Explore chilling stories of paranormal activity inside medical institutions. In each episode, nurses, aides and support workers give first-hand accounts of ghosts, entities and past occupants coming back from the grave to seek revenge or to warn of impending danger. 

T+E Channel for Creep Week