AKA: I can be your Angel… or I can be your devil
The Rule of Three
We begin not with Angel, but with the underground crew. The Anointed One, aka Colin, is throwing stones into a puddle as The Master recounts how many vampires ("his family") The Slayer has killed. Darla volunteers to solve this problem, while Colin simply suggests annihilation. The Master decides to go with The Three. He sure likes referring to folks with a "the."
Meanwhile, the Scoobies are at something horrifyingly referred to as The Bronze's Fumigation Party. It's one last hurrah before it shuts down temporarily for some much-needed cockroach decimation. Buffy is upset about her singleness. She claims not to be bothered by this most of the time, but I feel like we just covered this concern a couple episodes ago. After Willow expresses similar dreariness and Xander has a verbal sparring with Cordelia, Buffy's decided she has caused enough melancholy in her friend group and heads home.
On her way home, she senses she's being followed. Indeed she is – by three vampires. Perhaps The Three? We won't know for at least a few minutes, because it's off to the theme song.
Slumber Party
Angel appears and starts throwing punches after attempting a quip about good dogs. Perhaps projection of his desire to be a good boy himself? They run to Buffy's house and she lets him in to take cover. He reminds her and the audience of that wonderful vampire lore: they cannot come in without being invited.
She has him take off his shirt so she can tend to his wounds and oggle his tattoo (among other things). Unfortunately Joyce comes in at that moment, and Buffy does everything in her power to keep her from seeing the hunky half naked man in the kitchen. She tells her mom they bumped into each other on the street; she apparently invited him in because he's her tutor.
Once Joyce goes to bed Buffy pretends to let Angel out the front door while actually sneaking him to her room. Keep the eyebrow waggling to yourself, because they work out some very chaste sleeping arrangements, and Angel even turns away while Buffy changes – without peeking at her in the mirror, Xander. They chat a bit, mostly about Buffy's chosen one status and Angel's dead family. Ah, the meet-cute.
The next day, Xander is incensed at the recounting of the sleepover while Willow is enchanted. Giles steers everyone back on track to the topic of The Three, who were indeed the three vampires hunting Buffy (and, incidentally, Angel). Giles assures them that they will be offering their lives in penance for their failure.
Fight or Flight
We see The Master lecturing The Anointed One about the seriousness of taking a life. Colin asks if they will be spared, which Darla answers with a resounding, dusty "no."
Buffy and Giles are in weapons training. She wants to play with the crossbow but her Watcher insists on working with the basics first. She knocks him down down to the ground rather swiftly, which he deems as rounds to move on up to the crossbow. Not that Buffy isn't a proficient fighter or anything, but knocking Giles down is a pretty low bar, even as early as episode seven.
That night Buffy brings Angel some food and erroneously accuses him of reading her diary/Buffy-Angel fanfic. Angel says he can't be around her because he wants to kiss her when they're together. This is bad, because he's older than her. When she asks how much older he responds by… kissing her. It's a totally adorable and heartwarming smoochfest, until Angel gets a nasty case of vamp-face and jumps out the window.
Buffy recounts the incident the next day, asking if a vampire can ever be a good person. Giles reminds her – and us – that a vampire is not a person at all, just a demon. Xander admonishes her for being in love with a vampire just as Cordelia walks by, but she is too distracted about another girl wearing the same dress as her to hear Xander's urging to slay Angel.
Time to stop living in the past
Angel enters a crypt to find Darla. They apparently go way back. She is not amused by his human-like antics or recent Slayer entanglement. He melodramatically points out that he may not be human, but he isn't exactly vampire anymore either.
It's research time in the library, and Giles is actually reading some diaries – Watcher diaries to be exact. Angelus was turned in Ireland roughly 240 years ago. He wreaked havoc in Europe before arriving in America nearly 80 years ago. Suddenly he was no longer killing.
Darla proposes to The Master that she convince Angel to kill Buffy and bring him back into the fold. She figures if it's a life-or-death situation he will do what it takes to protect himself. The Master says he loves his happy family and how they work together.
In the library, Willow is tutoring Buffy. But Buffy is more interested in talking about Angel (which gives Willow the opportunity to talk about Xander). Willow is too nervous to talk to Xander about her crush, and Buffy is determined to avoid picturing anything with Angel.
Darla, meanwhile, has arrived at the Summers household. She tells Joyce that she is helping Buffy study the War of Independence after Willow helps her with the Civil War. Joyce fully believes her daughter needs three tutors amd invites her in to wait. She offers her a snack, but probably doesn't have the same thing in mind as Darla.
Bloodlust
Luckily, Angel is walking by the Simmerd house and hears the scream. He bursts in to see a passed out Joyce. Darla has only had a taste and encourages Angel to finish her up. Unluckily, Buffy walks in on a vamped-out Angel holding her bleeding and unconscious mother.
Buffy throws him out through a window and threatens to kill him if he comes near them again. She then calls an ambulance, saying her mom cut herself and lost a lot of blood.
Xander, Willow, and Giles are in Joyce's room, the latter much to the confusion of our patient ("The teachers at the school really do care!"). The official story is she slipped and stabbed herself with a barbecue fork while making Buffy's "friend" a snack.
Buffy blames herself for inviting Angel into her home. She is mad that emotion trumped reason, so she prepares to retaliate… with death. Giles says he is powerful and will require more than a stake. Enter Chekov's crossbow.
Darla is in Angel's face egging him on. She reiterates how much he must be missing his vampire bloodlust. He breaks down and says he just wants this finished.
Giles and Joyce have a heart-to-heart about Buffy. Joyce is concerned that Buffy is studying with Willow and Darla and still struggling with history. Giles clocks the name and bids adieu.
Hot and Cold
Buffy shows up to her showdown with Angel. He snarls that he's just an animal, to which Buffy replies that no, she actually likes animals. He goads her on while she asks why he would attack her this way. This is where he details his trail of death over the years. It only stopped after he killed a young Romani girl. The elders of her group restored his soul as punishment. Vampires don't typically have a soul, and therefore have no conscience. To have his soul restored meant remorse and guilt for every heinous act he had committed. This is where he finally reveals he was not the one who attacked Joyce.
Darla appears. She is upset that Angel has chosen not to come home to the family – especially as his sire and former lover. She pulls out a couple of handguns and starts shooting. The first shot hits Angel (who cannot be killed by bullet, just wounded) and starts in on Buffy. Giles, Willow, and Xander appear and attempt to help. After Buffy's shot woth the crossbow misses Darla's heart, Angel sneaks up and stakes her. She has just enough time to see it was him before she turns to dust.
The Master is screaming and breaking things. Darla was his favorite, and Angelus was meant to be his right-hand man. Colin promises to bring him the Slayer and says to forget Darla and Angelus.
The Bronze has a Post-Fumigation Party, too, apparently. Angel appears, and he and Buffy agree they would be an ill-fated couple. That didn't stop them before, and it sure isn't stopping them this time: it's time to return to smoochfest.
What did we think?
"Half the episode is providing background on an old dude accompanied by his romance with a high schooler, the other half is bring your kid to work day." – Trav's one sentence review of this episode.
I am coming to this episode as a long-time fan of the show. However, I also come to this episode as a new audience member of the spinoff series Angel. I will fully own up to the fact that this biases me, because in the past I found Angel to be a tedious character. Now I fully get it.

(4.5 / 5)
Where to find "Angel" (sponsored links!)
Shutter Island (2010): Review
Leonardo Dicaprio's films rarely disappoint. It was interesting to see him flex different acting muscles in this psychological thriller Shutter Island alongside Mark Ruffalo and Michelle Williams. When I say that I was not expecting such a turn in the story, I mean that my jaw was pretty much on the floor the entire time. Without any further ado, let's dive into its mastery, shall we?
A cliché setup done right
We have been here before a million times. A character stumbles into a scene to solve a mystery. Everyone is acting just the right amount of suspicion to make you wonder. Dicaprio's Edward 'Teddy' travels to an extremely remote island where a woman goes missing from a psychiatric institution. He's experiencing migraines and flashbacks to his murdered wife while receiving little to no help from the hospital staff.
Teddy soon suspects that the hospital is experimenting on patients which fuels his theories on what happened to the missing woman. Things take even more of a turn when his partner also disappears. Unsurprisingly, everyone insists Teddy came to the island alone. Feeling like he's losing his mind, our protagonist finds out that this is exactly the case. He is a patient in the hospital and the entire investigation is an attempt to get him to understand the truth.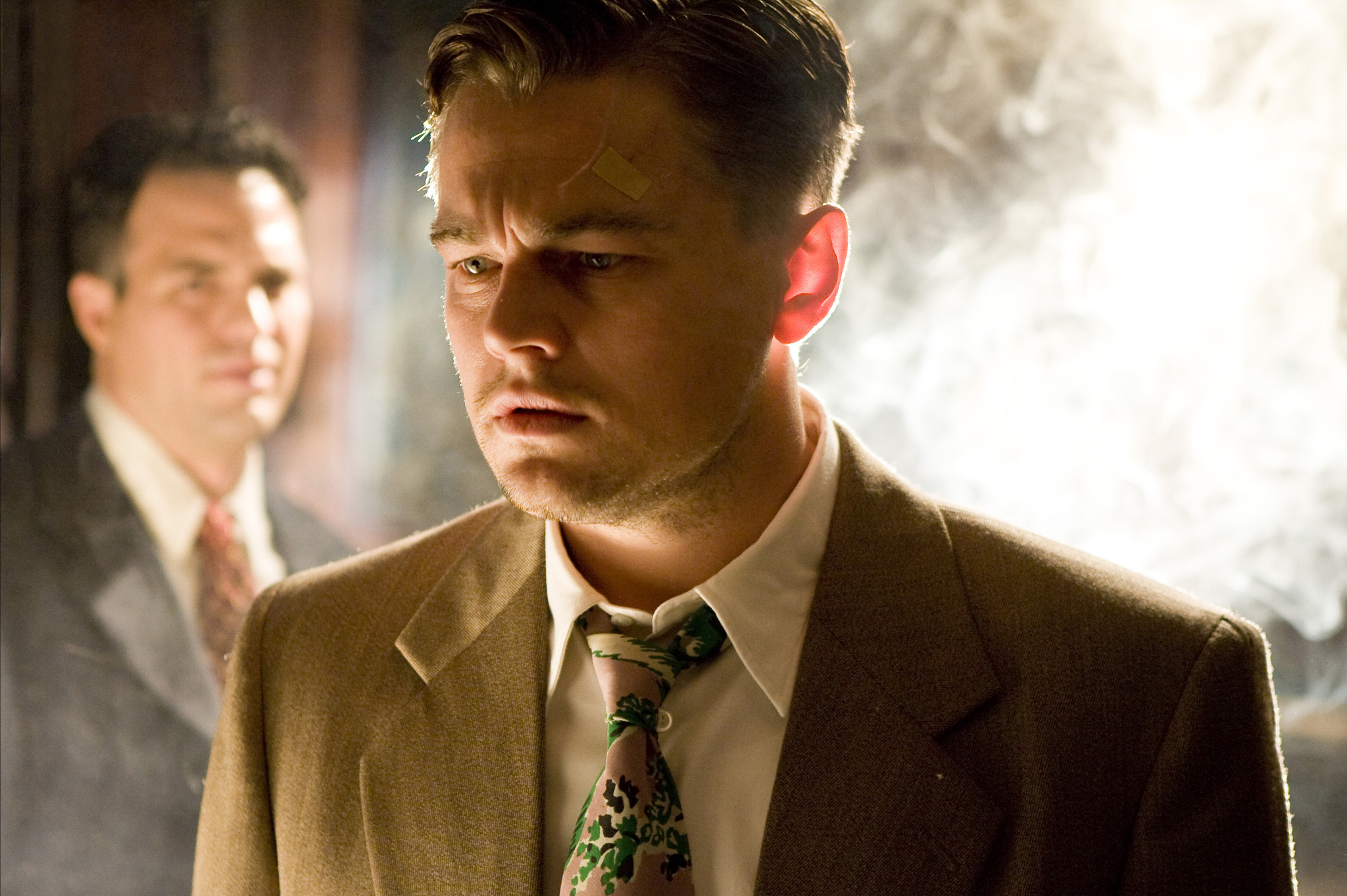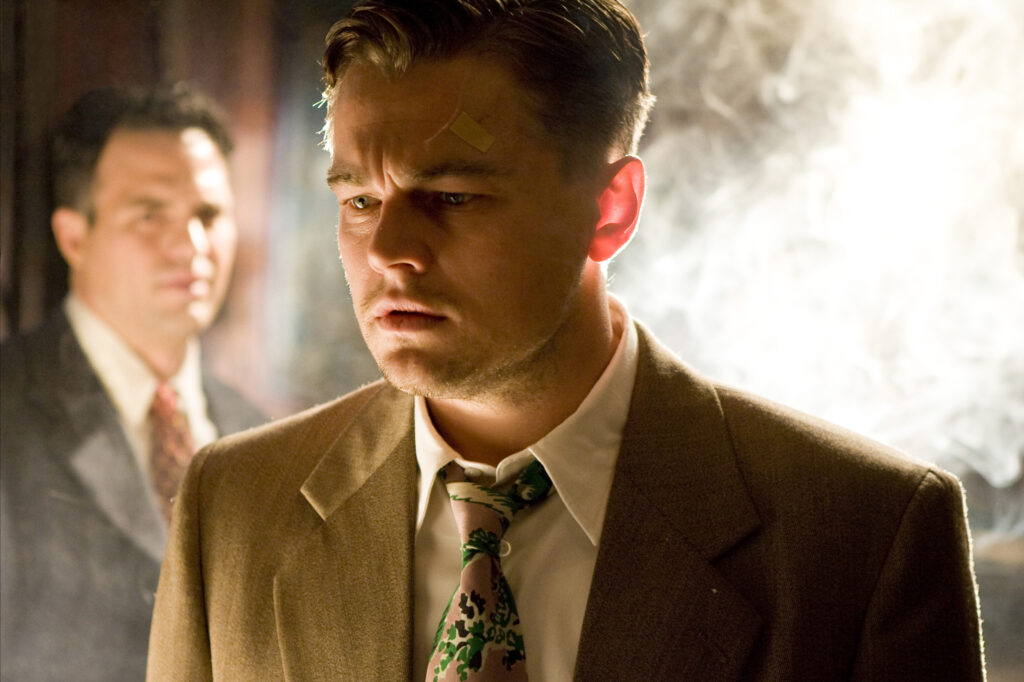 While the whole 'it was all in your head' trope has a bad rep for the fans of any genre, this film uses it masterfully. Watching it for the first time not knowing what to expect is obviously a shock and then watching it again, looking at all the clues that were the which you missed – that's a treat on its own. After all, there's nothing inherently wrong with using cliches if they are done the right way.
Things that go bump in our minds
A huge part of this movie's storyline is Andrew's inability to process the truth. The roots for it stretch far beyond the plot twist. Andrew is unable to acknowledge that his wife is mentally ill and believes that moving them to the countryside will fix everything. After she murders their children, he is further pushed into the world of delusion, convincing himself to be a hero because he couldn't save his own family.
It's interesting to note that in his delusion, Andrew is the one who set fire to their house. Is this a little sliver of his mind whispering the truth to him? Is it his subconscious villainizing himself out of contempt, searching for answers that are never going to come? Andrew's psychiatrist pointed out that his moment of clarity has happened before, only to be undone quite quickly. Perhaps it was easier for Andrew to shut it off rather than live with the knowledge that he could've done something to prevent a terrible tragedy.
Overall thoughts
Shutter Island is a movie that provides both the entertainment value you would expect from a suspense thriller and a deeper layer of thought. Coated with a perfect atmosphere and amazing acting, it's a piece that will definitely hold the test of time.

(4.5 / 5)
Wheel of Time, Daughter of The Night
We've reached episode four of Wheel of Time, which means we're halfway through the season. While it doesn't seem like much has happened so far, this is the episode where things start heating up.
The Story
We begin this episode with a flashback. Ishamael is raising something dark and twisted. As we watch, it takes the shape of a woman.
More on that in a bit.
Meanwhile, Nynaeve is healing from her time in the arches. She is quiet and withdrawn. She's also awkward and uncomfortable around Egwene now that she's initiated and Egwene is not. Her new friendship with Elayne isn't helping.
But the three girls come together when Liandrin tells Nynaeve that Perrin has been captured by the Seanchan.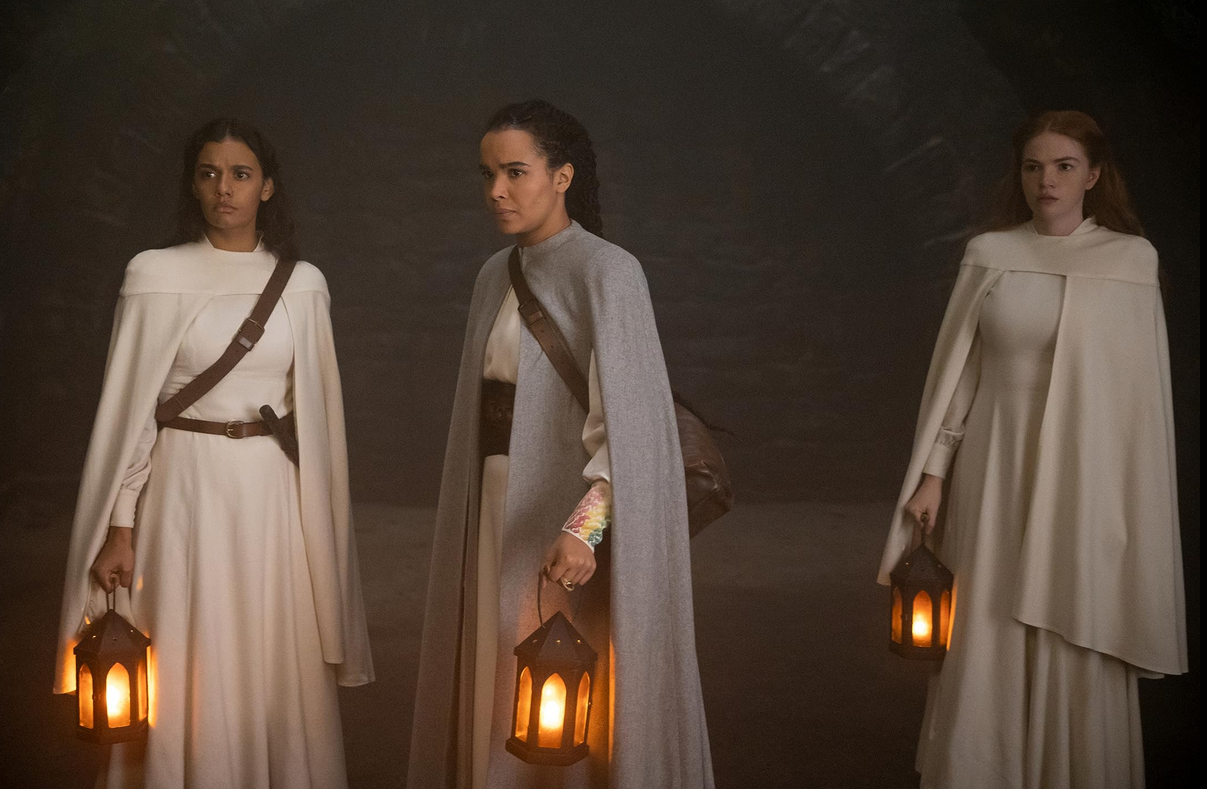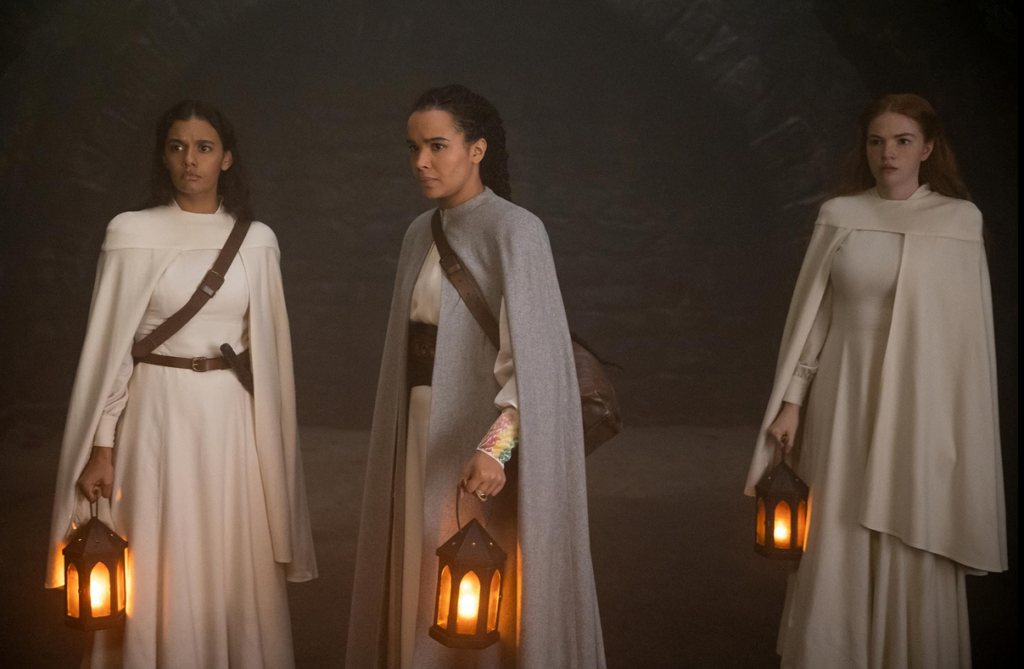 However, Perrin is no longer in the clutches of the Seanchan. He was rescued by Elyas and a pack of beautiful wolves. Beautiful and deadly AF by the way. If you have any fear of dogs, this episode might not help that.
Elyas explains to Perrin that he is a Wolf Brother. This means that he can communicate with the wolves, and eventually will gain some of their abilities. While Perrin and Elyas don't exactly get off on the right foot, he does find a fast friendship with one specific wolf. After a time, he introduces himself by showing Perrin an image of himself jumping up and down. From this, Perrin assumes his name is Hopper.
Finally, we return to Rand. He and Selene have been off in the mountains. They haven't done much more than each other so far.
And that's exactly what it appears they're about to do when Moiraine bursts into the cottage and cuts Selene's throat.
Rand is surprised and furious until Moiraine explains that the woman he knows as Selene is the Dark Friend Lanfear. With this shocking revelation, the two run off into the night.
What worked
It should be a surprise to no one that I loved the wolves in this episode. Hopper himself was worth an extra Cthulhu. But this is not just because dogs are cute. It's also because the dog playing Hopper just does a great job.
On a more serious note, I loved how Nynaeve responded upon coming back to the real world. She isn't okay.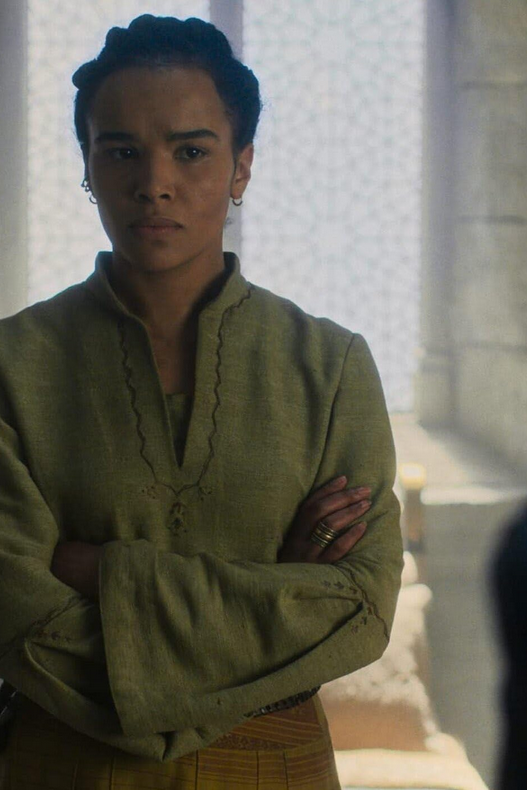 And it's a good thing that she isn't. Too often in fiction we don't see the fallout of emotional damage. Hell, we don't usually see realistic fallout from physical damage.
But she is hurt by what she experienced. And you can tell. That's realistic character building, and we don't see that enough.
I also really appreciate the special effects in this episode. The first time we see Lanfear, she's eerie. She's frightening. Part of this is thanks to Natasha O'Keeffe, who does a great job. But the effects are what really sells this.
What didn't work
If Wheel of Time has any fault, it's that there is far too much sitting about and talking about things. In this case, there's a lot of standing about and talking about things. Some of this was necessary, and some of it could have been done better. Honestly, there just has to be a better way to convey that characters are struggling.
This was most apparent with Rand and Selene/Lanfear. Honestly, anytime the two of them were on screen it was a great time for me to catch up on Instagram.
This might come as a surprise to anyone who hasn't read the books, but Rand is supposed to be the main character. And here we are, four episodes into an eight-episode season, and so far all he's done is mess about with his emo girlfriend!
That being said, the story is starting to pick up. With four episodes left, I can't wait to see how far we go.

(3 / 5)
Elevator Game, a Film Review
Elevator Game (2023) is directed by Rebekah McKendry and is the first feature-length production of Fearworks.
Elevator Game (2023) is directed by Rebekah McKendry and is the first feature-length production of Fearworks. It adapts the supernatural myth and creepypasta of the same name while providing an original plot. This unrated Shudder exclusive stars Gino Anania, Samantha Halas, and Verity Marks. In full disclosure, I had the opportunity to interview Gino Anania and Stefan Brunner about the film.
Ryan seeks to find answers to his sister's mysterious disappearance. To do this, he infiltrates a myth-busting web series that seems to have some ties to her final confirmed moments. Desperate to force a confrontation, he encourages them to play the elevator game. Unfortunately, there seems to be more truth to the myth than expected.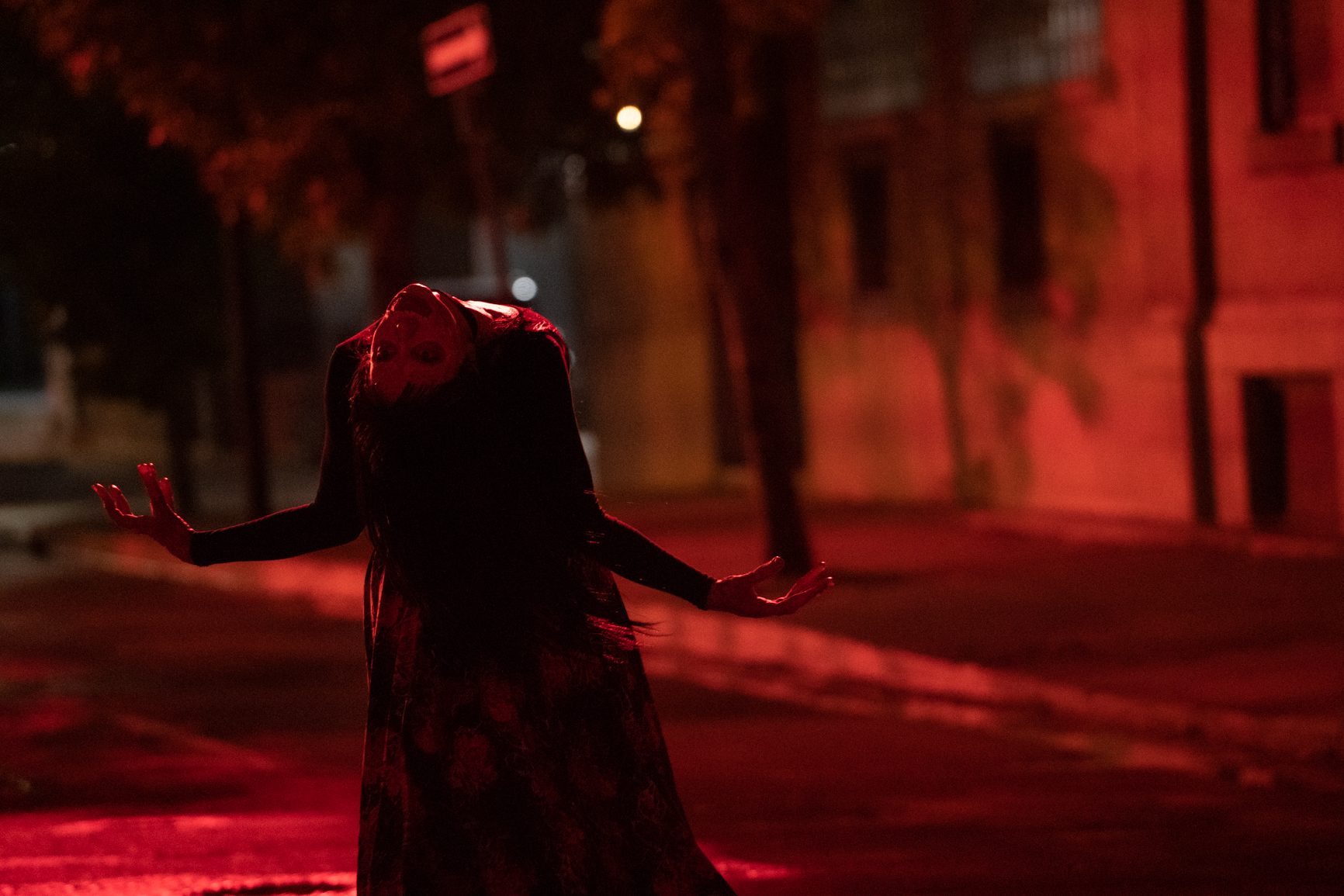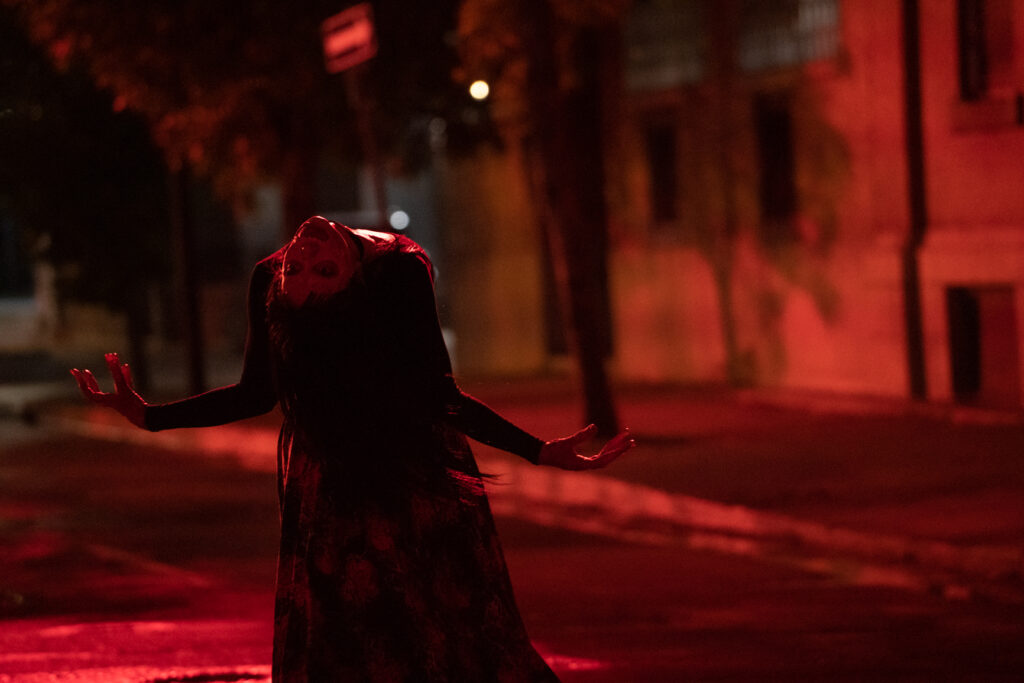 What I Like about Elevator Game & as an Adaptation
I am lucky to have additional insight into the development hell this movie overcame due to COVID. It's commendable that the film manages to make it of that, even if it requires a lengthy delay of the film.
Usually, I provide a separate section for adaptation quality. However, the source material remains the ritual, which Elevator Game performs accurately. While the myth inspires many creepypastas, Elevator Game doesn't directly take or adapt any of these works from what I've seen. Instead, it makes its own film based on the legend.
As the Fifth Floor Woman, Samantha Halas creates an eerie and disturbing character. While I won't go so far as to say terrifying, she certainly makes an impression. The revelation that the stunts and performance are all her, as an actual contortionist, I give her more credit.
Gino Anania, given a more complex role than most of his cast members, really does bring a strong performance that creates either friction or synergy with his cast members. I suppose I wanted more of these interactions as some cut sooner than appreciated.
Another amusing element is that the entire motivation for the plot to follow is a forced advertisement from an investor. Something about the chaos being a product of appeasing some investors feels uncomfortably real.
The alternate reality remains surprisingly effective. To be clear, it's not impressively realistic but stylistic. It genuinely seems like an alternate world with a skewered impression.


Tired Tropes or Trigger Warning
I feel weird mentioning this, but endangering a sister's life to push the brother's story forward seems a common trend beyond one form of media.
No discredit to the actors, but the romance feels rushed and unnecessary. Without going into too much detail, to avoid spoilers, there is synergy between the actors but little chemistry in the plot.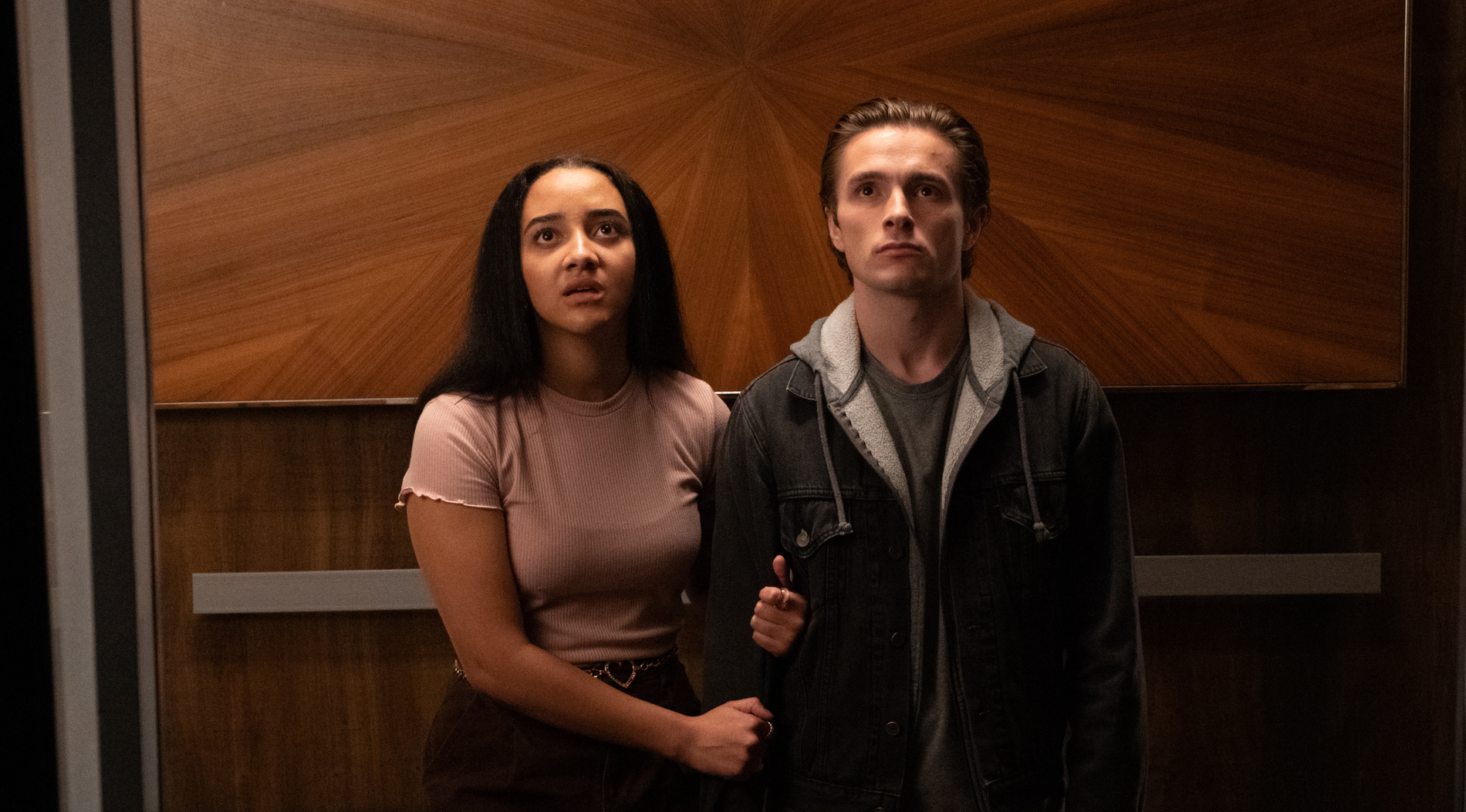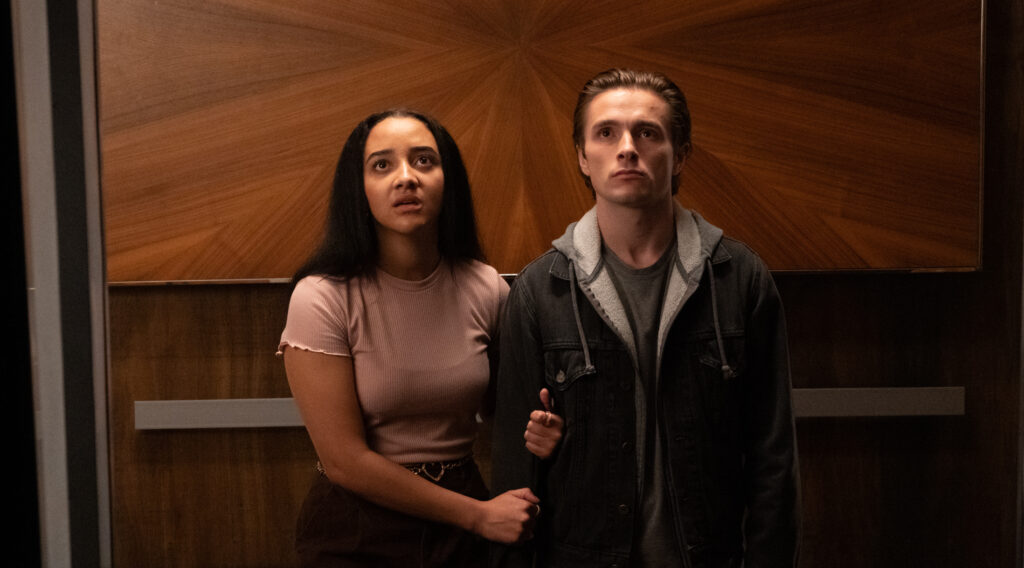 What I Dislike or Considerations
Elevator Game remains set in providing a B-movie experience. Its tight budget leaves little room to surprise the viewer visually. While I am surprised at what it accomplishes, it's far from overwhelming. This film also remains the first production of Fearworks, which shouldn't surprise anyone. I'm interested in the future, but Elevator Game leaves much to grow from.
Rebekah McKendry may have a directorial style that influences dialogue, but the line delivery evokes an overexpression that's common in Lovecraftian films. I say this not as a direct negative, but it remains a required taste best known before viewing. As this isn't Lovecraftian, I fear it removes some of the reality and tension of those haunting elements.
Many of the characters feel underdeveloped, making me wonder if cutting these roles might lead to more invested characters. While the performances hit their marks, a tighter cast might give each role more to work toward. As this is a tight cast already, it seems an odd issue to rectify.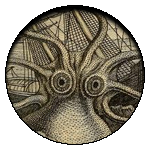 Final Thoughts
Elevator Game provides an interesting B-movie experience for those who know the legend. For those expecting something different, this film may not work for you. This film overcame a lot to exist but doesn't break the mold. While I am excited to see Fearworks pursue further ventures toward its ambitious mission statement, I find Elevator Game falling short of its goal.

(2 / 5)