The third episode of Dexter wasn't quite as charming as the second. But it made up for this in deepening the respect we have for the main character.
I mean, if you're capable of having respect for a serial killer.
The precinct is still hunting for the Ice Truck Killer, and another body's been found. This one, carefully placed in the goal of a hockey rink. She's the owner of the multi-colored fingers found earlier.
Dexter's having trouble hiding his joy at this little surprise. His sister, Deb, is having trouble hiding her emotions when she recognizes the dead woman as a whore she met while working Vice named Cherry.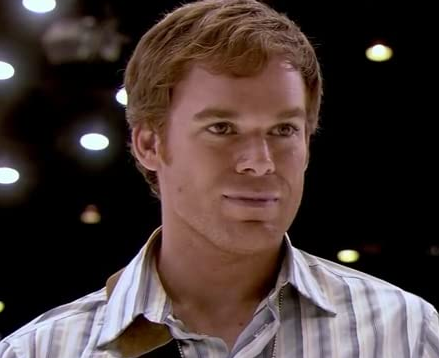 While Deb hits up her street contacts, Dexter's dealing with domestic trouble. Rita's car is taken by a crack dealer who claimed her ex owed him money. Forced to rely on friends and neighbors for rides, Rita seems determined to not let Dexter help at all.
I think everyone watching wanted Dexter to help by driving a drill into the asshole car thieve's abdomen. But he abided by the code of Harry. The drug dealer wasn't bad enough to be on his list. He may have messed up reasons, but he doesn't kill indiscriminately.
He still could have punched the guy out cold, though.
The episode is speckled with flashbacks to Dexter's first kill. She was an Angel of Death style nurse who was overdosing her patients with morphine. She had the bad luck to try this stunt on Harry. Dexter hunted her down and murdered her in her own house while her cat watched. This was, I think, really well done. I always think most cats would eat us given half a chance. Hopefully, Dex thought to feed the cat before he dropped the rest of her body in the ocean.
The show is good at forwarding the series storyline while giving a satisfying one-chapter tale. Well, many one-chapter tales. We see the background story of Harry's near-death hospital trip. We also see Dexter hunting a new victim, and Deb growing closer with her old street contacts. On top of all that, we have the ever-increasing drama of Sgt. Doakes. Hurt and angry over the death of his girlfriend, he's making dangerous choices. Like harassing the drug cartel leader responsible for killing her.
Doakes is a great character. He could have just been a foil to Dexter. But instead, he's a well-rounded man who is not afraid of much. It makes it all the more painful that he is certainly too bright to be safe to keep around.
Have you seen this episode? What did you think of it? Let us know in the comments.
If you buy anything from the links below, we do get some $$