This is our sixth Dexter novel and I have to say, I'm starting to cool on the series. Not because it's getting bad. But because it's not changing much at all.
We start this story with Dexter finding a new playmate. He's well into the throws of his playtime when the unthinkable happens. An interloper comes upon them and runs off before Dexter can catch him.
Dexter's in a panic, trying to find the person who spotted him. And things just get worse from there. This witness is what we'd call a professional victim. His wife is the worst. No one at his job respects him. And so he has a blog online to tell the world how put upon he is as a good guy who follows all the rules. Then he sees Dexter, decidedly not following the rules.
And he just snaps.
If it's not clear by my tone, I found this character to be a sad sack. He was just no fun. It wasn't even that satisfying when he was brutally murdered.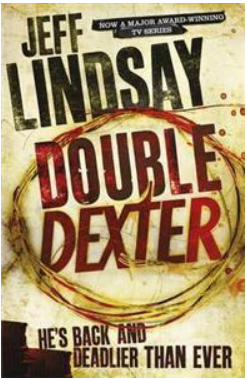 As always, Dexter can't focus entirely on this. He's also got a cop killer on the loose. One who is especially good at making people into meat sacks without breaking the skin of his victims. He appears to do this by use of a specific hammer. These bodies are left around town for the police to find, like sandwich bags full of jelly if the bags looked like your co-worker.
Deb is highly involved in these murders, leading to some trouble with another detective. Not content with ruining Deb's career, this detective starts pointing a finger at Dex. Ironically, he's being investigated for a murder he didn't commit.
Because I like to compare horror content to food, I'll compare Double Dexter to a cup of coffee. I like coffee, I make it every morning. But it's not what I'd call a treat. It's almost utilitarian. And if we're talking about the hot drink I consume in the morning, that's perfectly fine.
Horror should not be utilitarian. It should be a surprise. It should be a treat. It should be different. There was so much I was hoping the Dexter series was going to do that it just has not done.
I wanted to explore Cody and Astor's dark passengers. I wanted to see them coming into their own.
I wanted to see Dexter interact with his dark passenger more as a sentient creature sharing his body. Earlier in the series, it was suggested that the dark passengers are demons who did battle with Soloman. Why can't we dive further into that? 
Instead, we're doing the same thing over and over. And it's fine, the story is fine.
I want better than fine. 
(2.5 / 5)
If you want to get your own copy of Double Dexter, you can grab it now on Amazon.
A Murder in Reverse: "Wrong Place Wrong Time"
The Plot
"A brilliantly genre-bending, mind-twisting answer to the question How far would you go to save your child?"  — Ruth Ware, #1 New York Times bestselling author
Jen watches her son murder a stranger. Stab him to death. She and her husband, Kelly, watch as their son Todd is taken into custody.
The next morning, Jen wakes up and it's yesterday. Jen knows that at the end of the night, her son kills someone. She is determined to stop it.
Jen goes further and further back in time trying to discover why Todd murdered a stranger and how to stop it.
The Verdict
This book is twisty. Right when you think you know the ending, something else is there to prove that the story is more multifaceted than that. While the premise of the novel is simple, Gillian McAllister elevates a simple concept with deep, dark twists.
It is best that you don't know too much going into this one. For fans of Blake Crouch, this is such a good thriller with time travelling vibes.
(4 / 5)
Woom: An Extreme Horror Novel
"That doesn't invalidate it," Angel said. "There's no statute of limitations on pain."
The Plot
Angel is a man who knows pain: physical, mental, sexual. The story begins with Angel visiting Room 6 at the Lonely Motel and ordering a plus-size sex worker to his room. What comes next is Angel's retellings of painful stories while performing sexual acts on the sex worker, Shyla.
The novel reads as a book of short stories, as Angel relays stories to Shyla and she tells him stories back. This is a novel of pain and disgust. Angel's stories are so dark and traumatic that Shyla can't believe they are true. As Angel bares his soul, we see a side of him that is melancholy and unable to process hurt in a natural way.
The Verdict
This novel is full of disgusting visuals and isn't afraid to get dirty. This truly is an extreme horror novel. As a warning, there is discussion of feces, blood, rape, sex, and body horror. This novel is not for the faint of heart. You'll close this short novel feeling dirty. Angel is a character that begs for sympathy while his stories narrate that he may not be as innocent as he perceives.
When the subtitle says this novel is extreme horror, believe it. Only the strong will survive Duncan Ralston's Woom. It is more splatterpunk than anything, but true literary quality lies beneath the filth.
(4 / 5)
Read it yourself by clicking below!
Did She Do It? Stacy Willingham's "All the Dangerous Things" Asks Us Just This
One year ago, Isabelle's life crumbled when her baby was abducted from her home. Her marriage to her husband, Ben, is destroyed as they try to navigate the fallout.
The Plot
Even one year after the abduction, Isabelle seeks answers. She is still doing appearances at true crime expos to get information on the attendees, thinking the abductor will be there one day. Abductors usually revisit their crime and Isabelle swaps her appearances for the event guest list, never taking any money for her talks.
Some think that Isabelle killed her own baby as evidence from the case says the perpetrator came from inside the house. Isabelle hasn't slept – not fully – since Mason was abducted. Her therapist is worried that she may be having hallucinations. Is Isabelle the killer or is she on a quest for true justice?
The Verdict
I absolutely loved the complication of not knowing whether Isabelle was a reliable or unreliable narrator. This was my favorite aspect of the novel. It made me question everything that Isabelle had to say and the actions she executed.
Isabelle is a character that, as a mother, I really felt for. I wanted to believe that Isabelle was innocent, but I was hanging on the edge of my seat waiting to find out. Stacy Willingham is the master of a story that winds all around, waiting for you to find the truth.
If you are interested in reading Willingham's first novel, A Flicker in the Dark, check out my review here.

(4.5 / 5)