Dexter by Design is the fourth Dexter novel, once again published by Doubleday. And they remain exactly what they've been so far, which is fun.
We start with Dexter and Rita in Paris on their honeymoon. He's having a fairly dull time until they stumble upon a truly unique art piece. Dexter is thrilled, and Rita is mortified, to find that it's about a woman carefully cutting off pieces of her own leg, until she's left with bare bone.
Dexter finds that he might be an art fan.
Returning home, he's delighted to find that alternative art seems to have followed him. He and his colleagues at Miami PD are treated to several dead bodies set in tableaus that seem to mock tourism. Two are found with hotel welcome baskets where their organs should be, for example.
Dexter's less than delighted, however, when Deb is stabbed and nearly killed. Now, of course, finding the killer becomes personal.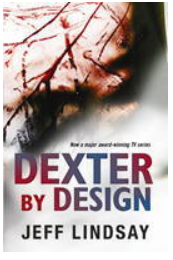 Somehow he never thinks that it might be a two-man team doing these art installations. He manages somehow to kill the less crazy one of the two, sending the man's partner even further over the edge.
He starts doing things like stalking Rita and the kids. He puts a Youtube video up of Dexter killing his partner. He's making Dexter's life far more difficult.
Rita, not used to blood and horrors, doesn't take this well. By the end, she does something that Dexter didn't ever believe she could do.
She's the hero of this book, in my opinion. And by the end of the story, she's got a big little surprise for dear Dad Dexter.
A fun book is great. I love a good quick read. And that appears to be exactly what we're going to keep getting from this series. Part of me thinks I'd rather have something a bit deeper. But deeper has to be done right to be satisfying. Otherwise, it gets too deep, and we end up with things like what happened on Dexter New Blood. Lots of really fantastic horror does that. Not all horror can. So if this series wants to keep things light and bloody, that is fine with me.
(3.5 / 5)
Want to read it for yourself? You can get Dexter By Design on Amazon.