Night Teeth, the newest horror offering from Netflix, is part family drama, part coming of age, and all funk-a-liscious. Usually, I save my 'new to streaming' reviews for Streamin' Demons, but I wanted to bring you this review straight out of the box. I was excited to see Netflix getting deeper into the horror genre and jumped at the chance to review this vampire/gangster fusion film.
The Good
If you ever wanted to know what a Netflix special would look like if they cloned a Blumhouse movie, then this is your chance. A lot of the good in Blumhouse is also the good in Night Teeth. The story concept is interesting – a multi-layered tale of gang war, vampires, and a twinge of Romeo and Juliet. For the number of different points they could use as focus, the movie flows well within all of them making no point the 'weaker link'.
The cast, by and large, put out a stellar performance. What makes things work in the movie is the ability for (most) of the characters to make that bond between each other real, apparent, and evolving. There are moments where you can feel sorry for both protagonist and antagonist. That is a sign of a wonderful narrative and Night Teeth sets a great tone for character exploration.
The writing – for the most part – is well done. There is a lot to juggle here and somehow the movie not only makes it all fit but makes it so it's a stronger movie for having that many parts. The focus on family and character arc is of special importance for this film and most of it pays off really well.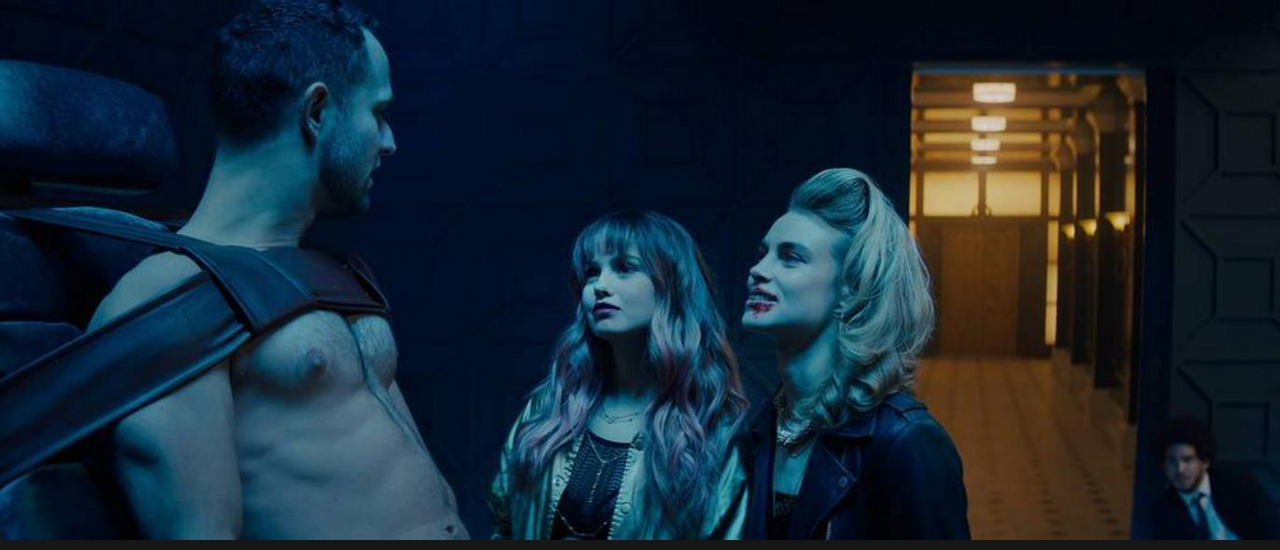 The Bad
No movie is perfect – and Night Teeth has areas where it whiffs a bit. There is a flaw in the plot structure that could have been unforgiveable. Without spoiling things – I will say that there are things a bit after the mid-point of Act II that don't line up. This is either through editing or plot issue. Seeing how tightly everything else looks in this movie from a technical standpoint, I am leaning towards 'plot issue'.
There is a point where we must suspend our disbelief a little too far. This is an area where internal movie logic falls under its own weight. Is it obvious when you see it? Yes. Does it ruin the movie? No. Even with the obvious flaw, there is still the ride worth taking.
Night Teeth – The Verdict
It is great to see Netflix venturing more into horror and I'll take a Night Teeth any day of the week. I loved seeing fresh faces and the chemistry between the actors really pushes this into the next level. Is Night Teeth the perfect movie? No. Is it a good movie? Yes. What doesn't always work is easily forgiven by just how much really works. If you are into a well flowing horror film for date night, look no further – Night Teeth is your champion with 4 out of 5 Cthulhus.
(4 / 5)
To earn some extra cash, quirky college student Benny (Jorge Lendeborg, Jr.) moonlights as a  chauffeur for one night. His task: drive two mysterious young women (Debby Ryan and Lucy Fry) around Los Angeles for a night of party hopping. Taken captive by his clients' charm, he soon learns that his passengers have their own plans for him – and an insatiable thirst for blood. As his night spins out of control, Benny is thrust into the middle of a clandestine war that pits rival tribes of vampires against the protectors of the human world, led by his brother (Raúl Castillo), who will stop at nothing to send them back into the shadows. With sunrise fast approaching, Benny is forced to choose between fear and temptation if he wants to stay alive and save the City of Angels.
Blurb from Netflix