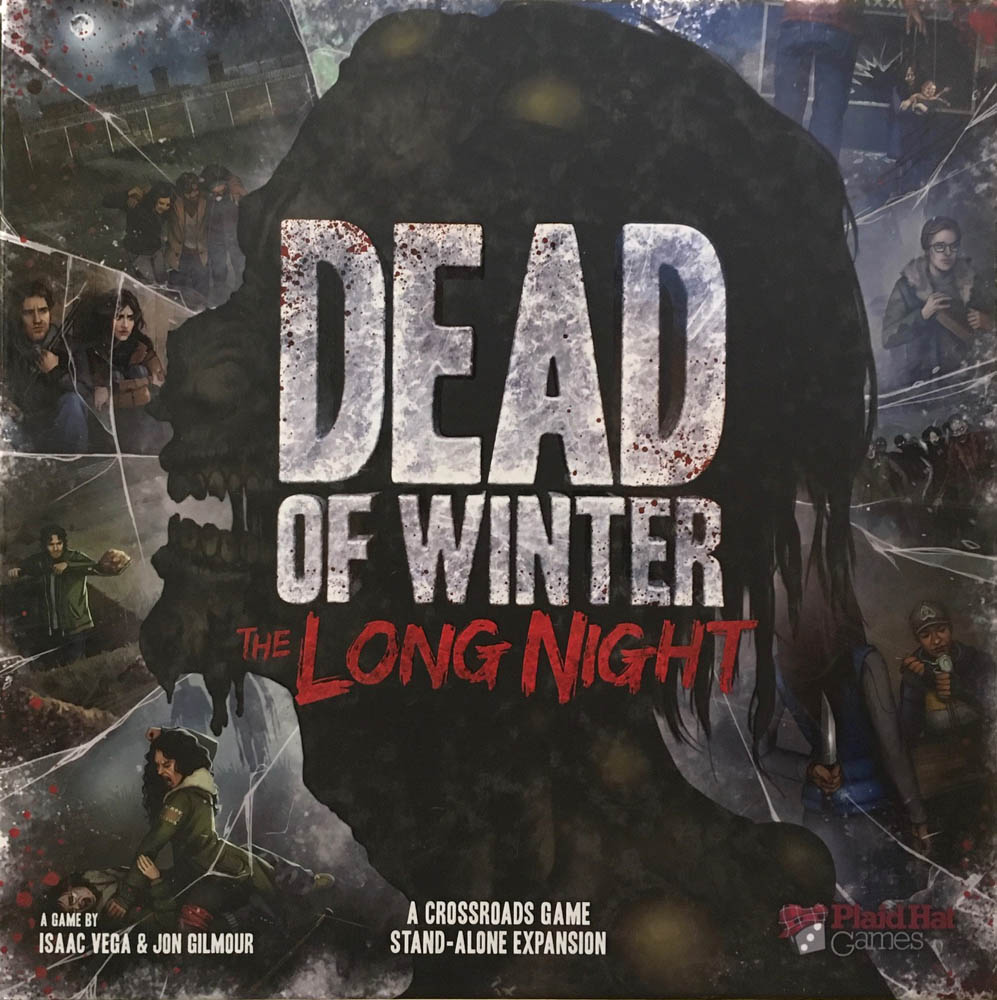 Dead of Winter The Long Night the board game has been raised from Plaid Hat Games by Isaac Vega & Jon Gilmour so it can shamble its way into your horror trove of game night mayhem. Reeking of gory details and zombie-apocalypse subject matter, Dead of Winter contains adult themes and is recommended for 2 – 5 players ages 14 and up. It's a strategy-based descent into the dark and terrifying night of the living dead.
The game includes a myriad of story-centered survivalist themes based upon cards drawn and players' reactions to those cards. Players work towards the benefit of The Colony and their own ends to craft grittier and more believable scenarios. The cast of characters is large; players choose between characters drawn at random and gain more as they find outsiders. Various characters are better suited to different tasks and some of them are outright deadly, crazy, or both.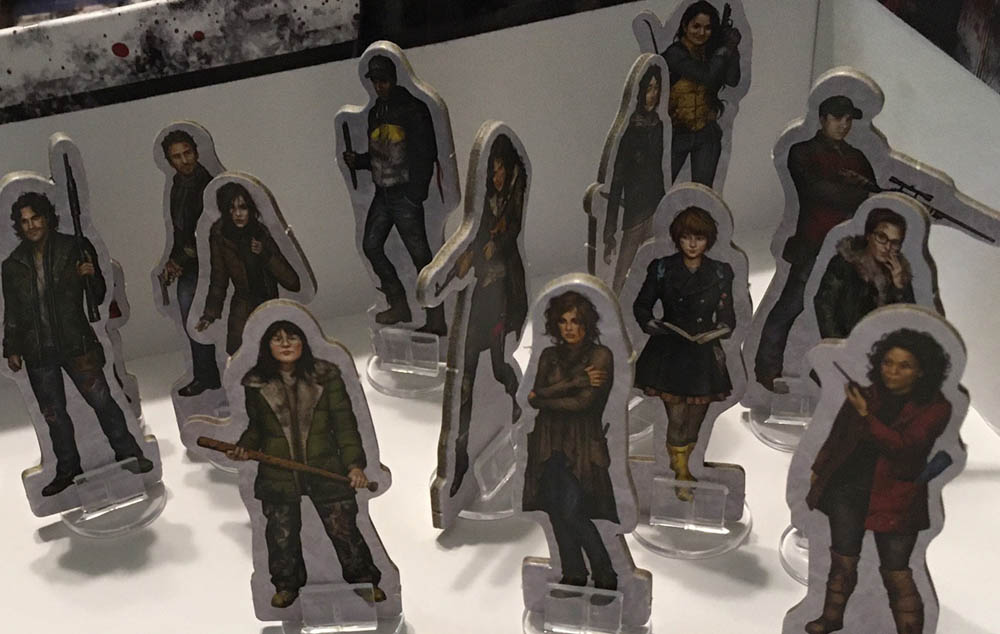 Players' can choose to have their characters stay in The Colony and reinforce the place against the undead assault or risk life and limb to go out into the big scary world in search of supplies. They can move between locations, search, barricade, attack zombies or other characters, contribute to The Colony's needs, clean waste and help deal with the current crisis. Gameplay is largely based upon drawing cards for characters, items, crises, and crossroads featuring specific actions that activate when the criteria are met. Dice are rolled and spent to determine whether player characters can fulfill certain actions. Another special die is rolled to determine exposure when traveling between places, to see if you are wounded, bitten or suffer from frostbite.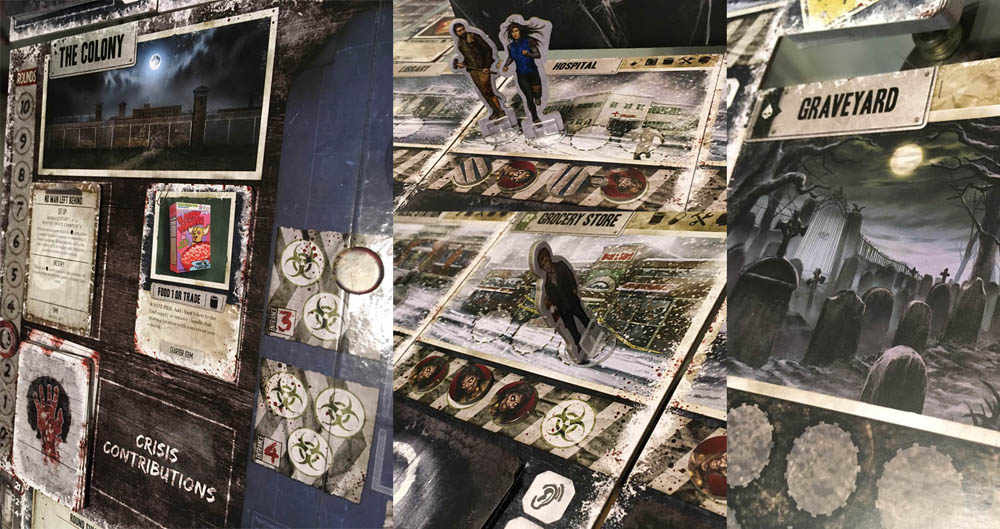 Win conditions are based upon meeting the overall objective, drawn or chosen from a deck of cards specific to this, as well as individual players fulfilling their ends, drawn individually from another deck. Players' personal goals may or may not work towards the overall objective and can even involve betraying The Colony. If a Betrayer is in your midst, those in The Colony need to figure it out and exile that person quickly lest they succumb to all manner of hardships.
I give Dead of Winter The Long Night 4.0 Cthulus.
(4 / 5)
I really enjoy Dead of Winter and planned to review it on Haunted MTL since I first started reviewing games here. The game is complex and involved for all that it's easy to learn, and I love how the story changes every time you play. The characters & situations are believable and the art is fabulous. The game does tend to run long though, and some scenarios are much longer and more involved than others. Some characters are better balanced depending on what tasks you are trying to accomplish, and this can be excrutiatingly frustrating if you just aren't drawing well.
But if you can't get enough of our own Haunted MTL David Davis' The Dead Life and want to immerse yourself in the full zombie experience, then this is the game for you. The Long Night expansion has more characters and scenarios and doesn't have to be played with the Raxxon Pharmaceutical location or bandit add-ons. This makes it a versatile addition to the original Dead of Winter game that can be played on its own as a standalone experience – you don't need the original (in fact, we don't even have that one, just The Long Night).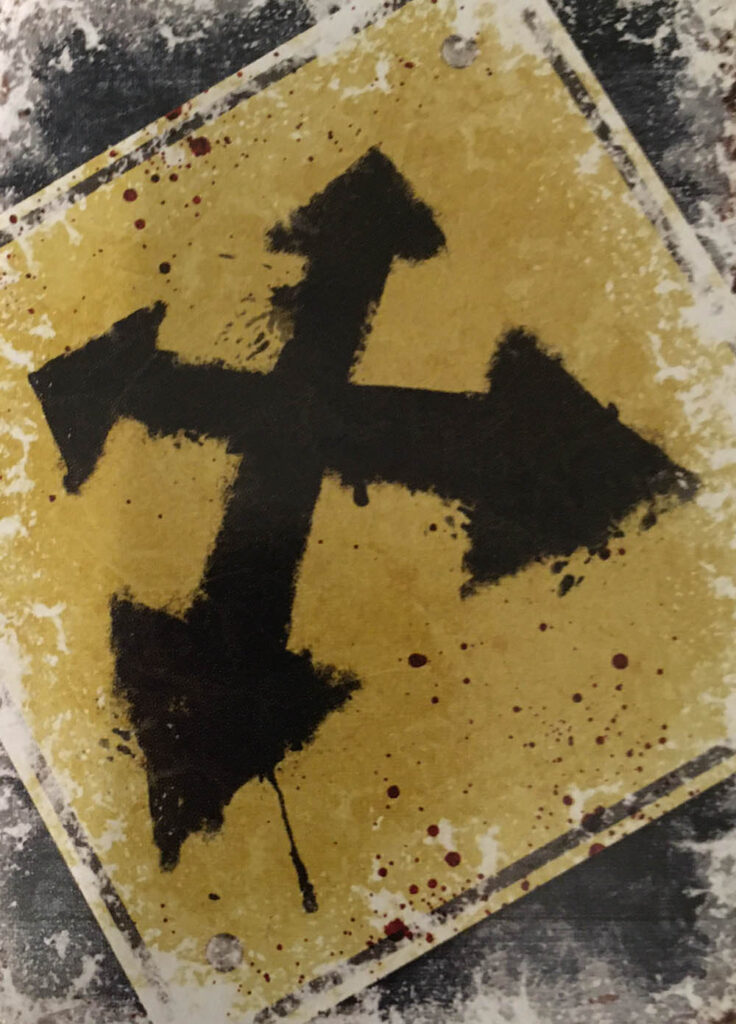 You can find Dead of Winter The Long Night on Amazon here at the link below. Remember, as an Amazon affiliate, we get some $ back from purchases if you buy from any of our links, so Cthulu says shop away… Escape the summer heat and crank up the a/c for a zombie-apocalypse board game night – you'll be glad you did. Because it's oh so much cooler among the dead…