Today for your chilling reading pleasure, we have an interview with Lance Reedingee, the author of the creepy horror novella, Goblins.
I love that this story is set in the Appalachians. What made you decide to set your story there?
I live about an hour away from the West Virginian region and have visited the area many times. To be able to location scout the majority of ones work is such a visual advantage. This location is not that far from populated areas but just a few miles in and it becomes otherworldly. Once dusk sets in, the shadows of the mountains engulf the wooded trails and what better place to have monsters lurking in the woods. The small towns that encompass most of the southern Appalachians are charming yet daunting as well. As told in "Goblins" all of these towns seem to hold secrets.
How long have you been working on it?
It was about six months total from outline to finished draft, of course there is a long period of post production that goes after that. For many of my works there is already an outline for categories I want to write, such as: Vampires, Werewolves, Goblins, and other creatures.
What made you decide to write horror?
Growing up in the Eighties, horror became part of pop culture. Many from my generation gravitated artistically toward the horror genre. The primal emotion of fear based art helps to evoke emotion more so than most other genres. As well, horror provides so many sub genres that can be explored. A writer or producer can put out work with elements of comedy, drama, action, all under the setting of horror based art while exploring other creative outlets.
What inspired Goblins?
"Goblins" was defiantly inspired by the Japanese books and film "Battle Royale," as well as the Spanish film "Intacto." These works are all contest based horror which has fascinated me. In such works the audience gets to not only enjoy the film or book but examine the piece over and over as contest featured works provide so many different characters and points of view. Works such as "The Hunger Games" and "Lord of the Flies" are enjoyed over and over as they can be read or viewed thru different perspectives from all of the different narrative points. To write contest horror is a lot of fun, but the attention to detail and timeline of events is very difficult to keep up with.
Was it an active decision to write a novella?
My publisher has a great game plan for all of her artist which I really bought into. The team at Boutique41 implements a start small and grow philosophy. They encourage a novella in form of the atypical twenty to twenty-five thousand words to start, which was where "Claws" fell under. "Goblins" needed to be over the forty-thousand word mark making it officially a novel, though on the short end of the word count stick. Both works were well over that count at first draft and then we went to work on narrowing the narrative to give the reads great pace. In particular when writing to a North American base, you have to keep the story rolling. I love this philosophy of word counting in getting started. Way too many writers begin with their epic works and spends years working on a project that may never find a proper outlet and they just give up. My advice is to start small and build, if you can write a short you can write a novella, if you can write a novella you can write a novel.
Is there a horror novel or movie that really scared the hell out of you as a child?
As a Catholic of course "The Exorcist" comes to mind for myself and just about everyone who has ever viewed the film. Wes Craven's "Last House on the Left" is probably the film that scared the hell out of me the most. The horror community worships the Eighties but the films of the Seventies were so brutal and shot almost as snuff projects that the violence is shockingly lifelike. Craven and other artist had to rely on creativity and live props as opposed to modern FX, which brought out many kill scenes that look absolutely real. We all love monsters and creatures but as in "Last House on the Left," human monsters could be the person walking past you in the park which is scarier than any monster of myth. I read 'IT" at a very young age and lived in a suburban neighborhood, so as per written work, that is the book that scared me the most and inflicted a serious distrust of clowns.
This is your second book. How did working on it differ from writing Claws?
"Goblins" is a much longer and more intricate work than "Claws." The major difference was the amount of characters and settings in the work. A good exercise is to have a biography written of each character to reference during the project. "Claws" was one long setting with a classic two person point of view where as "Goblins" takes place in over a dozen settings with several characters sprinting to a conclusion. The major difference while writing "Goblins" was to go back and have to reexamine that motives of each characters as the story progressed.
What do you think your favorite part of Goblins is?
There is a Goblin attack in chapter two that is my favorite work of the book. Since the story plays as a action thrill ride horror, this attack is straight old school horror at its core and was so fun write. I got a little carried away and we did have to edit it to make the scene a tad less brutal but that chapter is by far my favorite and I have gotten a lot of great feedback from the horror community from it.
What do you see in the future for your career? Are you working on any new stories?
My current publisher gives all of her artists a game plan and I am now on step three. I have just started the outlinefor my next work with a contract to have over Eighty-Thousand words for a full blown novel. Each work is personal as I try to leave my mark on all of the horror tropes. "Claws" was a sea creature, "Goblins" is contest horror and this year I am working on a Vampire piece. Eventually I would like to do a series which could best be described as the "Game of Thrones of Horror." I think the one thing the genre is lacking is an epic work filled with many monsters, perhaps the closest thing to attempt that is the Russian novels "Night Watch,' or the Polish books "The Witcher." I would like to remove some of the more fantasy based elements of these great works and put out a straight horror epic series.
Where can our audience find you?
Like many authors, I can be found on Amazon with links to all of my works. As well as my publisher's site, Boutique41publishing.org. I am also listed on Goodreads and Barnes and Noble online. If you are a fan of all horror, I contribute to horror-nation.com with weekly articles and film and literature reviews.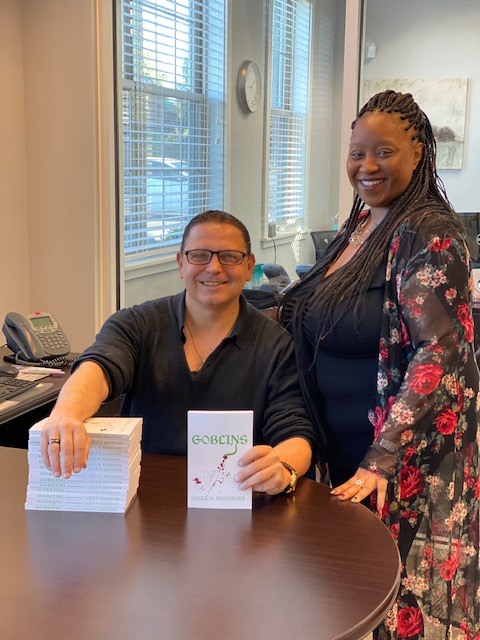 What Have We Done: Alex Finlay Produces Another Hit
Jenna: A stay at home mom with a secret assassin past
Donnie: An alcoholic rock star
Nico: An executive producer of a reality television show
They all have a past, but who is out to get them?
The Plot
Jenna, Donnie, and Nico share a troubled past. They were all orphans who lived at Savior House — which is much less savior, much more terror. When their friend Benny, a famous judge, is murdered and the FBI comes looking, Jenna, Donnie, and Nico must race against the clock to figure out who is targeting them.
The Verdict
From the author of The Night Shift, which I reviewed here, I would expect nothing less than what Finlay has delivered. Finlay notoriously creates stories with palpable thrill and spine-tingling revelations.
I particularly enjoyed the character of Jenna. She is a reformed assassin living a normal life as a new stepmom. When she is called in to make a hit and her family is threatened, she goes badass mom on 'em. While I still thought Donnie and Nico as characters were engaging, it was nothing for what I felt for Jenna.
Also, major props to Finlay for creating a character that kills with a very unique weapon. Read it to find out more!

(5 / 5)
"The Writing Retreat" Gone Bad: Julia Bartz's Debut
Keeping it all in the family, Julia Bartz's The Writing Retreat is the debut novel of the sister of Andrea Bartz, author of We Were Never Here, which I reviewed here.
I was much more impressed with The Writing Retreat than I was We Were Never Here.
The Plot
Five up and coming female writers under 30 are invited to a writing retreat hosted by the reclusive and acclaimed horror writer Rosa Vallo. Rosa reveals the details of the retreat: each writer must complete a full length novel from scratch over the next month. The best novel wins a multi-million dollar publishing deal with Rosa.
Suddenly, the retreat turns into a nightmare when one writer goes missing in the snowy terrain outside.
The novel hinges on friendships in turmoil and has a focus on LGBT+ representation as well as interpersonal female relationships. The novel explores the dark publishing world and the search for fame and the Great American Novel.
The Verdict
This novel is atmospheric and intellectual, page turning, and the English major's required reading. I absorbed this novel and found Julia Bartz's writing and conceptual chops to be leagues above her sister's.
Ths novel releases on February 21, 2023 and it should be in your cart right now.

(5 / 5)
Buy it here!
A Murder in Reverse: "Wrong Place Wrong Time"
The Plot
"A brilliantly genre-bending, mind-twisting answer to the question How far would you go to save your child?"  — Ruth Ware, #1 New York Times bestselling author
Jen watches her son murder a stranger. Stab him to death. She and her husband, Kelly, watch as their son Todd is taken into custody.
The next morning, Jen wakes up and it's yesterday. Jen knows that at the end of the night, her son kills someone. She is determined to stop it.
Jen goes further and further back in time trying to discover why Todd murdered a stranger and how to stop it.
The Verdict
This book is twisty. Right when you think you know the ending, something else is there to prove that the story is more multifaceted than that. While the premise of the novel is simple, Gillian McAllister elevates a simple concept with deep, dark twists.
It is best that you don't know too much going into this one. For fans of Blake Crouch, this is such a good thriller with time travelling vibes.
(4 / 5)