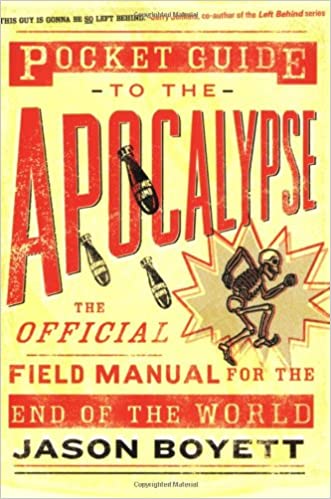 So, it's pretty easy to get lost in the centuries old soap opera that is the Book of Revelation in The Bible. It's all very complicated, what with the doomsday hype and the uncertain timing and the allegorical interpretation. Which is precisely why we need the Pocket Guide to the Apocalypse, to shed some light on the logistics and how this comes into play in the world religious scene. And author Jason Boyett delivers.
Because Certain Doom is certainly coming…
The full title of the book is Pocket Guide to the Apocalypse the Official Field Manual for the End of the World. Published through Relevant Books, it reads essentially like the Cliffs Notes or one of those For Dummies series books for the Biblical Book of Revelation, but with a cheeky, somewhat sarcastic tone. You know, just my kind of read…
Chapters include Beginning of the End, an introduction to the theme; Apocalyptionary, a glossary of terms; The End Is Near, histories of doomsaying parts 1 and 2; Know Your Potential Antichrists; and Fun with Eschatology, the study of The End (of the world, time, human kind, etc.). Each chapter touches on the Apocalypse from its given topic in a concise and amusing manner, generally eschewing conclusions of who is and isn't right regarding what beliefs of the End Times are held by dissecting most all of them appropriately. It even holds some of the more unusual and out-there interpretations up to the light to be considered in depth in all of their glory and awesomeness (in all true meanings of that word).
I think some of my favorite sections of Pocket Guide to the Apocalypse are the "Not To Be Confused With" and "Please Use It in a Sentence" sections in the Apocalyptionary and the "10 Requirements" checklists for potential Antichrists, all of which are really funny add-ons. The Armageddon Grab-Bag filled with all kinds of extras is also great. I guess I just love my semi-random additional content, especially the more snarky and humorous the tone, but this surprises no one I'm sure.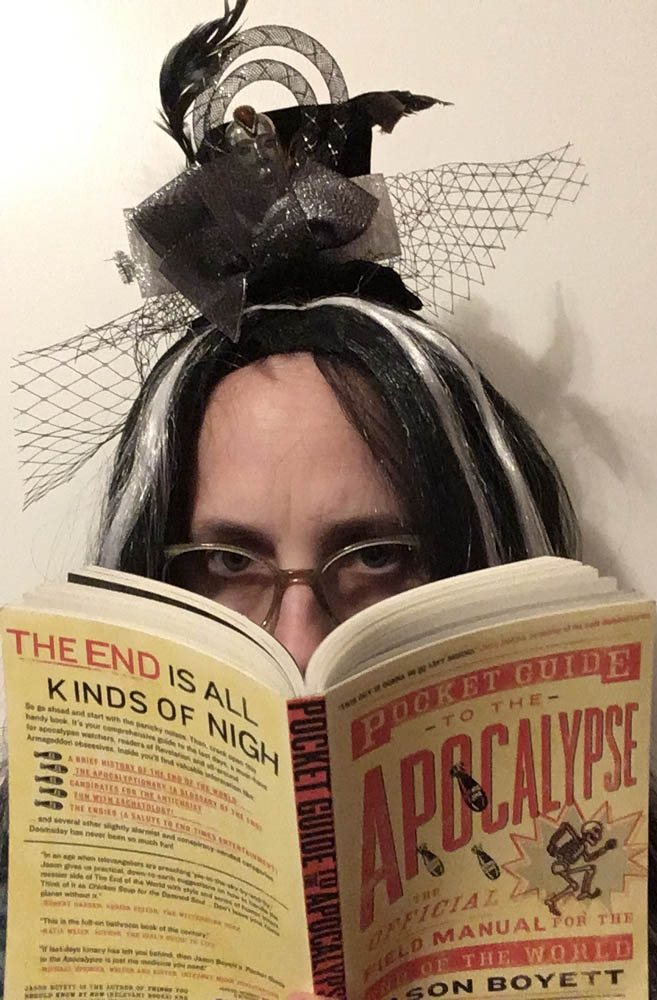 I give
Pocket Guide to the Apocalypse

4.0 Cthulus.
(4 / 5)
This book is informative, entertaining and a wee bit terrifying, especially when you truly think about the practical and impractical applications of Apocalyptic theory throughout world history. It offers a great starting point on understanding all kinds of Apocalypse lore and references through the centuries and how so many religious opinions on the topic have come into being, both from cult and mainstream perspectives. Because let's face it, some of the biggest differences between the two really just come down to popularity and how widespread the narrative is.
My Personal Favorite Apocalypse Story
On a side note, my personal favorite Apocalypse story is Good Omens written by master storytellers Terry Pratchett and Neil Gaiman. I love the evolution of the two main characters, Angel Aziraphale and Demon Crowley, the exploration of their time spent on Earth, love for this world, and the unlikely partnership they develop over the centuries. It is a beautifully written tale of friendship through adversity and of going against the grain to try to save the world from certain doom. The humor is very British. The cast of characters, complexities of fate, and serendipitous happenstance is delightful. And there are scads of pop culture references from the late 1980s. The original book is fun. The audio book is fun. The new TV series on Amazon Prime Video is fun. There is even a new audio book featuring the cast of the TV series, though I haven't listened to this one and I really liked Martin Jarvis as the Narrator so that's the one I am recommending. So put your Pocket Guide to the Apocalypse to work and have some fun interpreting The Nice and Accurate Prophesies of Agnus Nutter, Witch. You'll be glad you did.
And while we're on the topic of religious interpretation, feel free to check out some of my more religiously themed poetry examining how the Seven Deadly Sins and Holy Virtues relate, as seen earlier here on Haunted MTL.
Prepare for the End by buying the book…
You can purchase the Pocket Guide to the Apocalypse on Amazon from the link provided, just remember that, as always, if you do so we will get some $ back. The Dark Lord says shop away…
The Replacement (2010), a Book Review
The Replacement (2010) by Brenna Yovanoff is a paranormal young adult novel published by the Penguin Group.
The Replacement (2010) by Brenna Yovanoff is a paranormal young adult novel published by the Penguin Group. This standalone book acts as Brenna Yovanoff's debut novel, whose catalog produces thirteen additional novel-length works. This catalog includes a Stranger Things tie-in, Stranger Things: Runaway Max, which suggests some earned attention and respect for Yovanoff.
Mackie Doyle never had to be told he was different; he learned that quickly enough. With his father being Gentry's preacher, he learned hallowed ground didn't agree with him, along with other odd illnesses. It seems the town knows some of these secrets, never mentioning the children who disappear and reappear. As Mackie grows older, he must learn to balance his life between the regular world of Gentry and the supernatural world underneath.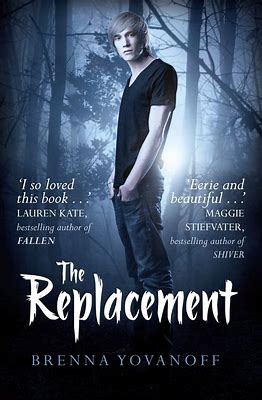 What I Like About The Replacement
Gentry creates an unsettling atmosphere where the reader remains unsure of what the town is complicit in and what remains a mystery to them. It makes the reader uneasy as Mackie tries to "fit in."
Mackie Doyle makes an interesting protagonist, navigating both the Gentry community and the supernatural underworld. His relationship with his sister, in particular, remains a highlight throughout the novel. In a genre that often puts the sister in danger to motivate the protagonist, their relationship somewhat subverts expectations.
Though somewhat underexplored, the supernatural world really hooks me in. It plays on the old fables of changelings while adding enough originality to be its own thing.
For a debut novel, Brenna Yovanoff deserves respect. The novel had me eager for more of her work, something I hope to rectify in the future.
From what I gather, this novel seems to be a standalone. While I want more from the world, I appreciate a novel that accomplishes its story and has a definitive ending.
The potential love interest remains competent and interesting throughout the novel. She remains essential to the conclusion, forcing the plot along, but did feel a bit underdeveloped considering her importance to the plot.
I read an eBook copy, but the length of a paperback copy is 368 pages. This page count may vary depending on the edition, but The Replacement remains a manageable and easy read for the majority of its page count.


Tired Tropes or Considerations
In recent years, the reexamining of the changeling myth opens up potential justification for ableism and discrimination towards neurodivergent individuals in ancient times. Some elements in this novel might tie into this neurodivergent history. While I find this a story of acceptance and empowerment, I lack the perspective to speak for others. There are elements that might evoke masking, but it isn't my place to commit further.
One small plot point somewhat evokes that mention plot point where the sister motivates the protagonist. There's a bit more complexity, but noting it seems essential, considering my earlier positive note.
The Replacement isn't a dark novel, but the book gets pretty dark toward the end. This jumping point follows the rising stakes of what happens to the lost children.
What I Dislike about The Replacement
Throughout my positives, I point out underdeveloped elements of the narrative. From characters to world-building, I want more. It's certainly not the worst problem for a novel, but it is a recurring issue.
This underdevelopment issue leads to elements where the story underwhelms me. This underwhelming nature is specifically notable toward the antagonists, who are perfectly built up but don't do much. I want a little more to earn that tension and build-up, but I am left wanting.
The Replacement won't frighten its readers. It might creep the reader out, unnerve them, or break their heart, but it's not a terrifying ride. The ending does deserve a special mention, however, as it certainly steps up its tension.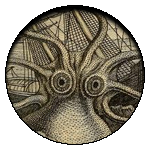 Final Thoughts
The Replacement remains an engaging supernatural debut novel from Brenna Yovanoff. While not terrifying, it engages the reader throughout. Don't expect in-depth supernatural elements, but what you get has you wanting more.

(4 / 5)
The Roots Grow Into The Earth
Launching next month The Roots Grow Into The Earth was a delightful read. It's the premiere novel by horror author Bert S. Lechner. And after reading it, I hope it's not his last.
The stories
The Roots Grow Into The Earth is a collection of nine short stories and novellas, including three previously published stories. The tales are all part of one larger story. A story of darkness, and madness. A story of a creature released that should never have been. That begins then to sink its roots into the Earth and infect innocent people far and wide.
One such example is The Wall. This is the story of a man named Sam and his wife Nat. They have a lovely normal life full of morning coffee and weekend pizza nights. Until Sam notices something on the wall of their home. While it appears to be nothing, a vision starts taking shape. With Sam's help.
Another story that really moved me was The Orchestra.
Let me first stay that this was not a particularly fleshed out story. We do not see The Conductor before she's infected. We don't see the fallout. No real picture is painted for us, it's more like a sketch.
In the case of The Orchestra, though, this is exactly the right choice. We don't need to see the whole picture in gruesome technicolor to get what's happening in this ill fated concert. We understand perhaps too well what's occurring. And I thought that was brilliant.
What worked
I just want to start by gushing over this storytelling style. Short story collections always have a soft spot in my heart. In the case of The Roots Grow, all of the short stories come together to create one truly dark tale.
I also loved the clear Lovecraftian influence of this story. It's clear that this was something that the author was going for, from interviews and social media comments. But I could tell before I saw any of that.
The story in The Roots Grow is one of madness. But more than that, it's one of madness and destruction that the victims could not have avoided. There was no being clever enough to avoid these dark roots that touched them. There was no being strong enough, or selfless and good enough. If the roots reach out and touch you, you've already lost.
Finally, I want to extend some praise to my favorite character, Joanne. She is dealing with her own madness, her own demons. But she still finds kindness and strength to help others when they need her. Even against some truly dark odds.
What didn't work
All that being said, I will say that some of the short stories felt incomplete. One prime example is What Lies In The Icy Soil. This appears to be nothing more than the tale of a person possessed by the need to dig. He digs up something that for sure shouldn't be dug up. But there's nothing more to the story. We don't know who this person is. We don't know who might be missing him, or what might come of this thing he dug up. As a part of the whole story, it fits. But if we are to consider every tale by its own merit, this one doesn't have much of anything going for it.
That being said, this is one story in a round ten that wasn't much of anything. The rest of the stories were wonderfully eerie, both on their own and as part of a whole.
The Roots Grow Into The Earth comes out on October 7th. And I think it would be a perfect addition to your Halloween reading list. 
(4 / 5)
Strange Eons Review: Cornfields and Eldritch Gods
"The elder gods arrived in the sky in early September, like an unholy aurora borealis stretching across a midnight sky. Their vastness blocked the sun, an unending eclipse, a liminal state, a breath that was inhaled but never let go. Lovecraft got it wrong, I think. It was not the sight of the gods that made humanity go mad. It's what they destroy that hurts us. Somehow, these elder gods, these aliens, had killed time itself." – Strange Eons by Keria Perkins
Strange Eons is a short story published in Bourbon Penn Issue 30 by Keira Perkins. Perkins, is an Indiana writer of short fiction and poetry that has also appeared in Non-Stalgia and The Heartland Society of Women Writers. Bourbon Penn is an online and print journal that specializes in speculative, odd, and surreal fiction. All issues are available to be read online for free or can be purchased as a paperback from Bookshop.org.
Strange Eons follows a young woman struggling to adjust to a life post-Lovecraftian apocalypse. This is a cozy story, the majority of which takes place as the woman lays in a cornfield and hides from well-meaning but unhelpful family members. While cozy, the piece is ominous, tackling the terror associated with pregnancy. Specifically, the terror that comes from living in a Red State and finding a significant lack of resources or options.
As a Hoosier capable of becoming pregnant, Strange Eons resonated with me. The imagery of cornfields and cicadas were very Indiana. However, so is a young woman covertly asking her sister to drive her to Illinois to receive healthcare. I loved how Perkins merged cosmic horror with the horror of receiving reproductive healthcare in Indiana but also the United States as a whole. All that was missing were predatory billboards advertising fake pregnancy centers! Talk about maddening and terrifying! Throughout the short story, the most horrific part of the young woman's ordeal is not the eldritch gods appearing but her rather typical, hellish circumstances.
Aside from content, Strange Eons is well-written. It keeps you guessing where the story will go next. If you like a non-tropey cozy take on Lovecraftian horror or have struggled to receive reproductive healthcare, I highly recommend checking out Strange Eons! You can also check out the other stories in this issue of Bourbon Penn here. Or you can see what else Perkins is up to on her website.

(5 / 5)