June has passed in a rainbow flag covered coffin and as corporate entities put away their LGBTQ+ allyship for another year, it's worth remembering that there's plenty of small ways you can keep supporting those queer horror works that may get recommended to you but are forgotten by the time Pride month ends. This year I decided to spend all of Pride month reading so I would have plenty of recs to keep up the barrage long after the rainbow flags come down. Perhaps the biggest bonus of my month spent working on my queer horror to be read list was all the great works I found in addition to the ones I intended to read. Here's the first, but far from the last, of my LGBTQ+ horror book list. On with the barrage!
Vintage: A Ghost Story by Steve Berman
I can't tell you how far I was into this book before I realized the main character was never named. But, when you're a gay Goth teen who's dropped out of high school and left home after your parents discovered your sexuality, is now living with your aunt while working at a vintage clothing shop, and have a crush on a ghost you met while walking alone on an empty strech of highway one night, what do names really matter?
Vintage may sound like something out of a Christopher Pike novel, but I think you'll find it's something far more.  Think The Sixth Sense meets The Perks of Being a Wallflower.  Our main character and his friends who populate the book are believably flawed, yet relatable, teenage personalities.  That goes for the more ghostly presences as well.  The prose is often much deeper and more intracrate than what you would expect from a YA novel.  It's not often I would deem something both scary and erotogenic, but the ghost sex in this one is centerinly something different, and often times frightening.  As an added bonus, it mentions in the back of the book that one-fifth of the author's royalties are donated to the Gay-Straight Alliance Network and the Trevor Project.  This one isn't to be missed.
Five out of five Cthulhu.

(5 / 5)
A Dowry of Blood by S.T. Gibson
Oh, how I wanted to love this book!  A queer retelling of Dracula from the point of view of his polycule of wives?  Sounds great!  Sign me up!  Unfortunately, that wasn't exactly what the book was about.
The book is told from the point of view of Constanta, a young woman whom a dark, mysterious stranger finds dying after a village raid. The stranger gives to her the gift, and the curse, of undying life. She and he-who-shall-not-be-named-Dracula spend hundreds of years together, sharing lovers of all sexes in their bed and in their stomachs. Constanta is happy, but isolated. That is until Count Noname meets another woman, Magdalena, whom Constanta conveniently falls in love with as well. This pattern repeats itself when the trio meet the young Russian man Alexei. Definitely-not-Dracula, meanwhile, grows ever more controlling and monstrous to his lovers until they realize it's either going to have to be them, or him.
The speed at which whole centuries go by in the book makes everything seem a bit rushed. People fall in love instantly so it's hard to tell what emotions are real and what are mere vampire glamor. The horror of having to kill to stay alive for centuries is mostly glossed over in favor of showing what a manipulative gaslighter Dracula can be and the events of the original novel are only given a single throwaway line in passing. That's not to say vampires bonding over their continued abuse by their creator isn't an interesting story, it's just not the one I was expecting when I picked up the book. It was still an enjoyable read nonetheless.
Three out of five Cthulhu.

(3 / 5)
This is Not a Horror Movie by Sara Dobie Bauer
Welcome to summer vacation in Florida! There's the beach, lots of Stephen King books to read, the hot neighbor boy you've had a crush on for years, the annoying twin sister, the possibly haunted abandoned beach resort that's eating people . . . Wait. What?
That's just a small part of what you're going to get in This is Not a Horror Movie, a fun rom-com slash horror slash coming of age, well, just plain slash story (if you know the other meaning of that word).  Horror lover extraordinaire Emory is on his last summer vacation in Longboat Key, Florida with his family before he goes to college.  Conner, the boy next door of his dreams, is going to be a huge part of that vacation, along with Vincent Price stalkers, missing homeless Vietnam vets, demonic cults, kidnappings, and no one's first times but certainly their best times.
Sometimes a book can be just a fun romp, and that's definitely what this book is. Most of the horror elements don't even kick in until half-way through the book, but honestly, I didn't even notice because I was having such a good time with the characters, who are both funny and endearing. Emory's horror knowledge is used less as a meta reference like in Scream and more of something to bond over with Conner. Of course, that doesn't mean it doesn't come in handy when their lives are on the line. If you're looking for a straight up horror story, like the title says, this probably isn't what you're looking for. If you're looking for a good time and a fun summer read, then call me. I'll happily loan you my copy of this book.
Four out of Five Cthulhu.
(4 / 5)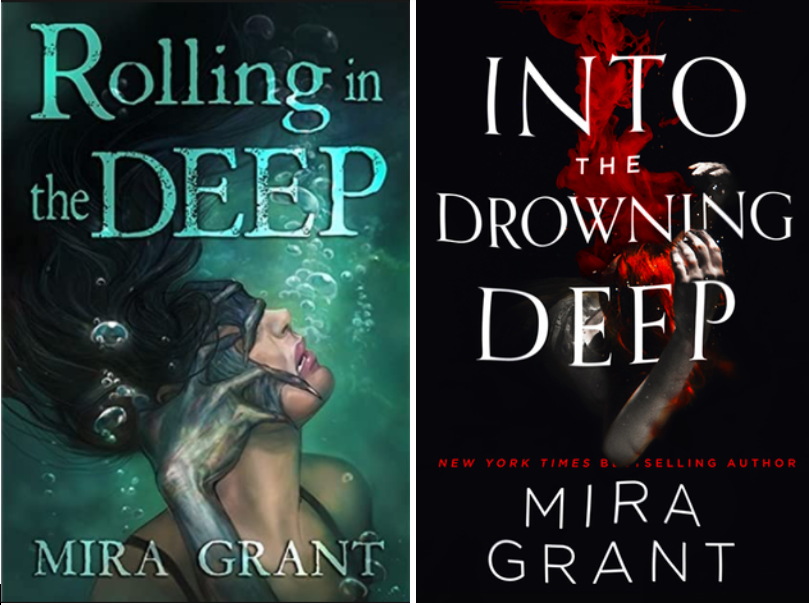 Rolling in the Deep and Into the Drowning Deep by Mira Grant
A two for one special! You know what's really scary? Mermaids. Or at least you'll be thinking so after you read these two books by Mira Grant about a couple of documentary film crews on assignment to find mermaids below the bathypelagic zone (also known as midnight zone) in the deepest parts of the ocean of the Mariana Trench.
In what could be a prequel to the movie Underwater, or maybe Aquaman, it's no spoiler to tell you the first of the crews of the research ship the Atargatis is met with an unimaginable tragedy. Rolling in the Deep is the novella that tells the frighting story of what happened to the Atargatis from the points of view of its crew, scientists, film crew, professional mermaid performers, and tv personalities. It's as scientific and scary as anything by Michael Crichton, but it does leave you with some unanswered questions.
Into the Drowning Deep picks up right where Rolling in the Deep leaves off.  Seven years later, another crew, much better prepared (supposedly), is sent back to the Mariana Trench to either prove or disprove what happened aboard the Atargatis.  Into the Drowning Deep may be a bit long in the tooth when it comes to scientists arguing with each other, stereotypical big game hunters who are hired on as security, and evil corporations (going to need a "Does the Dolphin Die?" website now), but it does answer the bigger questions Rolling in the Deep leaves behind. And the biggest question of all that will keep you reading to the end, will they survive?
While these books are more in the traditional horror genre, they are filled with good representation of all sorts; hearing impaired characters, LGBTQ+ characters, neurodivergent characters, physically disabled characters, and many others. There's a little something for everyone in other words.
Five out of Five for Rolling in the Deep, three out of Five for Into the Drowning Deep, giving an overall score of four out of Five Cthulhu.
(4 / 5)
The Replacement (2010), a Book Review
The Replacement (2010) by Brenna Yovanoff is a paranormal young adult novel published by the Penguin Group.
The Replacement (2010) by Brenna Yovanoff is a paranormal young adult novel published by the Penguin Group. This standalone book acts as Brenna Yovanoff's debut novel, whose catalog produces thirteen additional novel-length works. This catalog includes a Stranger Things tie-in, Stranger Things: Runaway Max, which suggests some earned attention and respect for Yovanoff.
Mackie Doyle never had to be told he was different; he learned that quickly enough. With his father being Gentry's preacher, he learned hallowed ground didn't agree with him, along with other odd illnesses. It seems the town knows some of these secrets, never mentioning the children who disappear and reappear. As Mackie grows older, he must learn to balance his life between the regular world of Gentry and the supernatural world underneath.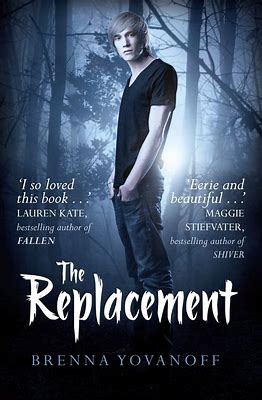 What I Like About The Replacement
Gentry creates an unsettling atmosphere where the reader remains unsure of what the town is complicit in and what remains a mystery to them. It makes the reader uneasy as Mackie tries to "fit in."
Mackie Doyle makes an interesting protagonist, navigating both the Gentry community and the supernatural underworld. His relationship with his sister, in particular, remains a highlight throughout the novel. In a genre that often puts the sister in danger to motivate the protagonist, their relationship somewhat subverts expectations.
Though somewhat underexplored, the supernatural world really hooks me in. It plays on the old fables of changelings while adding enough originality to be its own thing.
For a debut novel, Brenna Yovanoff deserves respect. The novel had me eager for more of her work, something I hope to rectify in the future.
From what I gather, this novel seems to be a standalone. While I want more from the world, I appreciate a novel that accomplishes its story and has a definitive ending.
The potential love interest remains competent and interesting throughout the novel. She remains essential to the conclusion, forcing the plot along, but did feel a bit underdeveloped considering her importance to the plot.
I read an eBook copy, but the length of a paperback copy is 368 pages. This page count may vary depending on the edition, but The Replacement remains a manageable and easy read for the majority of its page count.


Tired Tropes or Considerations
In recent years, the reexamining of the changeling myth opens up potential justification for ableism and discrimination towards neurodivergent individuals in ancient times. Some elements in this novel might tie into this neurodivergent history. While I find this a story of acceptance and empowerment, I lack the perspective to speak for others. There are elements that might evoke masking, but it isn't my place to commit further.
One small plot point somewhat evokes that mention plot point where the sister motivates the protagonist. There's a bit more complexity, but noting it seems essential, considering my earlier positive note.
The Replacement isn't a dark novel, but the book gets pretty dark toward the end. This jumping point follows the rising stakes of what happens to the lost children.
What I Dislike about The Replacement
Throughout my positives, I point out underdeveloped elements of the narrative. From characters to world-building, I want more. It's certainly not the worst problem for a novel, but it is a recurring issue.
This underdevelopment issue leads to elements where the story underwhelms me. This underwhelming nature is specifically notable toward the antagonists, who are perfectly built up but don't do much. I want a little more to earn that tension and build-up, but I am left wanting.
The Replacement won't frighten its readers. It might creep the reader out, unnerve them, or break their heart, but it's not a terrifying ride. The ending does deserve a special mention, however, as it certainly steps up its tension.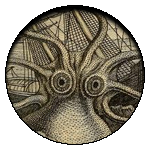 Final Thoughts
The Replacement remains an engaging supernatural debut novel from Brenna Yovanoff. While not terrifying, it engages the reader throughout. Don't expect in-depth supernatural elements, but what you get has you wanting more.

(4 / 5)
The Roots Grow Into The Earth
Launching next month The Roots Grow Into The Earth was a delightful read. It's the premiere novel by horror author Bert S. Lechner. And after reading it, I hope it's not his last.
The stories
The Roots Grow Into The Earth is a collection of nine short stories and novellas, including three previously published stories. The tales are all part of one larger story. A story of darkness, and madness. A story of a creature released that should never have been. That begins then to sink its roots into the Earth and infect innocent people far and wide.
One such example is The Wall. This is the story of a man named Sam and his wife Nat. They have a lovely normal life full of morning coffee and weekend pizza nights. Until Sam notices something on the wall of their home. While it appears to be nothing, a vision starts taking shape. With Sam's help.
Another story that really moved me was The Orchestra.
Let me first stay that this was not a particularly fleshed out story. We do not see The Conductor before she's infected. We don't see the fallout. No real picture is painted for us, it's more like a sketch.
In the case of The Orchestra, though, this is exactly the right choice. We don't need to see the whole picture in gruesome technicolor to get what's happening in this ill fated concert. We understand perhaps too well what's occurring. And I thought that was brilliant.
What worked
I just want to start by gushing over this storytelling style. Short story collections always have a soft spot in my heart. In the case of The Roots Grow, all of the short stories come together to create one truly dark tale.
I also loved the clear Lovecraftian influence of this story. It's clear that this was something that the author was going for, from interviews and social media comments. But I could tell before I saw any of that.
The story in The Roots Grow is one of madness. But more than that, it's one of madness and destruction that the victims could not have avoided. There was no being clever enough to avoid these dark roots that touched them. There was no being strong enough, or selfless and good enough. If the roots reach out and touch you, you've already lost.
Finally, I want to extend some praise to my favorite character, Joanne. She is dealing with her own madness, her own demons. But she still finds kindness and strength to help others when they need her. Even against some truly dark odds.
What didn't work
All that being said, I will say that some of the short stories felt incomplete. One prime example is What Lies In The Icy Soil. This appears to be nothing more than the tale of a person possessed by the need to dig. He digs up something that for sure shouldn't be dug up. But there's nothing more to the story. We don't know who this person is. We don't know who might be missing him, or what might come of this thing he dug up. As a part of the whole story, it fits. But if we are to consider every tale by its own merit, this one doesn't have much of anything going for it.
That being said, this is one story in a round ten that wasn't much of anything. The rest of the stories were wonderfully eerie, both on their own and as part of a whole.
The Roots Grow Into The Earth comes out on October 7th. And I think it would be a perfect addition to your Halloween reading list. 
(4 / 5)
Strange Eons Review: Cornfields and Eldritch Gods
"The elder gods arrived in the sky in early September, like an unholy aurora borealis stretching across a midnight sky. Their vastness blocked the sun, an unending eclipse, a liminal state, a breath that was inhaled but never let go. Lovecraft got it wrong, I think. It was not the sight of the gods that made humanity go mad. It's what they destroy that hurts us. Somehow, these elder gods, these aliens, had killed time itself." – Strange Eons by Keria Perkins
Strange Eons is a short story published in Bourbon Penn Issue 30 by Keira Perkins. Perkins, is an Indiana writer of short fiction and poetry that has also appeared in Non-Stalgia and The Heartland Society of Women Writers. Bourbon Penn is an online and print journal that specializes in speculative, odd, and surreal fiction. All issues are available to be read online for free or can be purchased as a paperback from Bookshop.org.
Strange Eons follows a young woman struggling to adjust to a life post-Lovecraftian apocalypse. This is a cozy story, the majority of which takes place as the woman lays in a cornfield and hides from well-meaning but unhelpful family members. While cozy, the piece is ominous, tackling the terror associated with pregnancy. Specifically, the terror that comes from living in a Red State and finding a significant lack of resources or options.
As a Hoosier capable of becoming pregnant, Strange Eons resonated with me. The imagery of cornfields and cicadas were very Indiana. However, so is a young woman covertly asking her sister to drive her to Illinois to receive healthcare. I loved how Perkins merged cosmic horror with the horror of receiving reproductive healthcare in Indiana but also the United States as a whole. All that was missing were predatory billboards advertising fake pregnancy centers! Talk about maddening and terrifying! Throughout the short story, the most horrific part of the young woman's ordeal is not the eldritch gods appearing but her rather typical, hellish circumstances.
Aside from content, Strange Eons is well-written. It keeps you guessing where the story will go next. If you like a non-tropey cozy take on Lovecraftian horror or have struggled to receive reproductive healthcare, I highly recommend checking out Strange Eons! You can also check out the other stories in this issue of Bourbon Penn here. Or you can see what else Perkins is up to on her website.

(5 / 5)