I knew from the very first page of the prologue of Grady Hendrix and Will Errickson's Stoker award winning Paperbacks From Hell it was going to be a winner. How did I know? A book that I consider a true gem of my own horror novel collection was on the very first page.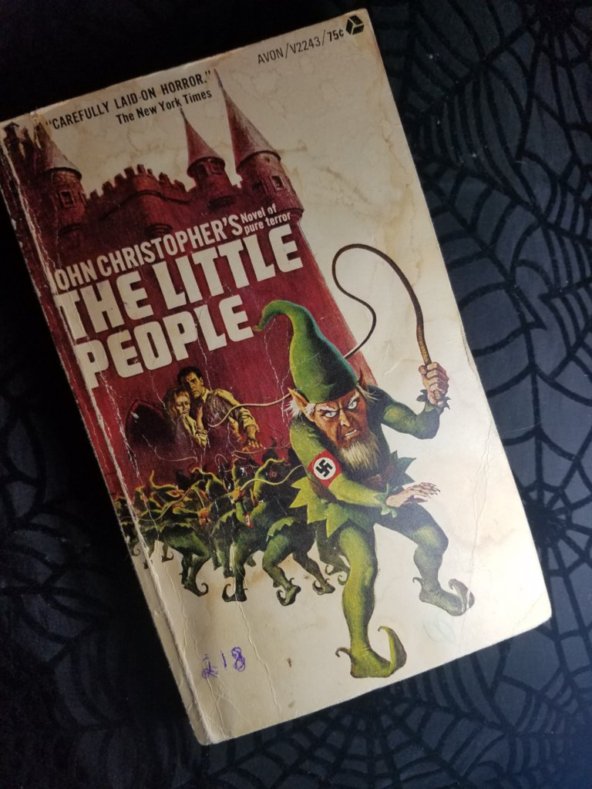 From that point on I realized that Paperbacks from Hell and I were going to have a clear understanding and settled myself in for what I was sure was going to be a wild ride. I wasn't disappointed.
Always vibrantly illustrated, with almost photo-realistic cover art, that's more than likely of a homicidal skeleton, horror novels of the '70s and '80s were something of a genre unto themselves. They were the '90s book version of AOL CDs; staples of an era, to be found packing the selves at any Waldenbooks or small grocery store paperback section. Their content, often as taboo and controversial as their cover art, dominated paperback sales during the '70s and '80s and, as Grady Hendrix puts it in his book celebrating their boom and bust, "these stories are timeless in the way that truly matters: they will not bore you."
The Exorcist as an '80s teen movie
Darling of the New York Times best seller list, Grady Hendrix sets aside his usual haunted Ikeas and vampire slaying book clubs to put together this compilation of some of the more farout paperback horror novels from the glory days of anything goes horror fiction. Every page of Paperbacks from Hell is filled with beautiful and shocking cover art, tongue and cheek book summaries, and engrossing biographies of authors and illustrators. The ridiculousness nature of some of the books' plots isn't lost on Hendrix, and there's a vein of good humor that runs throughout, pointing out some of the more ludicrous horror concepts viewed with a modern day mindset.
Every chapter separates horror novels into easy to browse sections. Looking for books about houses with possible demon possessions? Try "There Goes the Neighborhood" under Chapter 4: Real Estate Nightmares. Craving some books about evil children who might possibly be hell spawn? You're looking for "Parenting the Homicidal Child" from Chapter 2: Creepy Kids. Can't forget about those apocalyptic bloodthirsty animal books; Chapter 3: When Animals Attack will have you fearing everything from cats and rats to killer whales and mutant moths. Or my own favorite section from Chapter 8: Splatterpunks, Serial Killers, and Super Creeps, "Won't Somebody think of the Children?" where you can find the books I cut my own horror teeth on by the likes of R. L. Stine, Christopher Pike, and Richie Tankersley Cusick.
Everyone wants to be Stephen King but everyone is V.C. Andrews
While the giants of the horror genre (Jackson, King, Bloch, Rice, Levin, Blatty, Koontz, etc.) are certainly mentioned in Paperbacks from Hell, it's really the lesser known horror authors that were influenced by them that Hendrix's let's shine in his book. Historical context is given to some of the most popular horror fads of the time, from the early days of gothic romance to the end times in the early '90s as splatterpunk and serial killer suspense thrillers. Browsing though the chapters, odds are you may find some forgotten favorites, and some prospective new favorites. I wasn't even to the first chapter before I had started making a list of books I wanted to look up later. By the time I finished the book my list of potential new books to read was about as long as a severed arm. And while I normally wouldn't trouble with recommending a book be read in a certain format, there is something to be said about holding this phone book-sized glossy embossed tomb of horror history in your own two hands and being able to see the beauty of the cover art within up close and personal.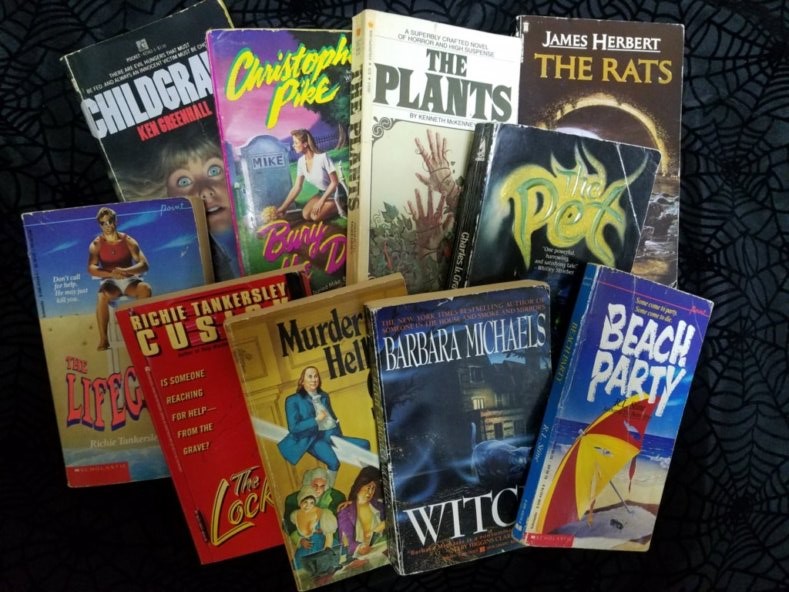 Is there ANY downside to this book?
If there's one downfall to Paperbacks from Hell, it may be that it's made some of the rarer horror novels mentioned in its pages even rarer and harder to find. But it's also something like a treasure map, leading you to your local used bookstore to see what strange and unusual horror books you still might be able to find languishing on the shelves. Since Paperbacks from Hell has come out interest in some of the books highlighted by Hendrix has soared. Enough so that some have even been given a second life, getting reprints after having been out of print for years.
Certainly not every notable horror novel from the '70s and '80s could get a mention so I'm greatly looking forward to putting Paperbacks from Hell 2 on my shelf should one be on the horizon soon.  Until then, I'll see you at the used book store and happy horror novel hunting!

(5 / 5)
"The Writing Retreat" Gone Bad: Julia Bartz's Debut
Keeping it all in the family, Julia Bartz's The Writing Retreat is the debut novel of the sister of Andrea Bartz, author of We Were Never Here, which I reviewed here.
I was much more impressed with The Writing Retreat than I was We Were Never Here.
The Plot
Five up and coming female writers under 30 are invited to a writing retreat hosted by the reclusive and acclaimed horror writer Rosa Vallo. Rosa reveals the details of the retreat: each writer must complete a full length novel from scratch over the next month. The best novel wins a multi-million dollar publishing deal with Rosa.
Suddenly, the retreat turns into a nightmare when one writer goes missing in the snowy terrain outside.
The novel hinges on friendships in turmoil and has a focus on LGBT+ representation as well as interpersonal female relationships. The novel explores the dark publishing world and the search for fame and the Great American Novel.
The Verdict
This novel is atmospheric and intellectual, page turning, and the English major's required reading. I absorbed this novel and found Julia Bartz's writing and conceptual chops to be leagues above her sister's.
Ths novel releases on February 21, 2023 and it should be in your cart right now.

(5 / 5)
Buy it here!
A Murder in Reverse: "Wrong Place Wrong Time"
The Plot
"A brilliantly genre-bending, mind-twisting answer to the question How far would you go to save your child?"  — Ruth Ware, #1 New York Times bestselling author
Jen watches her son murder a stranger. Stab him to death. She and her husband, Kelly, watch as their son Todd is taken into custody.
The next morning, Jen wakes up and it's yesterday. Jen knows that at the end of the night, her son kills someone. She is determined to stop it.
Jen goes further and further back in time trying to discover why Todd murdered a stranger and how to stop it.
The Verdict
This book is twisty. Right when you think you know the ending, something else is there to prove that the story is more multifaceted than that. While the premise of the novel is simple, Gillian McAllister elevates a simple concept with deep, dark twists.
It is best that you don't know too much going into this one. For fans of Blake Crouch, this is such a good thriller with time travelling vibes.
(4 / 5)
Woom: An Extreme Horror Novel
"That doesn't invalidate it," Angel said. "There's no statute of limitations on pain."
The Plot
Angel is a man who knows pain: physical, mental, sexual. The story begins with Angel visiting Room 6 at the Lonely Motel and ordering a plus-size sex worker to his room. What comes next is Angel's retellings of painful stories while performing sexual acts on the sex worker, Shyla.
The novel reads as a book of short stories, as Angel relays stories to Shyla and she tells him stories back. This is a novel of pain and disgust. Angel's stories are so dark and traumatic that Shyla can't believe they are true. As Angel bares his soul, we see a side of him that is melancholy and unable to process hurt in a natural way.
The Verdict
This novel is full of disgusting visuals and isn't afraid to get dirty. This truly is an extreme horror novel. As a warning, there is discussion of feces, blood, rape, sex, and body horror. This novel is not for the faint of heart. You'll close this short novel feeling dirty. Angel is a character that begs for sympathy while his stories narrate that he may not be as innocent as he perceives.
When the subtitle says this novel is extreme horror, believe it. Only the strong will survive Duncan Ralston's Woom. It is more splatterpunk than anything, but true literary quality lies beneath the filth.
(4 / 5)
Read it yourself by clicking below!