We have episode five of American Horror Stories, Killer Queens. And I have to say, it left me feeling underwhelmed.
The story centers around a couple named Liv and Matt. They want to have a baby, but they're having no luck. They've tried multiple fertility treatments and had no luck. The receptionist at the place gives her a fertility statue.
And it works.
But once the baby comes, Liv is having trouble handling the pressures of being a mother. It starts as some pretty common postpartum depression symptoms. Soon enough though, we find out that it's something much more demonic.
I want to talk about the weak points of this episode first, largely just to get them out of the way. Sadly, the biggest weak spot was the story itself. Once you figure out the twist, which I'll admit took a little bit of time, the rest of the story kind of falls into place.
The biggest issue was that the story was slow for most of the episode. It took almost the whole episode for things to get bloody. And then that bit felt rushed. So rushed in fact that the episode ends with what Mary Robinette Kowal calls an 'as you know Bob' scene. This is one where two characters who know damn well what's going on have a conversation about things they already know for the benefit of the audience. This is weak writing, and we've come to expect better from AHS.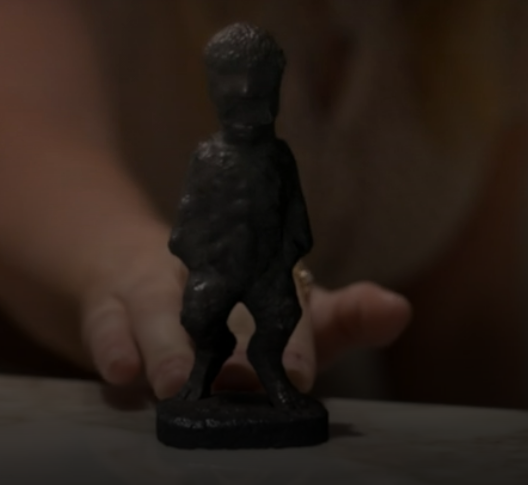 I have to admit, though, that I have a high bar for AHS. If this had been an episode of Tales from The Crypt or Creepshow, I probably wouldn't say most of this. But when your writing is usually at the top of the industry, your fans and critics expect better than such armature scenes.
All that being said, there is still a lot to love in this episode. Starting with Billie Lourd's performance. She consistently brings it, and this was no exception. Never once was her character unbelievable. She delivered every line to perfection.
I also want to give all the praise to the AHS writers for tackling postpartum depression. It's something that we need to talk about more as a society. I loved that Liv's symptoms were exactly what a new mother might feel, even if having a baby was difficult for her. And I love that seeing a therapist would have helped. If not for, well, extenuating circumstances.
As always, American Horror Story knows that the scariest things are the real ones. I know we only have two more episodes of this season, and I'm excited to see what they have in store for us.
Thanks for reading! If you buy anything from the links below, we do get some money back.