As mentioned in the previous volume, this series follows Netflix's Love, Death & Robots. Feel free to skip this paragraph if you read any others. Tim Miller developed the series and incorporated the talents of several studios. As each episode is independent, there isn't a need to watch them in any order. These reviews will cover the current order for Volume 3 in 2022. Love, Death & Robots targets a mature audience, so some episodes have mature language, nudity, and adult subjects. "Kill Team Kill" and "Swarm" are the episodes in this review.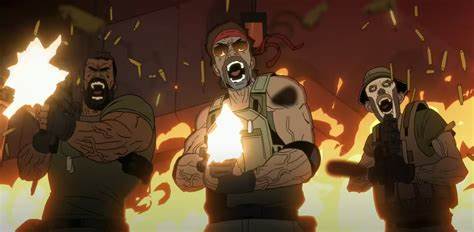 "Kill Team Kill"
Based on Justin Coates' short story and animated by Titmouse, Inc., "Kill Team Kill" is an action thriller heavy on the "man-ergy." A special ops battalion must face off against a cybernetic grizzly. How can they hope to survive?
This 13-minute short includes the talents of Joel McHale, Seth Green, Gabriel Luna, Steve Blum and Andrew Kishino. If you happened to roll your eyes at "man-ergy" this might not be the best episode for you. Another episode that reminds me of an earlier entry, in no negative manner. In this case, "Sucker of Souls" has a similar soldier-hunted-by-beast premise. However, this entry is far more focused on masculine bravado. This isn't inherently a criticism, even a recommendation if you enjoy your humor with manly men stoically battling the surreal, but I much prefer the humor of "Sucker of Souls." The animation is reminiscent of the 80s in a retro-fueled G.I. Joe aesthetic.
(2.5 / 5)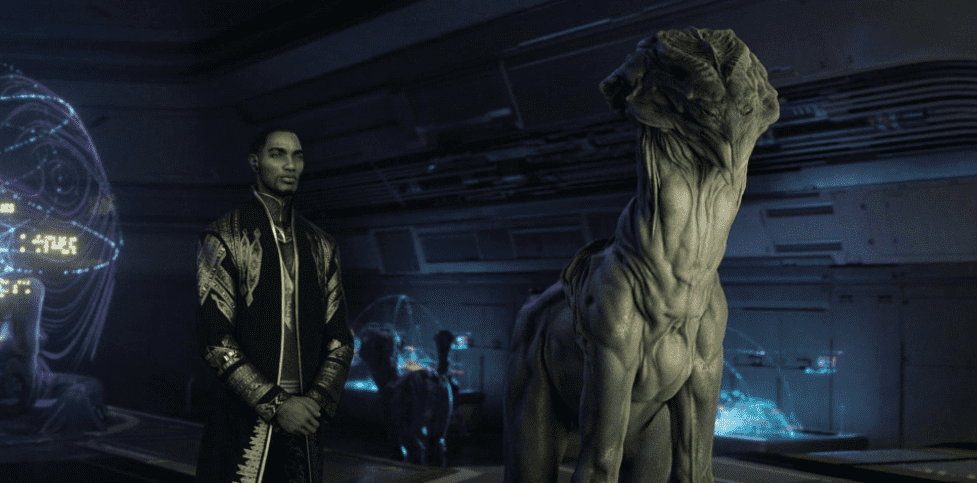 "Swarm"
Based on Bruce Sterling's short story and animated by Blur Studio, "Swarm" is a Sci-fi thriller. Two scientists hope to study an alien biome in space. Once their research begins to interfere with the local ecosystem, however, the swarm decides enough is enough.
This 17-minute episode includes the talents of Rosario Dawson and Jason Winston George. "Swarm" has a haunting ending that might even make people squirm from visuals alone. In many ways, this evokes the Lovecraftian concept of an uncaring universe. However, there is still something understandable and desperate in the beast that makes it more human than a Lovecraftian God. Another point to mention is body horror. While I found this a light element that did little to unnerve me, many seem genuinely unsettled by the alien visuals.
(4 / 5)